With its spicy kick and moist meat, jerk chicken is always a hit at our house. All it takes is a simple, easy marinade — and chicken, of course!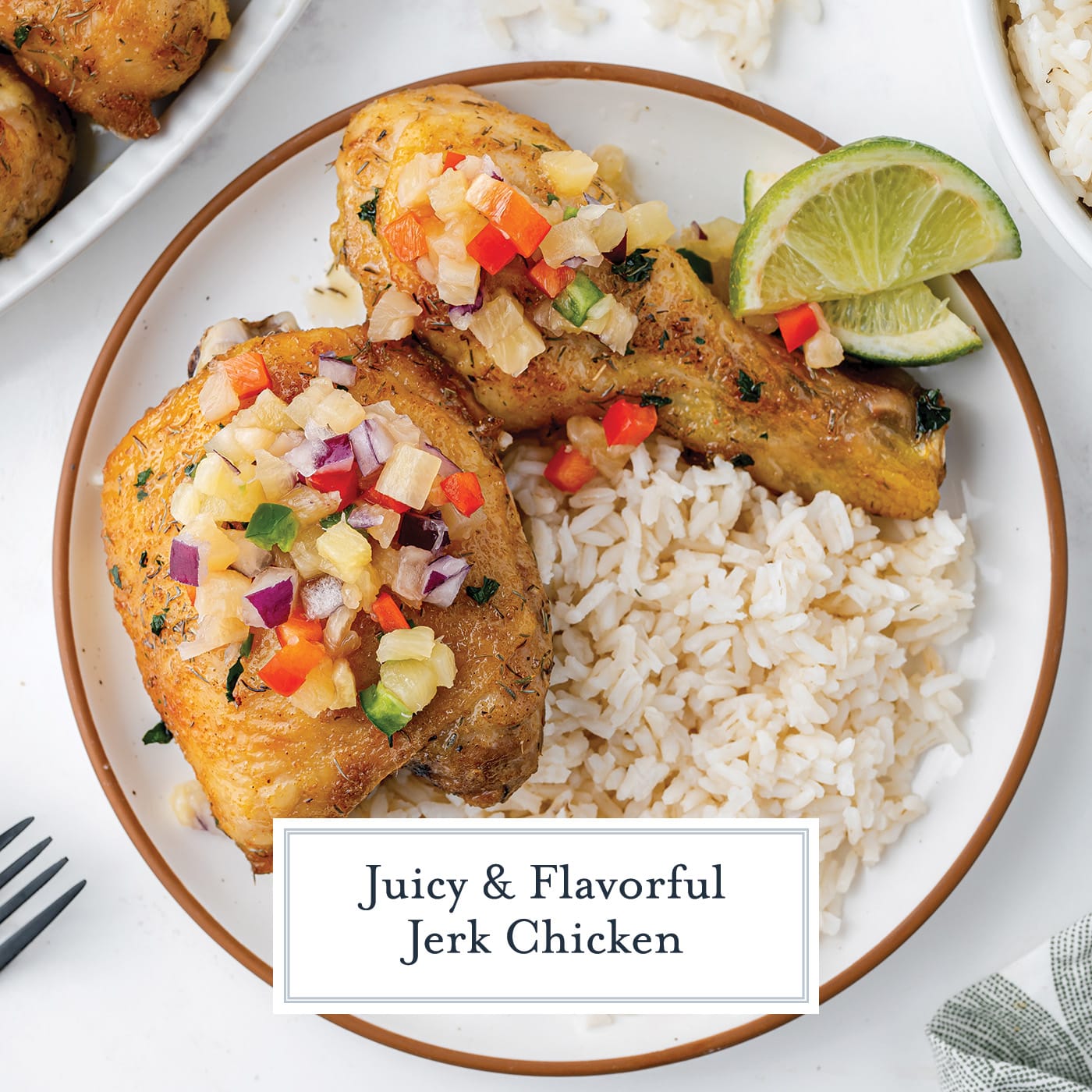 While it does incorporate a lot of spice, one of the best parts of the recipe is that it's completely customizable. So, if you have little ones — or guests that prefer milder foods — you can adjust it as necessary.
I also love that it's an easy and affordable way to feed a crowd. I can make it ahead of time and let the oven (or the grill) do most of the work.
And, like many chicken dishes, it goes well with all sorts of sides. Simple salads like potato salad or coleslaw are as perfect a pairing as roasted sweet potatoes, steamed vegetables, or flavored rice — you can even drizzle the jerk sauce over any of the potatoes or veggies.
The next time you're bored with basic chicken recipes, try heating things up with this tasty jerk chicken recipe.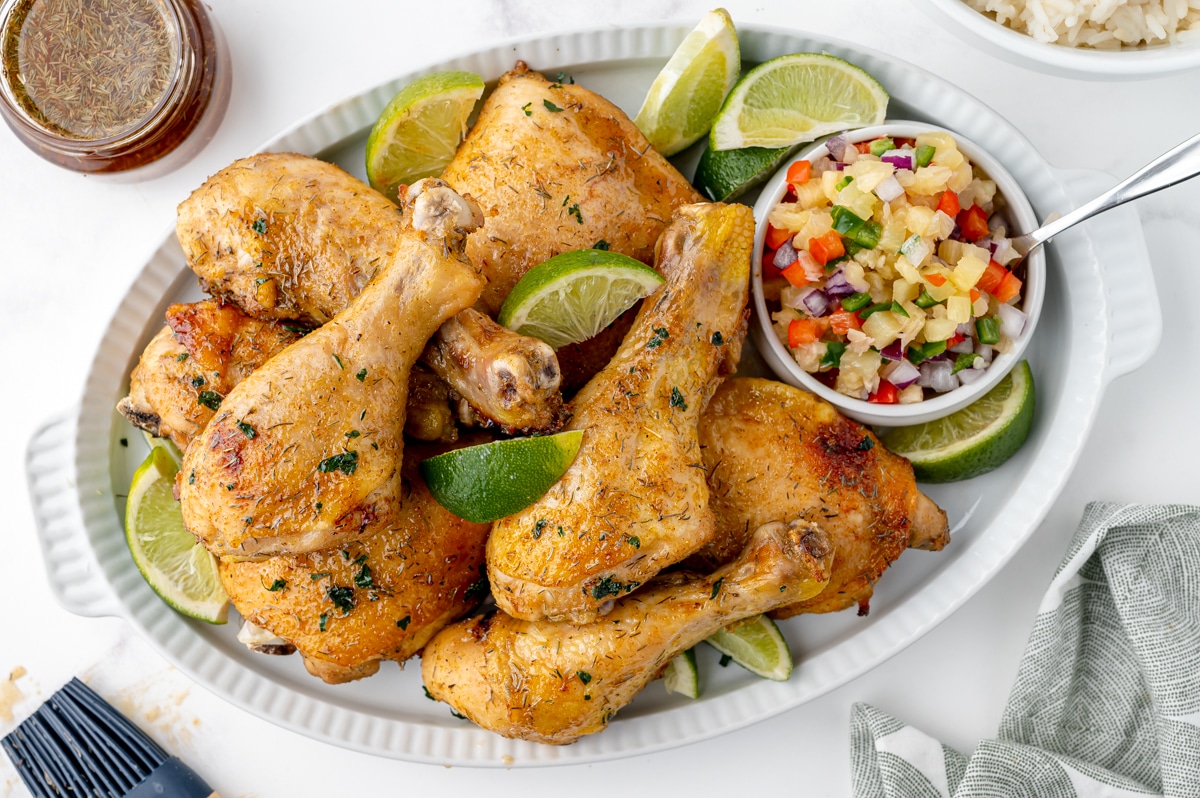 Why You'll Love Jerk Chicken
There's no shortage of reasons to love this chicken covered in a spicy sauce.
Easy – All you need to do is whip up the spicy jerk seasoning and rub it on the chicken before baking — it couldn't be more simple!
Affordable – Using less expensive parts of the chicken like legs and thighs makes it a cost-effective meal.
Flavorful – With so many aromatic spices, this chicken is anything but boring!
Versatile – You can eat jerk chicken as it is, toss it on a salad or over coconut rice, or even spice up a soup. It's also as perfect for a weeknight meal as it is for feeding a crowd on game day or for a party.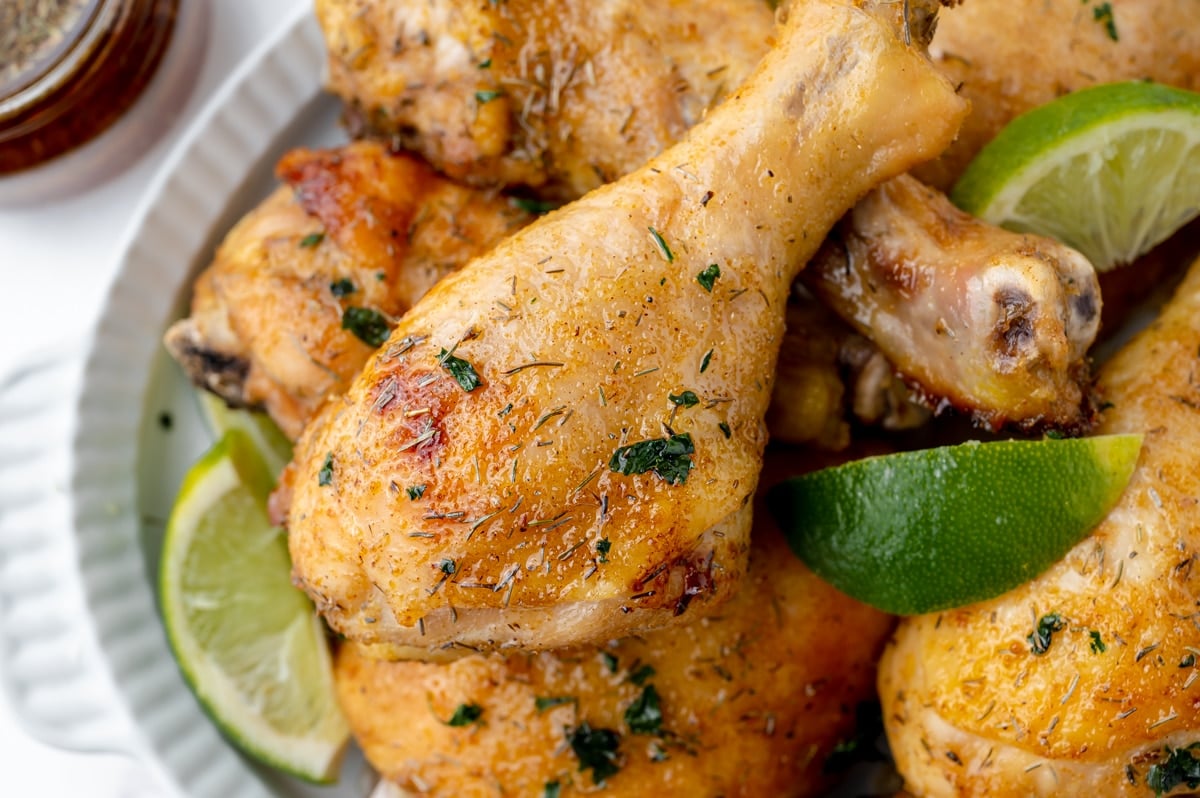 Ingredients
While there are lots of ingredients on this list, most of them are spices you probably already have in your kitchen cabinets. If not, they're all easy to find at your local grocery store.
Chicken legs and thighs – These should be bone-in chicken thighs and legs with the skin on.
Vegetable oil – Any neutral oil will work for this — you can use olive oil if you prefer.
Light brown sugar – Using light brown sugar will impart the slight sweetness — dark brown sugar would give it more molasses-style flavor.
Dried thyme – Thyme imparts notes of lemon and mint along with a slight earthiness.
Coarse kosher salt – You can use any variety of salt that you like but this is my favorite for this recipe.
Ground allspice – Allspice berries add warm flavors to the jerk rub.
Paprika – Mild and slightly sweet, paprika brings some vibrant color to the spice blend.
Garlic powder – Easier than pressing or mincing cloves, garlic powder can simply be sprinkled into the recipe.
Onion powder – You can use this instead of tearing up while slicing fresh onions.
Cayenne pepper – Cayenne brings lots of spicy flavor to the dish. Dial it back for less spiciness or increase it to taste.
Ground ginger – Ginger's earthiness and slight bite adds an extra layer of flavor. If you have fresh ginger, you can grate that instead.
Ground cloves – Cloves add a slight sweetness to the dish.
Ground cinnamon – Cinnamon adds warmth to the flavor profile.
Ground black pepper – You can grind it fresh or just use your table shaker.
White vinegar – Vinegar adds an acidic component to jerk chicken.
Honey – This balances out the heat and acid. You can also use a flavor-infused variety if you have one.
Water – Adding water helps to make the sauce more viscous for easier spreading onto the chicken.
Fresh parsley – If desired, finely chop parsley and use it as a garnish for a pretty presentation and some fresh flavor.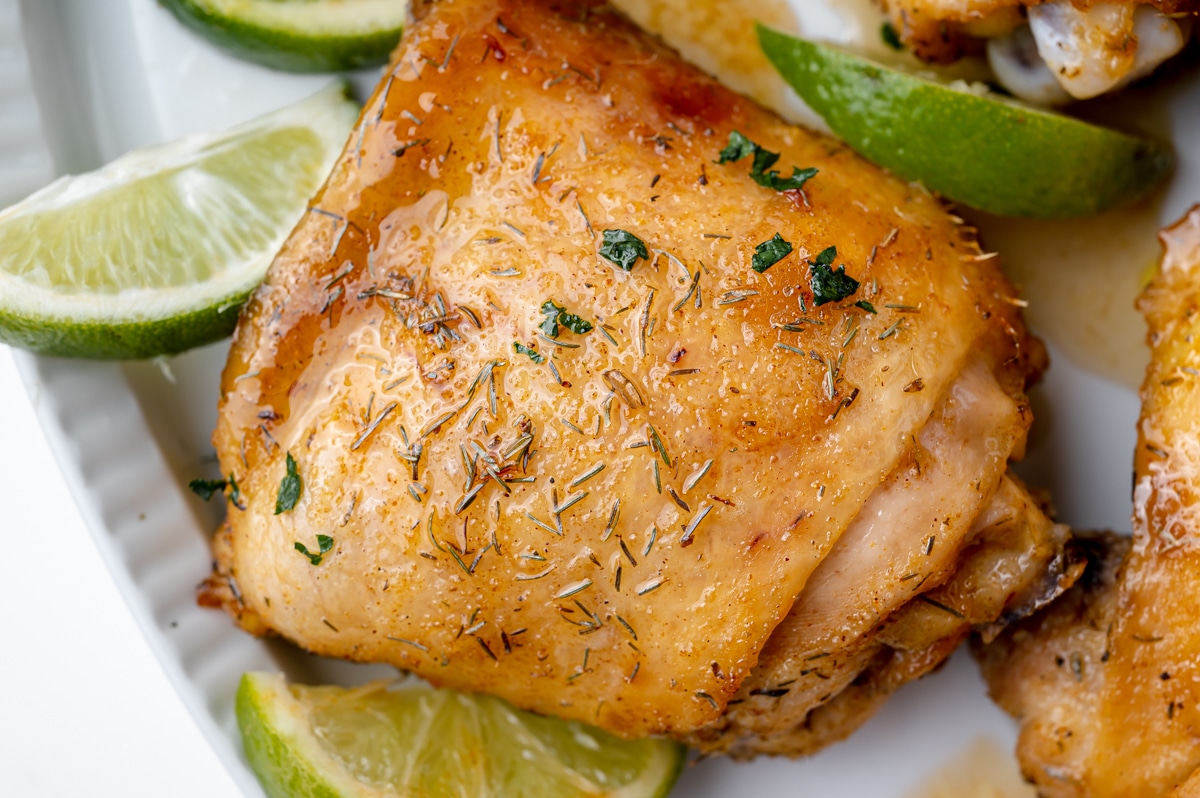 How To Make Jerk Chicken
This chicken is full of flavor but doesn't take too much time to prep at all- you'll spend longer rifling through the spice cabinet than actually making it.
Pour the vegetable oil, sugar, thyme, salt, allspice, paprika, garlic powder, onion powder, cayenne, ginger, cloves, cinnamon, and black pepper into a medium mixing bowl.
Whisk the ingredients together to form a thick paste.
Place half of the spice rub in a separate bowl. Cover the remaining marinade and place it in the refrigerator.
Use paper towels to blot all of the chicken legs and thighs so that any excess moisture on the skin has been removed.
Using a fork, pierce each piece multiple times, ensuring that the fork penetrates the chicken's skin.
Once pierced, place the chicken pieces into a large bowl.
Place the half of the spice rub in the bowl with the chicken. Rub it generously on each piece
Leave the chicken uncovered in the bowl and refrigerate.
While the chicken is chilling in the refrigerator, arrange the racks in the oven, preheat it, and prepare the baking sheets (using aluminum foil or parchment paper).
Place the individual pieces of chicken on the baking sheets ensuring that there is plenty of room for air to circulate around all of them.
Bake the chicken until it reaches the desired internal temperature on an instant read thermometer.
Once baked, remove the chicken from the oven and allow it to rest before serving.
Add the vinegar, honey, and water to the reserved spice paste, then cover.
Serve the chicken with the sauce and parsley, if desired.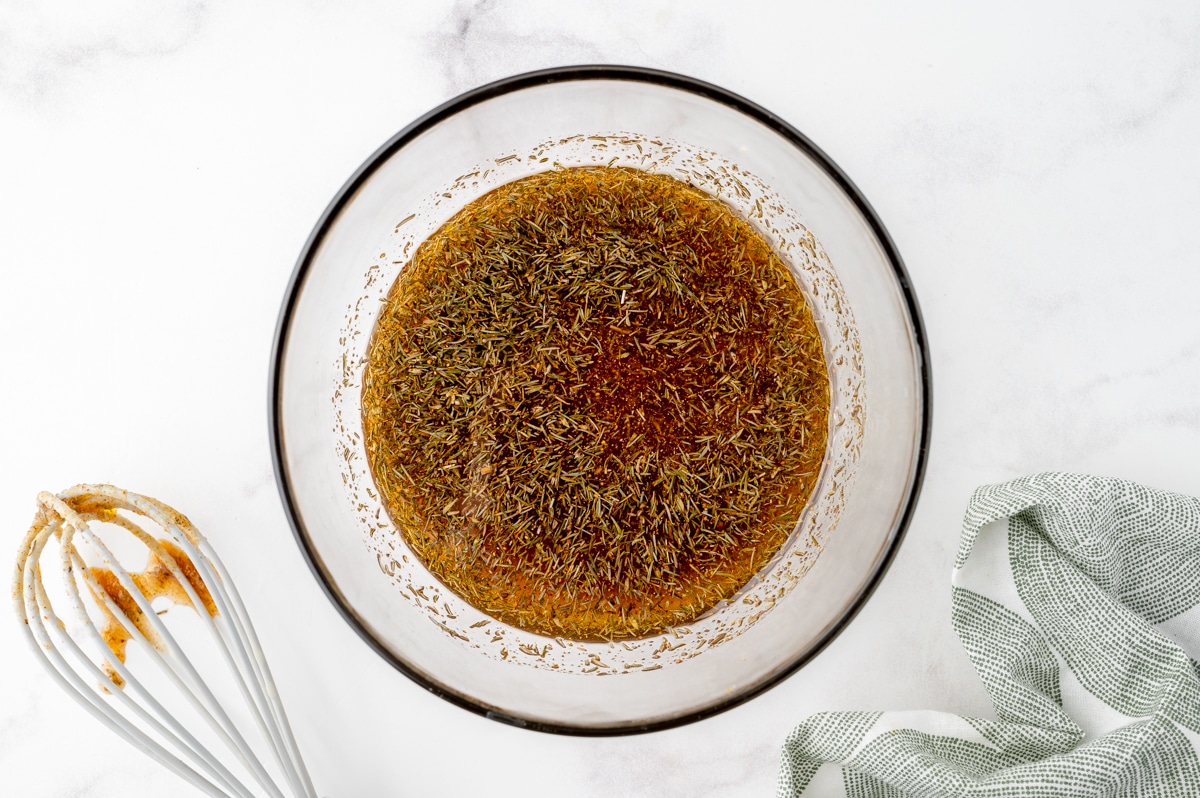 Variations
While this is an easy take on a classic jerk chicken recipe, you can customize it however you like.
Fresh herbs and spices – If you have thyme or green onions from your garden or fresh garlic cloves in the fridge, you can substitute those for powders. If you use fresh herbs, though, you may want to make the jerk paste in a food processor to make sure to evenly distribute the ingredients.
Heat – Increase the heat by adding hot peppers — scotch bonnet peppers or habanero peppers work well.
Smokiness – Add smoky flavor by swapping out the regular paprika for a little bit of smoked paprika.
Umami– Up the umamii by incorporating soy sauce.
Cooking method – Instead of baking the chicken pieces, try firing up your gas grill or putting them in a smoker. If you're grilling, make sure to oil grates before placing the marinated chicken on them.
Chicken – Instead of coating chicken pieces, you can rub the jerk seasoning on a whole chicken. You can also use the jerk sauce on boneless skinless chicken breasts.
Juice – Swap out some the water for fresh pineapple juice or fresh lime juice for a bright, sweet addition of flavor.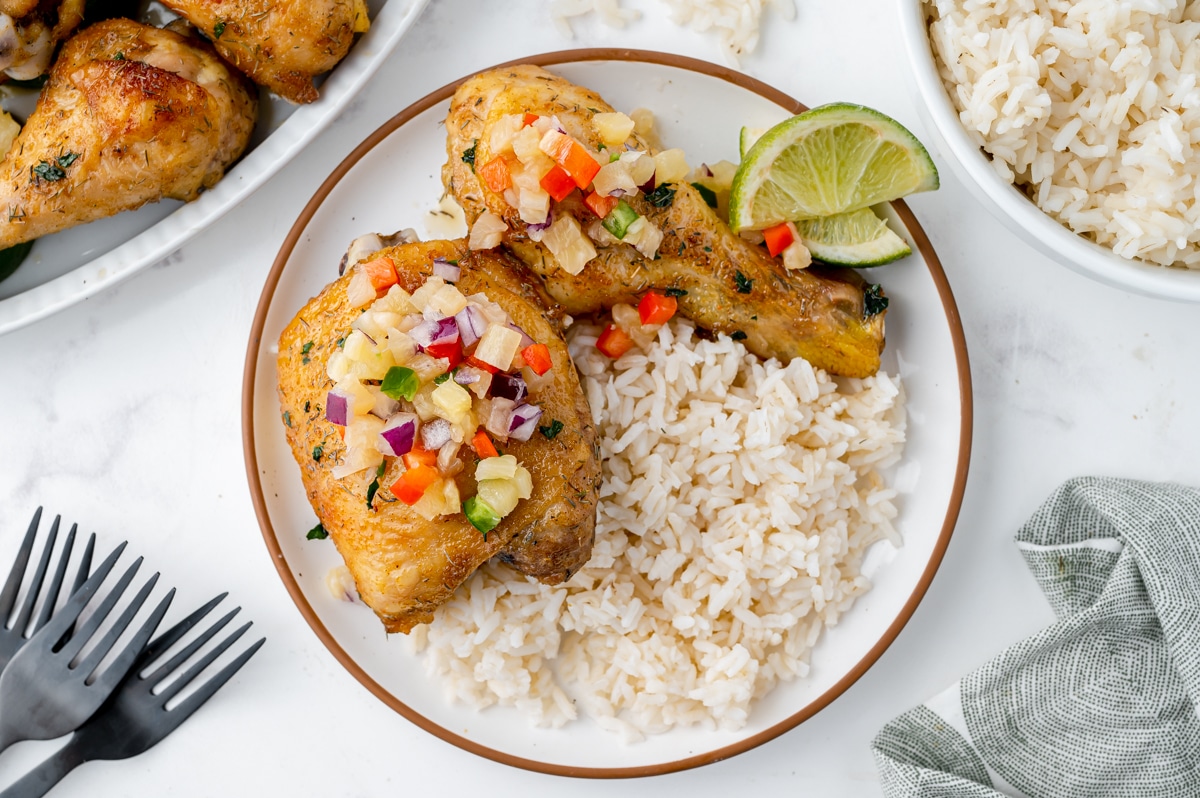 Storage, Make Ahead and Freezing
Leftover jerk chicken is easy to store so that you can quickly heat it up or even eat it cold.
Make-Ahead: Once the spice rub has been applied to the chicken, the chicken pieces can be stored in the refrigerator for up to 24 hours before baking.
Refrigerator: Store jerk chicken in the refrigerator in an airtight container or ziploc bag for up to 3 days after baking.
Freezer: Chicken can be stored in the freezer for up to 3 months in a freezer-safe container or freezer bags.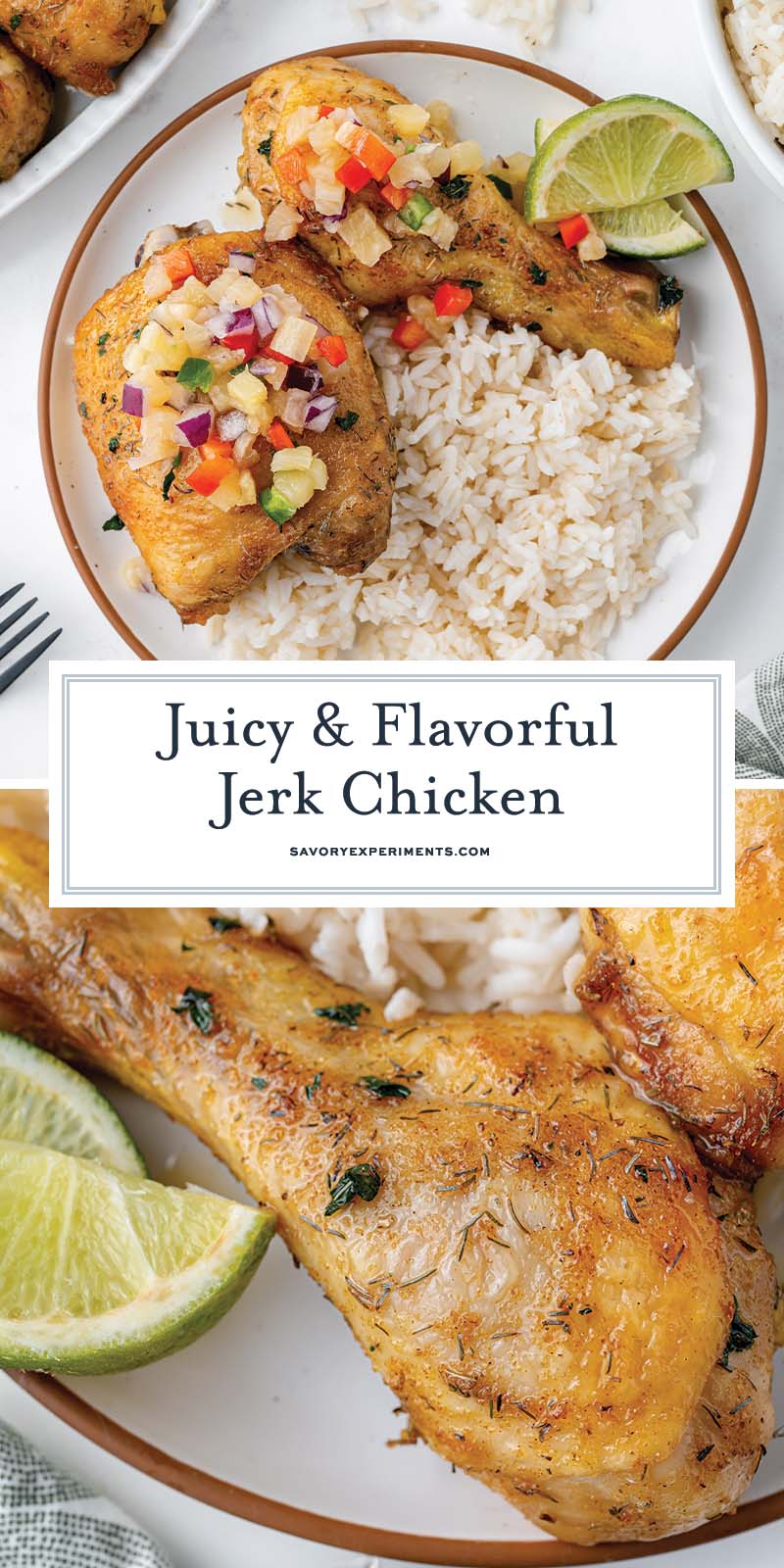 Other Delicious Chicken Dishes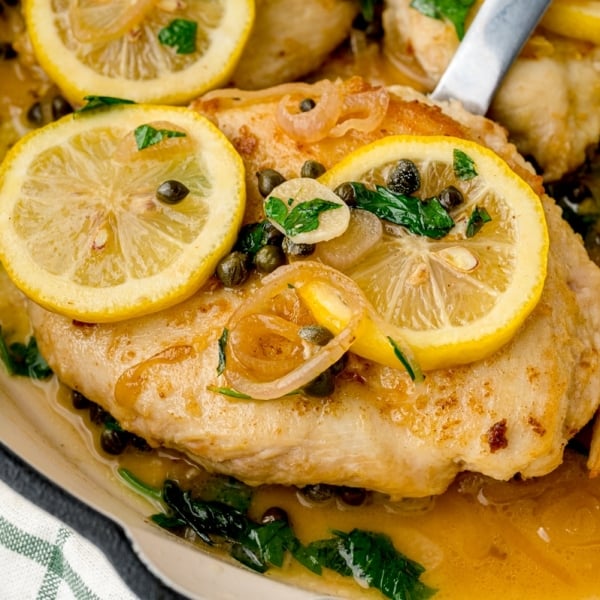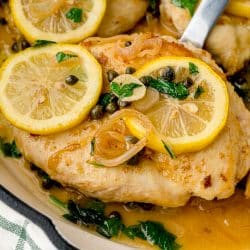 Chicken Piccata Recipe
Classic Chicken Piccata is an easy Italian recipe that comes together in less than 30 minutes and explodes with flavors of lemon, caper and shallot.
See The Recipe!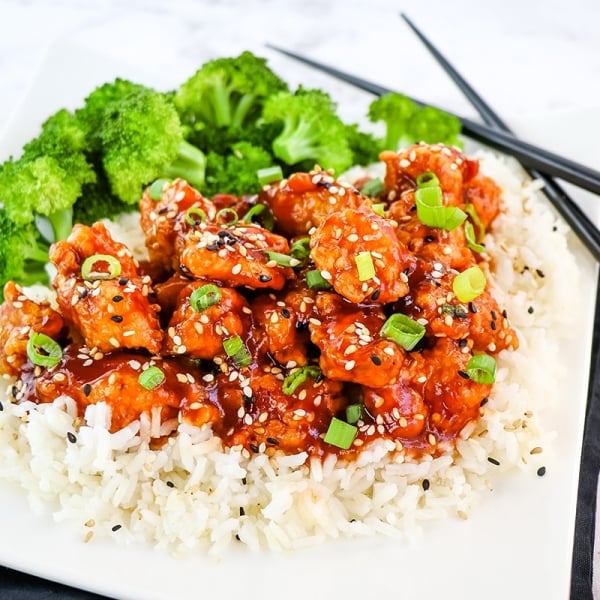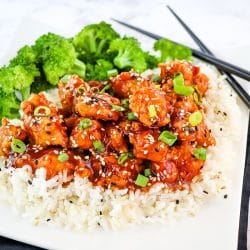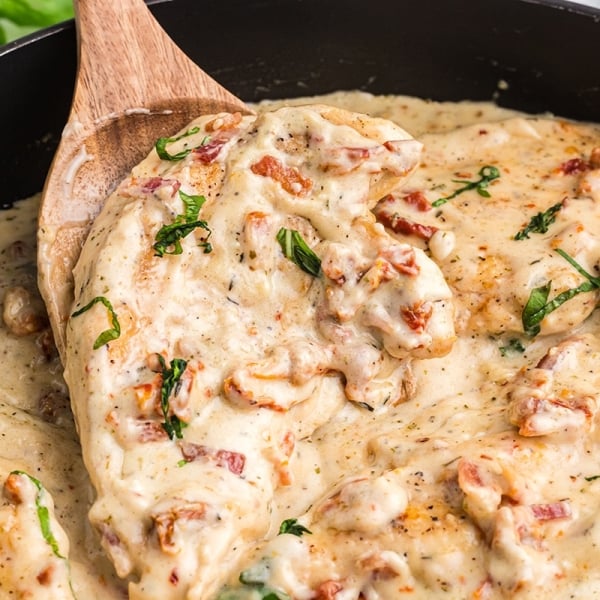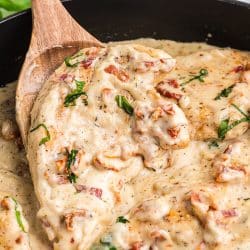 Marry Me Chicken
Juicy chicken breasts in a creamy sauce and ready in under an hour, this Marry Me Chicken recipe is the perfect weeknight meal!
See The Recipe!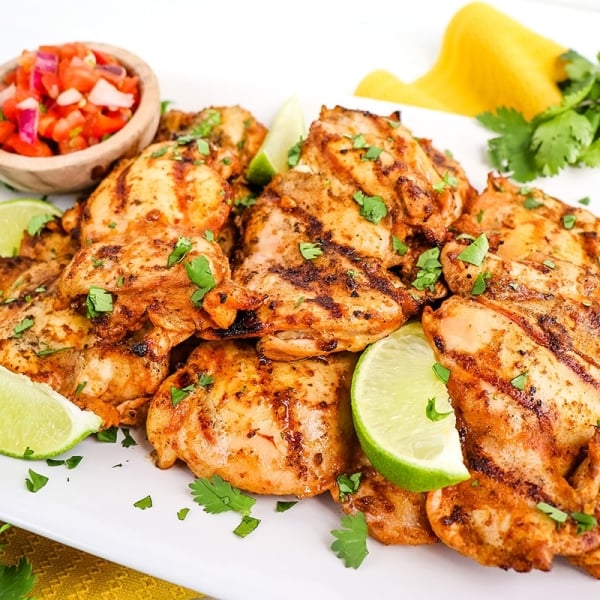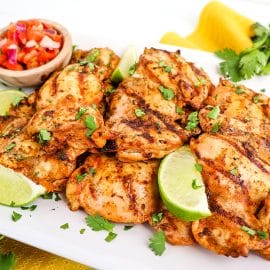 Chipotle Pollo Asado
This simple Chipotle Pollo Asado comes together easily with a pollo asado marinade that is great on both chicken thighs, quarters and breasts!
See The Recipe!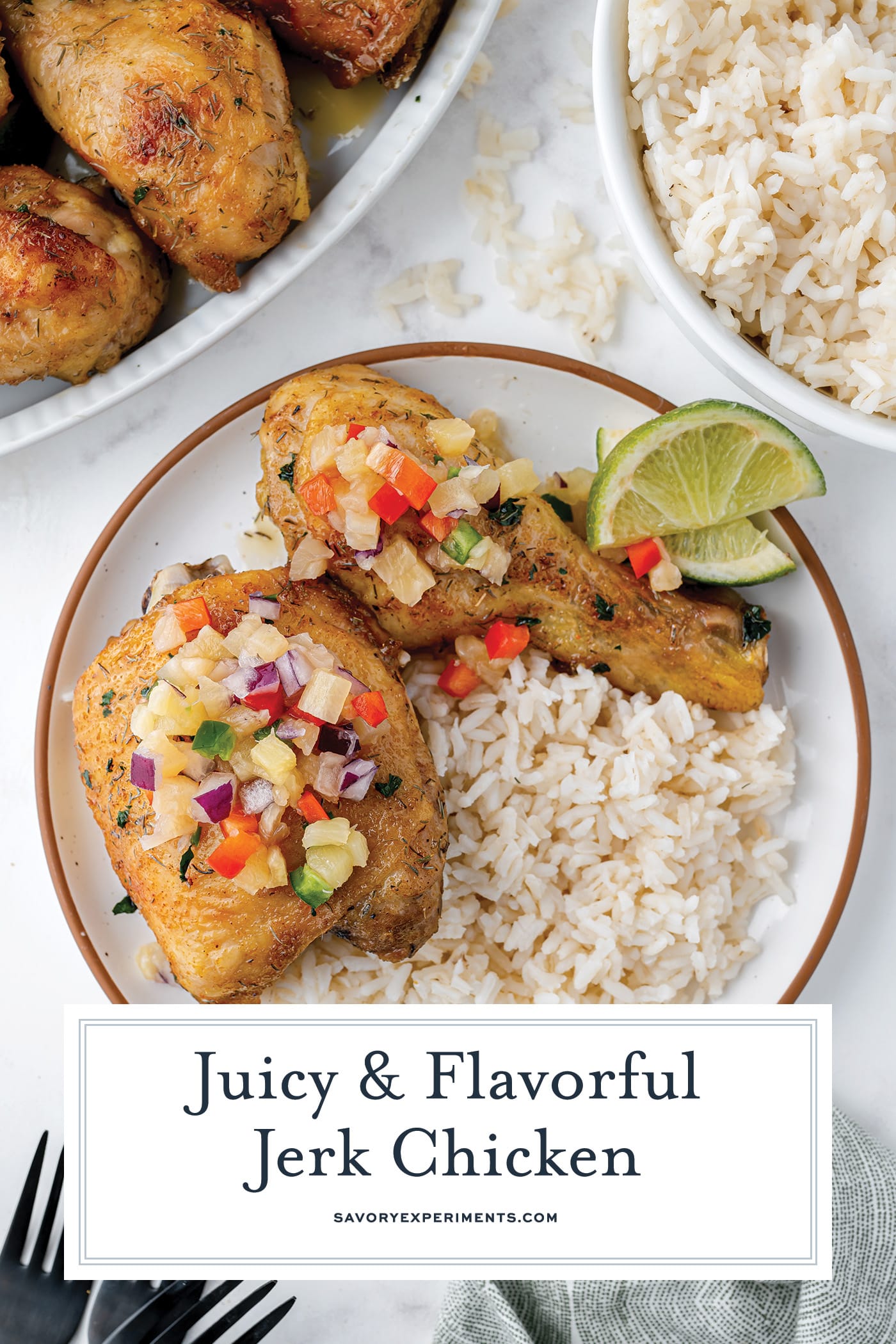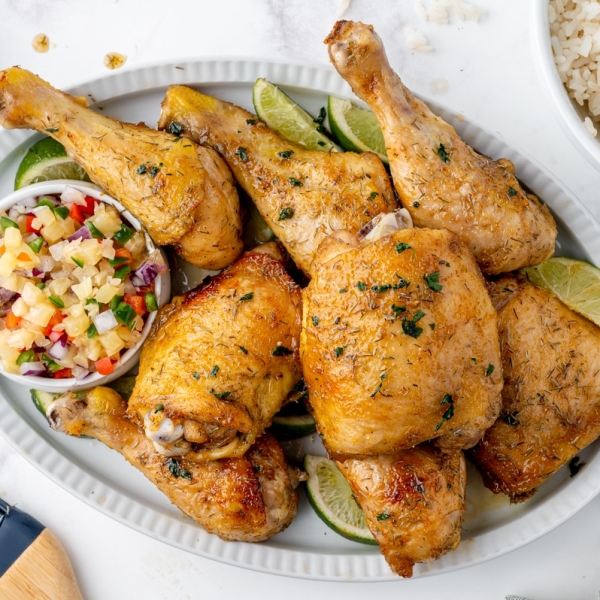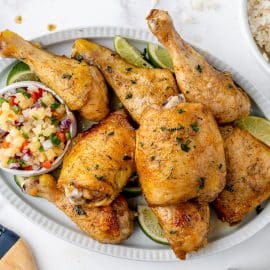 Jerk Chicken Recipe
This affordable Jerk Chicken recipe is perfect for parties as well as weeknight dinners. Make the easy rub and bake for spicy, moist chicken!
Instructions
In medium mixing bowl, whisk together the vegetable oil, sugar, thyme, salt, allspice, paprika, garlic powder, onion powder, cayenne, ginger, cloves, cinnamon and black pepper until a paste forms.

Blot all chicken pieces dry and pierce several times with a fork to penetrate the skin. Place into a large mixing bowl and rub well with half of the spice paste. Set aside the other half. It works best to do this with clean hands.

Place in the refrigerator, uncovered, for 30 minutes.

Preheat the oven to 400°F and arrange racks so that you can fit a baking sheet on each in the lower third and middle of the oven. Line two large baking sheets with aluminum foil or parchment paper. Set aside.

Arrange chicken pieces on prepared baking sheets, making sure there is ample room around all pieces. Bake for 40-45 minutes or until chicken registers at 165°F using an instant read thermometer. Remove and allow to rest for 10 minutes.

Whisk the remaining half of the spice paste with vinegar, honey and water. Cover and set aside.

Whisk the jerk sauce again, if separated. Serve chicken drizzled with additional sauce, if desired, and fresh parsley for garnish.
Nutrition
Calories:
645
kcal
,
Carbohydrates:
17
g
,
Protein:
37
g
,
Fat:
48
g
,
Saturated Fat:
11
g
,
Polyunsaturated Fat:
17
g
,
Monounsaturated Fat:
16
g
,
Trans Fat:
0.3
g
,
Cholesterol:
145
mg
,
Sodium:
2470
mg
,
Potassium:
496
mg
,
Fiber:
2
g
,
Sugar:
11
g
,
Vitamin A:
1265
IU
,
Vitamin C:
5
mg
,
Calcium:
82
mg
,
Iron:
4
mg