I had the idea for Watermelon and Crab Salad last year well after watermelon season had ended.  I love watermelon salad and watermelon sculptures, but lets face it, I am not talented enough to carve a lion face into the side of one, like the ladies at ITSMeals.  To make something impressive and equally tasty, I decided to skip the urge to let my inner artist fly and instead used cookie cutters, because I can't mess that up too bad.
Watermelon is a funny fruit, actually from the gourd family.  While eaten plain, it is a tasty, sweet treat and pairs fabulously with many other flavors.  Sprinkle some salt and it instantly intensifies the flavor.  Pair with feta or goat cheese and now you have a creamy, tart and sweet treat.  Puree for a refreshing beverage or pair with other fruits and veggies for a lush summer salad.
Here I used a few items in my fridge and local Maryland blue crab meat.  For more information on how to choose crab meat, check out my Crab  and Shrimp Stuffed Shells with Sherry Cream Sauce.  Make sure you check out my 7 tips for more interesting salads before you starting chopping!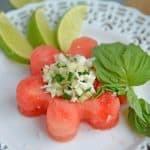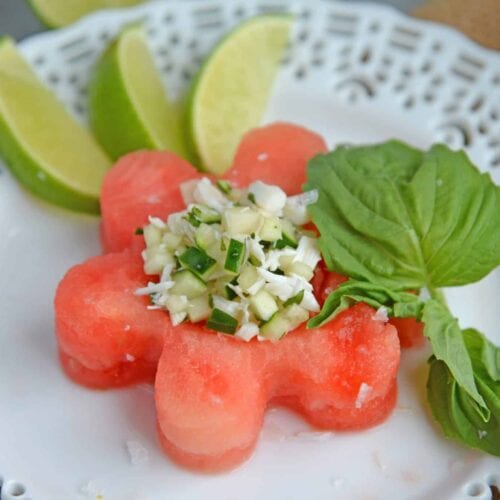 Watermelon and Crab Salad
Watermelon and Crab Salad is a refreshing salad with a little bit of spice.
Ingredients
1

large watermelon

1

cucumber

seeded and finely chopped

2

tablespoons

fresh basil leaves

shredded

1

jalapeno

seeded and finely minced

1

cup

lump blue crab meat

Juice of 2 fresh limes
Instructions
Combine cucumber, basil, jalapeno, crab meat and lime juice in a medium bowl. Place into the refrigerator until ready to serve.

Cut watermelon into 1 1/2 inch slices. Cut center with a cookie cutter, shape of your choice, but make sure the center has enough space that you can hollow out a small hole to hold 2 tablespoons of crab meat mixture. You will need at least 4 cut-outs. Reserve the rest for snacking.

Take each of the four slices and a small slice, about 1/2 inch, horizontally. This will be the lid.

Spoon out the center of each cut-out to form a bowl.

When ready to serve, spoon crab meat mixture into the centers of each watermelon bowl. Place the lid back on and serve. Enjoy!