Whether it is a school day or busy summer night, families can never have enough easy, delicious and quick one-dish meals. This chicken and rice skillet is one of our favorites and so many customizable options, it feels like something new every time we make it. Like one big rice bowl!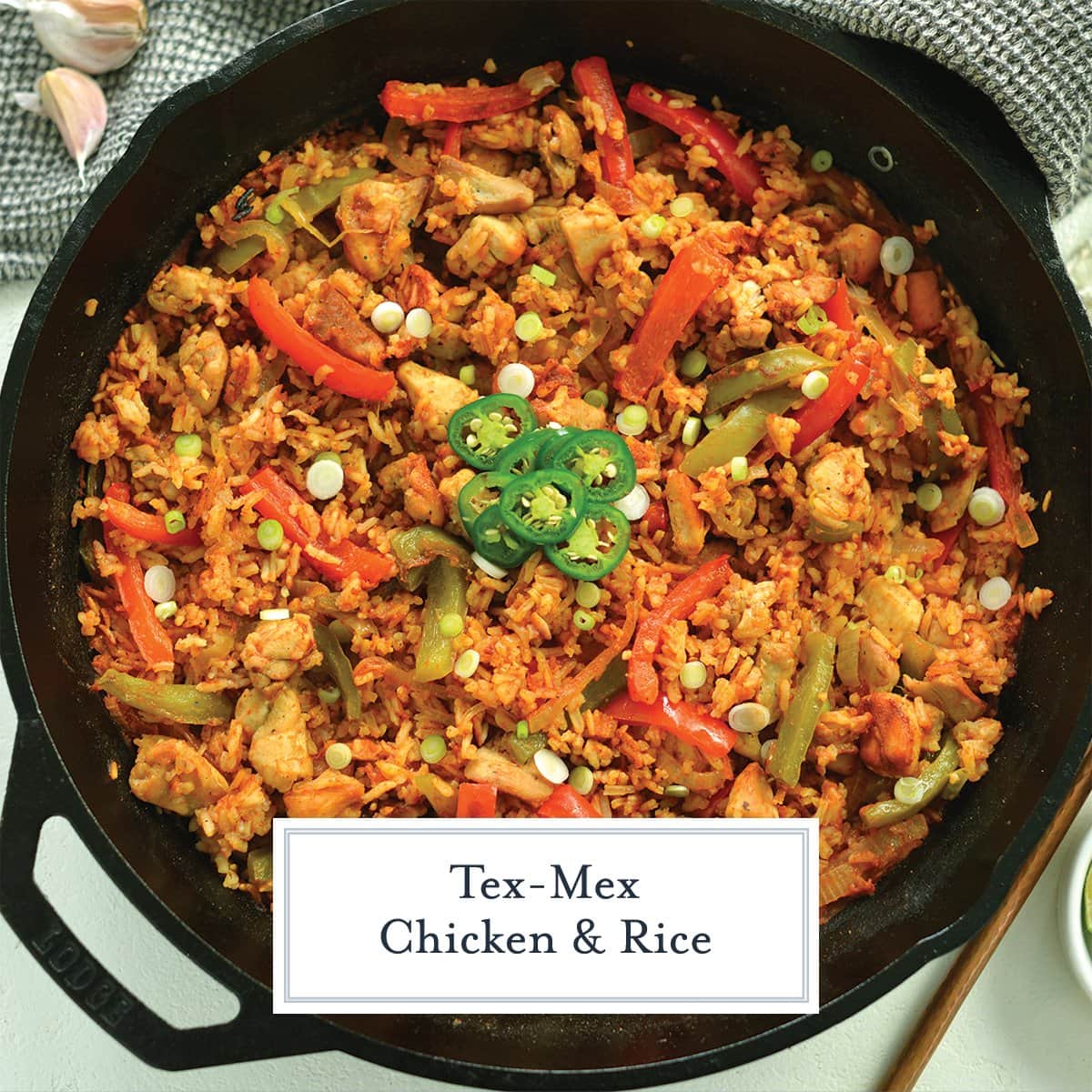 Tex-Mex
What is Tex-Mex? If you not familiar with this term, in its most strict of definitions refers to the cuisine created by the Tejano people of Texas, individuals of Mexican heritage who reside in Texas. It has gained in popularity and many times now refers to anything that has a vein of Southwest flavor such as chile, tomatoes, green chile and tomatillo, basically Mexican recipes that have been Americanized.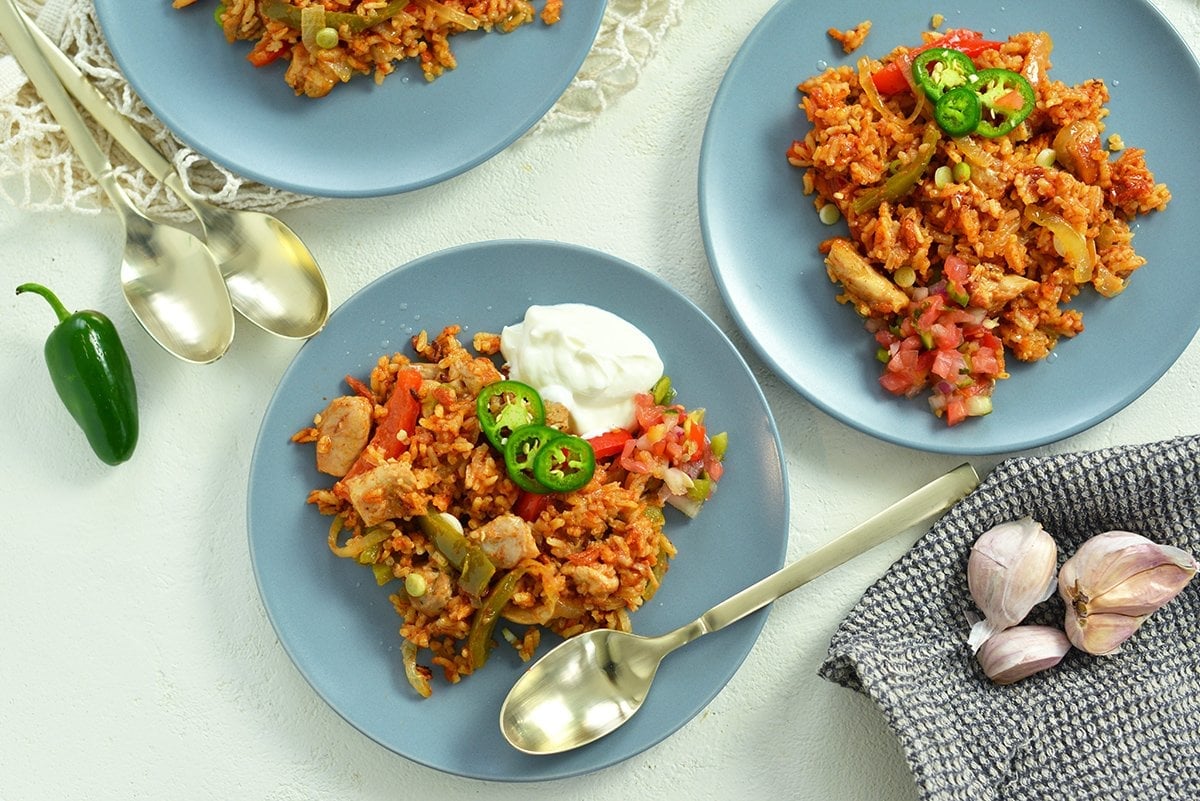 For this one-dish Mexican skillet, the closet comparison would be Pollo con Arroz, chicken with rice. Which brings me to the best pollo con arroz I ever ate from Aaron Sanchez at his restaurant Johnny Sanchez- it was a thing of crispy rice beauty! But I digress…
What's You'll Need
The beauty of this recipe is that nearly all of the ingredients are verstile in volume. The only one you need to be semi careful of is the rice and liquid ratios. If you use more rice, you'll need a tad more liquid and if you use less, dial back on the broth.
Vegetable Oil– Any neutral oil works, just something to lubricate the veggies while they soften.
Chicken- As long as you have the correct volume (or close to it) use boneless skinless chicken breasts or chicken thigh fillets. I used thighs for this version and just heavily trimmed them for fat. Alternatively, use ground beef, chicken or turkey or cut up pork or beef, even a chuck roast would work since it has a quick simmer time.
Coarse Kosher Salt- You hear me preach about salt! Coarse and Kosher are my picks for the best balance of salinity without an metallic aftertaste and not tasting too salty. If you use a fine salt, opt for sea salt and cut the measurement in half.
Ground Black Pepper- Freshly ground is by far the best for this chicken and rice skillet!
Bell Pepper- Eat the rainbow and use whatever colors you'd like! I used green and red for this one. Also, feel free to cut it in a fun way. How to cut a bell pepper.
Onion– white onion is the most traditional, but again a sweet or red would work.
Garlic- Fresh garlic, please! The jarred stuff is convenient, but also tastes sweet and nothing like garlic. Unless sweet is what you are going for, then have at it!
Jasmine Rice– We used long-grained Jasmine rice for our dish because it is quick cooking. Typically Jasmine rice is seen in Asian dishes, but it is verstile. If you opt for a short or medium grained rice, the liquid volume and cooking times will vary. Consult the package of the rice you are using and adjust accordingly.
Taco Seasoning– This is a short cut so you don't have to pull out every spice in the pantry, however I generally make my own blend in the large batches and then save it in an airtight container. Otherwise, one packet of low sodium taco seasoning will do the trick.
Tomato sauce– the plain jarred kind, not the seasoned Italian versions.
Chicken broth– I highly suggest using a low sodium version so you can control the salt levels. Vegetable broth works too and in a total pinch, plain water.
Sour Cream or Mexican Crema– Optional for serving, it adds a cool factor. Plus, my kids won't eat anything unless it has sauce.
Scallions- A fresh green crunch to top it off!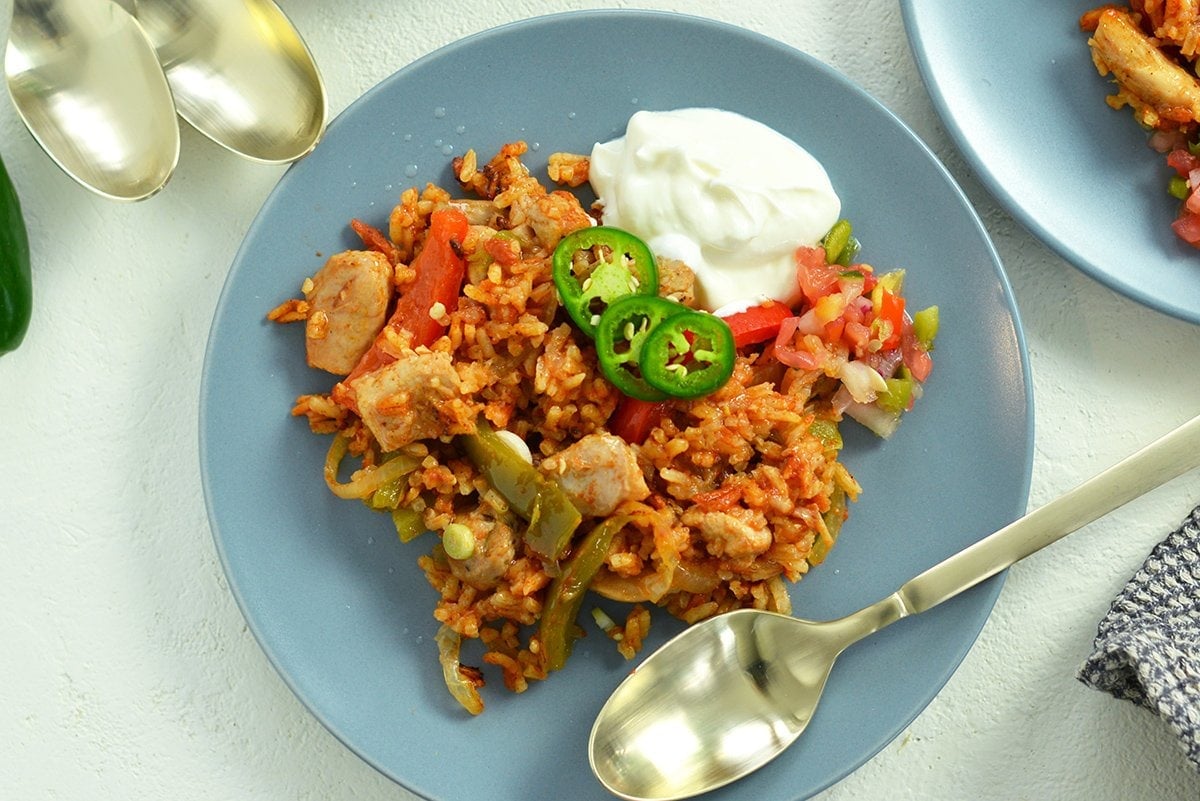 How to Make Chicken and Rice Skillet
Give yourself 30 minute and you'll have dinner ready. Including the chopping!
Find your largest cast iron skillet or large, wide skillet. I used a 16-inch. It makes a lot of food, so you need all that space! Heat any neutral oil over medium-high heat.
Season the chopped chicken and then add to the skillet to brown. The goal here isn't to fully cook, the chicken will cook to temperature and also tenderize when simmering with rice. The goal here is to get a nice brown on the outside to build flavor. While chicken is browning, chop the rest of the veggies.
To the same skillet, add the bell pepper, onion and garlic; saute until just soft and fragrant. Again, you won't want to cook fully because it will further cook with the rice.
Add the rice and toast it for a few minutes. Browning rice works in the same way as browning proteins and veggies- it adds flavor sophistication using the maillard reaction.
Add the liquid, tomato sauce and taco seasoning. The tomato sauce will help to season the rice, but the acidity also tenderizes the chicken. Double whammy!
Reduce to the lowest heat and cover for about 20 minutes. If you large skillet doesn't have a cover that fits, use a sheet of aluminum foil. This rice will cook a little faster because of the larger surface space to heat.
Fluff rice with a fork and you are ready to add your favorite toppings to your chicken and rice skillet!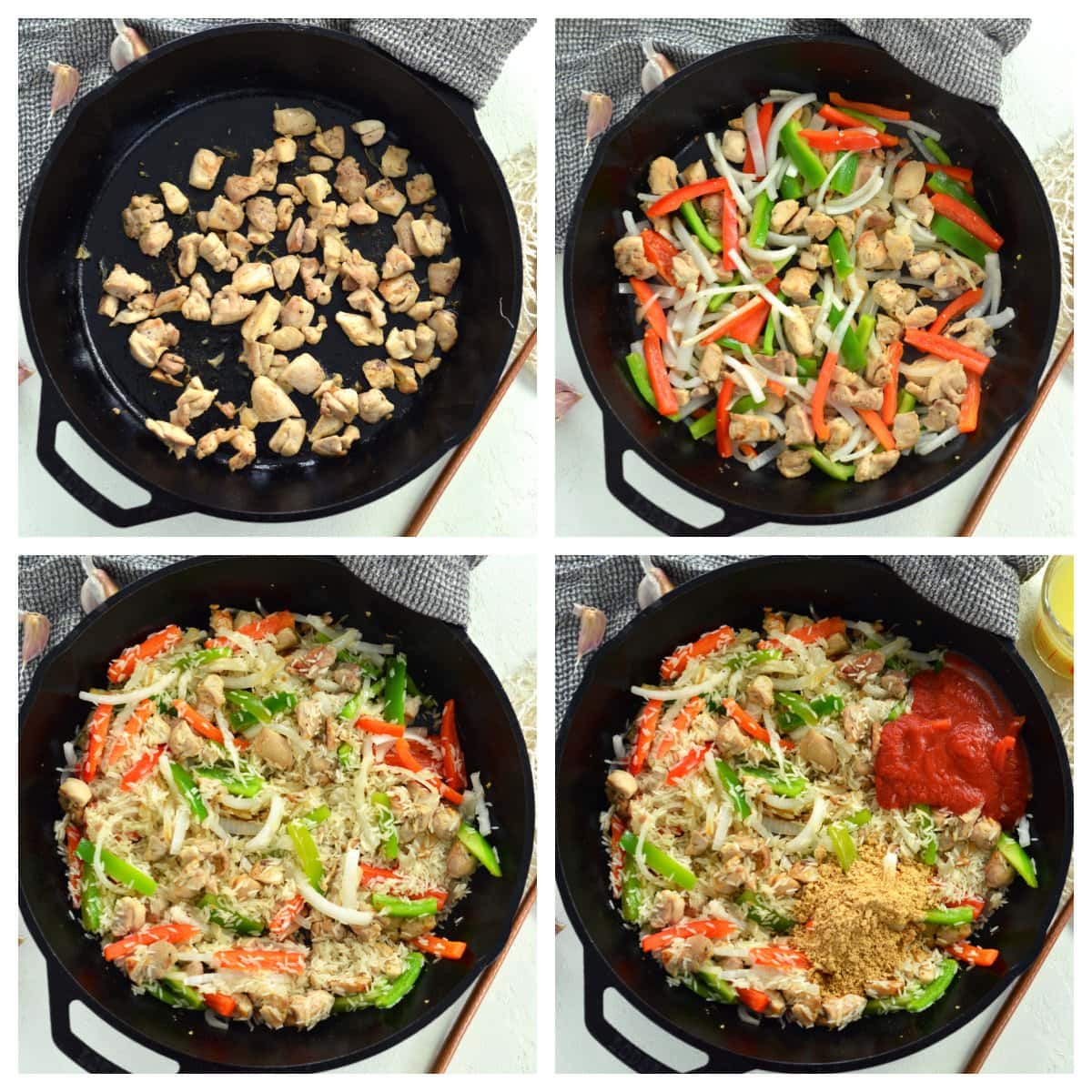 Variations:
The list is literally endless, but of course the toppings can be easily customized!
Our favorite toppings are avocado, jalapenos, pico de gallo, guacamole and more hot sauce.
Add beans! Either pinto beans or black beans, add 1 cup rinsed beans at the very end when fluffing. This will give them enough time to warm up without disintegrating.
Add Heat. If you really like hot, spicy foods, add 1 chopped jalapeno to the onion mix when sauteing or 1/2 teaspoon crushed red pepper flakes to the rice while cooking.
Swap the proteins. This same recipe works with chopped beef, ground beef or shrimp. If using shrimp, cook and then add back after rice has cooked.
Say Cheese!!! The most comments I get about this recipe is how "I forgot the cheese"- I didn't forget it, it just opted to not use it. But be my guest to top this one-dish meal with shredded cheddar, pepper jack, cotija or even queso fresco.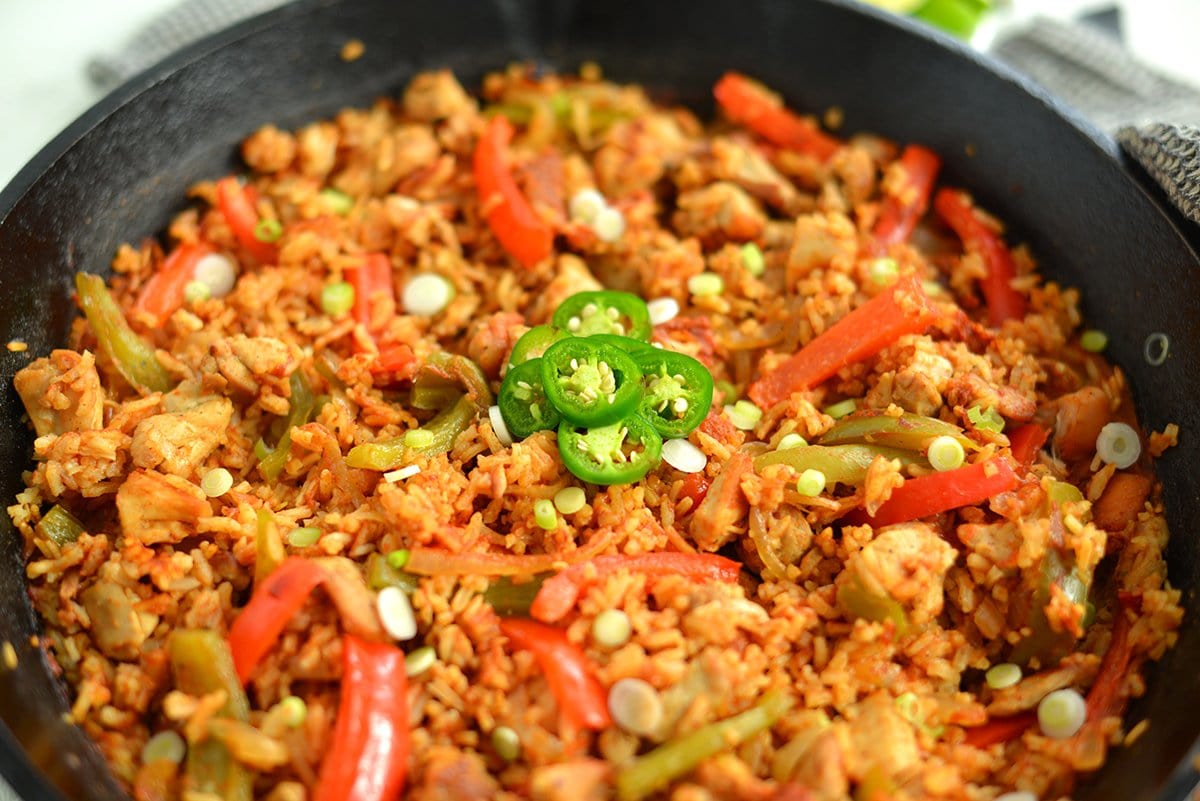 Make Ahead & Storage of Chicken and Rice Skillet
This is a great meal prep recipe. I made the one you see here to photograph and we ate it for lunch all week. Add different toppings each day to make it taste just a little different. Heat leftovers in the microwave. Store in an airtight container for up to 5 days.
This recipe is freezer friendly, but as with many rice recipes, it tends to dry out a little. Make sure to add something with moisture when you reheat. That can be mixing with 1/2 cup of salsa, 2-3 tablespoons of sour cream or just 14/ cup more chicken broth.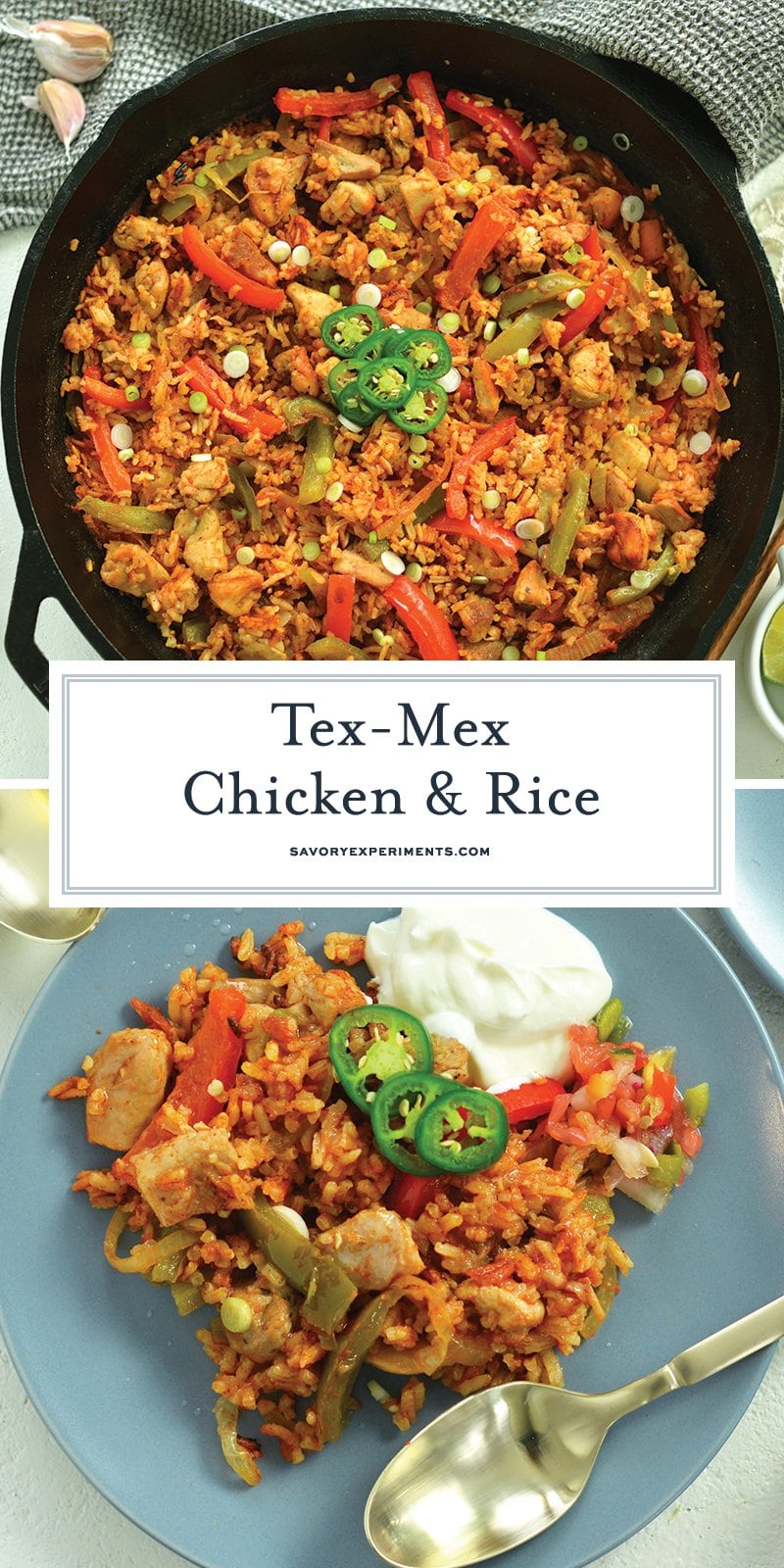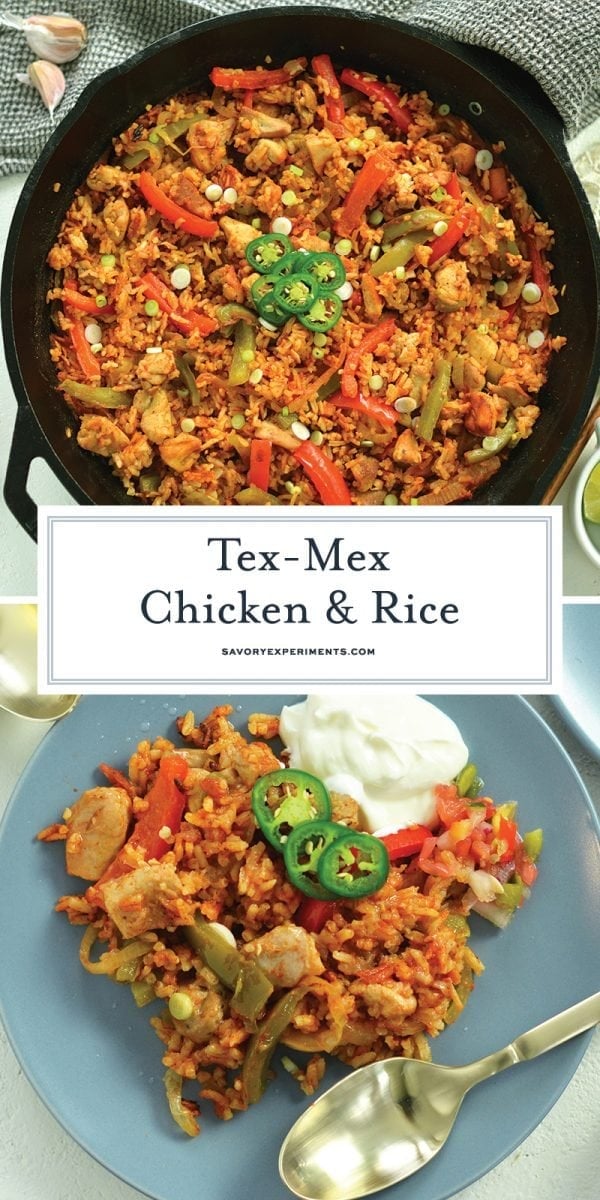 More easy skillet recipes: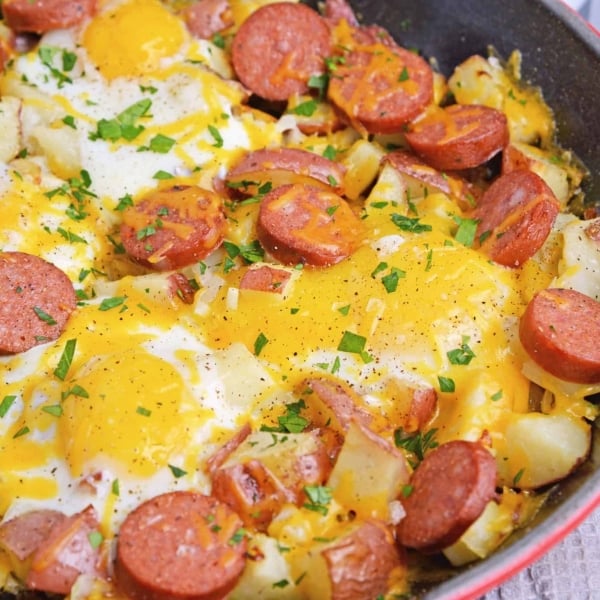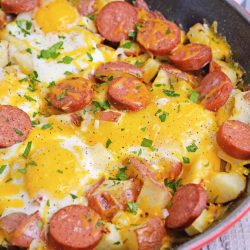 Sausage and Egg Skillet
Sausage and Egg Skillet is a delicious breakfast skillet with andouille sausage, potato, eggs and gooey cheese. Ready in 30 minutes and perfect for special weekend brunch!
See The Recipe!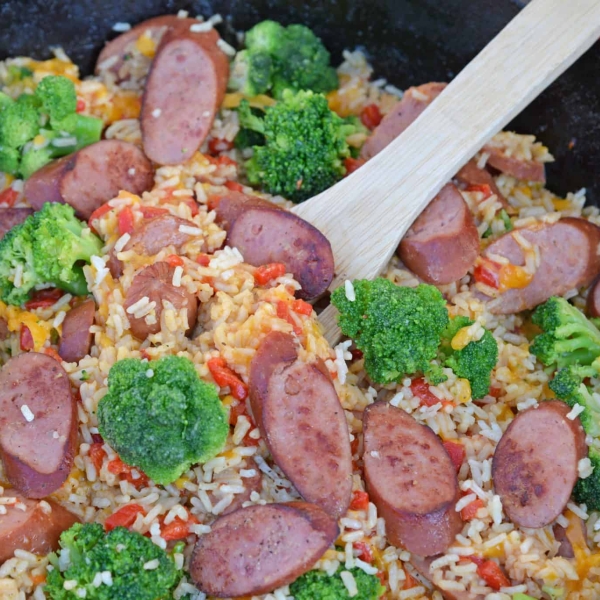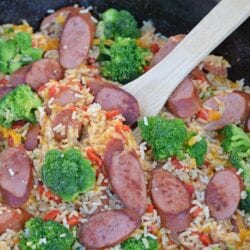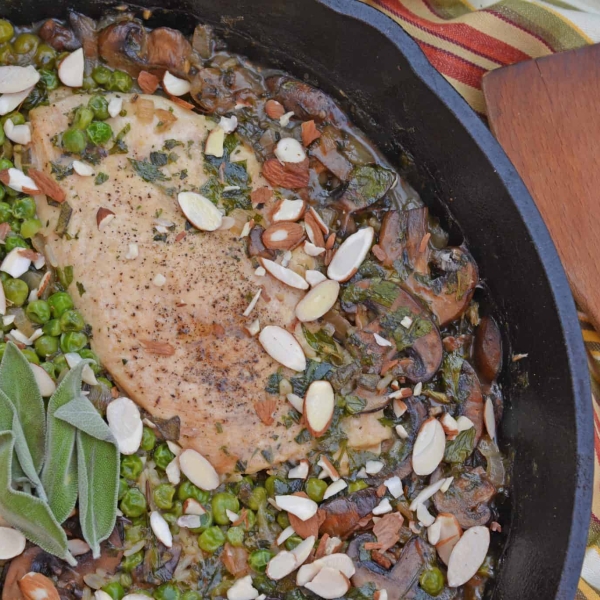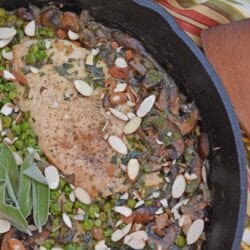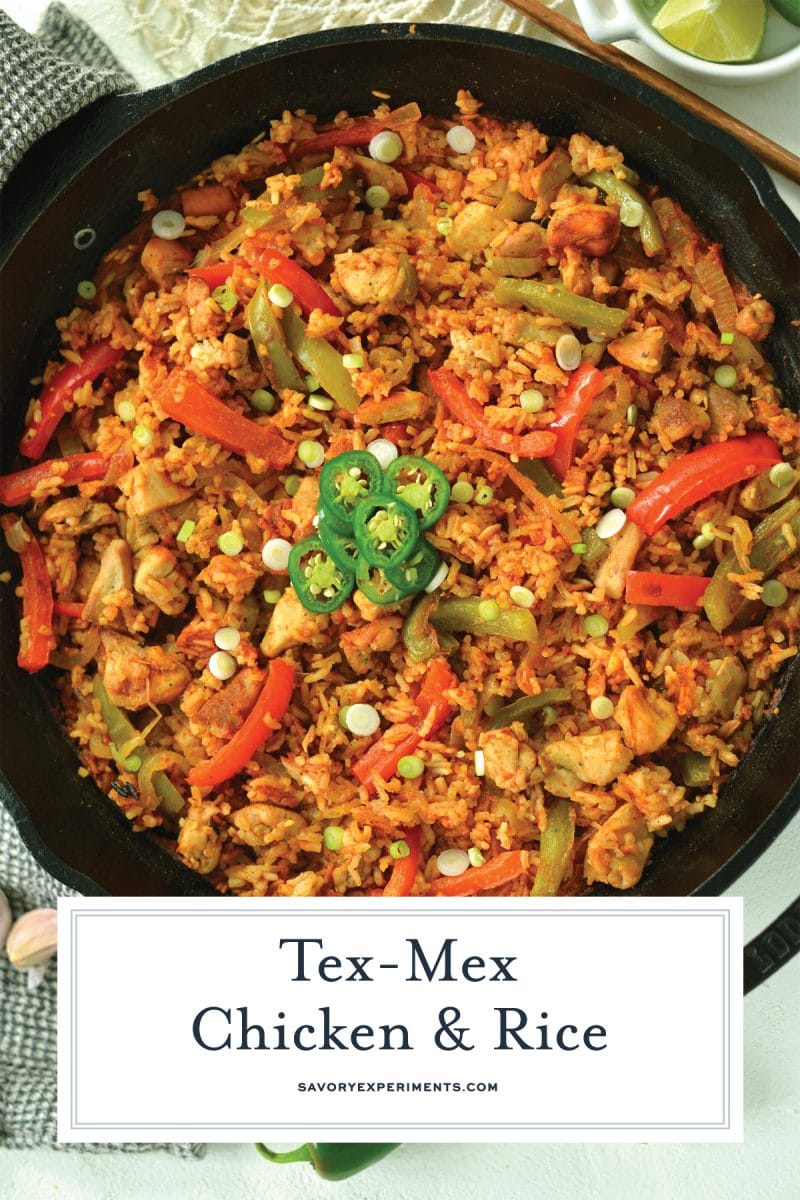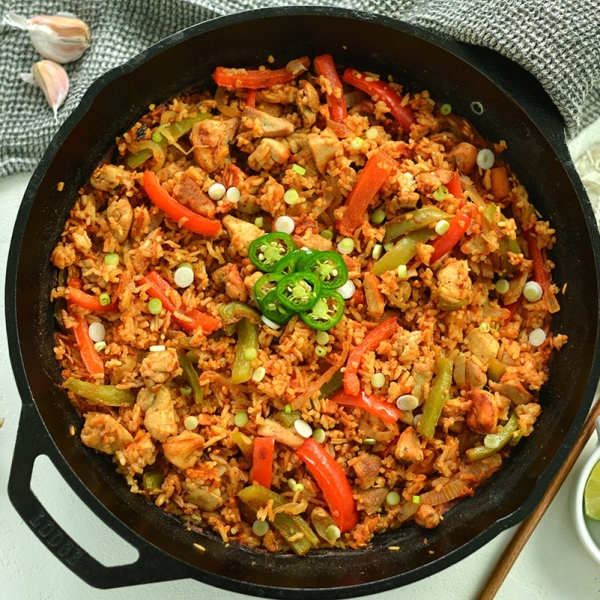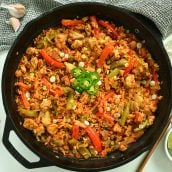 Tex-Mex Chicken and Rice Skillet Recipe
Busy families can never have enough delicious and quick one dish meals. This Chicken and Rice Skillet is one of our favorites and so easy!
Instructions
Heat the vegetable oil over medium heat in a 16-inch cast iron skillet or large pan. Meanwhile, season the chopped chicken with the salt and pepper.

Add the chicken, browning for 3-4 minutes, chicken may not be fully cooked.

To the same skillet, add the bell pepper, onion and garlic, sauteing for 2-3 minutes or until just softened.

Add the rice, toasting for for 2-3 minutes.

Add the tomato sauce, chicken broth and taco seasoning. Bring to a low boil.

When boiling, reduce to low and cover. Cook for 17-20 minutes or until rice is cooked and no liquid remains.

Fluff rice with a fork and serve, top with sour cream and scallions.

If you've tried this recipe, come back and let us know how it was in the comments or ratings!
Nutrition
Calories:
472
kcal
,
Carbohydrates:
44
g
,
Protein:
27
g
,
Fat:
20
g
,
Saturated Fat:
7
g
,
Polyunsaturated Fat:
4
g
,
Monounsaturated Fat:
8
g
,
Trans Fat:
1
g
,
Cholesterol:
85
mg
,
Sodium:
564
mg
,
Potassium:
554
mg
,
Fiber:
2
g
,
Sugar:
4
g
,
Vitamin A:
1643
IU
,
Vitamin C:
56
mg
,
Calcium:
40
mg
,
Iron:
2
mg