Mushroom Chicken and Rice Skillet has quickly become one our our go-to one dish meals. Simple, but with levels of sophisticated flavor, it is worthy of a special occasion or a random Wednesday night.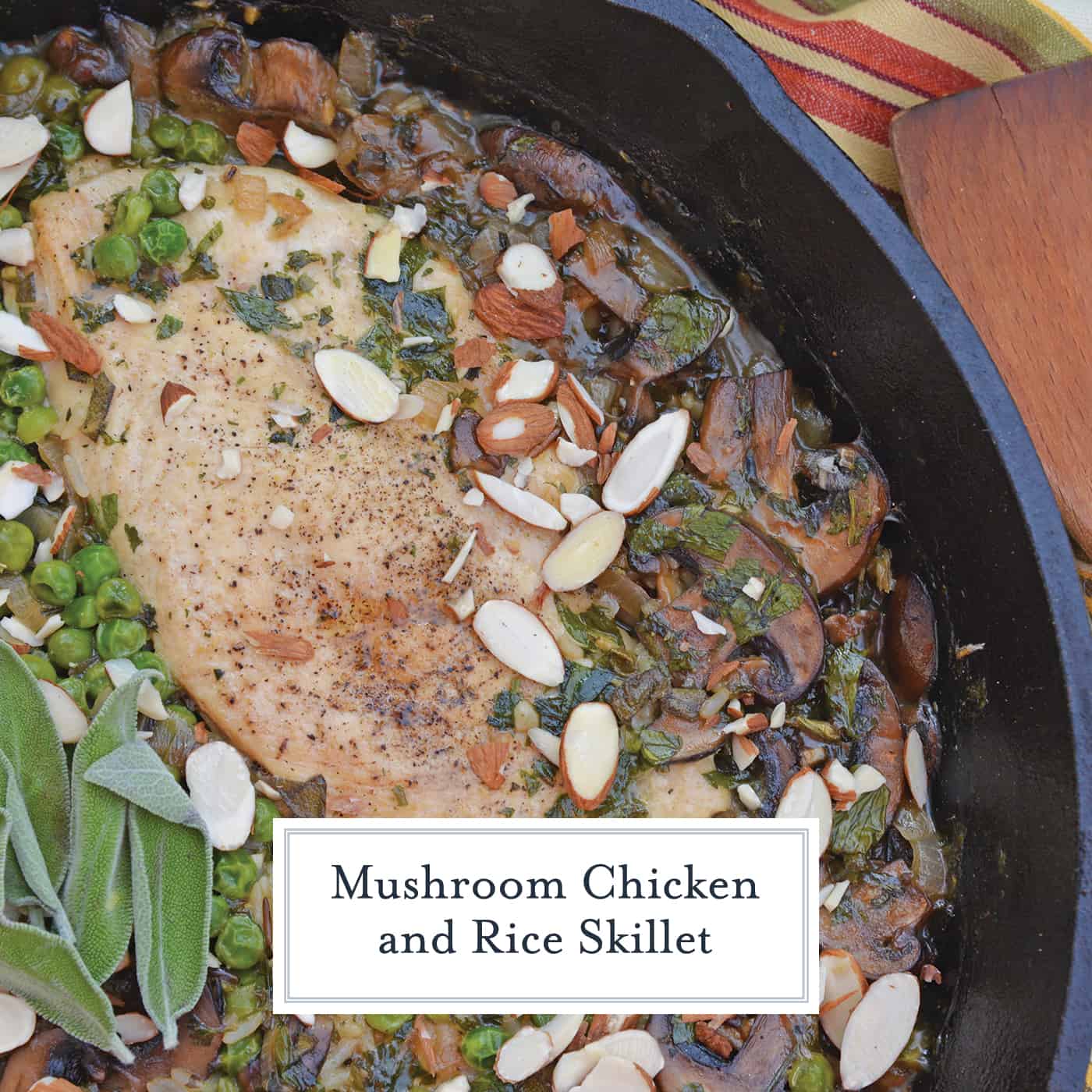 Mushroom Chicken and Rice Skillet is an easy one dish meal with loads of flavor like peas, mushrooms, shallots, sage and garlic.
Mushroom Chicken and Rice Skillet really comes together in layers. The first are shallots, garlic and mushrooms sweat down and seasoned with sherry.
While you can use expensive and flavorful mushrooms, I don't recommend it for this dish. The beauty is that this layer takes on the flavor of sherry.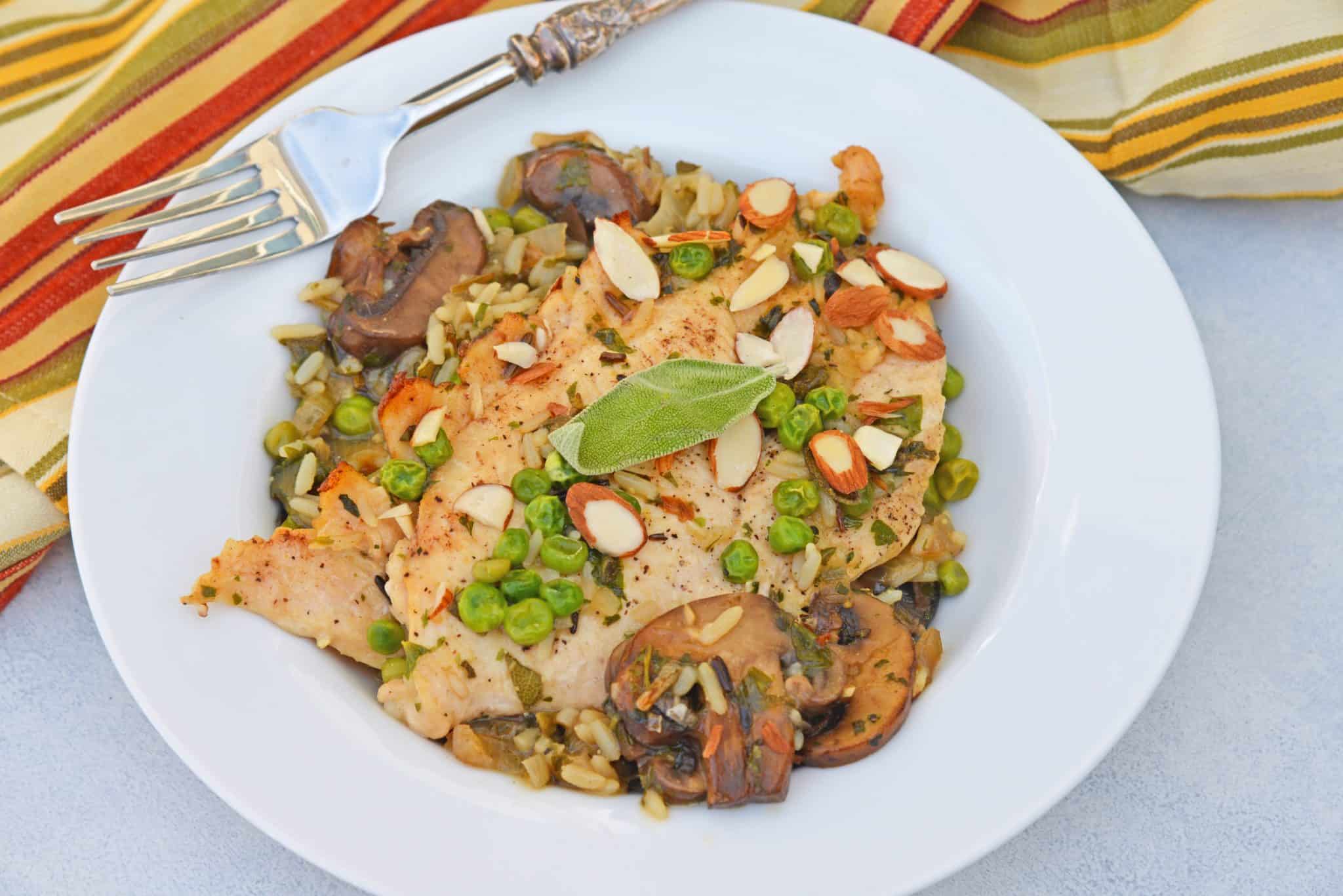 Expelling their natural water and sucking up the sweet and smoky flavor. Of course, you can omit the sherry if you don't cook with alcohol, but the amounts are truly minimal and the actual alcohol cooks off leaving only the flavor and fragrance behind.
The next layer is the chicken, seasoned with a basic sea salt and freshly ground pepper blend, it is simple enough to be paired with the rich and earthy rice.
Long grain wild rice mix has to be my favorite box mix. In college, I used to buy it on sale and make box after box, eating nothing by long grain wild rice for days. Hey, it was better than 99 cent Ramen packets!
To make the rice even better, I use chicken broth as the base instead of water. While the seasoning mix will give a good amount of zest, I like to amp it up just a little more with fresh sage and parsley.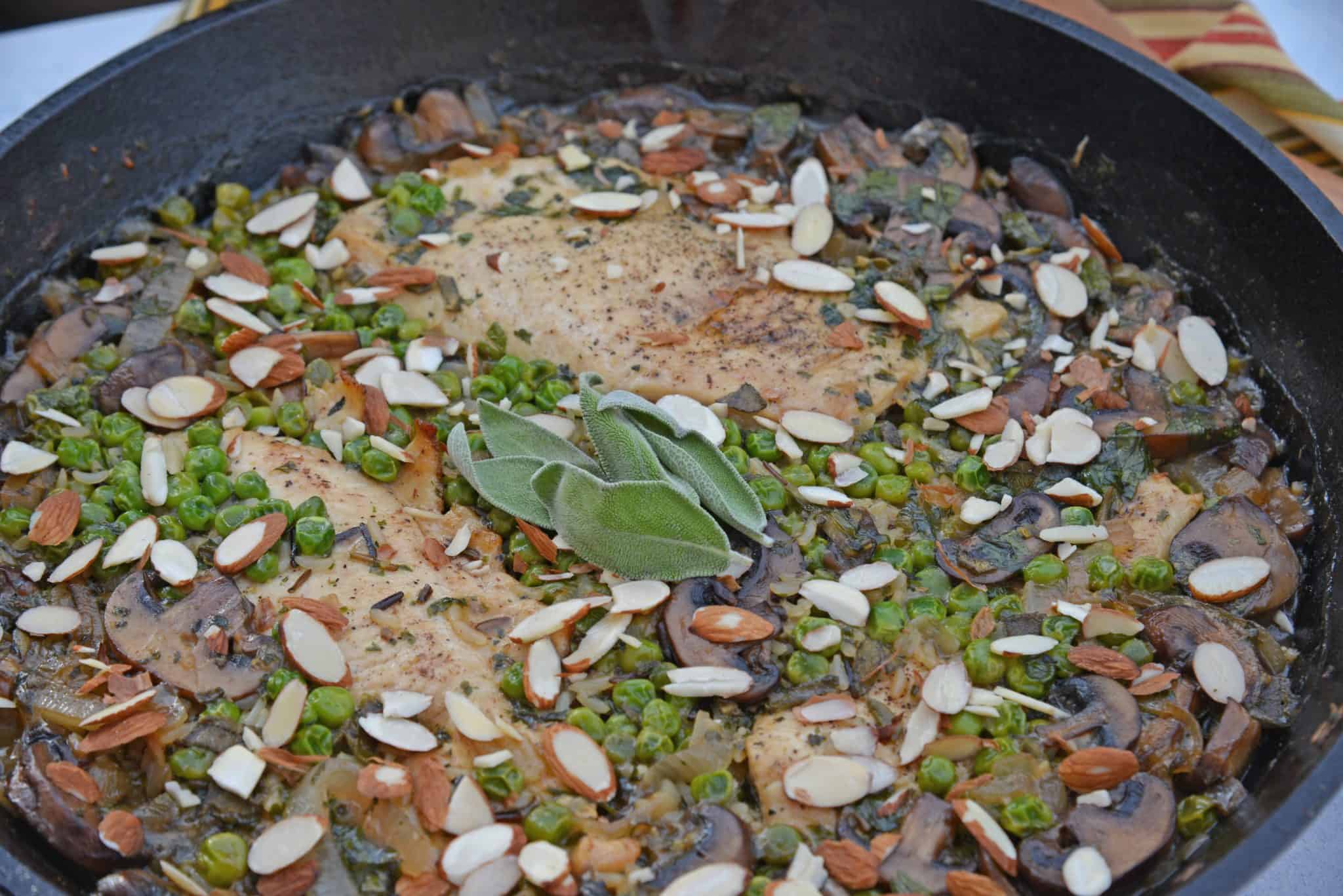 Lastly, almonds and peas add texture, gently popping and crunching your mouth. The beauty of all these ingredients is that with the exception of the chicken and rice, any of them can be omitted.
Kiddos turn their nose up at sage? No problem! No fresh parsley or frozen peas on hand? No worries! As long as you have the basic tenets, this dish is virtually foolproof!
Mushroom Chicken and Rice Skillet is also gluten free! In fact, I developed it when I hosted a dinner for my close neighbor, who at the time was abstaining from gluten. Apparently most of the meals she was eating were pretty bland, but this one brightened her day.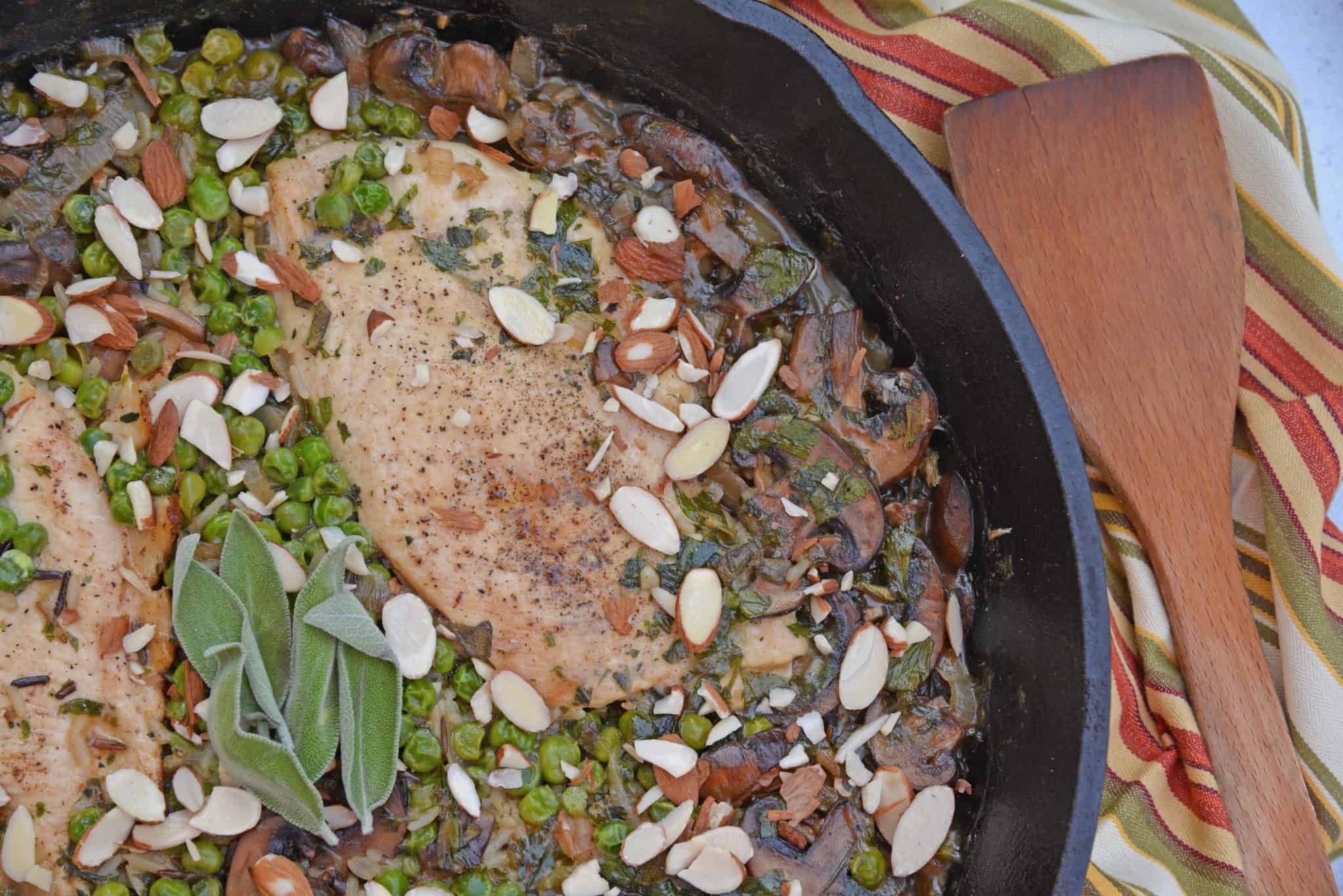 If you do not have a cast iron pan, you can use any large, deep oven safe pan or a Dutch oven. You can also prepare items in a large skillet and then transfer to a large glass baking dish.
Tools use to make Mushroom Chicken and Rice Skillet:
Cast Iron Skillet
-I'm always amazed at how much my large Lodge cast iron pan can hold… tons of food.. could feed an army! Except for its sheer weight, I love cooking with this thing! It get used so much, it doesn't even have a "home". Well, I guess its home it the stovetop.
Wood cutting board
– wood won't dull your knives like plastic and if treated properly, has natural antimicrobial properties.
Good knife
– Global is my favorite! They are worth the price, I promise. I am kind of obsessed with them and store them tucked away so no one else can use them. Including hubby. Hands off my good stuff!
Plastic Storage Containers
– you can never have too many! Mushroom Chicken and Rice Skillet is also excellent for meal prep. I make one batch and it lasts me all week!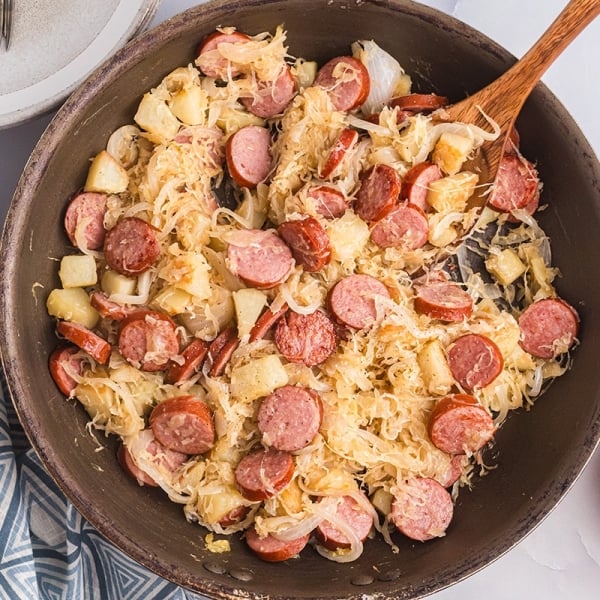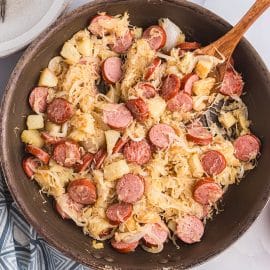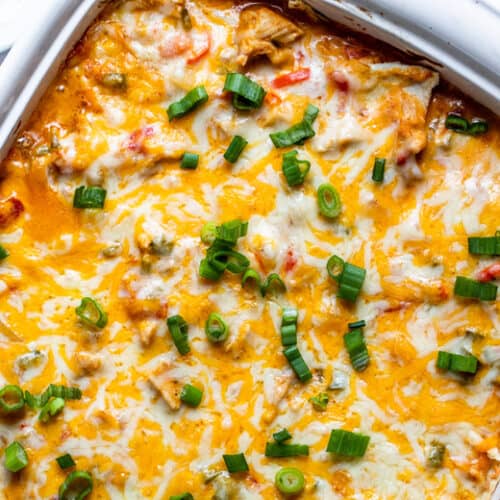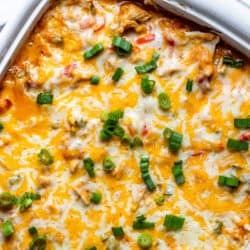 Easy King Ranch Recipe
This King Ranch Chicken Casserole is packed with incredible Tex-Mex flavors and of course loads of cheesy goodness. This simple recipe is perfect for a family dinner and can be made ahead of time.
See The Recipe!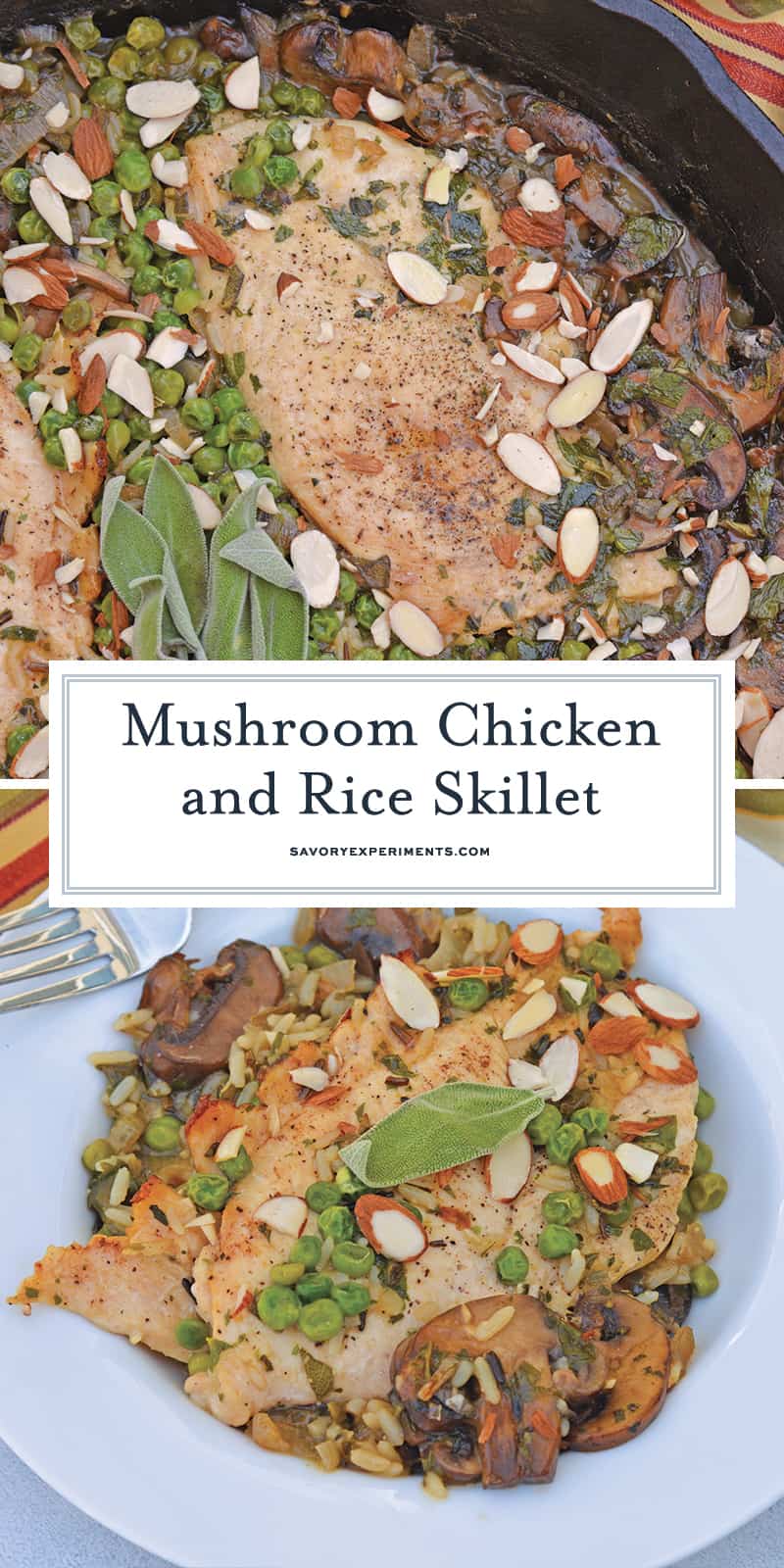 Before you get started, make sure you know how to properly season your cast iron and how to clean your cast iron!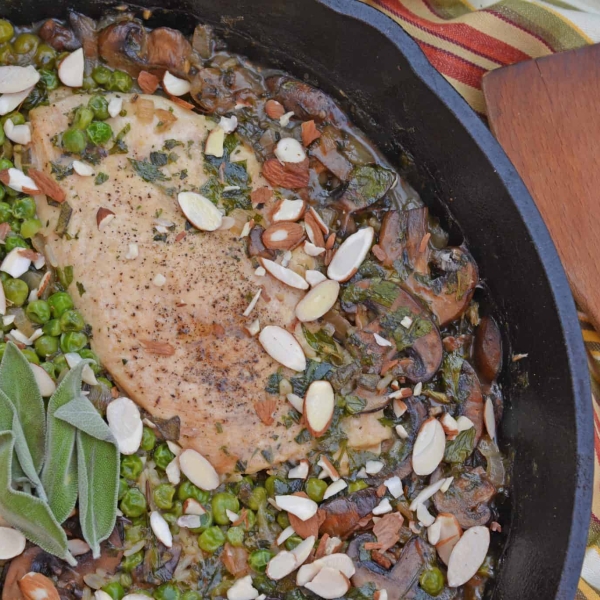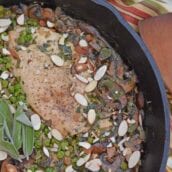 Mushroom Chicken and Rice Skillet Recipe
Mushroom Chicken and Rice Skillet is an easy one dish meal with loads of flavor like peas, mushrooms, shallots, sage and garlic.
Instructions
Preheat oven to 350 degrees. Season both sides of chicken breasts with salt and pepper.

Melt 2 tablespoons butter in a large cast iron skillet. Add chicken to the pan. Cook for 3 minutes on each side or until nicely browned. Chicken will not be fully cooked. Remove to a plate, set aside.

Add additional tablespoon of butter to the pan. Saute shallots for 2 minutes. Add garlic, saute one minute. Add mushrooms and allow to sweat down for 2-3 minutes, reducing approximately half in size.

Add sherry, scraping up browned bits from the bottom of the pan (deglazing). Allow mixture to cook down and liquid to absorb into the mixture. When liquid is almost gone, about 5 minutes, spoon into a bowl and set aside. A small amount of liquid remaining is fine.

Whisk together 1/2 cup chicken broth with cornstarch, set aside.

Add chicken broth and cornstarch mix to the hot skillet, slowly stir in cornstarch/water mixture. Increase heat until mixture comes to a simmer.

Add long grain wild rice and seasoning packet to the skillet. Continue to cook for 4 minutes. Stir in parsley and sage. Turn off heat. Add frozen peas, stir.

Return chicken to the skillet, nestling it in the rice. Place into the oven and bake for 30 minutes.

Remove skillet and top with sliced toasted almonds.

If you've tried this recipe, come back and let us know how it was!
Notes
You can also substitute white rice. Brown rice does not work well because it requires so much additional water. Do not use instant or minute rice.
Nutrition
Calories:
640
kcal
,
Carbohydrates:
49
g
,
Protein:
61
g
,
Fat:
20
g
,
Saturated Fat:
7
g
,
Cholesterol:
167
mg
,
Sodium:
997
mg
,
Potassium:
1688
mg
,
Fiber:
7
g
,
Sugar:
6
g
,
Vitamin A:
980
IU
,
Vitamin C:
37
mg
,
Calcium:
112
mg
,
Iron:
3.9
mg