Break out your cast iron skillets, these easy skillet meals will be your new go-to meal when searching for a quick meal! From breakfast to dinner, this list of recipe covers it all!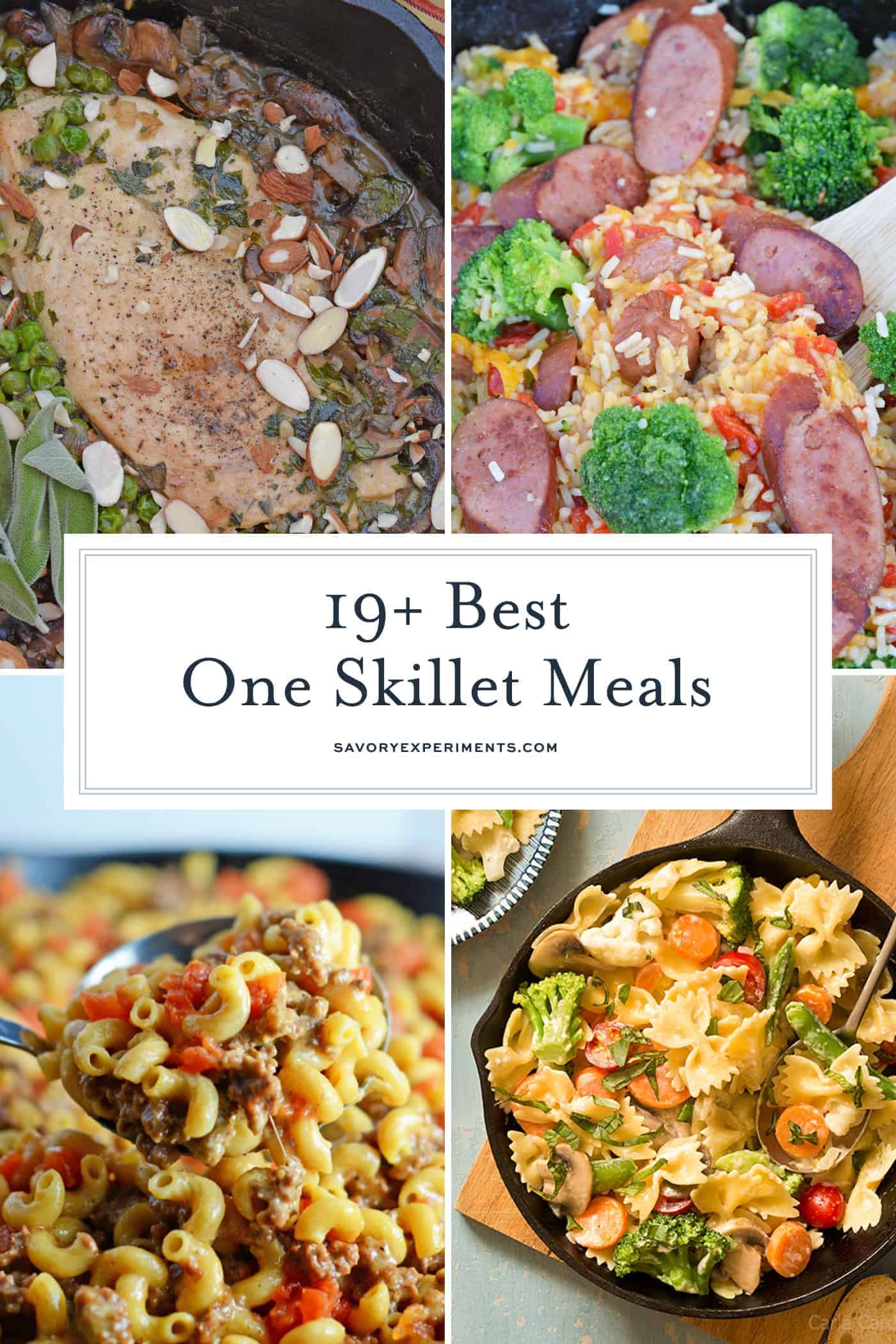 Whether you're looking for dinner in a hurry or to minimize your dishes, these one skillet meals are perfect! These skillet meal recipes are perfect for any weeknight meal!
My cast iron skillet is one of my all time favorite tools in the kitchen. If seasoned correctly, it can really add another dimension to any meal!
Quick and easy dinners are my go to during the week – anything to cut down on the work! I love when I can make an entire dinner in one pan, and these one skillet meals are some of my favorites!
One Skillet Breakfasts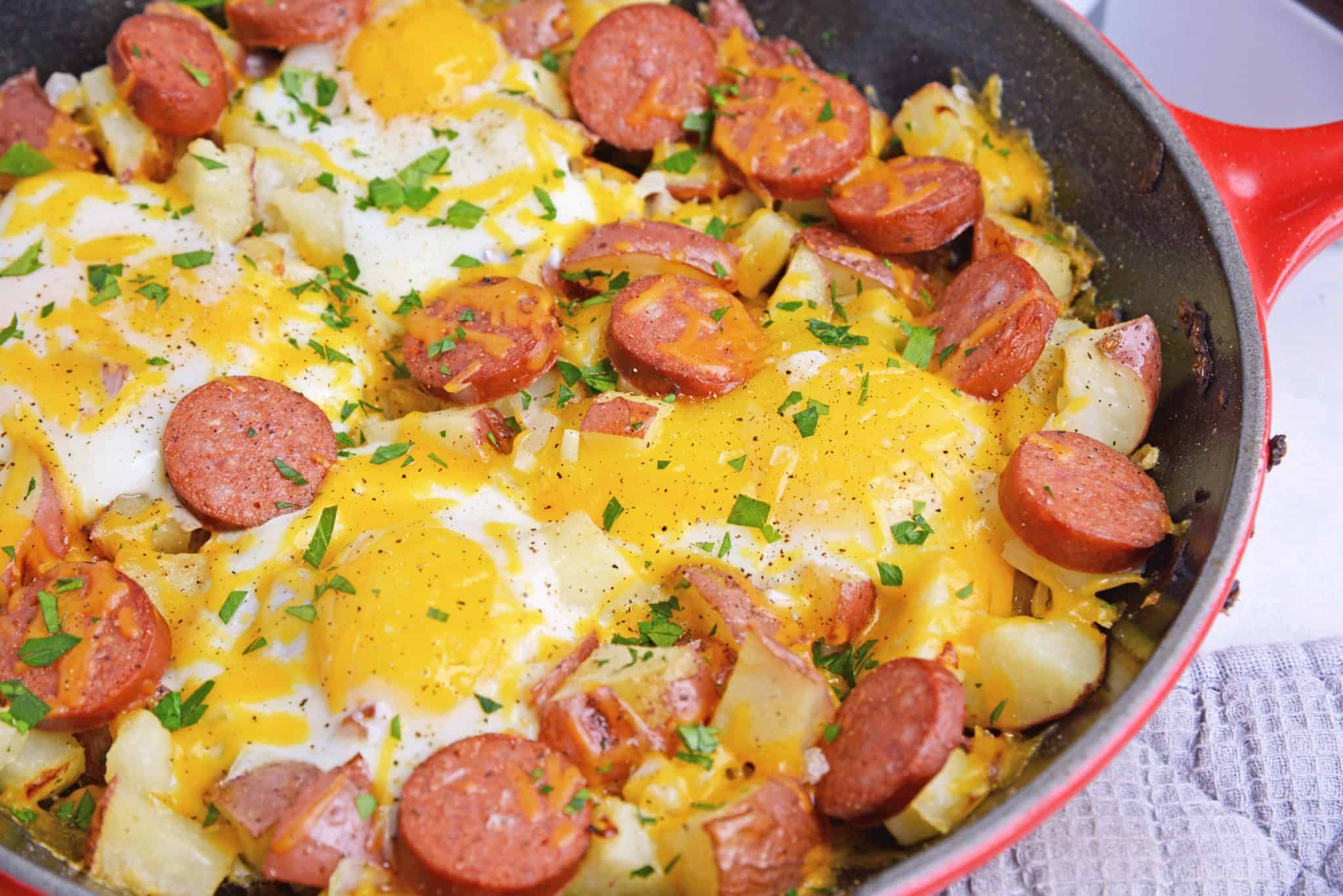 Potato, Andouille Sausage and Egg Skillet is a delicious breakfast skillet with andouille sausage, potato, eggs and gooey cheese. Ready in 30 minutes and perfect for special weekend brunch!
Start your day the right way with this simple and delicious Sweet Potato Breakfast Skillet. Beautiful hearty ingredients and absolutely packed with flavor! You can find the recipe here.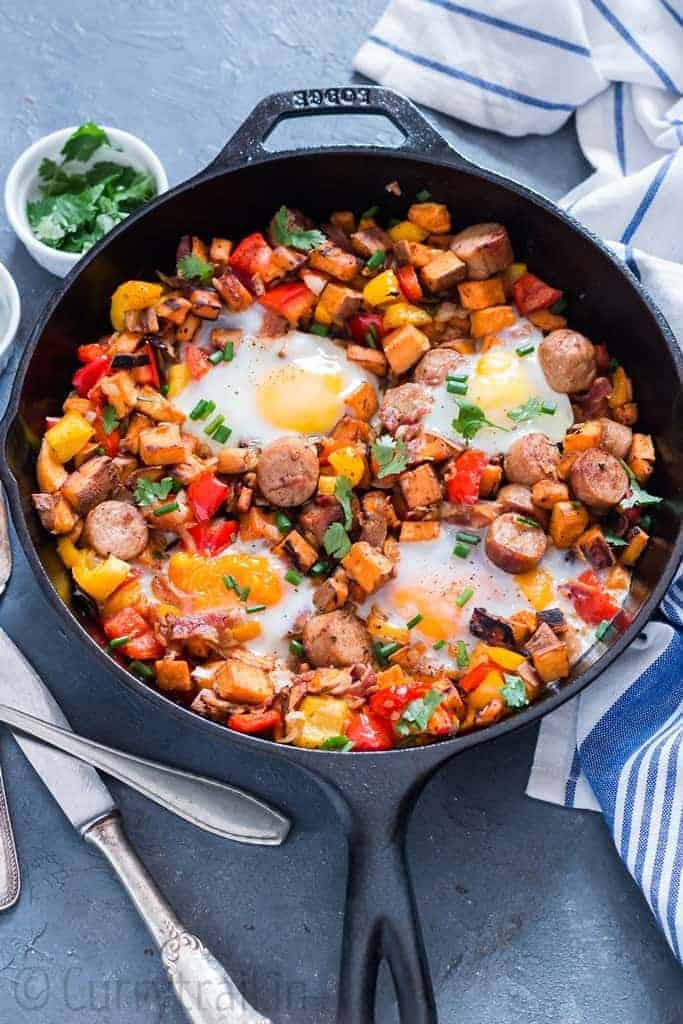 Loaded with sweet potatoes and other vegetables, this Sweet Potato Hash with Sausages and Eggs is all hearty, healthy and satisfying the same time! You can find the recipe here.
One Skillet Pork Meals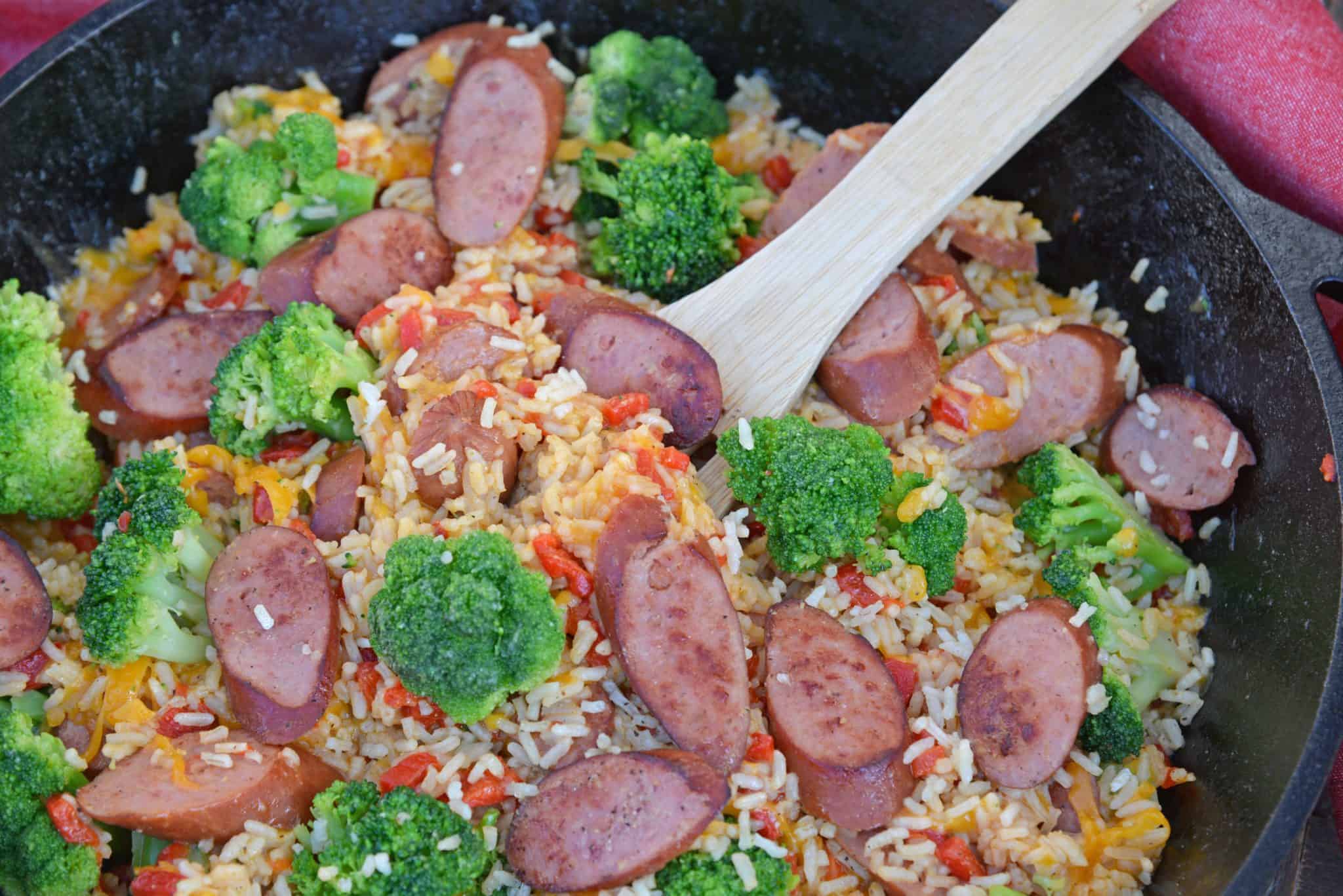 Sharp cheddar cheese tossed with rice, broccoli florets, roasted red pepper and tender smoked sausage. Dinner is ready in just 15 minutes with this Cheesy Sausage Broccoli Skillet.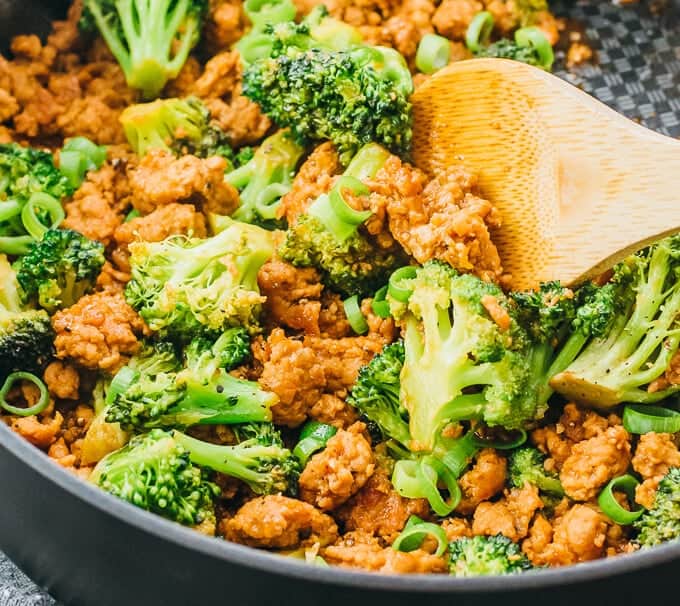 This Simple Pork Stir Fry is an easy stir fry with ground pork, broccoli, and a simple sauce. Super easy, and healthy, too! You can find the recipe here.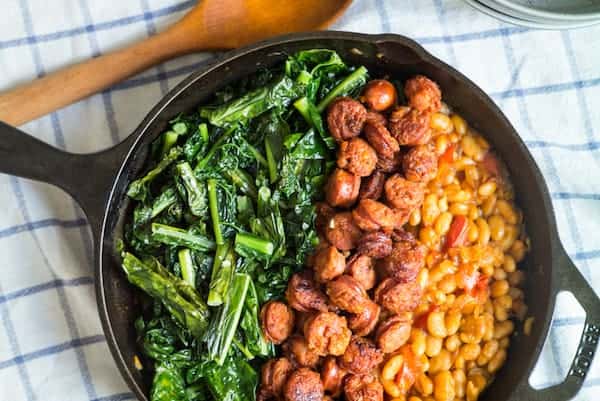 This Cowgirl Lunch is jam packed with beans, meat and dark greens for a flavorful and hearty meal that everyone will enjoy! You can find the recipe here.
Pork and Sauerkraut Skillet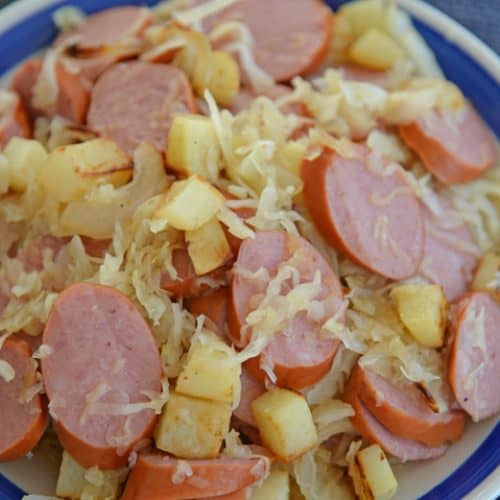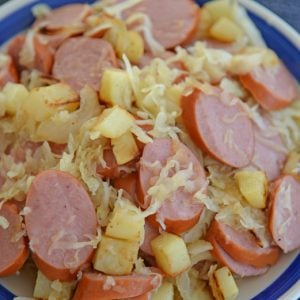 Easy and succulent, this recipe uses smoky kielbasa for the pork. Precooked and flavorful, it is the BEST pork and sauerkraut recipe out there!
One Skillet Beef Meals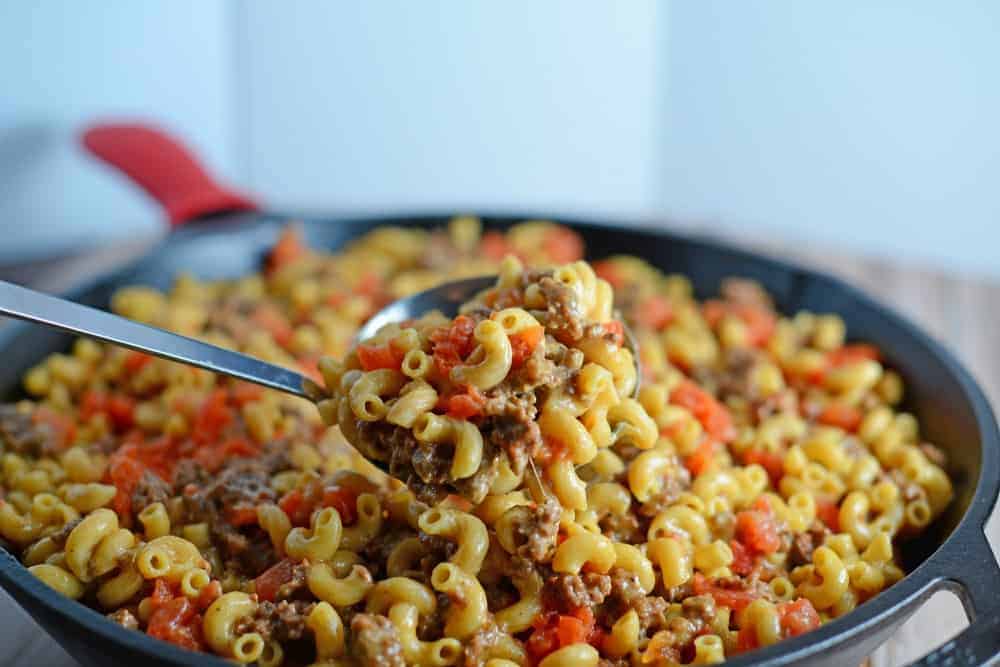 This Homemade Cheeseburger Helper is a great hamburger meat recipe the whole family will enjoy! A one-dish meal with lean ground beef, cheddar cheese, seasonings and tomatoes all ready in 20-minutes!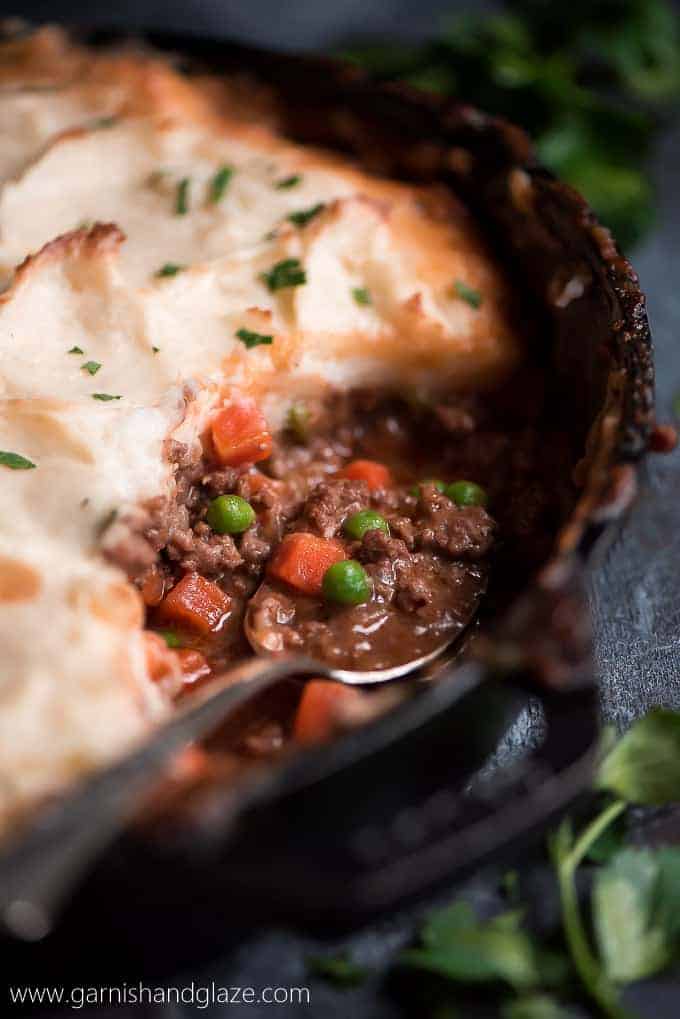 This easy Skillet Shepherd's Pie is a warm and hearty Irish dish. It's a great way to use up those leftover mashed potatoes! You can find the recipe here.
Beef Goulash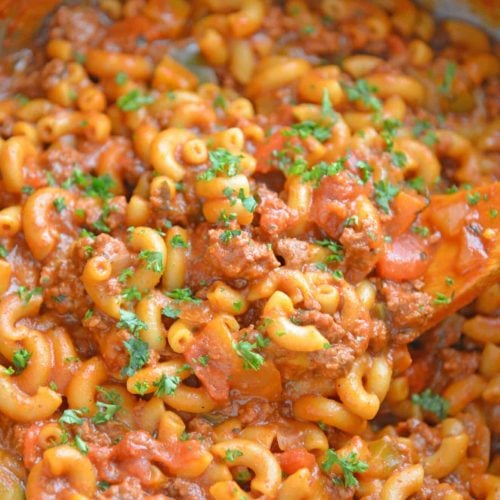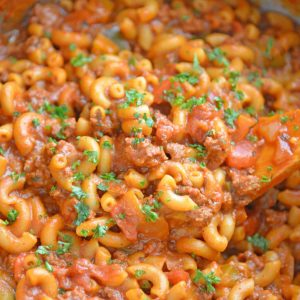 Classic goulash doesn't get any better than this Beef Goulash recipe! The perfect comforting meal for any weeknight!
One Skillet Chicken Meals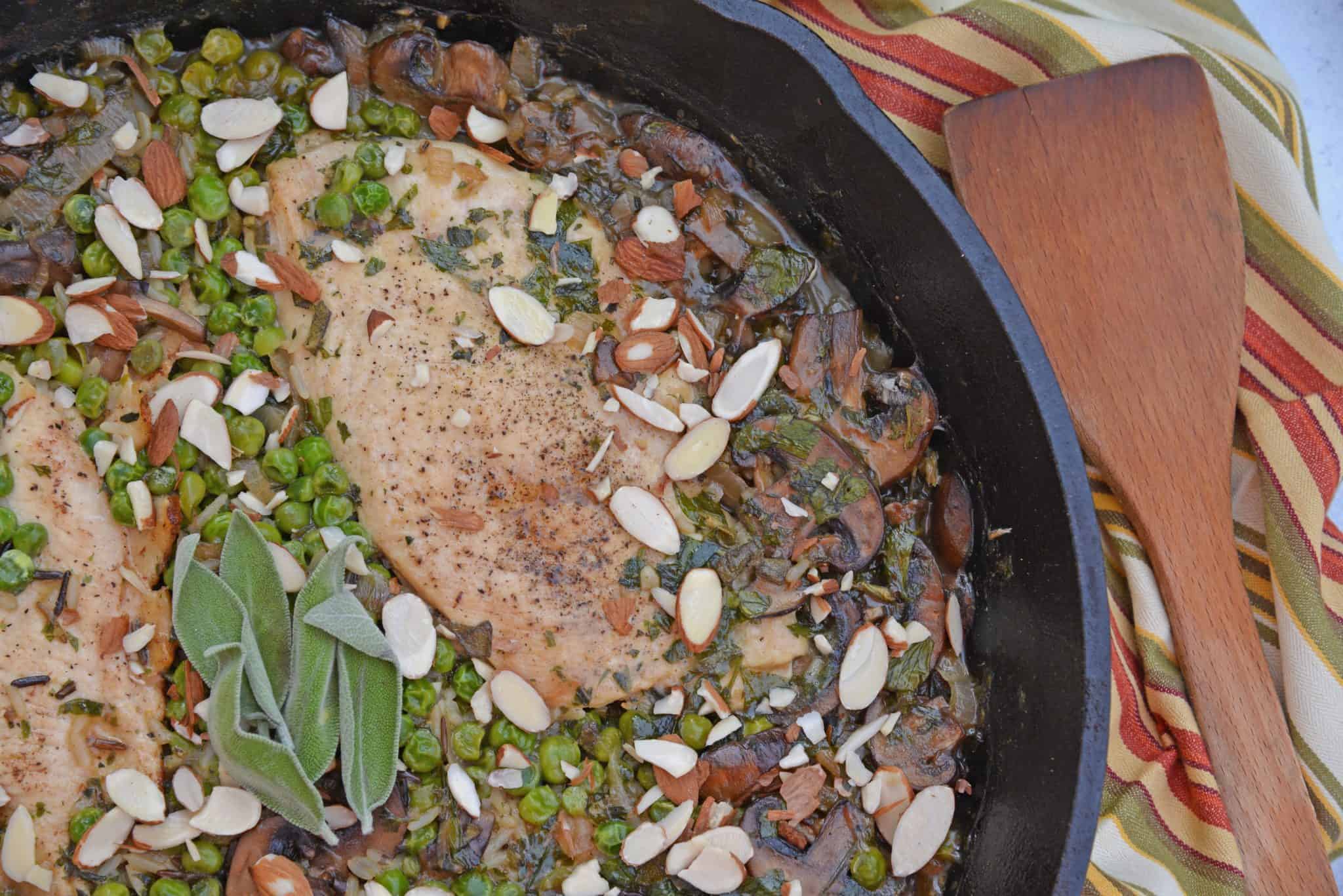 Mushroom Chicken and Rice Skillet is an easy one dish meal with loads of flavor like peas, mushrooms, shallots, sage and garlic!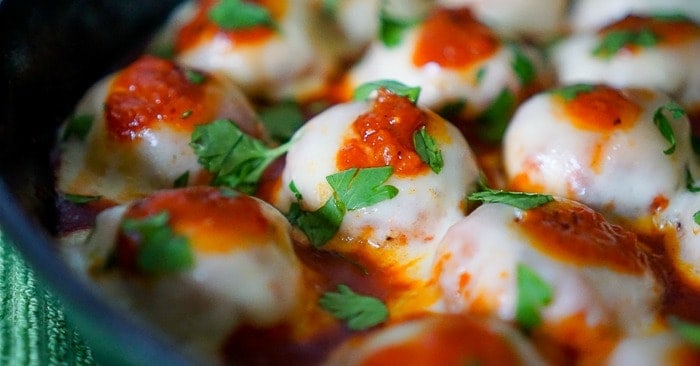 Delicious and hearty Chicken Parmesan Meatballs are perfect for dinner and game day! You can find the recipe here.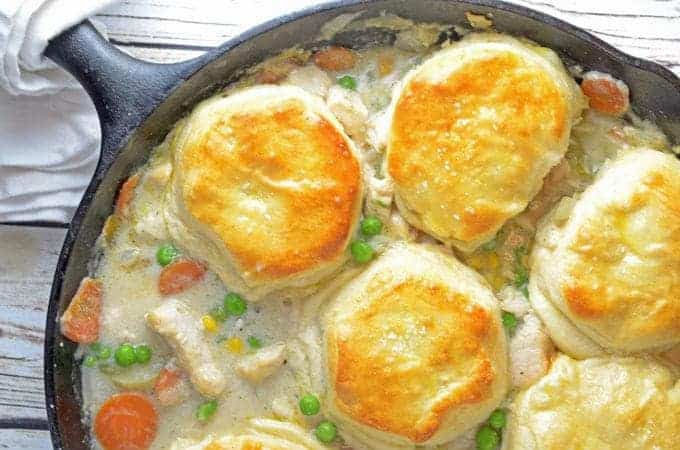 If you love one skillet meals, then this Skillet Chicken Pot Pie is a must try. Make this skillet recipe in under an hour! You can find the recipe here.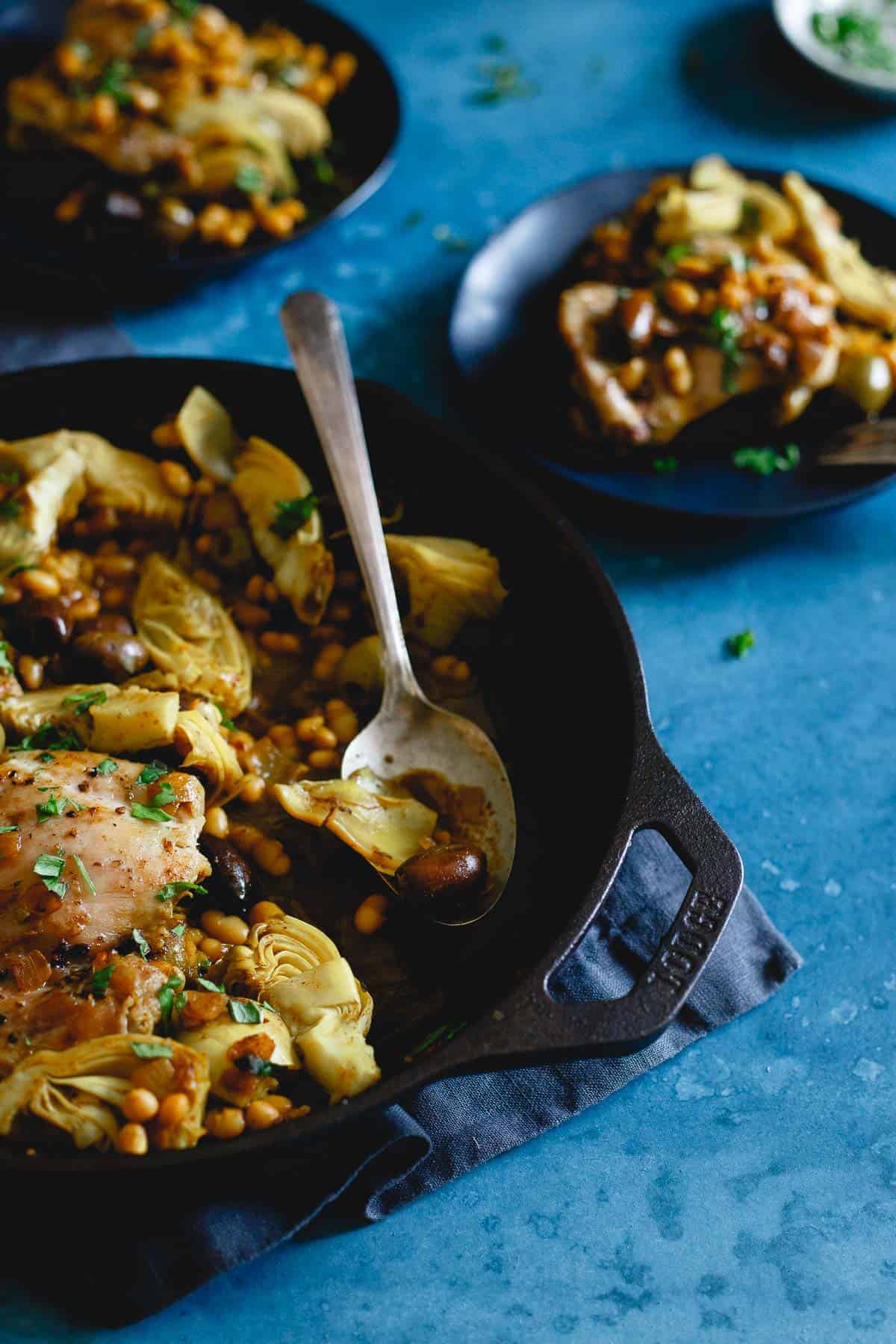 This one pan Chicken Artichoke Olive Skillet is filled with Mediterranean style ingredients for an easy weeknight meal packed with flavor! You can find the recipe here.
One Skillet Seafood Meals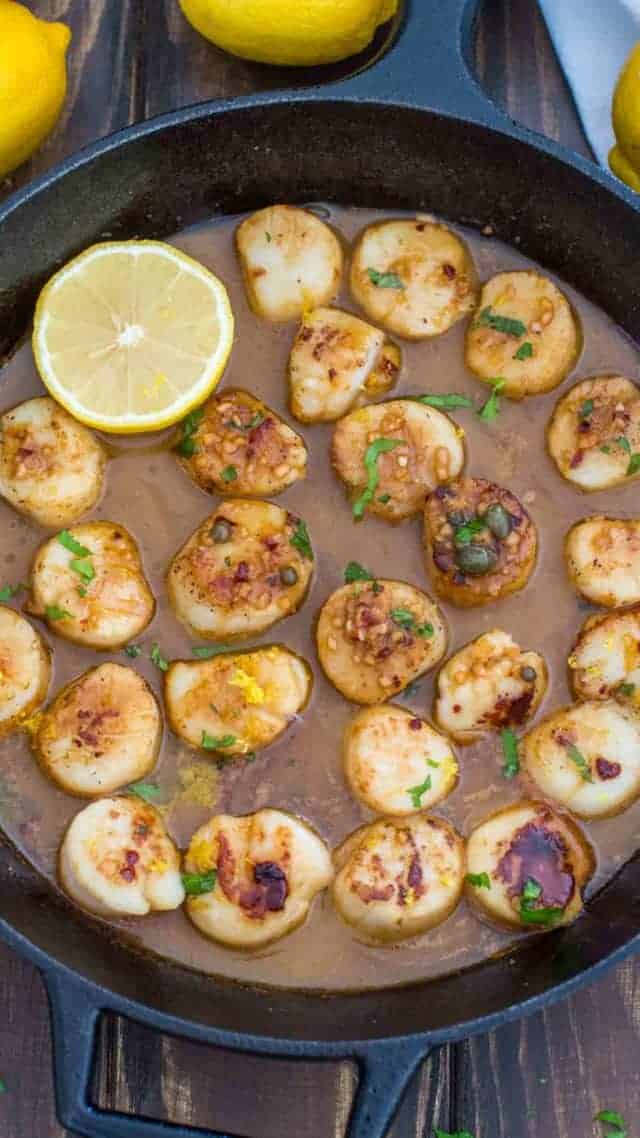 Lemon Garlic Scallops are an impressive dish for guests or the perfect choice for a romantic dinner for two. This pan seared scallops recipe is on the table in just 20 minutes, leaving plenty of time for you to socialize with your dinner guests! You can find the recipe here.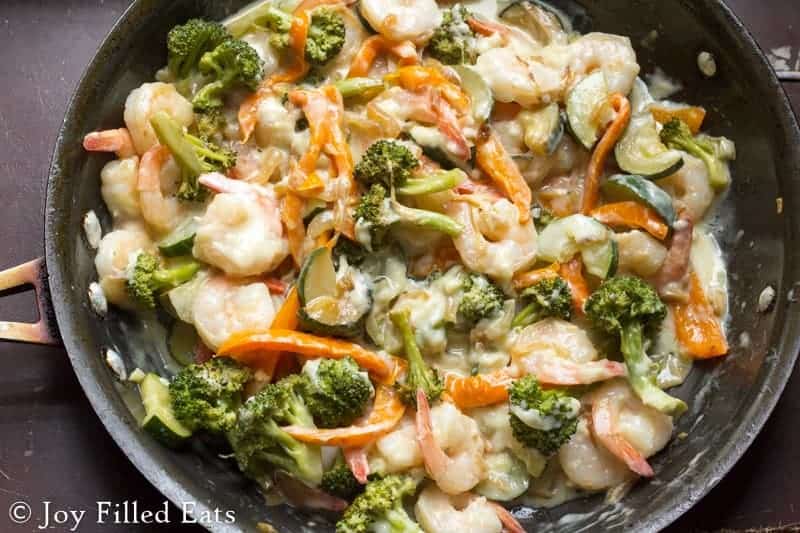 This Creamy Shrimp Primavera is the perfect special occasion family dinner. It is sure to become an instant family favorite! You can find the recipe here.
One Skillet Pizzas and Mexican Meals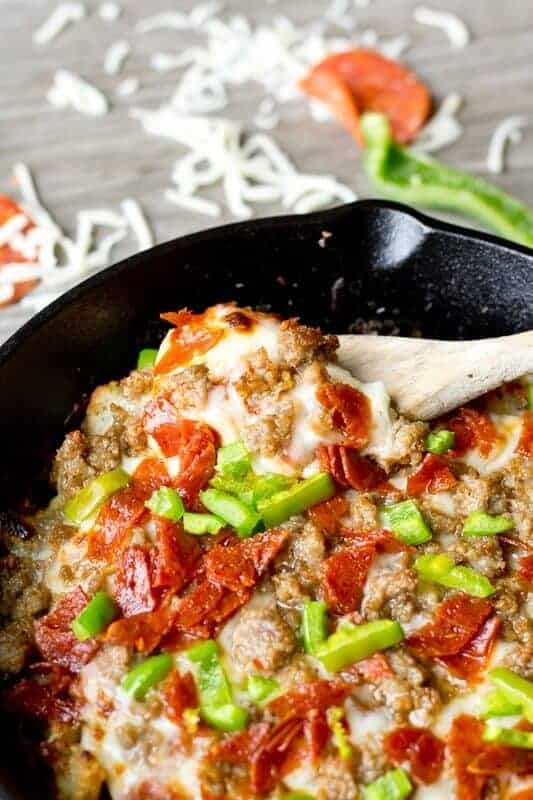 Golden fried, Skillet Pizza Potatoes topped with pizza sauce, gooey cheese and the pizza toppings of your choice makes for the perfect weeknight meal! You can find the recipe here.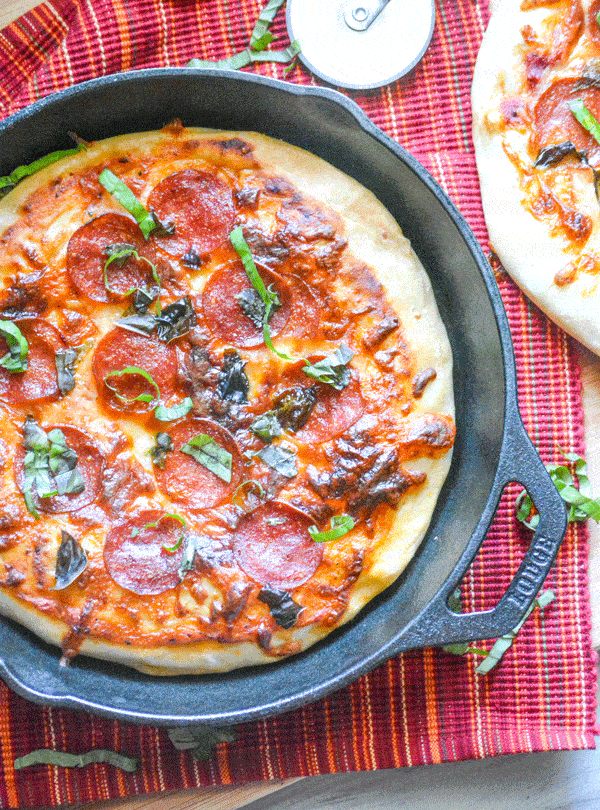 These Easy Cast Iron Pan Pizzas with Perfect Crust have the best crispy, oiled golden brown crust. Fix 'em up with your favorite toppings for an easy, at home experience you won't soon forget! You can find the recipe here.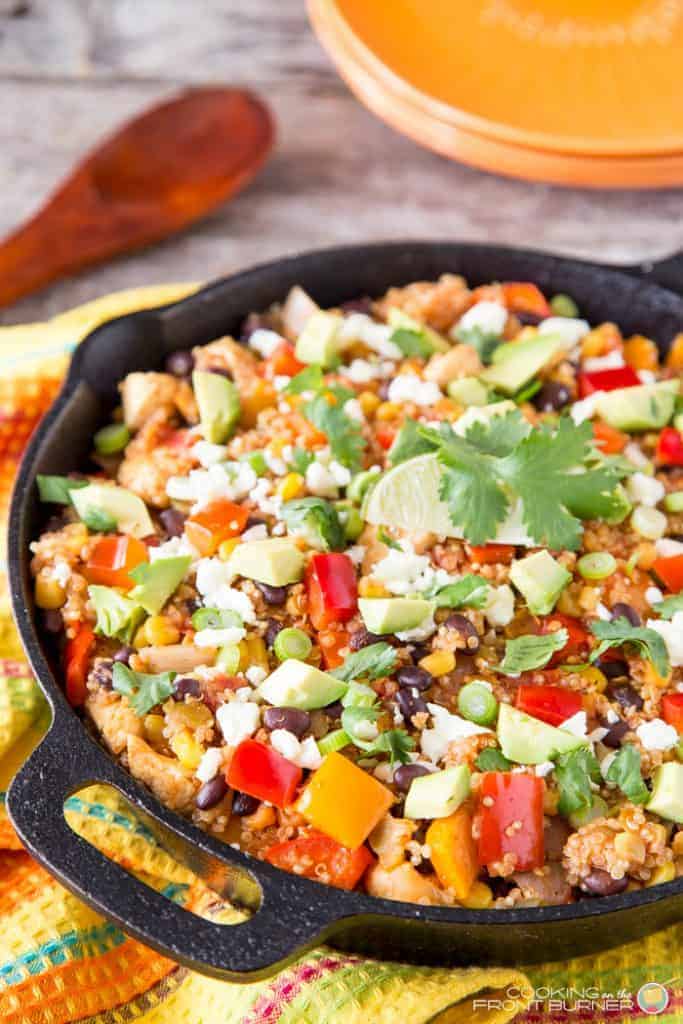 This Mexican Quinoa Dinner recipe is full of fresh, flavorful ingredients. A one skillet meal, ready to eat in about 35 minutes! You can find the recipe here.
Chicken Enchilada Casserole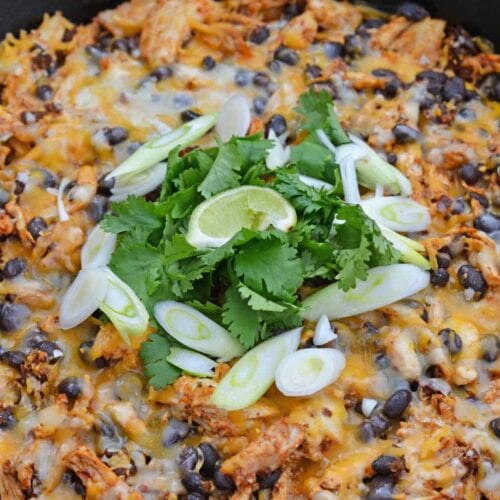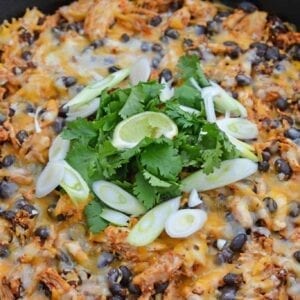 This Chicken Enchilada Casserole Recipe is a delicious casserole recipe loaded with a cornbread crust, chicken, beans, and cheese, all made in a cast iron skillet!
Mexican Beef and Rice Casserole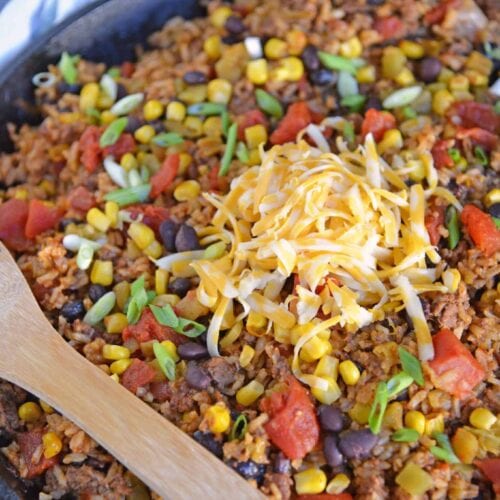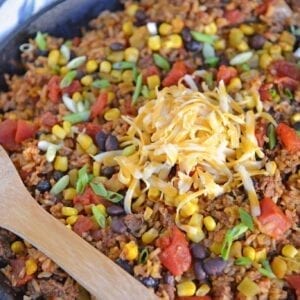 Mexican Beef and Rice Casserole is an easy weeknight recipe using ground beef, taco seasoning and other easy ingredients for a one dish meal your whole family will love!

One Skillet Pasta Meals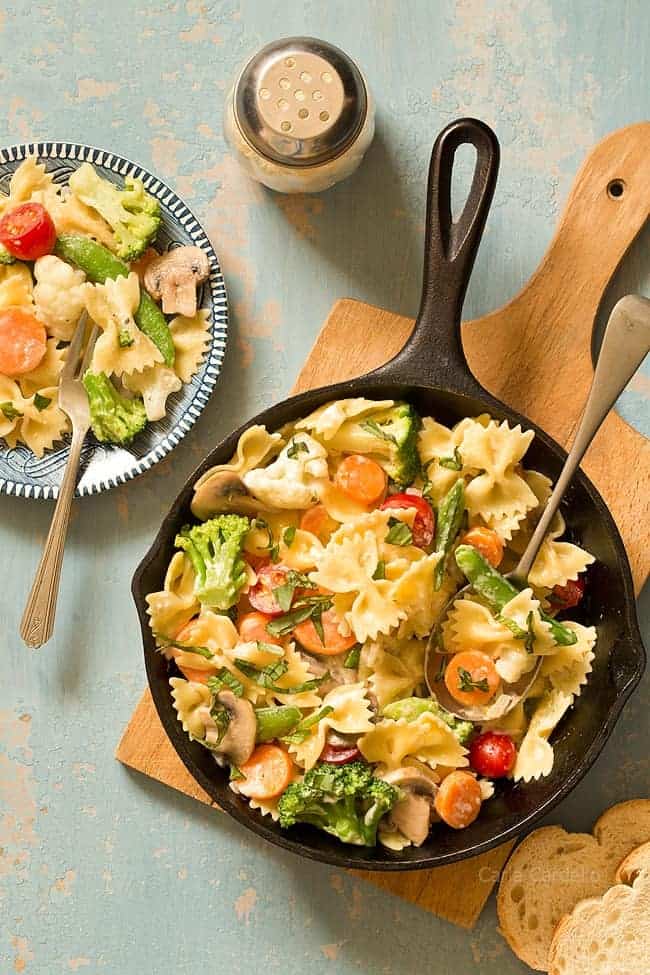 Get your daily serving of vegetables with One Skillet Pasta Primavera with a creamy Parmesan sauce! Customize your dinner by adding chicken, shrimp, and/or your favorite vegetables! You can find the recipe here.
Creamy Cajun Pasta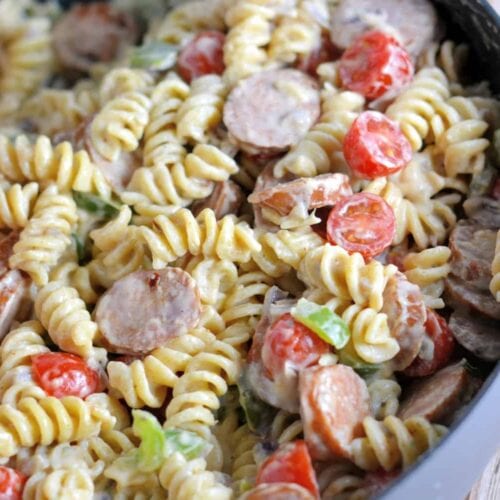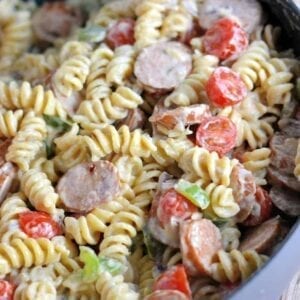 Creamy Cajun Pasta is seriously AH-MAZING and only takes 20 minutes! Rotini covered in a cream sauce with Cajun seasoning, smoky andouille sausage, sautéed peppers, red onion and grape tomatoes.
More quick and easy meals: