This crusted salmon recipe is the perfect sheet pan dinner to make as a meal during a busy week. The best part is everything fits on one pan and into the oven it goes for 15 minutes!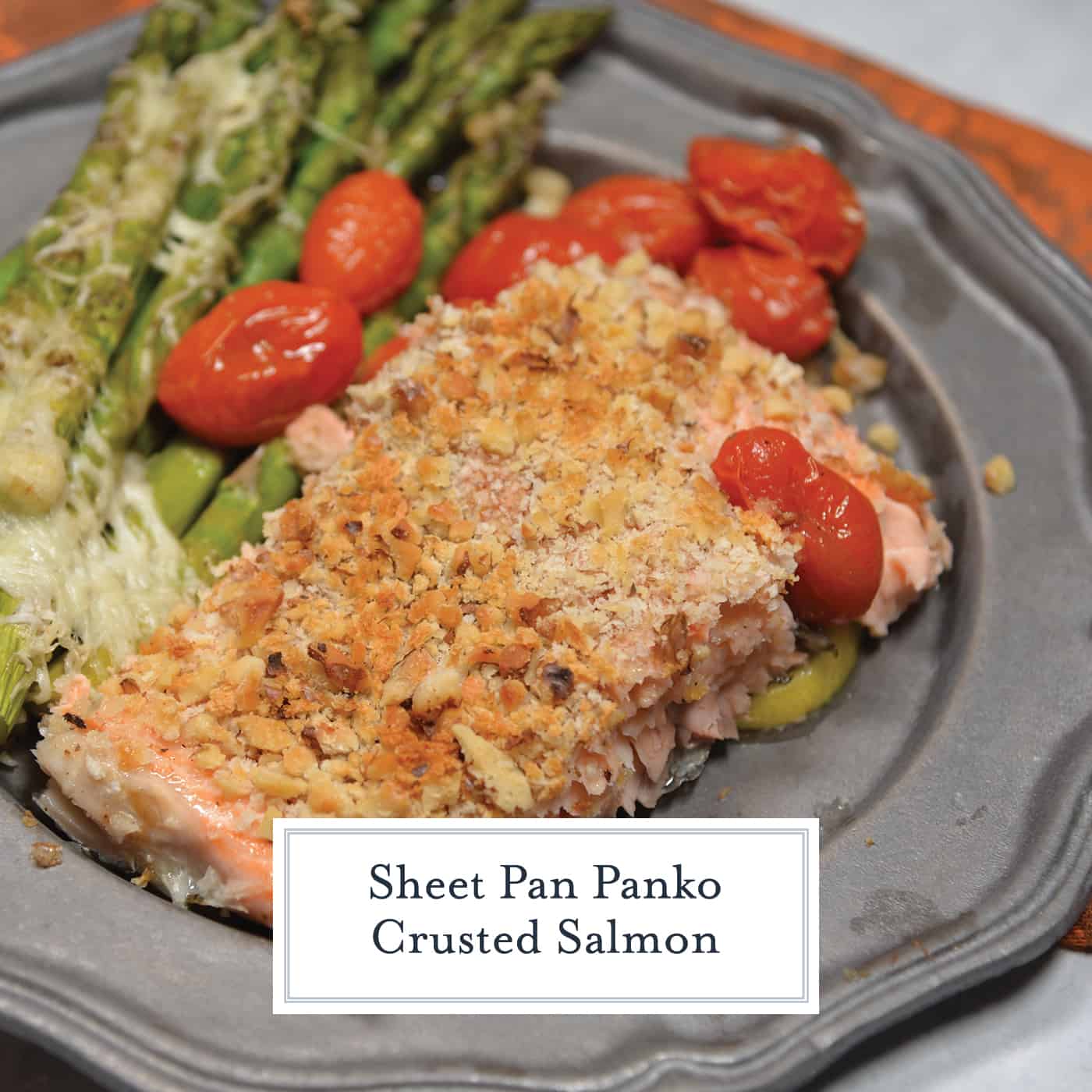 Panko Crusted Salmon is a fast, easy and healthy weeknight meal! This sheet pan dinner uses tomatoes, asparagus, and a crispy panko and walnut topping for your salmon!
Sheet pan meals are all the rage right now and I totally understand why. Simple prep and simple clean-up make this concept ideal for busy families every place.
But I find so many of the one dish meals and sheet pan meals are chicken. I like chicken, but I need some variety, so I transformed one of my favorite salmon recipes into Panko Crusted Salmon.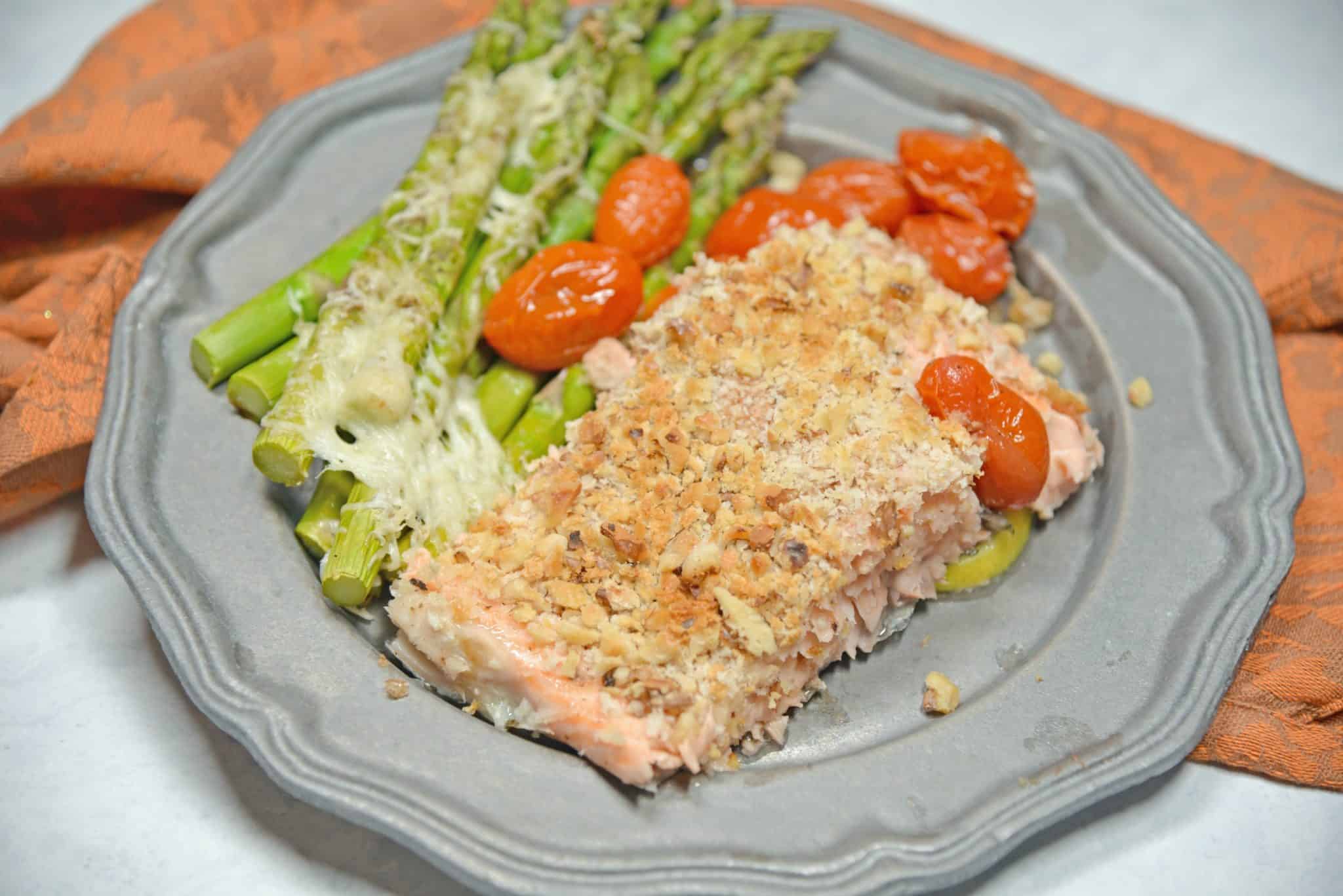 This was a recipe a used back in the day when I was all fit and going to the gym every night, surely a thing of the past. Panko, Japanese bread crumbs, combined with chopped walnuts complements the gentle flavor of salmon without being overwhelming and gives an immense amount of crunch.
Cooked on a bed of thinly sliced lemon, they don't dry out while cooking and the lemon infuses flavor.
After adding another favorite easy side dish recipe, Asiago Asparagus, and some cherry tomatoes, I had a well rounded meal. Although I have to admit, I generally make couscous or rice on the side.
One thing to note about salmon is that people tend to overcook it. There is a general fear about undercooking seafood that often leaves the home cook intimidated or not liking their creation because it doesn't taste restaurant quality.
The simple solution is to stop over cooking! The FDA recommends an internal temperature of 145 degrees, but that is for well done and salmon can be eaten medium rare, as it is generally prepared in restaurants.
For this, you only need to get it to 120 degrees. Salmon can also be treated like other pieces of meat, removed from the oven a few minutes before being fully cooked, covered loosely and allowed to rest. Although, with this crispy topping, I would refrain from covering, as it will create steam and make that topping mushy.
Also of note, there are different types of salmon and we eat salmon raw all the time! If you purchased from a reputable grocery or seafood market and handled it properly, your crime will never be undercooking, only overcooking.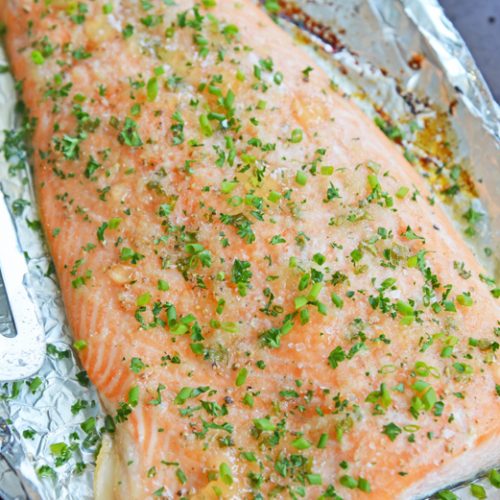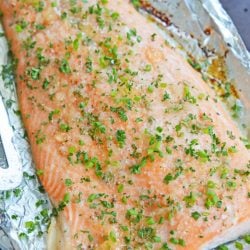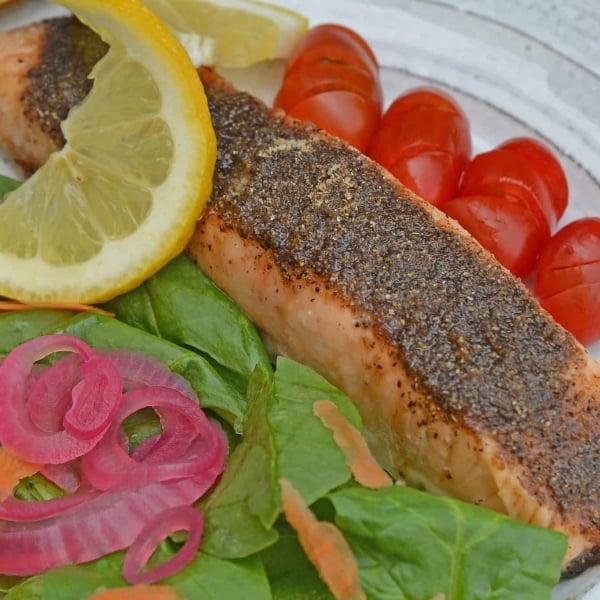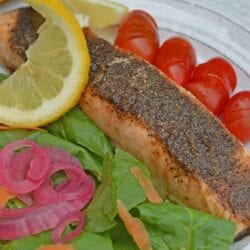 Pastrami Spiced Salmon
Pastrami Salmon Rub is a blend of the perfect salmon seasoning! Not only for baked salmon, this rub also work for grilled salmon and salmon kabobs!
See The Recipe!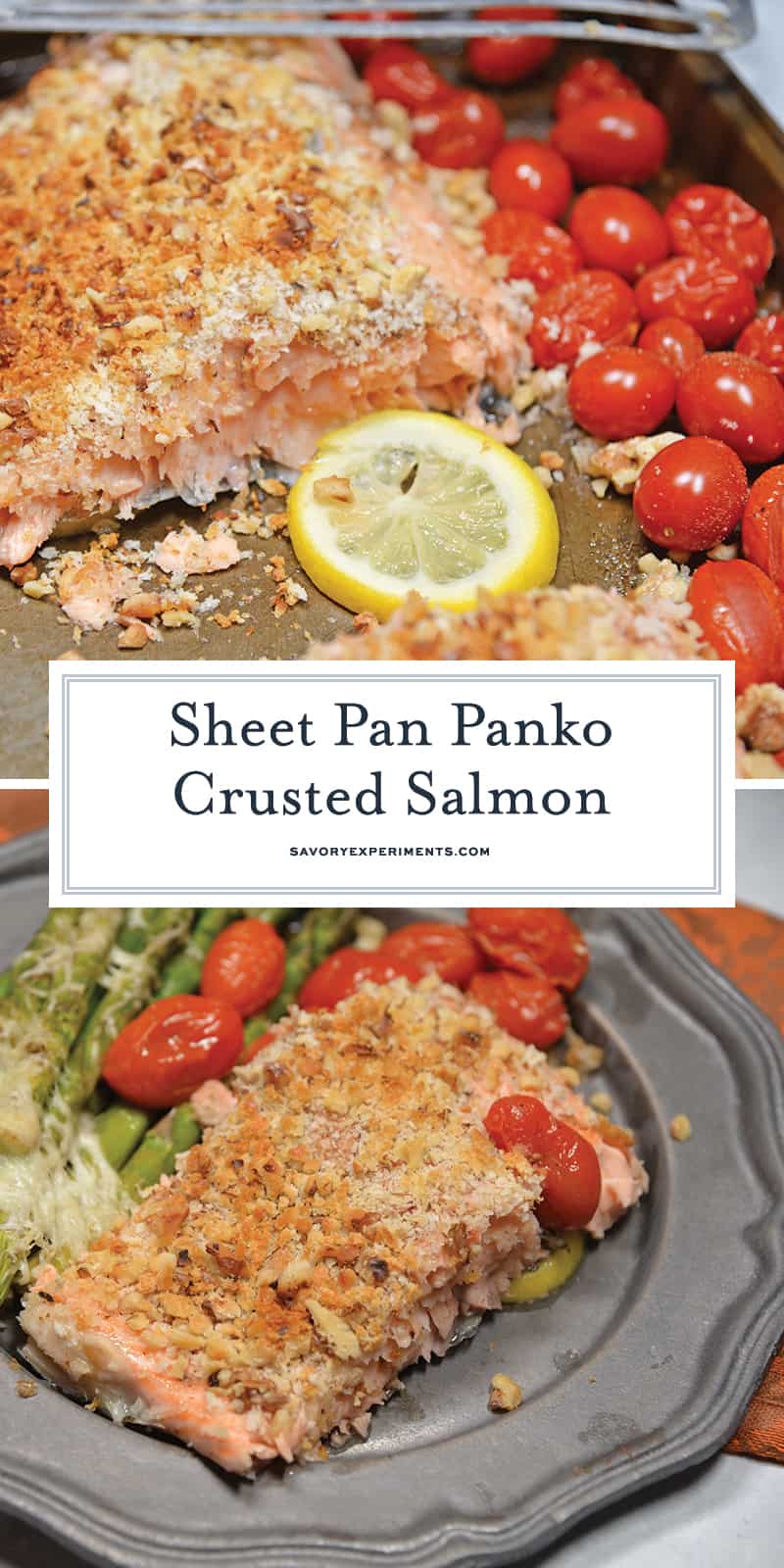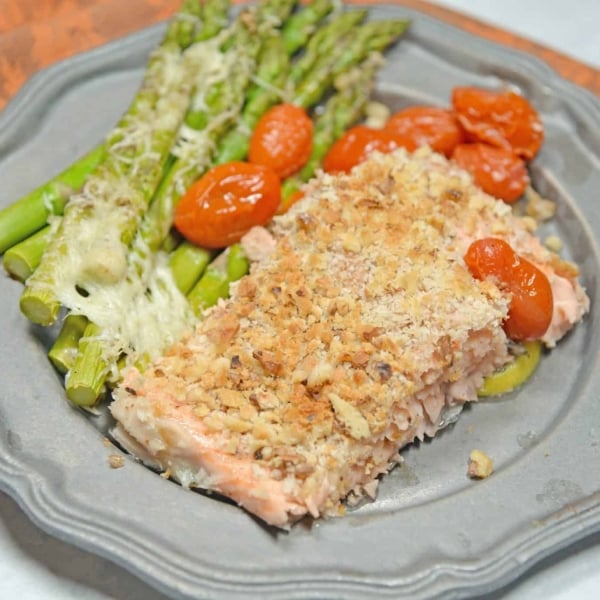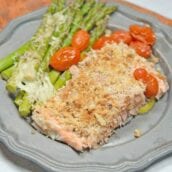 Sheet Pan Salmon Recipe
Sheet Pan Crispy Salmon is a fast, easy and healthy weeknight meal. Prep this sheet pan meal in just 5 minutes using tomatoes, asparagus and a crispy panko and walnut topping for you salmon.
Instructions
Preheat oven to 400 degrees. Arrange thinly sliced lemons in a single layer on a baking sheet. Lay salmon filets over lemons leaving a little bit of space in between each one.

Arrange cherry tomatoes and asparagus around salmon filets. Season with fine sea salt and pepper.

Place panko bread crumbs and walnuts in a small bowl, stir. Evenly distribute panko-walnut mixture onto the tops of the the salmon and gently pat down.

Top asparagus with asiago cheese.

Place in the oven for 15 minutes, or until tops are browned and salmon flakes easily with a fork. If the tops start to brown before the fish is cooked, loosely place a leaf of aluminum foil over top.

Remember, if you start to see white oozing from your salmon, it is approaching being overcooked.

Remove and serve immediately.

If you've tried this recipe, come back and let us know how it was!
Nutrition
Calories:
279
kcal
,
Carbohydrates:
18
g
,
Protein:
20
g
,
Fat:
15
g
,
Saturated Fat:
2
g
,
Cholesterol:
40
mg
,
Sodium:
305
mg
,
Potassium:
657
mg
,
Fiber:
3
g
,
Sugar:
4
g
,
Vitamin A:
485
IU
,
Vitamin C:
39
mg
,
Calcium:
99
mg
,
Iron:
2.8
mg