I love trying new food. I love cooking new food, eating new food and coming up with fun new food ideas. Pulled Pork Pretzel Rolls are one of these fun, new recipes.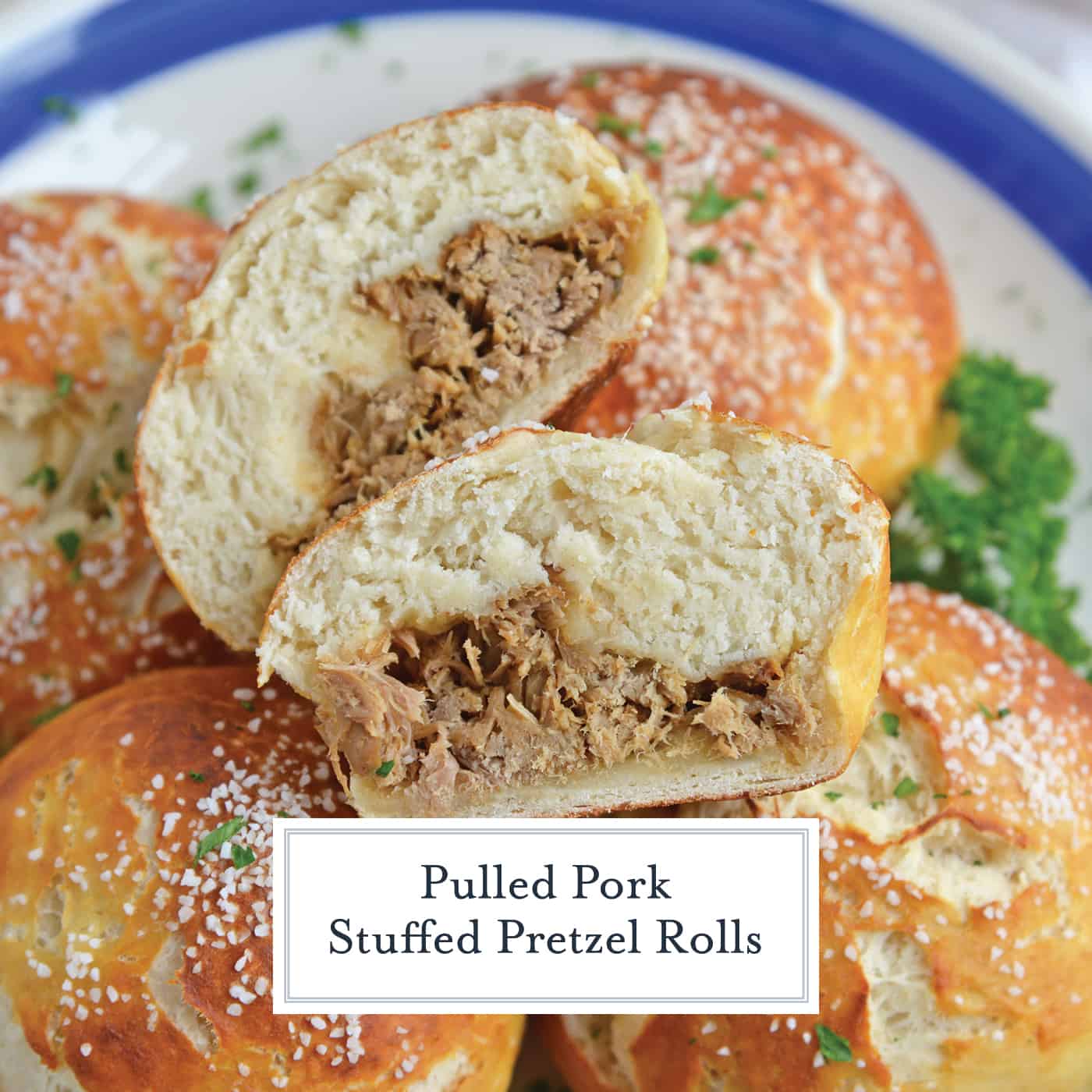 Pulled Pork Stuffed Pretzel Rolls use fork tender pulled pork and stuff it into soft, pillowy pretzel dough. Bake and top with salt. Serve with a coarse mustard.
Foodie friends, please welcome my new friend Allison Leono! Sister of my neighbor, Kristin, Allison was visiting from her usual busy life as a professional chef.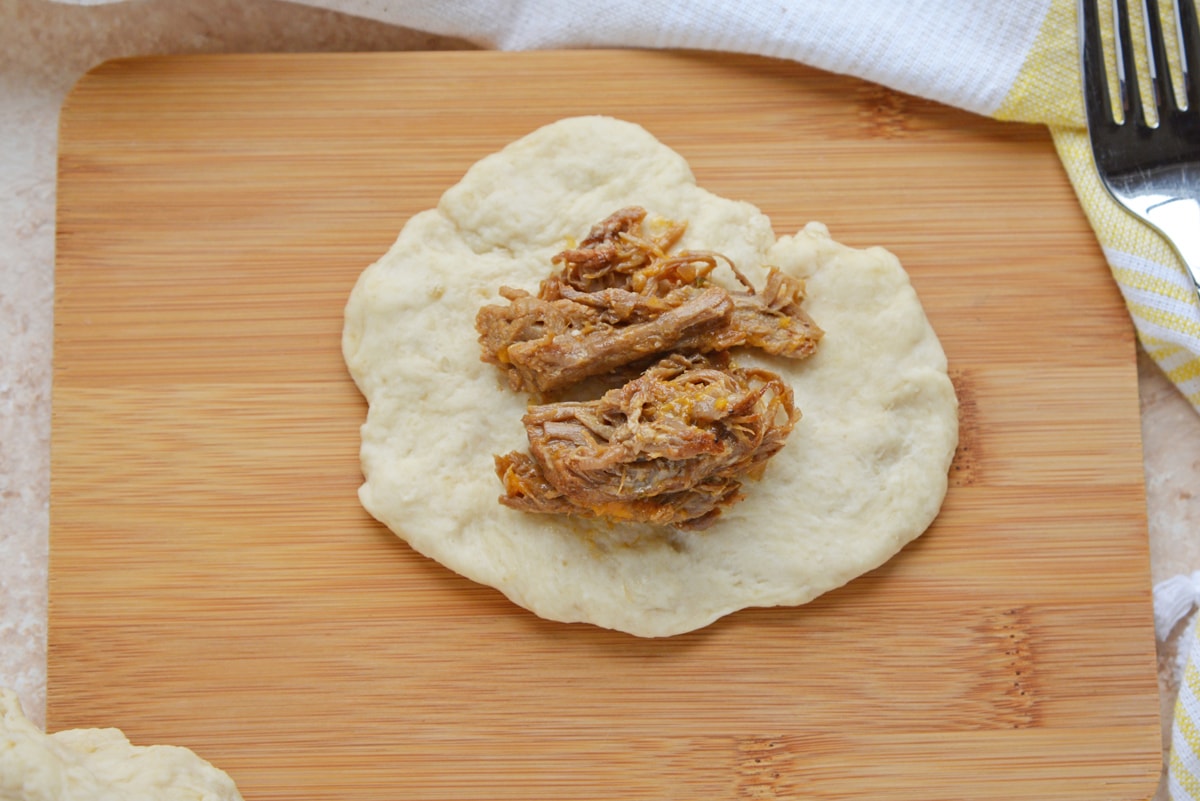 I had the pleasure of watching her work and learning how to make one of her favorite recipes, Pulled Pork Stuffed Pretzel Rolls. Allison graduated from the Culinary Institute of America and has been working in Phoenix, Arizona as a private chef, but is now off to sail the high seas on a cruise ship.
Allison shared that the last time she made Pulled Pork Stuffed Pretzel Rolls they were for her Super Bowl Party and created quite the stir. Tender and flavorful pulled pork tucked inside a sweet and salty pretzel roll. What's not to love?
While Allison smoked her own pork with the assistance of her brother-in-law, Alec, you can easily make your own on a smoker or grill, in the slow cooker, oven, Dutch oven, Instant Pot or even buy premade pulled pork at the grocery store.
One thing to be cautious of is buying premade pulled pork that has already been mixed with BBQ sauce.
This recipe calls for a flavorful pork, slathered with a spice paste, which results in juicy, not saucy, meat, too much moisture will prevent the outside bread from fully cooking.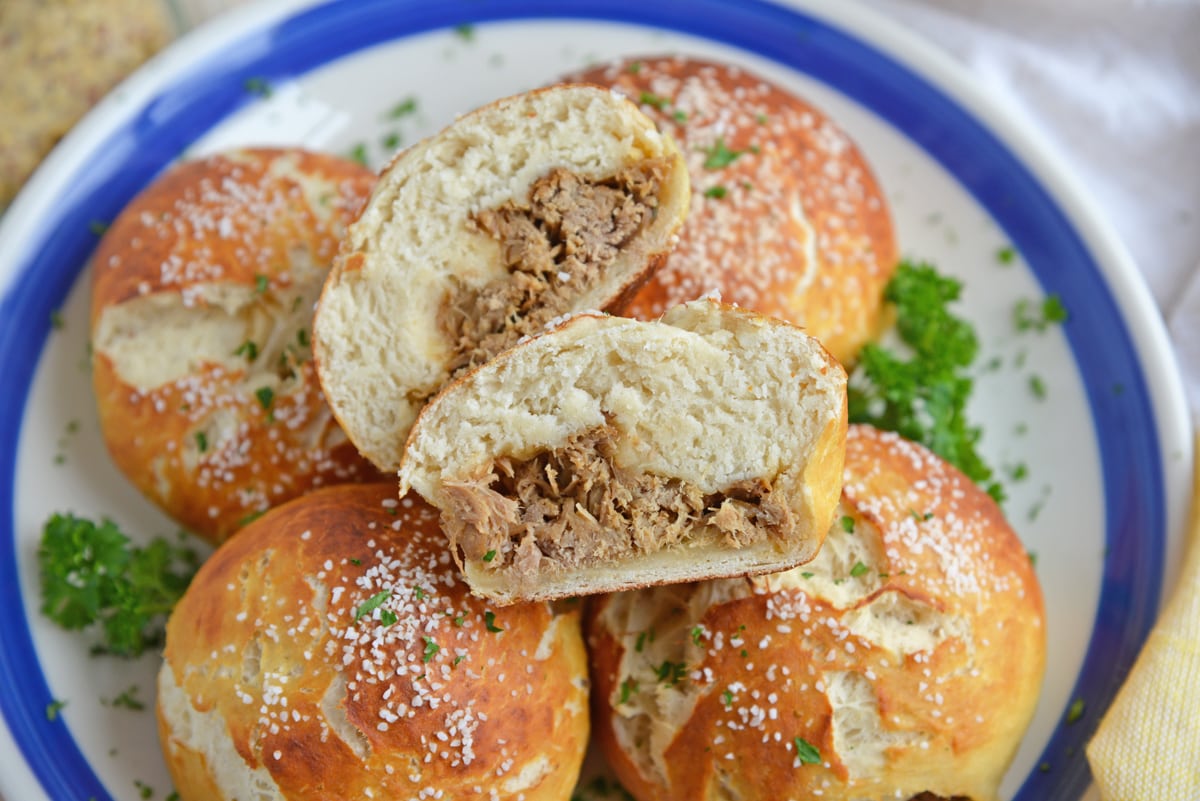 If not grilling or smoking, follow the same preparation directions for the paste, but cook 4 hours on high in the slow cooker, 8 hours on low. Roast in a 300 degree oven for 1-2 hours, depending on size, until internal temperature reaches 170 degrees.
Pork can be made ahead of time and refrigerated for a day or two prior to making it into Pulled Pork Stuffed Pretzel Rolls.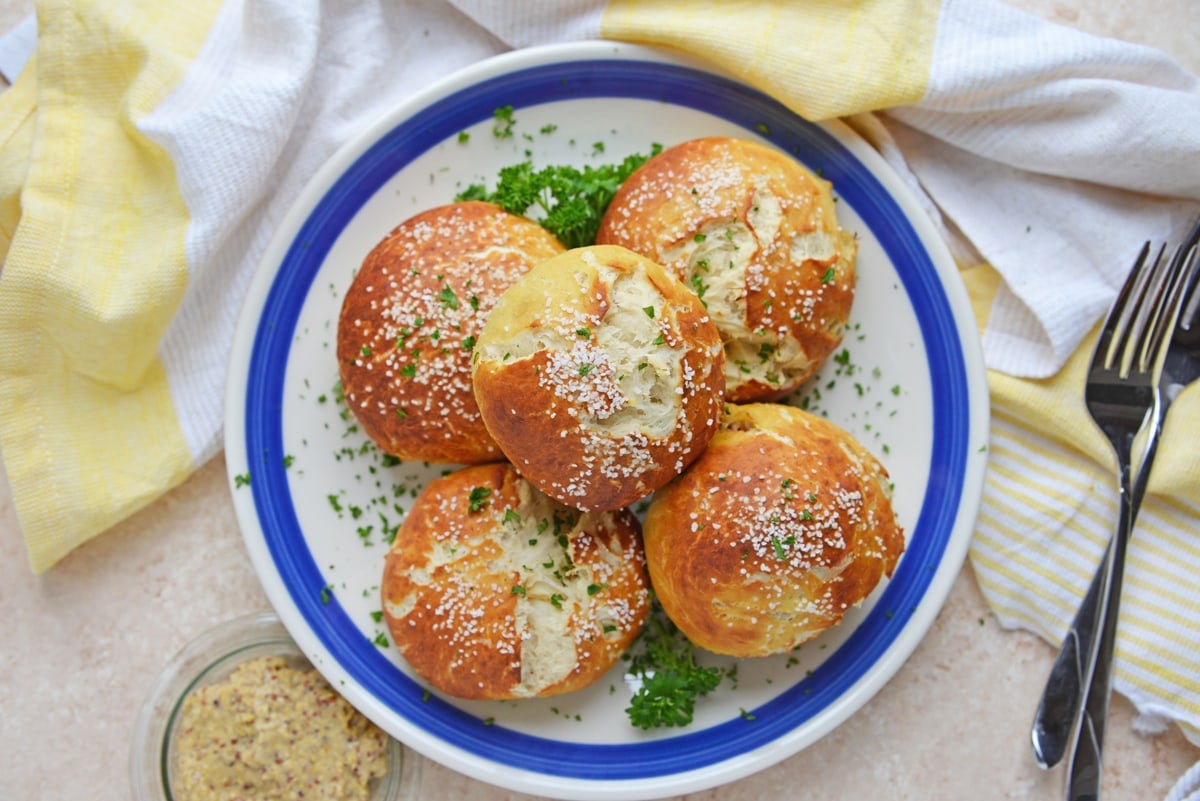 Another note is that Allison used Irish butter, which has a significantly darker yellow hue and richer taste than most butters. Kerrygold is a popular brand that uses only pasture raised, grass fed cows.
You do not need to use Irish butter, but it does have a marvelous, rich texture and unique flavor that far surpasses ordinary butter and this will only add to the deliciousness of your Pulled Pork Stuffed Pretzel Rolls.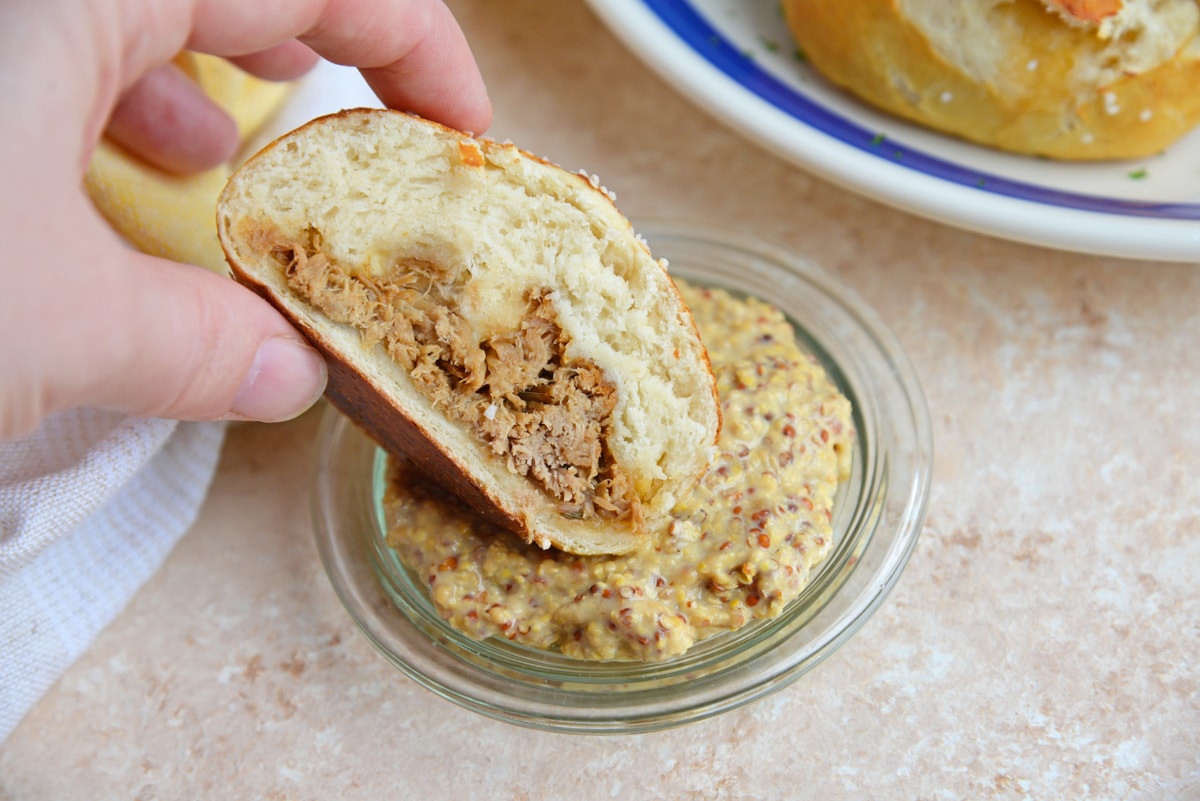 I also learned a new technique from Allison. She creates a tight bread roll and pocket, fit to hold heavy pulled pork. The technique involves rolling the dough into a ball on a hard surface and catching the bottom with your thumb to "tuck it in."
You want to make sure the underside is good and secure, otherwise the juices from your pork will seep out while baking.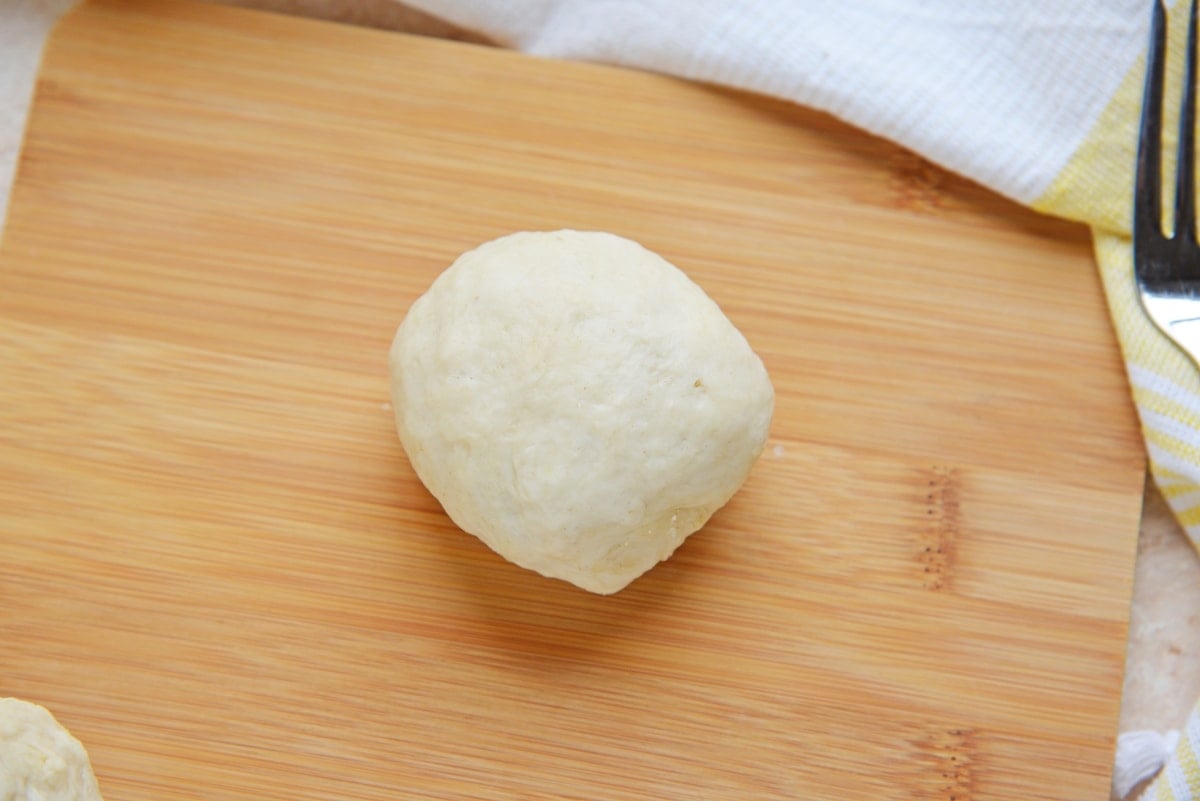 The firmness was noticeably different from taking the dough out of the bowl to after it was worked over. Do not work the dough too much, or you risk ending up with tough rolls. This rule goes for most dough and breads.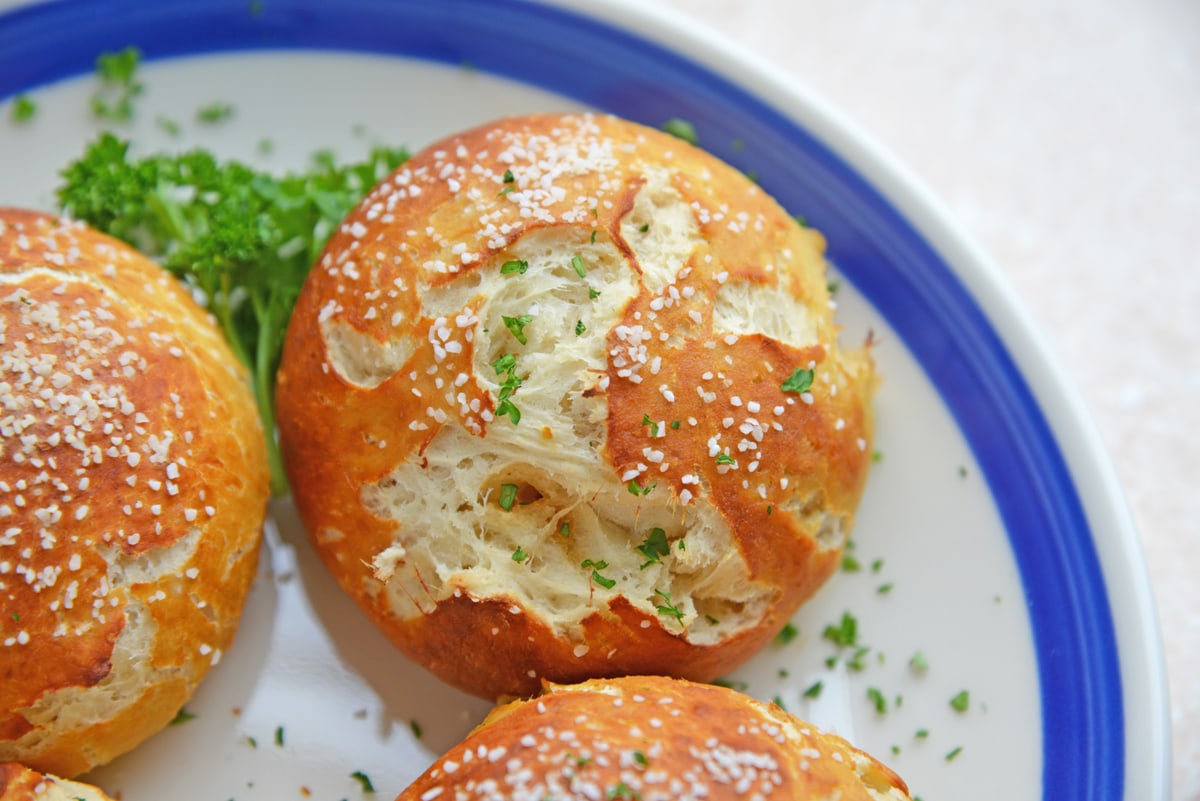 Try these using my Honey Balsamic Pulled Pork or traditional Pulled Pork – delicious!!!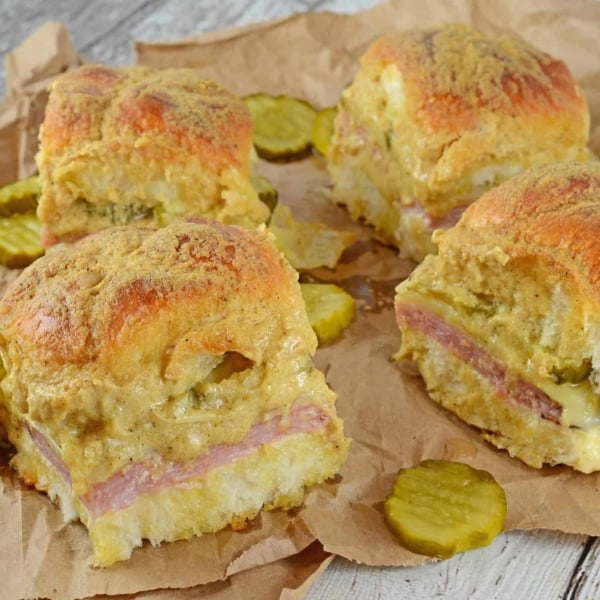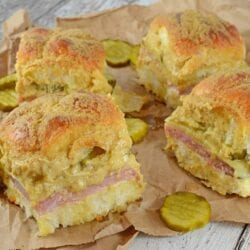 Cuban Sliders
Cuban Sliders are made with layers of ham, pickles, and cheese between delicious sweet Hawaiian rolls. An easy and yummy appetizer!
See The Recipe!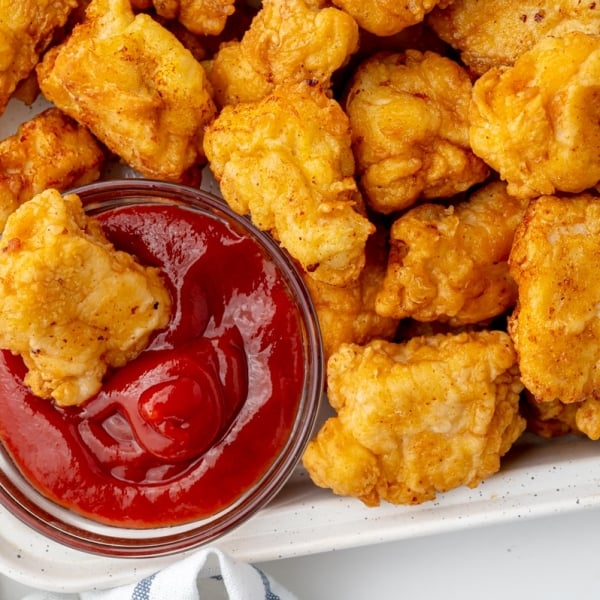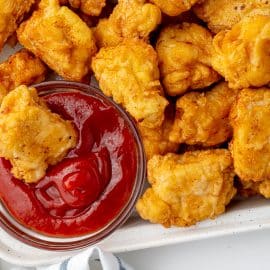 Popcorn Chicken Recipe
This Popcorn Chicken Recipe is a simple and easy to make deliciously crispy popcorn chicken bites at home. Great for game days, parties or even lunch!
See The Recipe!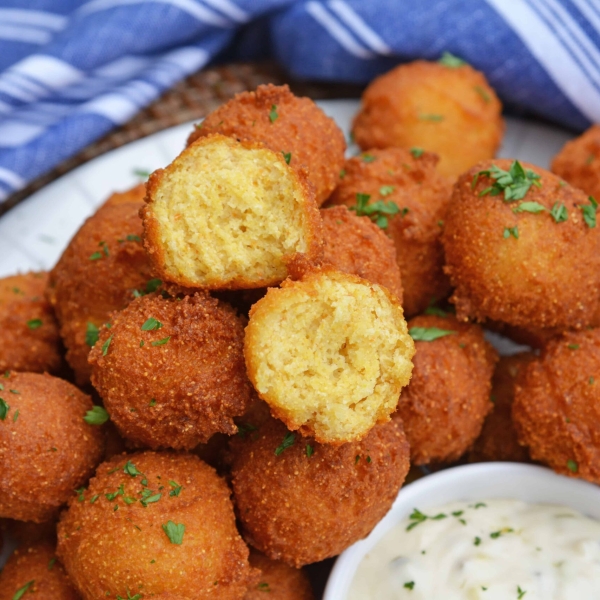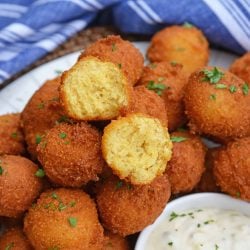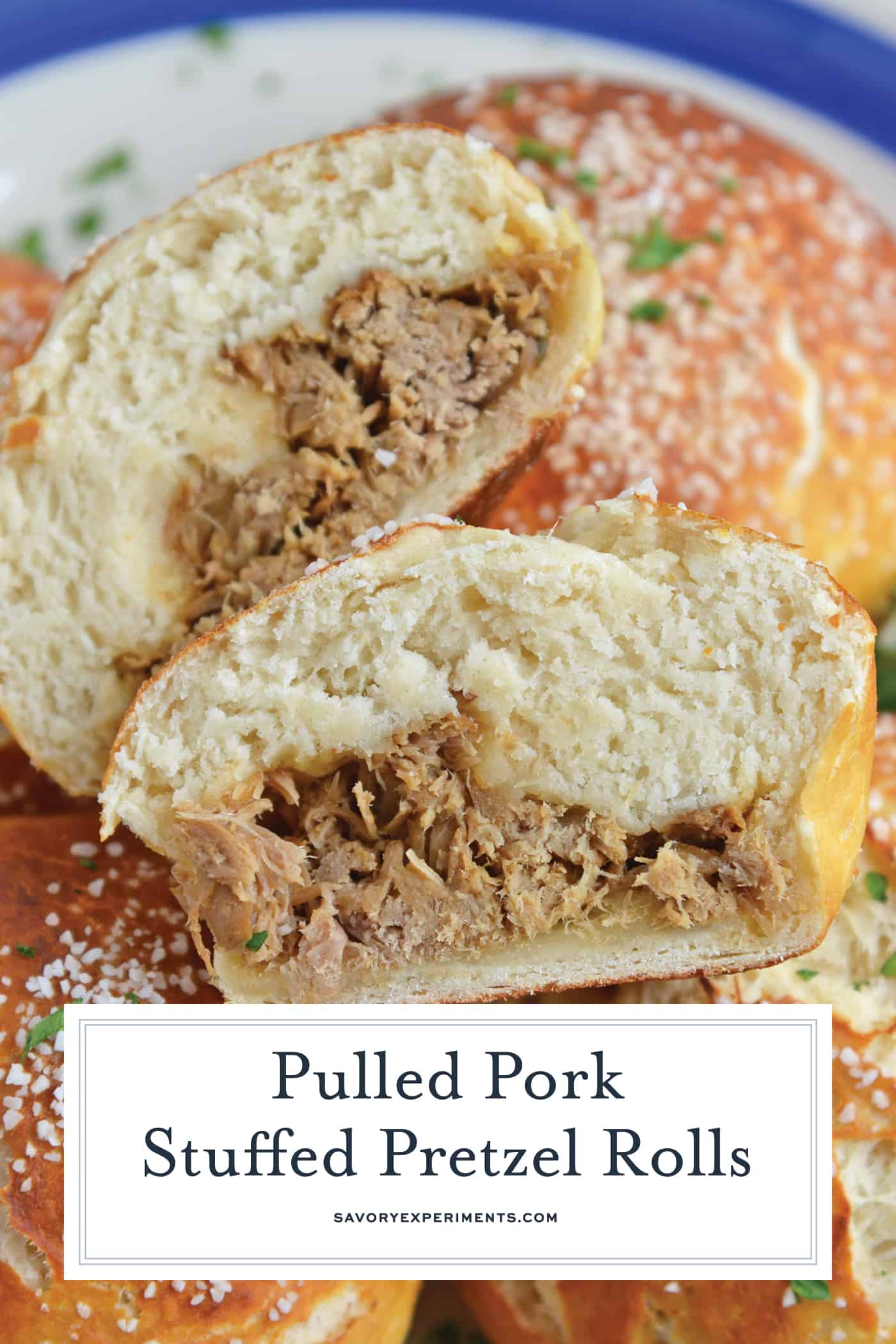 Tools for making Pulled Pork Stuffed Pretzel Rolls:
Dutch Oven– every kitchen should have one! They are heavy. They are expensive. They are worth it!
Rolling Mat– For rolling out any dough or cookies or just protecting your counters and work space!
Rimmed Baking Sheet– another kitchen staple! You'll use this for prep work, roasting and much more. I have 7 at my house.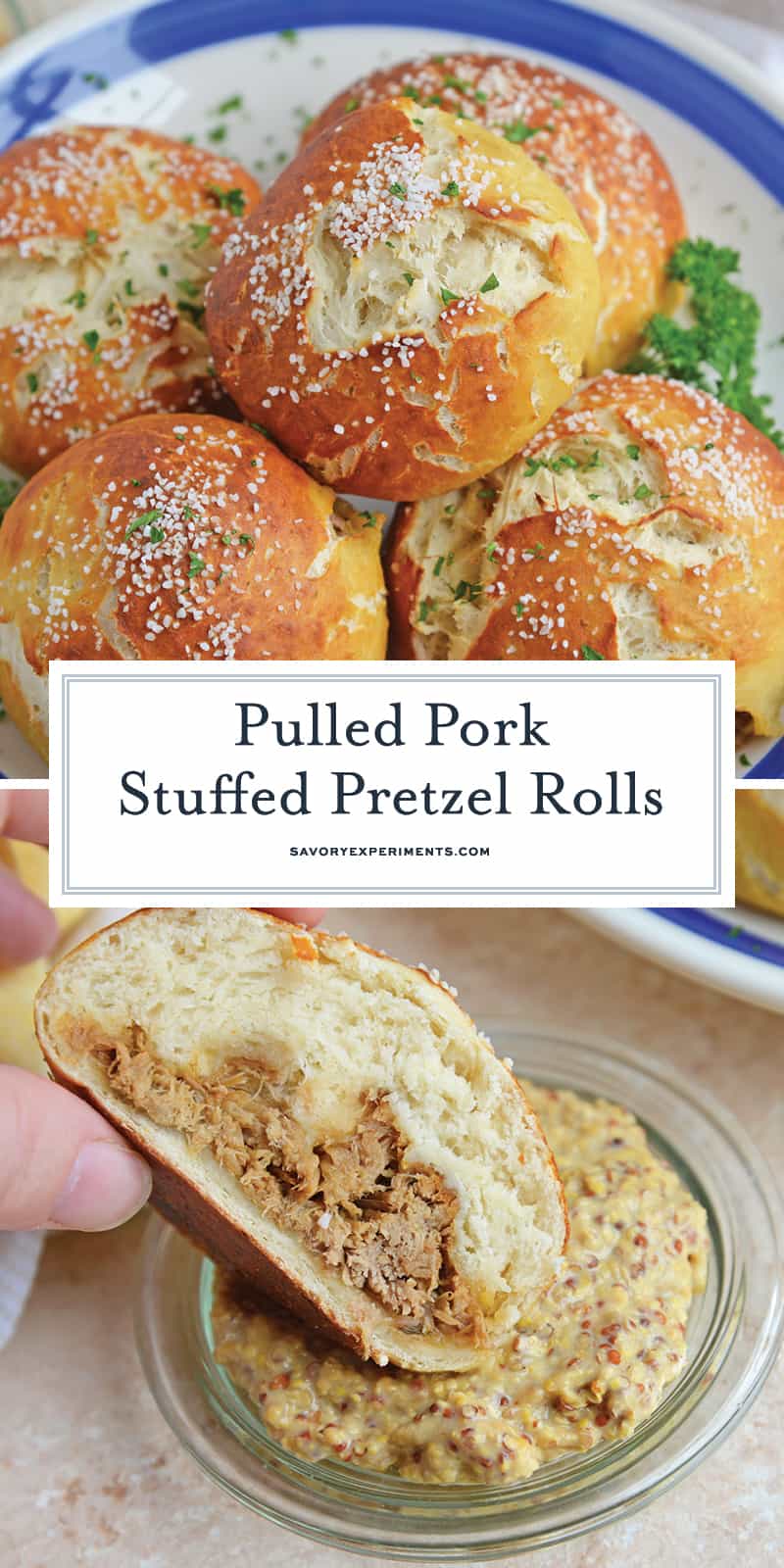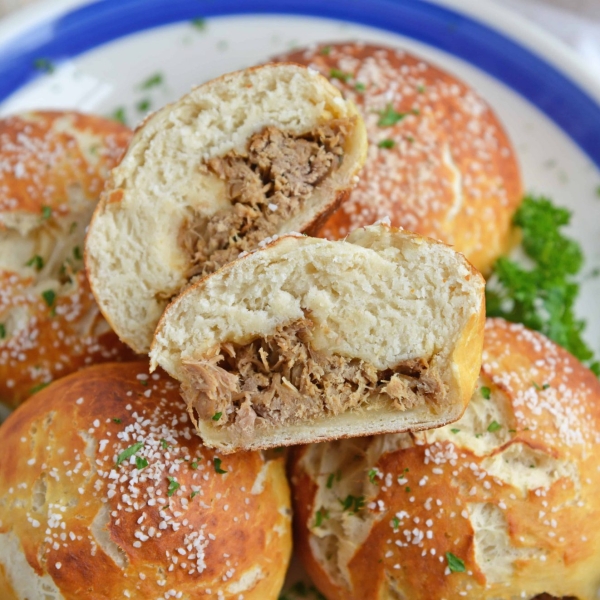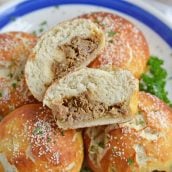 Pulled Pork Stuffed Pretzel Roll Recipe
Tender, flavorful and tender pulled pork wrapped in rich, buttery pretzel bread.
Ingredients
Pretzel Rolls Dough
2 1/4

cups

whole milk

heat so it is warm to the touch (if it is too hot, it will kill the yeast)

2

tablespoons

dark brown sugar

stir until dissolved

2 .25-

ounce

dry active yeast

1/2

cup

unsalted butter

room temperature

6

cups

all-purpose flour

2

teaspoons

baking powder

2

teaspoons

kosher salt

for bread dough

3

tablespoons

kosher salt

for boiling

1

egg

1

tablespoon

water

Sprinkle of Kosher salt for topping

Serve with pickles

BBQ sauce, mustard or any other condiment you choose. I ate mine straight up to truly appreciate all of the wonderful tastes and textures Pulled Pork Stuffed Pretzel Rolls has to offer.
Instructions
Start by making your pulled pork. Mix extra virgin olive oil, ½ cup apple cider vinegar, minced garlic, crushed red pepper flakes, kosher salt, pepper and both sugars to make a paste. Rub generously into the pork butt. To cook, Alec used the Big Green Egg and apple chips and smoked for 3 hours.

Pork should pull apart easily with a fork. Transfer pulled pork to a large mixing bowl. Toss with ¼ cup apple cider vinegar, Old Bay seasoning and a 12-ounce bottle of your favorite beer. Beer is optional. Toss to coat and allow to sit for 10-15 minutes, or longer. Set aside until you are ready to stuff the pretzel rolls.

To make the dough, heat milk in a sauce pan over low heat or microwave for 30-40 seconds. Milk should be warm to the touch, but not too hot or else it will kill the yeast. Remove from heat and stir in dark brown sugar until dissolved. Transfer to a large mixing bowl or bowl of a stand mixer fitted with the bread hook. Add packets of dry active yeast. Allow to bloom until it froths and bubbles.

Blend butter into milk, slowly add flour, baking powder and 2 teaspoons kosher salt. If using a stand mixer, knead for 5 minutes. If kneading by hand, double that for 1o minutes, cause let's face it, your biceps don't work as hard as the machine, but if you missed the gym, this is great! Spray a large bowl with cooking spray, cover tightly and allow to rise in a warm place for 90 minutes to 2 hours, or until it doubles in size.

After dough has doubled in size, punch down to remove air. Next, form dough into 2-inch balls. Initially dough will be loose, but will start to tighten as you roll it on a hard surface. Roll dough, catching the bottom with your thumb to seal the dough and prevent having a crease. You can also pinch to remove creases. Place balls on a greased cookie sheet, cover loosely and allow to rise for an additional 10-20 minutes.

Next, flatten balls with the palm of your hand. Place one heaping tablespoon of pulled pork in the center. Fold edges over and pinch and twist dough to close, trying to prevent creases, also known as places where pulled pork can escape and we don't want that!

Preheat oven to 425 degrees. Fill a large pot or Dutch oven half way with water, approximately 4 quarts, do not over fill, as adding the baking powder will bubble and could over flow with too much water. Add 3 tablespoons kosher salt. Bring to a very low boil-simmer. Add 1 tablespoon baking soda to low boiling water, be prepared for the bubbling. You may need to refill water and add additional salt and baking soda as you cook the pretzel rolls.

When bubbly calms, gently lower 3-4 pulled pork stuffed pretzel rolls into the water. Work in small batches to prevent crowded the pot. Boil for 2 minutes, until they float and they develop a skin like a dumpling. Make sure your water doesn't reach a rolling boil, it will tear the delicate dough. Remove to a paper towel lined plated, dab lightly to remove excess water.

Transfer pulled pork filled pretzel buns to a lightly greased baking sheet. Whisk together eggs and water. Brush the tops of each pretzel buns lightly. Bake for 20-25 minutes, or until tops are browned. Do not except them to be as dark as store bought pretzels. Remove and immediately sprinkle with kosher salt.

Enjoy your Pulled Pork Stuffed Pretzel Rolls!

If you've tried this recipe, come back and let us know how it was!
Nutrition
Calories:
310
kcal
,
Carbohydrates:
43
g
,
Protein:
10
g
,
Fat:
10
g
,
Saturated Fat:
4
g
,
Cholesterol:
36
mg
,
Sodium:
1670
mg
,
Potassium:
250
mg
,
Fiber:
2
g
,
Sugar:
13
g
,
Vitamin A:
320
IU
,
Vitamin C:
0.2
mg
,
Calcium:
72
mg
,
Iron:
2.4
mg