If you've never made curry from scratch before, this Pineapple Pork Curry is the place to start! So delicious, you'll want to make it every week.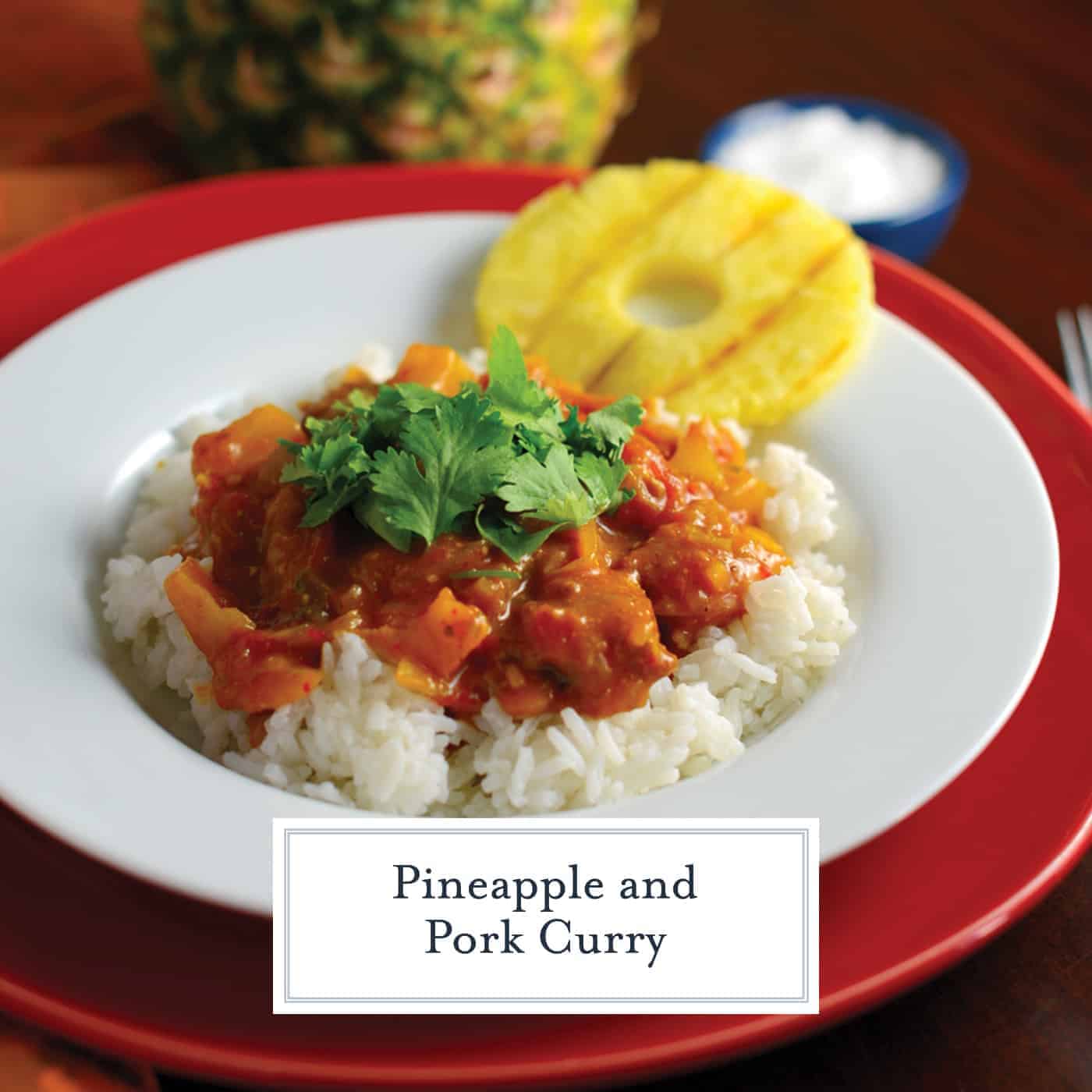 Pineapple Pork Curry is a homemade curry recipe using fresh herbs and spices, tender pork, sweet pineapple, tomatoes and citrus for an amazing curry from scratch that everyone will love.
I'm going to start off being honest, this dish is going to take you the better part of a day, but it is SO worth it! I made Pineapple Pork Curry for a dinner party.
I was serving 12 individuals, all who asked what was for dinner and had a quizzical look when I said "curry!" They were skeptical… until they tasted the amazingness. Much like I was the first time I ate homemade curry.
The first time I had Pineapple Pork Curry it was made by my sister's friend, adapted from My Curry, written by April Bloomfield
. She made it on a trip to Turks and Caicos and I craved it for weeks after.
It was an odd choice for a girls trip and even odder as a dinner while sitting under swaying palm trees and white sandy beaches, but we all loved it.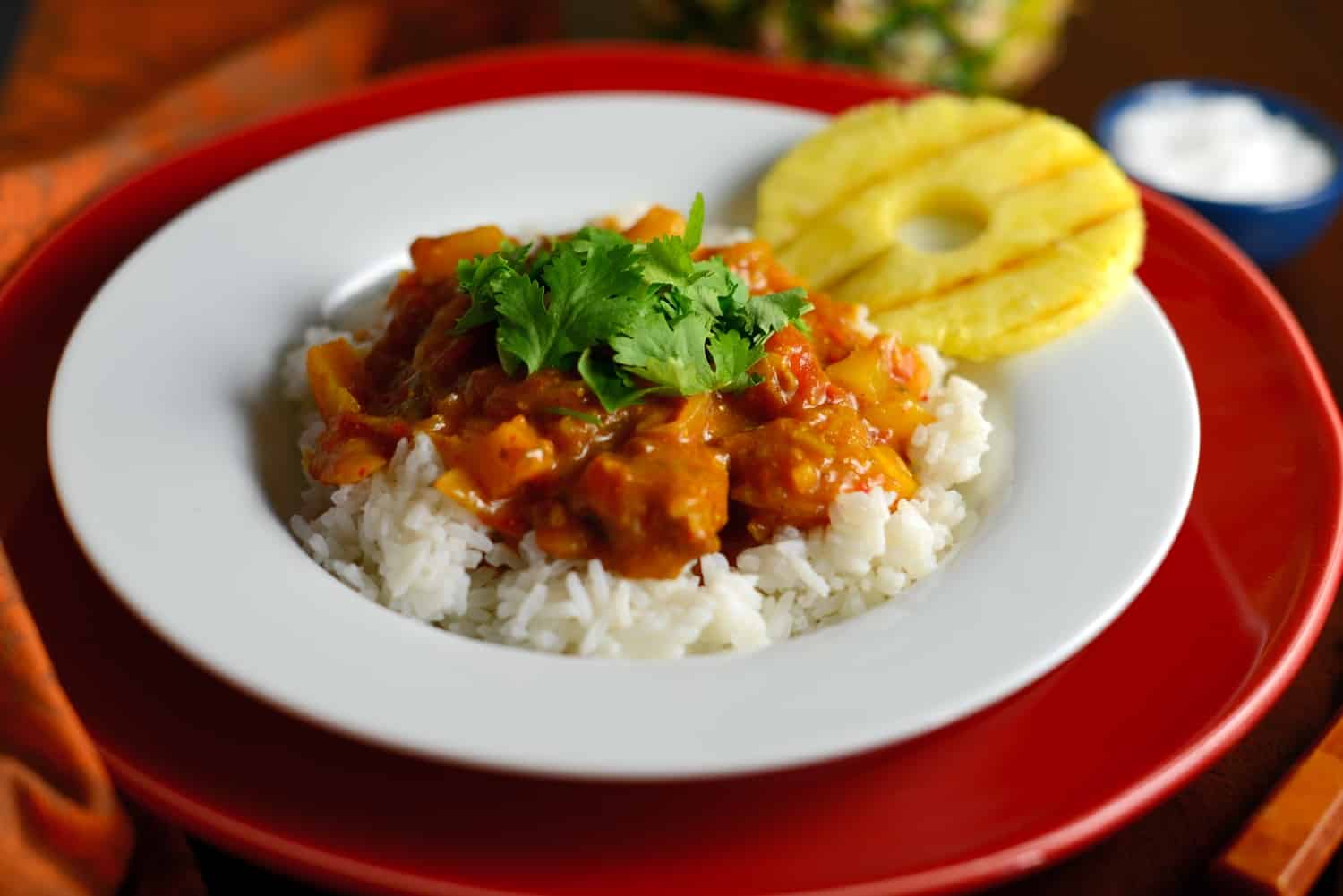 Lucky for me, she sent along her adapted version of the curry recipe, which I in turn adapted even further.
The original recipe calls for a long list of curry ingredients, including fennugreek
, green cardamom pods
and fresh lime leaves. While it might seem excessive to order these items for one dish, I can attest that toasting, grinding and making your own curry paste is amazingly more rewarding.
I also find that I tend to enjoy dishes that I might have at first turned my nose up at after I dig a little further and learn the hows and whys. Such as with curry.
Is this even considered a yellow curry or a red curry? It is more of a yellow curry… I guess?
All ingredients for this curry recipe are available through Amazon and can be used in other recipes. While you are there, make sure you grab Maldon sea salt
, my "go-to" ingredient for just about everything!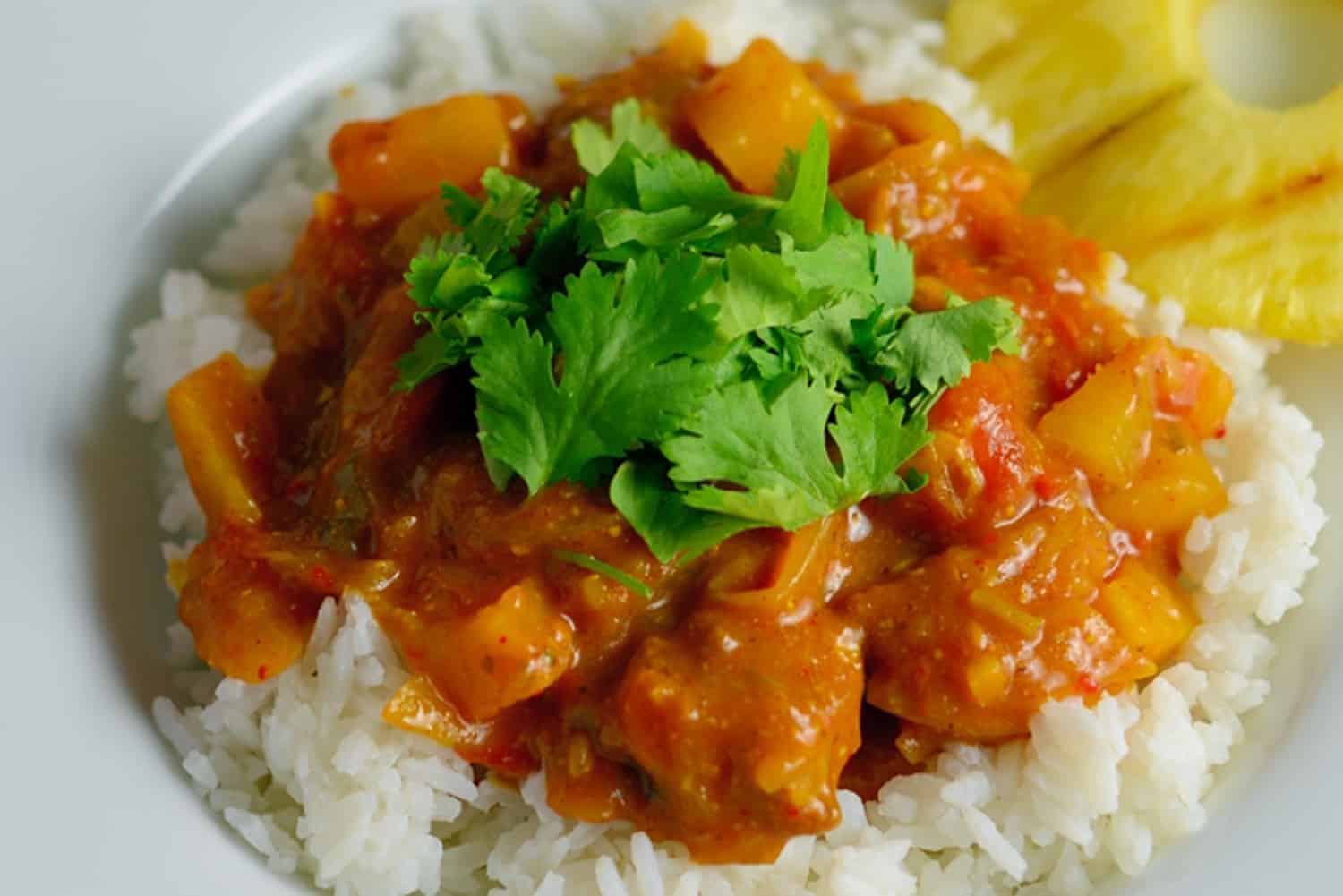 Not having enough time for a trip to the Asian grocery store, I opted for dried lime leaves
instead of fresh and cilantro stems and leaves instead of root. The original recipe also calls for lamb, which you are more than welcome to use, but in Turks she used pork and it was also cheaper and easier to find in my area.
It also called for canned tomatoes, however I peeled my own fresh tomatoes. It is really the attention to detail and special ingredients that elevates this Pork Curry above the rest.
I will be providing you with an adapted version to my sister's friend and also a "simple version". I will warn you that the simple version cuts out much of the ingredients list and tastes good, but toasting and grinding your own spices will blow your mind!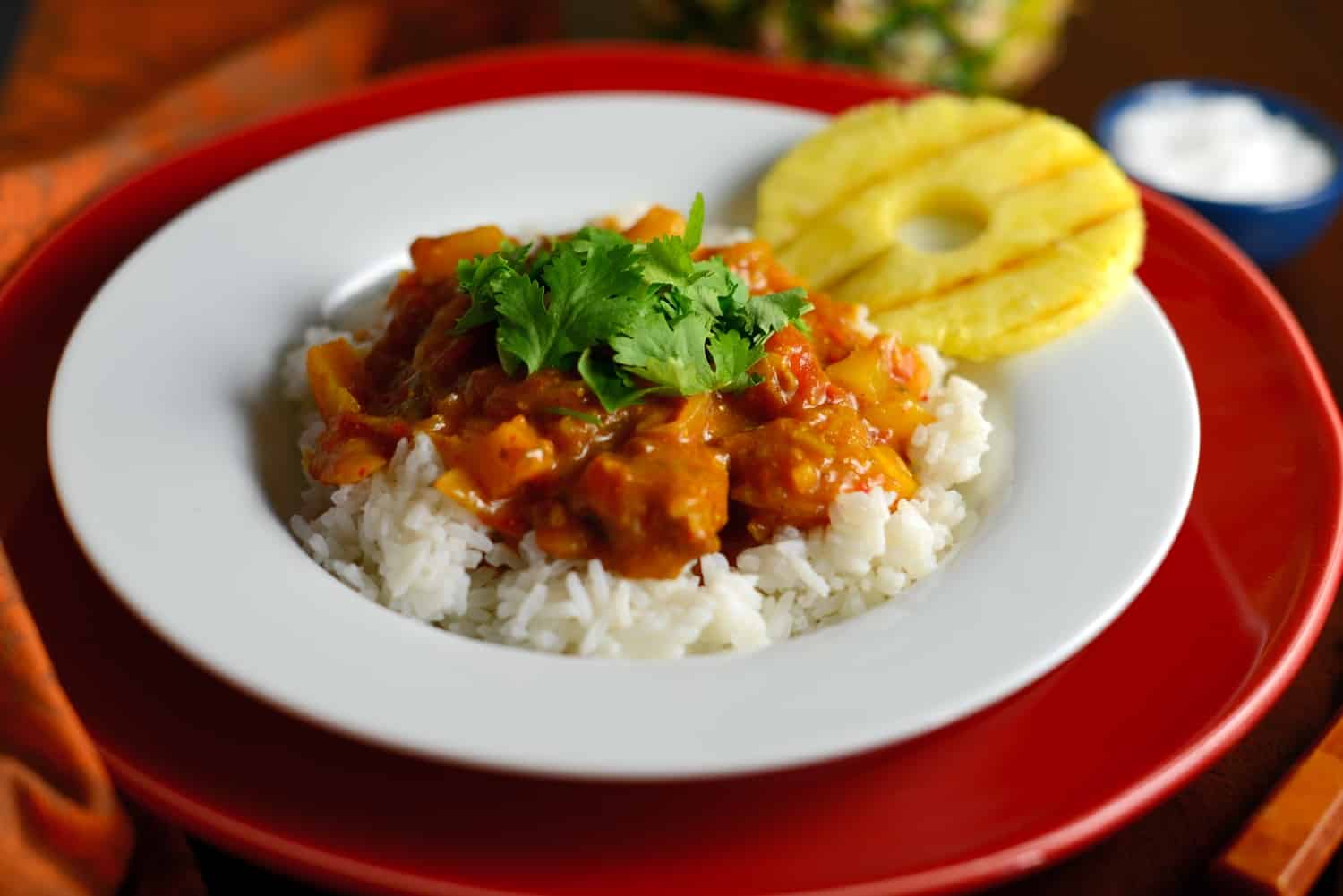 You just can't beat fresh, really it is what sets restaurant quality foods aside from the rest. If you do go to the trouble to make this dish from scratch, double the recipe and freeze some for next time. Thank me later!
I served mine with Cilantro Lime Coconut Rice, but you can use any type of rice you'd like. I would suggest a starchy sticky rice so the sauce has something to stick to.
More dishes you might like: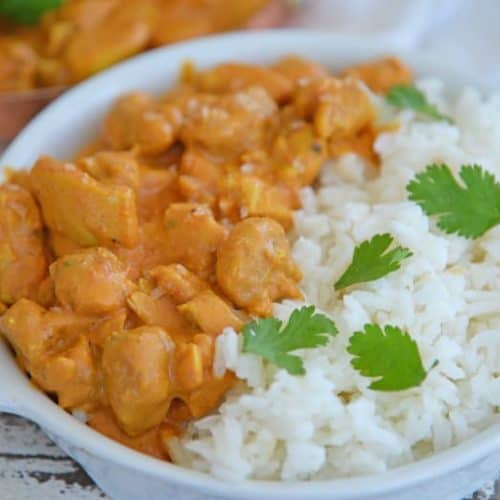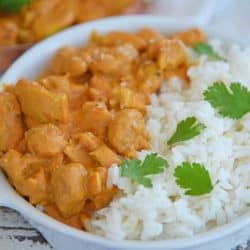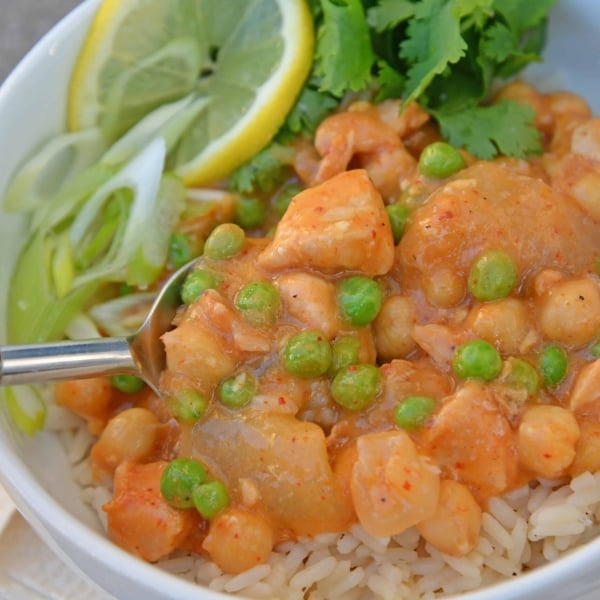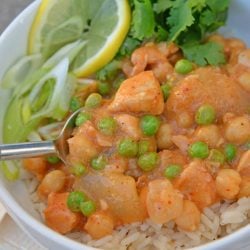 Tools for making Pineapple Pork Curry:
Spice grinder
– spice grinders are very similar, if not the exact same to a coffee grinder. Just make sure they are very clean before you transition from grinding one thing to another.
Wood cutting board – wood won't dull your knives like plastic and if treated properly, has natural antimicrobial properties.
Good knife – Global is my favorite! They are worth the price, I promise. I am kind of obsessed with them and store them tucked away so no one else can use them. Including hubby. Hands off my good stuff!
Large enamel dutch oven
– you need a really big oven safe pot to make this curry! A large cast iron or enameled pot will do.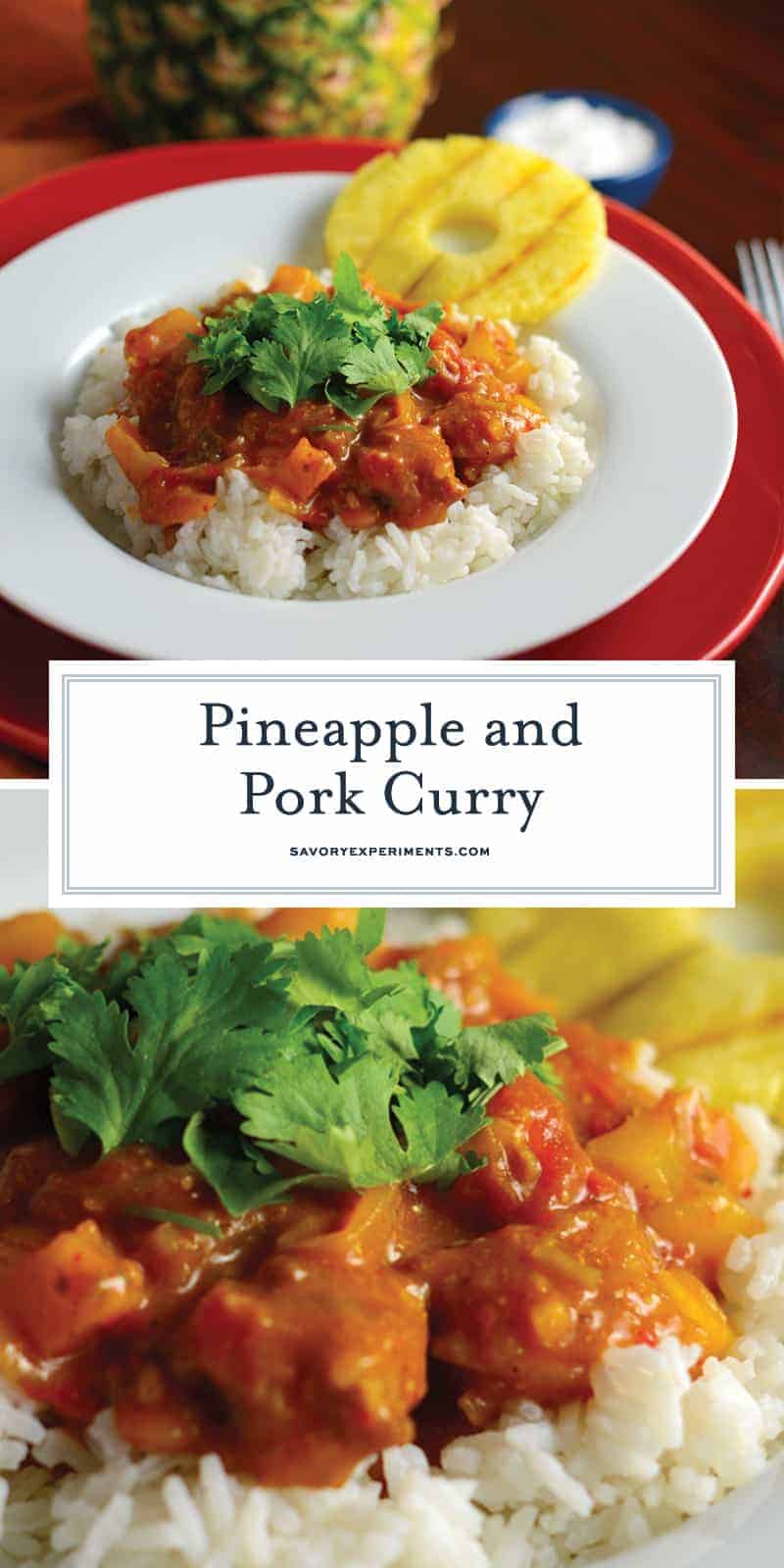 Thai Vs Indian Curry
What is the difference between Thai curry and Indian curry?
There are a lot of differences, I am just going to name a few.
Thai curry recipes begin with a paste of aromatics usually containing hot chiles, lemongrass, galangal root, shrimp paste, garlic, and sometimes dry spices, the exact mixture will different depending on the type of protein it is intended for. It is generally thinner and made with coconut milk.
Indian curry, on the other hand, begins with a base of onions, garlic, and ginger which are cooked until well-browned and then a curry paste, made with a blend of spices and herbs, is added.
Individual curries use vegetable broth as the liquid and are commonly vegetarian, as many people of Indian heritage are vegetarian or vegan.
What does curry mean?
There are so many definitions and I found it to be unclear as to which one was the correct one. However, they all had one thing in common: the word PUNGENT. And pungent is correct. Thai or Indian, they both contain very strong flavors and aromatics.
There is a curry tree that produces curry leaves. These leaves are commonly used in different types of curry and are edible.
Is curry healthy? It really depends on the curry. Even though it is not considered to be a particularly low calorie or low fat food, curry ingredients themselves have a lot of health benefits. The main health benefit is turmeric, which is known to be anti inflammatory and has been linked to lower rates of heart disease and reduction in blood pressure.
What is curry powder? Most bottled curry powders are made from ground coriander, turmeric, cumin, fenugreek, and chili peppers in their blends.
Can you freeze curry? I can't speak for all curry recipes, but you can freeze this curry recipe. Place in freezer safe packages for up to 3-4 months.
Can curry stain your teeth? It can. Tumeric can stain teeth and clothes, but it would take a lot to really cause a lot of problems.
What if my curry is too spicy? You can add additional coconut milk or sugar to balance out the flavors. Taste the them before you add so you can gauge the spice level. If you know you want a mild curry, then reduce or omit the crushed red pepper flakes.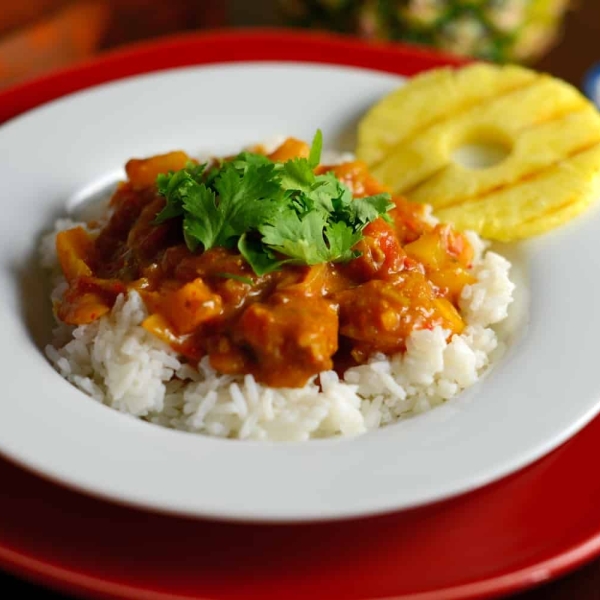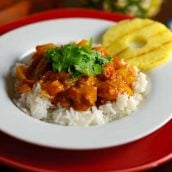 Pineapple Pork Curry Recipe
Pineapple Pork Curry is a homemade curry recipe using fresh herbs and spices, tender pork, sweet pineapple tomatoes and citrus for an amazing curry from scratch that everyone will love.
Ingredients
Instructions
For Curry Powder:
Heat a small skillet over medium heat, add whole fennel, cumin, fennugreek, cloves and star anise, toasting lightly, approximately 5 minutes, or until fragrant.

Combine toasted ingredients with the remaining spices in a spice grinder, clean coffee grinder or small high powered food processor and pulse until mixture is a fine powder. Allow dust to settle with lid on, then place into a bowl and set aside.
For Pork:
Toss 1-inch pork cubes with kosher salt and pepper, equally coating.

In a large skillet, heat 2 tablespoons extra virgin olive oil. Cook pork in batches to be careful not to overcrowd and nicely brown. It might take you 3-4 rounds to do it all. Add additional olive oil as needed. Set pork on a paper towel lined baking sheet to drain. Set aside.
For Sauce:
Fill a medium sauce pan with water and bring to a bowl. Set a medium mixing bowl filled with ice water to the side. Working in batches, plunge tomatoes into boiling water for 30-40 seconds or until you see the skin starting to pucker. Remove, using a knife, score a small "X" on the end and place in ice bath. Repeat with remaining tomatoes. Skin should easily peel off. Coarsely chop, set aside with any tomato juice run-off.

In a large oven-safe Dutch oven or heavy bottom sauce pot, heat olive oil over medium-high heat. Add sliced shallots, sautéing until soft, approximately 5 minutes.

Add garlic and ginger and continue to cook until all vegetables are lightly browned, an additional 5 minutes.

Stir in tomatoes and Kosher salt, tossing to combine and heat. Wait until mixture has become dry before adding remaining ingredients, stirring to combine.

Preheat the oven to 350 degrees.

Add curry powder and browned pork. At this stage, you might need to divide into 2 pots to accommodate the volume.

Cook for 1 1/2 hours at 350, stirring occasionally. At 90 minutes, reduce temperature to 250 degrees for an additional hour.

Fish out citrus peel sand cilantro stems.

Serve over Cilantro-Lime Coconut Rice, top with fresh cilantro leaves, Maldon sea salt, fresh lime juice and garnish with grilled pineapple slices.

If you've tried this recipe, come back and let us know how it was!
Notes
If you do not want to make your own curry, use 3-4 tablespoons red curry paste. Make sure to taste it along the way, as the intensity of flavors varies greatly.
Nutrition
Calories:
344
kcal
,
Carbohydrates:
16
g
,
Protein:
29
g
,
Fat:
17
g
,
Saturated Fat:
4
g
,
Cholesterol:
90
mg
,
Sodium:
1850
mg
,
Potassium:
830
mg
,
Fiber:
2
g
,
Sugar:
10
g
,
Vitamin A:
475
IU
,
Vitamin C:
28.9
mg
,
Calcium:
60
mg
,
Iron:
3.2
mg