I don't know about you but I absolutely love desserts with strawberries, especially ones that are smothered in a dulce de leche sauce. Trust me when I tell you this dessert sandwich will become one of your most requested desserts!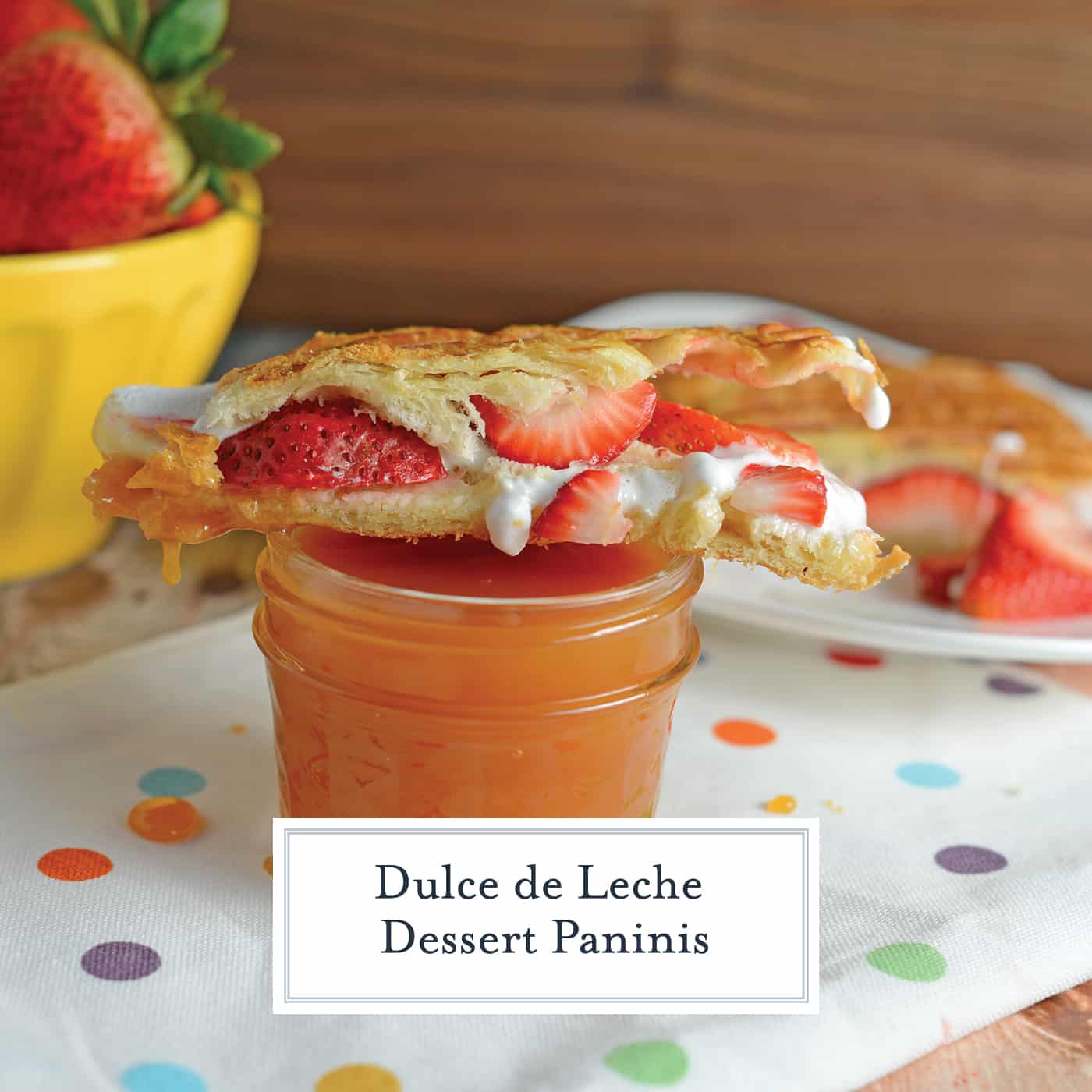 Dulce de Leche Dessert Panini is made up of layers of decadent dulce de leche, gooey marshmallow, and freshly sliced berries all in a buttery croissant! This dessert only takes 10 minutes to make and is OH so good!
Why don't we eat more sandwiches for dessert? Is it just because there aren't a lot of sweet breads? It is silly, right? We do eat ice cream sandwiches…
I decided to venture out beyond cookie sandwiches and ice cream sandwiches and instead made a dessert panini using buttery, flaky croissant.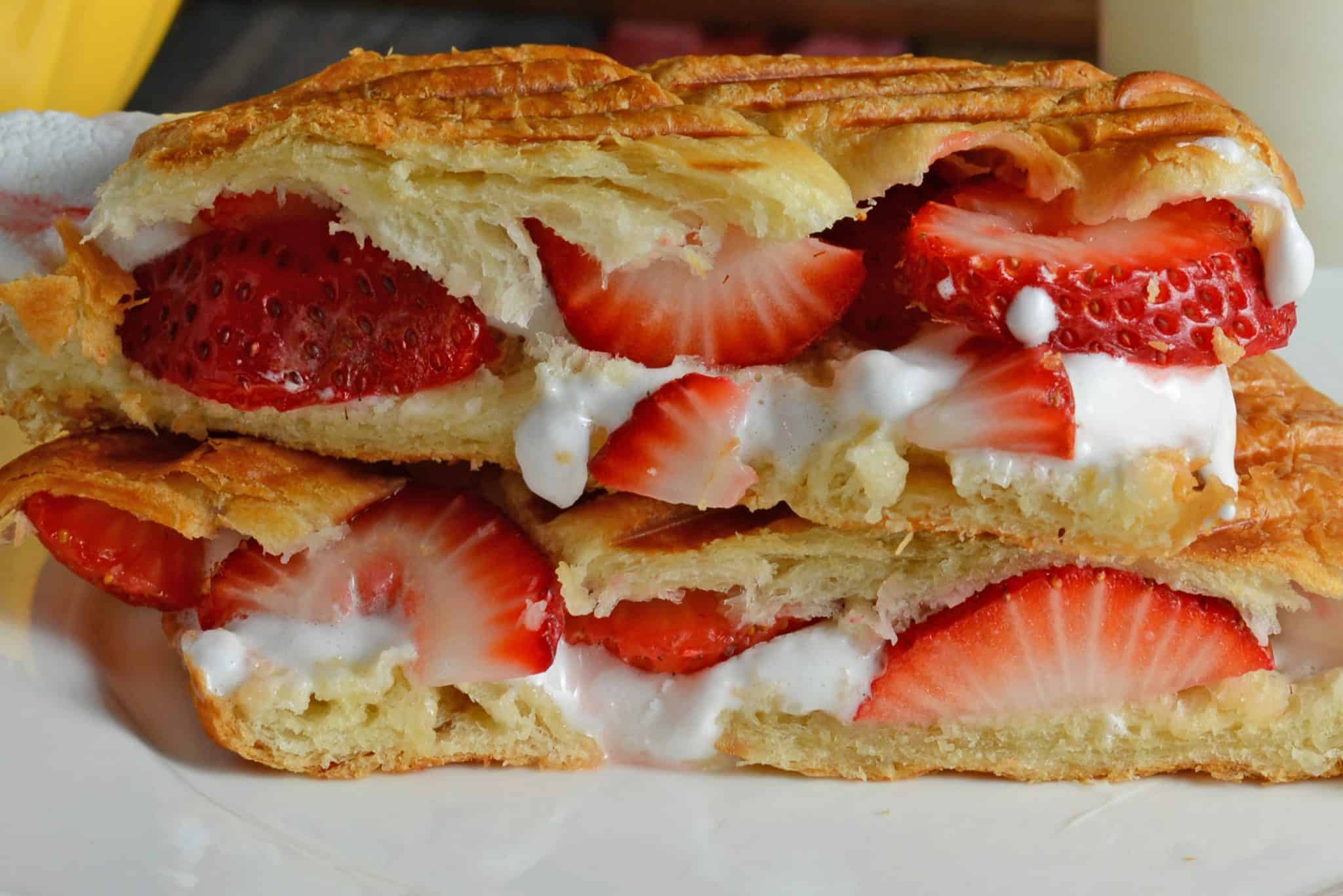 Layered with melted marshmallows, sliced fresh fruit and sticky and sweet dulce de leche sauce. If you don't have dulce de leche sauce, use caramel sauce.
What is dulce de leche?
Dulce de leche is Spanish for "candy of milk". Dulce de leche is prepared by slowly heating sweetened milk that slowly caramelizes, changes color and lands in a dessert sauce very similar to caramel.
I used my handy, dandy panini press, but you can also whip up this dessert sandwich like a grilled cheese. Just melt a small amount of butter in a skillet and add the sandwich, smashing down with a spatula and then flipping.
Same outcome, just no pretty grill marks.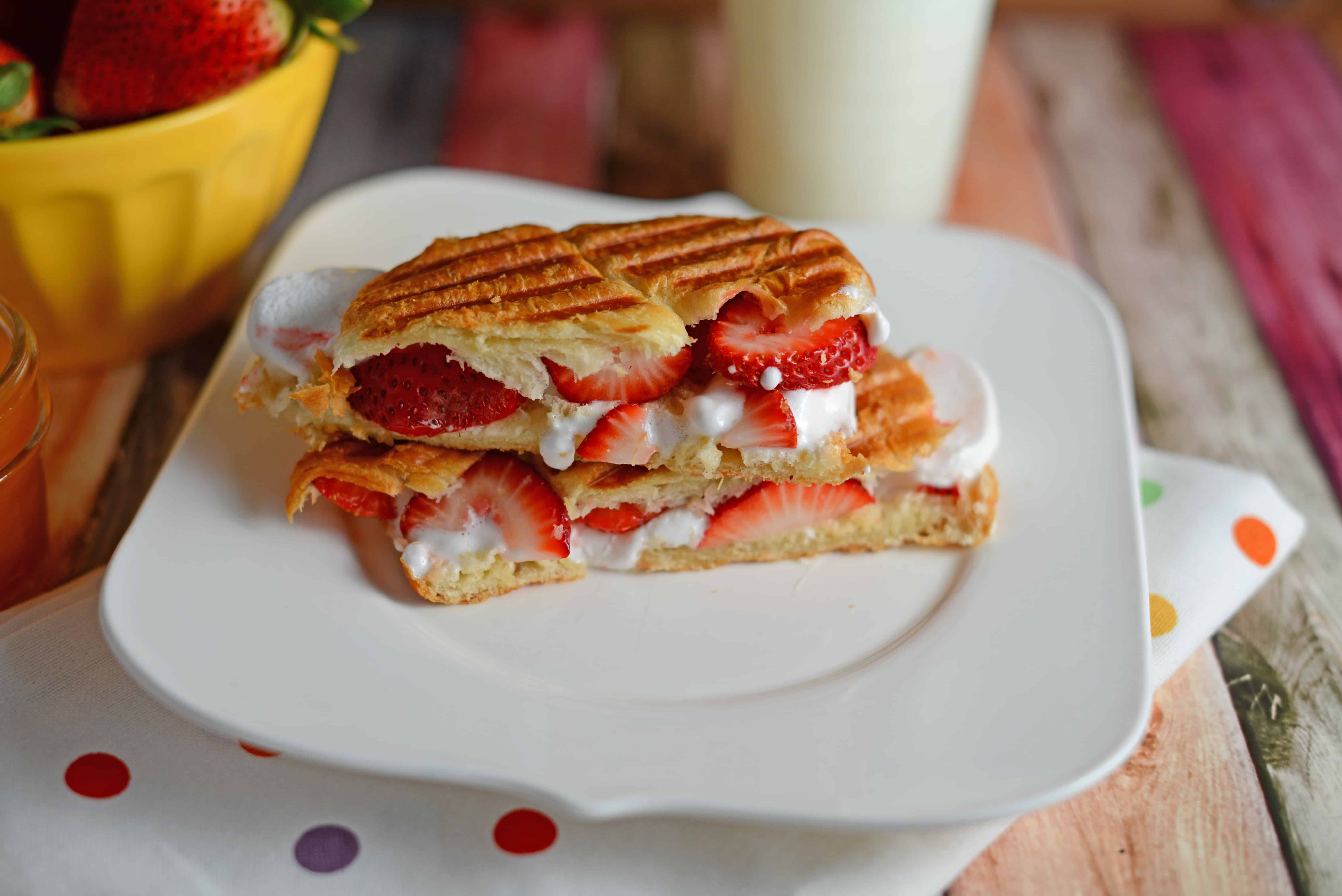 You can make your own dulce de leche from scratch or buy it in a bottle at the store.
Check out these other easy dessert recipes: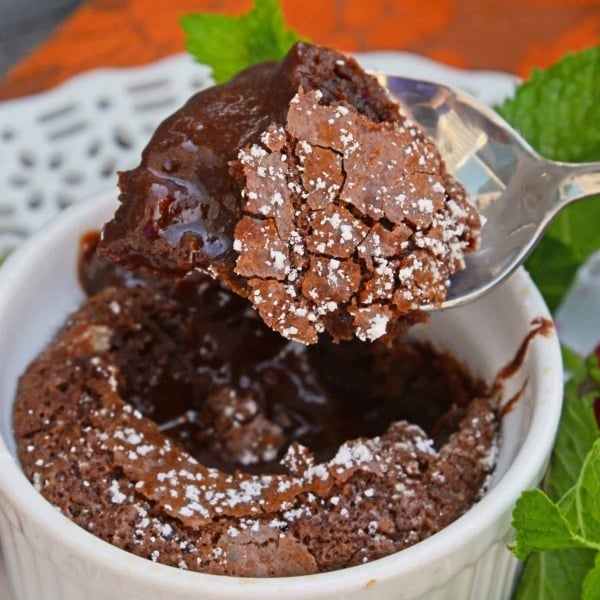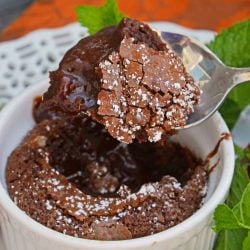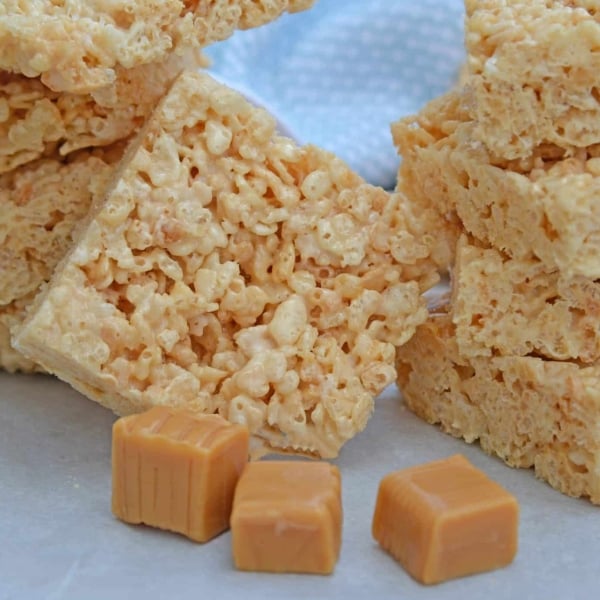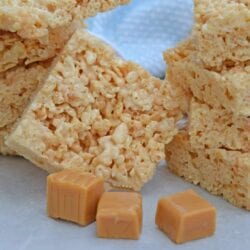 Tools for making dessert paninis:
Panini Press– you might not think you'll use a panini press much, but then you'll surprise yourself. Use it for making a basic grilled cheese or one of these other fabulous panini recipes:
Wood cutting board – wood won't dull your knives like plastic and if treated properly, has natural antimicrobial properties.
Good knife – Global is my favorite! They are worth the price, I promise. I am kind of obsessed with them and store them tucked away so no one else can use them. Including hubby. Hands off my good stuff!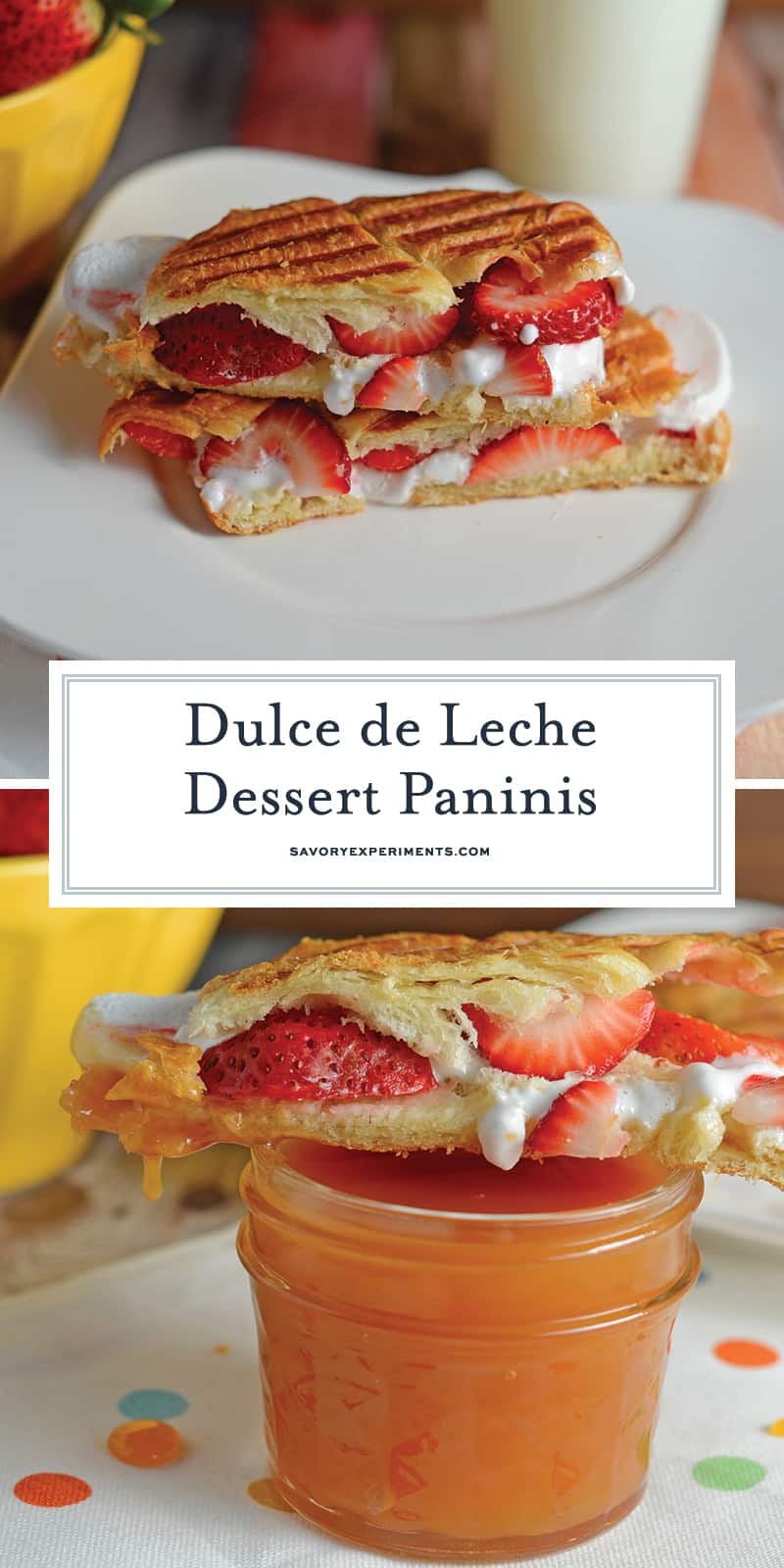 Questions you might have about how to make a dessert panini:
Can I use different fruit? You can use whatever fruit you'd like! I like to use soft fruits, as hard fruits are harder to bite. Raspberries, pear slices, blueberries and blackberries are my favorite.
Can I use a different type of bread? You don't have to use a butter croissant. My other favorite bread is brioche.
Can I omit the dulce de leche or caramel? Sure! Marshmallows, butter croissant and fruit still tastes amazing.
What else can I add? You can add chocolate or chocolate chips, peanut butter or peanut butter chips, cacao nibs or toffee bits. If you have another favorite, we'd love to hear about it in the comments!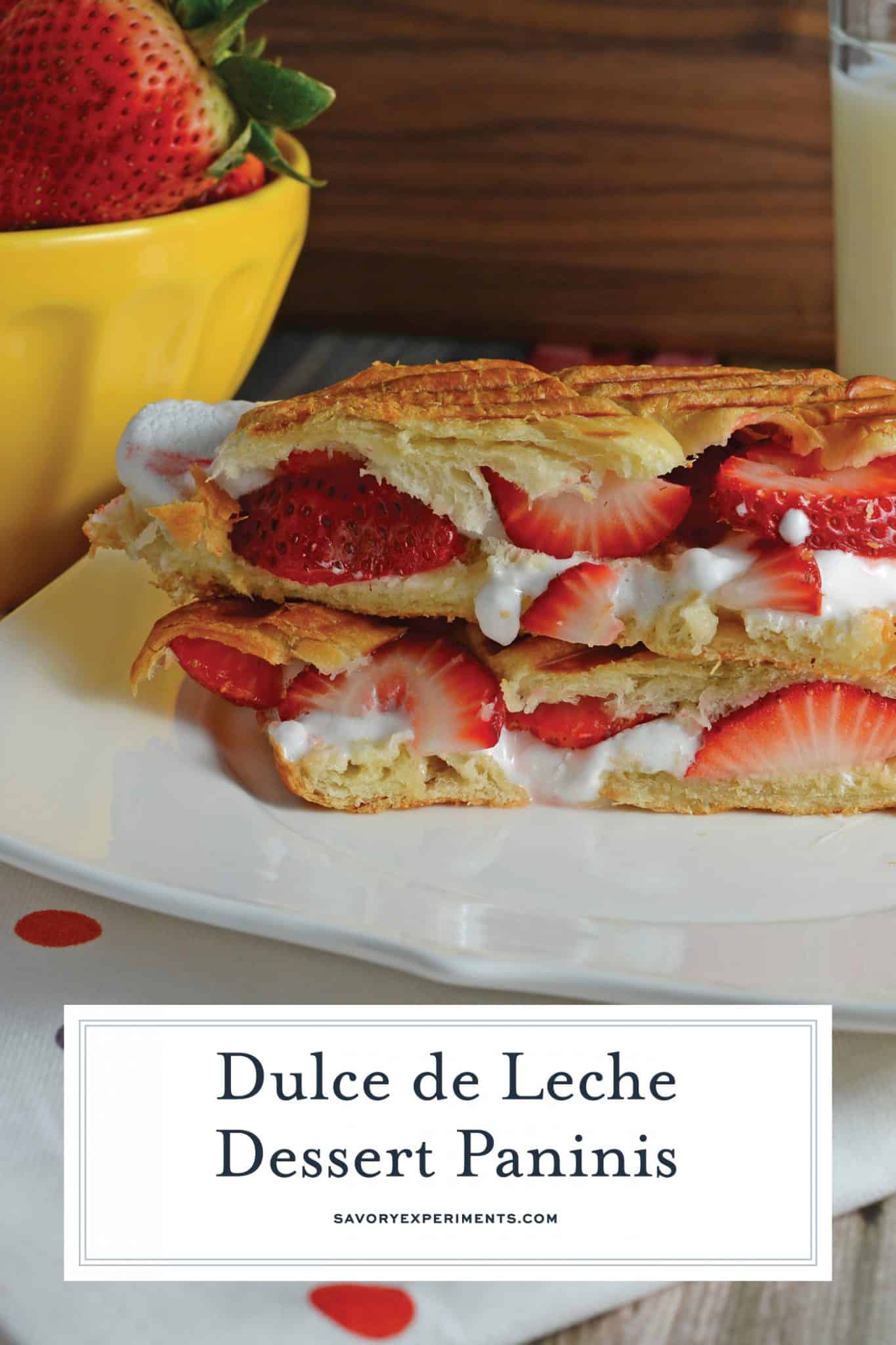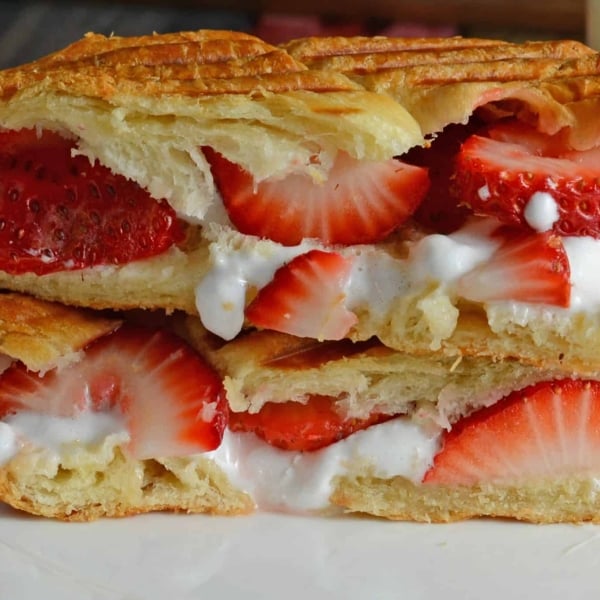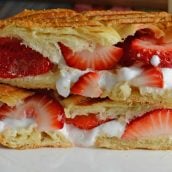 Dulce de Leche Dessert Panini
Dulce de Leche & Strawberry Croissant Panini- layers of decadent dulce de leche (or caramel), gooey marshmallow and freshly sliced berries all in a buttery croissant. This desserts only takes 10 minutes and is OH so good!
Equipment
Heat Resistant Rubber Spatula
Instructions
Slice each croissant in half lengthwise. Spread 1/2 tablespoon of Dulce de Leche spread on each half.

On one side, layer strawberry slices (or other berry of choice). On the other side make a single layer of marshmallow slices (or brie).

Bring the two sides together to form a sandwich. Heat your panini press.

Coat lightly with cooking spray and grill for 2 minutes, or until marshmallow (brie) starts to melt and ooze.

Remove with a spatula, cut in half and enjoy your dessert!

If you've tried this recipe, come back and let us know how it was!
Nutrition
Calories:
334
kcal
,
Carbohydrates:
52
g
,
Protein:
5
g
,
Fat:
12
g
,
Saturated Fat:
6
g
,
Cholesterol:
38
mg
,
Sodium:
347
mg
,
Potassium:
120
mg
,
Fiber:
2
g
,
Sugar:
15
g
,
Vitamin A:
440
IU
,
Vitamin C:
14.1
mg
,
Calcium:
36
mg
,
Iron:
1.3
mg