Mouth-watering chewy and soft, these rich Peanut Butter Oatmeal Cookies are easy to make, require basic ingredients and make a delicious snack.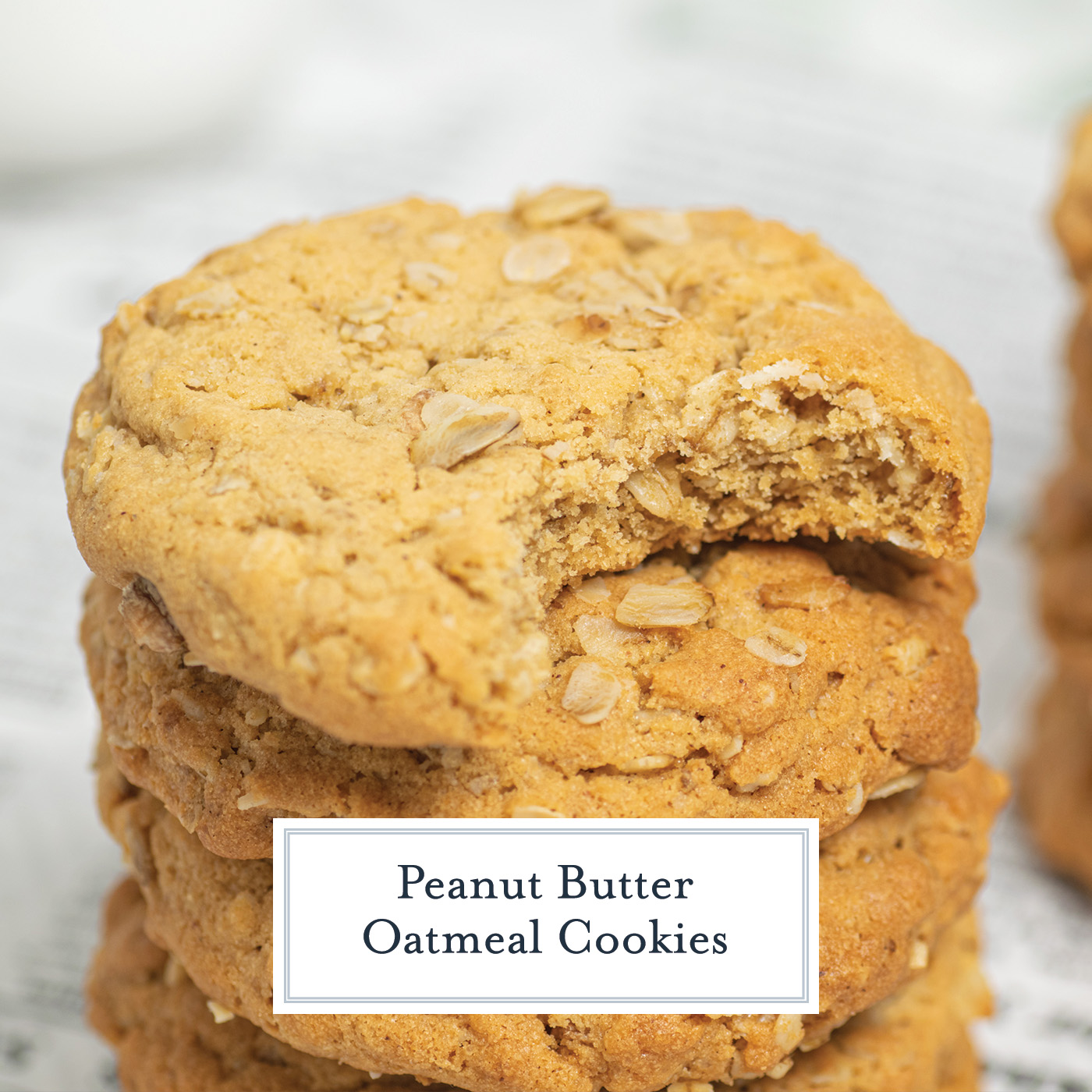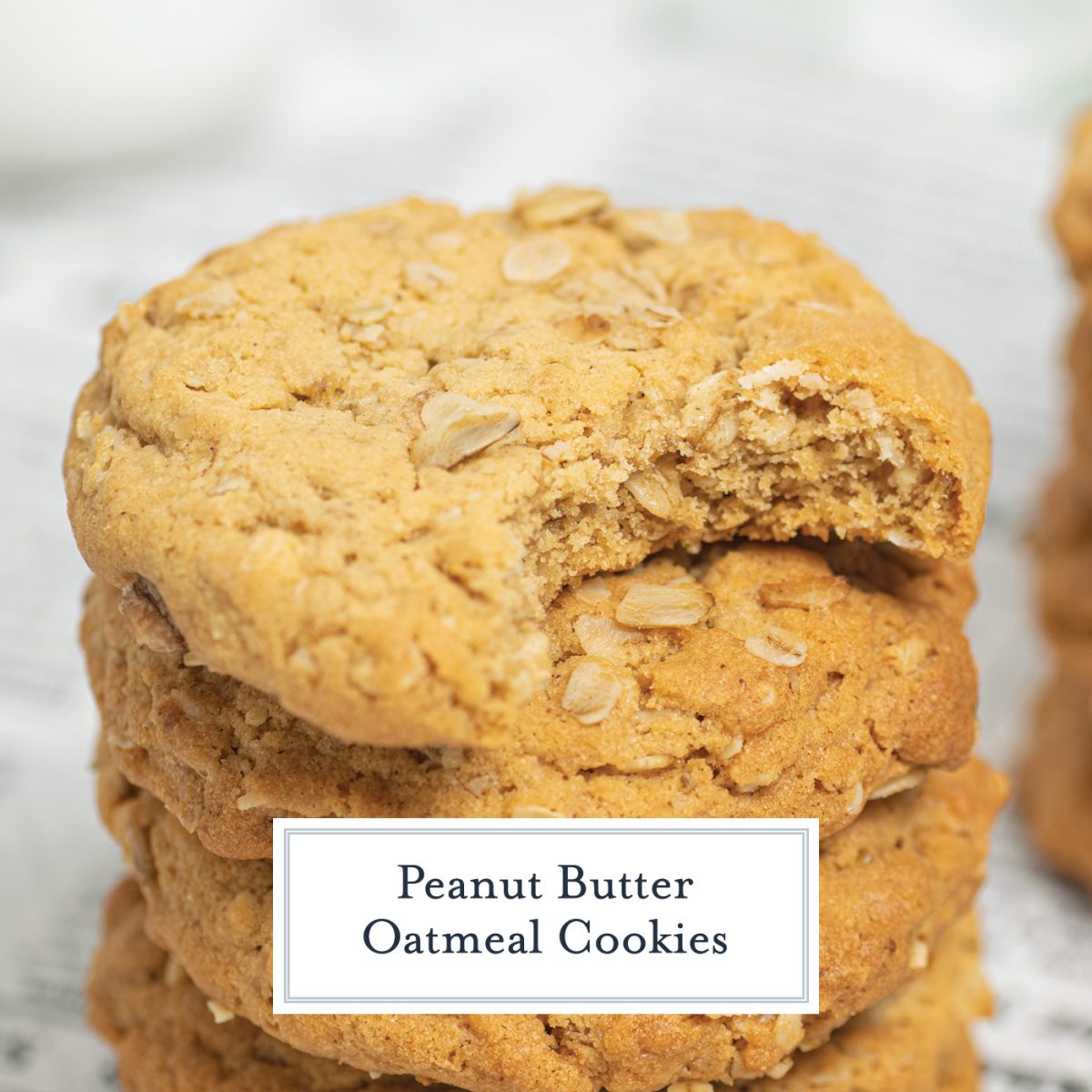 For all cookie fans out there, I have the ultimate oatmeal cookie recipe for you. These peanut butter cookies are rich and buttery, soft and chewy, chunky and full of flavor. This recipe comes with a caveat – make at your own risk, because they are absolutely addictive.
The best part about these peanut butter oatmeal cookies is that they're not overly sweet, not too soft and not too hard. They are just right.
Also, the recipe is very easy to prepare, so you can have chunky peanut butter cookies in no time. If you're looking for more easy cookies, try out these delicious Soft Peanut Butter Cookies or Soft Oatmeal Raisin Cookies.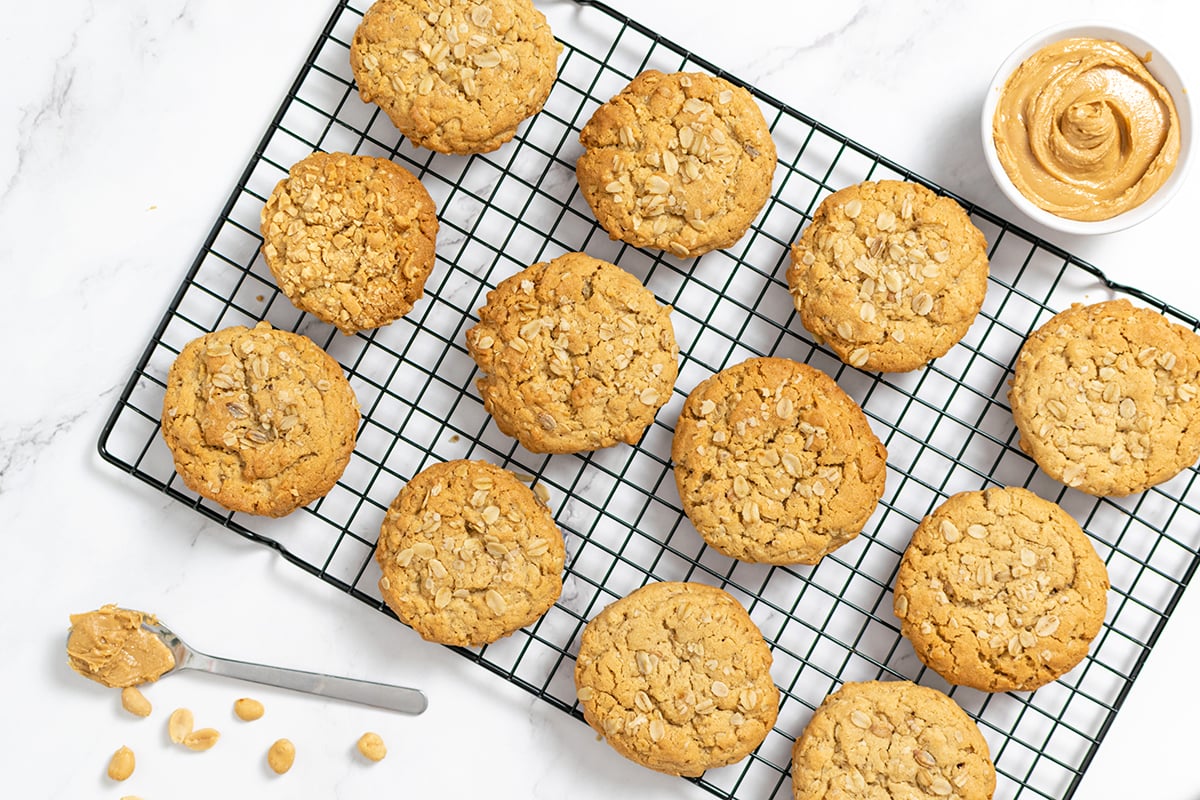 Why you'll love these Soft Peanut Butter Oatmeal Cookies
Easy to make: These peanut butter oatmeal cookies take only minutes to prepare and bake to perfection in under 15 minutes.
Uses regular ingredients: All ingredients needed for this recipe can be found in most kitchens and pantries.
Full of flavor: These oatmeal cookies are seriously next level and bursting with rich peanut butter flavor.
Not overly sweet: The sweetness is just right, so you can indulge in as many cookies as you want without getting a sugar rush (but we don't judge!).
Perfect texture: These peanut butter oatmeal cookies are soft and chewy, with a slightly crunchy exterior. The oatmeal gives the cookies a lighter texture, making them nice and chunky.
Can be customized: Add your favorite toppings to spice things up. I like to add chocolate chips for extra smoothness or peanut chunks for crunchiness.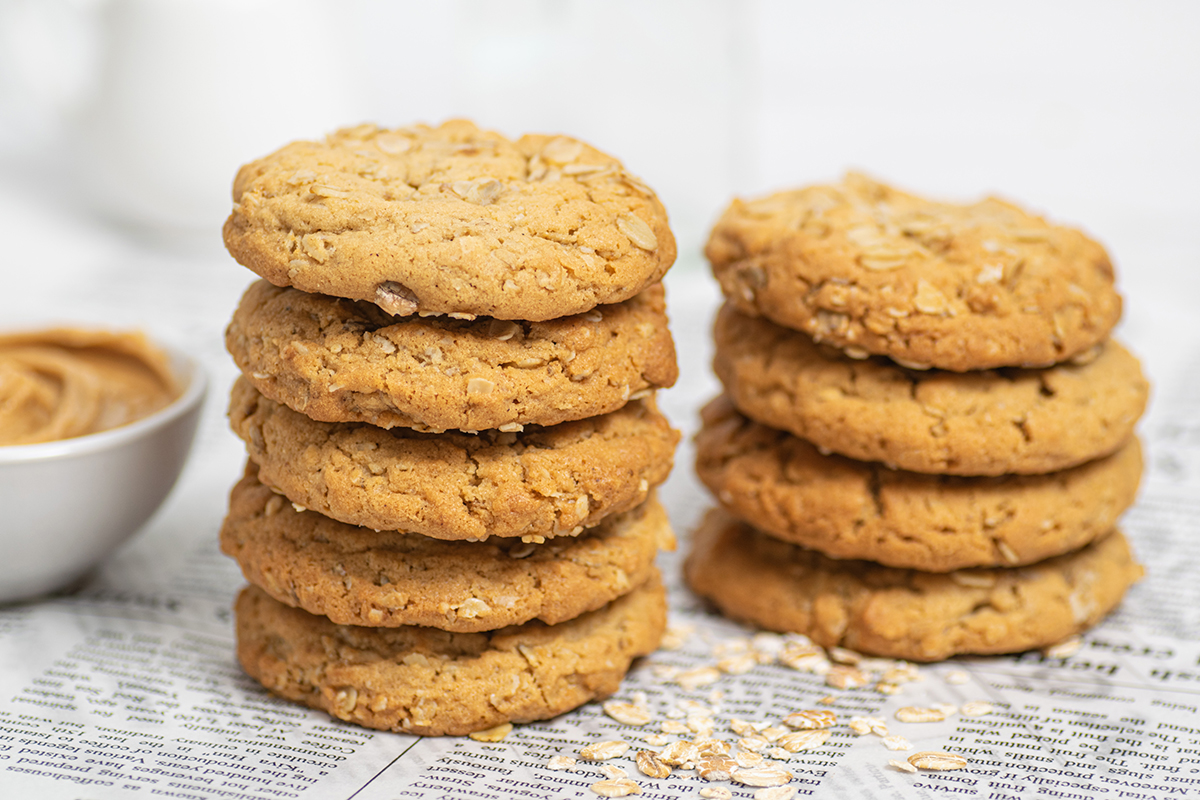 Peanut Butter Oatmeal Cookie Recipe ingredients
All ingredients needed to make these extra chunky oatmeal cookies can be found in most kitchens. Here's what you will need:
Flour: all-purpose flour works best. Self-rising flour cannot be used in this recipe.
Baking powder & baking soda: baking powder gives the cookies height, while baking soda makes them soft and chewy. For the best texture, use both.
Butter: needs to be at room temperature. Can also be replaced with margarine or vegan butter for non-dairy version.
Peanut butter: the main ingredient in the oatmeal cookies. Smooth, creamy peanut butter works best for this recipe.
Sugar: a combination of light brown sugar and plain granulated sugar is used to achieve the best caramelized flavor. If you do not have brown sugar, it can be replaced with granulated sugar.
Eggs: the 'glue' in this recipe. Use large eggs at room temperature for best results.
Vanilla extract: optional, but highly recommended. Vanilla adds flavor and complements the peanut butter taste.
Cinnamon: used in a small quantity, ground cinnamon will help make the peanut butter flavor pop.
Oats: old-fashioned, rolled oats work best for this recipe.
What happens if you use quick oats instead of old fashioned oats?
The texture will be different. Quick oats retain moisture differently and have a different shape, so they will be soggy and not bake to the right cookie texture.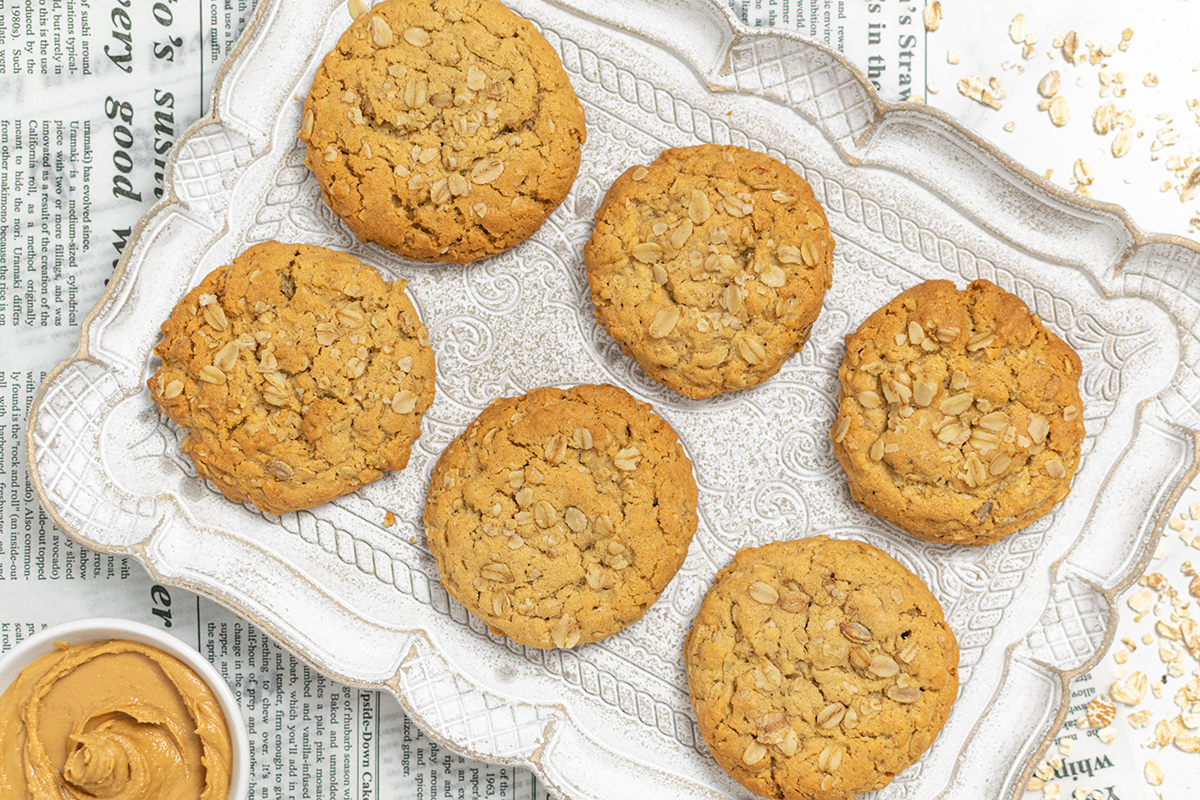 Peanut Butter
As the main ingredient in these peanut butter oatmeal cookies, the choice of peanut butter is very important. Although you can use either crunchy or smooth peanut butter, I recommend the latter. Crunchy peanut butter adds texture, but it can make the oatmeal cookies to dry. Choose smooth, creamy peanut butter for a rich, buttery texture.
If you still want some crunchiness in the peanut butter oatmeal cookies, use creamy peanut butter and add some additional peanut flakes. Then the cookies will still have the right consistency, but with extra crunchiness from the peanut bits.
Homemade or natural peanut butter are the best option for snacking, but they aren't the best for baking cookies. Natural peanut butter can make cookies too dry and crumbly, which is the opposite of what we're after.
For the best chewy and soft texture, I recommend processed commercial peanut butter like Skippy or Jif.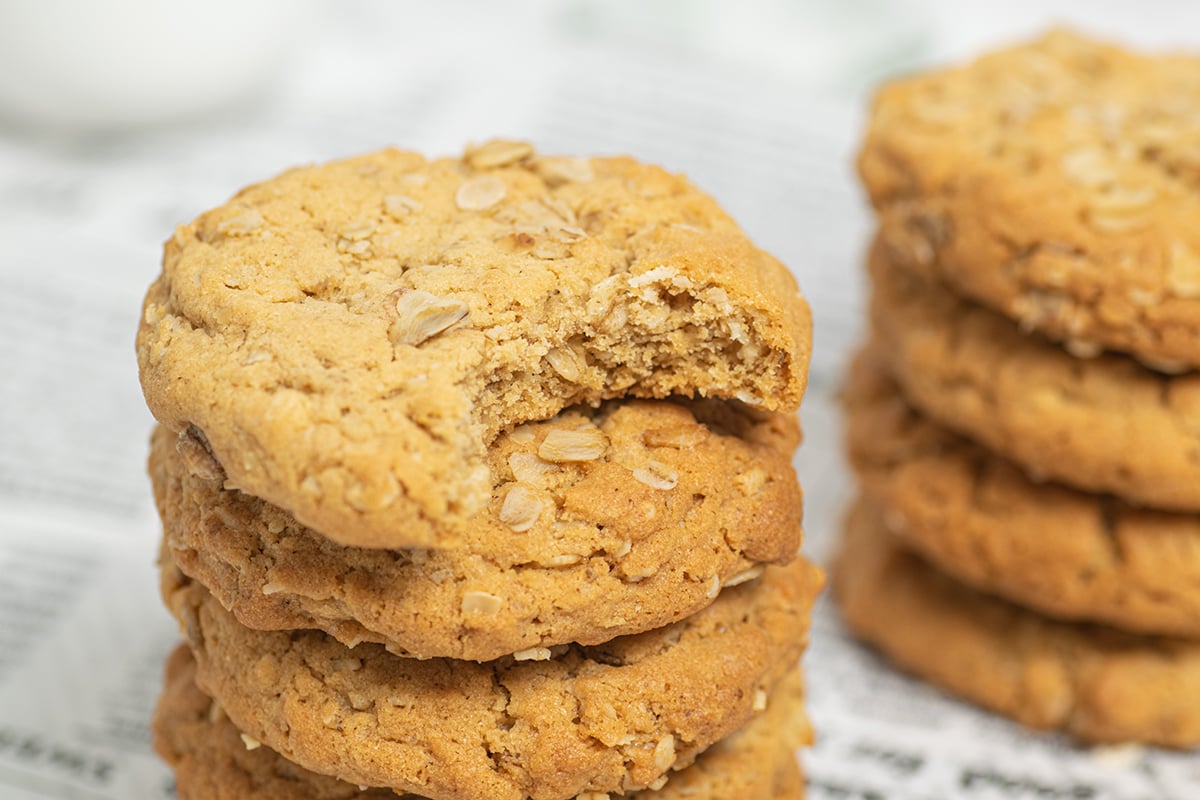 How to make Oatmeal Peanut Butter Cookies
Whisk together all the dry ingredients, except for the rolled oats.
Separately, cream the butter, peanut butter and sugars. Mix in the egg and vanilla, then combine.
Add the dry ingredients into the wet batter. Mix, then add in the oats and combine again to form the cookie dough.
Chill the dough for 30 minutes. Scoop up batter into small balls onto a baking sheet, then bake.
Optional: Sprinkle some oats or crushed peanuts on top of the cookies before baking for decoration.

Easy Peanut Butter Oatmeal Cookies tips & tricks
Room temperature ingredients: it's important to have all the ingredients at room temperature when preparing the cookie dough. This makes everything combine more smoothly and have a better texture.
The right type of peanut butter: for the best texture, choose smooth processed peanut butter. See the section above for more details on how to choose the best peanut butter for this recipe.
Chill the dough: refrigerating helps the cookie dough firm up, making it easier to form the cookies on the baking tray. Chilling also helps develop flavor.
Leave space between the cookies: when baking, the oatmeal cookies will spread. Ensure you leave at least 2-3 inches between the cookies.
How to store Peanut Butter Oat Cookies
These peanut butter oatmeal cookies are great because they can be made ahead. You can store the oatmeal cookie dough in the fridge for up to 4 days before baking the cookies. Ensure you let the dough at room temperature for 30 minutes before forming the cookie balls and baking.
After baking, the cookies can be stored in an airtight container at room temperature for up to 6-7 days. You can also freeze the cookies for up to 2-3 months for long-term storing.
FAQs for Chewy Peanut Butter Oatmeal Cookies
What's the difference between oatmeal cookies and regular cookies?
Oatmeal cookies include oatmeal, which has a chewy texture and earthy flavor.

Why are my peanut butter cookies so dry?
Cookies can be dry for a number of reasons.
– Cookie dough was overworked. Overworking the dough can make batter (and thus cookies) dry exposing it to too much air. The gluten in flour can also be overworked, becoming more difficult to chew.
– Overcooking can lead to dry and brittle cookies. Remove cookies right before they look browned. Sitting on the sheet, they will bake a little more and then settle.
– Flour is commonly over measured when someone dips the measuring cup into the flour canister versus weighing or lightly spooning it in. This can dry out cookies.
Should you flatten peanut butter cookies before baking?
This largely depends on the recipe. Flattening will make then cookie thinner and crispier, while leaving them balled to spread only a little, will make them thicker and chewier.
Why do my peanut butter cookies get hard?
The same reasons that cookies get dry are also why cookies get hard. Overworking the cookie dough, overbaking and mis-measuring flour.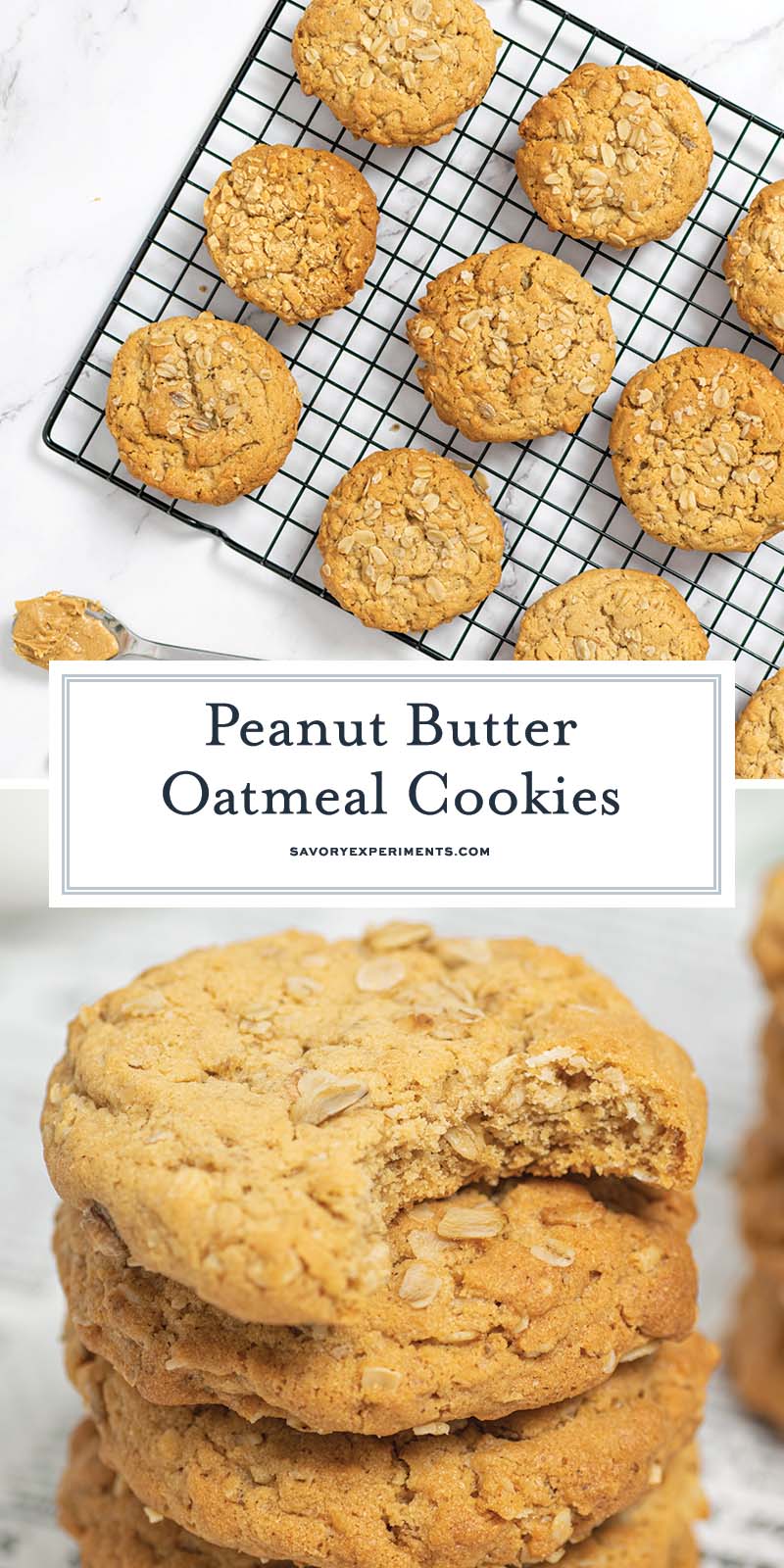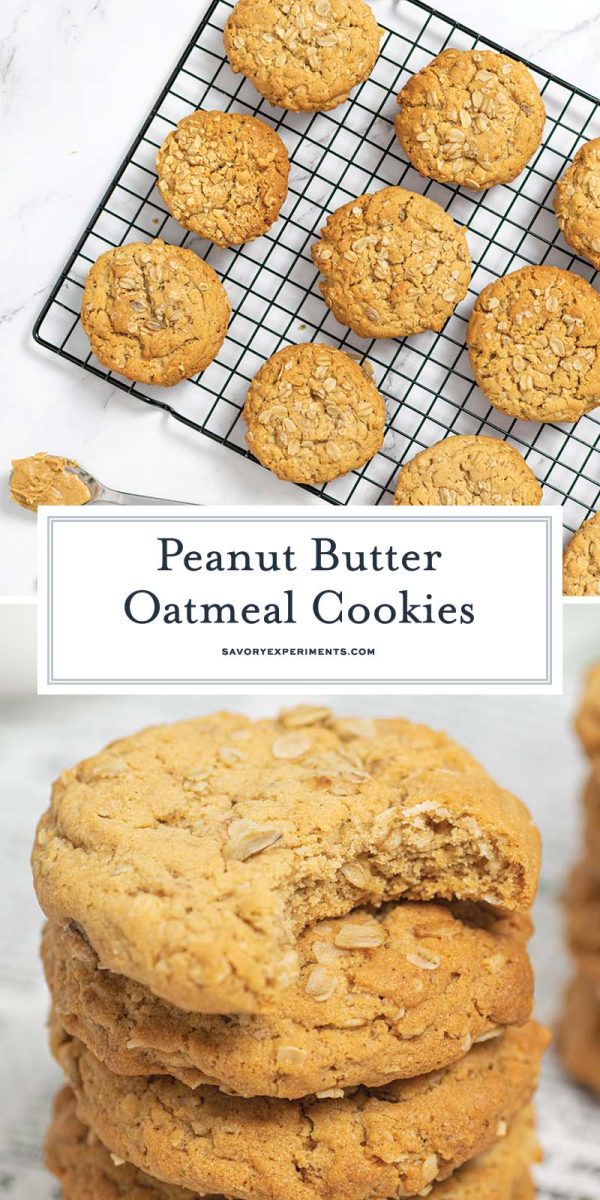 More Easy Cookie Recipes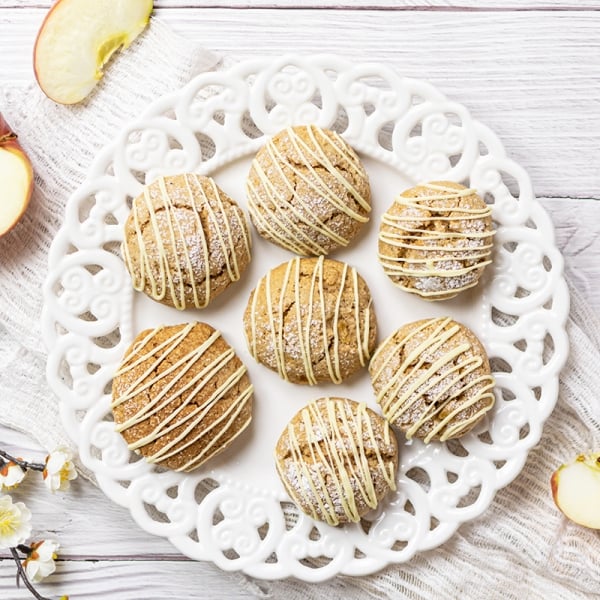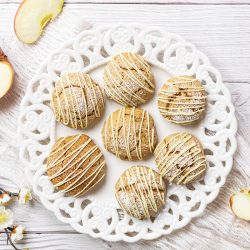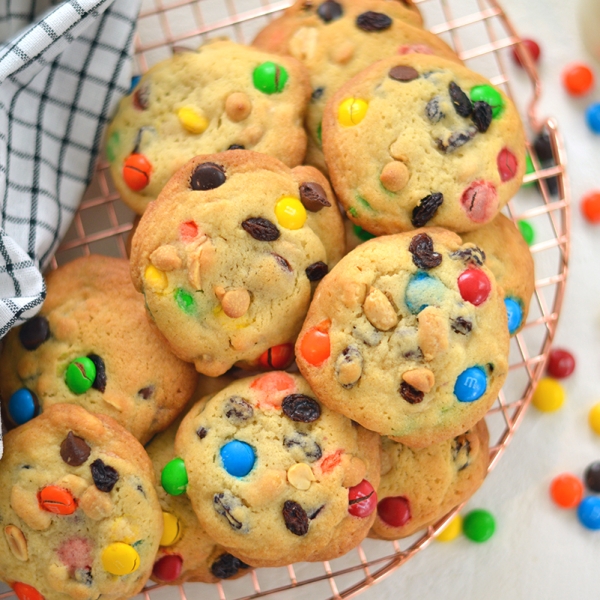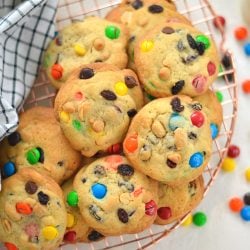 Trail Mix Cookies
Enjoy your favorite on-the-go snack in cookie form. These chewy Trail Mix Cookies are the best combination of salty and sweet.
See The Recipe!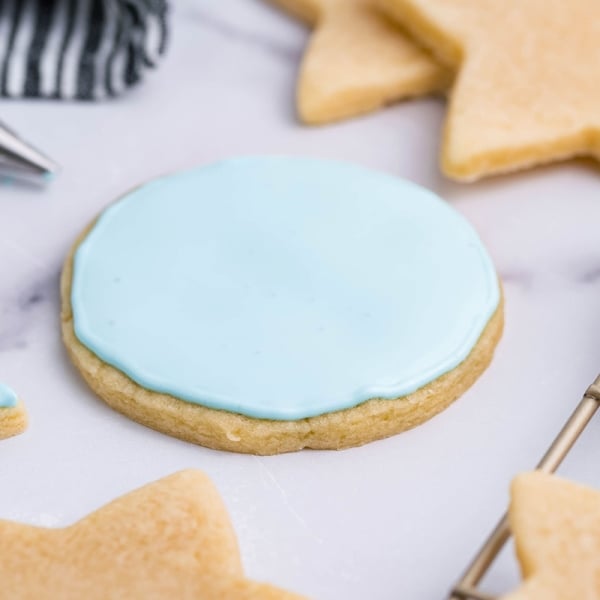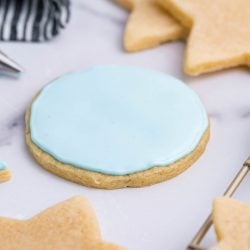 Frosted Sugar Cookies
The best sugar cookie dough recipe for Rolled Sugar Cookies out there! Won't lose shape when baked, great flavor and easy to make and roll out!
See The Recipe!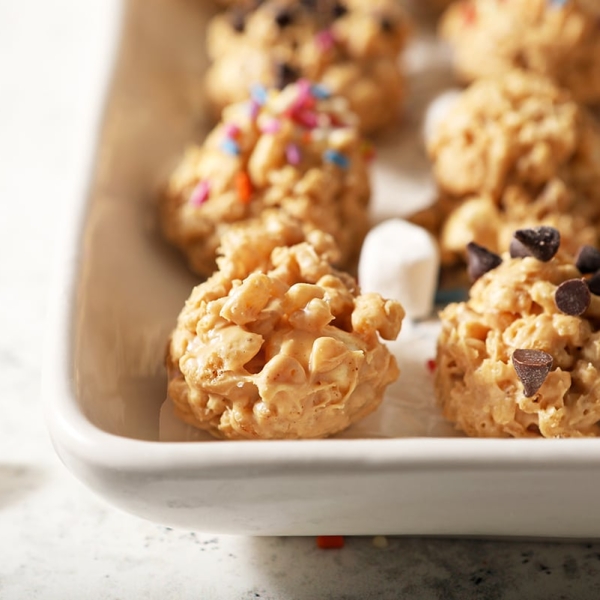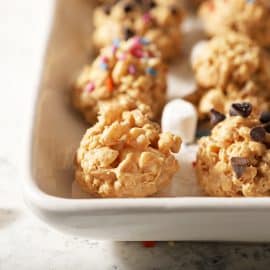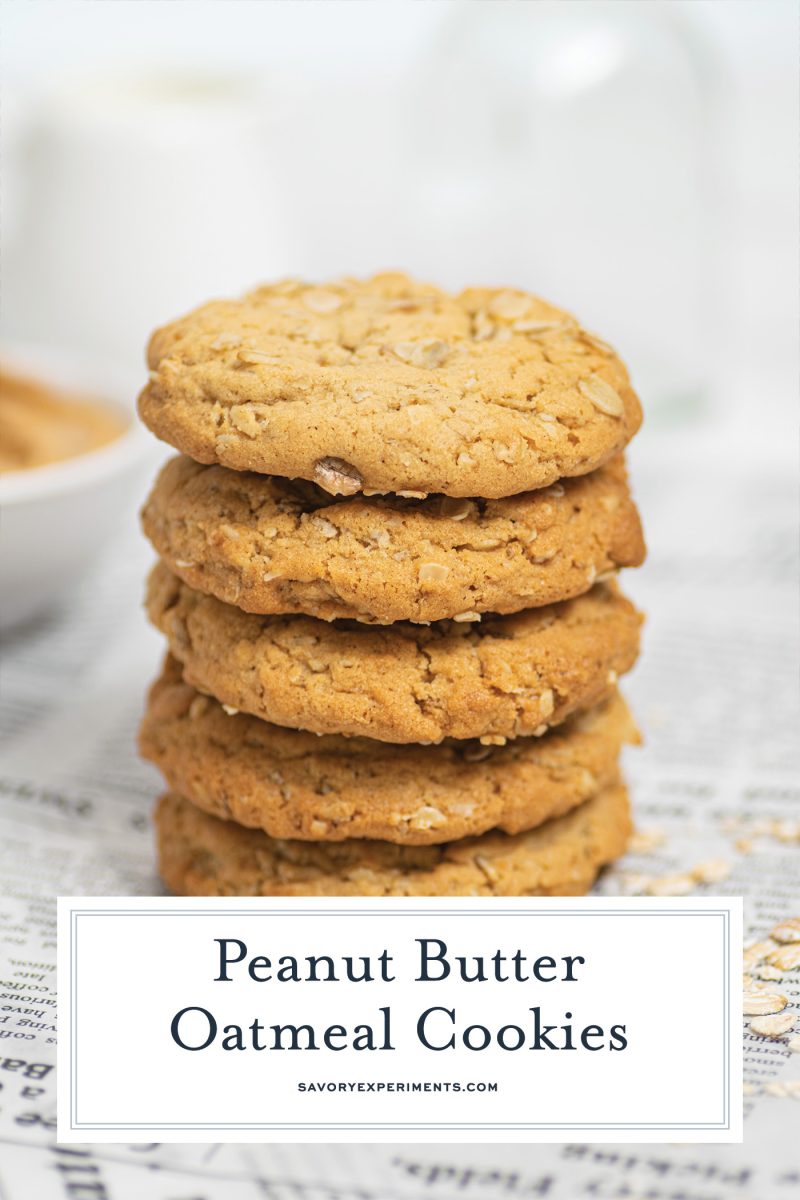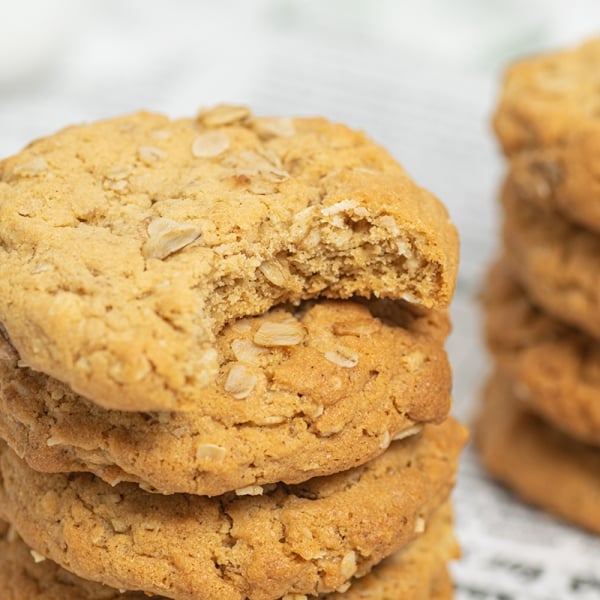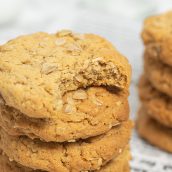 Chewy Peanut Butter Oatmeal Cookies
Mouth-watering chewy and soft Peanut Butter Oatmeal Cookies are easy to make, require basic ingredients and make a delicious snack!
Instructions
Whisk together the flour, baking soda, baking powder, salt and ground cinnamon in a bowl.

Separately, in a large bowl cream the butter and peanut butter until smooth and fluffy. Pour in the granulated sugar and brown sugar, then mix well to combine, for about 2-3 minutes.

Add in the eggs and vanilla extract, then mix again to incorporate. Make sure you scrape down the sides of the bowl and mix again.

Combine the dry ingredients into the butter mixture and beat on low speed until just about combined.

Place the dough into plastic wrap, then refrigerate for 20-30 minutes.

Pre-heat the oven to 350F (180C) and line a baking tray with parchment paper.

Use an ice cream scoop or tablespoon to scoop up equal balls of dough onto the baking tray. Each cookie should be about 2 tablespoons of dough. Leave enough space between the cookies as they will spread in the oven. Sprinkle more oats or crushed peanuts on top for decoration.

Bake for 13-15 minutes or until golden brown in color. Once baked, let the cookies rest for 5 minutes before carefully transferring them onto a cooling rack.

If you've tried this recipe, come back and let us know how it was in the comments or star ratings!
Notes
Cookies can be stored in an airtight container at room temperature for up to 6-7 days. You can also freeze the cookies for up to 2-3 months
Nutrition
Calories:
199
kcal
,
Carbohydrates:
22
g
,
Protein:
4
g
,
Fat:
11
g
,
Saturated Fat:
5
g
,
Polyunsaturated Fat:
2
g
,
Monounsaturated Fat:
4
g
,
Trans Fat:
1
g
,
Cholesterol:
27
mg
,
Sodium:
206
mg
,
Potassium:
107
mg
,
Fiber:
1
g
,
Sugar:
11
g
,
Vitamin A:
205
IU
,
Vitamin C:
1
mg
,
Calcium:
23
mg
,
Iron:
1
mg