You can make these fun and festive Holiday Chocolate Covered Pretzel Rods with only 4 ingredients! Add different sprinkles to customize for any occasion, also great for Frozen parties!
If you are need of a simple yet delicious holiday treat, these Holiday Chocolate Covered Pretzel Rods are for you! You can use any color or sprinkle combination.
When I think of my ideal dessert, it has to be sweet and salty. The two go hand in hand. I crave them.
I add salt to desserts that didn't originally have them. Don't tell, but I even put salt on my gosh darn ice cream!
So it really isn't a surprise that chocolate covered pretzel rods are my weakness. And lucky for me, they are delightfully easy to make.
The perfect match of salty and sweet with a little crunch. I like to make my chocolate covered pretzel rods with the small, short pretzels.
I find this is the best ratio of chocolate to pretzel. Yes, I've put way too much thought into this. Again… don't judge me!
Because I wanted them to be a holiday treat and not specific to any holiday, I chose a generic light blue with snowflakes. Perfect for Thanksgiving, Christmas, Hanukkah or any other winter festivity or holiday.
You can also make them "just because". I won't judge… I am the person that puts salt on my ice cream!
To start, melt white chocolate in a double boiler, according to package directions. Once the chocolate is hot and glossy, you are ready to start dipping your pretzels.
Dip the pretzel rod into the chocolate, while tapping off the excess chocolate.
PRO TIP: Use a rimmed baking sheet so the sprinkles don't fall off and make a mess!

Sprinkling them on instead of rolling them prevents over clumping.
Place the chocolate dipped pretzel on a parchment paper or wax paper lined baking sheet. While the chocolate is still tacky, sprinkle the holiday sprinkles on the chocolate.
Allow them to set, or place in the refrigerator for 5-10 minutes. Make sure to keep your pretzels slightly chilled until ready to eat.
So yes, chocolate covered pretzels rods are ridiculously easy to make, but before you begin let's review a few tips and tricks about working with melted chocolate.
The art of melting chocolate. It should be easy, right? Melt the chocolate and ta-da! If only…
Melting chocolate, like many other things in the kitchen, is chemistry and science. You need the optimal temperature to make sure your chocolate melts to a silky smooth consistency. So here are a few tips for melting chocolate:
Skip the microwave and use a double boiler. The microwave heats too fast and too hot.
If you do need to use the microwave, use it at 50% power or defrost mode and go slow, 15 second intervals. Make sure to use a microwave safe bowl.
Don't fully boil the water in your double boiler. Get it hot enough to melt the chocolate, but not to a rolling boil.
Put the top pot on with chocolate after the water has come to temperature.
Stir constantly while melting. It should only take a minute or so.
Use immediately and while shiny.
If chocolate gets too hot, it gets clumpy and matte.
You can try to revive it by adding 2 teaspoons of vegetable shortening, but sometimes you are better off just starting over.
Also, don't put too much pressure on yourself. Truth be told, even if your chocolate gets a little lumpy or matte, it will still taste good.
These holiday pretzel rods are also so amazingly fun that you can get the kiddos involved. The kids might eat them as they make them.
They are also excellent for filling the holes on your cookie tray or to give as gifts. They might even be a nice treat for Santa and his reindeer, hint, hint.
Nutter Butter Santa Cookies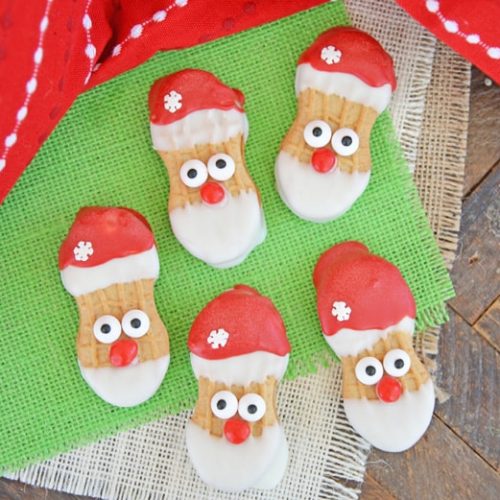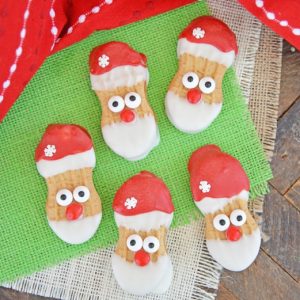 If you're looking an an easy, no-bake Christmas cookie, check out my Nutter Butter Santa Cookies! They're super festive, and simple to make.
Christmas Dunkaroo Dip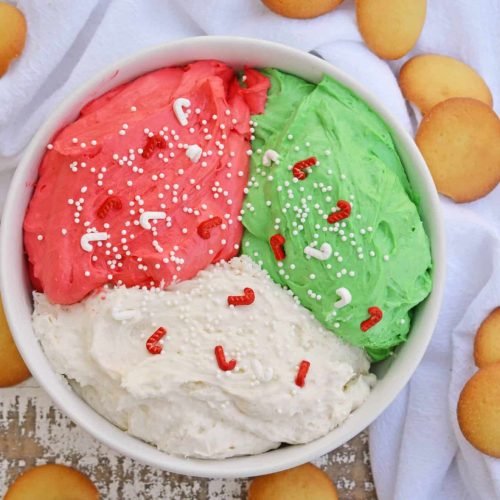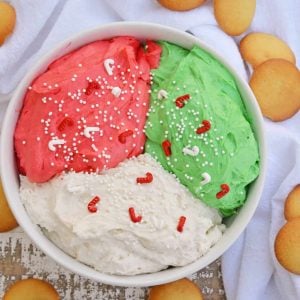 Christmas Dunkaroo Dip is a sweet and easy dessert dip, make with box cake mix, whipped topping, Greek yogurt, and lots of festive sprinkles. A great last-minute Christmas recipe!
Questions about how to make chocolate covered pretzel rods:
Why does chocolate sweat? Chocolate sweats when the temperature changes too rapidly, the moisture release. Chocolate covered anything is best kept somewhere between refrigerated and room temperature.
How should I store my chocolate covered treats? If that is the case and I don't own a special chocolate covered items refrigerator, then where do I put them?
Listen- they are fine in the fridge, just know that they might potentially sweat a little. They will still taste perfectly fine.
Can I use milk chocolate? Sure! Use milk chocolate, dark chocolate or even semi-sweet chocolate. But obviously, you'll lose the blue tint.
Do I have to use sprinkles? Nope, these are purely a personal preference. You can use a variety of toppings. Some of my favorites are:
Toffee Bits
Colored Sugar (sprinkles)
Mini chocolate chips
Complementing chocolate drizzle
Chopped Nuts
Mini M&Ms
How long do chocolate covered pretzel rods last? If kept at the right temperature in an airtight container, for about a week before the pretzels start getting a little yucky.
CONNECT WITH SAVORY EXPERIMENTS!

Be sure to follow me on social media, so you never miss a post!

Facebook | Twitter | Youtube
Pinterest | Instagram
Get our FREE 8 Day E-Course on How to Be a Better Home Cook. Sign up HERE!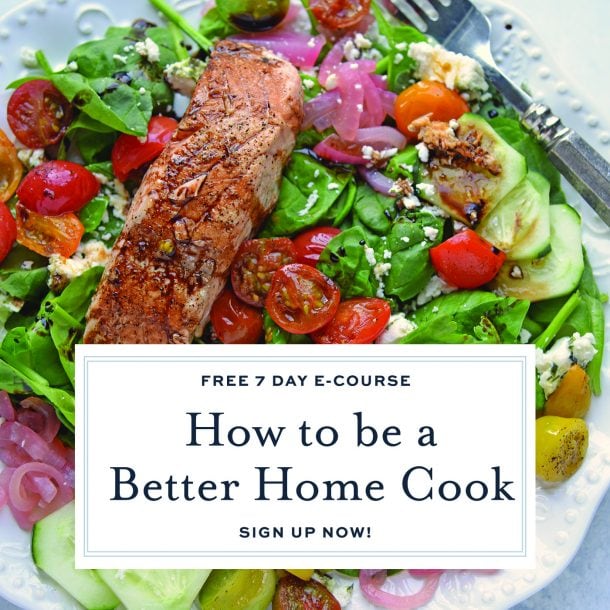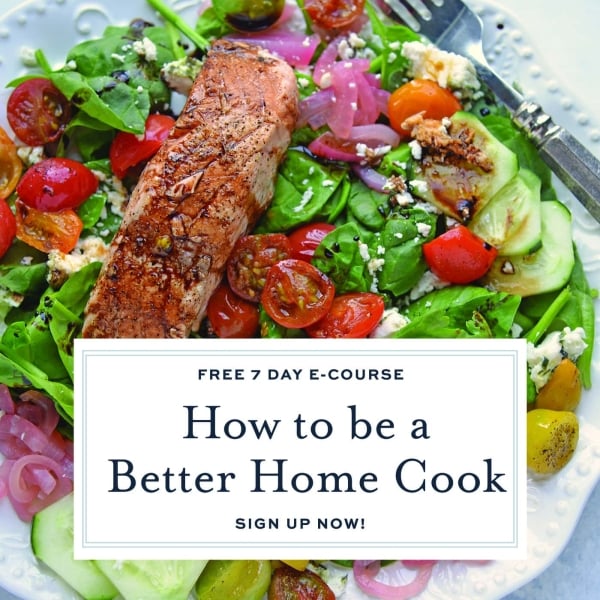 Holiday Chocolate Covered Pretzel Rods
If you are need of a simple yet delicious holiday treat, these Holiday Chocolate Covered Pretzel Rods are for you! You can use any color or sprinkle combination.
Ingredients
Instructions
Heat chocolate in double boiler according to package directions.

When hot and glossy, swirl pretzel rod into chocolate tapping off excess.

Place on a parchment paper lined baking sheet.

While still tacky, sprinkle holiday sprinkles on chocolate.

Allow to set or place in the refrigerator for 5-10 minutes.

Keep slightly chilled until ready to eat.

If you've tried these, come back and let us know how they were!
Nutrition
Calories:
65
kcal
|
Carbohydrates:
8
g
|
Protein:
1
g
|
Fat:
4
g
|
Saturated Fat:
2
g
|
Cholesterol:
2
mg
|
Sodium:
23
mg
|
Potassium:
32
mg
|
Fiber:
1
g
|
Sugar:
7
g
|
Vitamin A:
3
IU
|
Vitamin C:
1
mg
|
Calcium:
23
mg
|
Iron:
1
mg