This 20 minute easy chicken recipe will become one of your go-to recipes. Once you make it you'll see how tasty and full of flavor it is. It's a one dish meal you just won't be able to resist!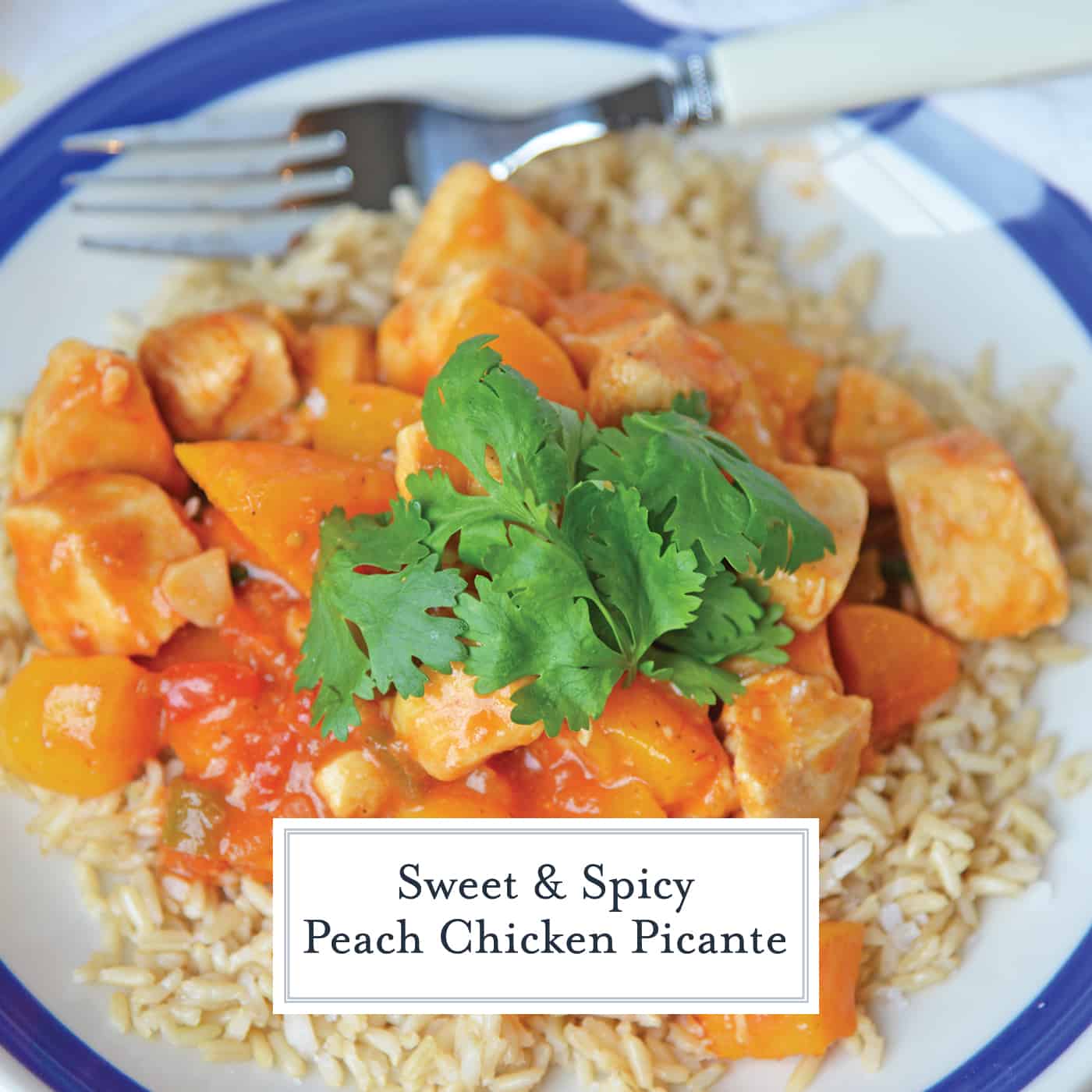 Peach Chicken Picante is a quick dinner recipe using chicken, peaches and salsa! This delicious flavor combination will give you a sweet and spicy peach chicken picante dish!
Peach Chicken Picante is a recipe that I originally got out of Cooking Light Magazine back in college. I was searching for flavorful, but fast recipes using chicken that didn't have a long or weird ingredient list.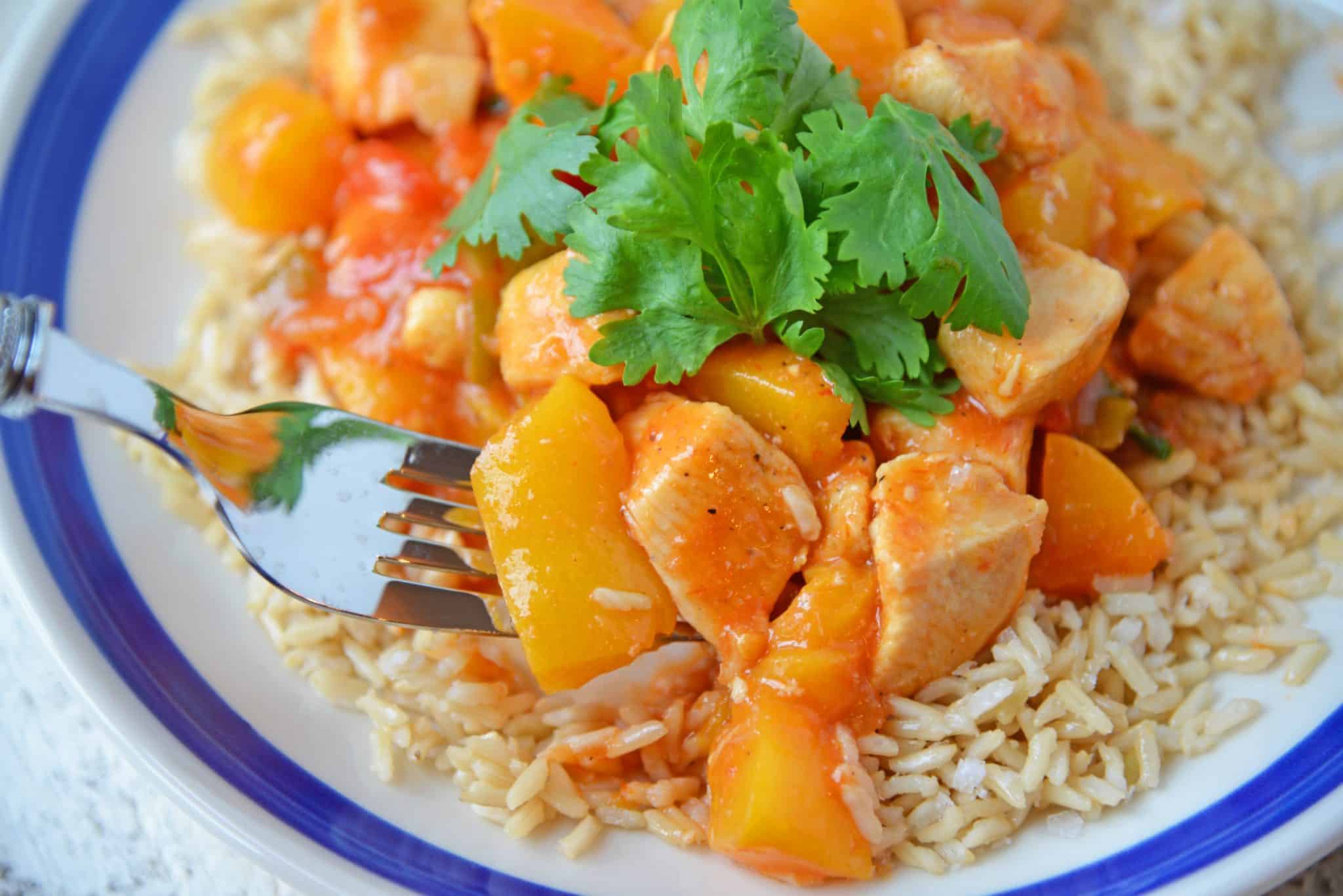 For goodness sake, I was a college kid trying to make it and not eat Cup of Noodles every day.
Peach Chicken Picante become one of my go-to meals. I could prepare it in just 20 minute using minimal and cheap ingredients, I got all four of my food groups and just one preparation gave me enough to eat for 4 whole dinners or lunches.
It has had my favorite flavor combination: sweet and spicy.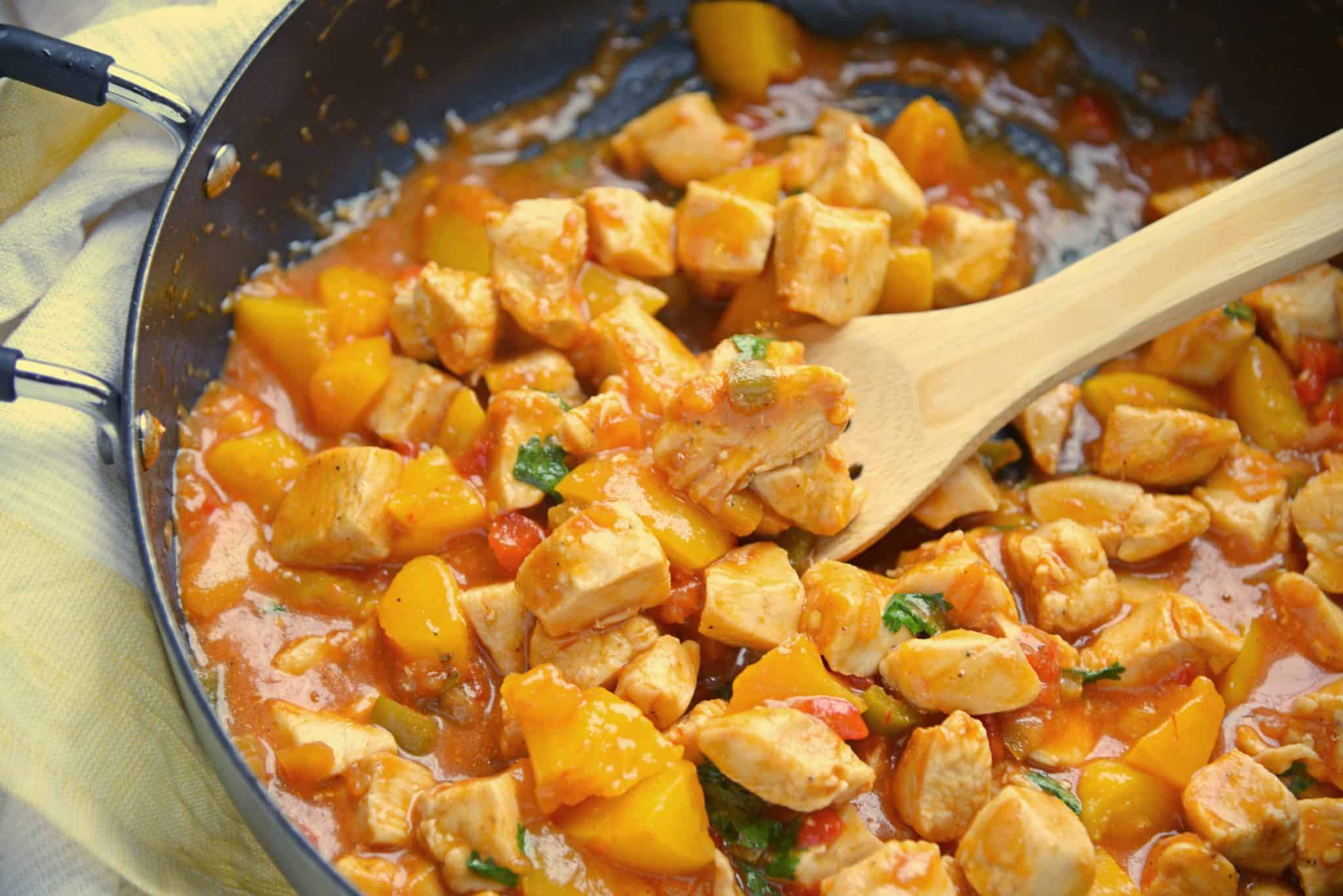 I would call Peach Chicken Picante one of my semi-homemade recipes. I use the ease of canned and prepackaged goods to make a hearty meal.
Canned salsa and peaches make the heartiness while orange juice concentrate is the base of the sauce, giving it loads of flavor, but also nutritional value.
Another perk to Peach Chicken Picante is being able to control the heat or spice. Do you want super spice or kiddy mild? By choosing what flavor of salsa you use you can manipulate the spice level.
Succulent, sweet peaches and acidic orange concentrate help to balance out the sweet and spicy flavors.
My only strong suggestion would be to choose a chunky salsa, not something too thin or watery. This recipe creates the illusion you chopped all those veggies and you want credit!
If 20 minutes isn't fast enough for you, try cutting your chicken into even smaller pieces. It will cook even faster and let's face it, cooking the chicken is what takes the bulk of time.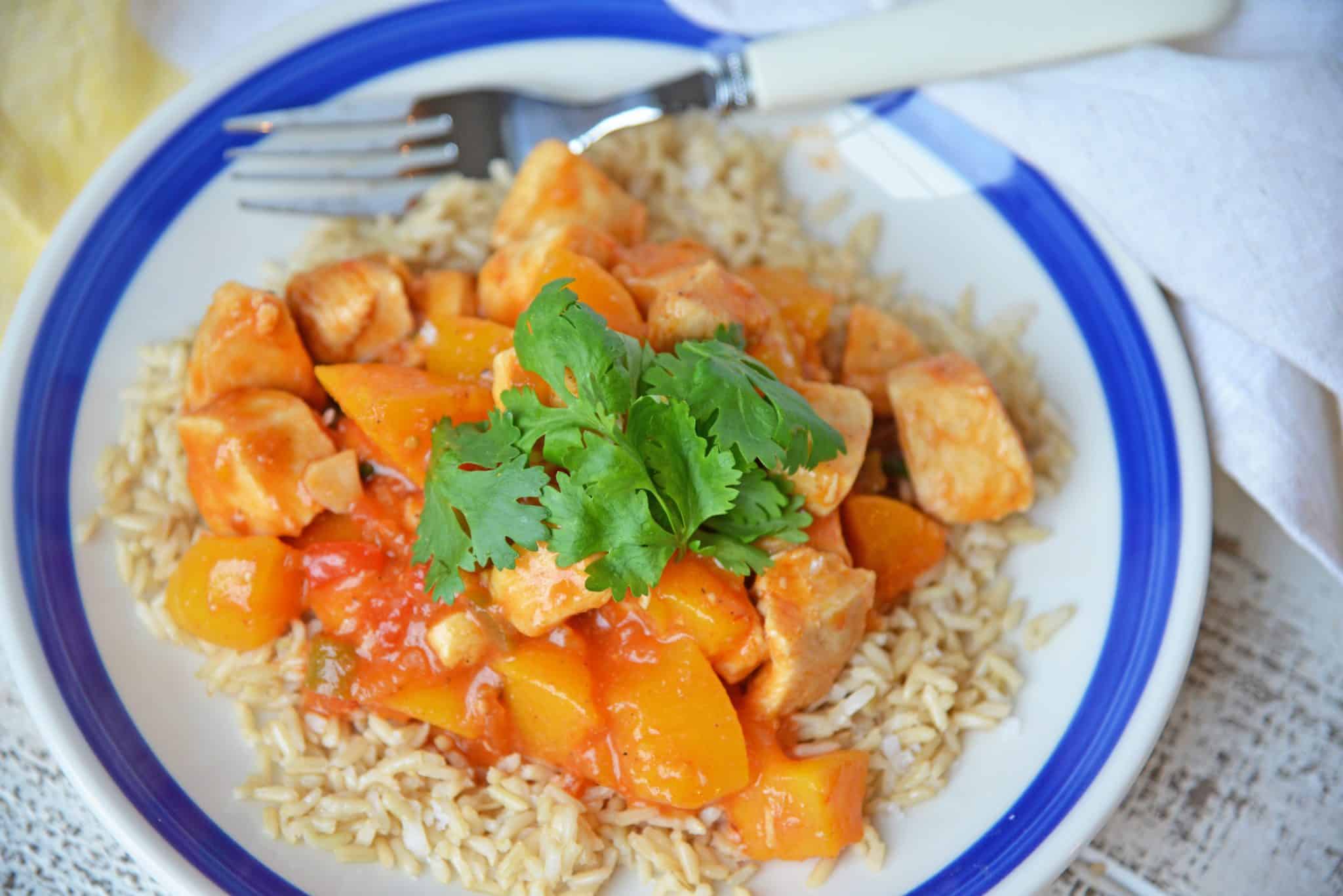 More spicy chicken recipes: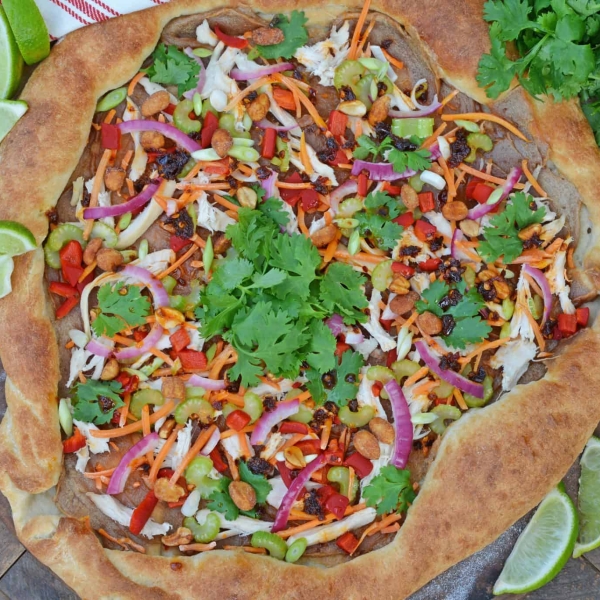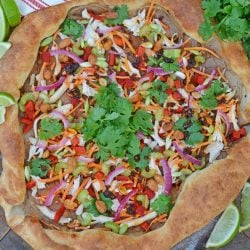 Spicy Thai Chicken Pizza
Spicy Thai Chicken Pizza uses a rich peanut satay sauce with shredded chicken, colorful vegetables and topped with sweet honey roasted peanuts and spicy chili oil.
View this recipe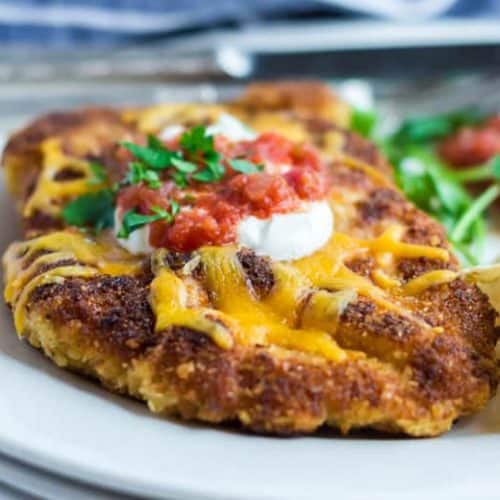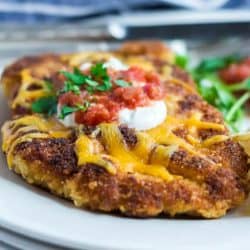 Crispy Mexican Chicken
Topped with melty cheese and covered in a flavorful breading, this EASY Crispy Mexican Chicken recipe is perfect for a weeknight dinner!
View this recipe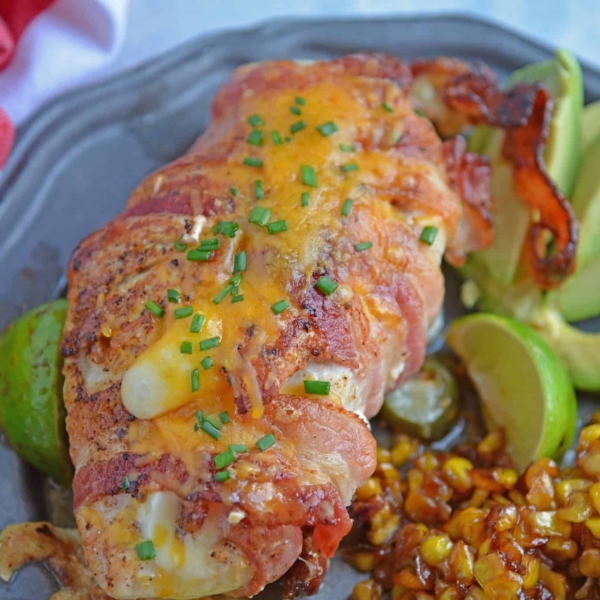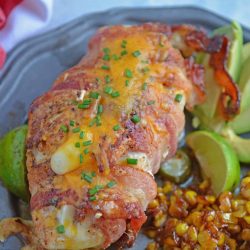 Jalapeno Bacon Wrapped Chicken
Jalapeno Bacon Wrapped Chicken is a cheese stuffed chicken breast recipe using three cheeses and fresh jalapenos. Avocado and lime cool off the hot flavors.
View this recipe
Tools for making Peach Picante Chicken:
Heavy Bottom Frying Pan– this will be one of your most used kitchen tools. Having something that is heavy bottom will distribute heat better and prevent burning whether you are using an electric or gas range.
Wood cutting board – wood won't dull your knives like plastic and if treated properly, has natural antimicrobial properties.
Good knife – Global is my favorite! They are worth the price, I promise. I am kind of obsessed with them and store them tucked away so no one else can use them. Including hubby. Hands off my good stuff!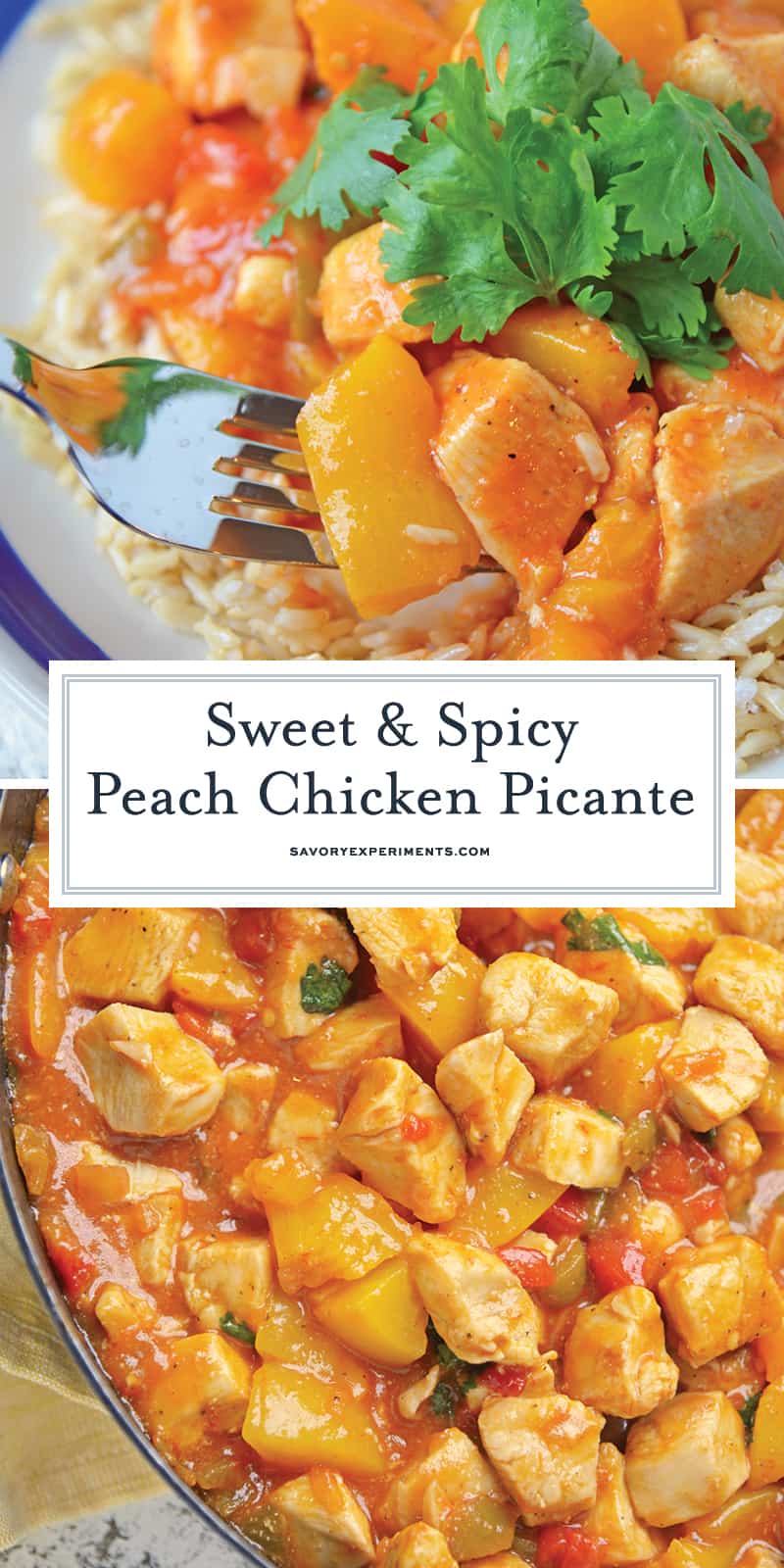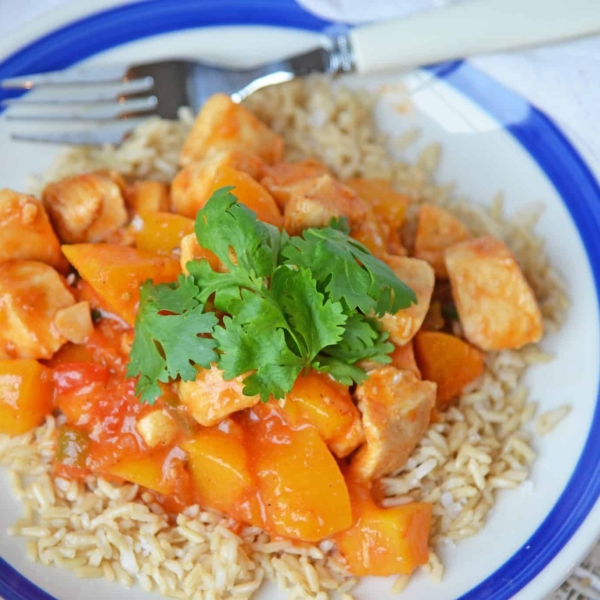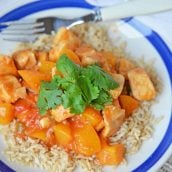 Peach Chicken Picante Recipe
Peach Chicken Picante is a quick dinner recipe using chicken, peaches and salsa to get a sweet and spicy dish. Serve over rice for a one dish meal!
Instructions
Drain peaches and reserve all liquid.

Season chicken with fine sea salt and pepper. Heat extra virgin olive oil in large skillet over medium heat.

Add chicken, cooking until browned and cooked through. Remove to a paper towel lined plate to drain.

In the same skillet add roasted red pepper and cook for 2 minutes. Add peach liquid (NOT PEACHES), salsa, frozen orange juice concentrate and crushed red pepper, if desired. Bring to a low simmer, approximately 3-4 minutes.

Add peaches and cilantro, stirring to combine. Add chicken, toss to coat with sauce and continue to cook for 2 minutes.

Serve chicken and sauce over rice. Enjoy!

If you've tried this recipe, make sure to come back and let us know how it was!
Nutrition
Calories:
607
kcal
,
Carbohydrates:
84
g
,
Protein:
44
g
,
Fat:
9
g
,
Saturated Fat:
1
g
,
Cholesterol:
108
mg
,
Sodium:
558
mg
,
Potassium:
967
mg
,
Fiber:
3
g
,
Sugar:
11
g
,
Vitamin A:
645
IU
,
Vitamin C:
22.5
mg
,
Calcium:
46
mg
,
Iron:
6.5
mg