This Peach Pizza is a delectable twist on the classic tomato sauce and cheese pizza you're used to. This homemade pizza is made entirely with fresh and delicious ingredients, which makes it even better!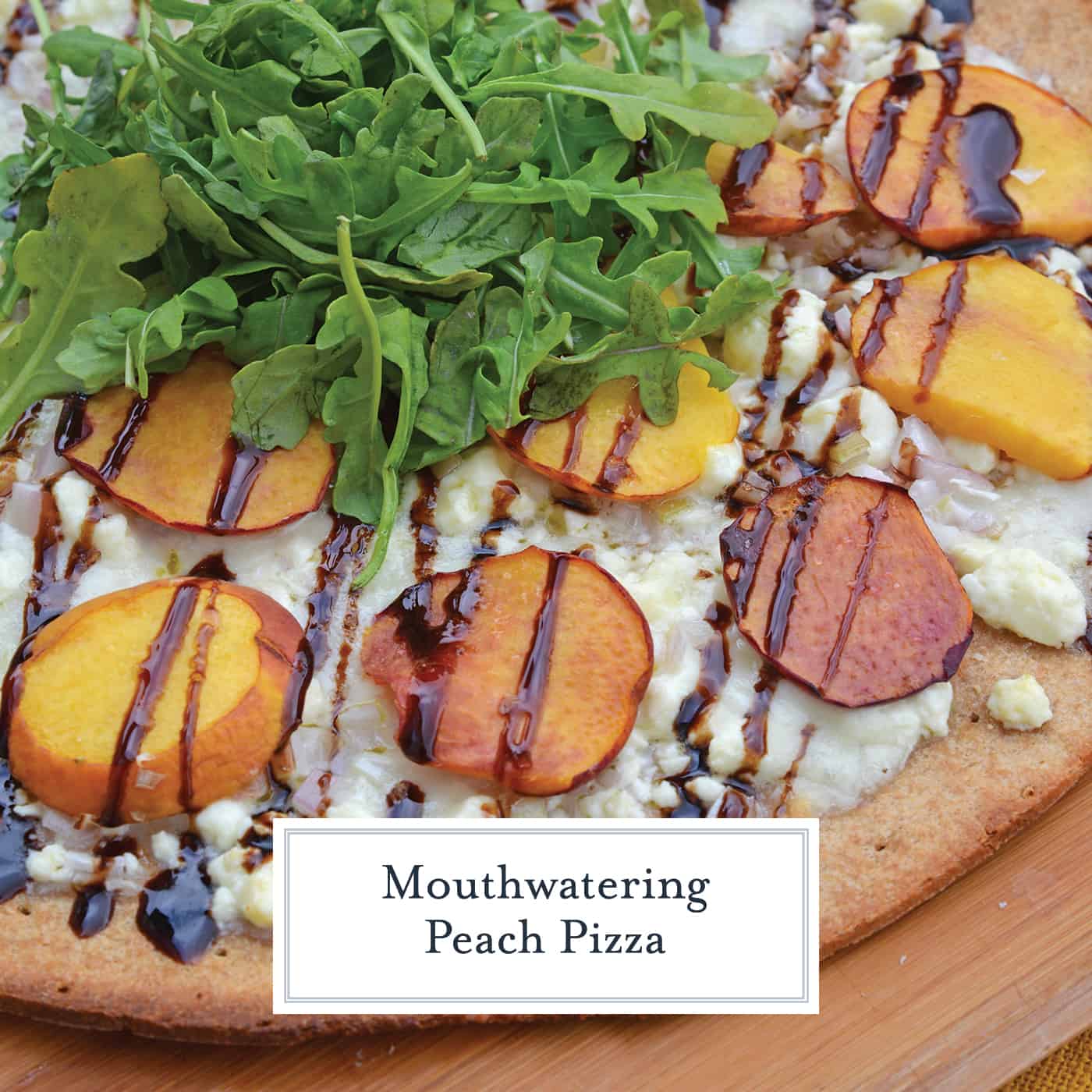 Peach Pizza is a delicious pizza variation that uses fresh peaches, melty mozzarella and gorgonzola cheeses and a sweet balsamic reduction sauce. The best homemade pizza recipe!
Appetizer or entree, Peach Pizza is a mouth watering dish that hits all of your taste buds. Sweet, juicy peaches compliment the crumbly tartness of gorgonzola cheese.
Sweet balsamic reduction and arugula greens finish off this masterpiece of a pizza!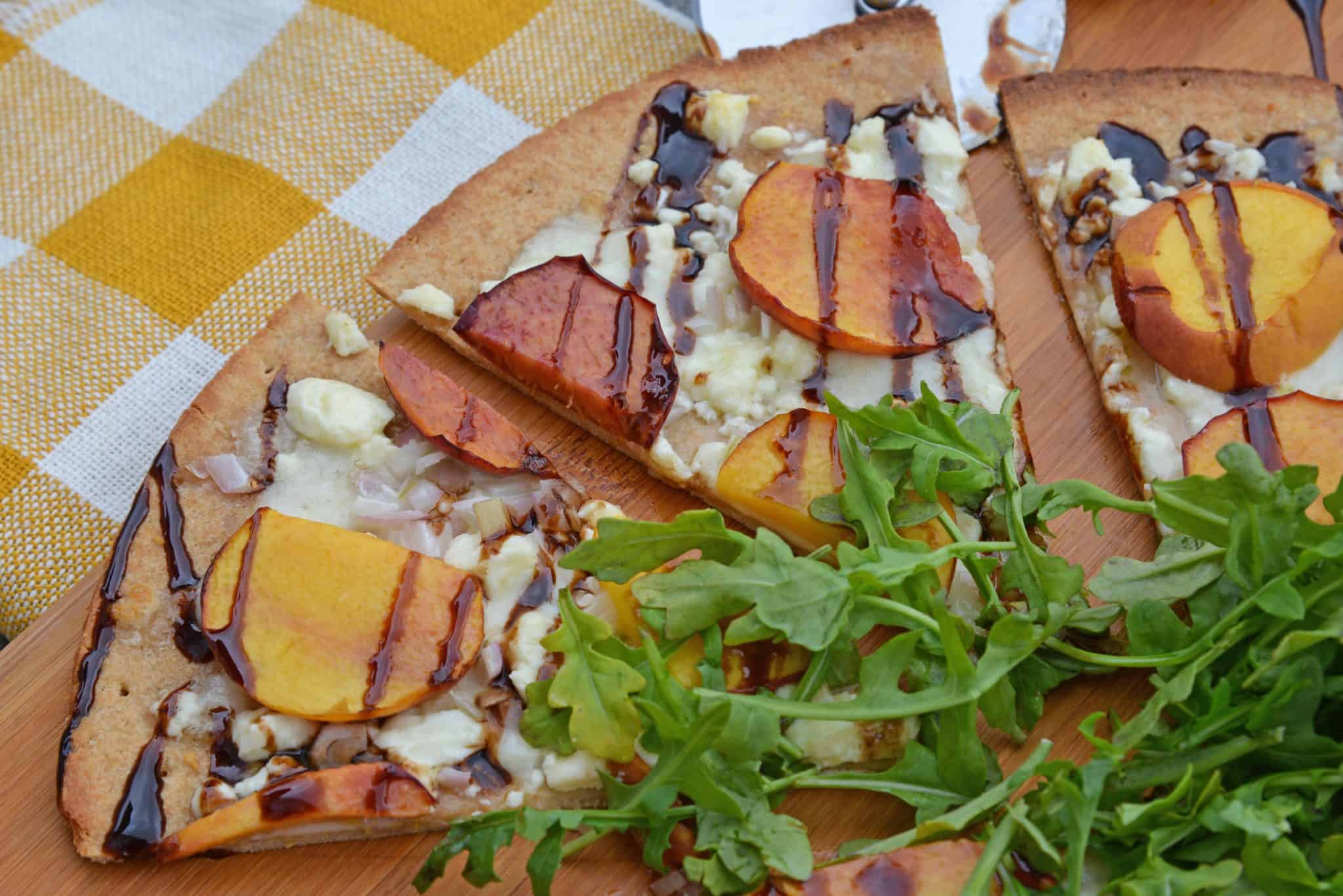 If you've never had gorgonzola cheese, and you're wondering what it is or what does gorgonzola taste like, then I'm here to help inform you!
Gorgonzola is actually in the blue cheese family and has a similar appearance with a green-blue mold spread over the cheese. It has a very salty and crumbly taste as opposed to a salty and strong flavor from blue cheese.
Gorgonzola cheese is usually made from unskimmed cow or goat milk, and has penicillium glaucum mold added to it. The mold found in this cheese is perfectly safe to eat because it doesn't have any toxins in it which makes it safe to consume.
This cheese actually dates back all the way to 876 AD in Italy!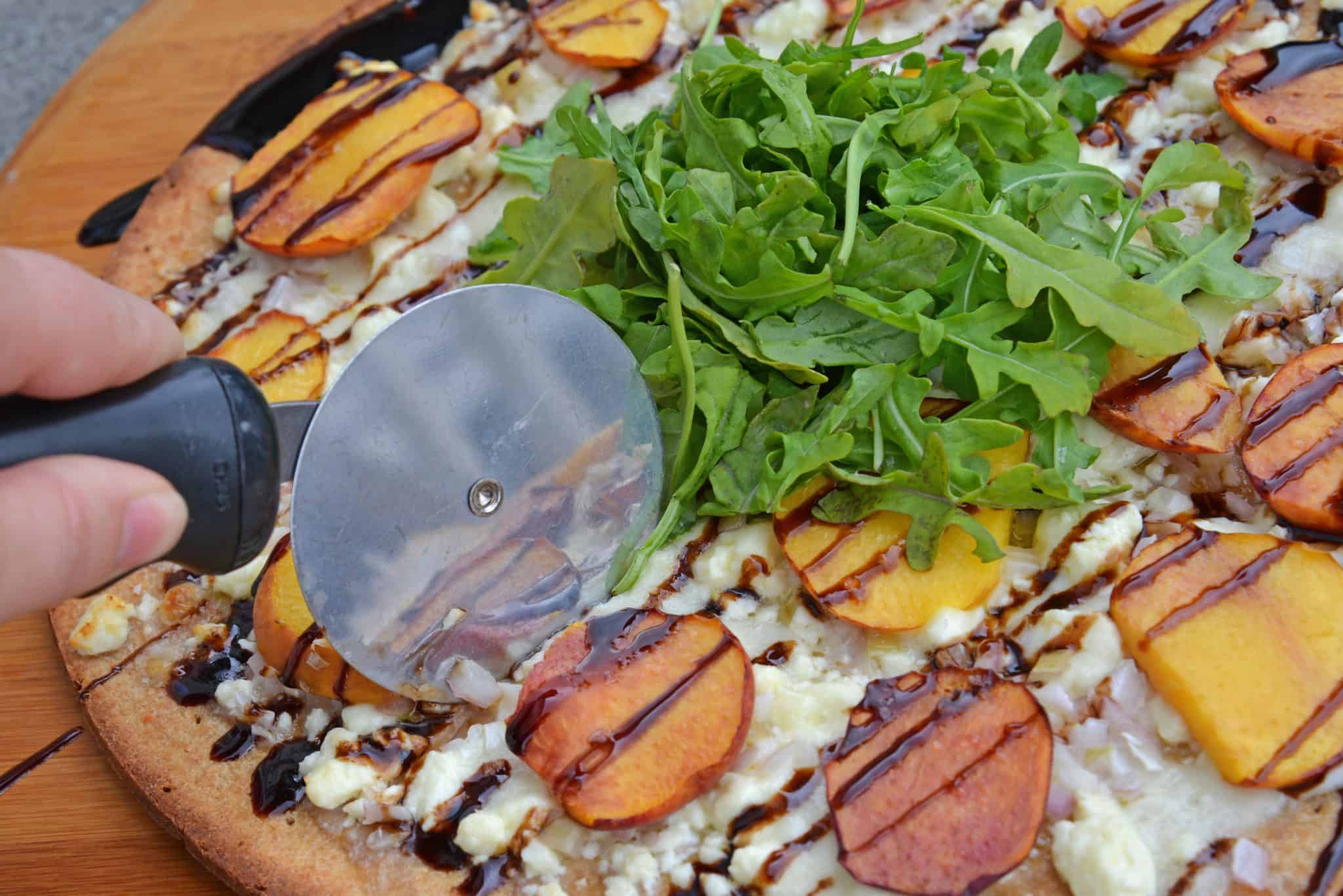 A good substitute for gorgonzola cheese is feta cheese. While the flavor profile for feta is milder, they texture and melt-factor is similar. Kids might be more apt to enjoy feta than a strong gorgonzola, but if gourmet pizza is your goal, aim for the stars and use both!
Homemade pizza recipes are so much better than store bought pizzas or even going out for pizza. You get to customize your pizza in any way you want, with fresh ingredients and toppings!
What could be better? This Peach Pizza is perfect for a weeknight meal or for a special date night in!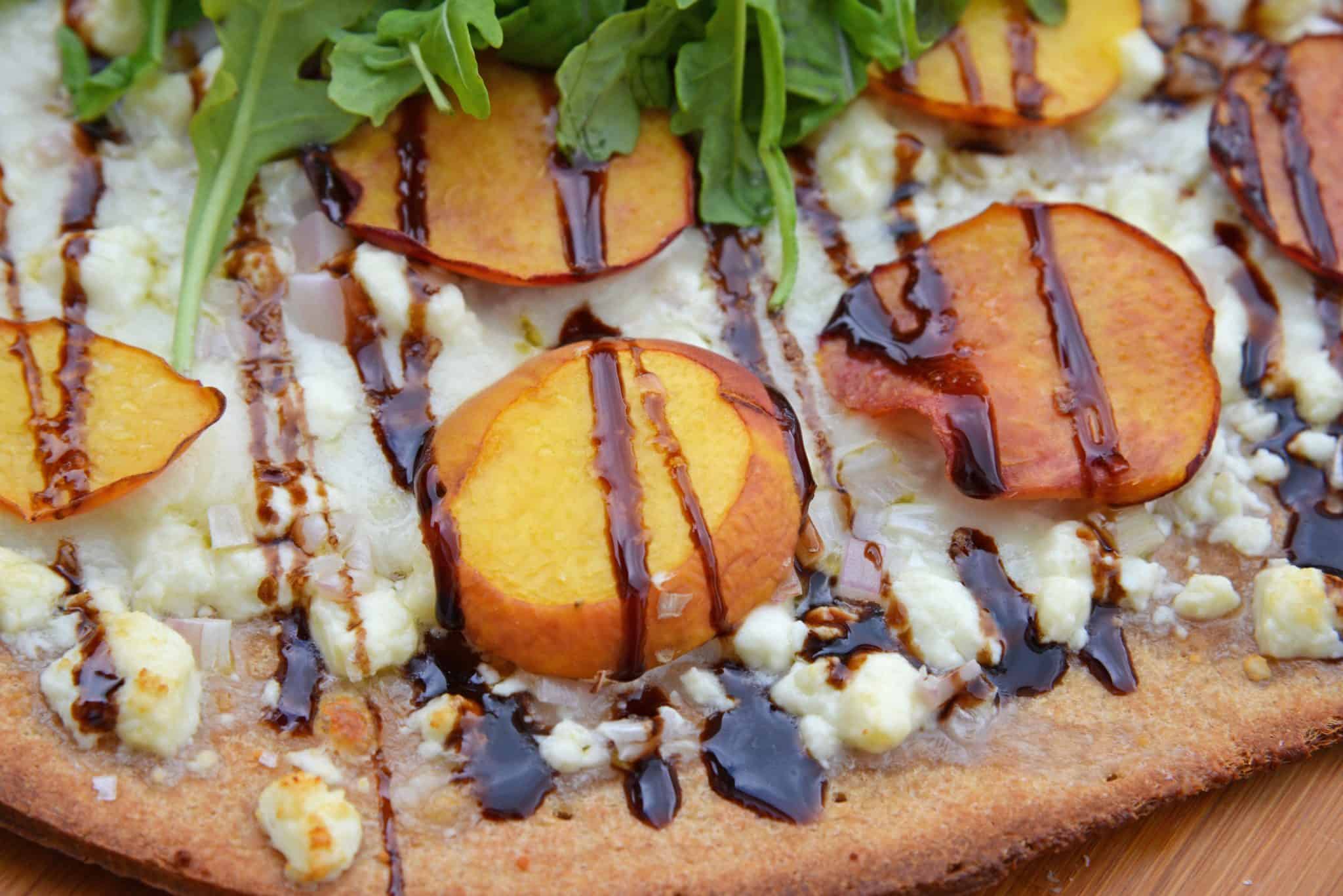 Here are a few more tips for making homemade pizza:
It's all about the crust! The number on complaint of homemade pizza is the dough or crust. If you are making your pizza from scratch using pizza dough, opt for a pizza stone. Pre-bake the crust and also perforate it using a fork or if you make enough pizza at home, buy a dough docker.
For a pre-baked crust, you can use a pizza stone, but baking it directly on the rack often works better.
Always consult the directions for your crust, regardless of the recipe. Cheese matters! Not just the type of cheese, but also the water content. Water makes soggy puddles on your pie. While sauce usually gets the blame, it is actually the cheese! Look for a low moisture mozzarella, but not too low or it won't get melty. You can also shred fresh mozzarella and allow it to sit in a bowl lined with paper towels for an hour or so. This will drain out some of the extra moisture. Placing it in the refrigerator speeds up the process.
Don't over top your pizza. The more ingredients, the heavier the pie and the more moisture. All results in a soggy crust.
Baste your crust with olive oil to create a barrier from the crust and your toppings.
If you are using particularly watery toppings, cooking them first and sweat out the moisture before topping.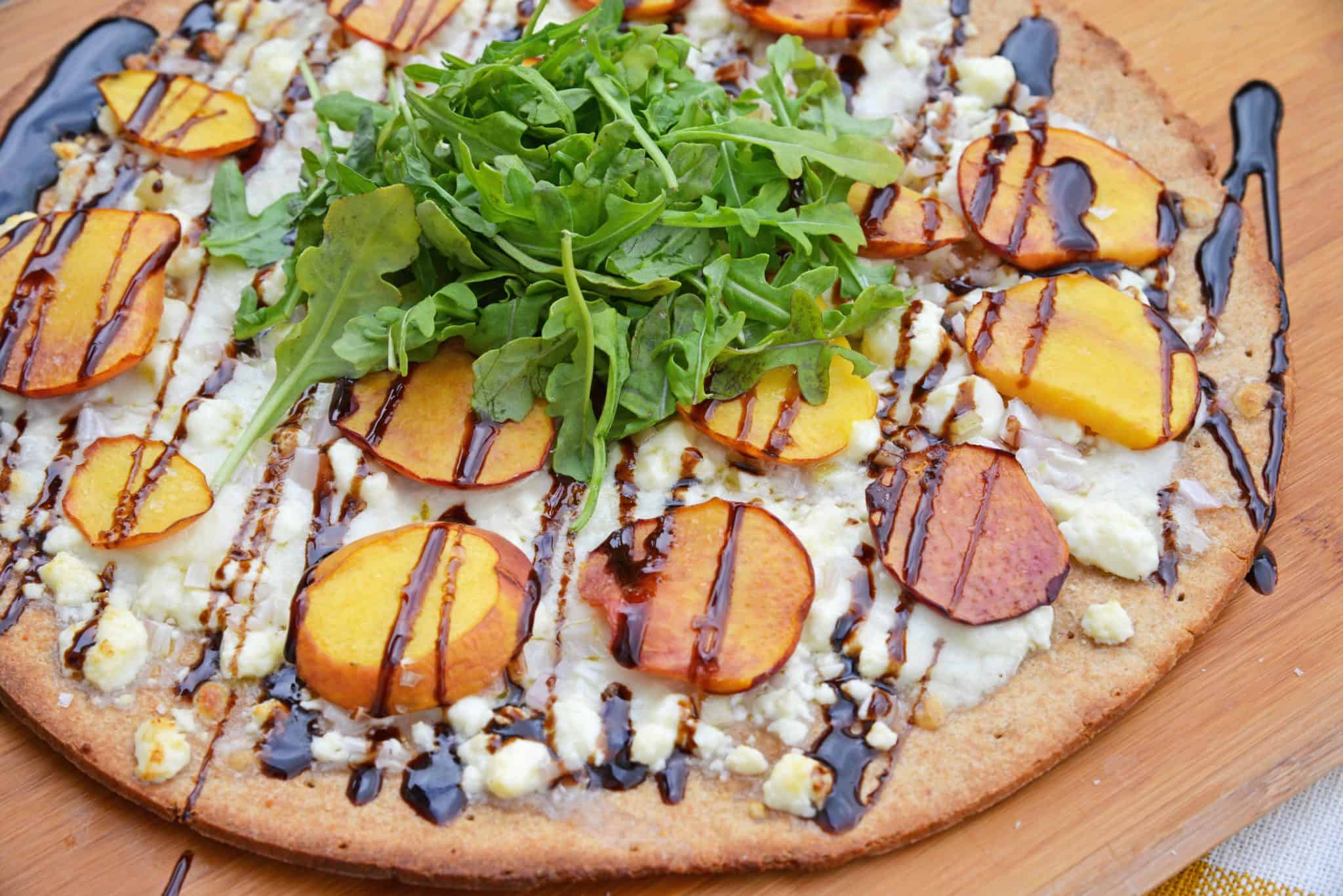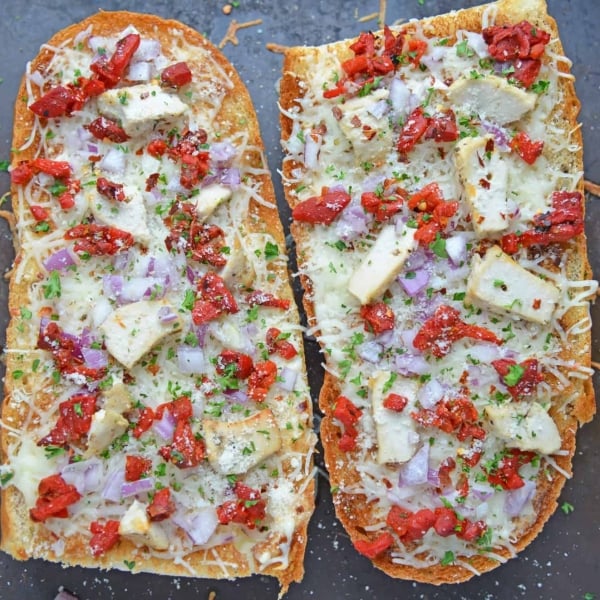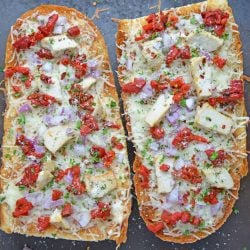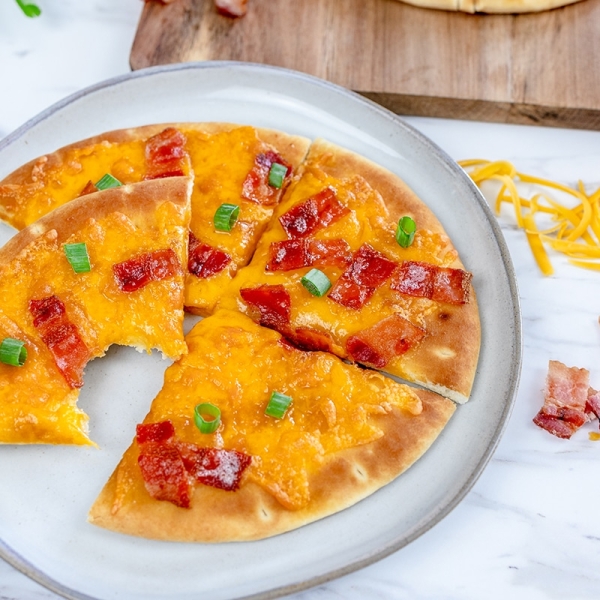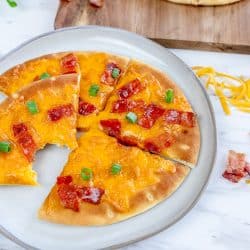 Bacon Cheddar Flatbread Pizza
Flatbread recipes don't get much better than this Bacon Cheddar Flatbread Pizza. With just the right amount of bacon, cheese and garlic, this is a weeknight dinner that will be requested again and again!
See The Recipe!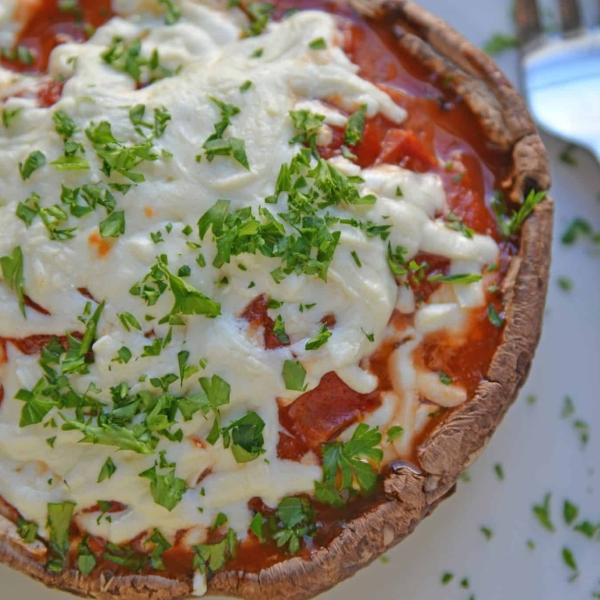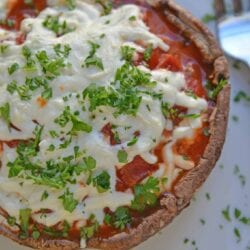 Tools for making Peach Pizza:
Bread Peel
– Not just for bread, use this bad boy for pizza too! Mine even hangs in my kitchen as decor when not in use.
Pizza Cutter
– Don't skimp on a cheap one, it won't even cut your pizza. Buy a good, sharp one. You can even get a pizza rocker
!
Pizza Stone
– Pizza stones are great for more than just pizza and can be used with homemade dough or a pre-baked crust. Also use for calzones, baking bread, reheating pizza and more to keep crisper crusts.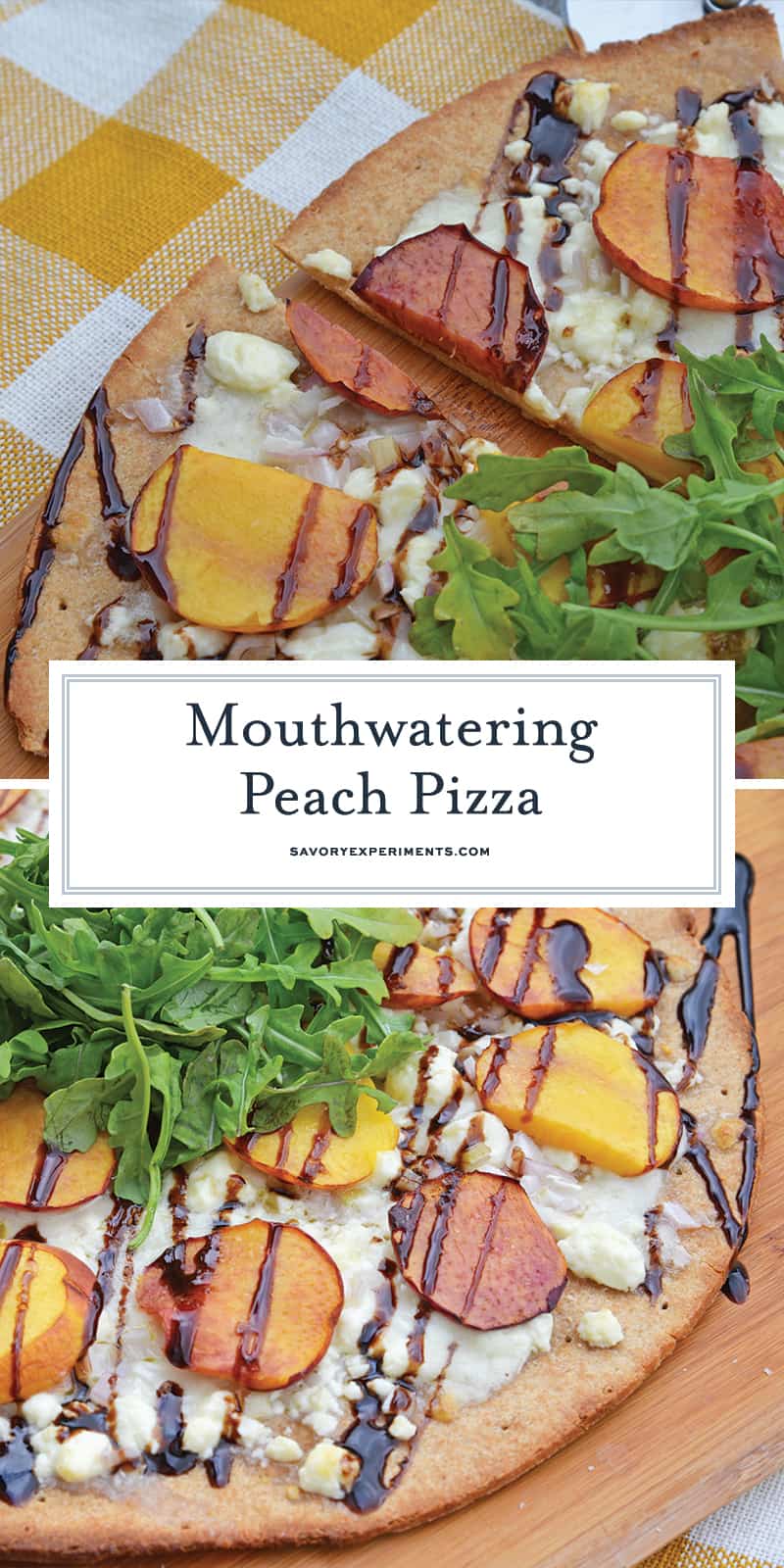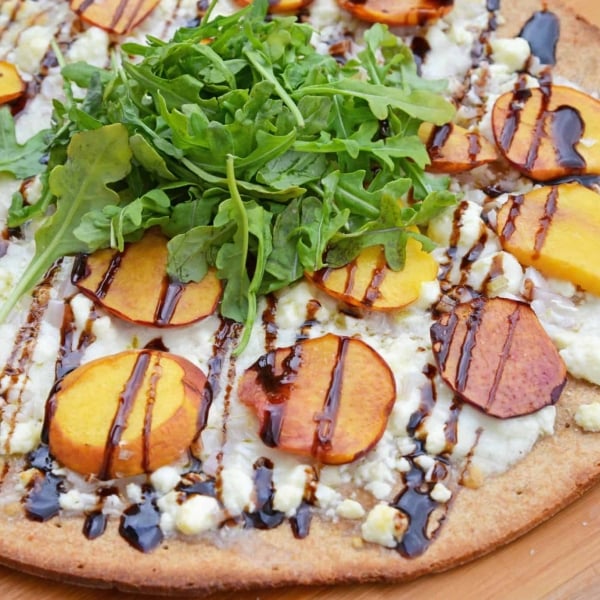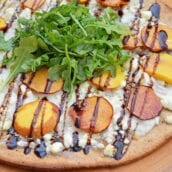 Peach Pizza Recipe
Peach Pizza is a delicious pizza variation that uses fresh peaches, melty mozzarella and gorgonzola cheeses and a sweet balsamic reduction sauce. The best homemade pizza recipe!
Instructions
Preheat oven and pizza stone (or pizza baking sheet) to 400 degrees.

Brush extra virgin olive oil evenly over crust to create a barrier and prevent cheeses from sogging up the crust. Sprinkle mozzarella, shallots and Gorgonzola evenly over crust. Top with peach slices in whatever pattern or non-pattern you desire.

Bake at 400° for 11 minutes or until crust browns and cheese is bubbly.

Remove pizza and immediately drizzle balsamic reduction sauce evenly. Place a fresh arugula in the center of the pizza, slice and serve. Enjoy your Peach and Gorgonzola Pizza!

If you've tried this recipe, come back and let us know how it was!
Notes
*You can substitute feta cheese for gorgonzola.
Nutrition
Calories:
395
kcal
,
Carbohydrates:
56
g
,
Protein:
14
g
,
Fat:
12
g
,
Saturated Fat:
6
g
,
Cholesterol:
18
mg
,
Sodium:
746
mg
,
Potassium:
167
mg
,
Fiber:
2
g
,
Sugar:
7
g
,
Vitamin A:
350
IU
,
Vitamin C:
4.1
mg
,
Calcium:
214
mg
,
Iron:
3
mg