Tomato Parmesan Risotto is a tasty dish full of savory, Italian flavors like fresh tomato, basil, and Parmesan cheese.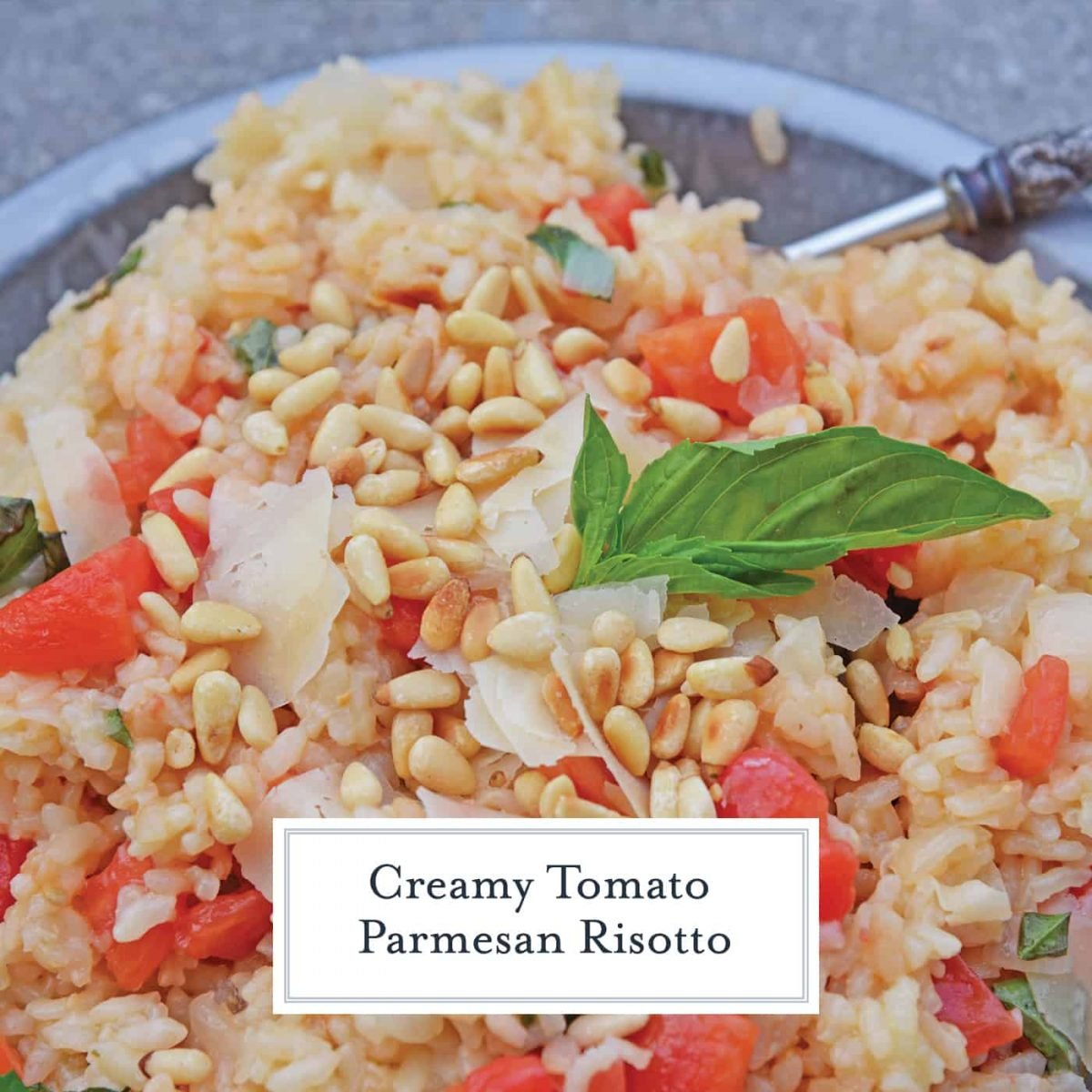 Tomato Parmesan Risotto is a creamy Italian style risotto using fresh tomatoes, basil, garlic, pine nuts, and parmesan cheese.
Have I ever shared my obsession for risotto with you? If not, I am now. I love it! It hits all the right notes in my book.
Rich, decadent and creamy dishes rate high on my list of favorites. With risotto, I get the "creamy" without all of the fat and calories that come with heavy cream. I consider that a win on so many levels.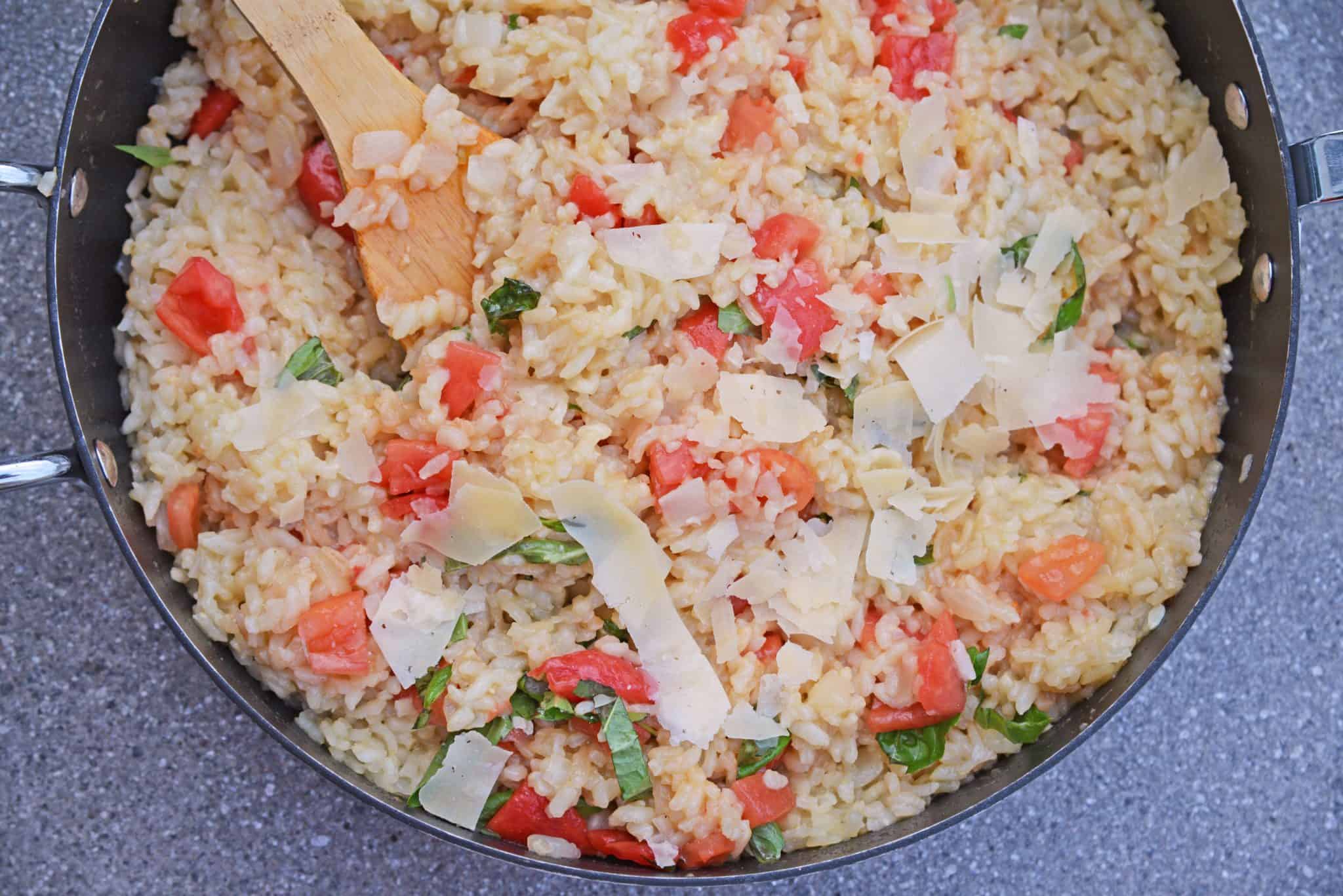 This risotto recipe is flavored with traditional Italian notes including garlic, basil, and tomatoes. It does use a little bit of Parmesan cheese for flavor, salt, and richness, but the creaminess comes from somewhere else entirely.
Surprisingly enough, it is the rice that is bringing all that velvety texture to the table. And this just isn't any old rice, this is arborio rice. (It should be mentioned there are a few other varieties of rice that can produce this self-saucing dish, but arborio is the most widely available here.
Starches from the rice are agitated and released as you stir and cook with liquid. The result is something akin to what you would get from adding actual cream.
Simmering risotto low and slowly adding liquid, while stirring, stirring, stirring is what gives it a unique texture. Whereas most rice is all about leaving it alone to do its thing, risotto needs a little more attention; a little more care.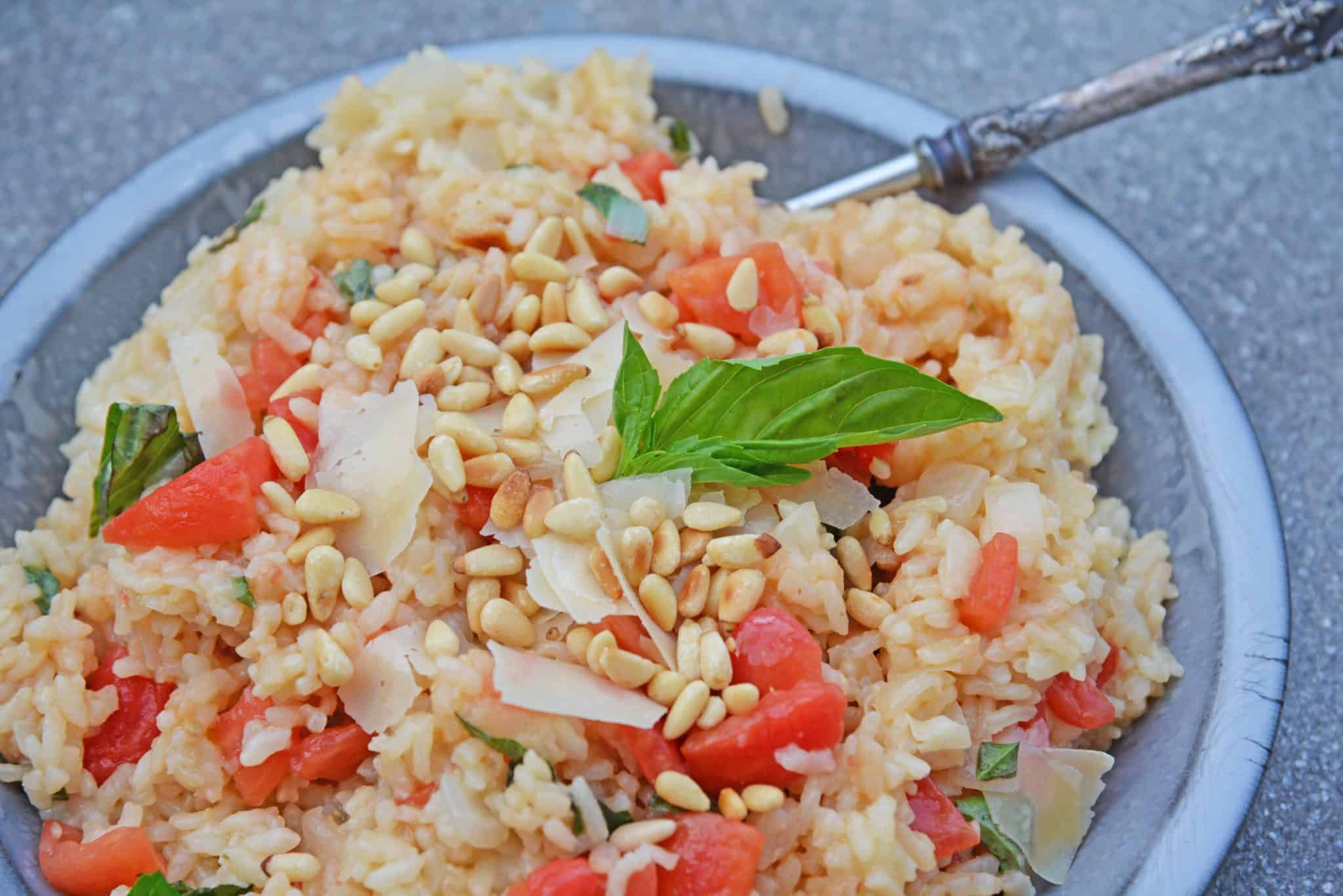 While the preparation of risotto is time-consuming, it isn't difficult and you will reap the rewards when everyone at the table raves. Plus you get a heck of an arm workout.
If you need reinforcements for a break, call someone in. They are always to happy to come over and lend a hand.
There are a few things to keep in mind when it comes to how to cook risotto:
Fry your garlic and onions in your butter and olive oil first.
Add in your arborio rice and sauté until browned and has a see-through appearance.
Next, add in your white wine and stir until its been absorbed.
Ladle in a cup of chicken broth at a time and stir until its been absorbed, repeat until all the broth is finished and has been fully absorbed.
Add in your last few ingredients: tomatoes, basil, and parmesan cheese, and stir.
Let it sit for a few minutes to absorb all the flavors.
Top with toasted pine nuts and enjoy!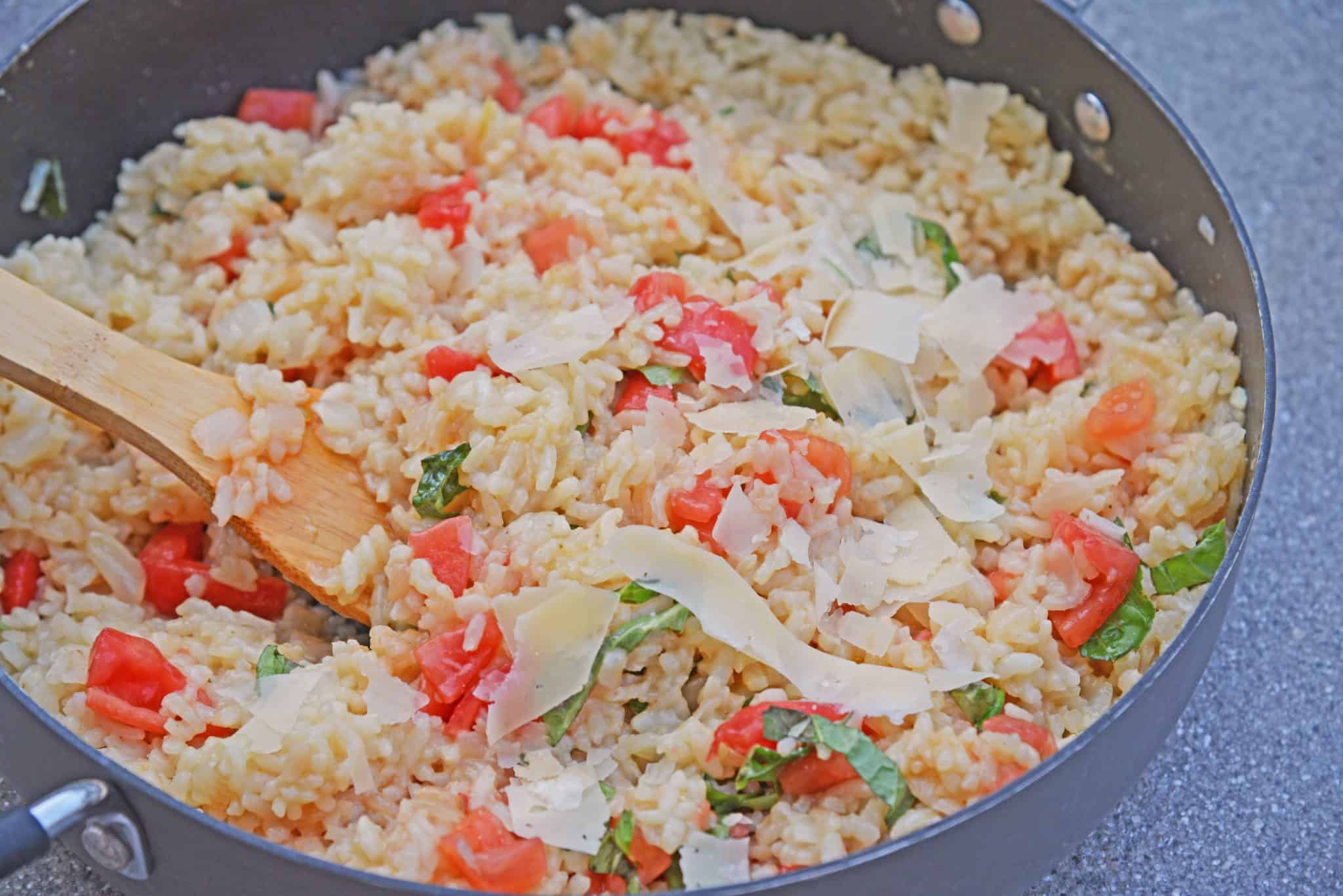 Before starting Tomato Parmesan Risotto make sure you read my tips on making perfect risotto!
Now if you want to freeze it, you certainly can, just remember the texture won't be as velvety as the first time you made it. I would suggest stirring in a bit of hot water or broth to it when you heat it up as well.
If you loved this risotto recipe, check out these other easy risotto recipes: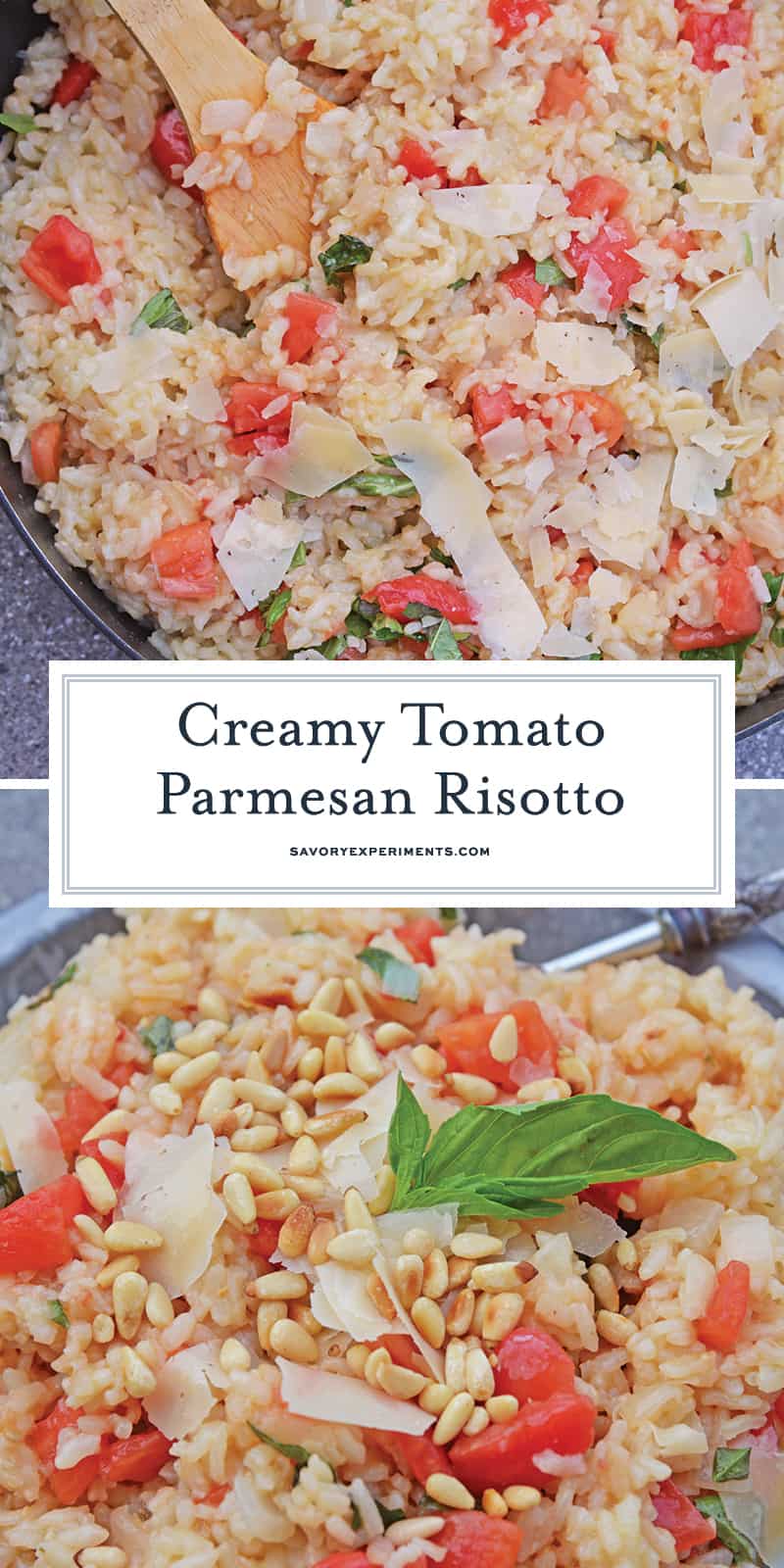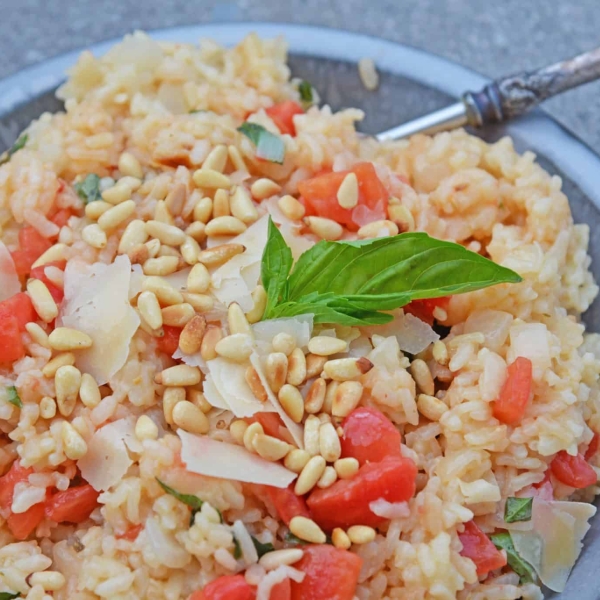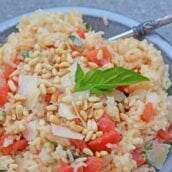 Tomato Parmesan Risotto
Tomato Parmesan Risotto is a creamy Italian style risotto using fresh tomatoes, basil, garlic, pine nuts, and parmesan cheese.
Instructions
In a large, wide frying pan, heat olive oil and butter over medium-high heat. Saute arborio rice, onion and garlic, stirring with a wooden spoon. Cook for 5 minutes, browning evenly.

Meanwhile, heat chicken broth in a sauce pan until at a low simmer, then reduce to warm.

Add white wine to arborio rice, stirring to absorb. Ladle in one cup of simmering broth and stir. Cook until absorbed. Continue to add 1 cup of simmering broth at a time, waiting until each addition is absorbed before adding the next, until all broth is gone. This process takes about 20 minutes.

Risotto should be creamy and rice granules taut. Stir in salt, tomato, basil and Parmesan cheese. Top with toasted pine nuts.

If you've tried this recipe, come back and let us know how it was!
Nutrition
Calories:
396
kcal
,
Carbohydrates:
58
g
,
Protein:
9
g
,
Fat:
11
g
,
Saturated Fat:
4
g
,
Cholesterol:
15
mg
,
Sodium:
1705
mg
,
Potassium:
451
mg
,
Fiber:
2
g
,
Sugar:
1
g
,
Vitamin A:
510
IU
,
Vitamin C:
28.4
mg
,
Calcium:
135
mg
,
Iron:
4
mg