Looking to elevate a standard yellow cake to extraordinary levels? Just add brown butter.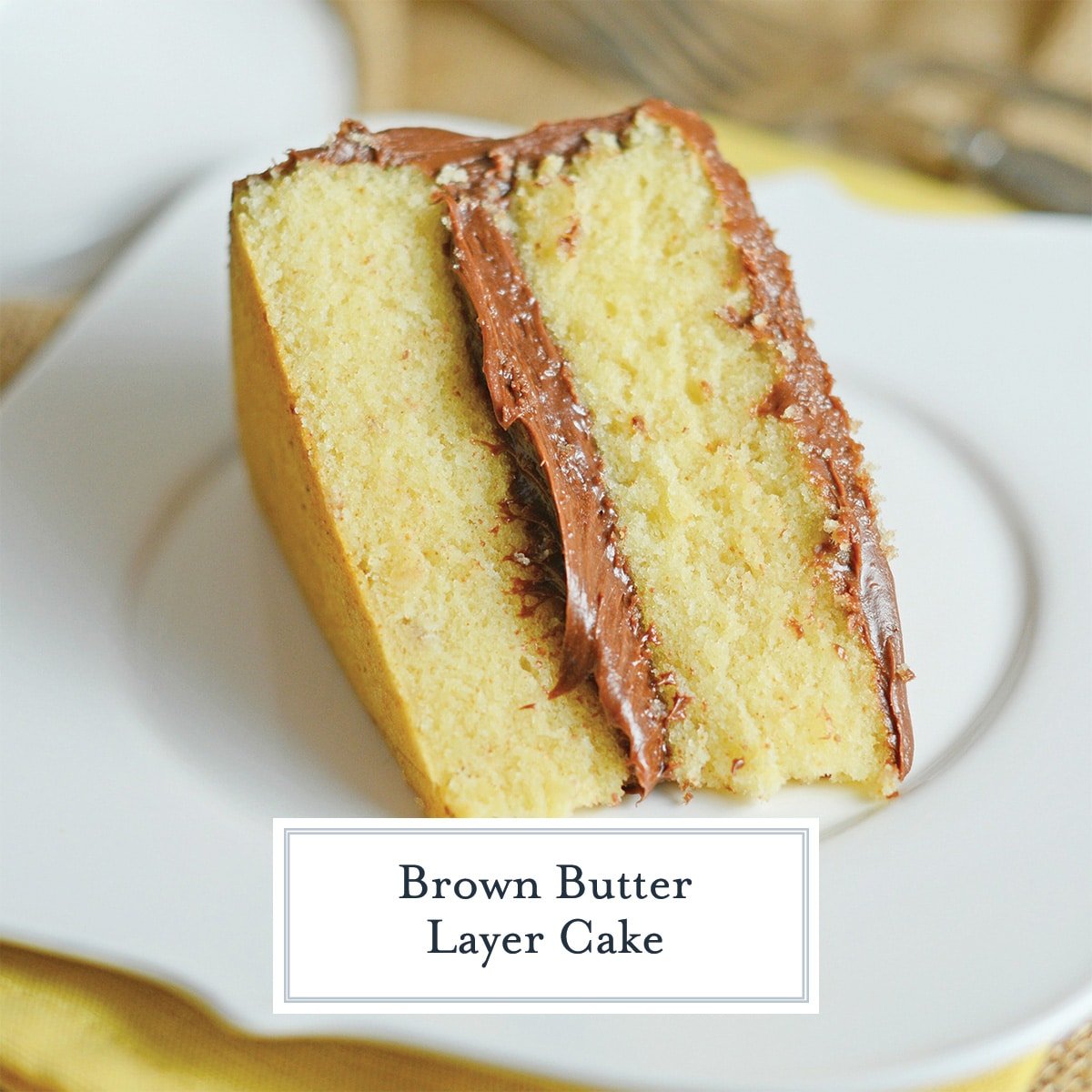 This yellow cake is made with nutty, rich browned butter. A light sponge with oodles of flavor, you'll never make another cake from scratch again.
Let's face it, cakes made from scratch are SO much better than box mix, although I have to admit I sometimes find myself making shortcuts when it comes to cake. I always have a few boxes of cake mix in the pantry.
Cakes, especially layer cakes, are time consuming; mixing, baking, cool, setting the crumb layer, frosting. I'm tired just thinking about it!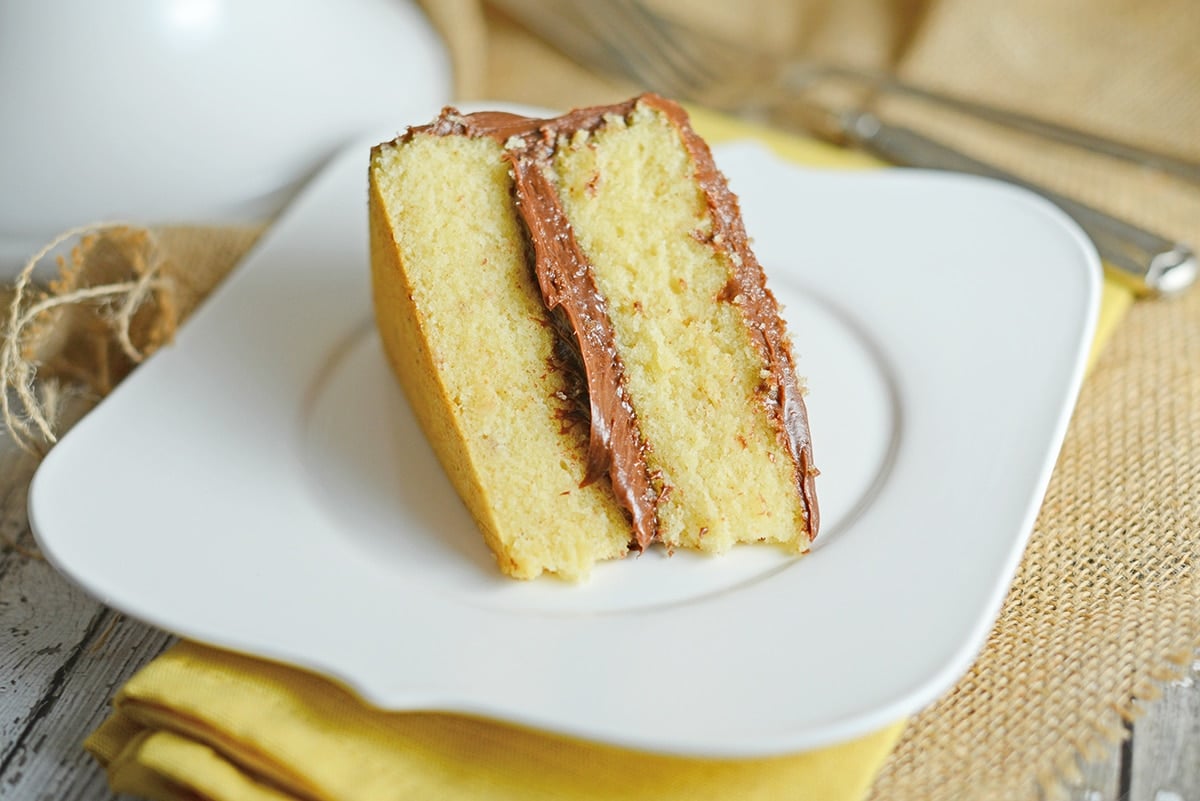 Ice cream makes my teeth hurt (even though I love it) and while I enjoy brownies and cookies, cake it really "where it is" for me.
Cake makes me happy. Light and fluffy, golden brown cake.
Butter makes me happy too. Burnt, browned butter. Mmm…. Nutty and delicious.
What is browned butter? It is basically burnt butter, also known as beurre noisette, is unsalted butter with browned milk solids and evaporated water. It takes on a distinctly different aroma and flavor than regular butter adding layers of sophistication and depth.
When added to a vanilla cake, it offers a whole new flavor profile.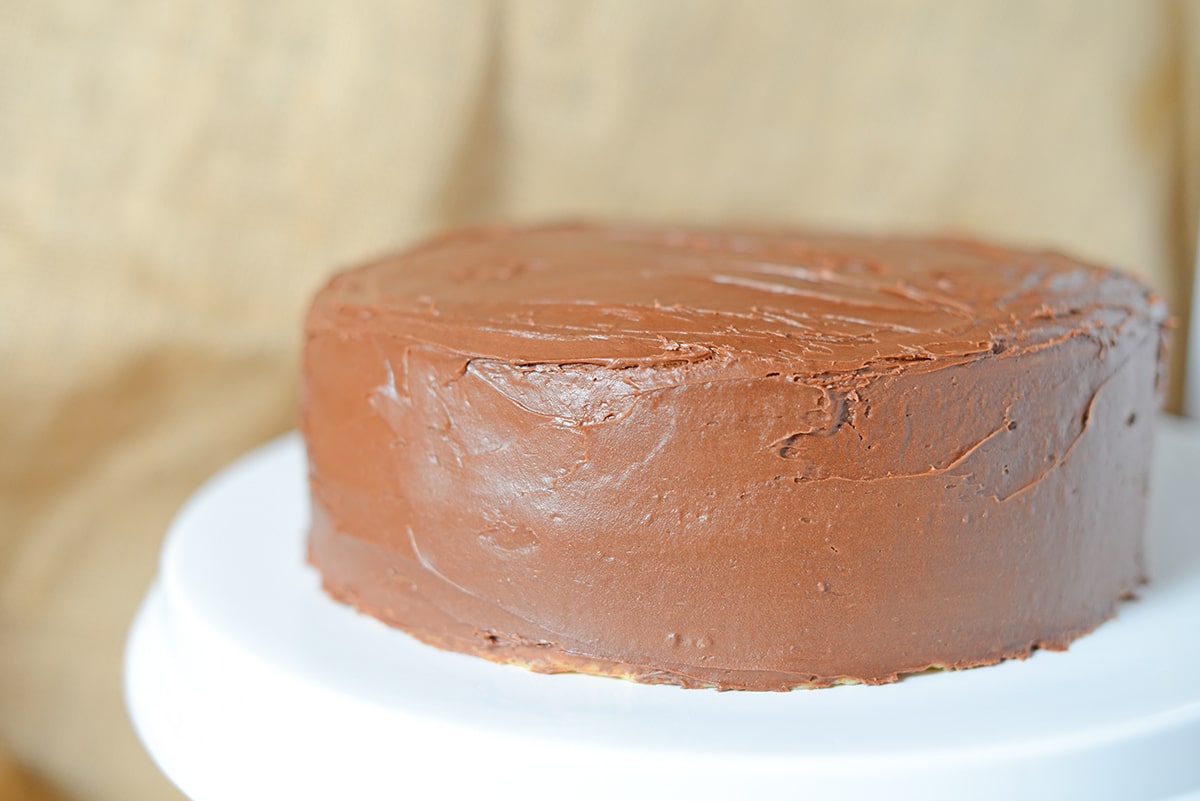 Many recipes that call for regular butter can also use browned butter to amplify and change the flavor.
Even though homemade yellow cake takes a little more time and effort, the payoff is well worth it!
Brown Butter Cake is filled with a dark chocolate mousse and then topped with chocolate buttercream. Your cake dreams have now come true.
On days when I don't feel like whipping up two batches of frosting, I settle for just Chocolate Frosting as both the filling and frosting.
Have you ever wondered how to get flat cakes? Check out Liv for Cake's easy guide to flat top cakes and preventing the ugly dome or having to lop off buttery cake delicious. Below is my favorite tool that she uses as well.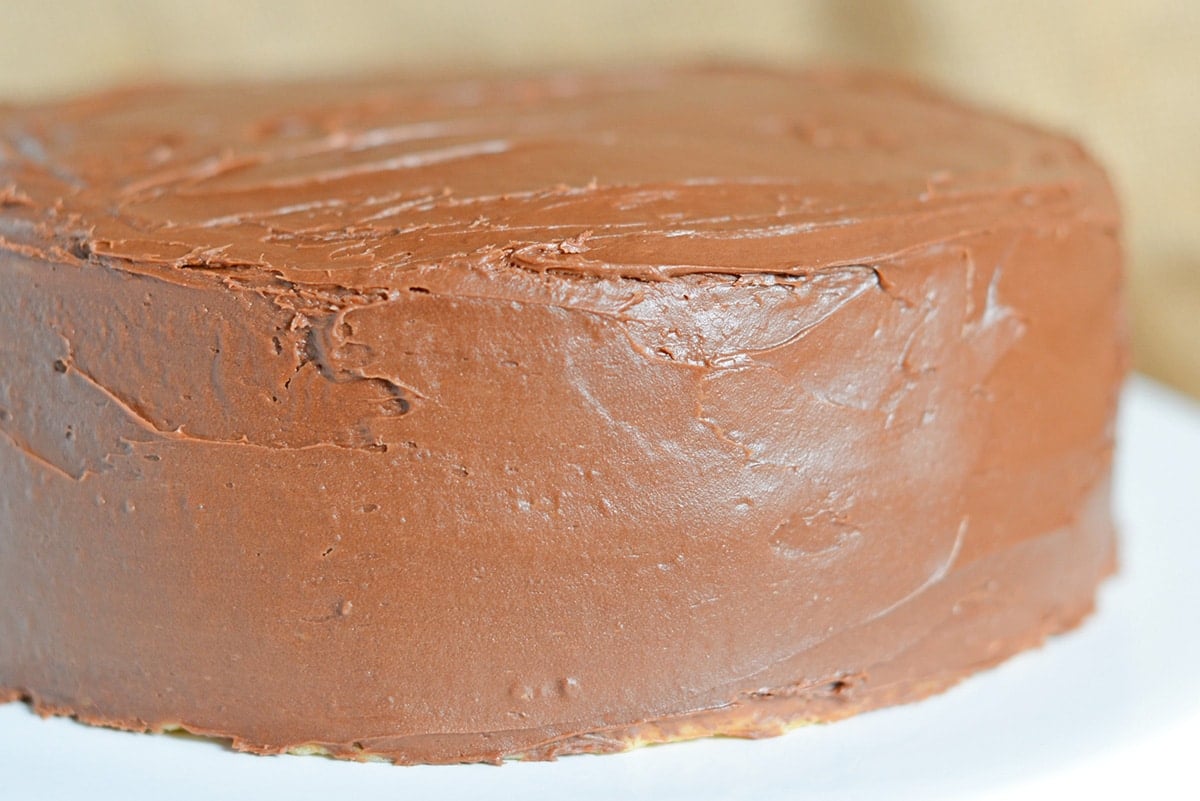 Tools for making the perfect layer cake:
KitchenAid or other stand mixer – I waited a long time before purchasing my KitchenAid. Now I kick myself. I use it nearly everyday and the thing will last forever. They even come in fun colors and you can get custom wraps for them on Etsy!
Bake Even Strips– these are the things dreams are made of and will result in perfectly flat cakes every time! I also have a cheap cake lever just in case .
9 Inch Cake Pans– I actually have 4 of these bad boys! I use them for much more than baking cakes. They work for dredging and coating thing, baking rolls and much more!
Kitchen Scale– Another tool I didn't think I needed, but my OCD self loves being able to weigh cake batter to make sure each layer is exactly the same! They are cheap and I find myself using mine for so much more than baking!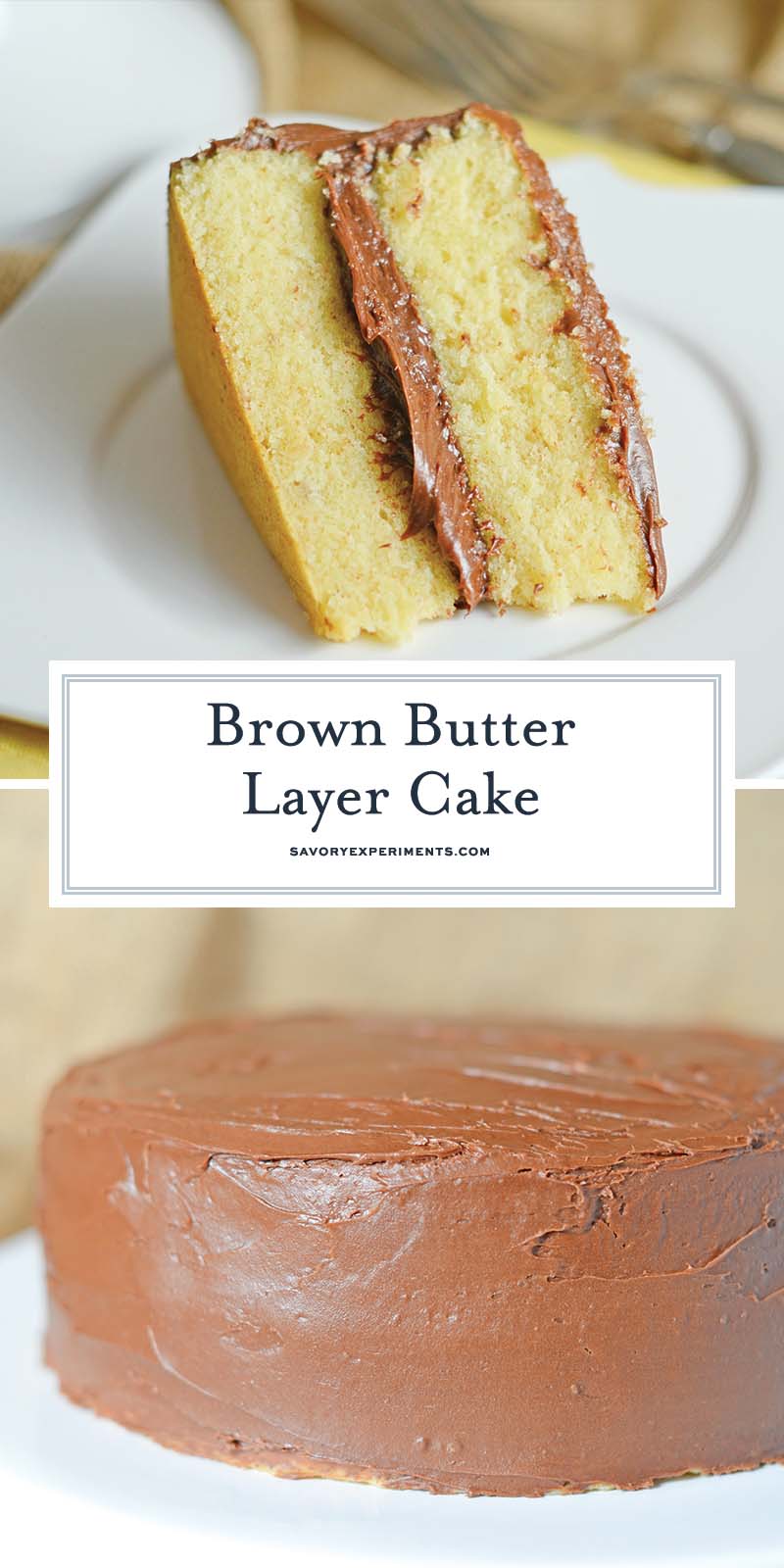 If you like our Brown Butter Cake, you will also love our other cakes from scratch: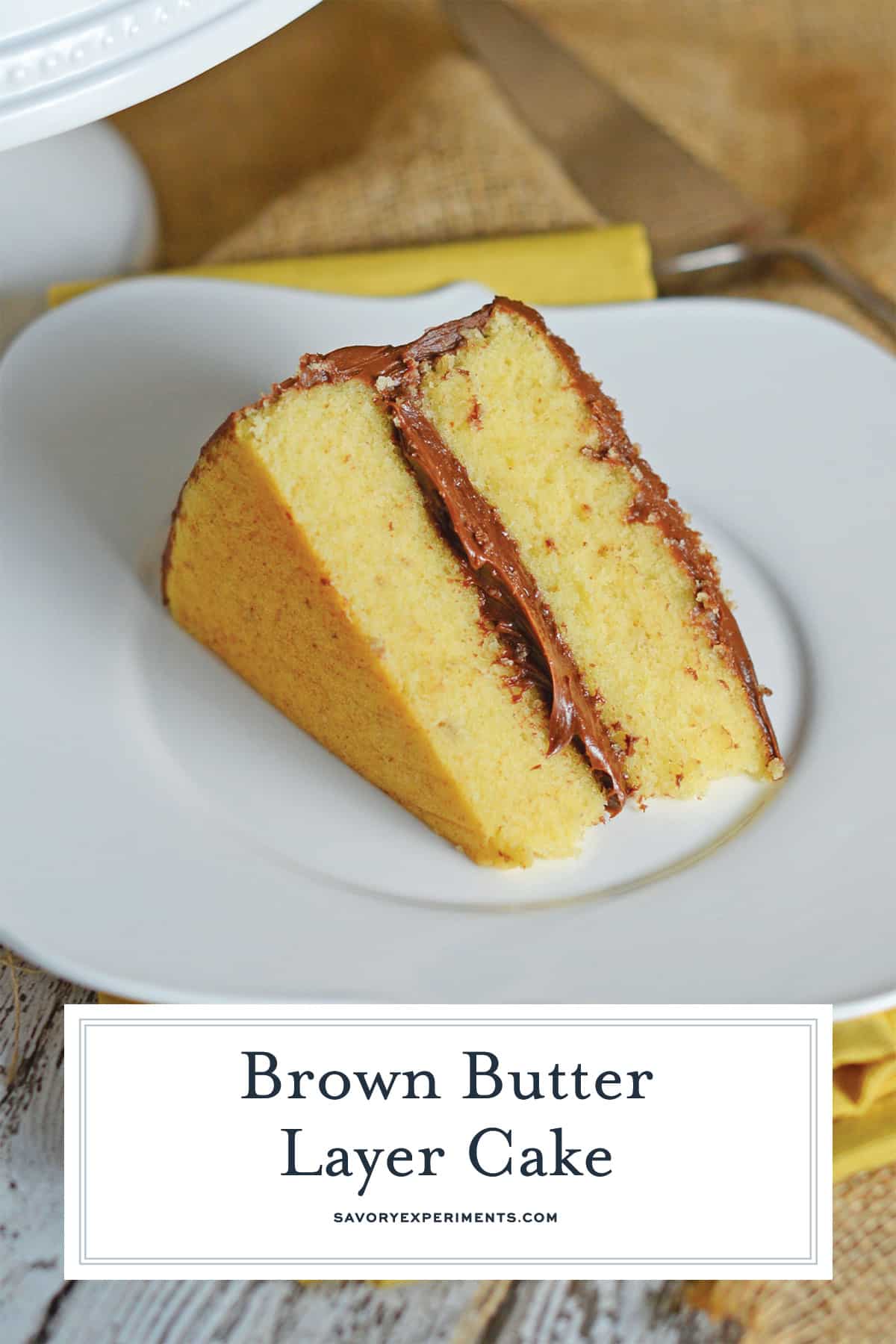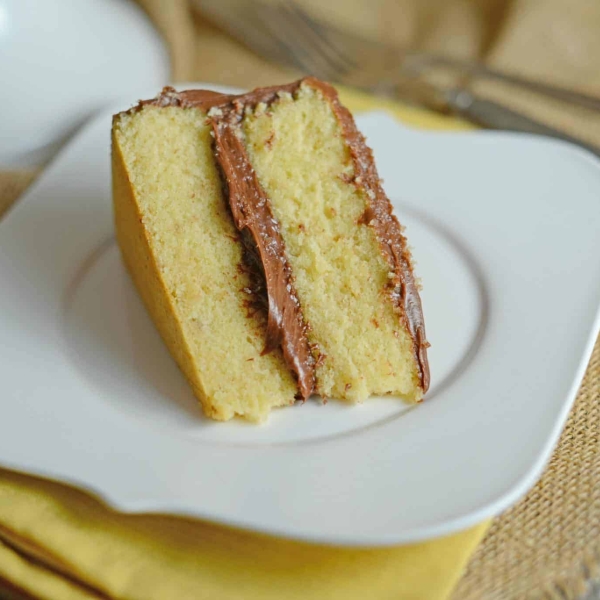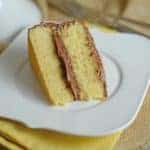 Brown Butter Cake Recipe
Brown Butter Cake is an easy cake made from scratch using delicious brown butter, chocolate mousse filling and chocolate buttercream frosting.
Equipment
Heat Resistant Rubber Spatula
Ingredients
Dark Chocolate Mousse Filling:
1/2

teaspoon

unflavored gelatin

2

teaspoons

water

1/2

cup

heavy whipping cream

chilled

2

tablespoons

coffee liqueur

2

large egg yolks

2

tablespoons

sugar

4

ounces

bittersweet chocolate

melted and cooled
Chocolate Buttercream Frosting
Instructions
For Cake:
Preheat the oven to 325 degrees. Coat two 9-inch cake pans with cooking spray and line the bottoms of each with parchment paper. Spray parchment paper with cooking spray as well. Dust both pans with flour, tapping out the excess.

In a medium saucepan, melt butter. Cook over low heat, stirring occasionally, until the milk solids turn brown and the butter smells nutty. Because it is a low heat, the process will take about 20 minutes. Scrape the melted butter and browned bits into a large heatproof bowl. Set the bowl in an ice water bath until the butter begins to solidify around the edge, approximately 8 minutes.

In a medium mixing bowl whisk 2 1/4 cups of all-purpose flour with the baking powder and salt.

Remove the bowl from the ice water and scrape up the hardened butter. Transfer the butter to a room temperature bowl and beat until creamy, 3-4 minutes, the color of the butter will lighten as you beat. Add the sugar and vanilla pods (or extract) and beat at medium-high speed until fluffy, about 3 minutes. Beat in egg yolks followed by the whole eggs. Beat in dry ingredients and milk in 3 alternating additions.

Pour the cake batter into prepared pans and bake in the center of the oven for about 40 minutes, rotating the pans halfway through baking, until the cakes are golden and they pass the toothpick test. Cool the cakes in the pans for 20 minutes. Invert them onto a rack to let them cool completely. Peel off the parchment paper.

Assemble Dark Chocolate Mousse filling and Chocolate Buttercream Frosting, see instructions below.

Set one cake layer on a platter. Spread the mousse filling on top, sprinkle with powdered sugar, and cover with the second cake layer. Frost the outside of the cake with buttercream, sprinkle powdered sugar.
Dark Chocolate Mousse Filling
In a small bowl, sprinkle gelatin over the water and let stand until softened.

Meanwhile, in a medium bowl beat cream until softly whipped. Refrigerate until chilled, about 10 minutes.

In a small, microwave-safe bowl, heat coffee liqueur at high power until hot, about 45 seconds. Stir in softened gelatin until dissolved. You might need to use a spatula to scrap up gelatin as it tends to stick to the bowl and peel off.

In another medium bowl, beat the egg yolks with sugar and salt at high speed until pale and thickened, 5 minutes. While beating yolks, beat in coffee-gelatin liquid. Beat in melted chocolate. Using a rubber spatula, fold in whipped cream in 2 additions. Scrape mousse into a bowl, cover with plastic wrap and refrigerate or freeze until firm enough to spread easily. If you refrigerate too long or make this portion ahead of time, let stand at room temperature to soften. Do NOT microwave.
Nutrition
Calories:
563
kcal
,
Carbohydrates:
58
g
,
Protein:
6
g
,
Fat:
34
g
,
Saturated Fat:
20
g
,
Cholesterol:
186
mg
,
Sodium:
228
mg
,
Potassium:
220
mg
,
Fiber:
1
g
,
Sugar:
38
g
,
Vitamin A:
1050
IU
,
Calcium:
98
mg
,
Iron:
2.1
mg