19+ Hobo Dinners and Best Camping Meals
It's summer time which, for a lot of people, means camping season! Hobo meals make the perfect camping dinners because they are SO easy! Ranging from breakfast to dinner, and even dessert, check them all out.
You don't even need to go camping (or glamping) to try them out. They can all be prepared in the comfort of your backyard!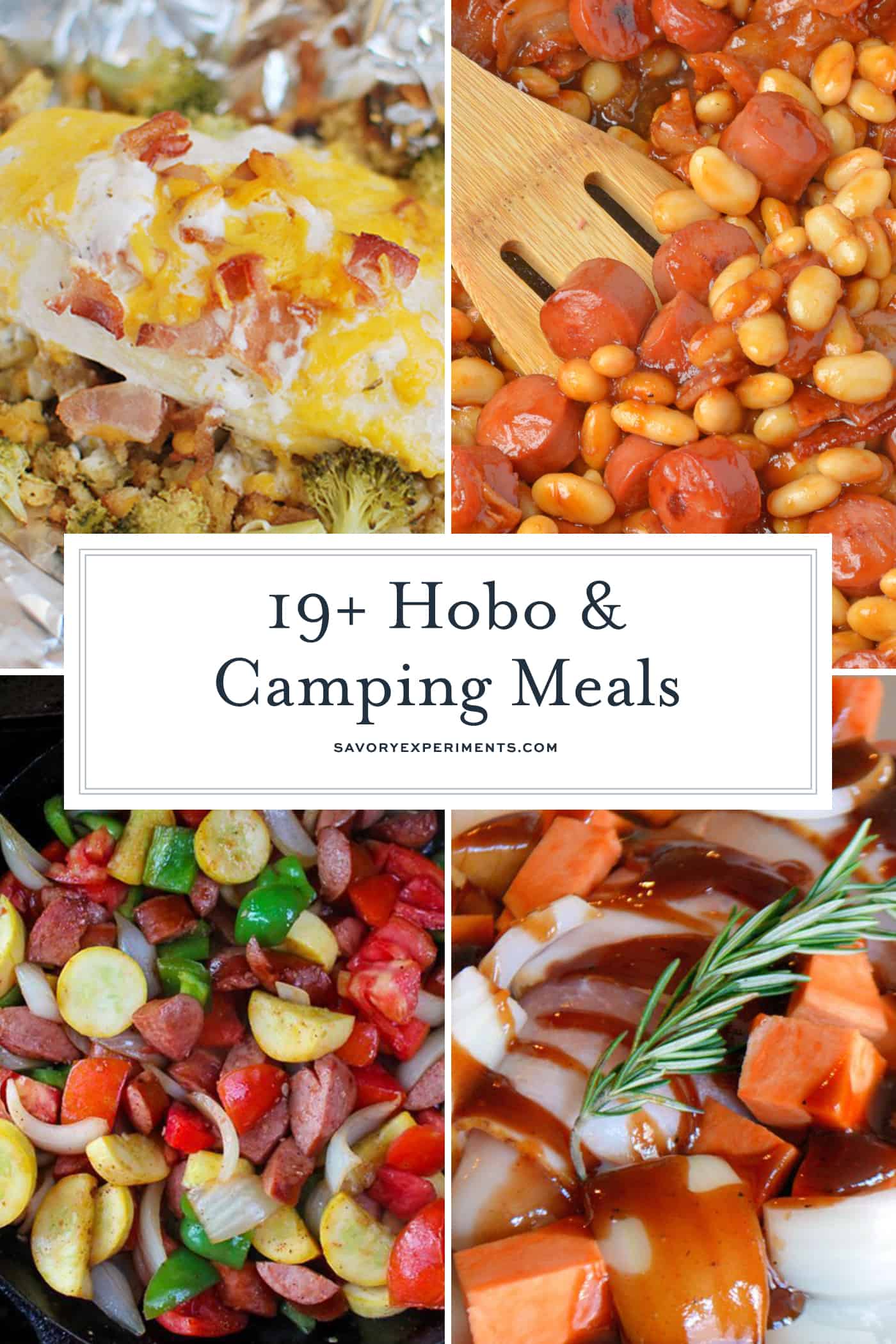 Easy meals to cook while camping are essential! These hobo dinner ideas and other camping recipes are the best camping meals out there!
What is a hobo dinner?
Hobo meals are just another name for foil pack meals. Some sort of protein (usually chicken or steak) is wrapped up in a piece of foil along with vegetables and seasoning.
The whole pack is cooked right in the oven or over a fire for a meal that has minimal clean up. Perfect for camping!
Cast iron skillet meals are also a good choice for camping classics or anything you can make ahead!
Breakfast Hobo Meals and Camping Recipes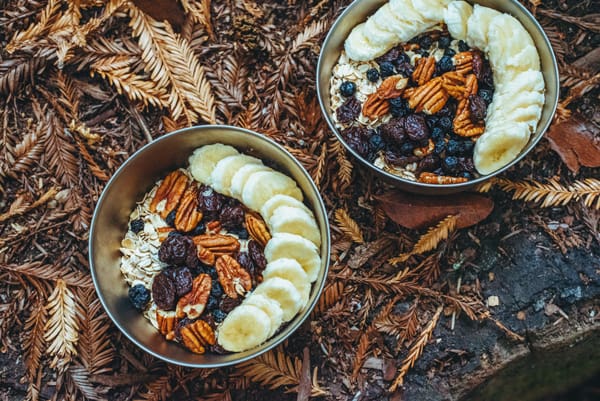 This Camping Oatmeal recipe is great because it's healthy, balanced, portable and non-perishable. It's basically the perfect camping recipe! You can find the recipe here.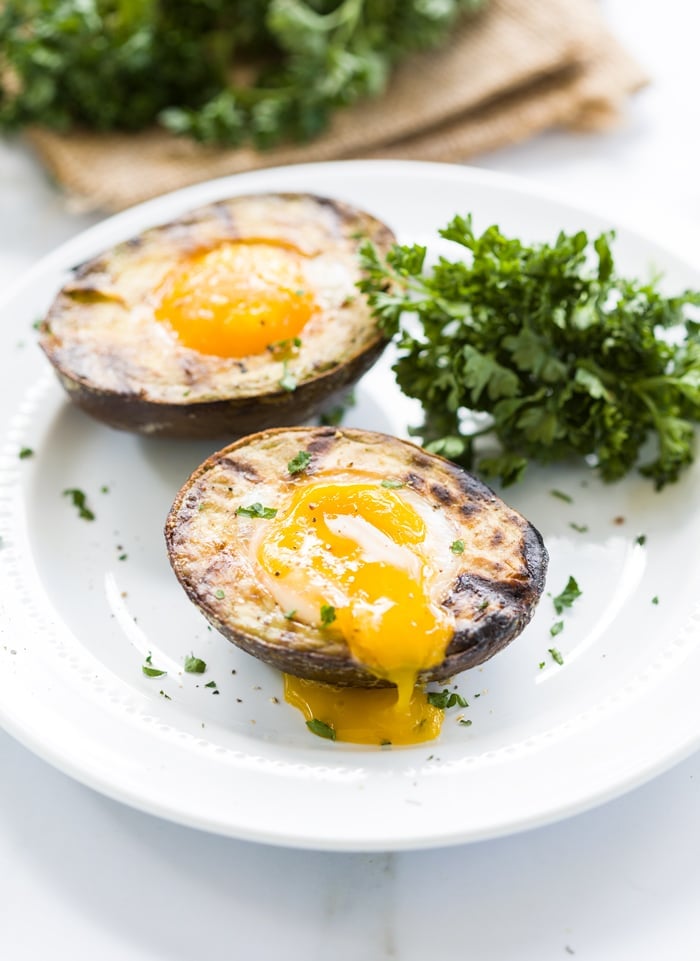 Fresh avocados grilled to perfection and filled with a protein-packed egg. This energizing grilled breakfast will fill you with energy to take on the day while camping! You can find the recipe here.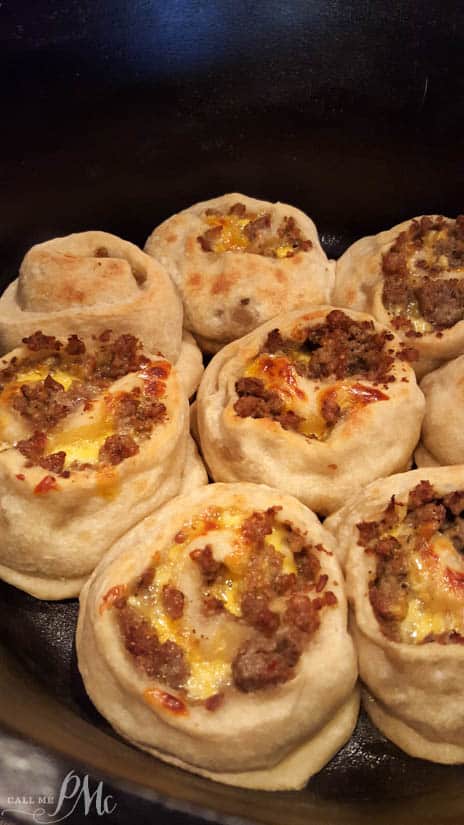 Tender bread is filled with sausage and cheese and baked in a Dutch oven. These Dutch Oven Sausage Breakfast Pinwheels were designed for camping out! You can find the recipe here.
Dinner Hobo Meals and Camping Recipes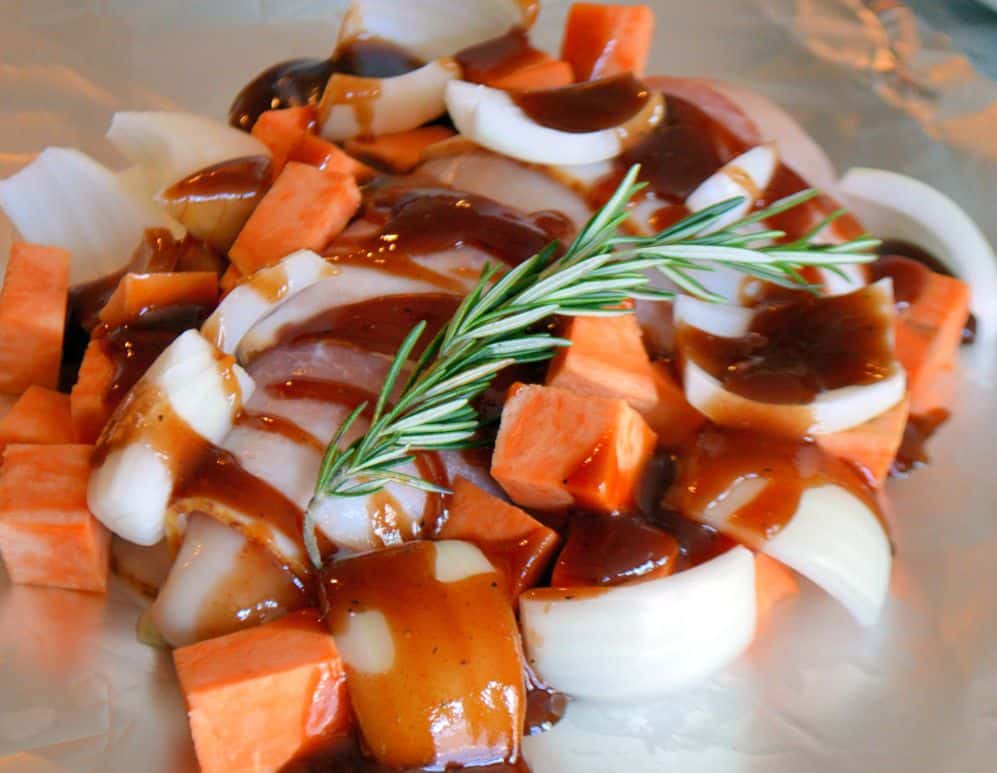 Chicken, bacon, sweet potatoes, and onions all smothered in BBQ sauce and honey, and then wrapped up in foil to make this BBQ Chicken Hobo Dinner amazing!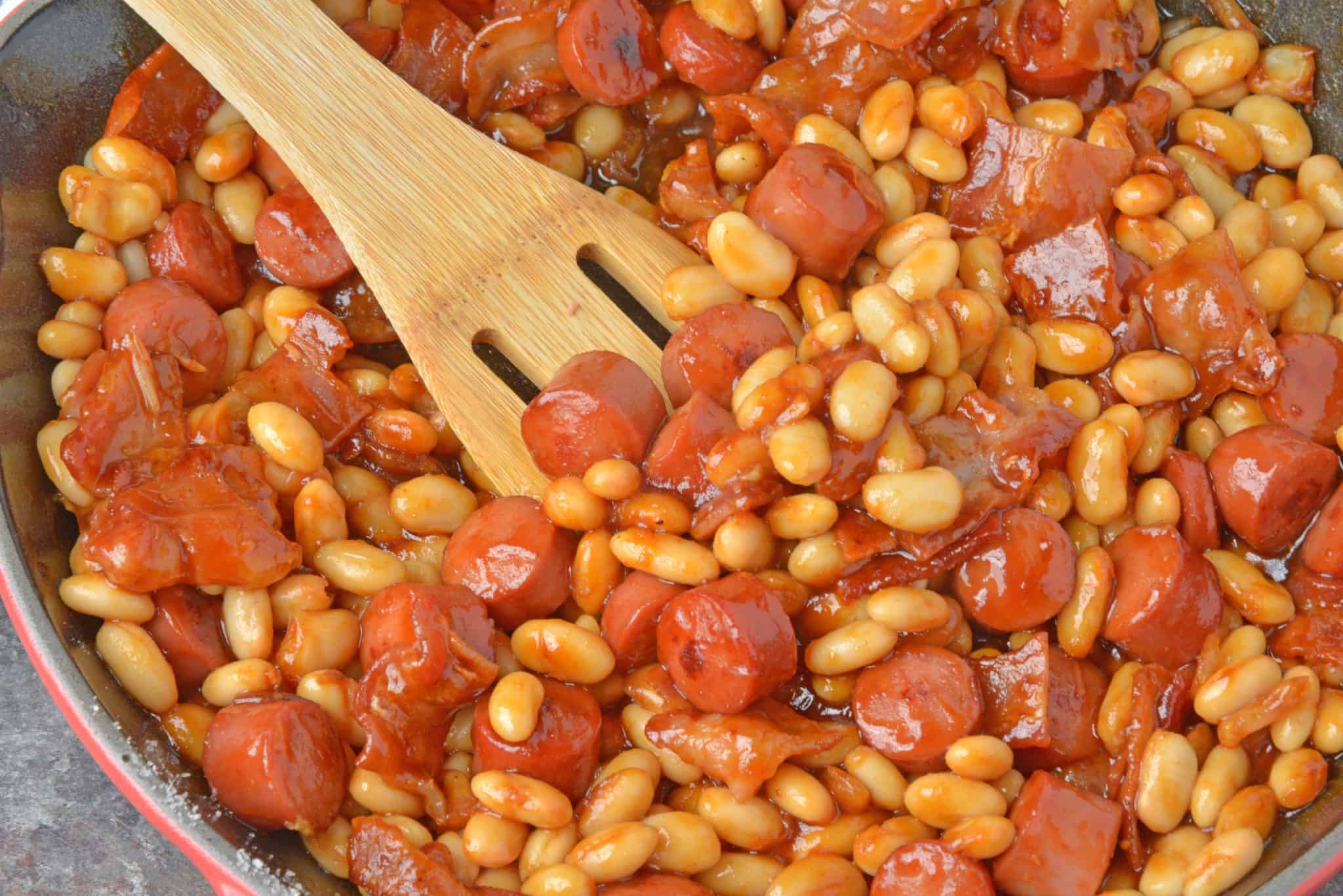 Franks and Beans are a homemade beanie weenies recipe made with real beef hot dogs and less sugar than the canned version. A quick and easy lunch or a classic camping food, it is sure to please!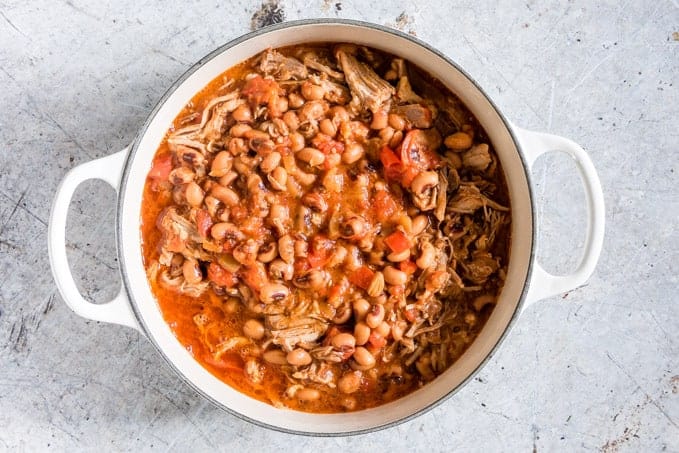 Campfire Stew is a hearty, flavorful and meaty stew that can be easily made on a campfire or in an Instant Pot, slow cooker, or oven! You can find the recipe here.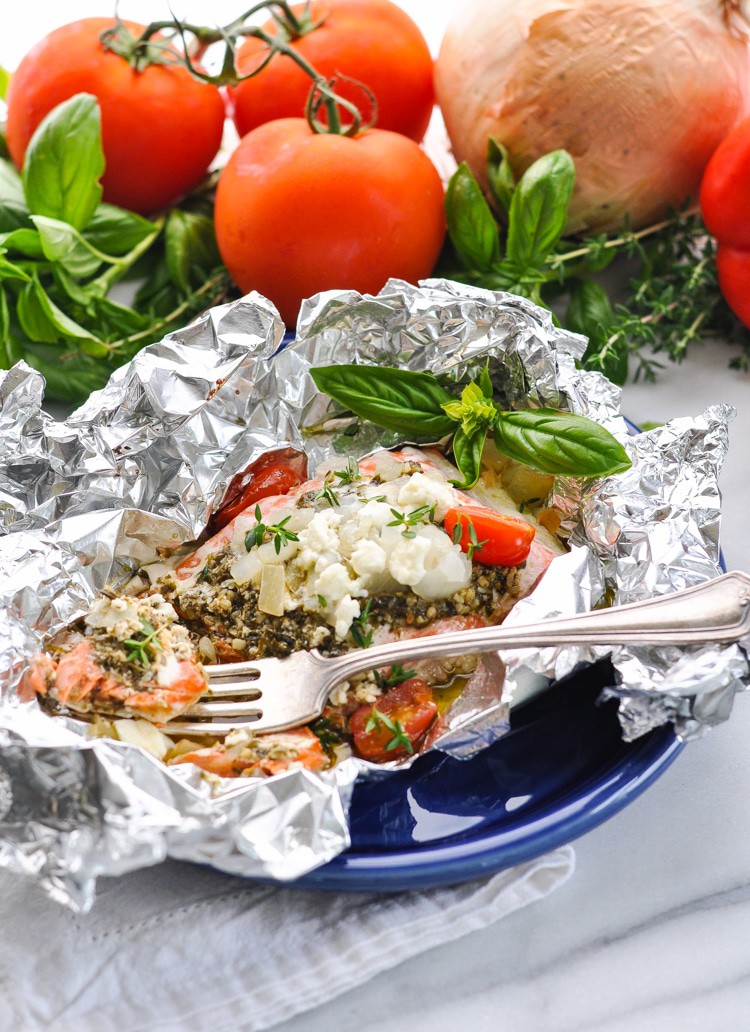 This Mediterranean Salmon is an amazing hobo dinner idea! Only 5 ingredients and full of delicious flavor. You can find the recipe here.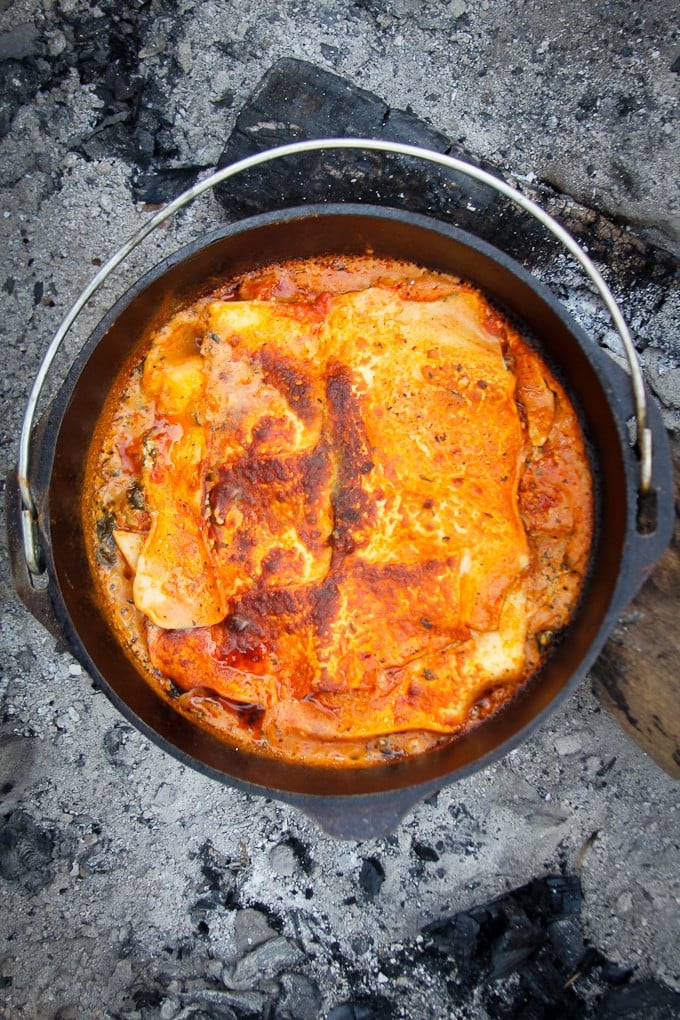 This Campfire Dutch Oven Recipe is a Vegetarian Dutch Oven Lasagna! It's cooked in a cast iron Dutch oven over a fire, and is perfect for camping and campfire dinners at home. You can find the recipe here.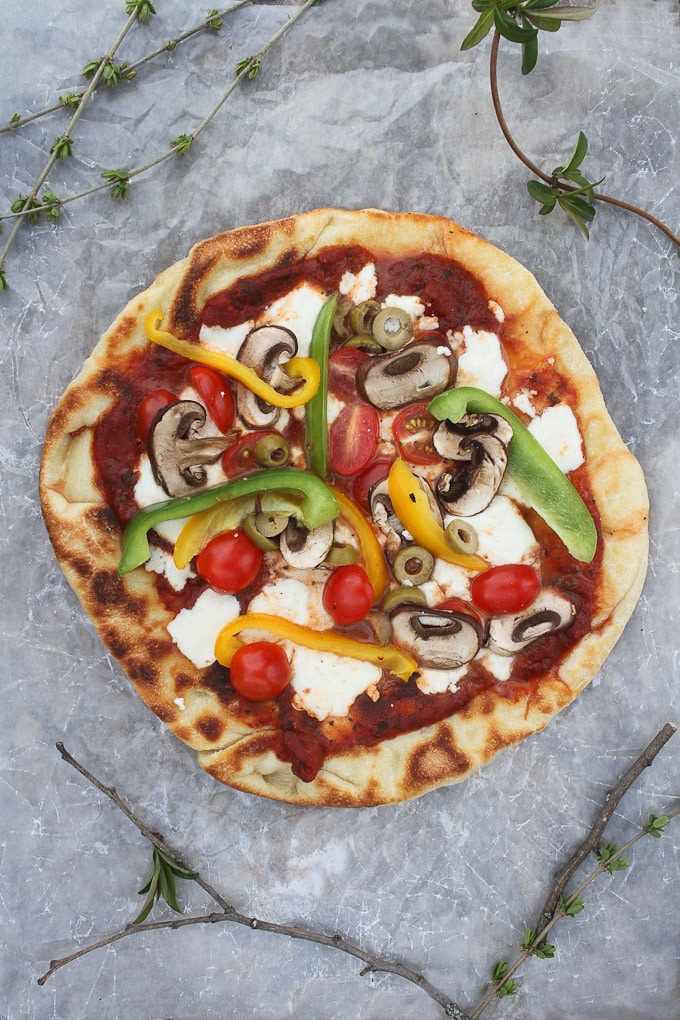 These Campfire Potatoes are a classic summertime side dish that pairs great with all types of meat. The perfect hobo meal for camping! You can find the recipe here.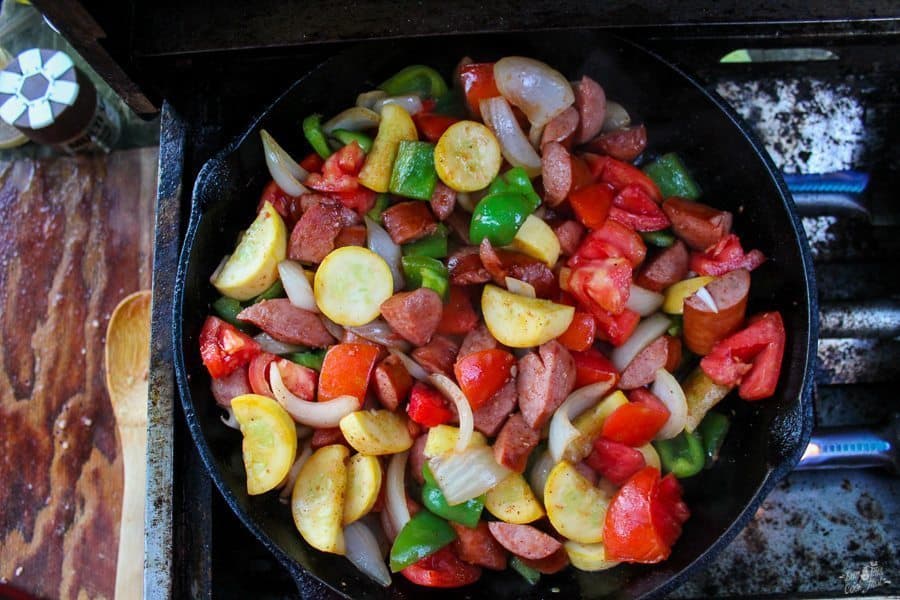 This Hot Mess Skillet is full of browned kielbasa sausage with fresh vegetables and seasonings. It's the perfect mixture of all of your favorites, made right over the open fire! You can find the recipe here.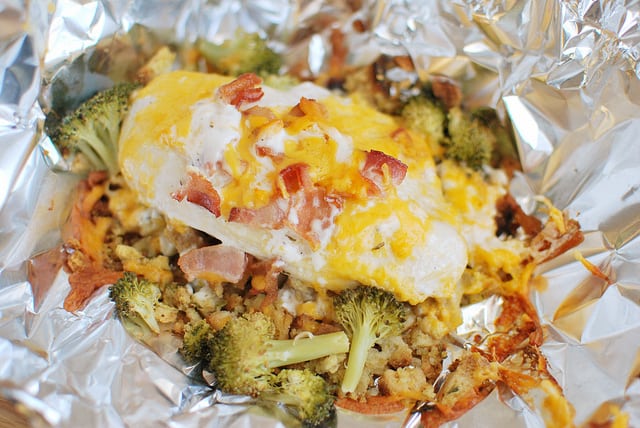 Cheesy Chicken Hobo Packs – stuffing, chicken, broccoli, bacon, and cheese all layered and cooked in foil packets. Easiest camping dinner ever! You can find the recipe here.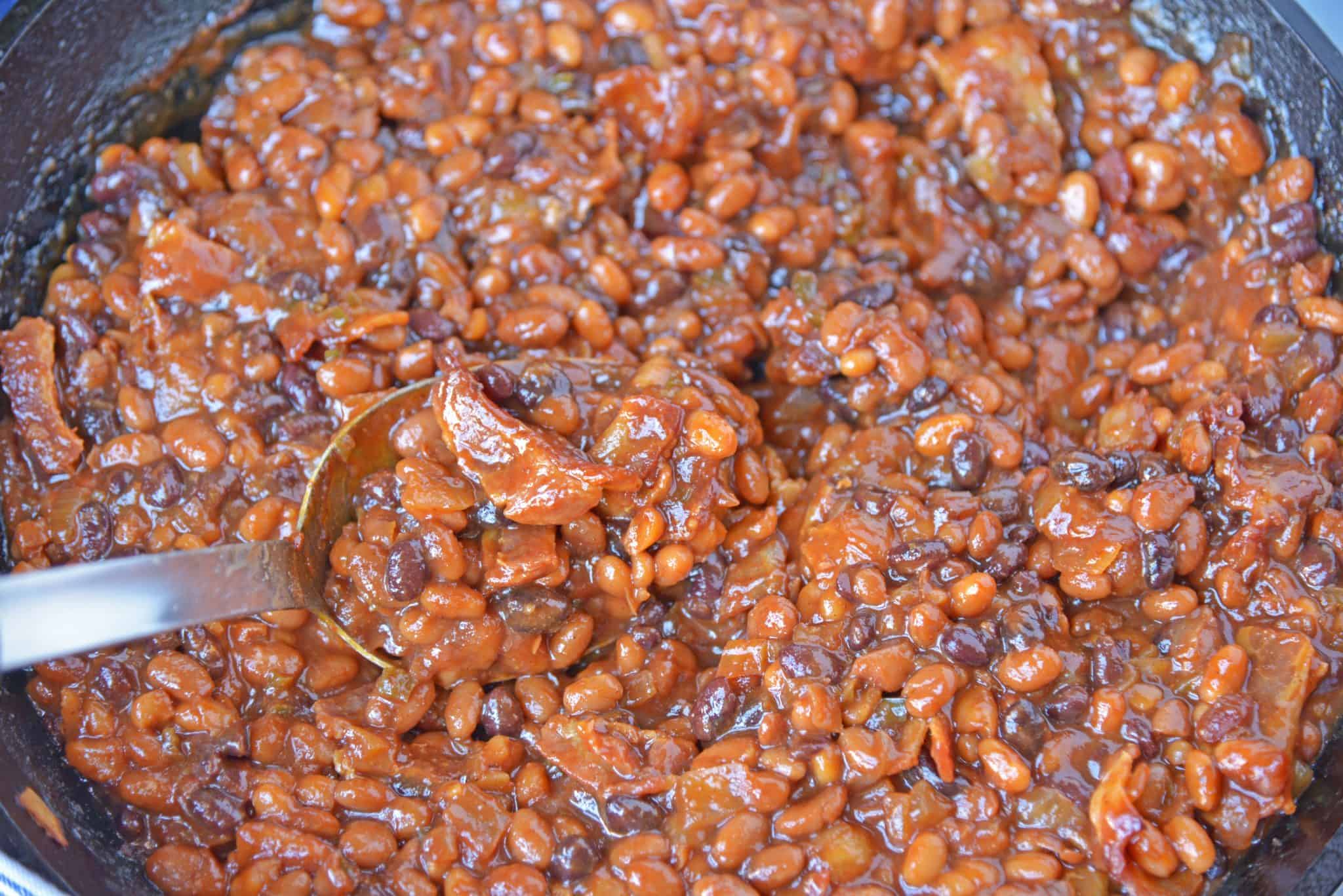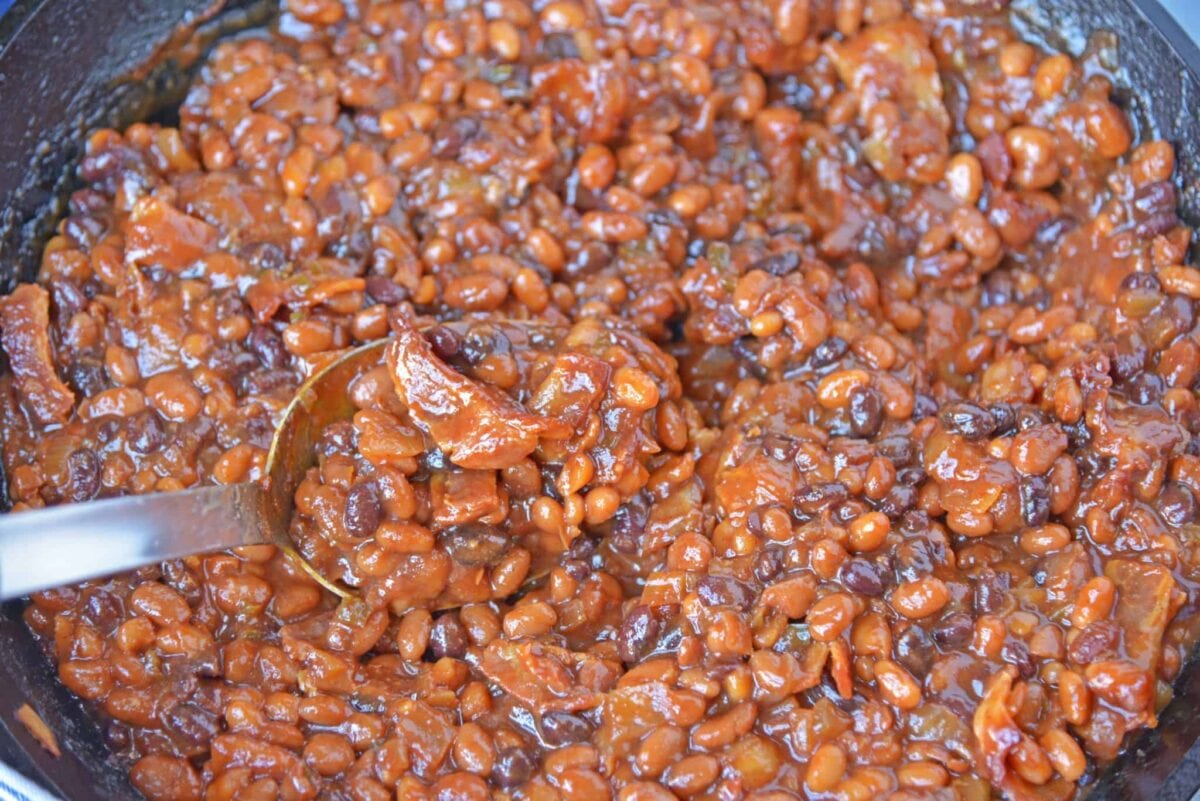 Cowboy Baked Beans are another fire favorite because they originated out on the range with real cowboys!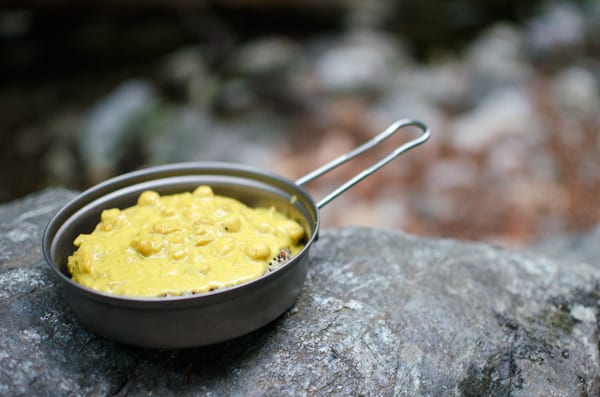 This Camping Curry with Quinoa is made right over the campfire. A flavorful dish that is easy, too! You can find the recipe here.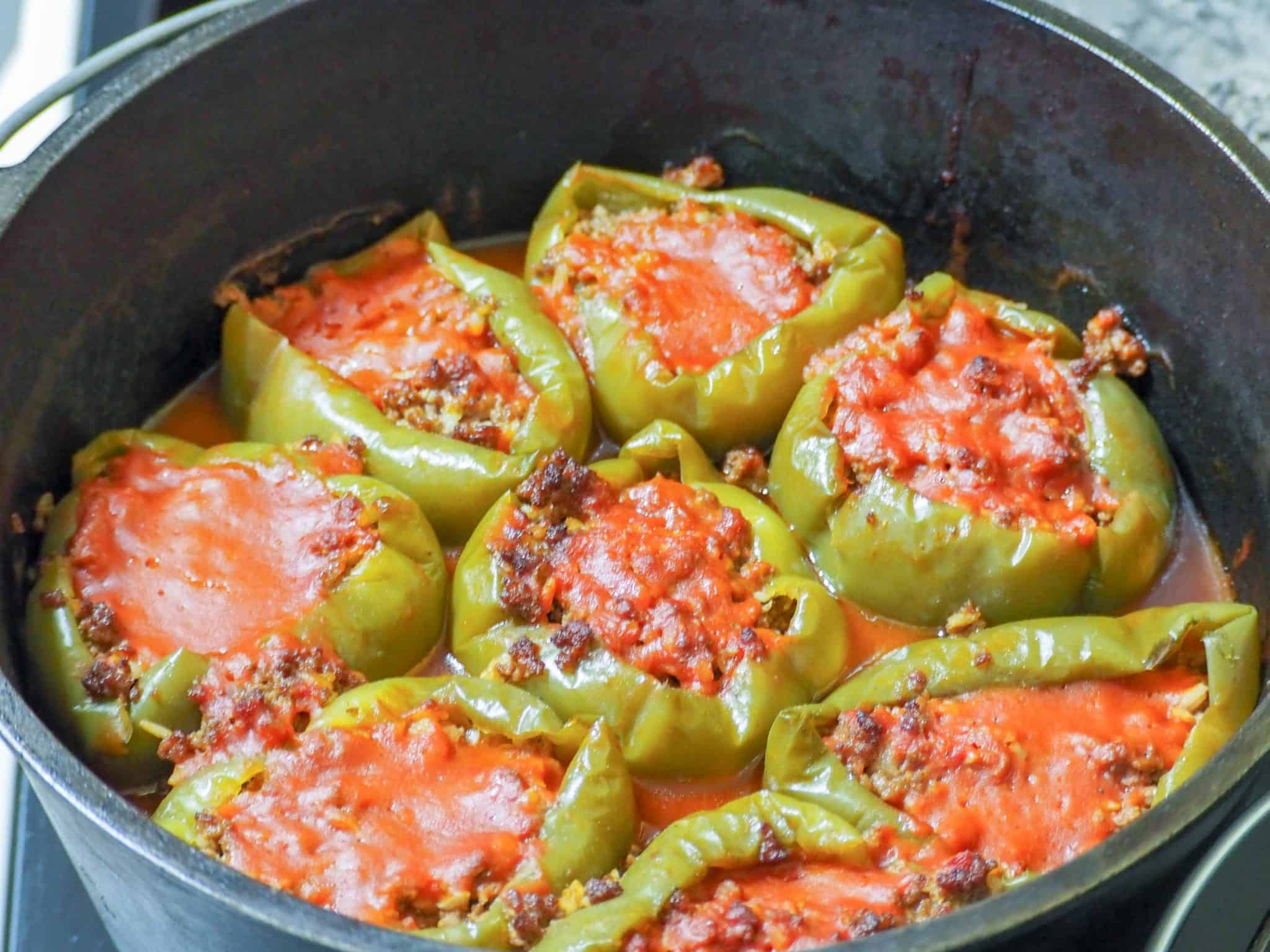 One of your favorite comfort foods made right over the open flame with these Dutch Oven Stuffed Peppers! You can find the recipe here.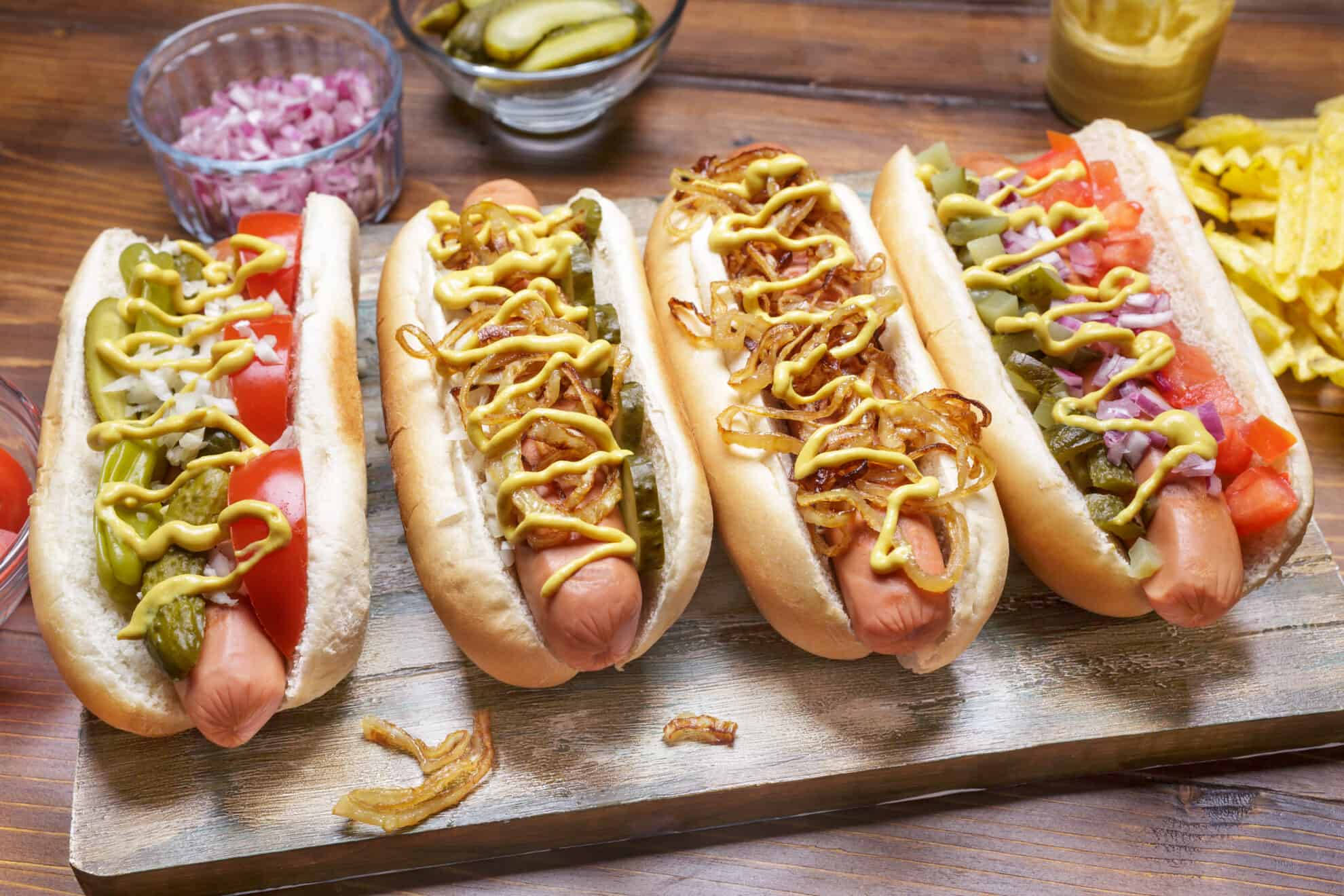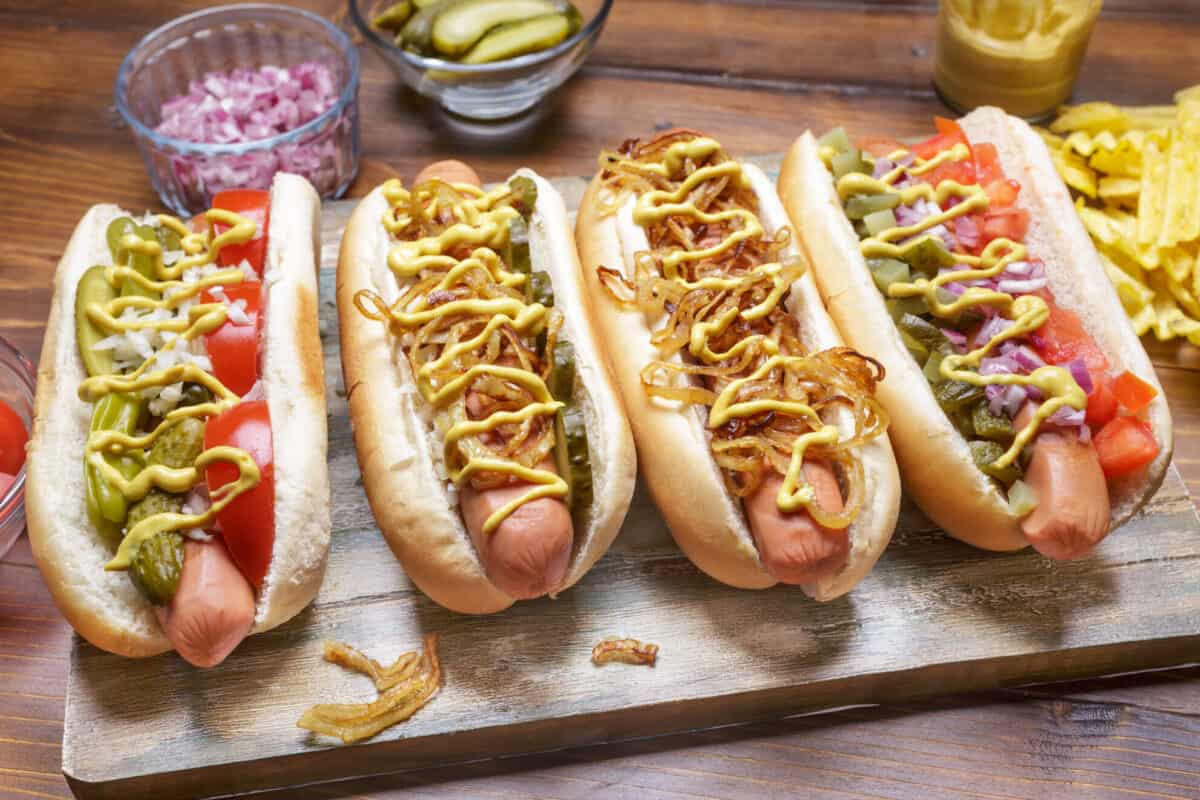 You might be used to sticking your hot dog with a stick and throw it over an open flame, but if you don't want the char, here are my instructions on how to boil hot dogs. I bet you won't even guess how we made this simple recipe as delicious as we did.
Snacks and Dessert Hobo Meals and Camping Recipes
When you're camping, it's nice to have something to snack on. Monster Trail Mix is an easy trail mix of nuts, M&Ms, raisins and chips. The perfect snack for camping, hiking or an afternoon by the pool!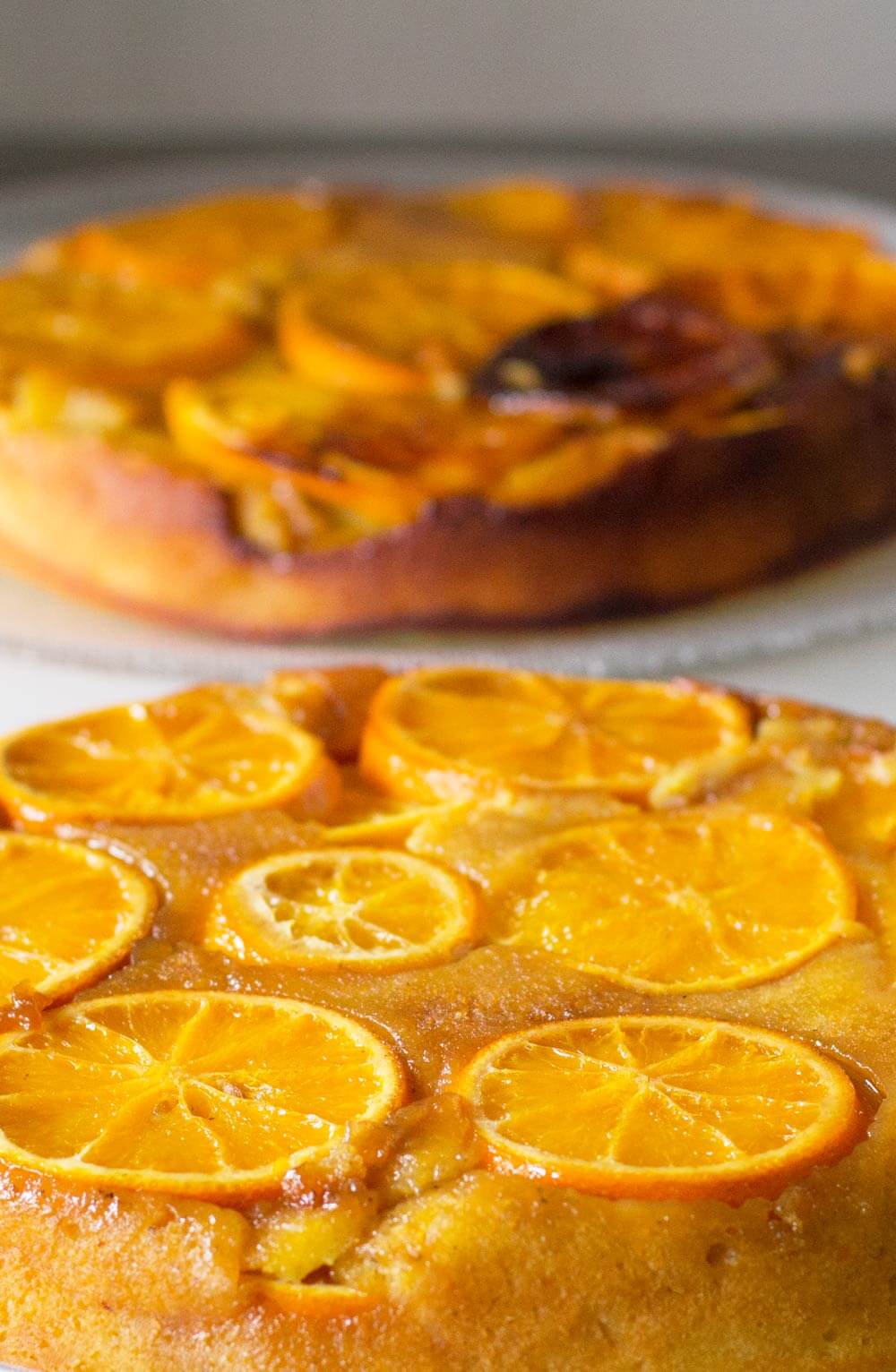 This Orange Olive Oil Upside Down Cake is made in a cast iron skillet, which makes it the perfect dessert to make while camping! You can find the recipe here.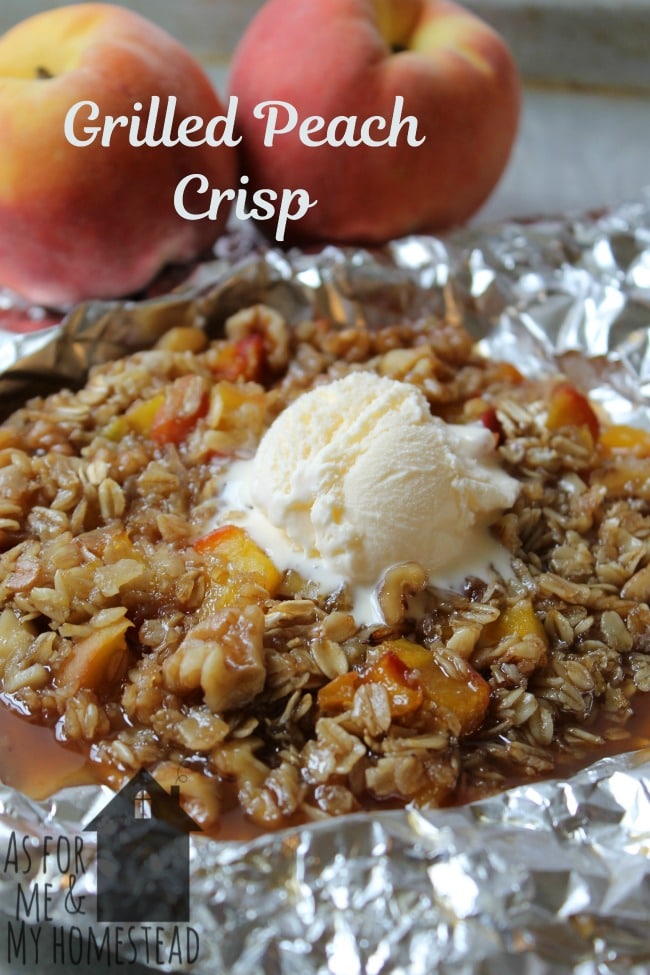 Grilled Peach Crisp is a deliciously simple hobo meal that can be grilled on the barbecue or cooked over the coals of a campfire! You can find the recipe here.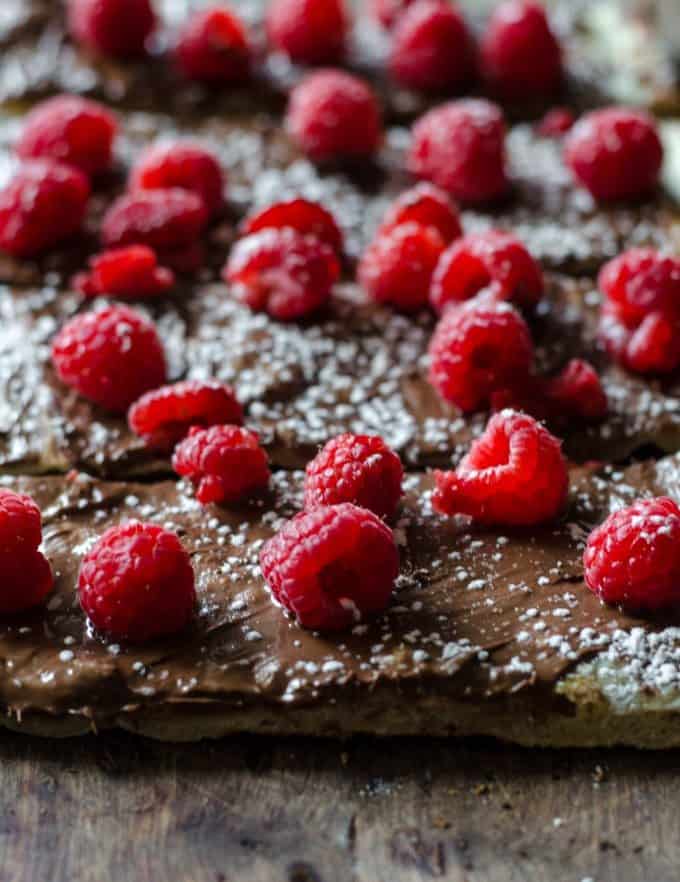 Dessert is made on the grill with this Strawberry Nutella Pizza! It makes the perfect dessert for camping! You can find the recipe here.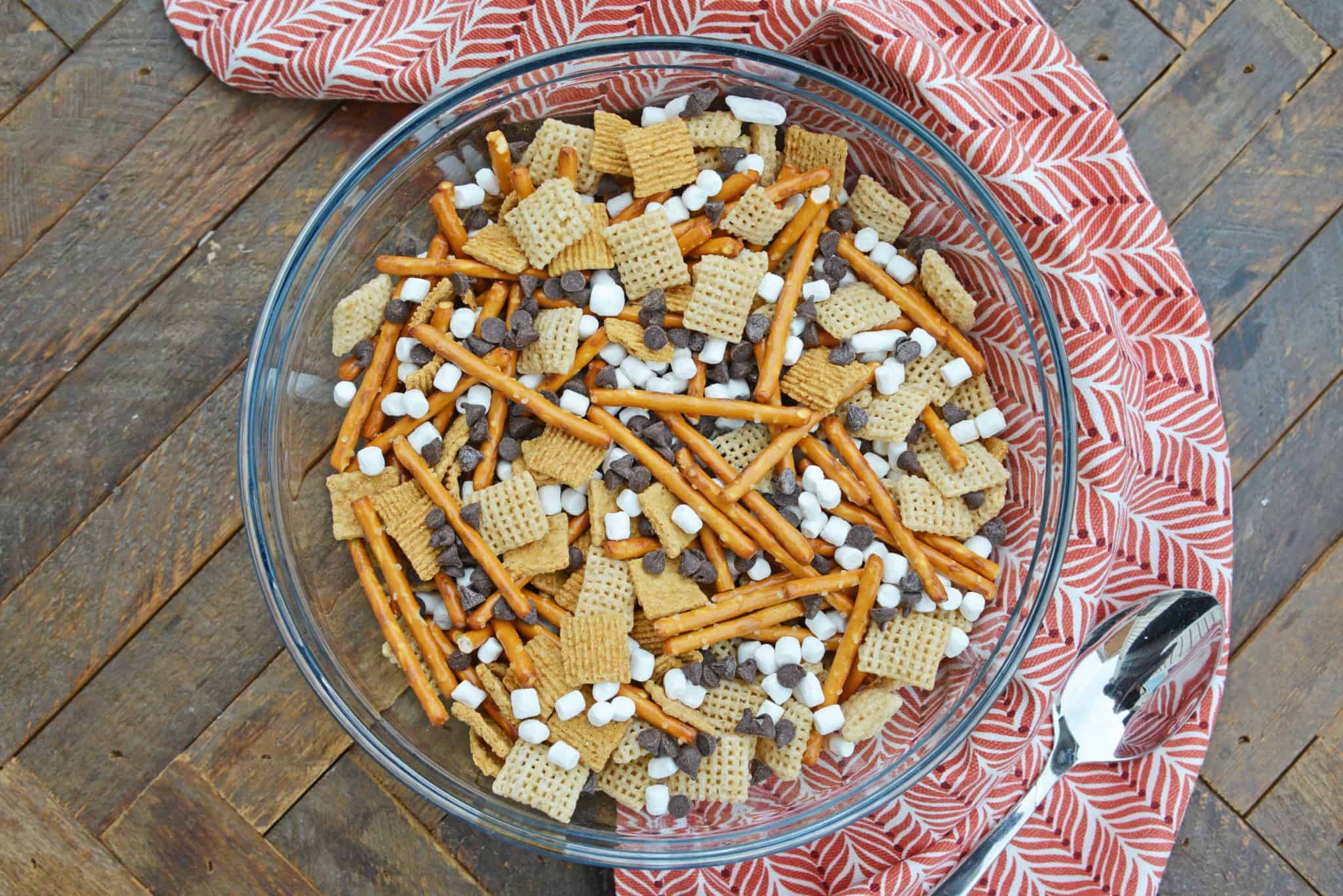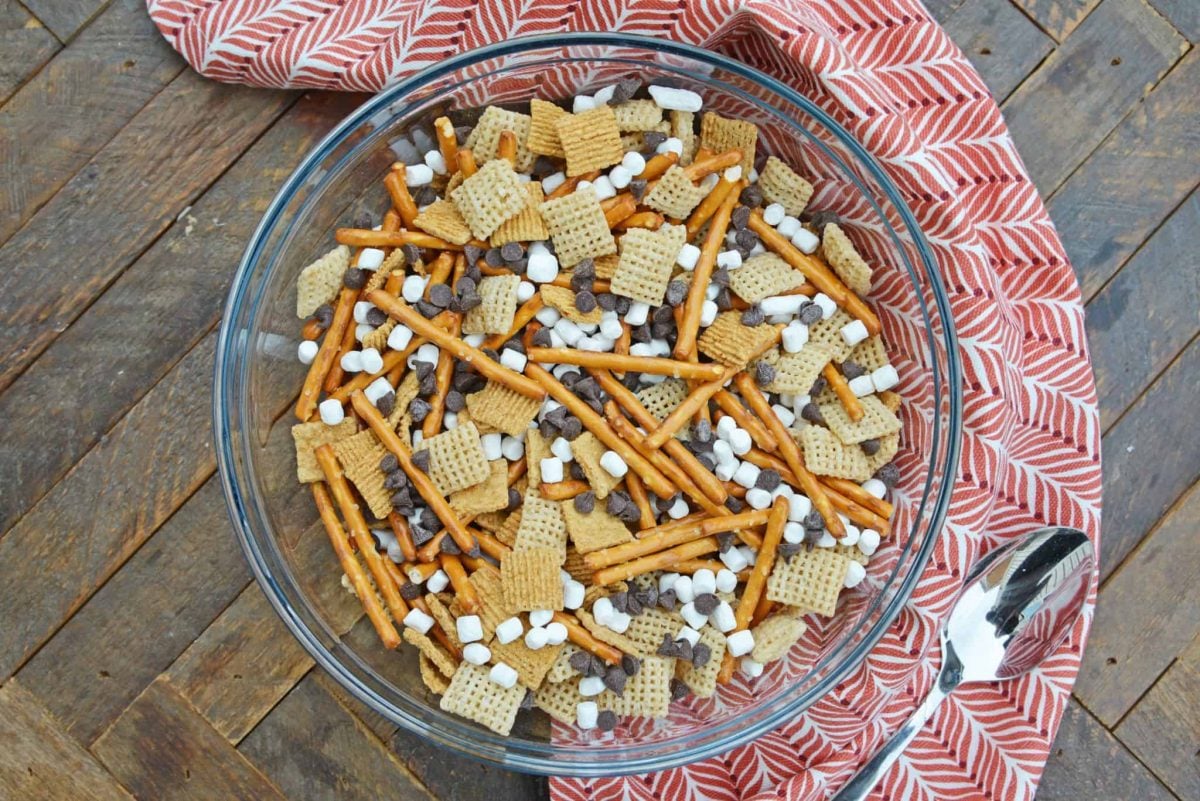 S'mores trail mix is another tasty option for those with a sweet tooth!
If you enjoyed these hobo meals, you will also love these easy recipes:
CONNECT WITH SAVORY EXPERIMENTS!

Be sure to follow me on social media, so you never miss a post!

Facebook | Twitter | Youtube
Pinterest | Instagram

Get our FREE 8 Day E-Course on How to Be a Better Home Cook. Sign up HERE!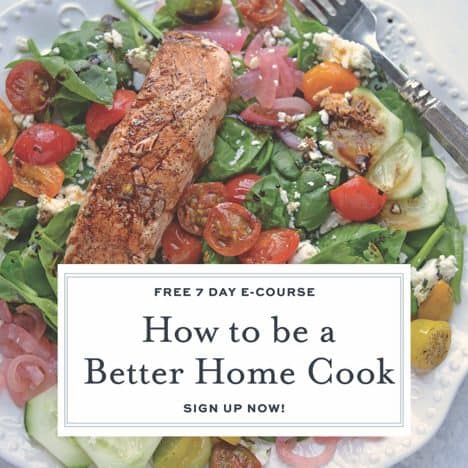 If you liked this Easy Dinner Recipe, snag a copy of my Easy Dinner Recipes Mini-Cookbook. Available here for only $0.99, here is a small collection of time-saving, hearty and satisfying dinners guaranteed to get you in and out in 30 minutes or less!