Whether you are a first timer or a Beef Wellington expert, this recipe will help you simplify the process! The thought of making Beef Wellington may be intimidating, but I'm here to break the circle and tell you that it's simpler than you think!
Beef Wellington is a classic dish for a special occasion. Tender beef tenderloin smothered in Dijon mustard, mushrooms, shallots and prosciutto, before being baked in a delicate puff pastry!
I first made Beef Wellington after my neighbor graciously rigged his hose to my rooftop deck for the summer. At the time we lived in a 4 story city row house and this was the only location for a garden.
Lugging watering cans for all of my plants at the height of heat started to be quite cumbersome. I suggested I repay his generosity with a meal.
He choose Beef Wellington. Not because he had it and liked it, but because he had never had it, but liked the aristocratic sound of eating it! This, quite literally, made me laugh out loud, but it was a challenge I accepted. If you knew our dear Brenden, you would understand.
While Beef Wellington can be time consuming and requires many ingredients, the technique is not all that difficult. In fact, I think many people are intimidated by the thought of it and never actually give a whirl.
It is sad, but one rarely sees it grace the pages of menus, even at the classiest of restaurants.
I compiled multiple recipes, but mainly stuck to a version from Tyler Florence. The meat used is a center cut beef tenderloin- meaning a tubal piece of meat that when sliced is (drum roll please)- filet mignon.
Traditional beef wellington is coated in pate de foie gras and duxelles, however I decided to substitute using a salty, thin cut prosciutto for the foie gras.
Duxelles is just french for mushroom paste. I like to make mine with a variety of mushrooms to add flavor sophistication, but you can stick with one type.
Dijon mustard adds some tang and buttery puff pastry balances and encases it all. It will be so tender you won't even need a knife. The combination of flavors is a party in your mouth.
If you enjoyed this Beef Tenderloin Recipe, be sure to check out these other easy recipes:
If you are looking for even more great beef recipes, snag a copy of my Easy Beef Recipes Mini-Cookbook. Available here for only $0.99, here is a small collection of delicious and easy beef recipes that will soon become your new family favorites, from Instant Pot recipes to quick one-dish casseroles!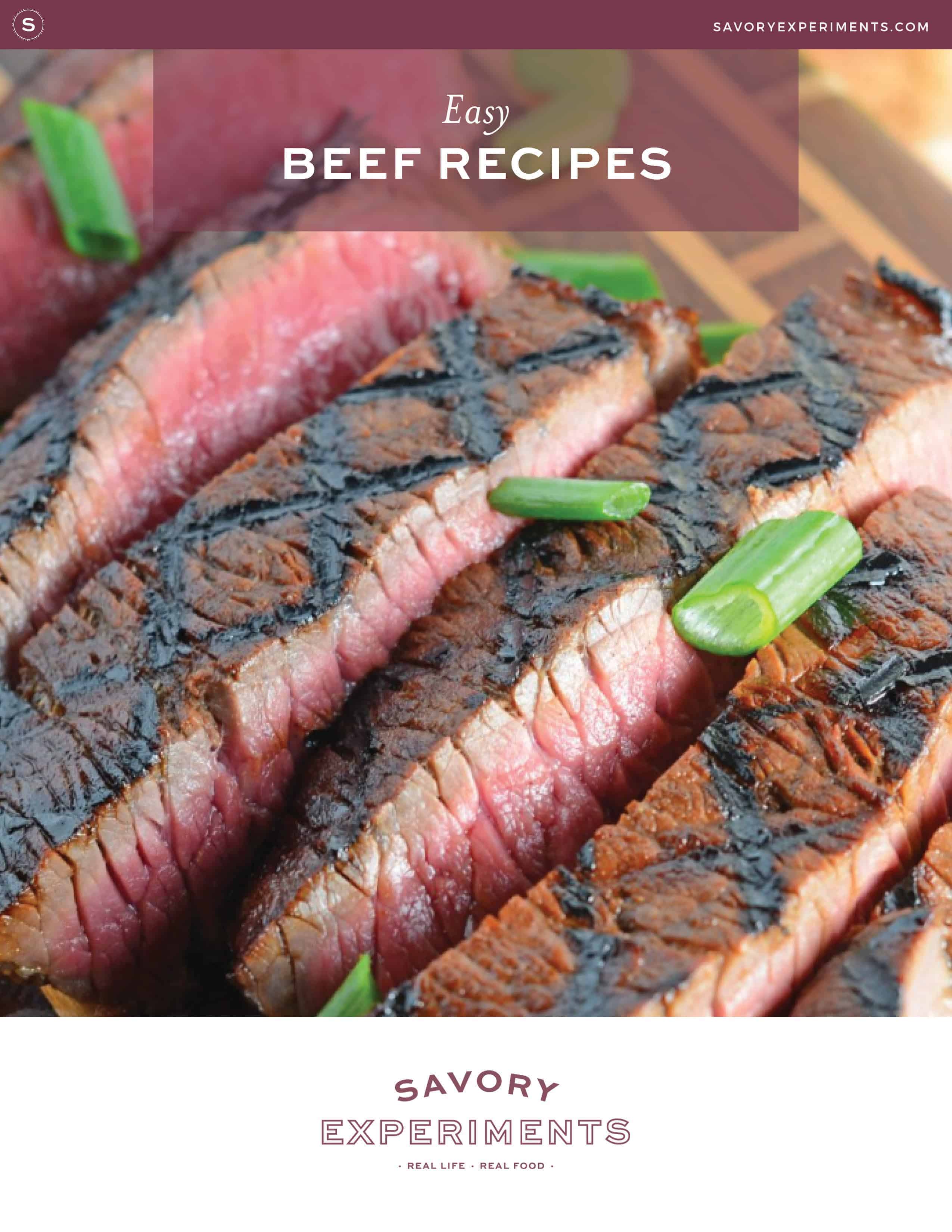 Classic Beef Wellington
Beef Wellington a classic dish for a special occasion. Tender beef tenderloin is smothered in Dijon mustard, mushroom, shallot and proscuitto before being baked in a delicate puff pastry.
Course:
Main Course, Main Dish
Cuisine:
American, French
Ingredients
3

cups

fresh mushrooms

whichever variety you prefer

2

shallots

peeled and coarsely chopped

6

garlic cloves

crushed

4

teaspoons

thyme

leaves only

1

tablespoons

unsalted butter

1

tablespoon

extra virgin olive oil

3/4

teaspoon

sea salt

divided

1/2

teaspoon

black pepper

divided

5

pound

center cut beef tenderloin

14

slices

prosciutto

thinly sliced

2

tablespoons

coarse Dijon mustard

1

tablespoon

flour

1

box of frozen puff pastry

defrosted, 2 sheets

1

egg

lightly beaten

Cooking Spray
Instructions
Start by preparing the duxelles (mushrooms paste). Using a large food processor, pulse together all mushrooms, shallots, garlic and thyme until they are finely chopped.

Heat unsalted butter a large frying pan, add the finely chopped mushrooms mix and saute over medium heat for approximately 10 minutes. The moisture will evaporate and it will reduce greatly. The mixture should on the verge of dry. Add 1/4 teaspoon sea salt and 1/4 teaspoon black pepper, stir. Remove from heat and set aside.

Using butcher's twine, tie the tenderloin in multiple places to hold its shape and ensure even cooking. Massage extra virgin olive oil, 1/4 teaspoon sea salt and 1/4 teaspoon black pepper into the tenderloin.

Heat a large skillet or frying pan to smoking point. Depending on the size of your pan and tenderloin, you might be required to cut it in half. It does make it much easier to work with. I cut mine.

Sear all sides (including ends) of tenderloin. If you prefer a well done steak, sear a little longer. For medium rare, it will take about 5 minutes total to lightly brown all edges. The key to this step is searing enough over very high heat to seal in the juices (almost like cauterizing), but not cook it too long that the time in the oven will end up over cooking it. Repeat with both pieces if you cut them in half. If you do not sear enough or at a high enough heat it will not seal in the juices and they will leak into the puff pastry, not allowing it to form a crispy crust. Set aside to cool and drain any residual juices.

Place a large piece of plastic wrap out on a cutting board with the bottom edges at the base of the cutting board. Shingle prosciutto pieces in a thin layer (the length of your tenderloin) and high enough (estimate) to wrap all the way around the tenderloin once. Make two if you cut your tenderloins in half.

Spread a layer of duxelles over the prosciutto. Top that with Dijon mustard.

Cut butchers twine, discard. Place the tenderloin at the bottom of the prosciutto wrap and tightly roll, encompassing the tenderloin in prosciutto and duxelles. Once tightly wrapped, tuck in ends and place in the refrigerator to set for 30 minutes.

Preheat oven to 400 degrees. Lay out both sheets of puff pastry. If you are using just one, overlap the edges slightly to make a longer sheet. If you are making two, one puff pastry sheet should fit each tenderloin halve.

Remove tenderloin from refrigerator and plastic wrap. Lie tenderloin at the base of the puff pastry and tightly roll. Tuck in the ends, removing any extra dough, being careful to not have any double layers. If the dough is more than 1 sheet thick it will not cook fully. If you want to create a braid, like mine, cut sides of pastry out diagonally and then alternate bringing slices in.

Beat egg in a small bowl. Using a basting or pastry brush, apply an egg wash to seal ends and seams. Sprinkle tops with 1/4 teaspoon sea salt. Using a sharp knife, cut one inch slits about 2 inches apart (or crisscrosses) to allow the steam to vent. Built up steam will prevent the pastry from fully cooking as well. No mushy pastry here! Or criss cross puff pastry to create a lattice pattern.

Line a baking sheet with parchment paper and place tenderloin on it. Bake for 20 minutes or until puff pastry is a golden brown. If the top is cooking too fast you can gently place a leaf of aluminum foil over the tenderloin to allow the base to finish cooking. All ingredients inside are already cooked, so really you are just waiting on the puff pastry.

Remove from the oven and allow to rest for 5 minutes before cutting into thick slices. Enjoy!

If you've tried this recipe, come back and let us know how it was!
Nutrition Facts
Classic Beef Wellington
Amount Per Serving
Calories 850
Calories from Fat 594
% Daily Value*
Total Fat 66g 102%
Cholesterol 185mg 62%
Sodium 463mg 19%
Potassium 857mg 24%
Total Carbohydrates 14g 5%
Protein 46g 92%
* Percent Daily Values are based on a 2000 calorie diet.