Looking for a steakhouse experience in the comfort of your own home? Try adding an easy au poivre sauce.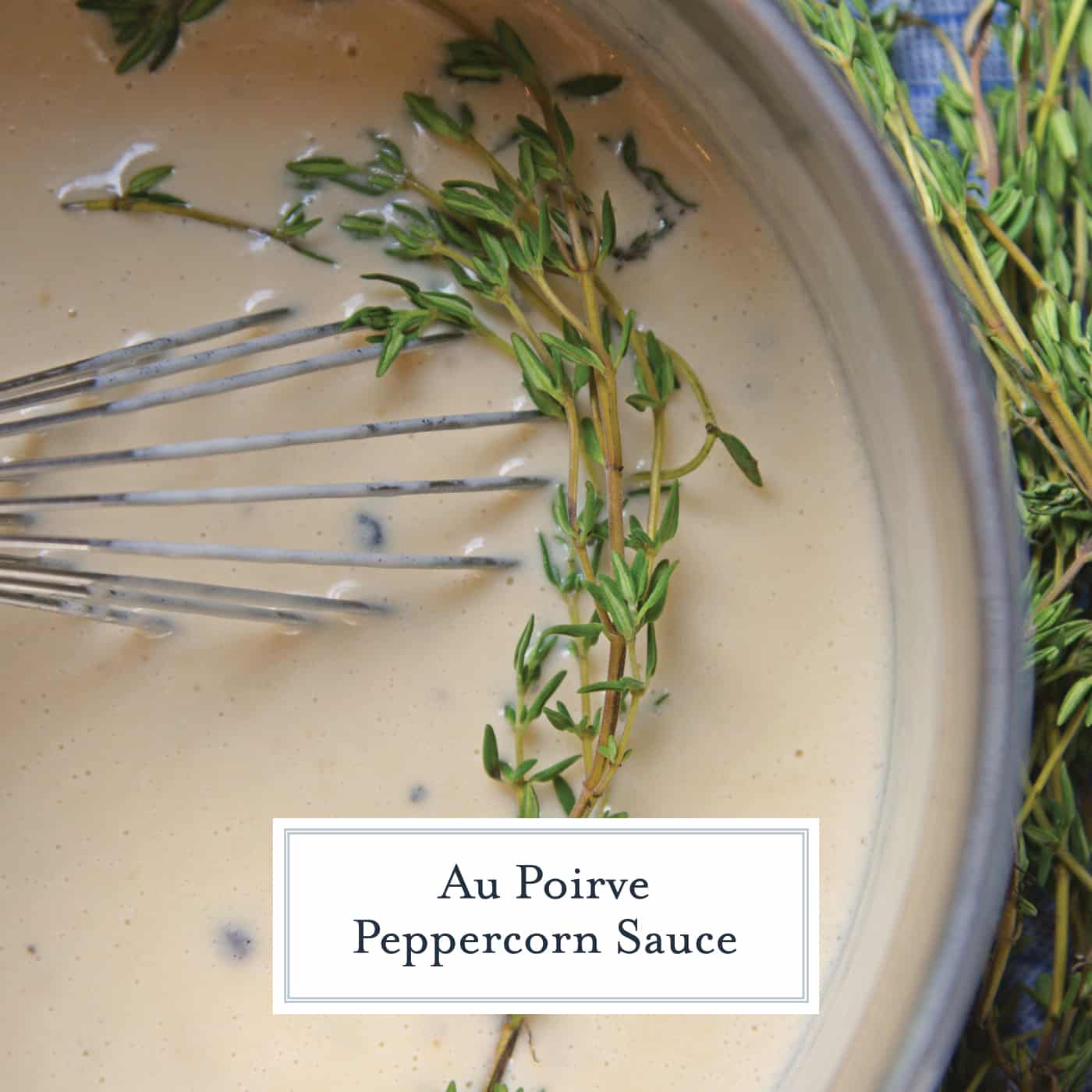 Au Poivre Peppercorn Sauce for steak can also be used for chicken or vegetables. An easy, creamy beef sauce spiked with peppercorns and Dijon mustard.
Steak at a fancy steakhouse is melt-in-your-mouth good and can be hard to achieve at home. From the quality of beef, cut and cooking techniques, sometimes it just isn't attainable for the home cook.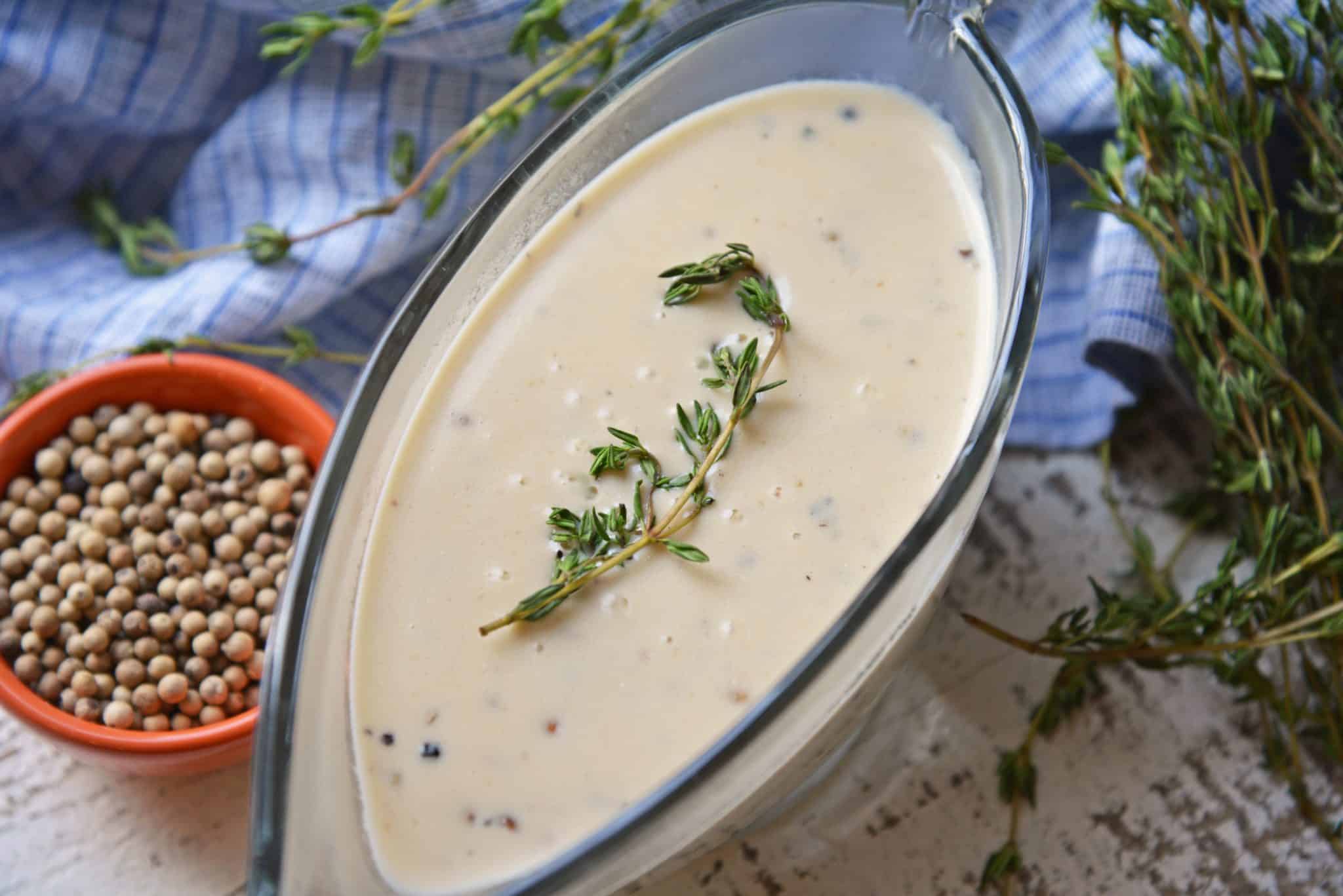 But there are a few tricks to making your at-home steak tastier and fancier.
Cooking Technique- Fancy steakhouses don't use the grill. Most use a broiler called a chameleon. It is SUPER hot to create that glorious crust. Most of us won't have that option at home, but using a smoking hot cast iron skillet will get you close. Another way to get a steak cooked to the perfect temperture is to sous-vide. While this takes longer than traditional cooking, it does give you most evenly cooked steak that is always the perfect doneness.
Finishing Salt- Salt is used for tenderizing, seasoned, but also to finish. When you have a super thick steak, the interior never gets adequately seasoned. You'll find some of the best steakhouses will slice and serve your beef table-side and then give it a sprinkle of salt. Maldon is the most common, but you can also get fancy and use a Black, Red or even Pink Himalayan Salt.
Butter, baby. Most steakhouse use a quality European butter after the cooking process is finished. A nice slab right on top to add flavor. Try using one of my many compound butters to add even more sophistication. Truffle and garlic butter are my top two favorites, but sun dried tomato and cilantro lime in at a close second.
Get Saucy! I love to order a trio of sauces on the side. Au Poivre Sauce, also known as a Peppercorn Sauce are perfect to compliment a salty steak. What goes better with salt than pepper? If you want to serve a steak sauce buffet, try my copycat Peter Lugar Sauce or Beurre Blanc Sauce.
On my first pass with Au Poivre Sauce, I used Ree Drummond's Peppercorn Sauce as a starting point and man, I didn't like it at all. She is usually on point, so I found it odd.
She used a whole cup of brandy and my sauce ended up just tasting like alcohol and not enough like beef, cream or peppercorn. A little brandy gives it flavor, a cup overpowers. It can easily be omitted and the sauce will still taste fabulous!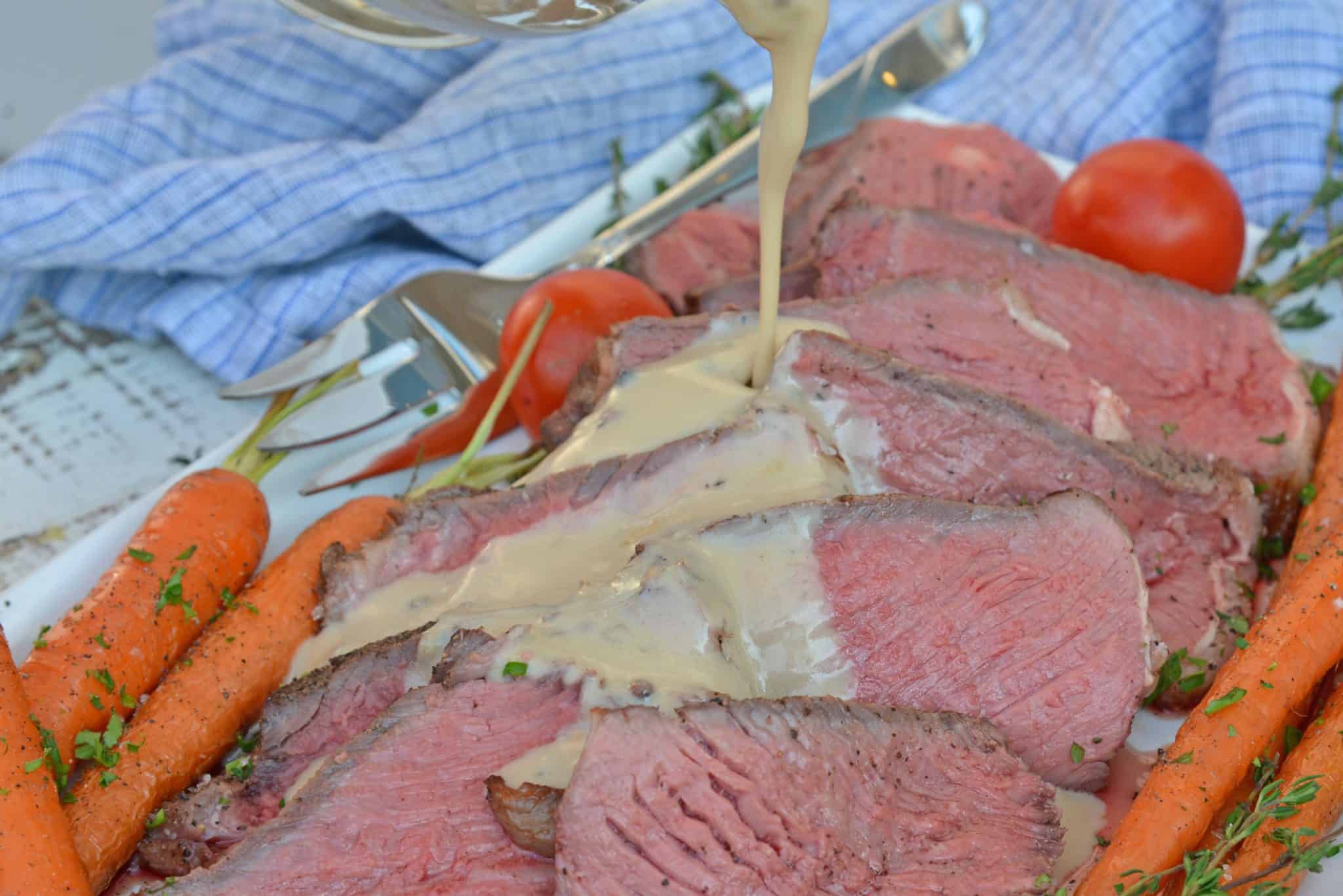 However, I did like using a powdered beef bouillon and a good amount of butter. It made it rich and super beefy.
Other recipes also use garlic, shallots and fresh herbs. While I love garlic and shallots, it overwhelmed my sauce and again, played down the peppercorns. So I opted to use just fresh thyme.
You can use any fresh herb you'd like. I suggest bruising the herbs before adding them to the sauce. This release natural oils and aromatics, allowing them to better infuse into your sauce.
Lastly, choose your peppercorns! It is a Peppercorn Sauce, after all. Some recipes call for brined green peppercorns. These will be softer with a muted and briny pepper flavor.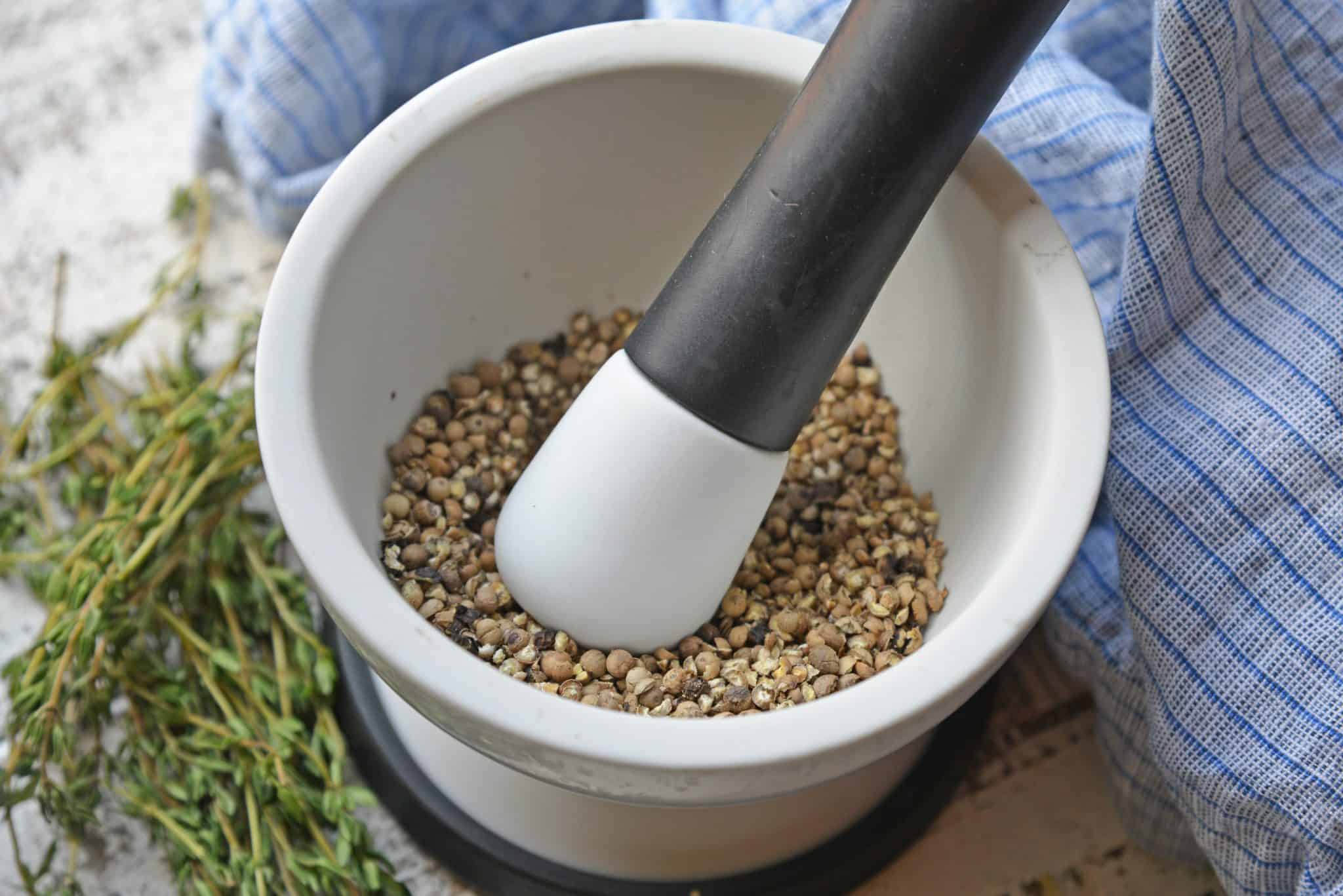 I prefer to use a blend of whole white, black and red peppercorns. You can modify this recipe use just one type or all four. The choice yours!
I paired this batch with my Sous Vide New York Strip- a match made in steak lovers heaven!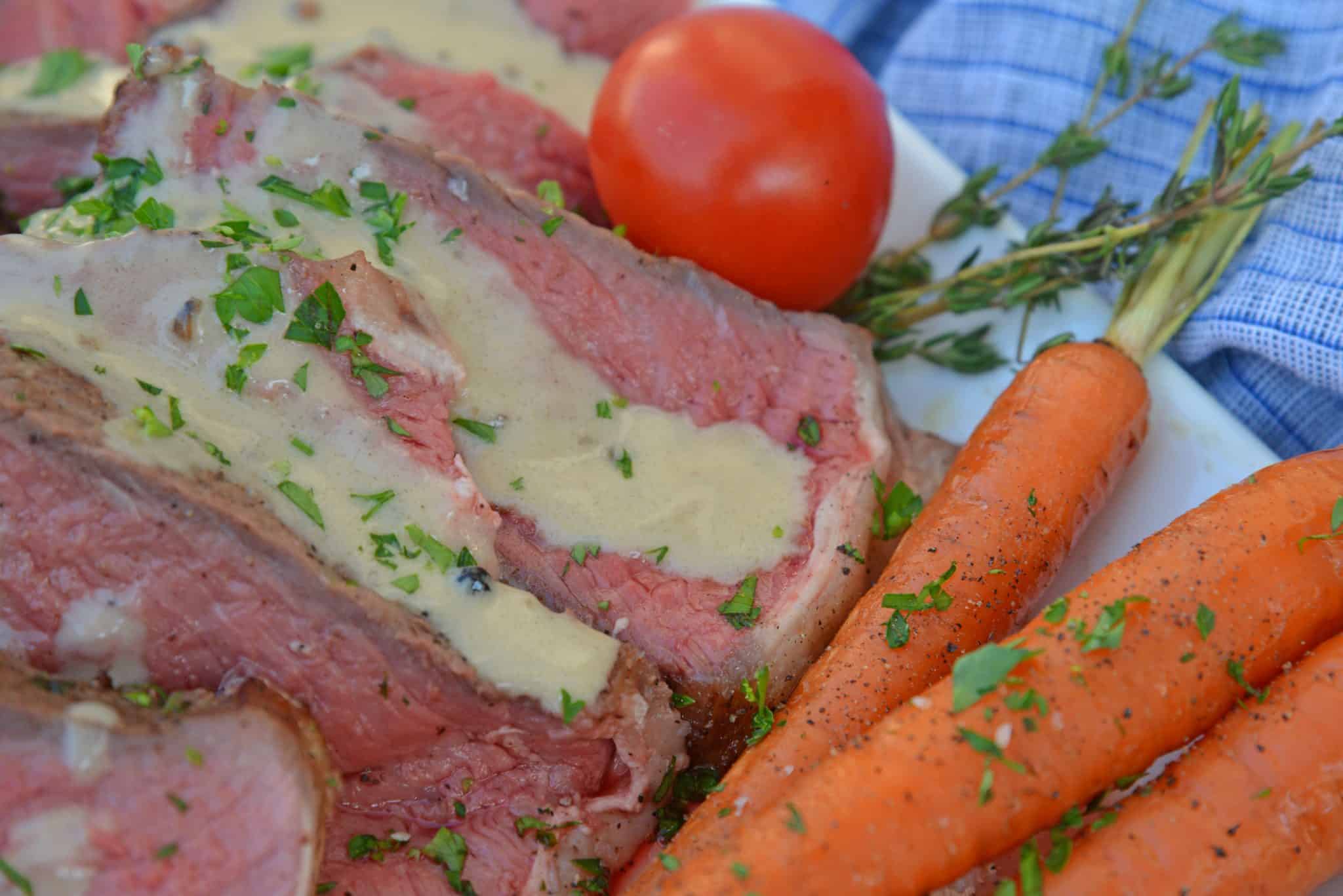 Other sauce recipes you might enjoy: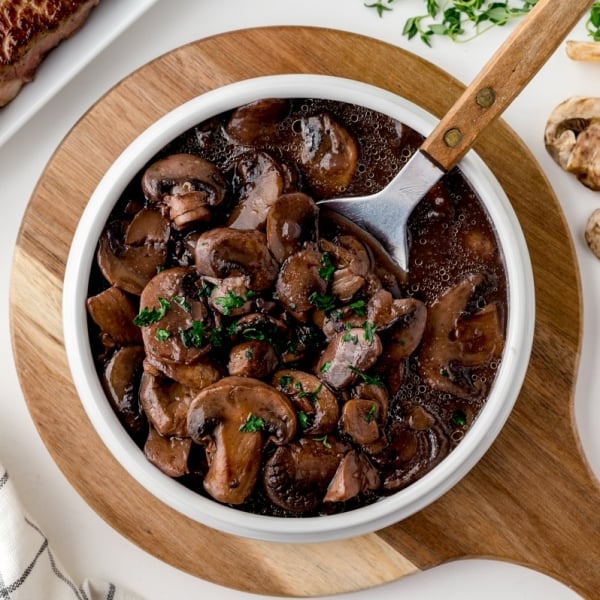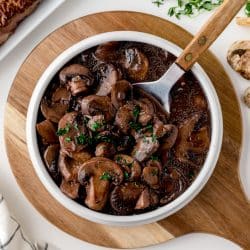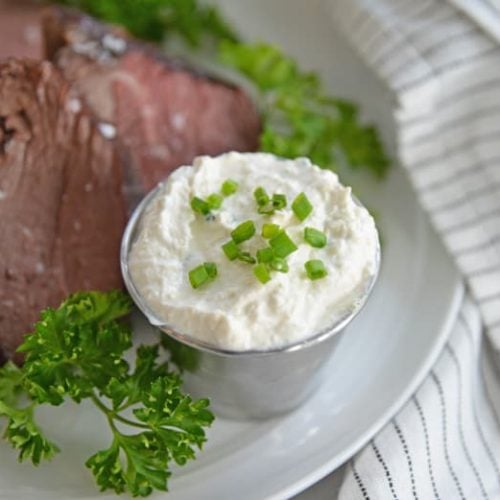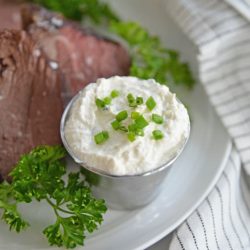 Creamy Horseradish Sauce
Creamy Horseradish Sauce comes together in less than 5 minutes with a sour cream base, tangy horseradish, this is a winner that will rival any steak sauce!
See The Recipe!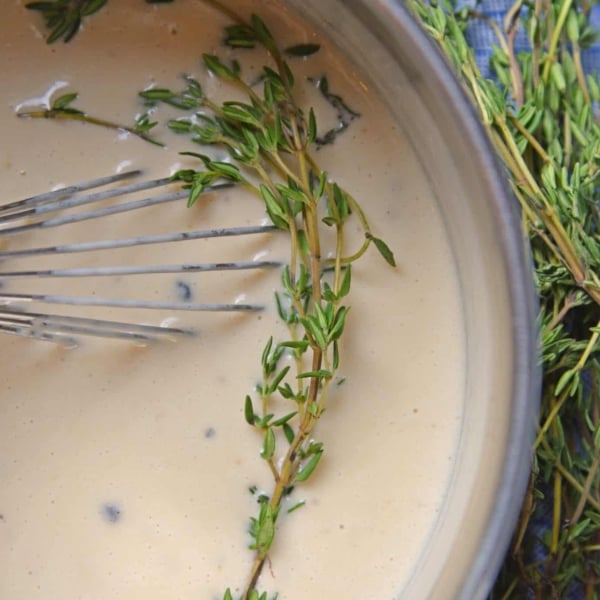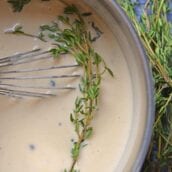 Au Poivre Peppercorn Steak Sauce
Au Poivre Peppercorn Sauce for steak can also be used for chicken or vegetables. An easy, creamy beef sauce spiked with peppercorns and Dijon mustard.

Ingredients
4

tablespoons

butter

2

teaspoons

beef bouillon powder*

1/2

cup

water

4

tablespoons

Dijon mustard

2

tablespoons

brandy

, optional

1 1/2

cups

heavy cream

5

tablespoons

white peppercorns

, crushed

1

tablespoon

arrowroot or corn starch
Instructions
Heat butter over medium heat in a heavy bottom sauce pan.

Whisk in beef bouillon. When bouillon starts to brown, whisk in water, dijon mustard, fresh thyme springs, brandy (optional) and heavy cream. Bring to a low simmer.

Add crushed peppercorns, stirring well.

Ladle out a small amount of sauce, whisking with arrowroot or cornstarch. Return to mixture to thicken. Stir until it sticks to the back of a wooden spoon. Remove woody pieces of thyme springs.

Serve over your favorite steak.

If you've tried this recipe, please come back and let us know how it was!
Notes
*You can use 1 cup beef broth or stock instead of bouillon and water.
Nutrition
Calories:
245
kcal
,
Carbohydrates:
7
g
,
Protein:
2
g
,
Fat:
22
g
,
Saturated Fat:
13
g
,
Cholesterol:
76
mg
,
Sodium:
158
mg
,
Potassium:
50
mg
,
Fiber:
2
g
,
Vitamin A:
830
IU
,
Vitamin C:
2.3
mg
,
Calcium:
60
mg
,
Iron:
1.4
mg