Both peppermint and fudge are Christmas favorites. But why in the world can't we eat both year round?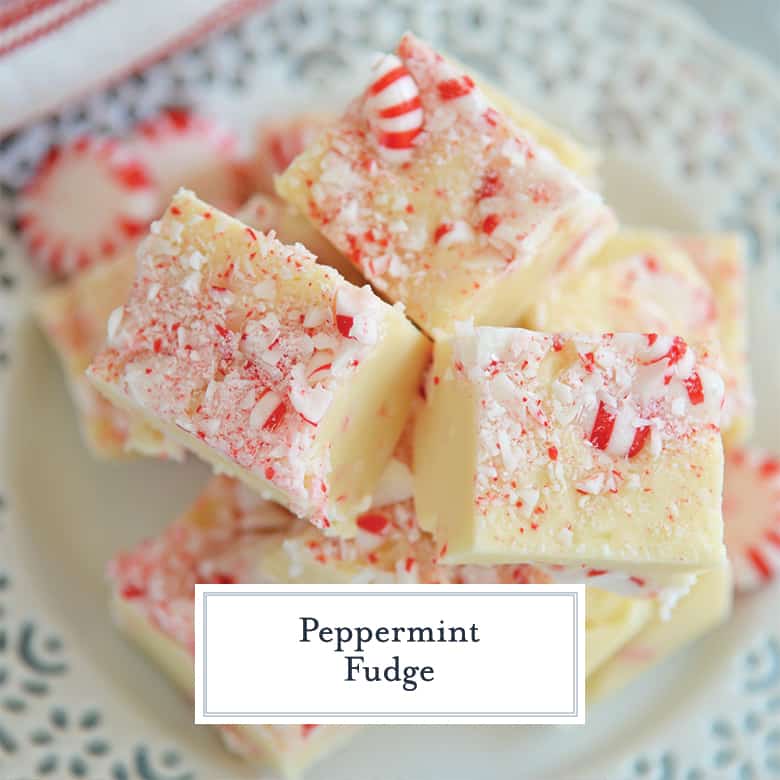 Peppermint Fudge is an easy fudge recipe using sweetened condensed milk and white chocolate. Perfect for holiday cookie trays and parties!
There are SO many ways to make fudge. Some people enjoy a traditional fudge made from cream and sugar.
This process is a hefty dose of chemistry and monitoring heat. My Classic Vanilla Fudge and Gingerbread Fudge are good examples.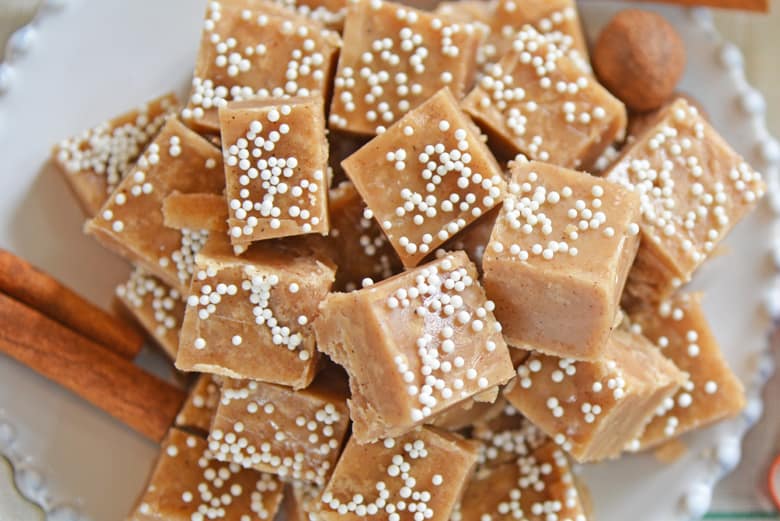 For some, this is the only acceptable way to make fudge. But for others, it is too techinical and they prefer to make an equally delicious fudge, but with less room for error. A foolproof fudge recipe.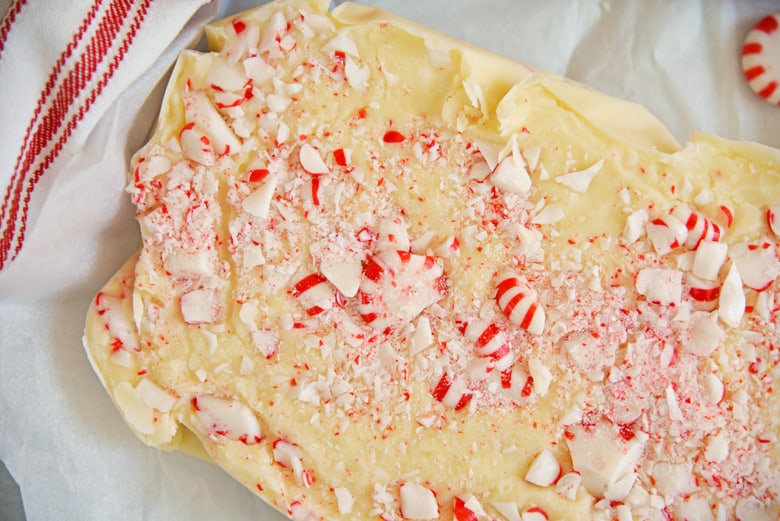 For this, using sweetened condensed milk or marshmallow fluff is your magic ingredient. Both are forms of sugar.
Using sweetened condensed milk skips the step of melting sugar, which is the step that intimidates most bakers.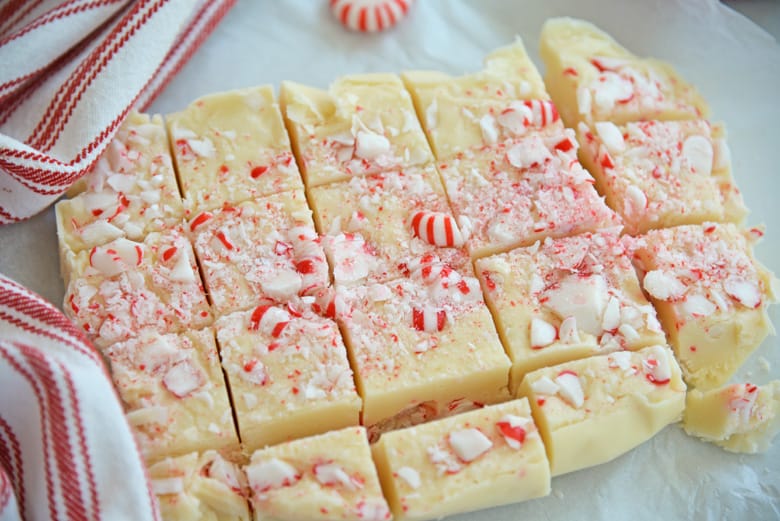 Condensed milk is cow's milk that has had the water removed, so concentrated milk. Sweetened condensed milk just means that this water-free milk has added sugar making it sweet and perfect for dessert recipe.
PRO TIP: If you can't find candy canes (or it isn't the season) use starlite mints.
Here this is no need to use a candy thermometer and the mixture goes from the saucepan, to the baking dish and then the fridge. Foolproof fudge in minutes.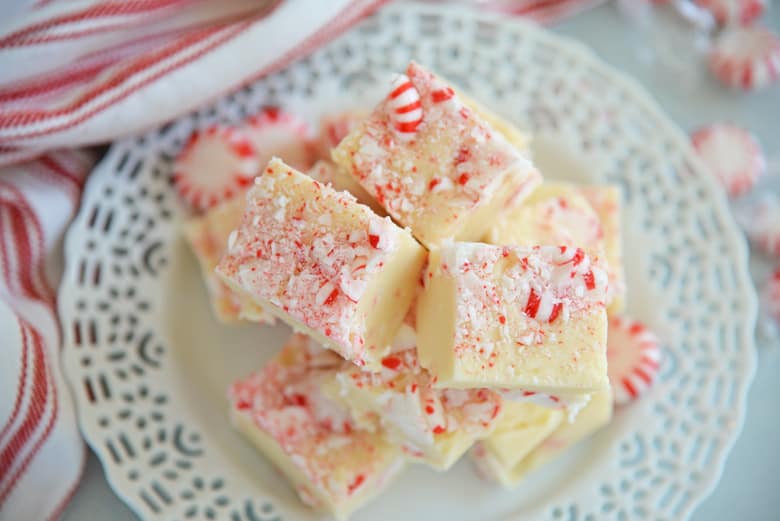 This easy fudge recipe is also easily adaptable. I like to have the essence of peppermint without it being too overwhelming, so I opt for vanilla extract and then crushed peppermint. However, you can also use peppermint flavoring for of a flavor punch.
PRO TIP: Stir constantly to prevent scalding. It happens fast, don't leave your mixture alone!
Using mini candy canes and arranging them artfully on top is also a fun way to decorate your fudge dish.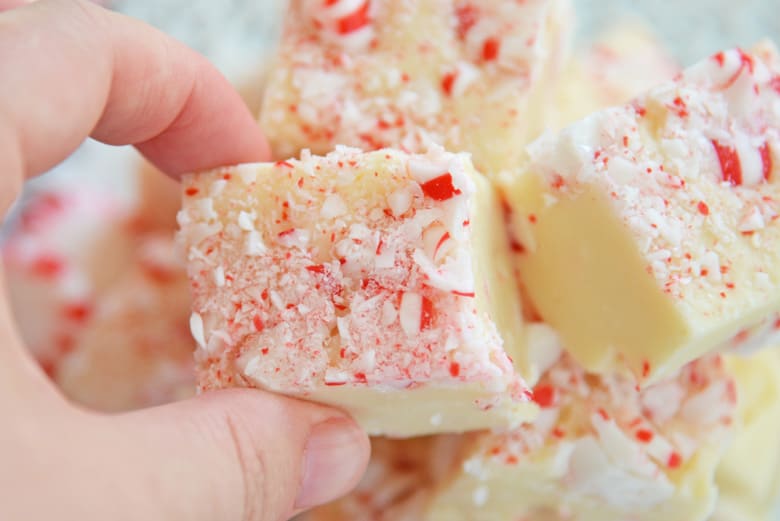 Peppermint fudge is the perfect addition to holiday trays too. It provides vibrant color and different texture and shapes. Match it with Peppermint Sugar Cookies!
PRO TIP: Don't overmix crushed peppermint or it will start to melt and create lots of bleeding.
It is also easy to make and requires no baking, so you can make these super quick while waiting for something else to bake or chill or cool.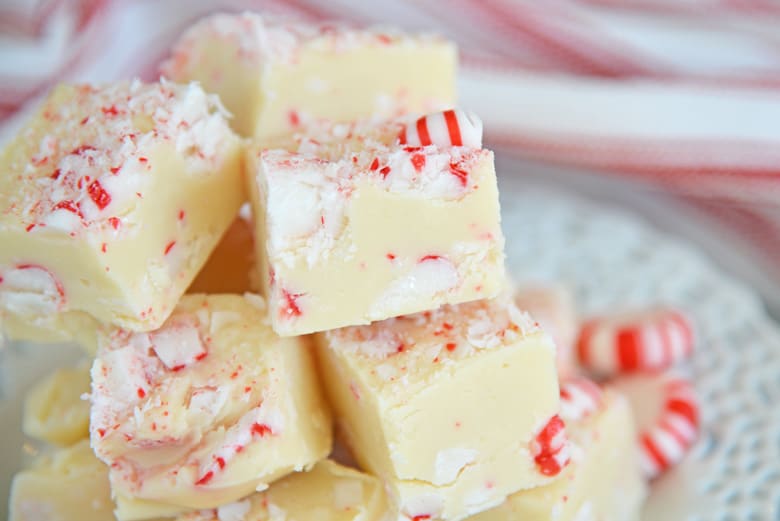 Questions you may have about this Peppermint Fudge recipe:
How long is fudge good for? Homemade fudge is good for about a week before it starts to dry out and get all brittle.
Keep in mind that it will get progressively dryer and more brittle as the days pass. It is unavoidable.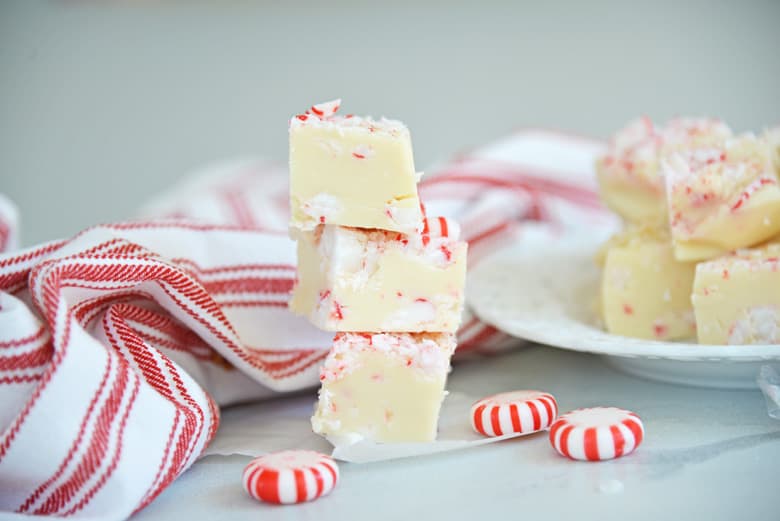 How do you store fudge? I like to store mine in the fridge in an airtight container. Allow it to sit for 15 minutes or so before serving to come to temperature.
Can fudge sit out? Yes, you can let fudge sit out, it is cooked. Some folks don't refrigerate it at all and prefer room temperature.
Can you freeze fudge? Yes, you can freeze fudge made with sweetened condensed milk. Wrap it well in plastic wrap and freeze for up to 6 months. Like anything though, it will be a little drier after thawing.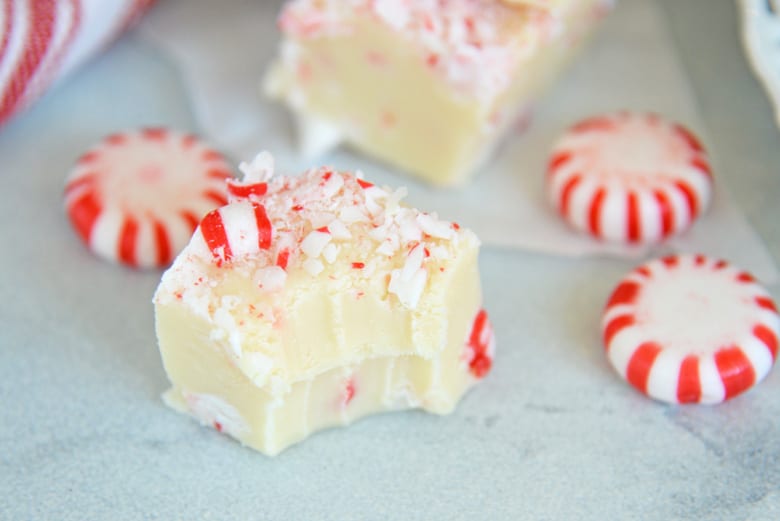 Why does my fudge sweat? Fudge has some water in it and if it goes through extreme temperature changes, it will produce sweat.
Is there is a difference between baking chocolate and chocolate chips? Chocolate chips have less cocoa butter in them so they keep their shape during baking, so they are harder to melt.
You can use them in this recipe, but they might be slightly clumpy.
What else can I use sweetened condensed milk on? Anything! It tastes good straight out of the can. Give it a little lick before pouring it in so you know what you are working with. Here are some other ideas:
Use it as a layer in brownies (like these!)
Pour it over ice cream
Melt it with chocolate
Use it as a sauce over any dessert
Add it to coffee or hot chocolate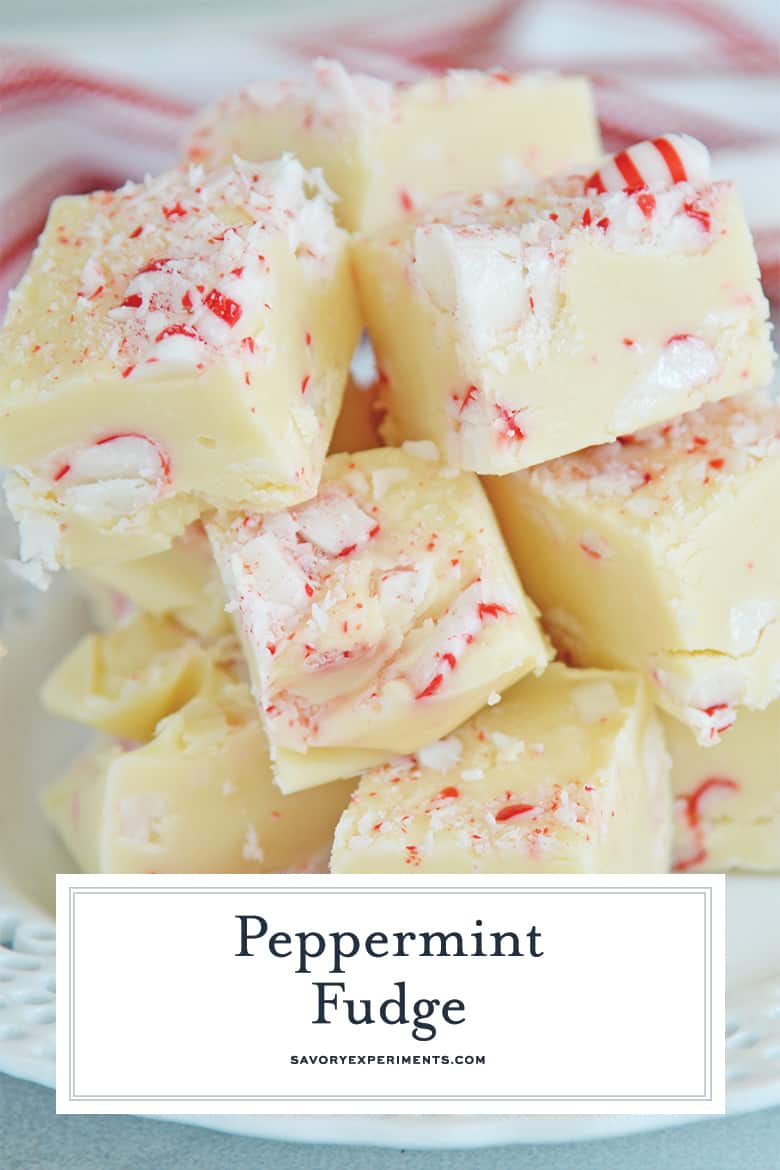 Can I use evaporated milk? Evaporated milk is also a concentrated milk product, but not sweetened. I am sure you can add sugar to compensate, but I have not experimented on doing this.
Can I use spearmint flavor? You can! Peppermint is different from spearmint, or the green mints, but you can use either. If you do use spearmint, I highly suggest using vanilla extract and not peppermint.
Can I use a different size pan to set my fudge? Sure! Use a 9×13 for a thinner fudge or 8×8 for thick fudge. It will take varying times to set depending on thickness.
If you need a large batch, but still want it thick, consider doubling the recipe.
Can I use milk chocolate? Of course! I'm someone asked this question. You can use milk or dark chocolate along with peppermint. They all complement each other's flavors.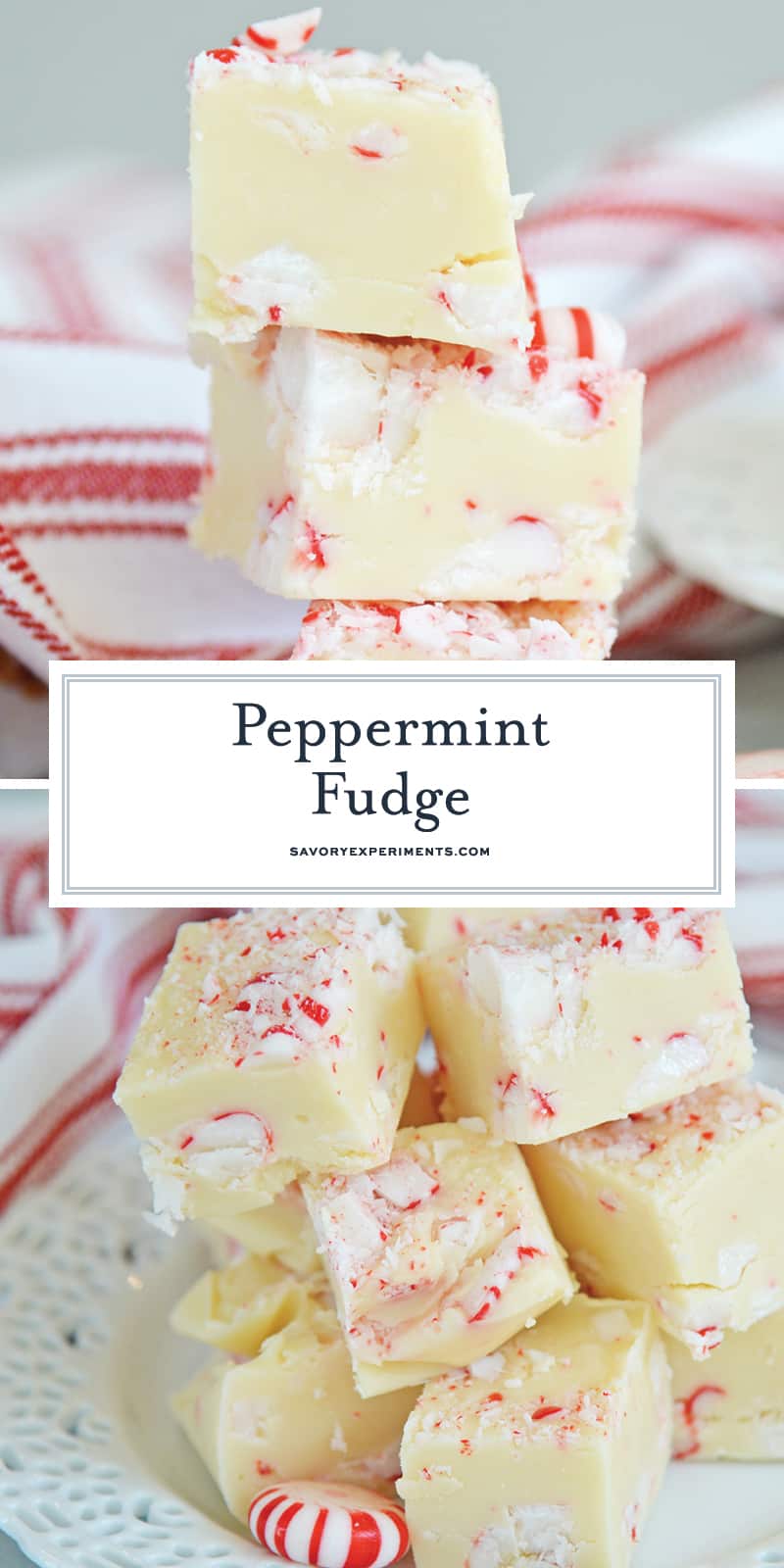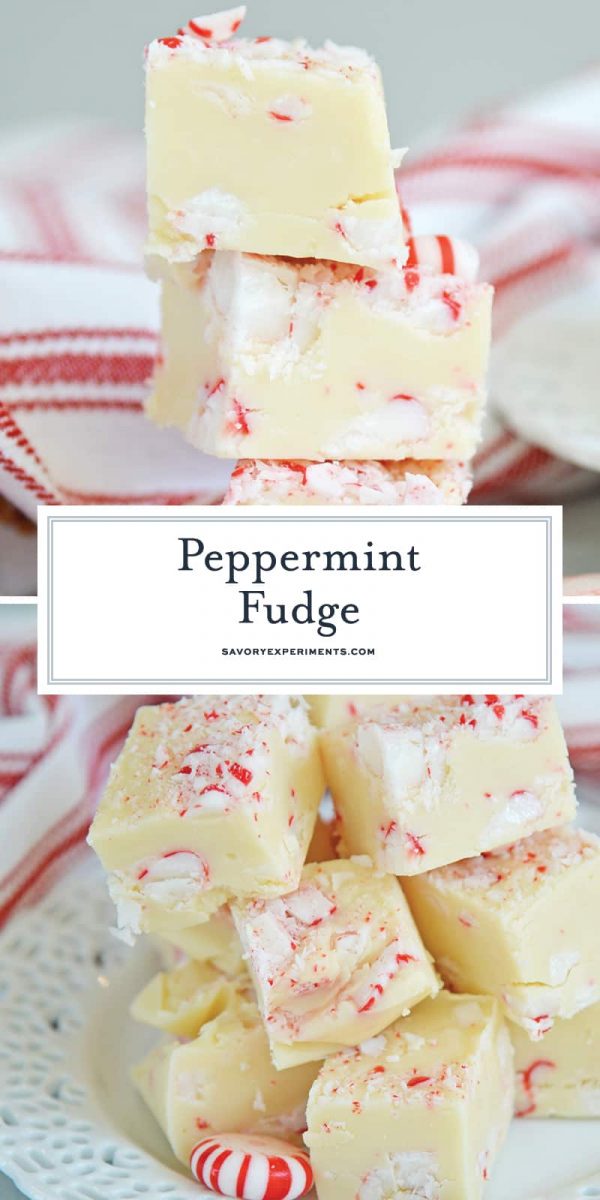 Here are even more fabulous fudge recipes for the holidays and beyond!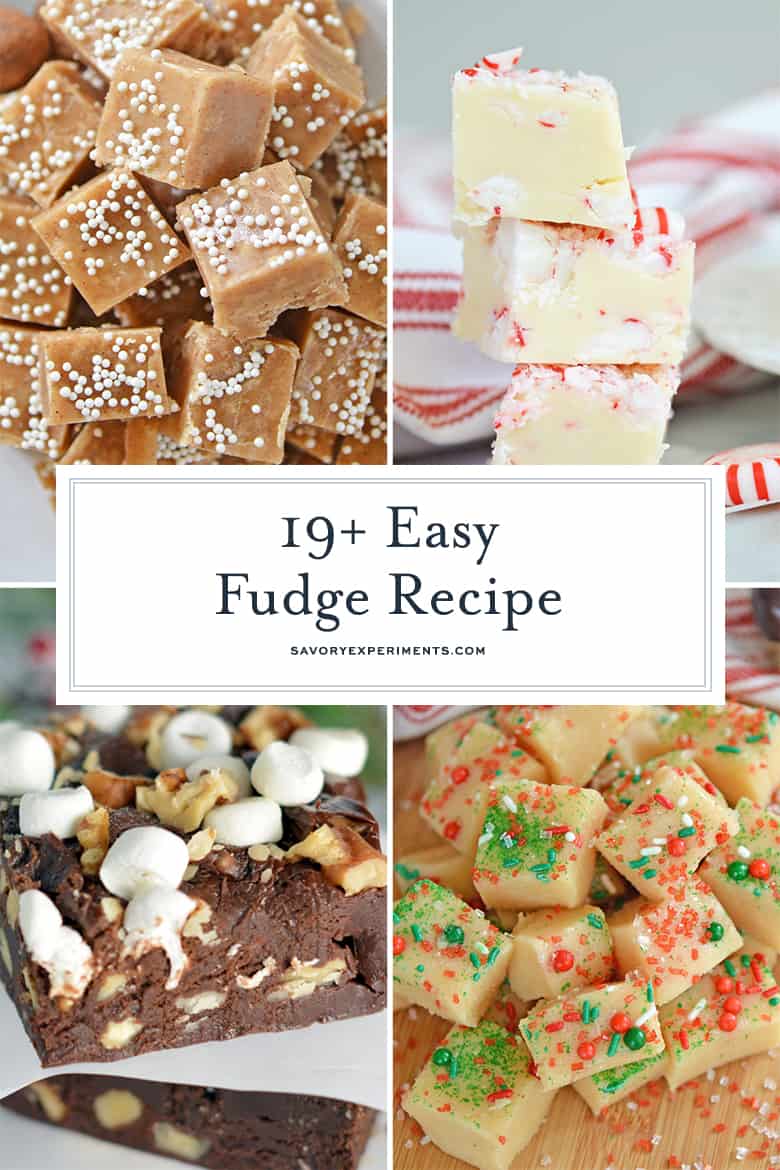 Easy Peppermint Fudge
Peppermint Fudge is an easy fudge recipe using sweetened condensed milk and white chocolate. Perfect for holiday cookie trays and parties!
Instructions
Line an 8×8 square baking dish with parchment paper.

Heat white chocolate, sweetened condensed milk, unsalted butter, fine sea salt and vanilla extract (peppermint flavoring) in a heavy bottom sauce pan.

Stir constantly until mixture is smooth.

Remove from heat and gently fold in ½ cup of crushed peppermint.

Pour into parchment lined dish and spread evenly.

Sprinkle the remaining crushed peppermint on the top while still tacky. Allow to cool fully before covering and chilling for a minimum of 8 hours.

Lift parchment out of the pan and cut into 1-inch squares.

If you've tried this recipe, come back and let us know how it was!
Nutrition
Calories:
113
kcal
|
Carbohydrates:
13
g
|
Protein:
2
g
|
Fat:
5
g
|
Saturated Fat:
3
g
|
Cholesterol:
8
mg
|
Sodium:
57
mg
|
Potassium:
79
mg
|
Fiber:
1
g
|
Sugar:
13
g
|
Vitamin A:
52
IU
|
Vitamin C:
1
mg
|
Calcium:
54
mg
|
Iron:
1
mg