Making fudge can be super easy and also super hard if you do it the old fashioned way. My technique for making Nutella Fudge lies somewhere in the middle and produces smooth and delicious fudge every single time.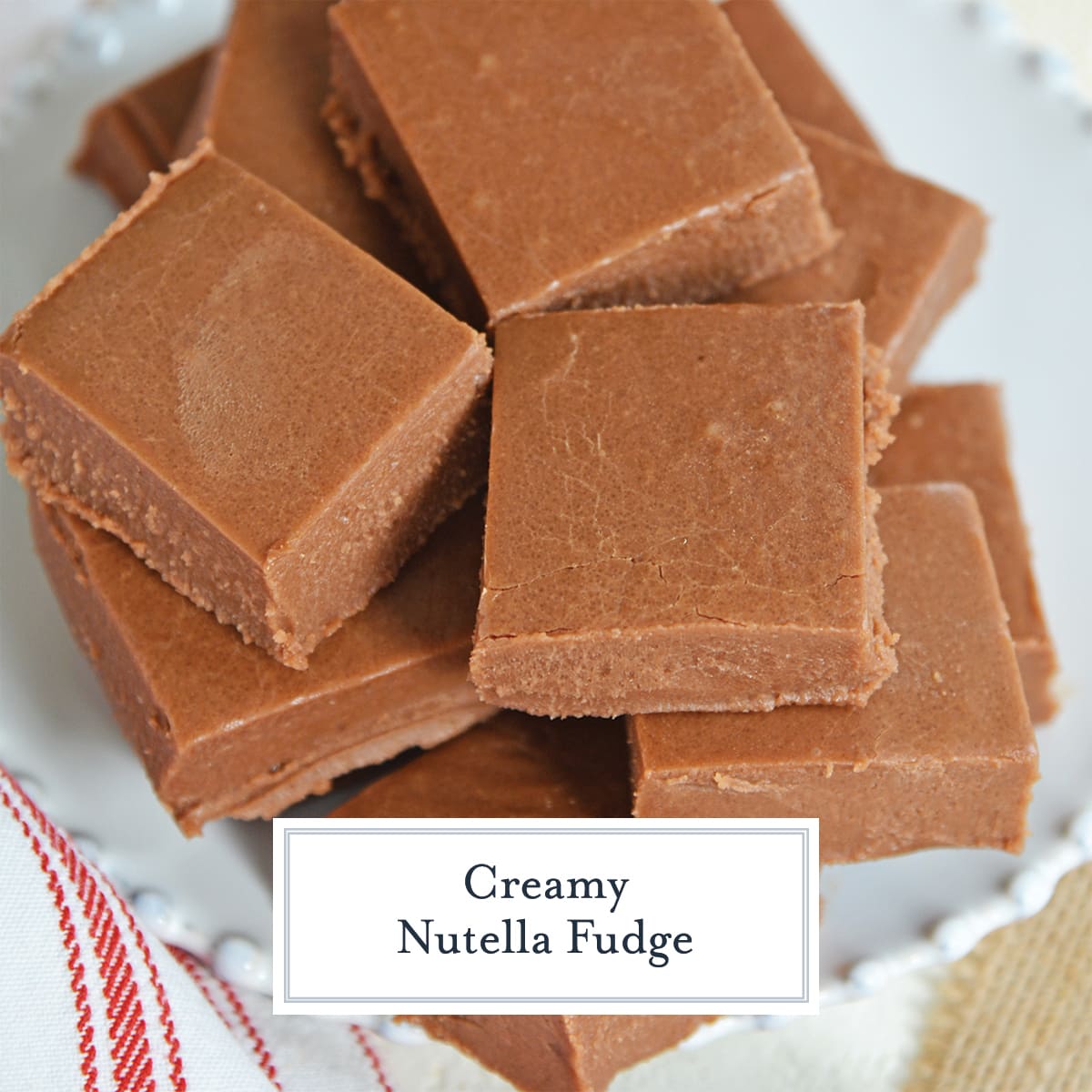 How to Make Fudge
Fudge making the old fashioned way involves a candy thermometer, cream and sugar. Yep- fudge doesn't necessarily have to contain chocolate at all!
Then somewhere along the line, someone realized that it is actually more of a science to make the perfect fudge. Not easy at all consider the simplicity of the ingredients. More like chemistry.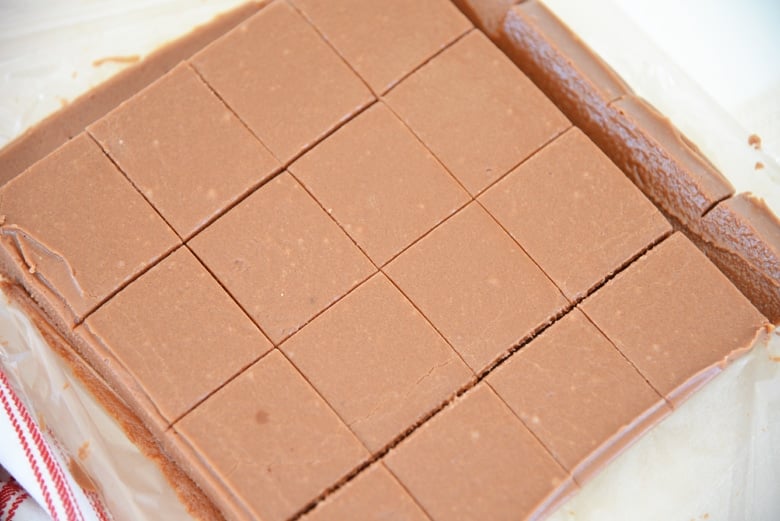 So they developed the cheater fudge made with sweetened condensed milk. This one can even be made in the microwave and basically takes the guesswork out of controlling temperature.
Nutella fudge lies someplace in the middle. While it doesn't utilize sweetened condensed milk, it does take the intimidating factors of chemistry out of the equation.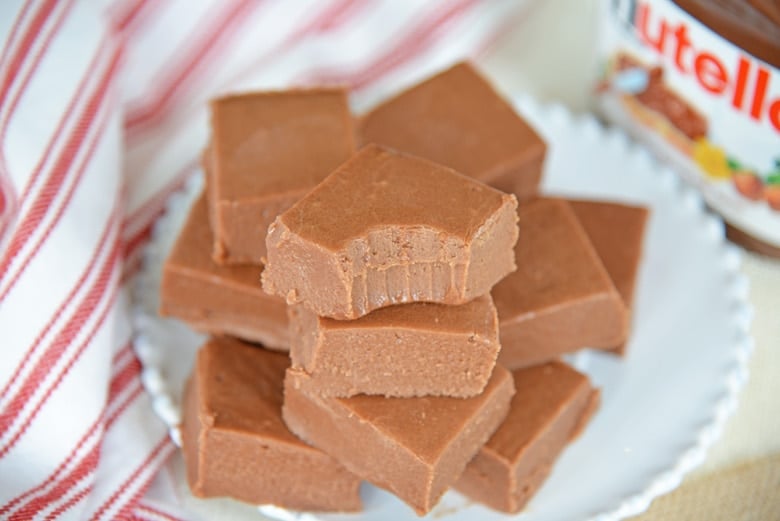 The quality of fudge all comes down to the size of sugar crystals. Large, undissolved crystals means crunchy fudge while dissolved means creamy and smooth.
Nutella Fudge Ingredients
The ingredient list is short and sweet.
Unsalted butter – if you use salted, omit Kosher salt
Powdered sugar– this helps eliminate the result of grainy fudge
Light brown sugar– you can also use dark for a deeper molasses flavor
Whole milk– if you use skim or 2%, add 1 additional tablespoon of butter
Nutella – the star ingredient! Read more on what Nutella is below.
Vanilla extract – this pairs the best for amplifying Nutella.
Kosher salt– use a coarse salt, helps to brighten other flavors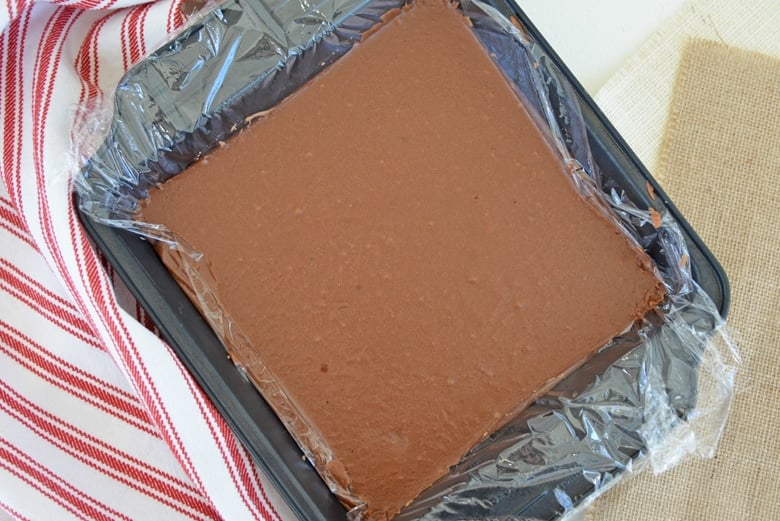 What is Nutella?
Can you beleive I hadn't had Nutella until a few years ago? It never sounded appetizing and then I had it in Europe.
The only issue of trying it there is that the American version is much sweeter. I don't find myself slathering it on toast in the states, but much prefer the flavors baked into something or as a main flavor instead of plain.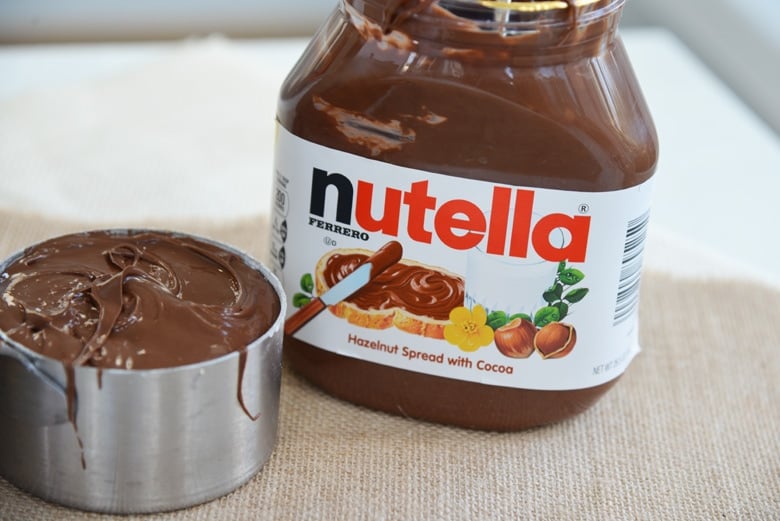 Nutella is a sweetened hazelnut cocoa spread, so chocolate and hazelnut. it is thick, smooth and totally rich and dreamy.
For some reason people tend to think it is healthy… but it is still loaded with sugar.
It is made by the Italian company Ferrero- the same folks that make the hazelnut truffles called ferrero rocher popular during the holidays.
Nutella Fudge
Making this recipe couldn't be easier, but there is one step you can't skip or skimp on and that is allowing the mixture to low simmer for at least 3-4 minutes.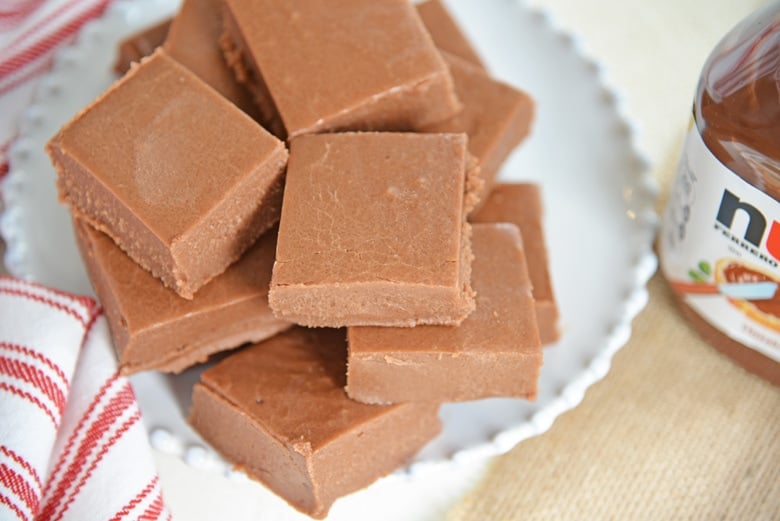 Folks try to speed this step up when making my peanut butter fudge and it results in a grainy texture. The sugars doesn't have enough time to fully melt and dissolve before the fudge sets. It is very disappointing, but also totally avoidable.
And if it does happen, you can actually remelt the whole batch in a saucepan and then reset it after the sugars dissolve.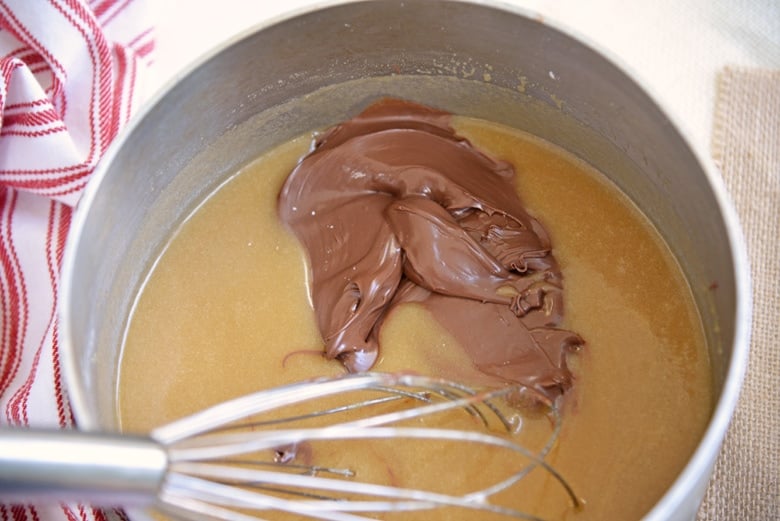 So here is how you make Nutella Fudge:
Melt butter in a large saucepan.
Add brown sugar, powdered sugar and milk, whisking until smooth and allowing to summer until sugars are fully dissolved.
Remove from heat and whisk in Nutella, vanilla and Kosher.
Immediately pour into a 8×8 or 9×9 square dish lined with plastic wrap. It doesn't have to be square, but something of a similar volume. A smaller vessel will result in thicker fudge, but require longer setting time.
Cover and place in the fridge for a minimum of 6 hours to set.
Remove plastic wrap and slice into 1-2 inch cubes.
Storage & Freezing
Store Nutella fudge in an airtight container in the refrigerator for up to 1 week. I like to keep mine separated using parchment or wax paper.
Fudge can be set out at room temperature for up to 2 hours before it needs to be re-refrigerated.
You can freeze fudge for up to 3 months, but when thawed it is a little drier.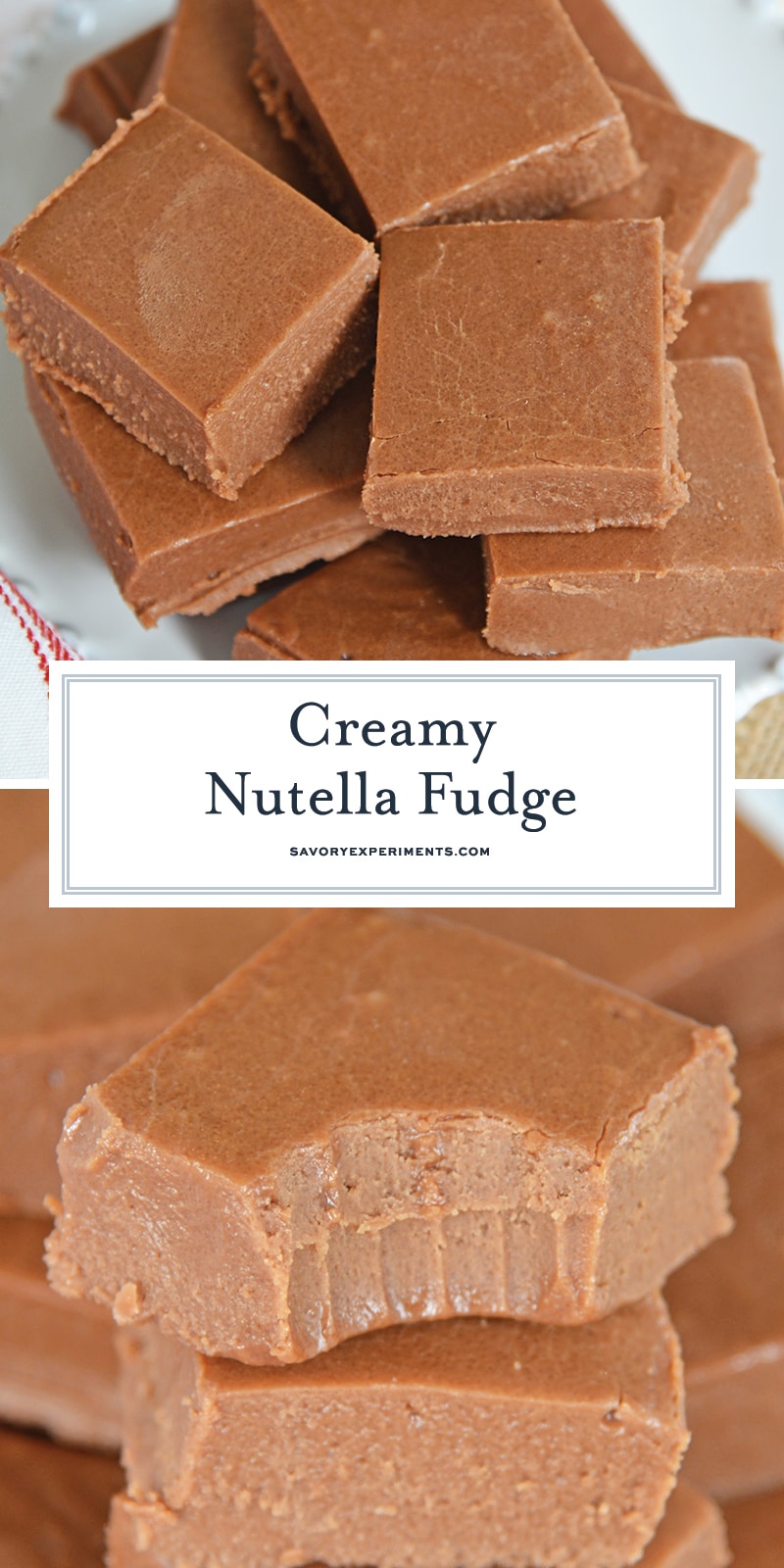 Check out these amazing Christmas desserts from fellow bloggers –
Orange White Chocolate Oatmeal Cookies
from Chipa by the Dozen
Chocolate Covered Oreo Reindeer
from Design Dazzle
Black Forest Brownies
from Devour Dinner
Eggnog Cookies
from Fresh Coast Eats
Gingerbread Cookies
from Hoosier Homemade
Burnt Almond Cupcakes
from House of Nash Eats
Butter Pecan Cookies
from Rose Bakes
Nutella Fudge
from Savory Experiments
Lemon Shortbread
from Taste of Homemade
Instant Pot Salted Caramel Pecan Cheesecake
from What's Cookin Chicago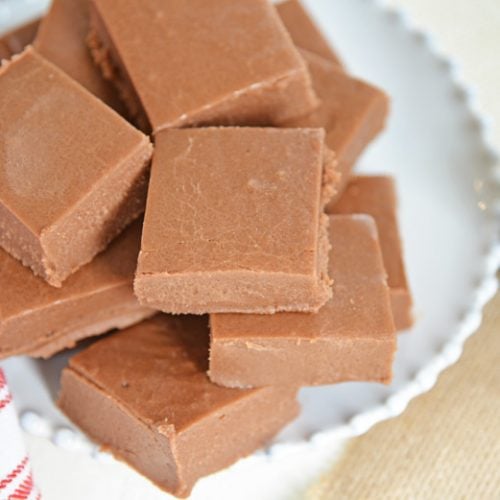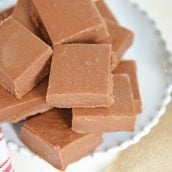 Nutella Fudge
Made with only 7 ingredients, this EASY Nutella Fudge is perfectly creamy and delicious! Perfect for the holidays or a sweet tooth craving!
Instructions
When melted, add brown sugar, powdered sugar and whole milk. Whisk until smooth, continuing to heat. Bring to a low simmer, stirring constantly, approximately 5-7 minutes.

Make sure to allow it to simmer for 3-4minutes. If not, the sugars won't totally dissolve and you'll have grainy fudge.

Immediately pour into a 8×8 or 9×9 square dish lined with plastic wrap.

Remove plastic wrap and slice into 1-2 inch cubes.

Store fudge in the refrigerator for up to 1 week.

If you've tried this recipe, come back and let us know how it was!
Nutrition
Calories:
350
kcal
,
Carbohydrates:
61
g
,
Protein:
1
g
,
Fat:
12
g
,
Saturated Fat:
9
g
,
Cholesterol:
16
mg
,
Sodium:
56
mg
,
Potassium:
123
mg
,
Fiber:
1
g
,
Sugar:
59
g
,
Vitamin A:
190
IU
,
Calcium:
53
mg
,
Iron:
1
mg