Ten minute rocky road fudge is made super fast in the microwave and with only 5 ingredients. A family favorite loaded with rich chocolate flavor, walnuts, fluffy marshmallows and a sprinkle of sea salt; these won't last long.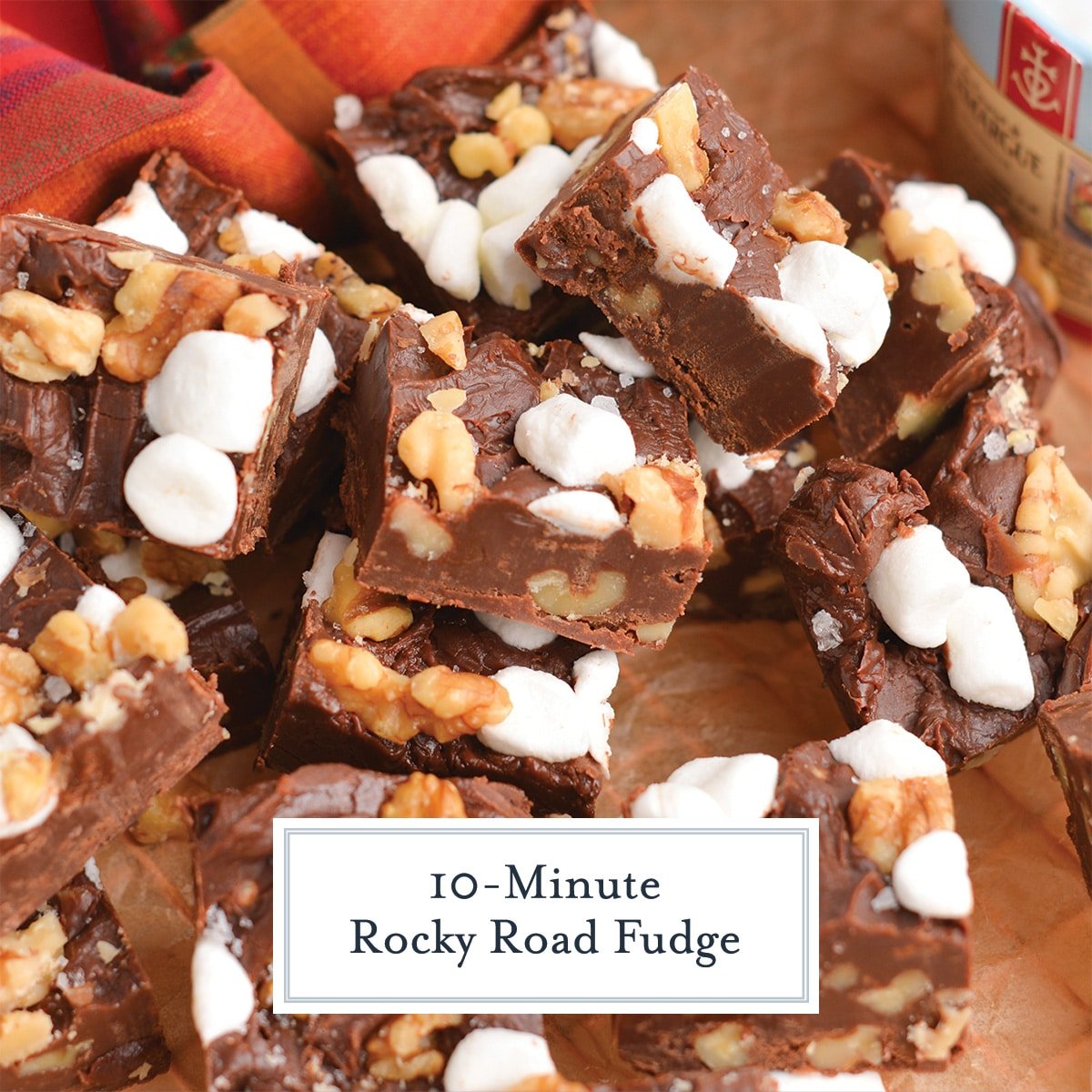 Why aren't you on the way to the kitchen now to make some? There are two ways to make fudge: the candy thermometer/double boiler way and the microwave way. They aren't only for the holiday season, they are for year round. They also make a great gift!
While I do like making gourmet fudge blends the old fashioned way, I also like having the quick and dirty option for creamy chocolate fudge, or in this case, rocky road. Like rocky road ice cream, but in rich chocolate fudge.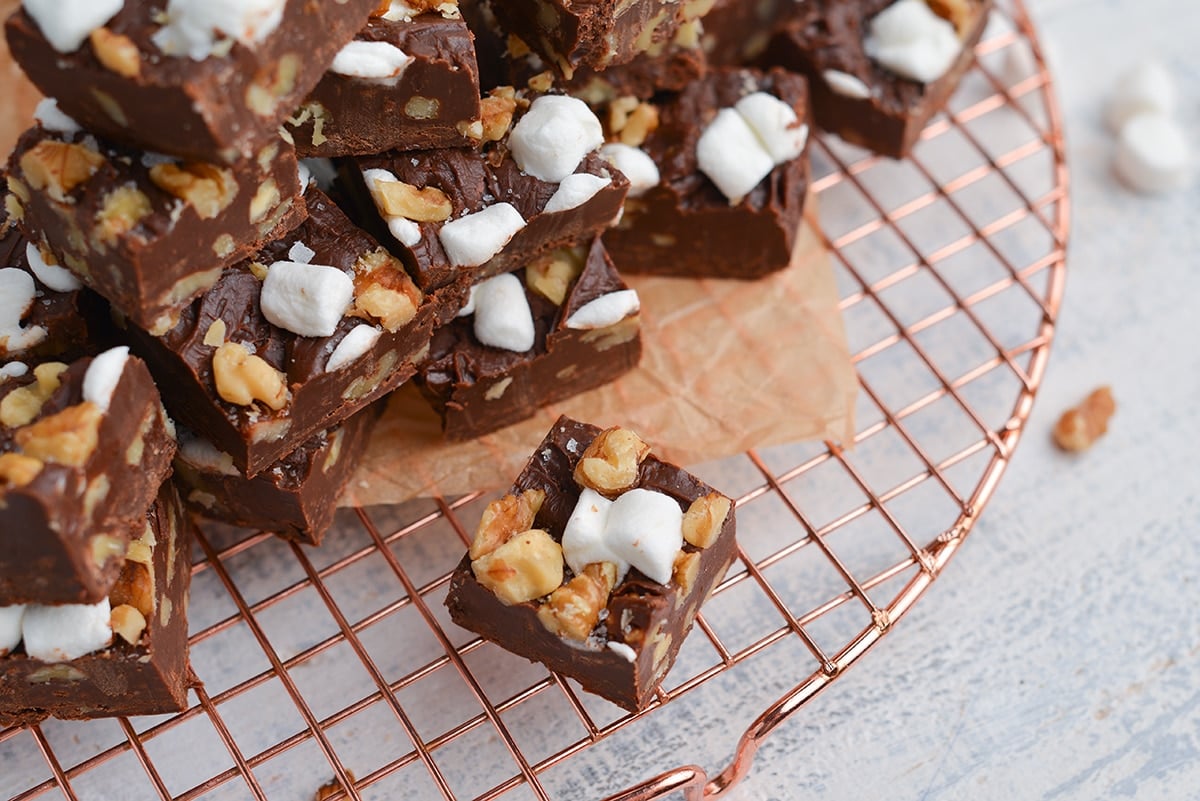 Old Fashioned vs Sweetened Condensed Milk
Old fashioned fudge uses cream and sugar and can be fairly tedious to make. It requires using a candy thermometer, steaming out just the right amount of water and getting the sugar to exactly the right temperature to result in smooth, rich fudge. Most people have problems with brittle, dry fudge or the opposite, it doesn't set at all.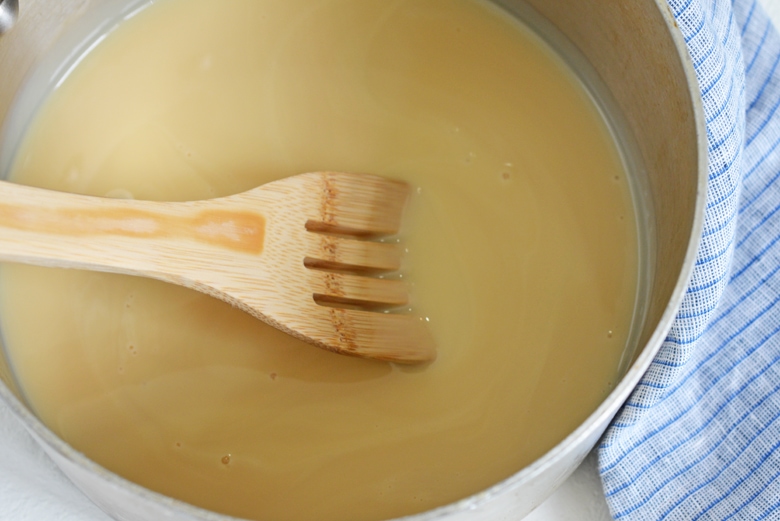 But sweetened condensed milk fudge takes out all the guesswork. This is an easy fudge recipe, and in this case, also the time and dishes. The moisture is already evaporated and diary and sugars combined in one handy can. All you need to add is the flavor.
This recipe uses chocolate, which is the most popular flavor of fudge, but actually fudge just means made with cream and sugar, not necessarily chocolate.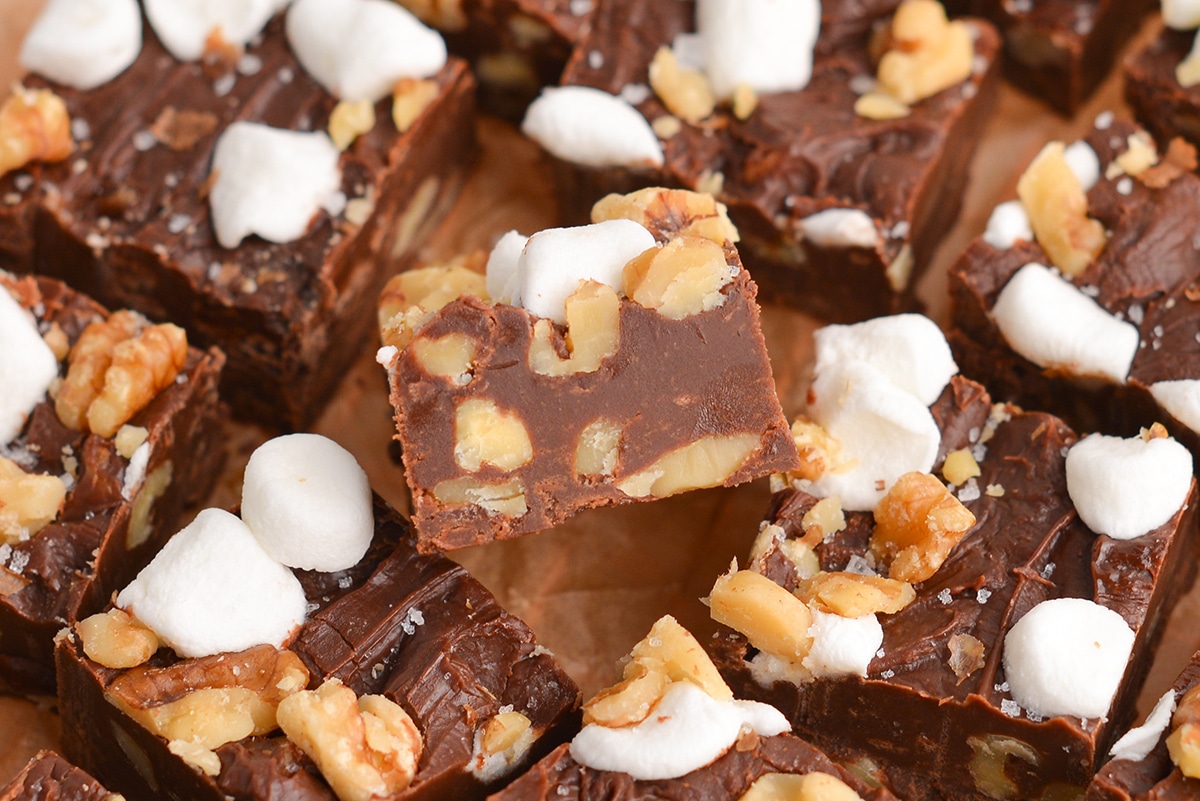 What is Rocky Road?
After the Great Depression, Dreyers (yes, the ice cream people) named their favorite blend of chocolate, walnuts and marshmallows after the long, hard road of rebuilding the country. Since, the type of nuts used has changed, sometimes being almonds and other times walnuts.
I prefer walnuts. Another little nugget of trivia, I used to work for Dreyers when I got out of college! Although on the East coast it is known as Edy's.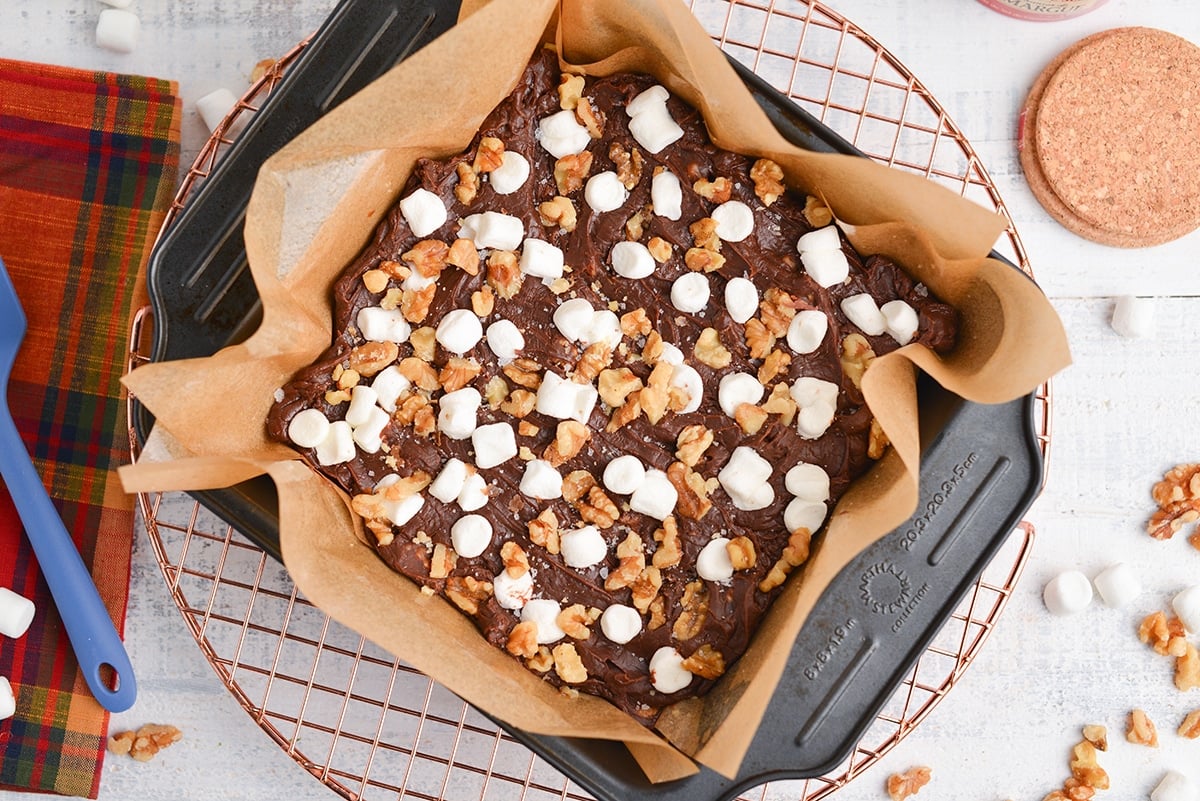 Ingredients
Other than the sweetened condensed milk, most of these simple ingredients are pantry staples. If this is the only ingredient you are missing, make your own!
Sweetened Condensed Milk– This product is commonly used to make dulce de leche, but the properties are basically scalded milk with the water evaporates out and sugar added and dissolved. The result is a rich and thick syrup that is useful in many sweet goods.
Semi-Sweet Chocolate Chips- Semisweet chips have less sugar, so the fudge isn't overwhelmingly sweet. You can use milk chocolate chips, but they will be sweeter. Dark chocolate is also an option.
Vanilla– Vanilla extract adds richness and sophistication to many baked goods, or in this case, microwaved goods.
Walnuts– A staple in any rocky road recipe, they add crunch and earthy undertones. You can swap these out for another nut like pecans or almonds. Salty peanuts are another good pick, but omit the additional flaky salt.
Mini Marshmallows– Full size can also be used, but you'll just have to more cutting to get smaller pieces. Miniature marshmallows can still be halved. The best way to do this is with kitchen shears.
Flaky Sea Salt- I love a sweet and salty treat, but feel free to omit this if you don't crave it like I do. This French Fleur de Sel is my go-to.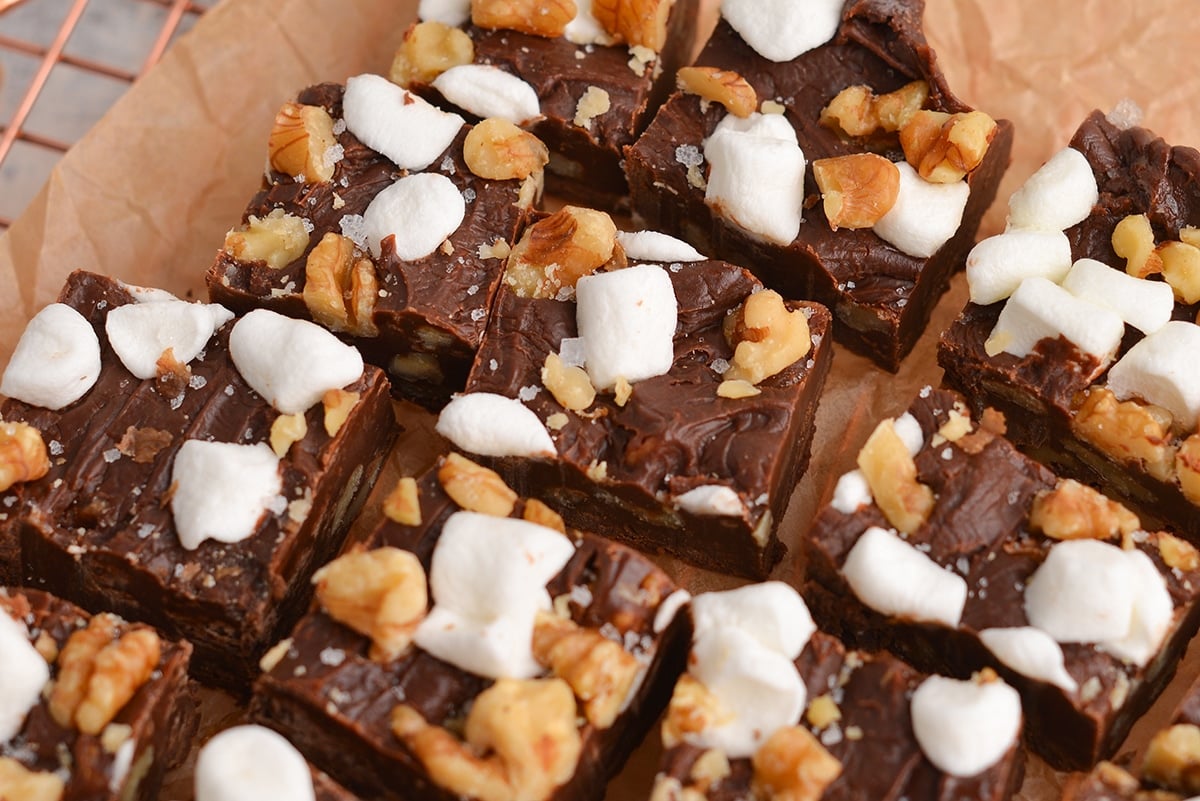 Make It!
Making this easy sweetened condensed milk fudge is super easy. Just microwave, spread, add the toppings and set.
Line an 8×8 or 9×9 square pan with parchment paper or wax paper and coat with cooking spray. This helps to release it without being sticky. Unsalted butter is an alternative to spray. A smaller pan will make taller pieces of fudge. You can use a larger pan, but they will be much thinner.
In a microwave safe bowl, combine the sweetened condensed milk and chocolate chips then microwave on high for 5 minutes.
Remove and whisk vigorously, adding the vanilla to the chocolate mixture. At first, it will seem a little chunky, but it should smooth out. If there are still small chunks in the fudge mixture (lower wattage microwave), return to microwave for 30 seconds at 50% power and stir again. Do not overcook or else the chocolate will get cakey and weird.
Fold in most of the walnuts (reserving about 2 tablespoons) and spread evenly into the prepared baking dish while still hot. Press the marshmallows and remaining walnuts down light into the top of the fudge. The powdered side of the chewy marshmallows won't stick well, but press down on the tacky cut side.
Place in the refrigerator to set for an hour and then cut into 16 small squares.

Stovetop Option
While the microwave certainly makes this easier, you can make it on the stovetop.
Place the condensed milk and chocolate chips into a medium saucepan or double boiler over medium heat.
Stir continuously with a wooden spoon (less sticking with wood) until the mixture it fully blended. Remove from the heat and stir in the vanilla and most of the walnuts, reserving a few tablespoons.
Pour into the prepared pan and top with remaining walnuts and cut marshmallows. Sprinkle with flaky sea salt while still tacky.
Place in the fridge to let it set for an hour. Cut and serve!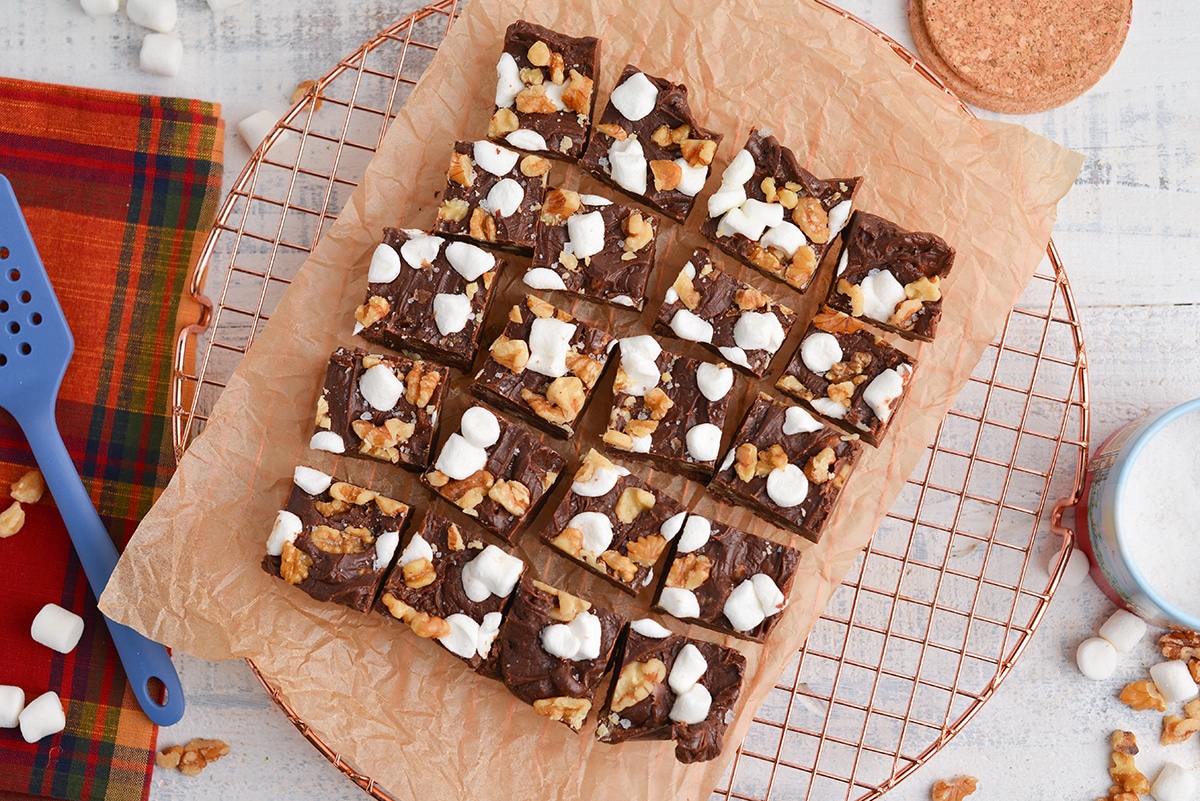 How to Store Fudge
While most people refrigerate fudge, it is best stored at room temperature. Other than setting, sitting in the fridge will dry it out faster. It is also recommended to be eaten at room temperature, so you'd need to remove it ahead of time and risk sweating.
Store fudge in an airtight container, separating fudges squares by parchment paper or aluminum foil. You can also put pieces in paper cupcake liners to make them look pretty and prevent sticking.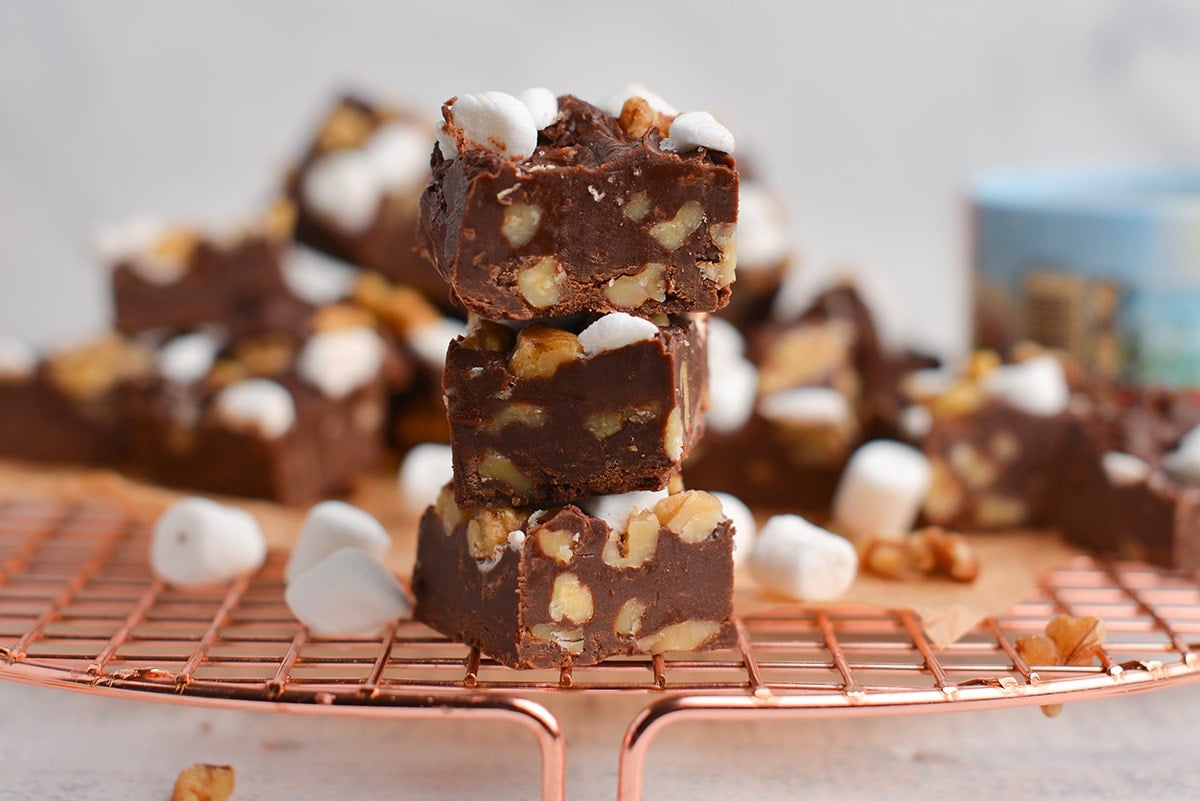 Can You Freeze Fudge?
Homemade fudge is freezer friendly, making it a great item to make ahead and freeze for cookie trays and the holidays. Wrap fudge well in freezer paper, aluminum foil or plastic wrap and place in an airtight freezer bag or airtight container. Remember, air is the enemy.
In a standard freezer, fudge will last about 3 months. In a deep freezer, you can freeze for up to a year.
Thaw at room temperature or in the refrigerator.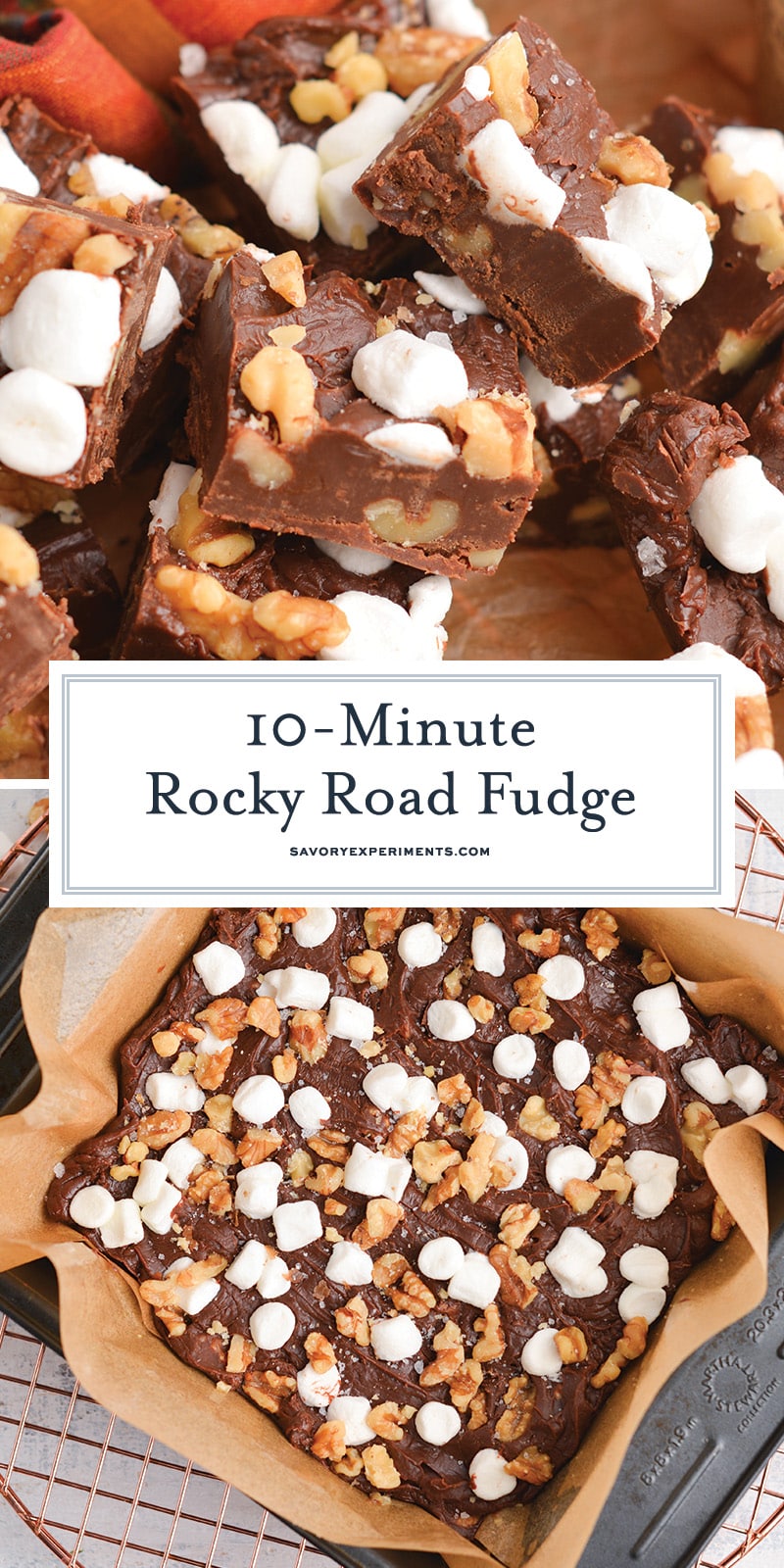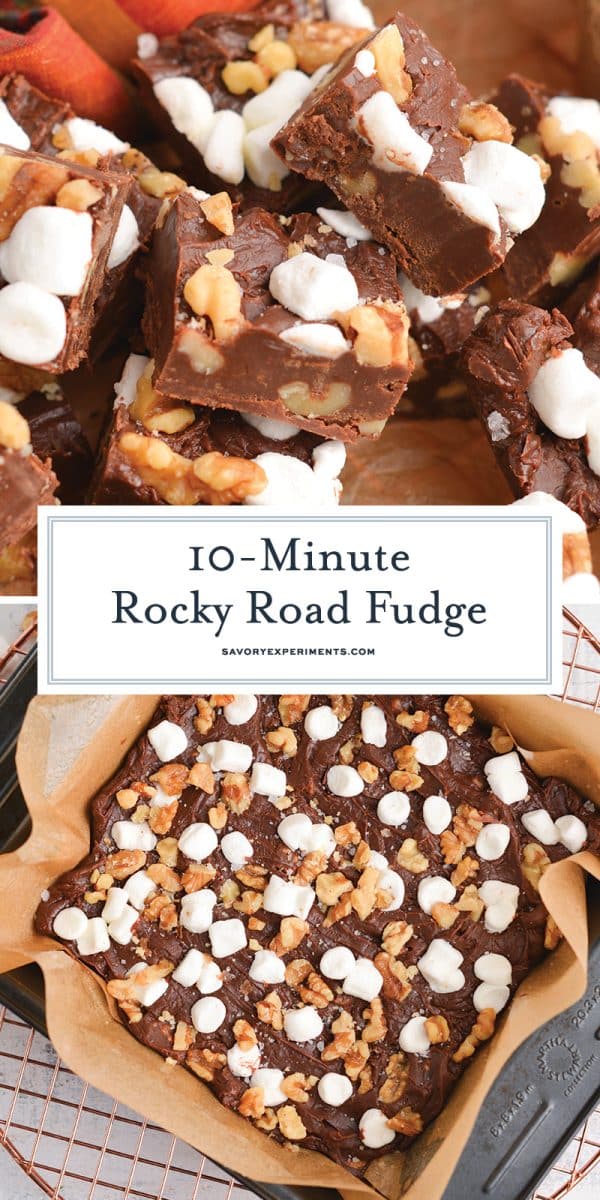 More Fudge Recipes