White Chocolate Truffles are the ideal no-bake dessert for Christmas or Valentine's Day.
Who am I kidding? I'd eat them year round!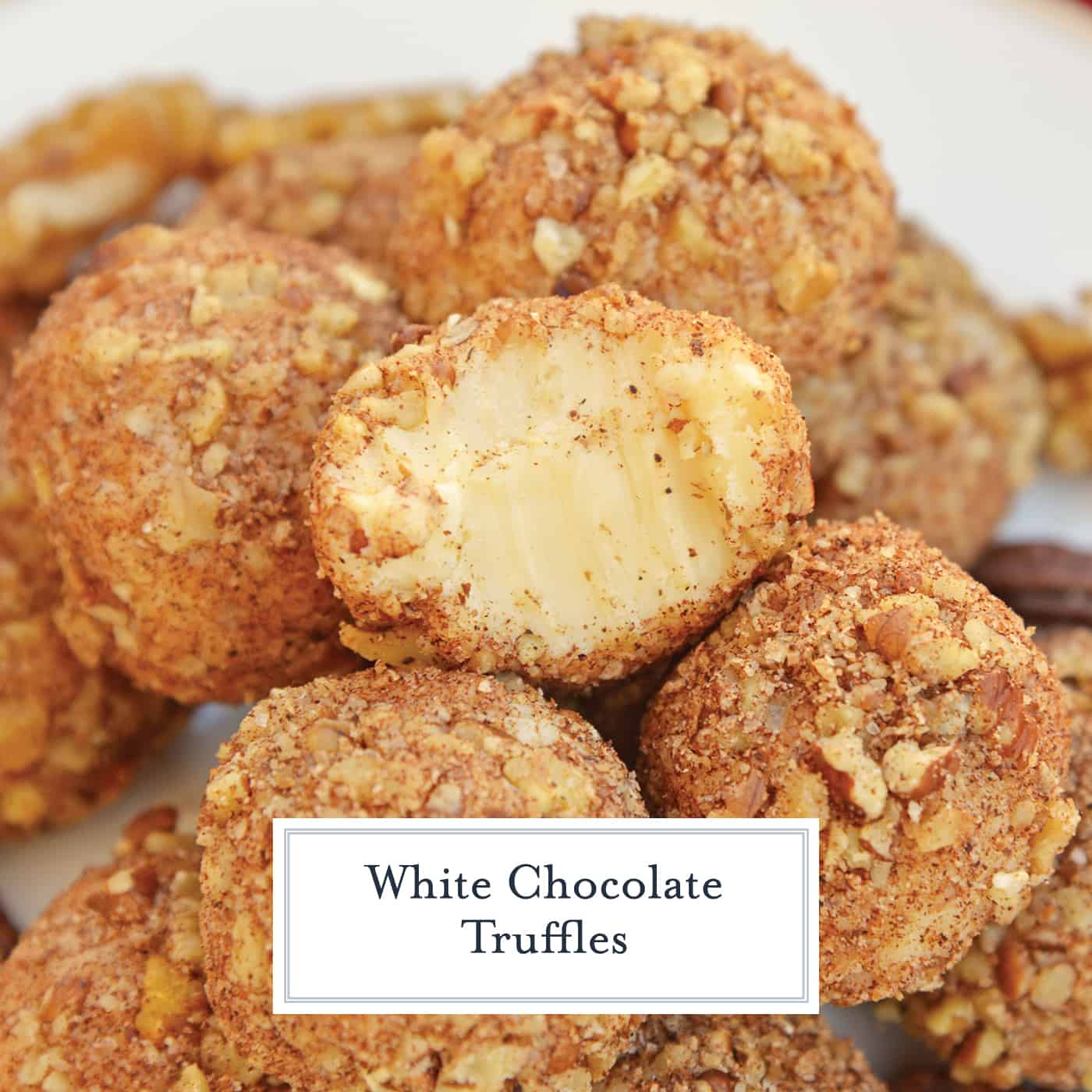 White Chocolate Truffles are an easy truffle recipe made with just a handful of ingredients. Creamy white chocolate rolled in toasted pecans, cinnamon and nutmeg.
I've been making chocolate truffles for many years now. They are the final piece to my legendary cookie trays. I start baking far in advance to deliver plates of confections to all my friends and family.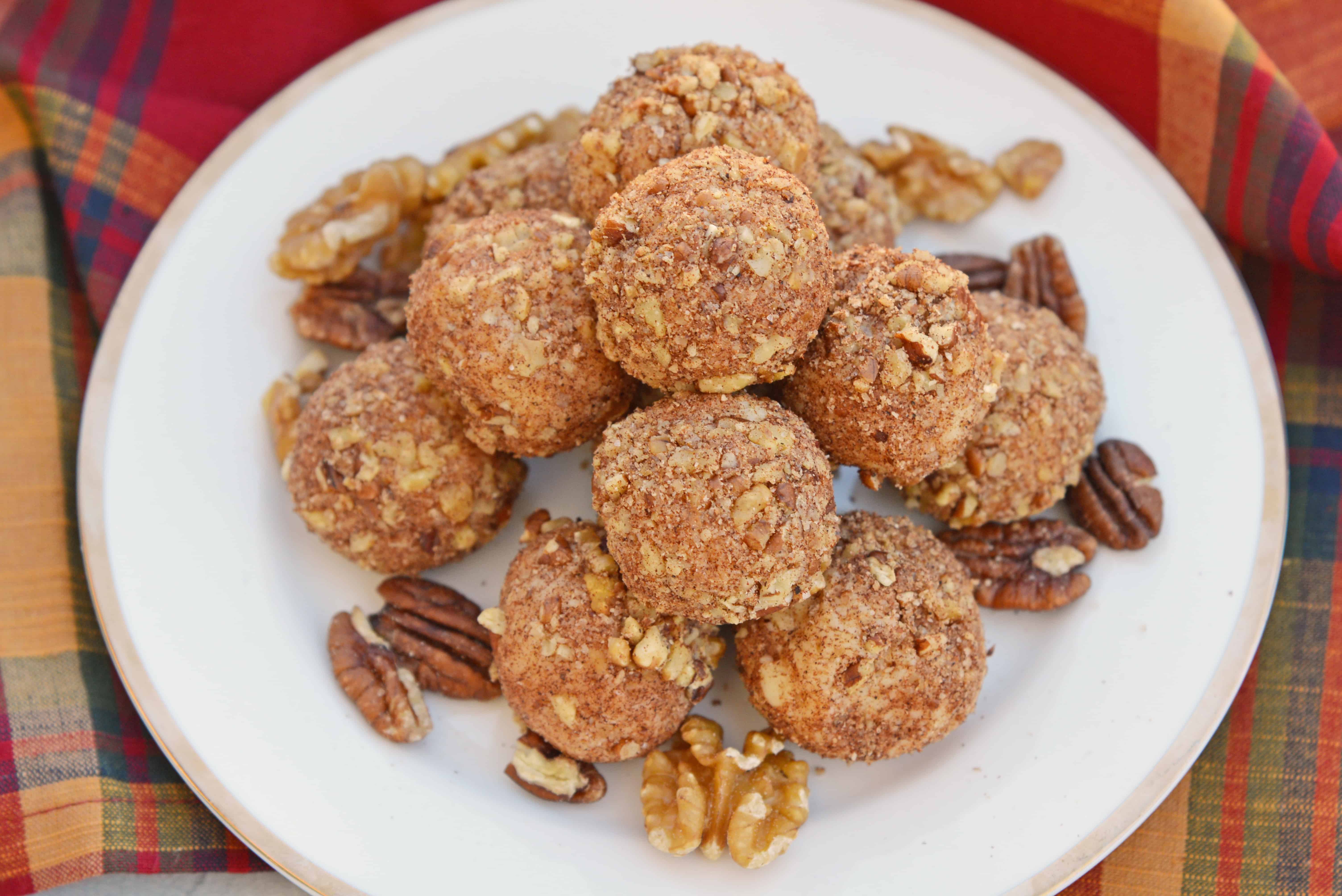 But sometimes those beautiful trays need a little variation and chocolate truffles fit the bill. But then I grew tired of chocolate on chocolate.
I know, I know. Someone call the WAAHM-bulance.
So I decided to change up and try a White Truffle Recipe. Using the same easy base of sweetened condensed milk instead of creamy and corn syrup, I was able to make these decadent white balls.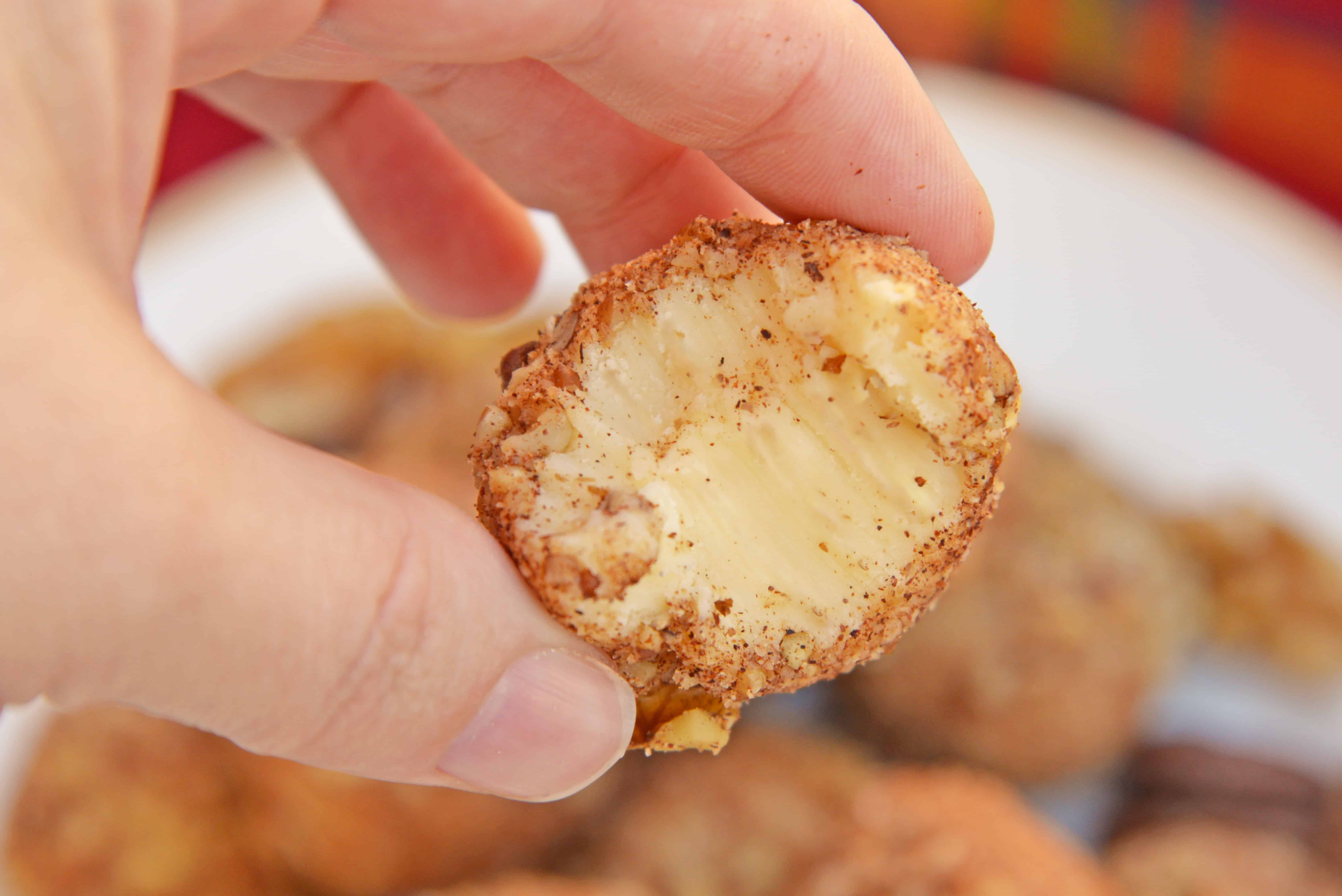 One thing to remember is that white chocolate isn't really chocolate at all. In fact, it is more akin to your cocoa butter lotion than the chocolate chips in cupboard.
White chocolate is a chocolate analog, if you will, made with cocoa butter, sugar and milk solids.
And therefore, the same rolling items of powdered cocoa, chocolate sprinkles and powdered sugar just wouldn't complement them the same.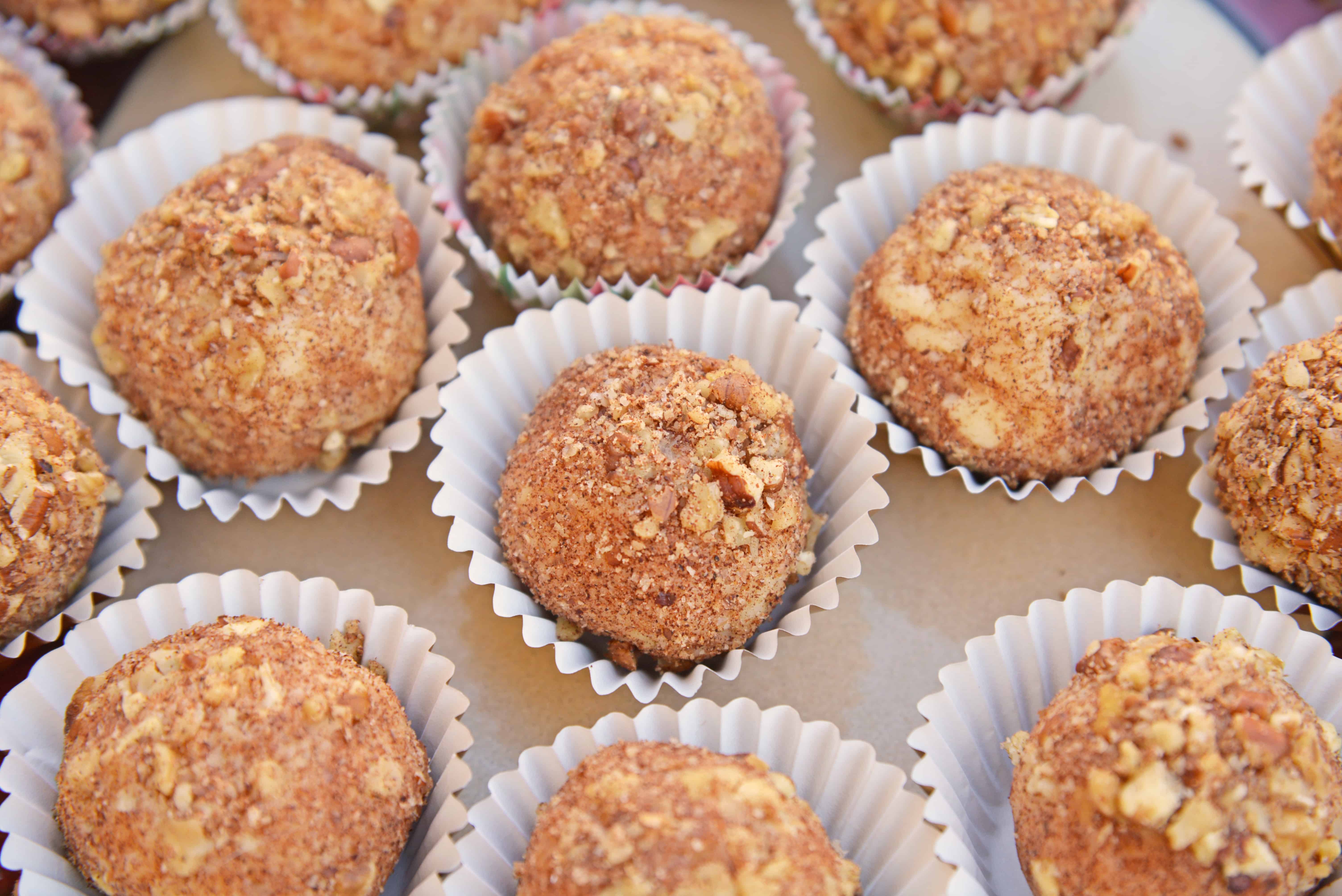 So I opted for a more earthy flavor combination: white chocolate truffles with toasted pecans, cinnamon and nutmeg. They small just as good as they taste and offer a flavor variation, but also a color variation to your cookie tray.
PRO TIP: Freshly grated cinnamon and nutmeg will give you more flavor and more aroma than pre ground.
I commonly make them along with my Chocolate Truffles because who doesn't want a nice white and brown dotted platter?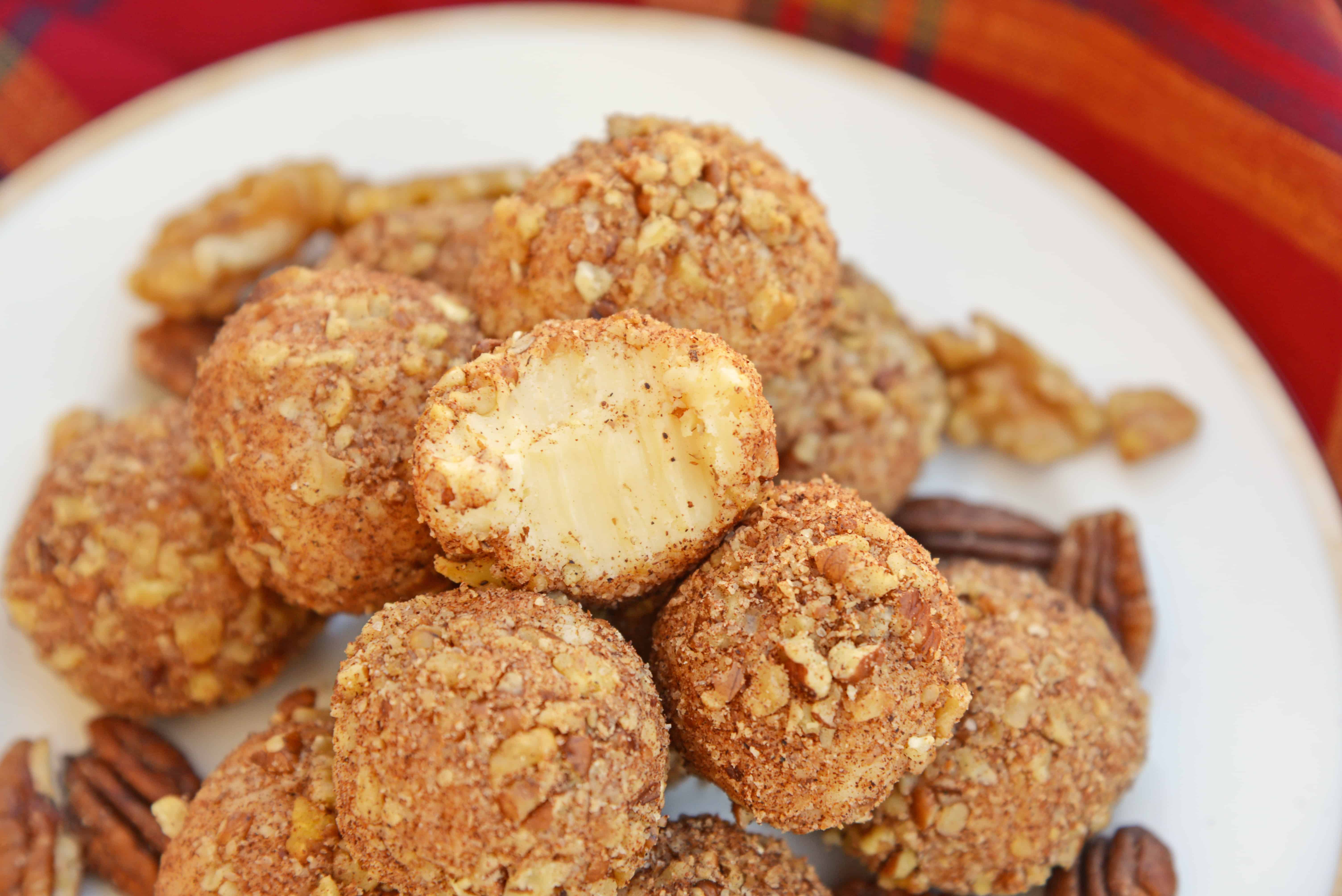 Some questions you might have about chocolate truffles:
What is a chocolate truffle? Not the fungus you find in the ground! LOL. A chocolate truffle is a little ball made of fudgy, rich chocolate and rolled in even more goodies.
How do you store chocolate truffles? Chocolate truffles can be stored at room temperture for a few days in an airtight container, but up to 2 weeks if kept in the refrigerator.
Allow time for them to come up to room temperture if you do refrigerate them. Chocolate truffles can also be frozen and served at a later date.
Can I make my truffles in the microwave? You can, but be very careful, it is easy to burn the chocolate. I recommend keeping a very close eye on a heavy bottom saucepan or using a double boiler.
Aren't these like fudge? Yes and no. Classic fudge is made with heavy cream, sugar and vanilla extract, but hack recipes for fudge is also made with sweetened condensed milk, so yes.
What temperature do I serve my truffles at? I like store them in the fridge, but they can get hard. So if you do, allow them some time to come up to room temperature before serving.
How long do truffles stay good for? Up to a week, but note that keeping them in the fridge does allow them to dry out more quickly. Store them between pieces of parchment paper to prevent sticking.
What if I don't want to use pecans? You can used any chopped nuts, but if you have a nut allergy, use shredded coconut. You can also dip them in melted chocolate for a hard exterior or even roll them in grated dark chocolate.
How do I get my truffles to be the same size? I use a melon baller or cookie dough scoop. Similar to an ice cream scoop, but smaller.
If you liked this White Chocolate Truffle recipe, you are bound to like these too!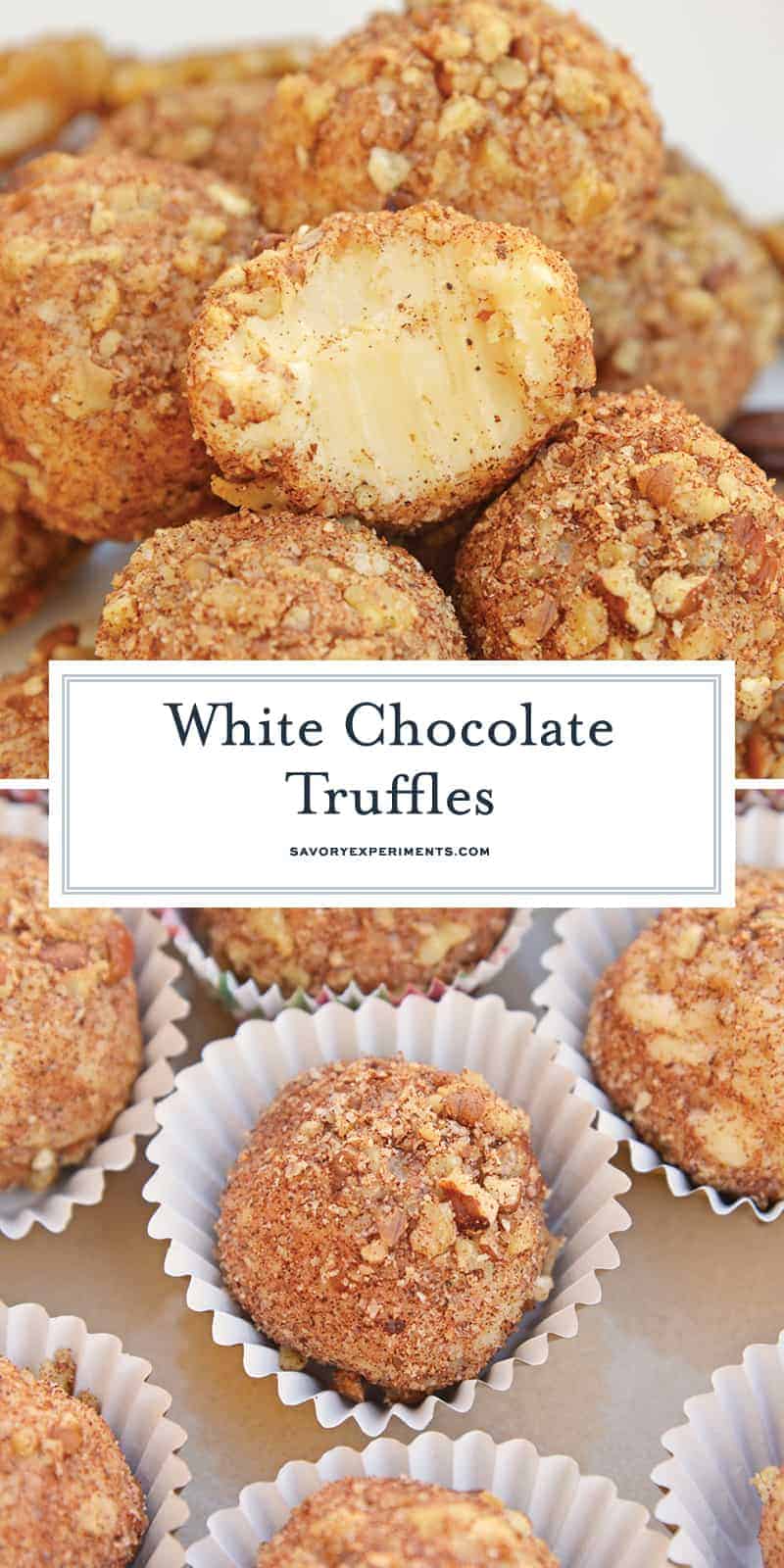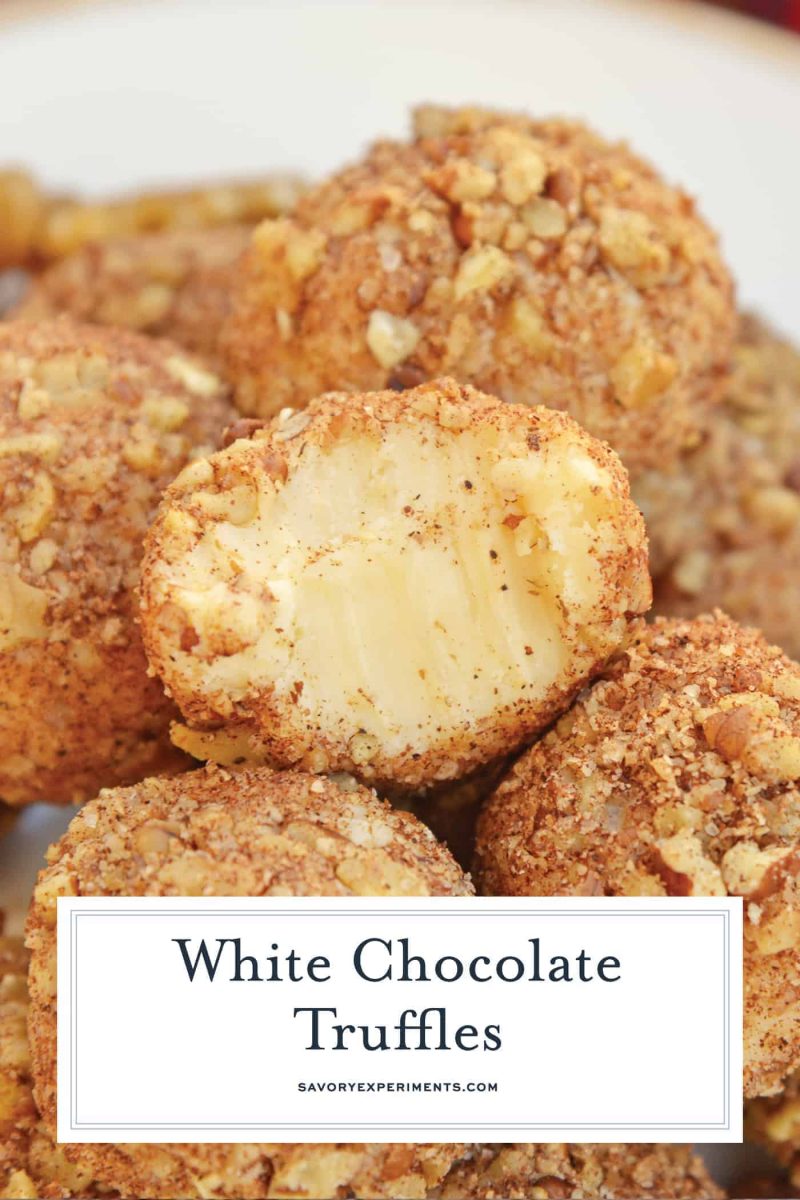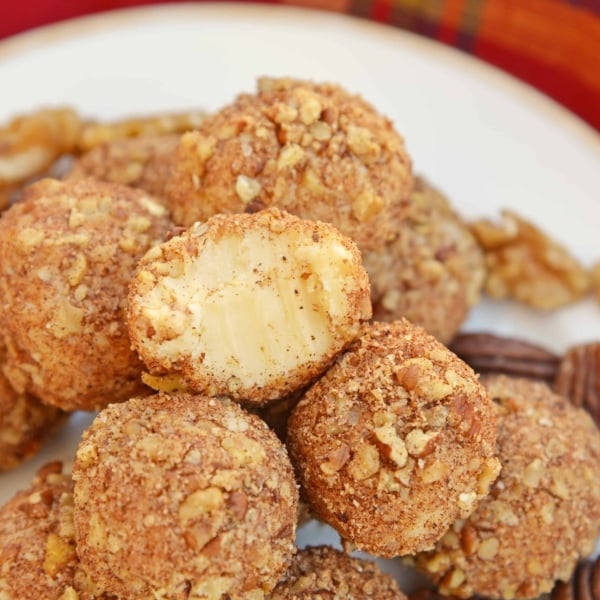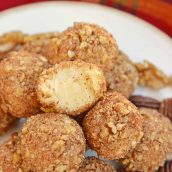 White Chocolate Truffle Recipe
White Chocolate Truffles are an easy truffle recipe made with just a handful of ingredients. Creamy white chocolate rolled in toasted pecans, cinnamon and nutmeg.
Instructions
In a heavy saucepan combine sweetened condensed milk, white chocolate chips and 1 teaspoon butter. Melt over low heat, stirring constantly.

Continue to heat over low-medium heat until thick and glossy. Be patient, chocolate needs to be heated gradually. If you increase the heat to speed things up you can end up with lumpy, burnt chocolate. Heating process will take approximately 15-20 minutes. Chocolate will be thick and start to easily peel away from the sides of your saucepan.

Coat a glass baking dish or pie plate with cooking spray. Spread the hot chocolate mixture into the bottom and allow to cool to room temperture.

Combine chopped pecans, cinnamon and nutmeg in small bowl, mix.

Using your hands, form into 1 1/2 inch balls and immediately roll in pecan mixture. You might have to pack it down a little to make sure it sticks.

Truffles can be stored in the refrigerator, but will get pretty hard, so give them time to come up to room temperture before serving.

If you've tried this recipe, come back and let us know how you liked it!
Nutrition
Calories:
190
kcal
,
Carbohydrates:
22
g
,
Protein:
2
g
,
Fat:
10
g
,
Saturated Fat:
5
g
,
Cholesterol:
10
mg
,
Sodium:
42
mg
,
Potassium:
134
mg
,
Sugar:
22
g
,
Vitamin A:
55
IU
,
Vitamin C:
0.6
mg
,
Calcium:
93
mg
,
Iron:
0.1
mg