Certainly, there are few fonder memories I have of baking with my mom than that moment when I got to lick the batter off the spoon or whisk. Who are we kidding, I still do this… and with my own kids.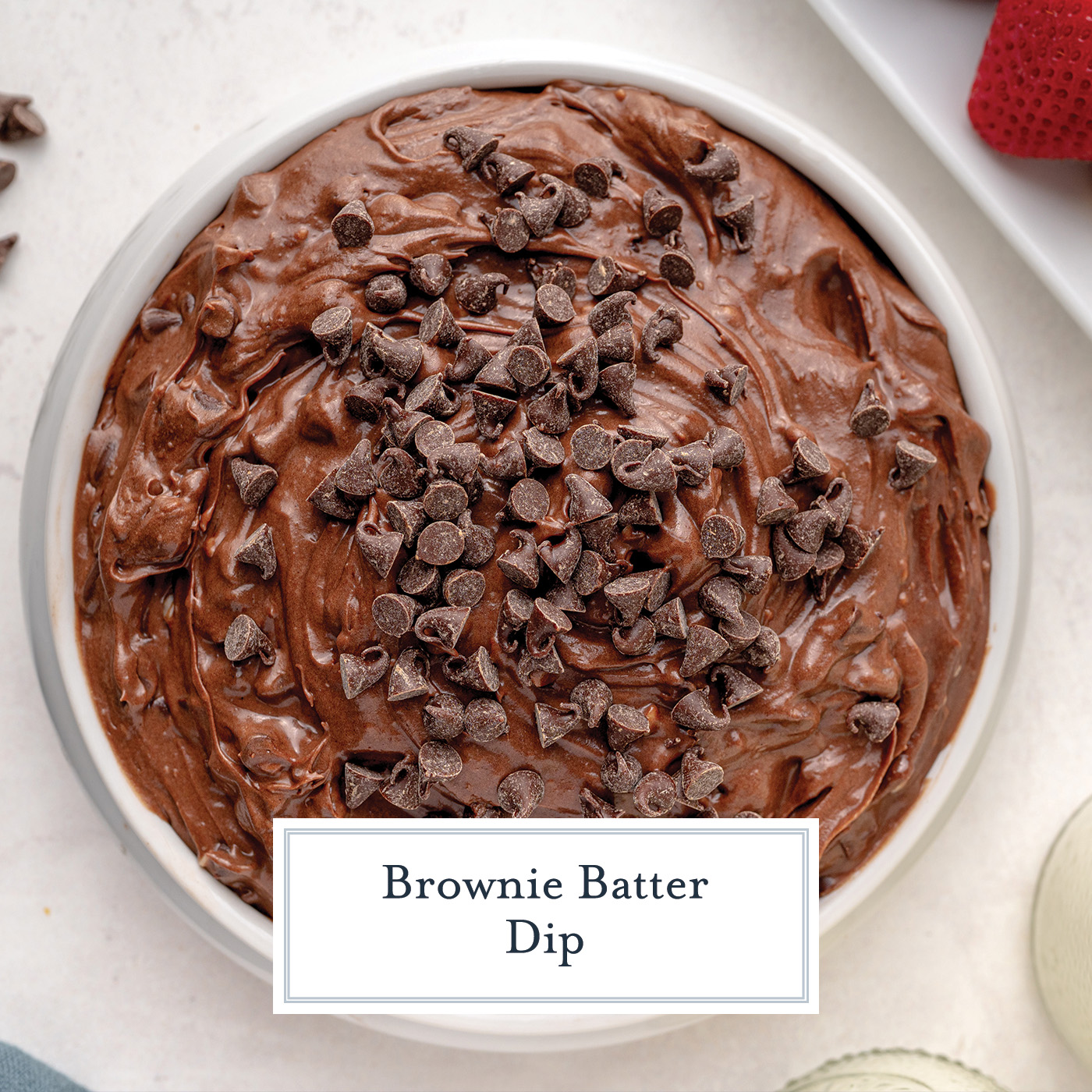 From chocolate chip cookie dough to brownies, that was the ultimate end to a day of baking. Clearly, I am unafraid of raw flour or raw eggs.
Now I can just make the batter and serve it as a rave dessert dip. Ladies and gentlemen, meet Brownie Batter Dip, sometimes called Chocolate Hummus. This dessert dip recipe doesn't use raw flour or boxed brownie mix.
Dessert Dip Recipe
Since then, we've learned that licking the spoon might not be the safest idea, but who wants to give up that creamy decadence? If you're like I am, that pre-baked batter is often even more satisfying than the end results of baking.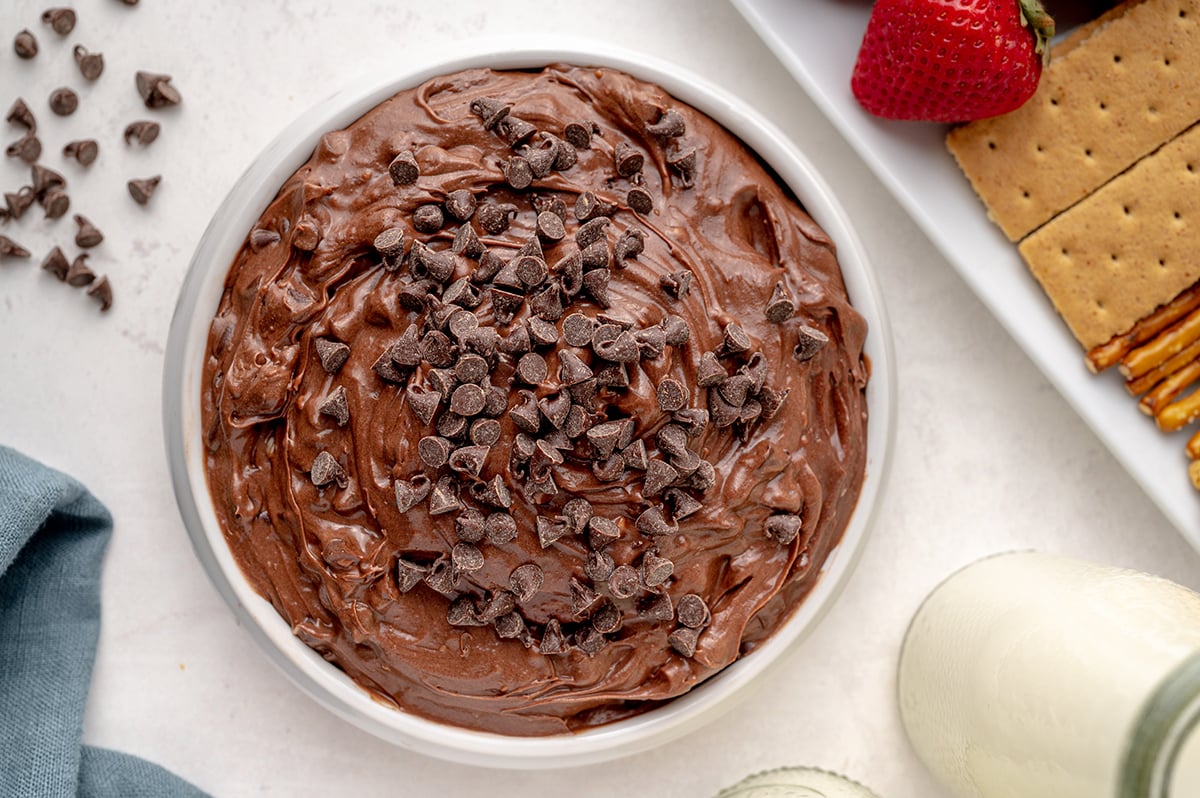 This edible Brownie Batter Dip recipe brings back all of those sweet memories, without the concerns for safety. Plus, it comes with some interesting ideas for dippers (instead of just using that whisk).
Also, this delicious dessert dip has high-quality ingredients, sure to wow your family or friends. Ours uses rich cream cheese instead of greek yogurt or Cool whip, which are fine for body but don't provide the base you need to get the real brownie batter texture.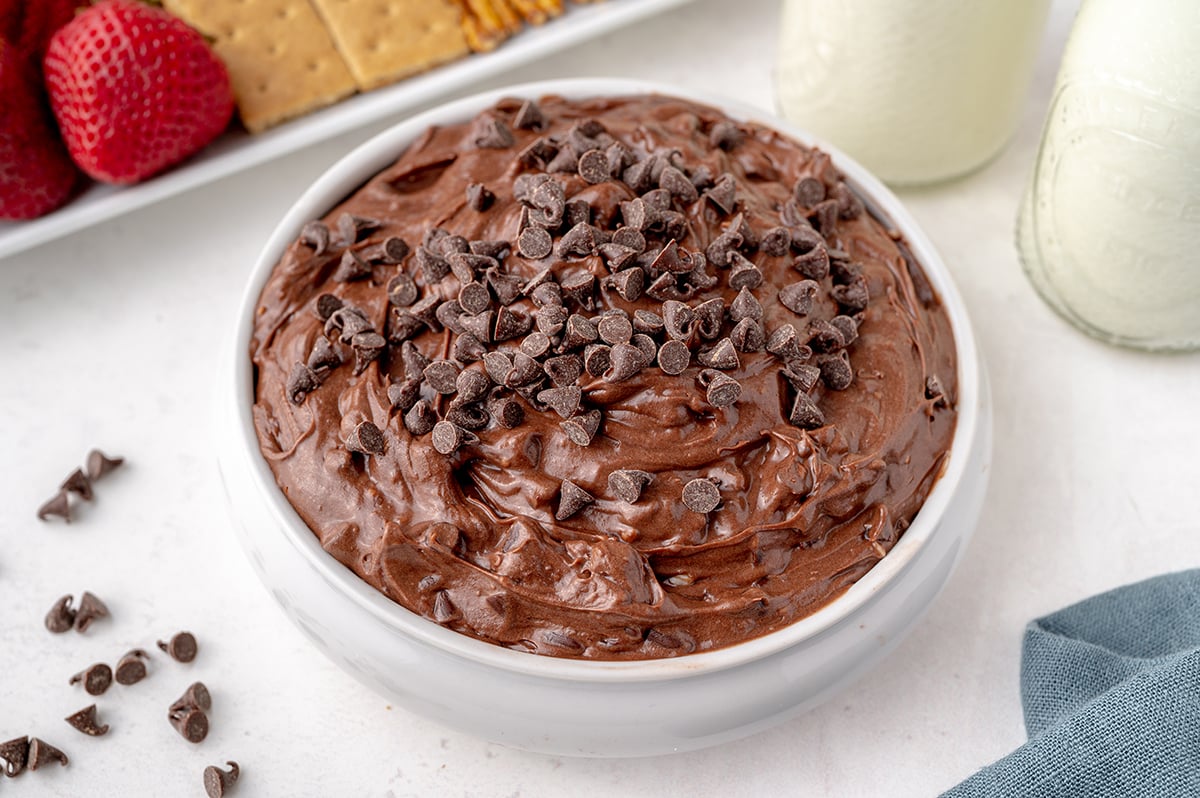 Finally, the very best part of this no-bake dessert is how quickly it comes together. It's perfect for a potluck, or as a sweet snack after work or school and also bridal showers and baby showers.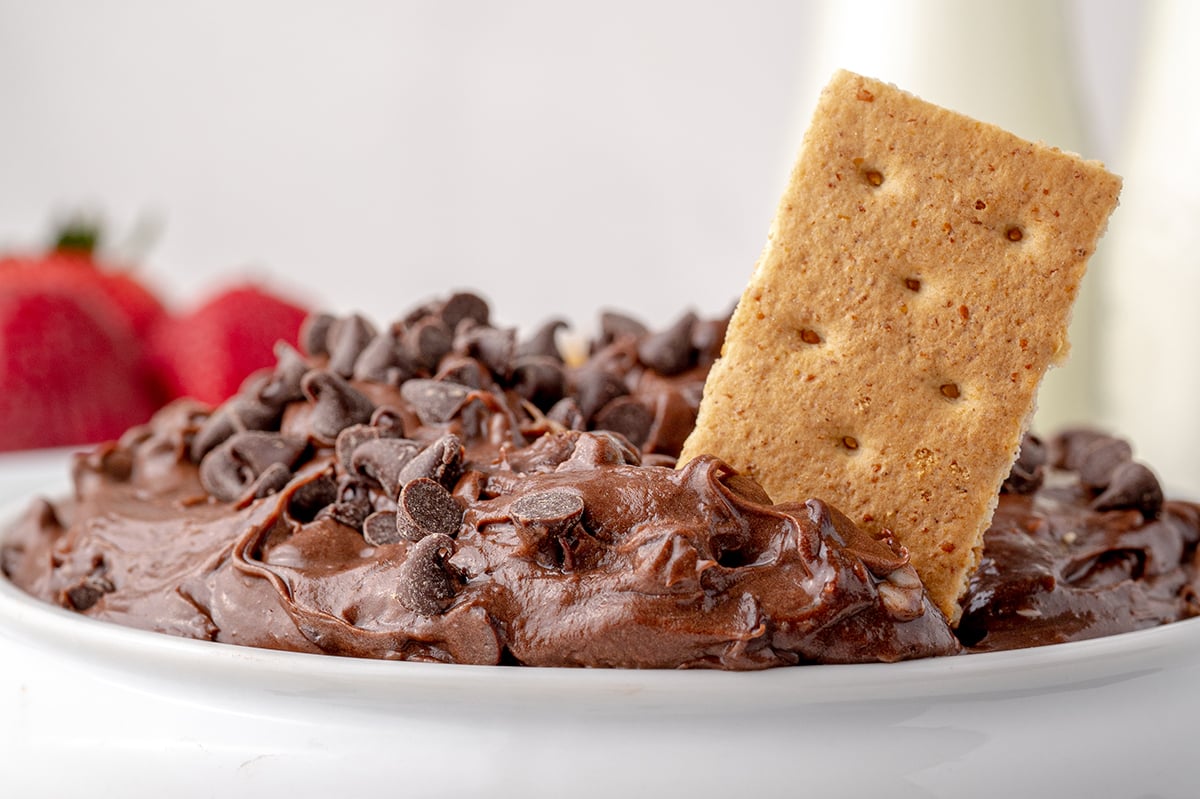 Brownie Batter Dip Ingredients
Some say this is a long list of ingredients, but that is only because we do not use brownie mix. This is made from scratch.
Cream cheese– full fat cream cheese is perfect for making this decadent dip, but Neufchatel (cream cheese's lower fat counterpart) can be used as well. To make the mixture easier to combine, use a whipped version. Make sure it is truly softened so it blends well.
Unsalted butter – most bakers will tell you that using unsalted butter is always preferable over salted. You can always add salt, but you can't take it out. Also make sure it is softened to room temperature.
Powdered sugar – also known as confectioner's sugar, this version ensures the smoothest brownie batter dip. Using other forms of sugar can result in a granular texture to the dip.
Dutch process cocoa (not straight cocoa powder)– it is important to use Dutch process cocoa because it has been treated to lower the acidity of natural cocoa.
Light brown sugar– light brown sugar contains about half of the amount of molasses as dark brown sugar. This makes it ideal for a brownie batter dip that already has sweetness from other ingredients.
Whole milk– Just like cream cheese, a full fat dairy option is best to impart a creamy texture, but 2% milk can be substituted if needed.
Coffee or espresso– A small amount of brewed coffee can bring out chocolate's flavor in a baked good, so consider adding your favorite java to this dip. If serving to children, consider leaving it out- no one wants a caffeinated 2-year old.
Vanilla extract– many baking recipes list vanilla extract as an ingredient and for good reason. It balances the flavors of the recipe and heightens the taste of the other ingredients.
Fine sea salt– sea salt has a slightly stronger taste than typical table salt and also contains trace minerals.
Mini semi sweet chocolate chips or mini M&Ms (plus more for topping)– these additions to the brownie batter will help create some texture against the backdrop of the creamy dip.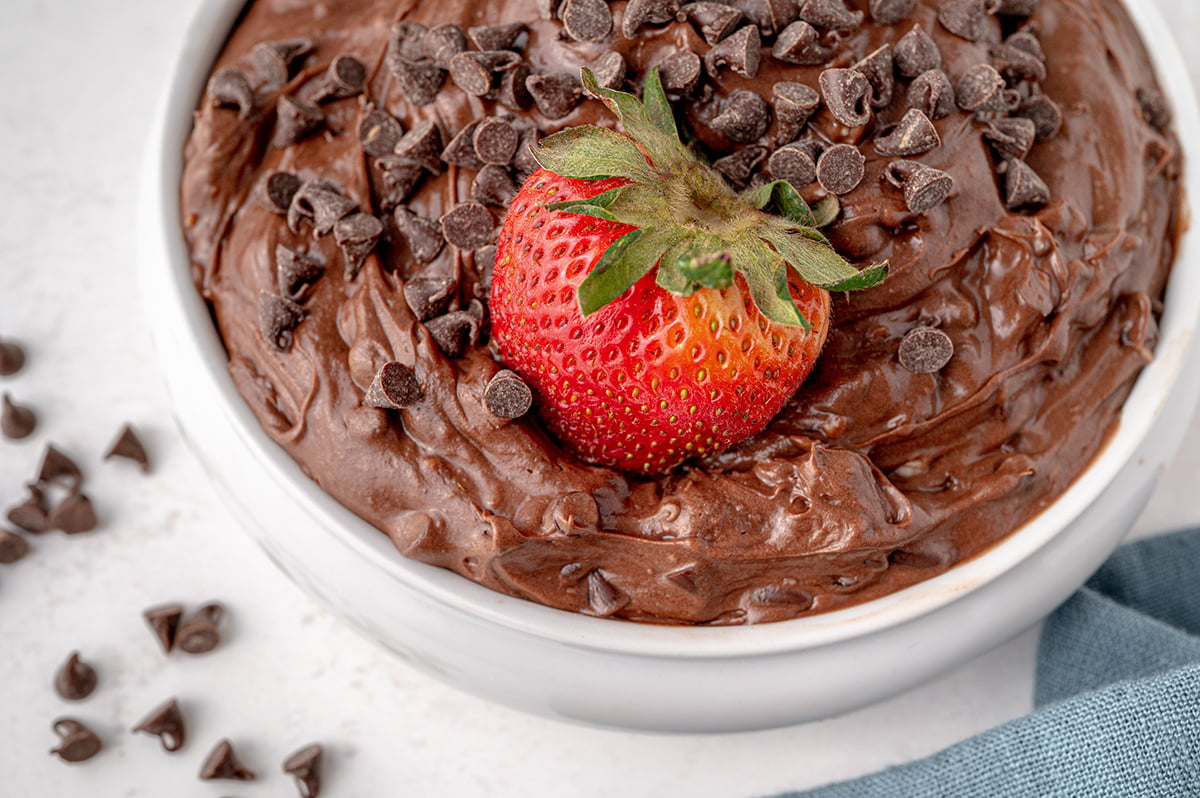 How To Make Brownie Batter Dip
Combine the cream cheese and butter – Using a handheld or countertop mixer, cream together the cream cheese and butter in a large bowl until they reach a whipped consistency. Make sure they are both softened to room temperature, otherwise you run the risk of the dip being a little lumpy. You can also use a stand mixer or food processor.
Add other ingredients to the cream cheese and butter mixture – Add the powdered sugar, cocoa, brown sugar, milk, coffee (if using), vanilla and salt. Mix these in the same bowl until all ingredients are combined.
Mix in the mini chocolate chips or mini M&Ms – By hand, stir in chocolate chips or mini M&M's by folding into the chocolate dip.
Brownie Batter Dip can be served immediately or covered and refrigerated until ready to serve. Remove from the refrigerator 15 minutes before serving to let the dip soften.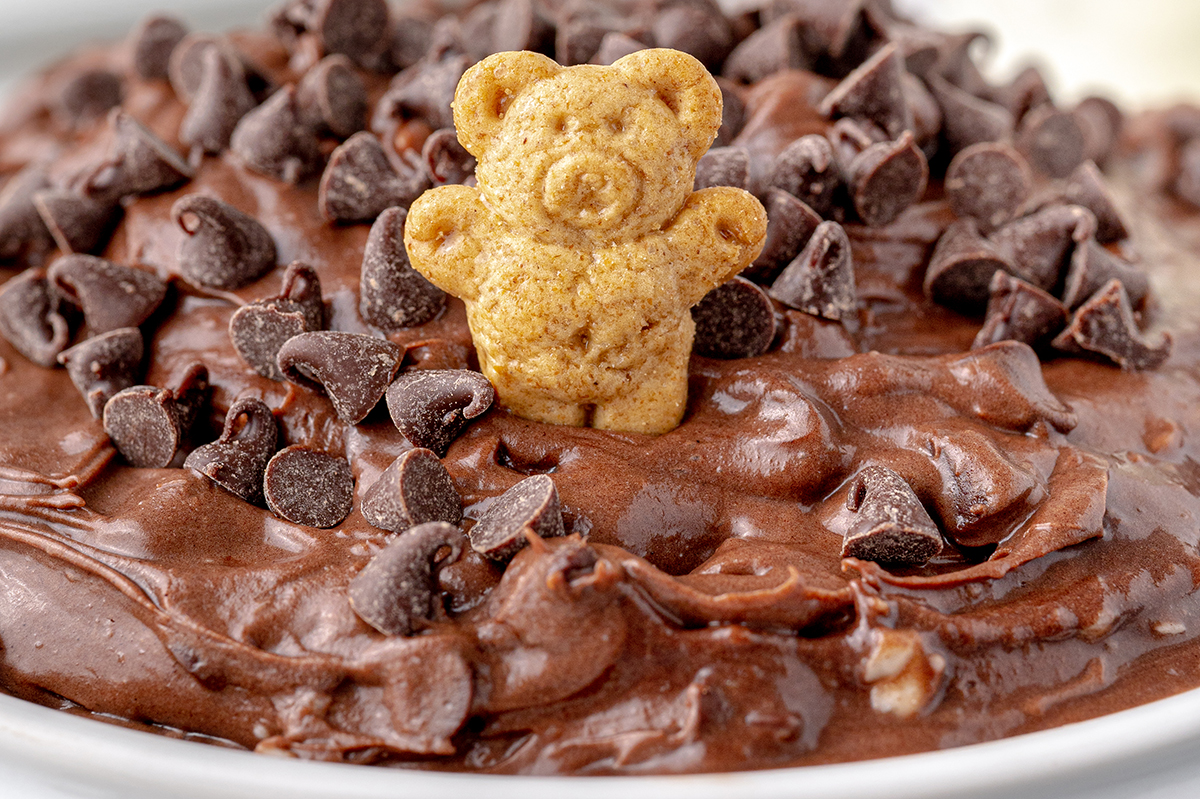 Variations
While this dip is sinfully good as-is- of course there are ways to customize. A few favorites include adding a swirl of peanut butter or Reese's Peanut Butter Cups (try the minis!), a swirl of caramel sauce, white chocolate chips, mini M&Ms, chopped nuts like peanuts, candied pecans or walnuts or a swirl of marshmallow fluff.
What To Serve With Brownie Batter Dip
While Brownie Batter Dip could easily just be served on a spoon, there are endless possibilities to serve with it. Our favorite ideas include:
Graham crackers
Pretzels
Fresh fruit
Teddy bear graham crackers
Mini chocolate chip cookies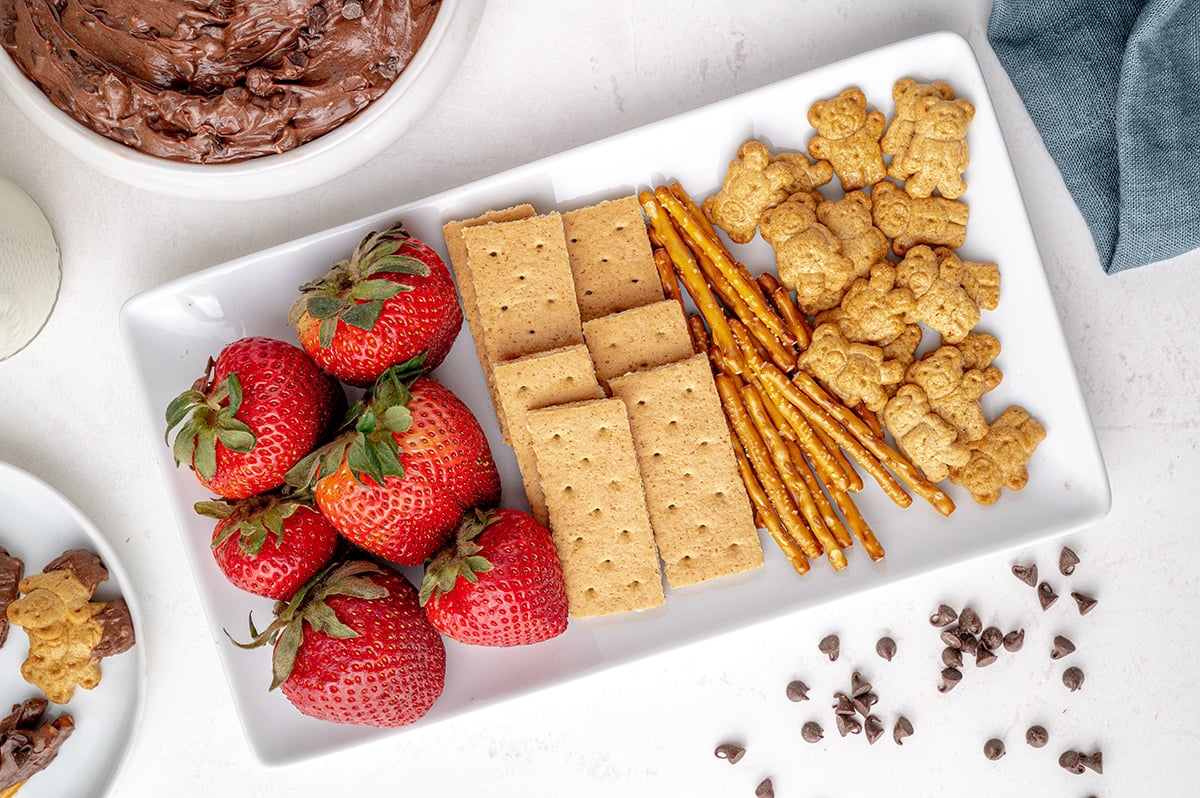 Storage and Freezing
Brownie Batter Dip can be made ahead and stored for up to 3 days in an airtight container in the refrigerator. Stir well before serving.
Freezing Brownie Batter Dip is not recommended.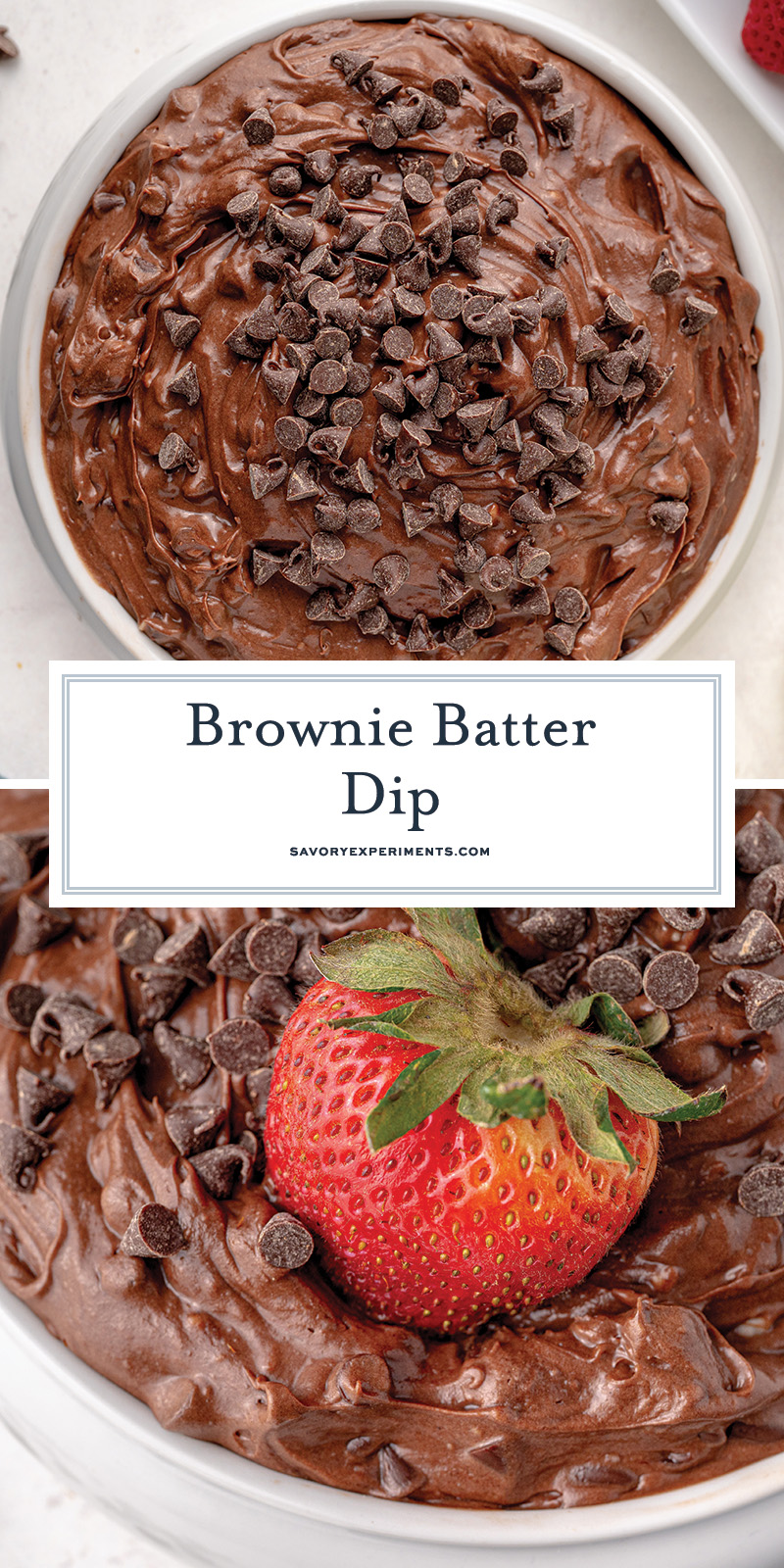 Other Dessert Dip Recipes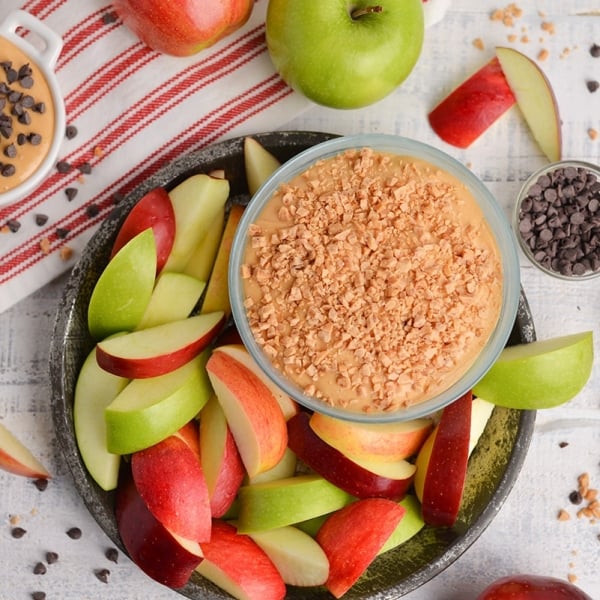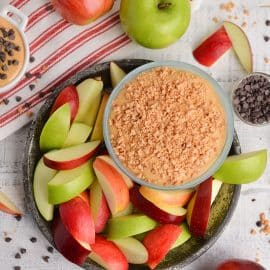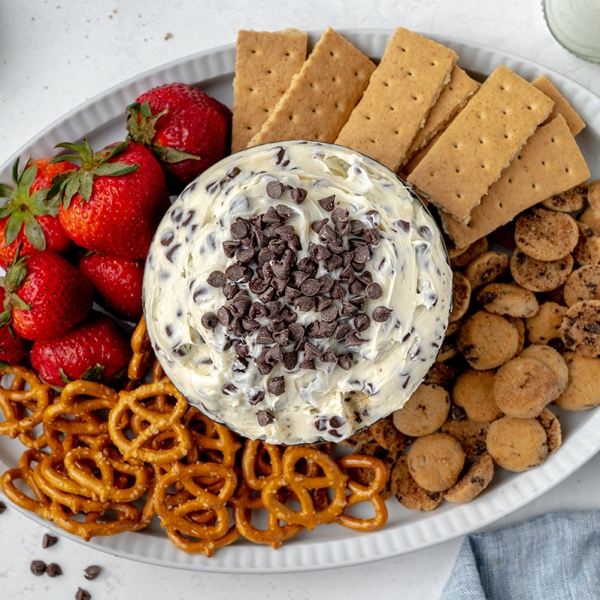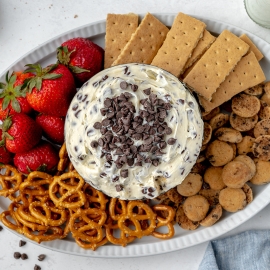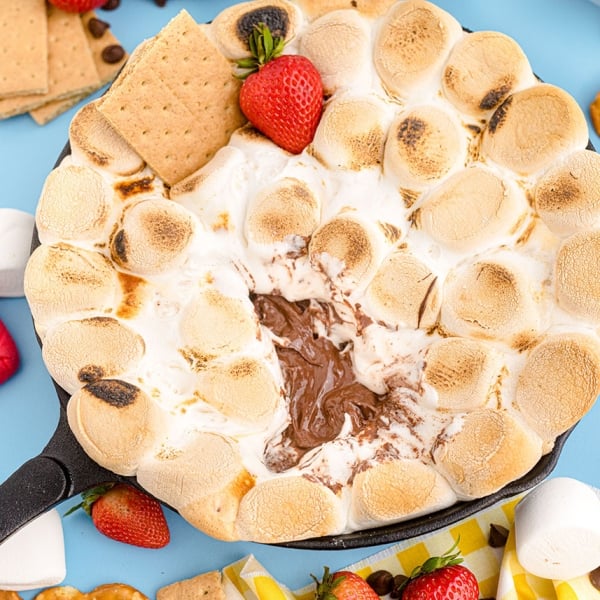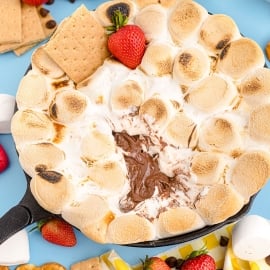 S'mores Dip Recipe
This easy S'mores Dip is an easy way to make indoor s'mores without an open flame or camp fire! All you need is 3 ingredients and a hot oven!
See The Recipe!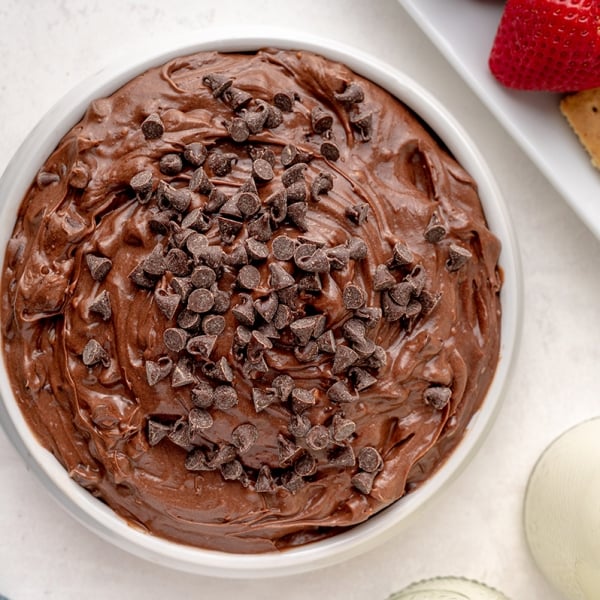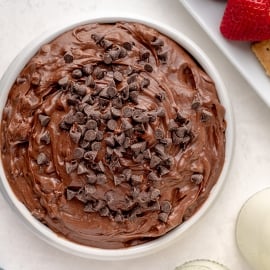 Brownie Batter Dip Recipe (No Brownie Mix)
If you love licking the beaters, you are going to go bonkers over this brownie batter dip. Edible brownie batter served in a bowl.
Instructions
Cream together the cream cheese and butter until smooth.

Add the powdered sugar, cocoa, brown sugar, milk, coffee (if using), vanilla and salt. Mix until fully combined.

By hand, fold in the mini chocolate chips or mini M&Ms.

Serve immediately or cover and refrigerate until ready to serve. Remove from the fridge 15 minutes before serving to letting it soften.

If you've tried this recipe, come back and let us know how it was in the comments or star ratings!
Notes
Dippers: Graham crackers,

pretzels, fruit, Teddy bear graham crackers or even mini chocolate chip cookies can be used for dipping.
Nutrition
Calories:
321
kcal
,
Carbohydrates:
38
g
,
Protein:
3
g
,
Fat:
19
g
,
Saturated Fat:
11
g
,
Polyunsaturated Fat:
1
g
,
Monounsaturated Fat:
4
g
,
Trans Fat:
1
g
,
Cholesterol:
43
mg
,
Sodium:
124
mg
,
Potassium:
77
mg
,
Fiber:
1
g
,
Sugar:
34
g
,
Vitamin A:
537
IU
,
Vitamin C:
1
mg
,
Calcium:
53
mg
,
Iron:
1
mg