With chicken, a broccoli slaw mixture and a sauce that is both sweet and spicy, this Chicken Stir Fry with rice noodles will be your new weeknight go to! Stir fried noodles in a quick and easy stir fry sauce with browned chicken breast.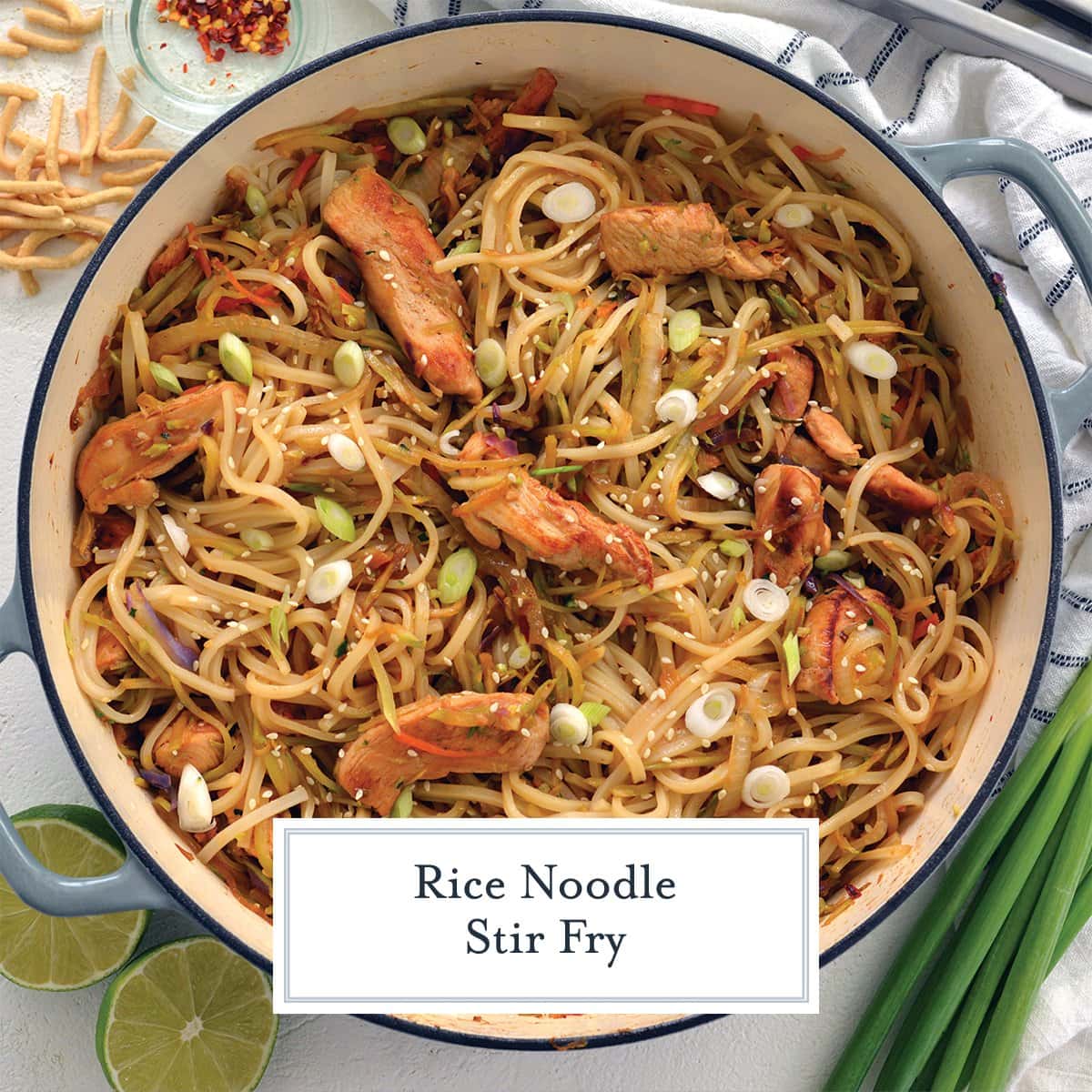 Chicken Stir Fry
I already have a shrimp stir fry and a steak stir fry, so I thought it was high time I added a chicken stir fry to the mix! After all, I'm always looking for new ways to make chicken dinners NOT boring.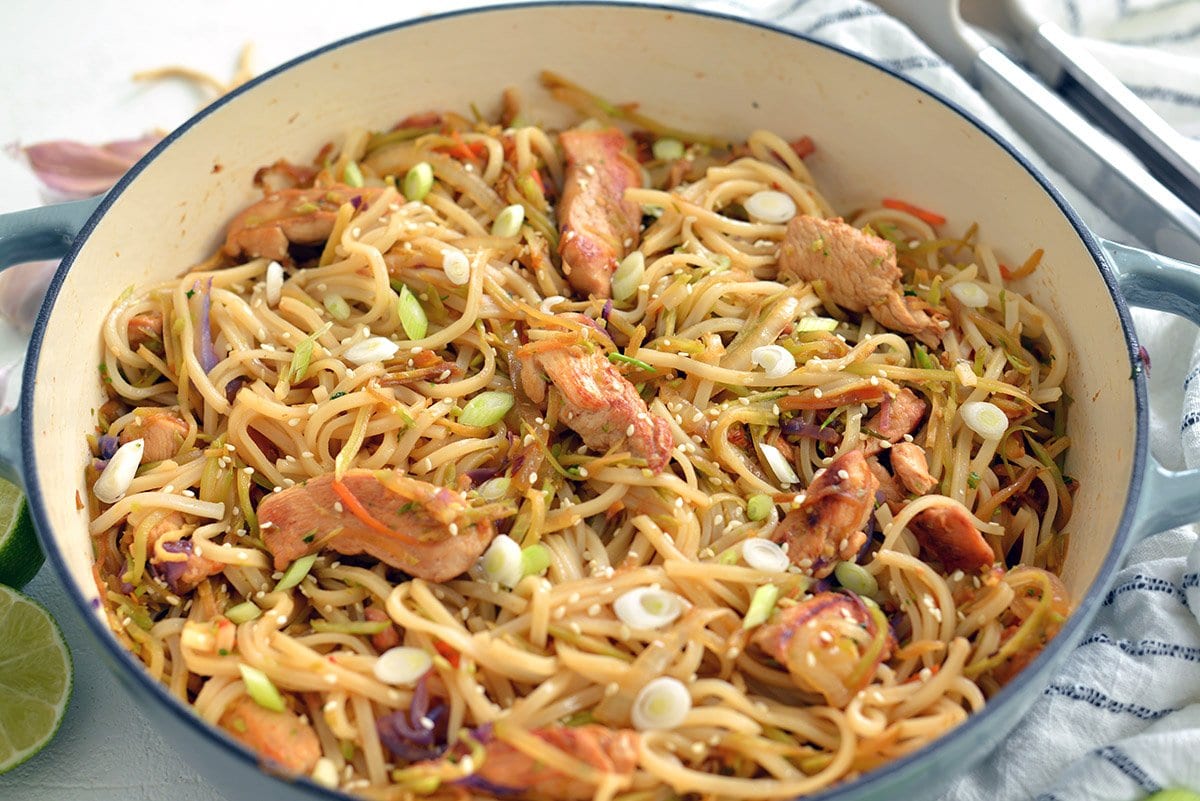 One thing I love about stir fry's are that they are so versatile. As long as you have a good base for the sauce and protein, you can really let your imagination run wild with the rest of it.
You can always throw in extra veggies like broccoli or bell peppers. Don't like slaw? Leave it out! The options are really endless and this stir fry chicken noodles is also a great "clean out the fridge" recipe. Don't feel like you have to use chicken either, pork, beef or even seafood are great swaps You can also go totally vegetarian.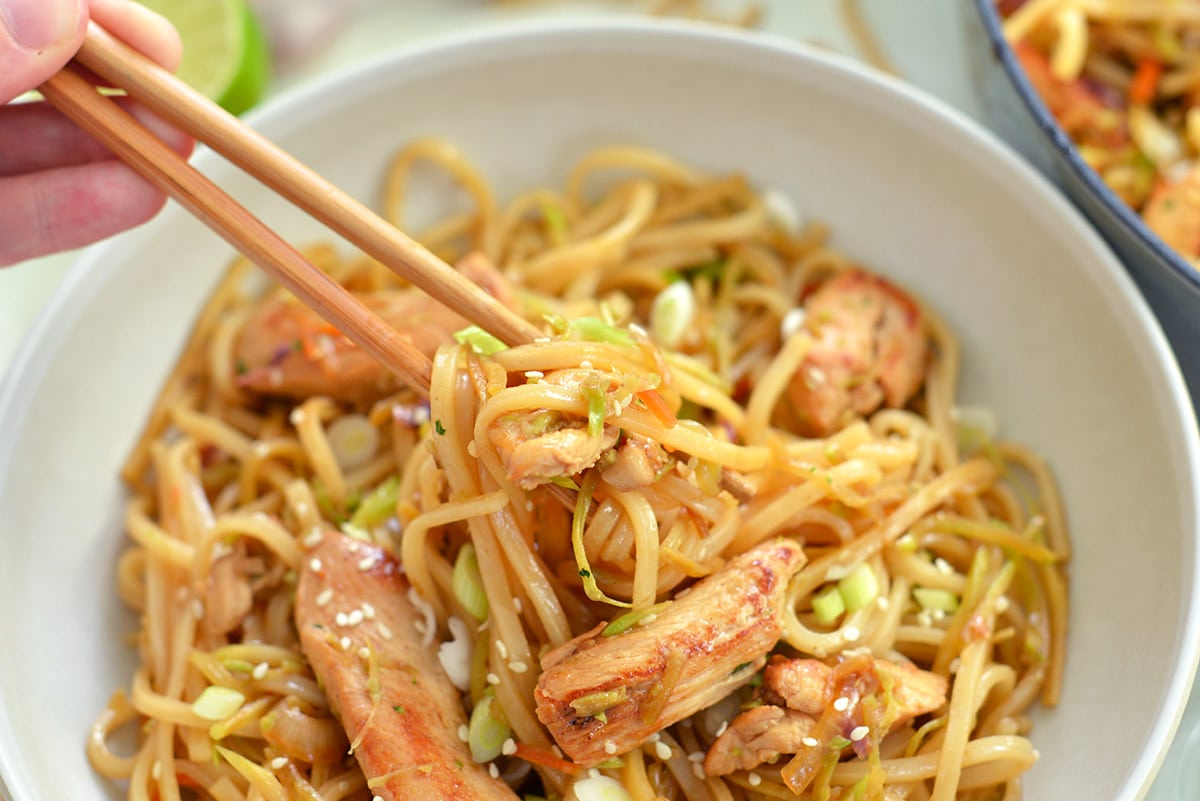 Ingredients
These are pretty basic ingredients, although not all pantry staples. The list looks long, but it is also easily customizable, so don't feel pressured to use them all.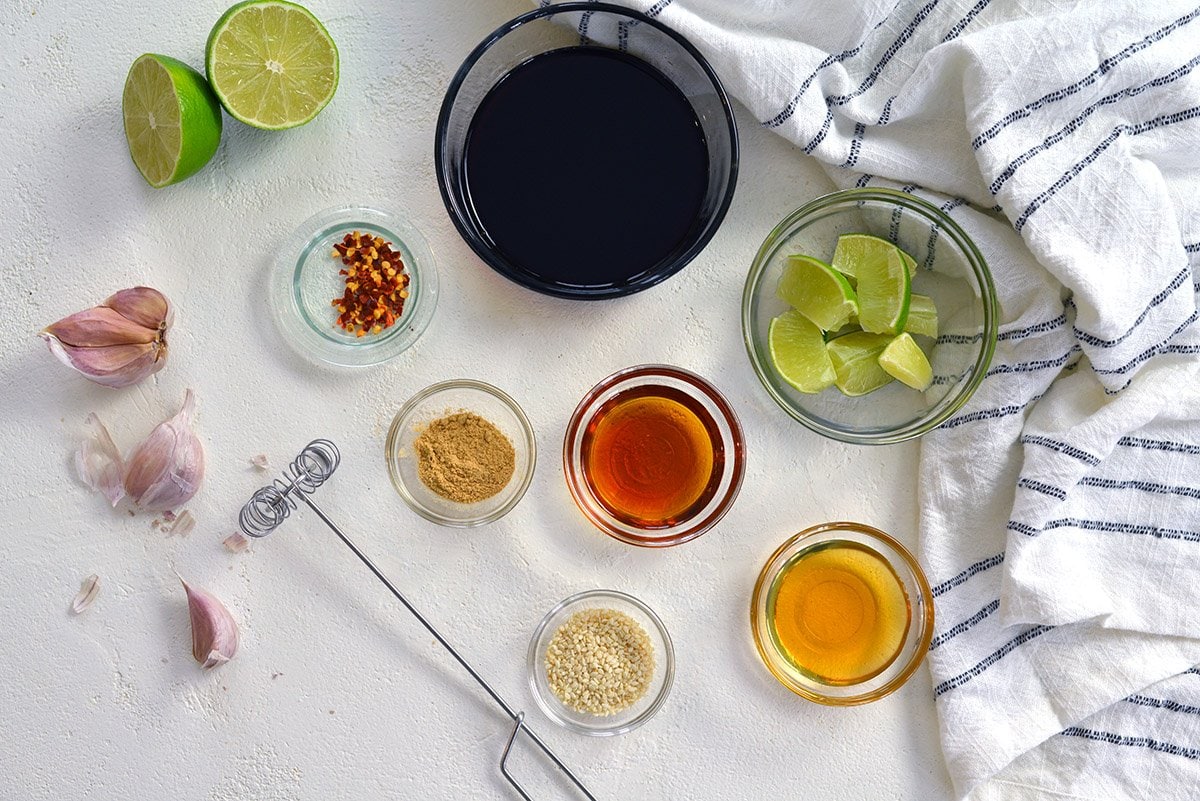 Vegetable oil – This is really just used to coat the skillet so that nothing sticks to it while cooking. Any neutral oil will do.
Chicken – I usually say you can substitute rotisserie chicken into recipes, but I don't recommend it with this one. The chicken needs to cook in the skillet with the sauce and veggies, and if you're using pre-cooked chicken it will definitely dry out. Chicken thighs are another good option.
Broccoli coleslaw mix – I always have a bag of this in my refrigerator. Not only does it make a great base for coleslaw, but it adds a nice crunch to this stir fry chicken noodle and takes out nearly all of the prep time.
Onion – Along with the broccoli slaw mix, the onion provides a nice texture. But not only that, it gives great flavor.
Garlic – Can you really make any recipe without throwing in some garlic?? Use the bottled minced stuff for a sweeter sauce, but the real deal if you like garlicky flavor.
Low Sodium Soy sauce – This is the main flavor component of our sauce. I like to use light soy sauce or dark mushroom flavored, but feel free to use whatever you have on hand. Dark soy sauce isn't necessarily less salty, but it is more like a syrup and robust. Taste your brand first to decide if you need the whole amount.
Sesame oil – I wish I could tell you that you could substitute another oil here like vegetable or olive oil. But the sesame oil flavor is really unique and adds flavor. You can omit if you don't like sesame.
Fresh lime juice – For just a little hint of zing. It's so important that you use fresh lime juice here, as the bottled version just doesn't taste the same.
Sesame Seeds– A little goes a long way, but these are optional. I also like using brown and black for a color contrast.
Ground Ginger – I absolutely adore the way ginger pairs with the rest of the flavors. There is a reason all Hibachi restaurants serve their salads with a ginger dressing! If we are being honest, I would have used fresh, but realized I was out so I swapped it for ground. If you have fresh, use 1 teaspoon.
Honey – This was that sweet factor I was talking about! Honey gives just a mild touch of sweet to balance out the rest of the flavors. Agave nectar also works well.
Crushed red pepper flakes – I list this ingredient as optional because it is certainly not necessary to complete the dish. However if you like spice, I highly recommend it.
Rice noodles- They are quick-cooking, gluten free and give a nice toothy texture. If you don't like or want rice noodles, use a whole grain spaghetti noodle in its place.
Toppings– Customize however you'd like. Scallions (green onions), peanuts, crunchy Chinese noodles, Sriracha sauce and bonito flakes are awesome toppers!
Many folks have asked me about salt and pepper, but since the soy sauce has so much salty flavor, it really isn't necessary. Of course, feel free to season however you'd like.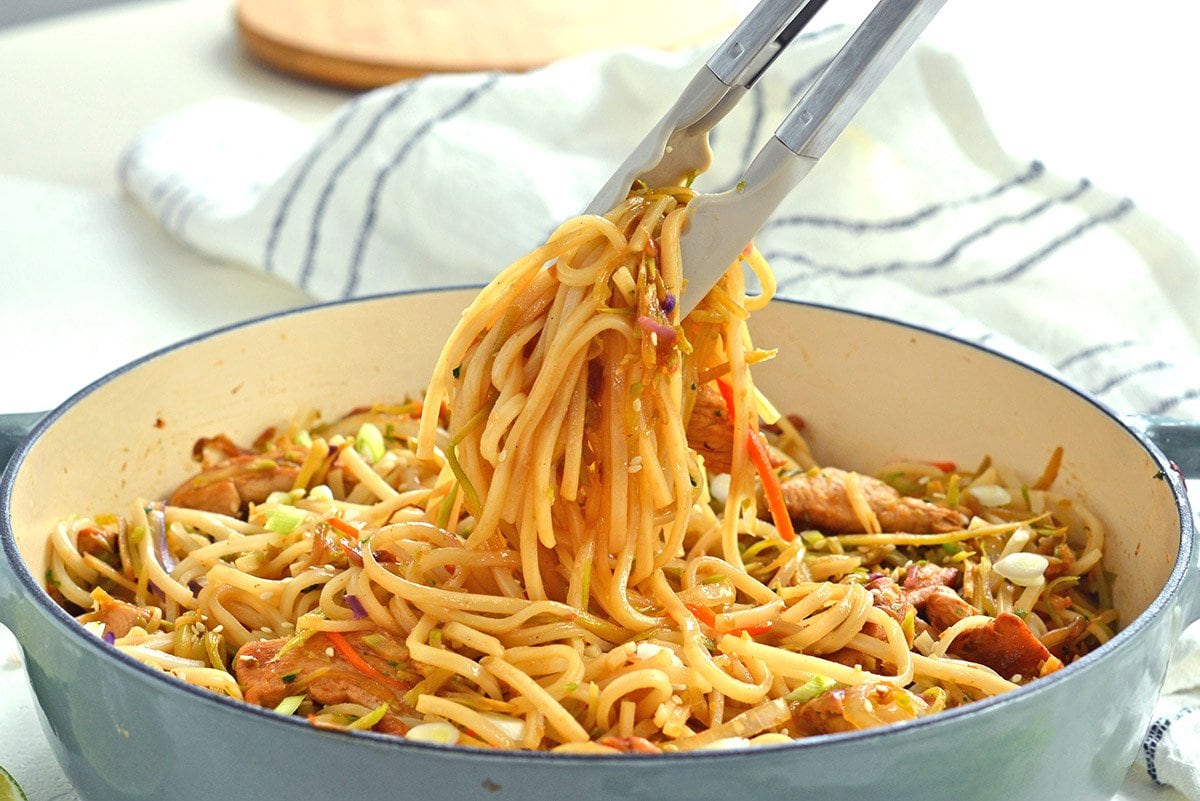 How to Make Stir Fry Chicken Noodles
REady to make the easiest chicken stir fry recipe ever?
Start by cooking the rice noodles. This step is super easy because you just follow the directions on the package, but make sure to time it according to the al dente instructions. No one likes a soggy noodle! After the time is up, be sure to drain and rinse the noodles with cold water. This will prevent the noodles from cooking any further. Toss with a small amount of sesame oil to prevent sticking.
Next, brown the chicken over high heat. Add your chicken along with vegetable oil to a large skillet over medium heat. Make sure the chicken is browned on all sides.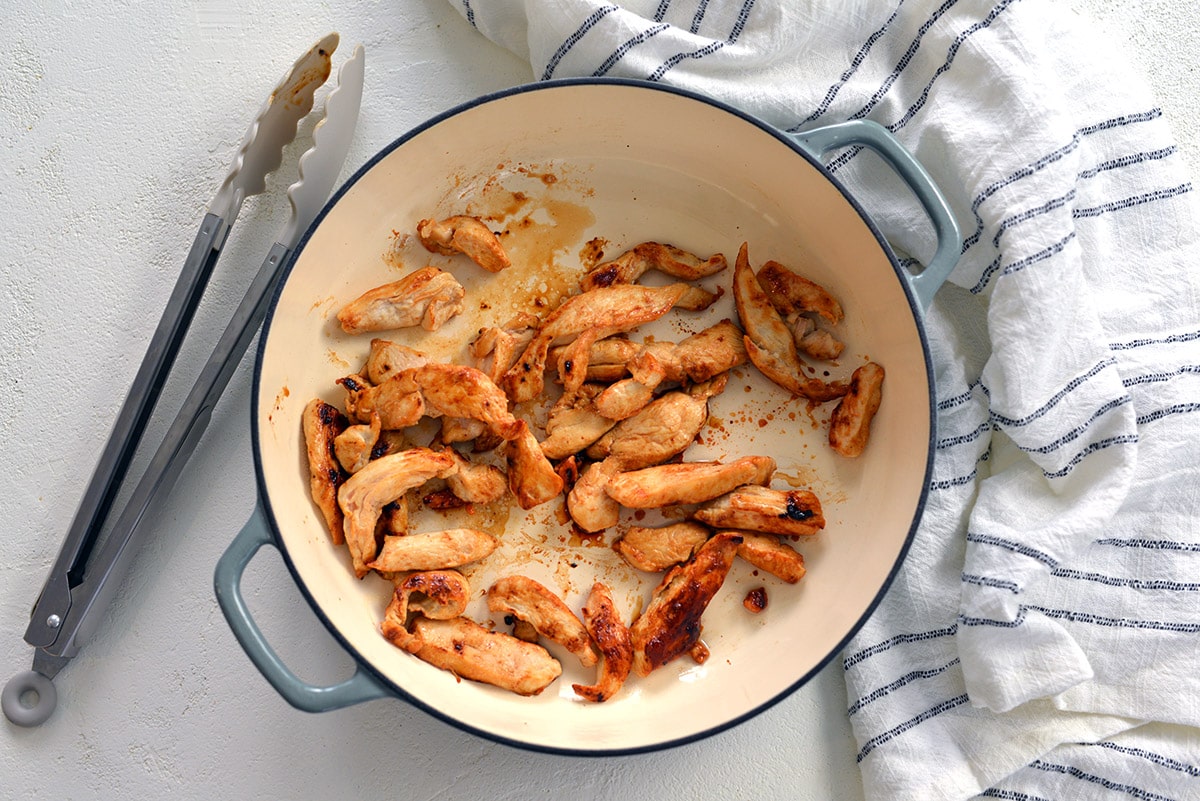 Once the chicken has browned, add the coleslaw mix, onion and garlic to the skillet and cook for another 2-3 minutes.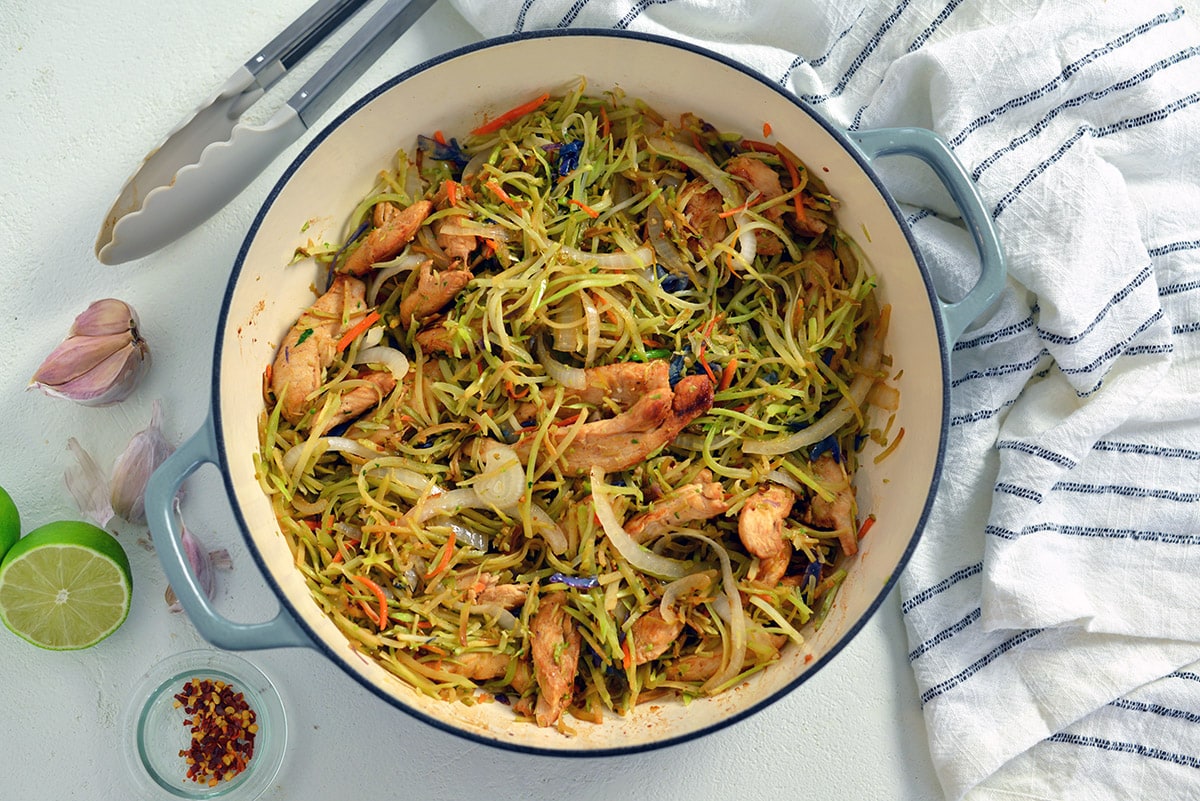 Now onto the sauce! It's a simple blend of soy sauce, sesame oil, lime juice, ginger, honey and crushed red pepper. Just mix all of those ingredients together and you're all set.
Now, add the cooked noodles into the skillet that already has your chicken and veggies. Pour the sauce mixture right on top and toss together until the noodles are heated through. This will only take about two minutes.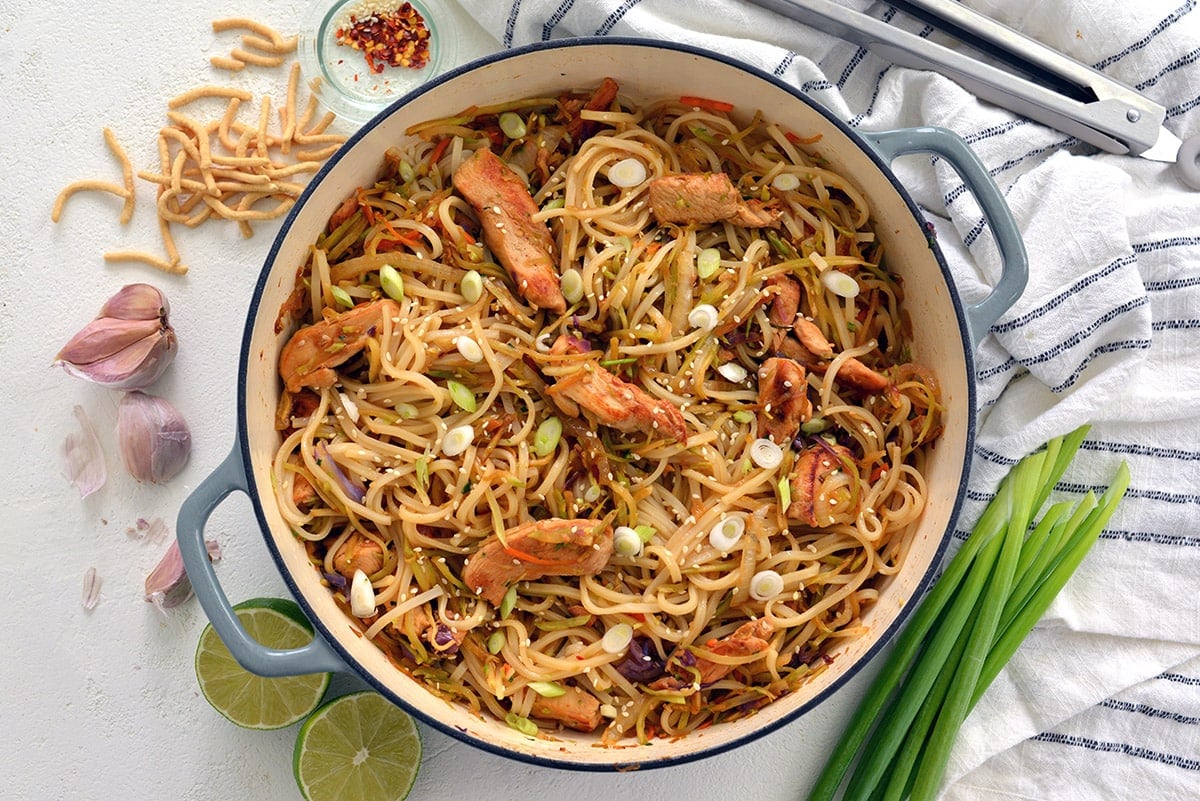 All that's left to do is plate it up, top it with fresh cut scallions (or even sesame seeds if you'd like) and serve! We hope you enjoy this great recipe!
Variations
Spice it up- Use more crushed red pepper flakes, Sriracha sauce or even add sliced serrano peppers to the veggie mix.
Peanut Butter– I love peanut butter based sauces, like a pad thai, but hubby isn't a fan. Whisk 1-2 tablespoons of peanut butter into the sauces before adding.
Protein– As I said before, add pork, beef or even shrimp. Leave them out for a vegetarian stir-fry.
Add more Veggies– Sliced bell peppers, bean sprouts, leeks, snap peas, Brussels sprouts, whole broccoli or cauliflower florets, any and all veggies are welcome!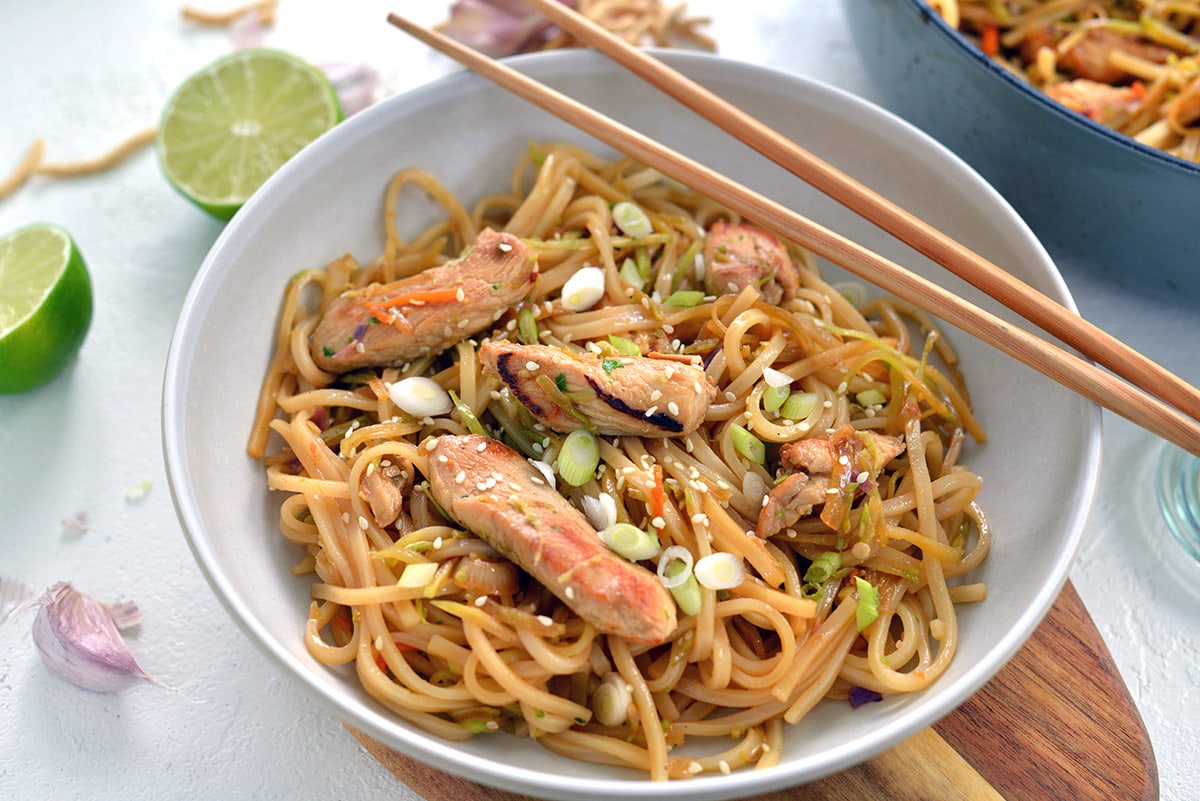 Make Ahead & Storage
This is a great one-dish meal prep option. It comes together fast and tastes great for days. It also is just as delicious cold as it is hot.
Upon reheating, you might want to add a new splash of soy sauce or spicy sauce to revive it a bit. The noodles have the tendency to soak up all the liquid while sitting. Store in an airtight container for up to 5 days in the fridge.
Unfortunately, this recipe doesn't freeze well.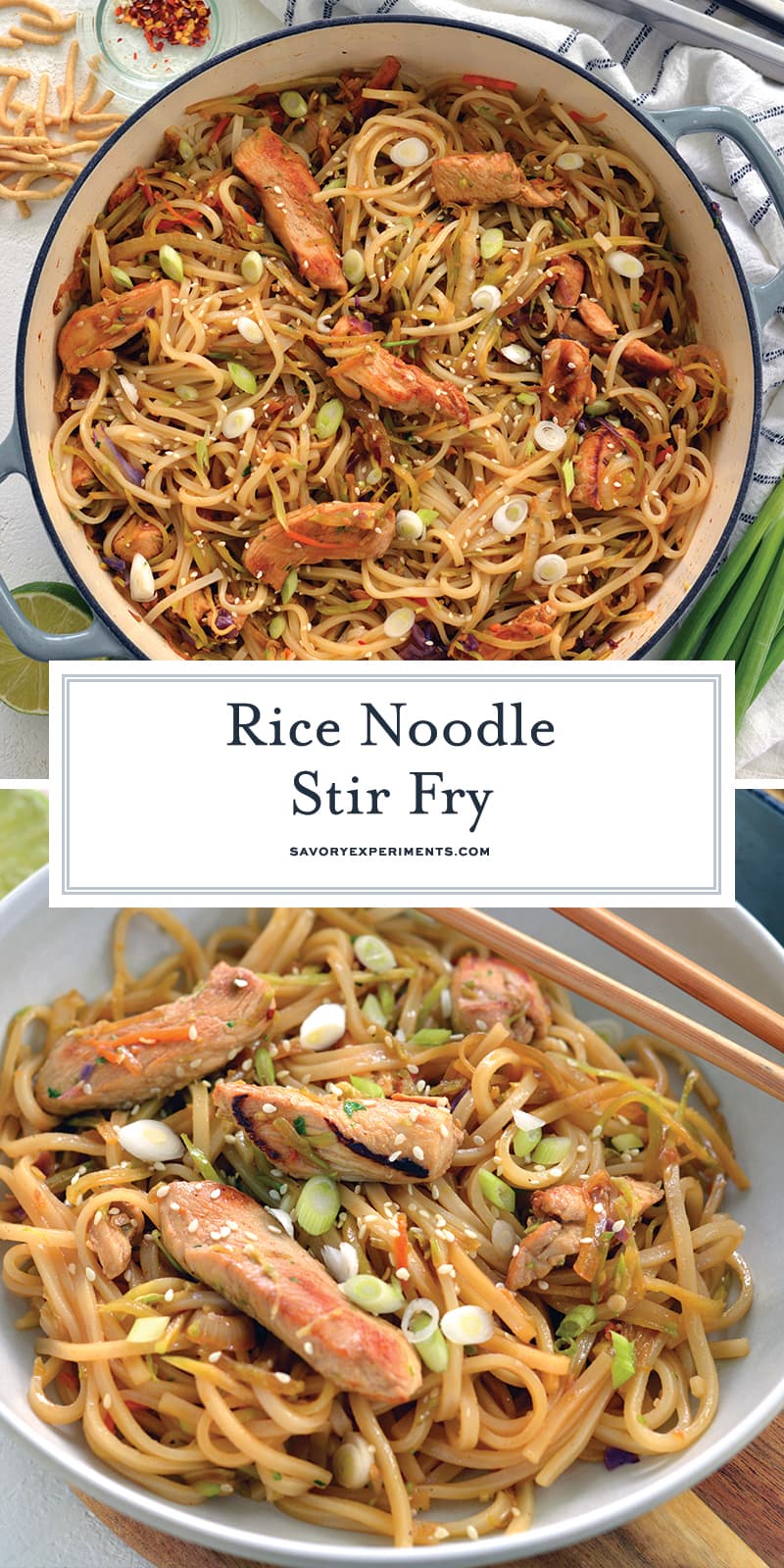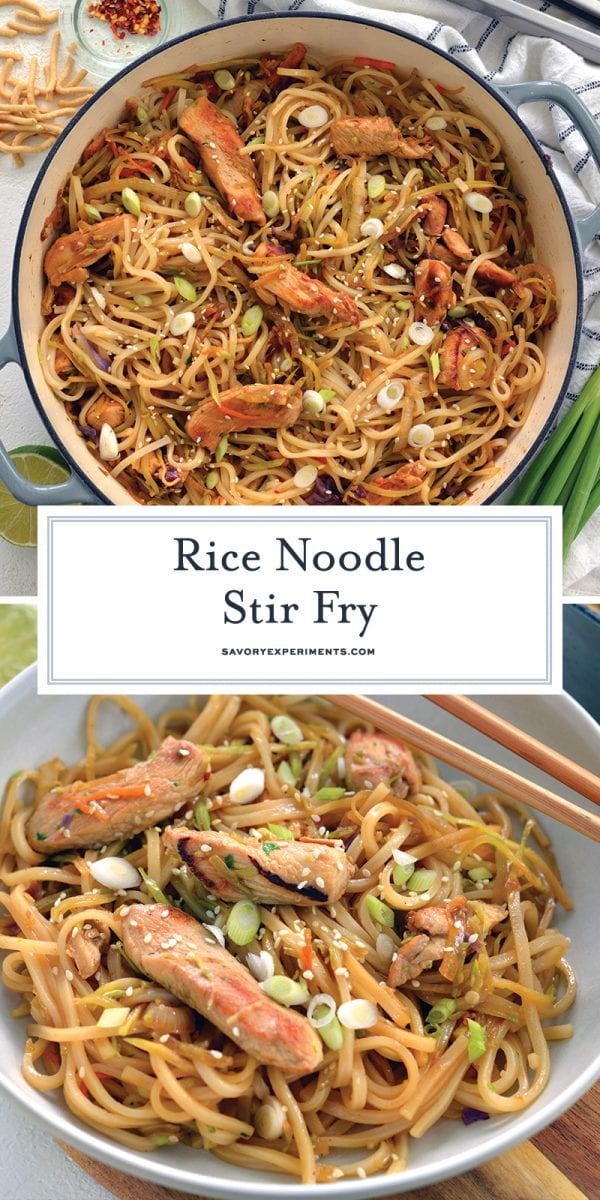 More easy chicken dinners: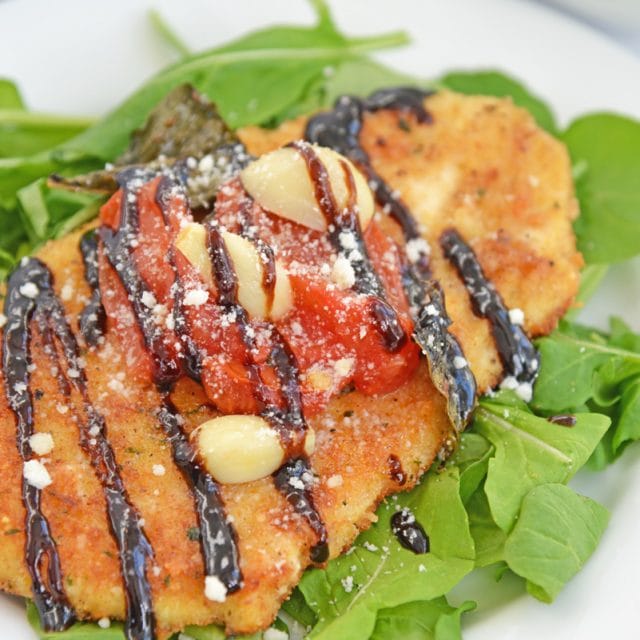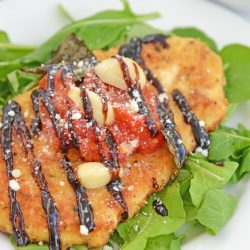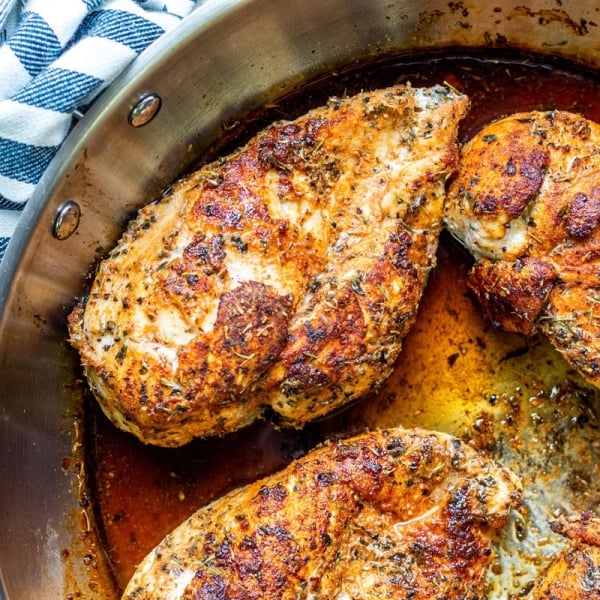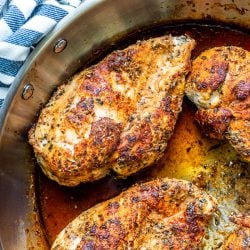 Blackened Chicken
This EASY Blackened Chicken recipe is perfect for busy weeknight dinners, and ready in 30 minutes. It can be paired on its own with your favorite sauce, or added to a variety of dishes ranging from salads to tacos.
See The Recipe!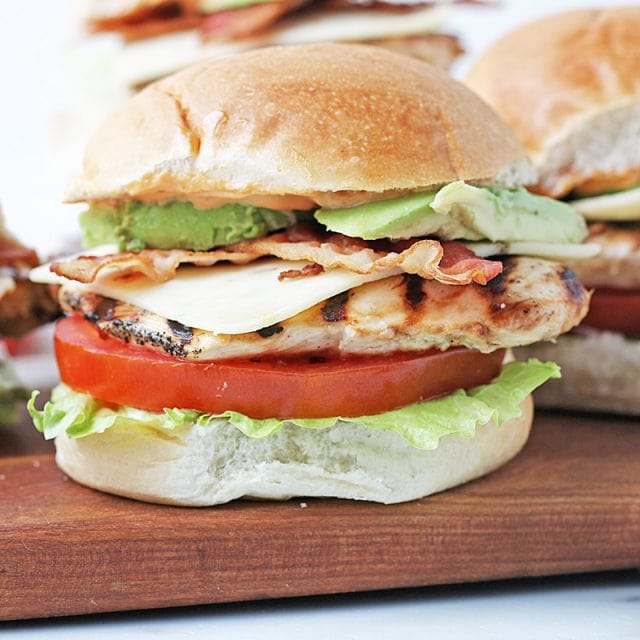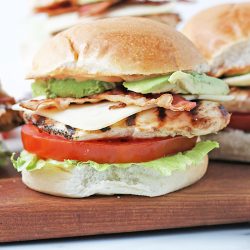 Spicy Chicken Sandwich
This is the best Spicy Chicken Sandwich you will ever taste! Piled high with bacon, cool avocado, spicy chipotle aioli, pepper jack cheese and crisp lettuce.
See The Recipe!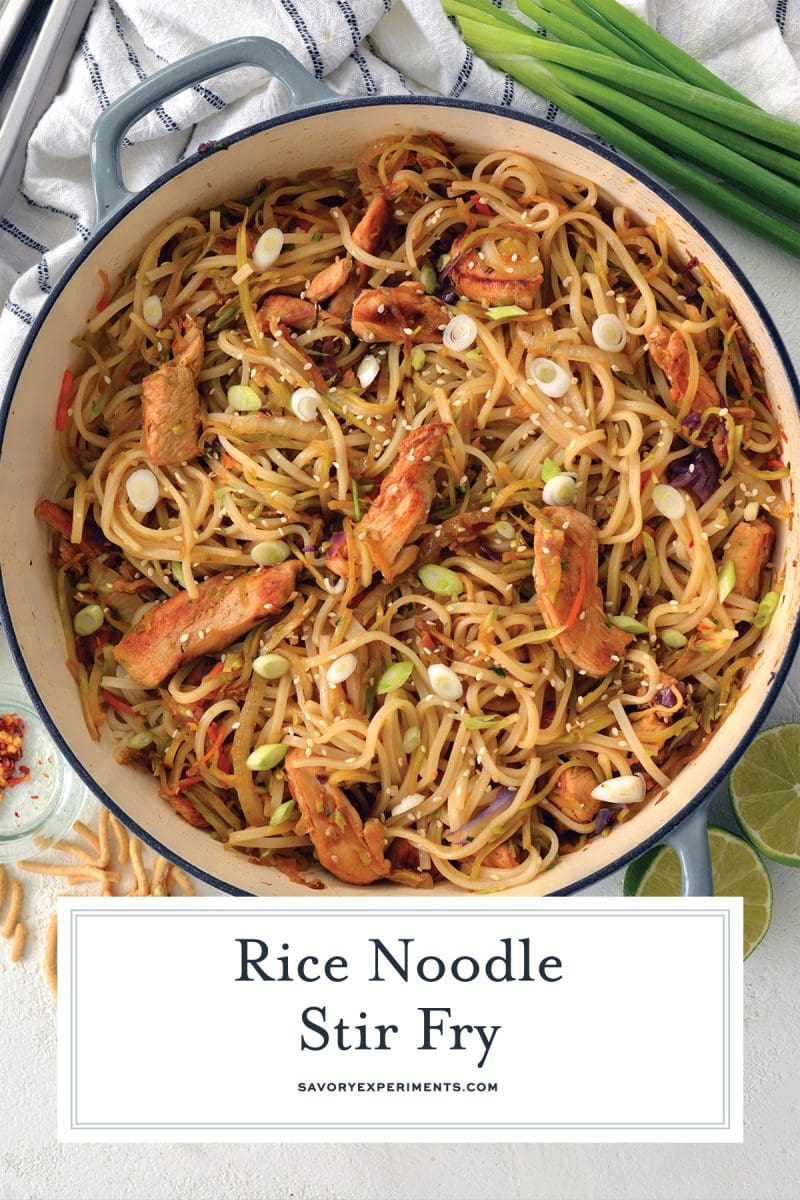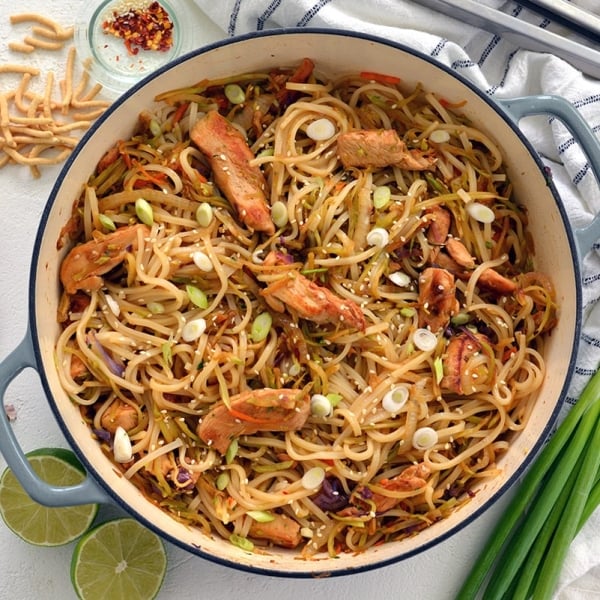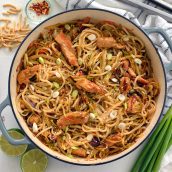 Chicken Stir Fry Rice Noodles
With chicken, broccoli slaw and a sauce that is both sweet and spicy, this Chicken Stir Fry Rice Noodles recipe will be your new weeknight go to!
Instructions
Cook the rice noodle according to package directions for al dente. Drain and rinse quickly with cold water to stop cooking process. Toss lightly with sesame oil to preventing sticking.

Meanwhile, in a large skillet, heat the vegetable oil over medium heat. Add the chicken, browning on all sides, approximately 6-7 minutes.

Add the coleslaw mix, onion and garlic. Continue to cook over medium heat for 2-3 minutes.

Whisk together the soy sauce, sesame oil, lime juice, ginger, honey and crushed red pepper in a small bowl.

Add the cooked rice noodles to chicken and vegetables, cover with soy sauce mixture, tossing until heated, about 2 minutes. Add sesame seeds.

Top with sliced scallions.

If you've tried this recipe, come back and let us know how it was in the comments or ratings!
Nutrition
Calories:
427
kcal
,
Carbohydrates:
64
g
,
Protein:
22
g
,
Fat:
9
g
,
Saturated Fat:
2
g
,
Polyunsaturated Fat:
3
g
,
Monounsaturated Fat:
3
g
,
Trans Fat:
1
g
,
Cholesterol:
48
mg
,
Sodium:
1305
mg
,
Potassium:
560
mg
,
Fiber:
2
g
,
Sugar:
4
g
,
Vitamin A:
293
IU
,
Vitamin C:
56
mg
,
Calcium:
57
mg
,
Iron:
2
mg