BBQ Chicken Nachos take only minutes to prepare and only require FOUR, yes four, ingredients! What more could you ask for?! Super simple to make and loaded with flavor? Yes please!!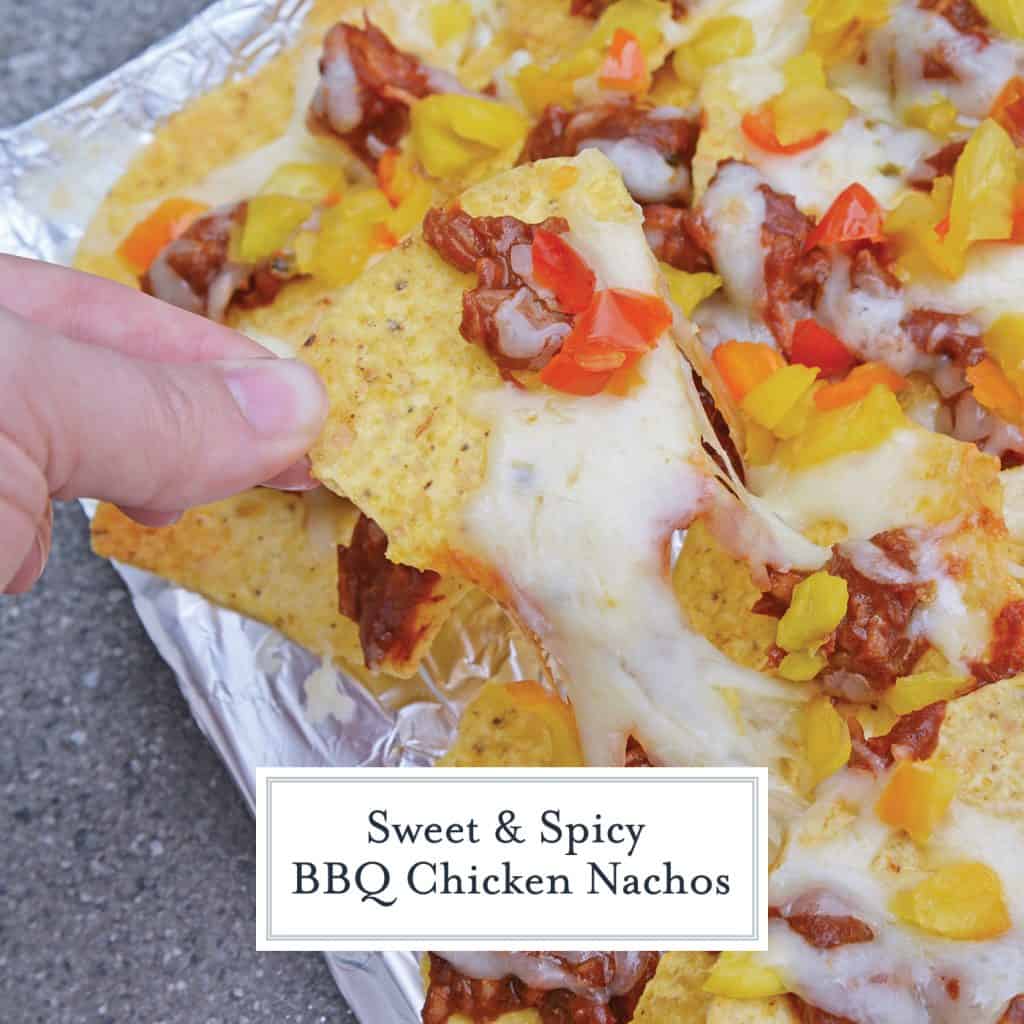 BBQ Chicken Nachos are sweet and spicy nachos that will be ready in 7 minutes with only 4 ingredients! Banana peppers, pre-made BBQ chicken, pepper jack cheese, and chips are as a snack, appetizer, or side dish!
You don't always have time to prepare a glamorous dish, but that doesn't mean you have to sacrifice flavor! Hubby and I eat BBQ Chicken Nachos as a snack or for a meal alongside a salad.
Simple, tasty and colorful.
I love the glowing neon color of Sweet and Spicy Banana Peppers and how the spicy and sweet flavors profiles play off of each other!
PRO TIP: If you don't use the whole chicken, shred the rest and freeze it for later. It tastes great in burritos, soup, salad, quesadillas and more!
Using store bought rotisserie chicken saves me time and adds flavor since they are usually pre seasoned. From there, I shake it in my favorite barbecue sauce and tada!
You can also use a tub of the premade barbecue chicken from the store. Whatever works for you.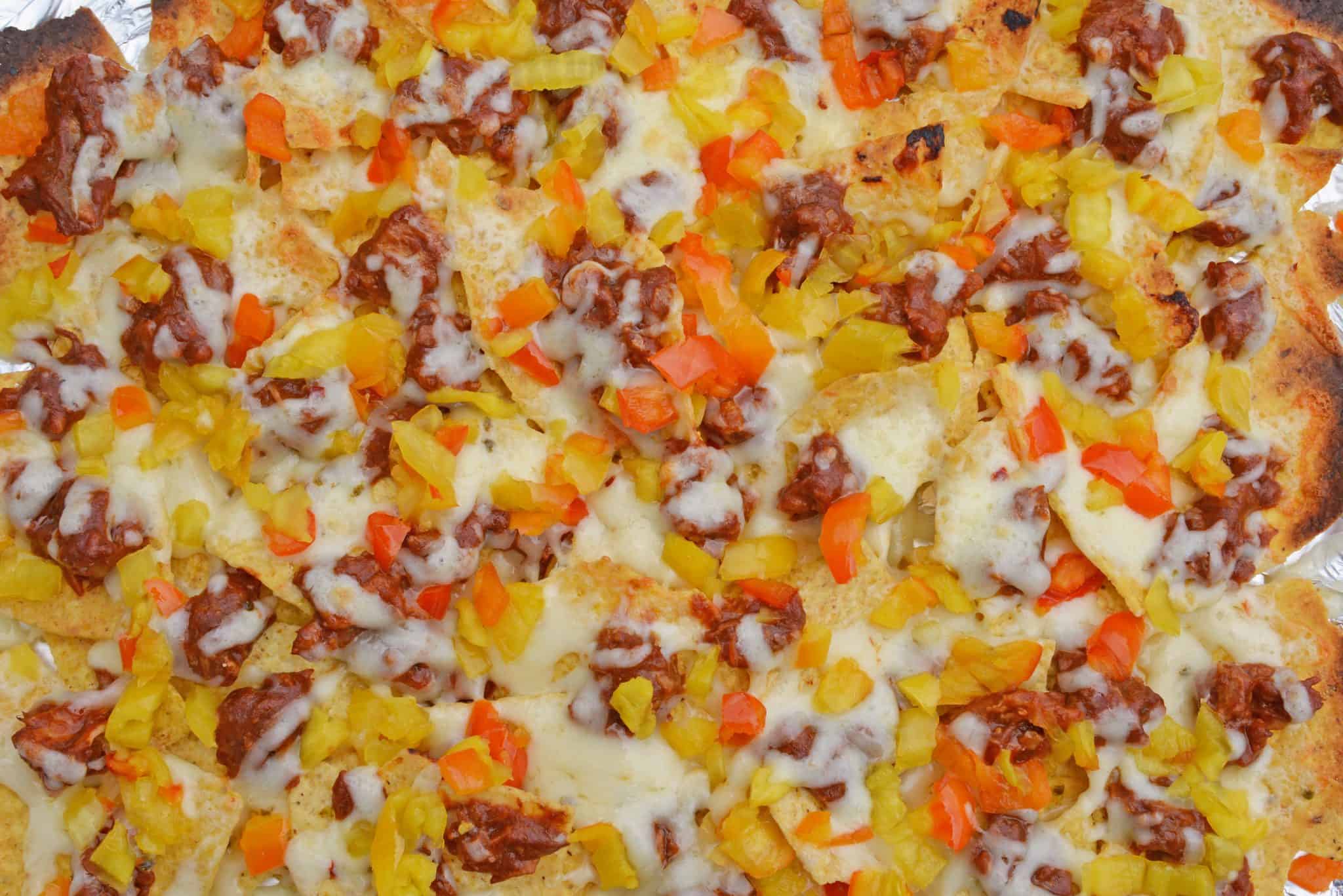 I use Scoops for nachos, purely because I am slightly OCD and like to have an equal ratio of toppings on each chip, but you can use whatever tortilla chip floats your boat!
You can even layer them, but a single layer will ensure every chips gets optional toppings.
PRO TIP: Use a rimmed baking sheet and line it with parchment paper or aluminum foil. This allows for easy clean up when the cheese bakes on!
Nachos might be something you usually only get at the movies, or as an appetizer when you're out for dinner, but they don't have to be.
If you don't know how to make nachos, then I'm here to give you a few pointers.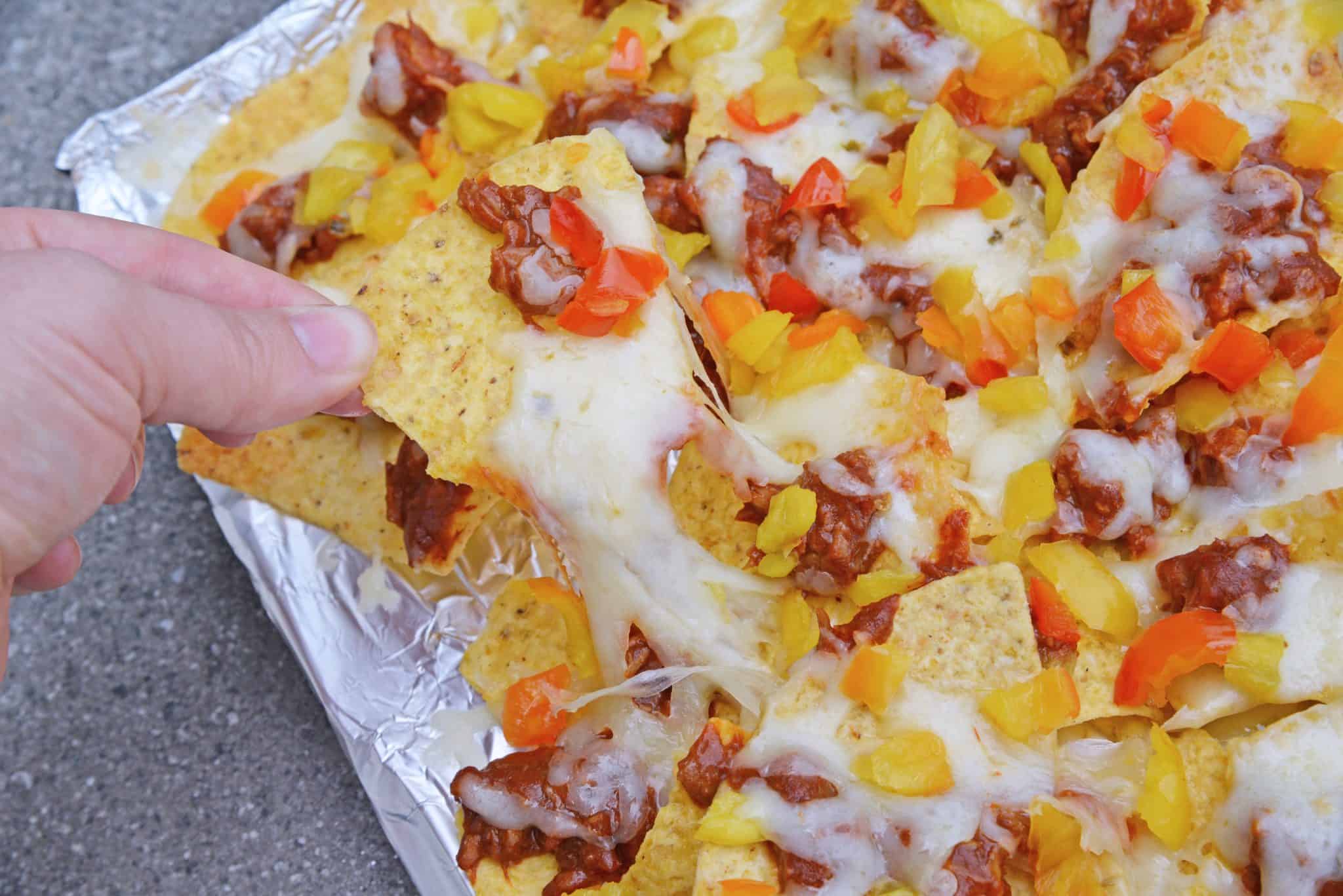 Nachos are basically made up of a base layer of tortilla chips that are topped with any toppings of your choice. In this recipe I put my chips in a baking sheet and scooped in a dollop of BBQ chicken and a cube of pepper jack cheese.
PRO TIP: Don't make nachos too far in advance. Letting them sit with toppings will make the chips soggy!
Then I broiled them on high for only 5 minutes. Don't walk away just keep an eye so they don't burn!
Use a large baking sheet with rims so they don't accidentally slide right off.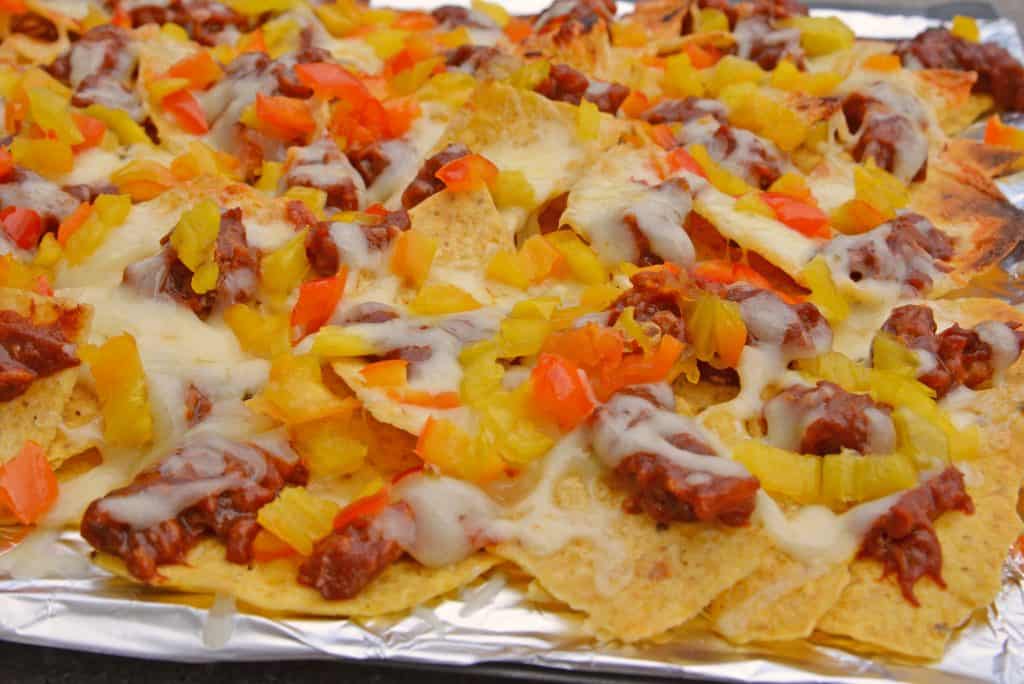 Take them out of the oven when the cheese looks melty. Top with some minced banana peppers, and just enjoy.
The combination of crunchy chips, zesty BBQ chicken, gooey cheese and cold but crispy banana peppers is sublime.
Questions you might have about how to make chicken nachos:
Can I make them in advance? Nachos are one of those things best made right before you eat so the chips don't get soggy.
What other toppings taste good on chicken nachos? These are my favorite chicken nachos toppings:
Diced onion- red onion or sweet onion
Minced garlic
Sour cream
Jalapenos
Sliced olives
More CHEESE!
Black beans
Cilantro
Chopped bell peppers
Diced avocados
Diced green chiles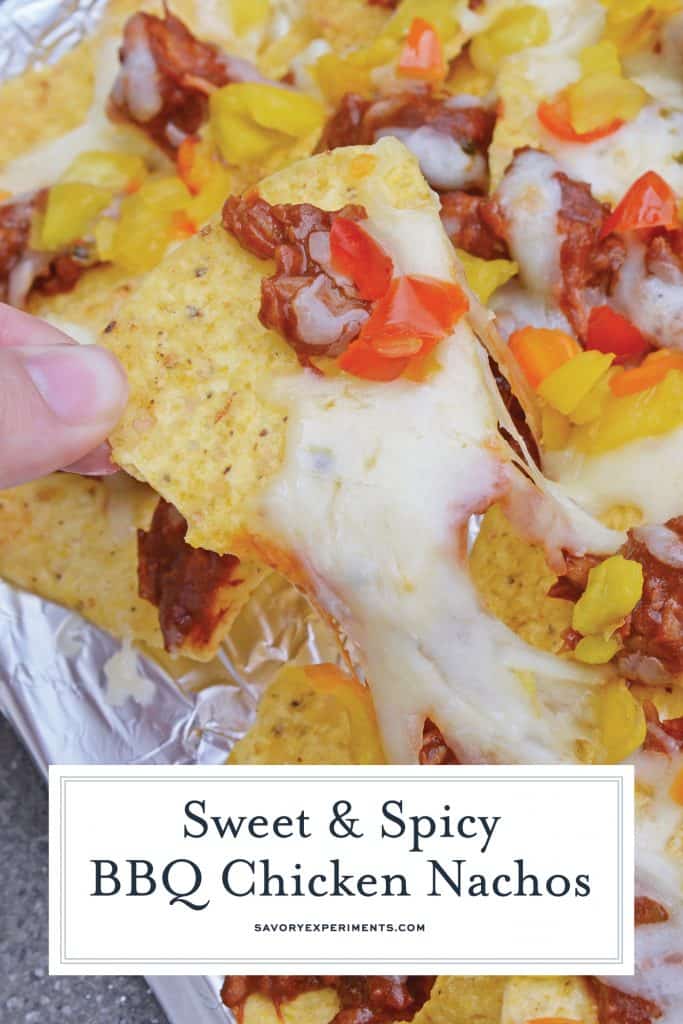 If you enjoyed this nacho recipe, check out these other easy nacho recipes:
Tools for making these BBQ chicken nachos!
Wood cutting board – wood won't dull your knives like plastic and if treated properly, has natural antimicrobial properties.
Good knife – Global is my favorite! They are worth the price, I promise. I am kind of obsessed with them and store them tucked away so no one else can use them. Including hubby. Hands off my good stuff!
Rimmed Baking Sheet– another kitchen staple! You'll use this for prep work, roasting and much more. I have 7 at my house.