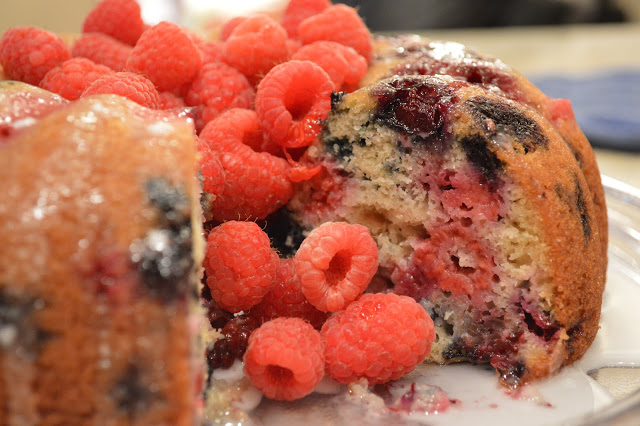 Buttermilk and berries. I could stop writing there. No further enticement. I love this recipe because you can make it with fresh berries when they are in season and with frozen berries when you crave the warmer months. Bright colors marble buttermilk flavored cake that is slightly sweet and light. I make this cake as a dessert, but I ate the leftovers for breakfast.
Time: 1 hour 15 minutes
Makes 1 bundt cake
Ingredients for Very Berry Buttermilk Bundt Cake
Baking Flavored Cooking Spray
2 cups all purpose flour
1 tablespoon baking powder
1 teaspoon baking soda
1/4 teaspoon salt
1 cup sugar
3/4 cup buttermilk
2 eggs, room temperature
1/4 cup vegetable oil
4 cups of fresh blackberries, raspberries and blueberries (or 4 cups unsweetened frozen)
1 cups powdered sugar
3 tablespoons water
1/2 teaspoon vanilla

1. Preheat oven to 350 degrees. Spray a 6 cup bundt pan with Butter Flavored cooking spray.
2. Sift together flour, baking powder, baking soda and salt in a large bowl.
3 In a separate bowl or stand mixer combine sugar, buttermilk, eggs and oil. Using an electric hand mixer or paddle attachment on a stand mixer, stir until just combined.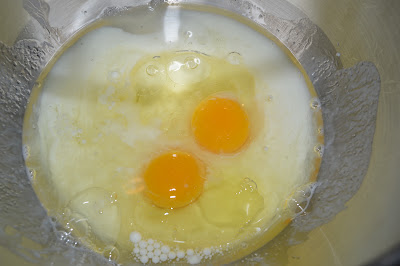 4. In thirds add dry mixture. Mix until just moist. Do not over mix. This will result in a tough cake.
5. Gently fold in 3 cups of berries. Pour into the bundt pan. Sprinkle remaining berries on top and tap several times to get them to stick to the batter. The weight of the berries can cause them to sink to the top of the cake. By adding a layer on the bottom you will equally distribute throughout the cake.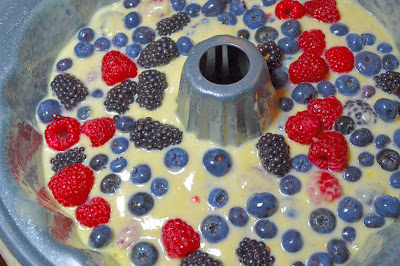 6. Bake for 40-45 minutes, or until the top is lightly browned and it passes the toothpick test. Set on wire rack until fully cooled.
7. Combine powdered sugar, water and vanilla in a small bowl until a pourable consistency- not too watery, but not too thick. Pour over bundt cake.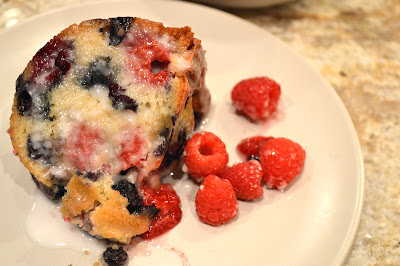 8. Slice and serve! Cake can be kept in the refrigerator for up to 2 days…. if it lasts that long. Enjoy!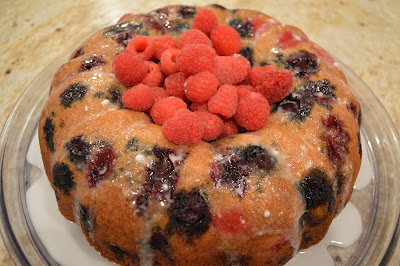 If you like this recipe, make sure to follow me on Pinterest for even more! 
Visit Savory Experiments's profile on Pinterest.