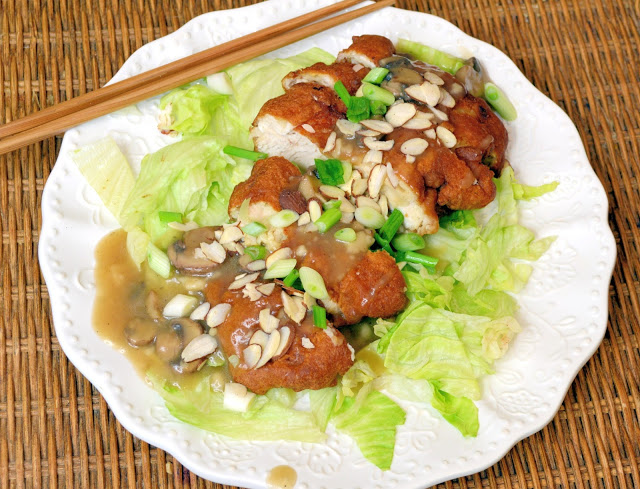 Sometimes I get requests for dishes I have never eaten. This particular dish was another request from my dear friend Nathalie. Born and raised in a suburb of Detroit, MI, she raves about Detroit Style Almond Chicken. A Christmas Eve tradition, the Detroit area Chinese Restaurants whip up this specialty dish for Christians in the area. Nathalie has been trying to get our two friends, who also hail from the Detroit area and happen to own a Chinese food restaurant, to fess up the coveted recipe for Detroit Style Almond Chicken. As the story goes there is a man from the "old country" (China) who gave the secret recipe to the owners of the local Chinese Restaurants. He completes weekly rounds collecting a fee for this mystery recipe. If ever leaked, they could face a penalty… or death. Sounds like a Detroit Almond Chicken mafia to me and I am not sure I believe it! Unfortunately, she has not won the battle for the recipe to be leaked, nor would she like to see our good friends (Willis and Jimbo) be penalized so one Friday night we decided it was "game on" for Almond Chicken. Nathalie and I did our homework and relied on her eyes and tastes buds to re-create the famous Detroit Almond Chicken dish and then test it against our Chinese Restaurant owning friends.
For all of those not from Detroit, you are probably expecting something like I was; similar to cashew chicken, but with almonds, served over fried rice. Oh contrary, my friend. Detroit Almond Chicken actually doesn't taste much like Chinese food at all. Instead of chicken pieces, it is served as a sliced chicken breast, battered and fried like southern style fried chicken. It is considered good luck to remove one of the center slices prior to serving. The mushroom sauce tastes like brown gravy. And the big kicker? No fried rice! Although I made some as a side dish, Detroit Style Almond Chicken is served over iceberg lettuce! I now see why Nathalie was so excited to re-create this dish. It was amazingly good. The chicken is crispy on the outside, but moist on the inside. Seasoned perfectly with a little bit of sherry, salt and pepper, it allows for the mushroom gravy to take center stage. Crisp, cold, fresh lettuce is the base. I'm told it started as a way to soak up extra oil from the fried chicken when plated, but since customers have started to devour it along with the chicken, it has become a staple of the dish.
**Update- one week after making this dish, our friends couldn't be out "chickened" by Nathalie and I. On a trip home from Detroit they toted back a cooler full of Detroit's famous Almond Chicken. So what were the differences? Minimal actually! I was pleasantly surprised with my ability to re-create having never tasted the dish. Their version included diced water chestnuts and red bell pepper in the mushroom gravy, no sherry on the chicken and allowing the batter and mushroom sauce to sit overnight to develop more flavor. I might be biased, but I preferred the slight sherry taste in mine! **
Time: 1 hour
Serves: 4
Ingredients for Detroit Style Almond Chicken
4 boneless, skinless chicken breasts
Salt and Pepper
1/2 cup cooking Sherry
4 tablespoons cornstarch
4 tablespoons water
3 cups low sodium chicken broth
8 ounces sliced cremini mushrooms
1 tablespoon reduced sodium soy sauce
3 chicken bullion cubes (small cubes for 1 cup of water)
12 tablespoons all purpose flour, divided
1/2 teaspoon baking powder
2 eggs, lightly beaten
Vegetable Oil, enough to fill 1 inch in a large Dutch oven or sauce pan
1 head iceberg lettuce, shredded
1/3 cup sliced almonds
4 scallions, sliced diagonally for garnish
1. Place chicken breasts between two sheets of wax paper or plastic wrap. Using the flat side of a meat tenderizer, pound breasts to approximately 1/2 inch uniform thickness. Place in a baking dish large enough for them to fit in a single layer. Season to taste with salt and pepper and cover with cooking sherry. Set aside until ready to cook, a minimum of 30 minutes.
2. Next is the mushroom gravy. Your gut instinct will be to boil it for the cornstarch to activate and thicken, however I will caution you against this from personal experience. Cook it on medium heat or else the cornstarch will separate from the gravy leaving it lumpy. Start by combining 4 tablespoons cornstarch with 4 tablespoons water in a medium sauce pan. Whisk until smooth. Then add chicken broth through
butter
.
3. Set over medium heat and bring to a low simmer, stirring constantly. When sauce starts to simmer, set it over low, stirring sporadically. Sauce should start to thicken and mushrooms will cook down. When sauce reaches a gravy consistency set aside and just keep warm.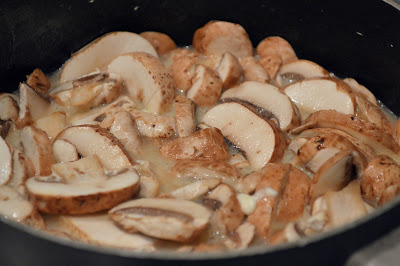 4. In a medium mixing bowl, whisk together 6 tablespoons all purpose flour, baking powder and eggs. This mixture will be very thick. If it is so think you won't be able to dredge chicken through it, add a small amount of milk or water. In a shallow dish or bowl place the remaining 6 tablespoons all purpose flour and lightly season with salt and pepper.
5. Heat 1 inch of vegetable oil in a large Dutch oven or sauce pan. You will need space to fry the chicken, so use something with a large surface space. The chicken breasts I used were so large I could only do one at a time even in a large pan! Also, preheat your oven to 350.
6. Lightly coat each chicken breast in flour and then dredge in egg batter. Carefully lower into hot oil. Depending on size, chicken will take from 5-7 minutes per side. Remove to a baking sheet and place in the oven to keep warm. Continue with remaining chicken breasts.
7. When ready to serve Detroit Style Almond Chicken, slice chicken on a cutting board. I found that a couple of quick whacks with a cleaver worked best to not disturb the beautiful egg crust. Lay over a bed of iceberg lettuce, smother with mushroom gravy and sprinkle with almonds and scallions.
Like this recipe? Try
Breaded Chicken Breasts
or
Yakatori Chicken
.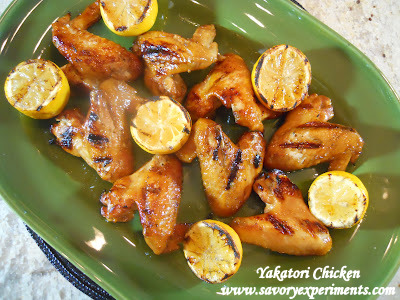 If you like this recipe, make sure to follow me on Pinterest for even more! 
Visit Savory Experiments's profile on Pinterest.