Walnut Crusted Chicken is a healthier alternative to your typical fried chicken. This rosemary chicken recipe is packed full of flavor and crunch! The whole family will fall in love with this Walnut Crusted Chicken!

Walnut Crusted Chicken is a crunchy, oven-baked chicken with a zesty yogurt dipping sauce. Perfect for those craving crispy chicken cutlets, but without the fat.
A few weeks back, California Walnuts sent me a little note asking if I'd like to try their product and, of course, I accepted because I love walnuts! One interesting fact I learned before my burlap bag of walnuts arrived was that they actually stay fresh longer when refrigerated. I had no idea!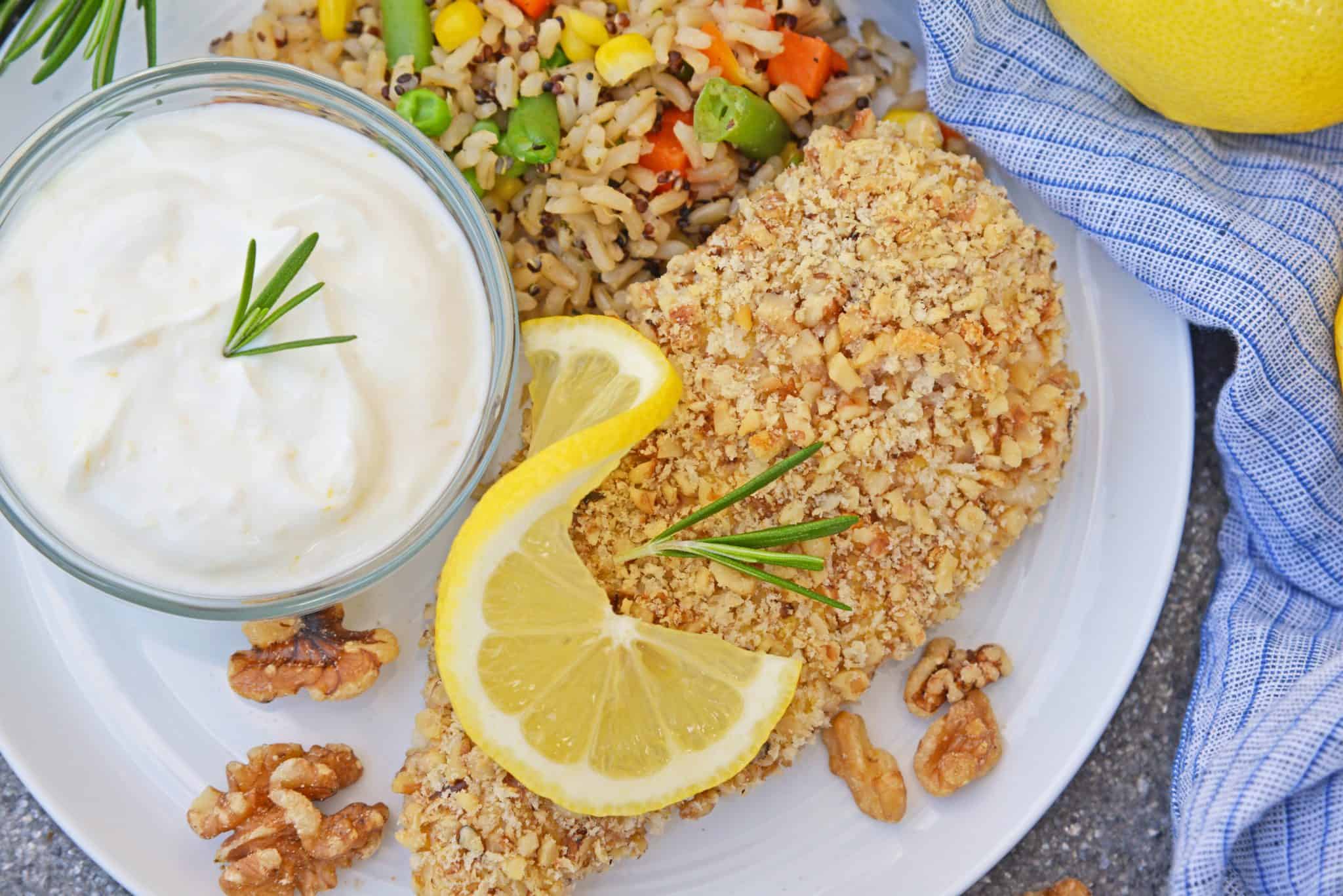 How many walnuts have sat on my pantry shelves in plastic baggies that may not have lived up to their full potential? Who knows!?
Walnuts are also rich with omega-3 fatty acids and have been linked to better brain functioning and lower risks of a variety of cancers.
Super simple to incorporate into any diet, they can be used in baked goods, tossed into salads or eaten plain by the handful! I had some fun perusing through the California Walnuts website to find other fun recipes and also see how walnuts are harvested.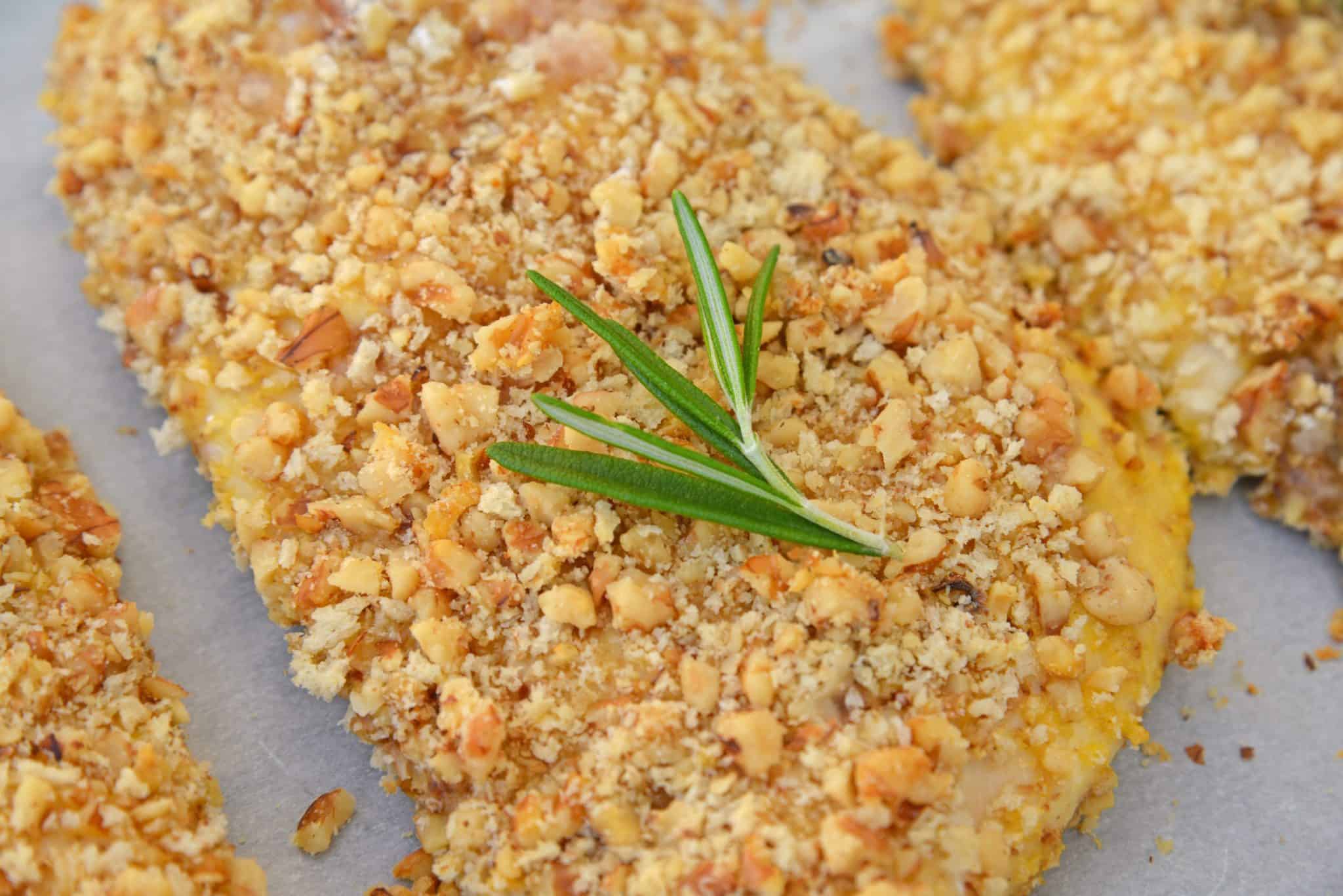 Walnut Crusted Chicken is a "skinny" version of a classic chicken cutlet. Instead of using breadcrumbs and then pan frying in olive oil and butter, I opted for finely chopped walnuts with whole wheat panko crumbs and fresh rosemary. Then baked to perfection with no additional oils.
Paired together, rosemary and walnuts give the chicken a fresh and earthy flavor combination that no bread crumb will ever achieve. The other benefit is that walnuts do not get soggy, so your chicken will never lose the crunch factor, even if you are eating leftovers.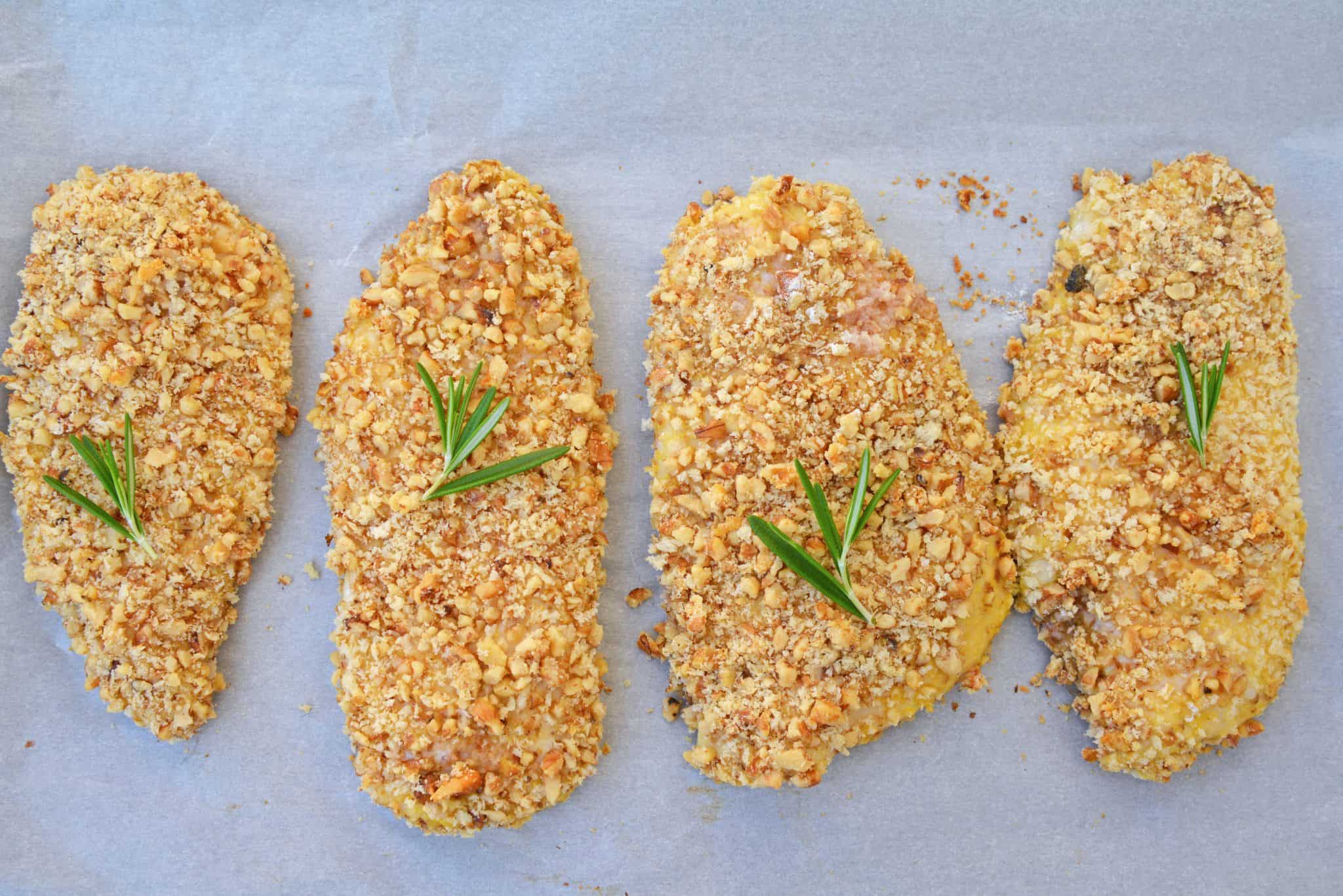 Although Walnut Crusted Chicken does not need much additional flavor, I added an "aioli" for a little but of intrigue and cream. Instead of using mayonnaise, I opted for plain Greek yogurt mixed with fresh lemon, salt and pepper. Simple and fresh.
Very basic, but very good, and it is great on a whole host of other foods such as roasted or grilled vegetables, turkey burgers and salmon. I even use it as a salad dressing.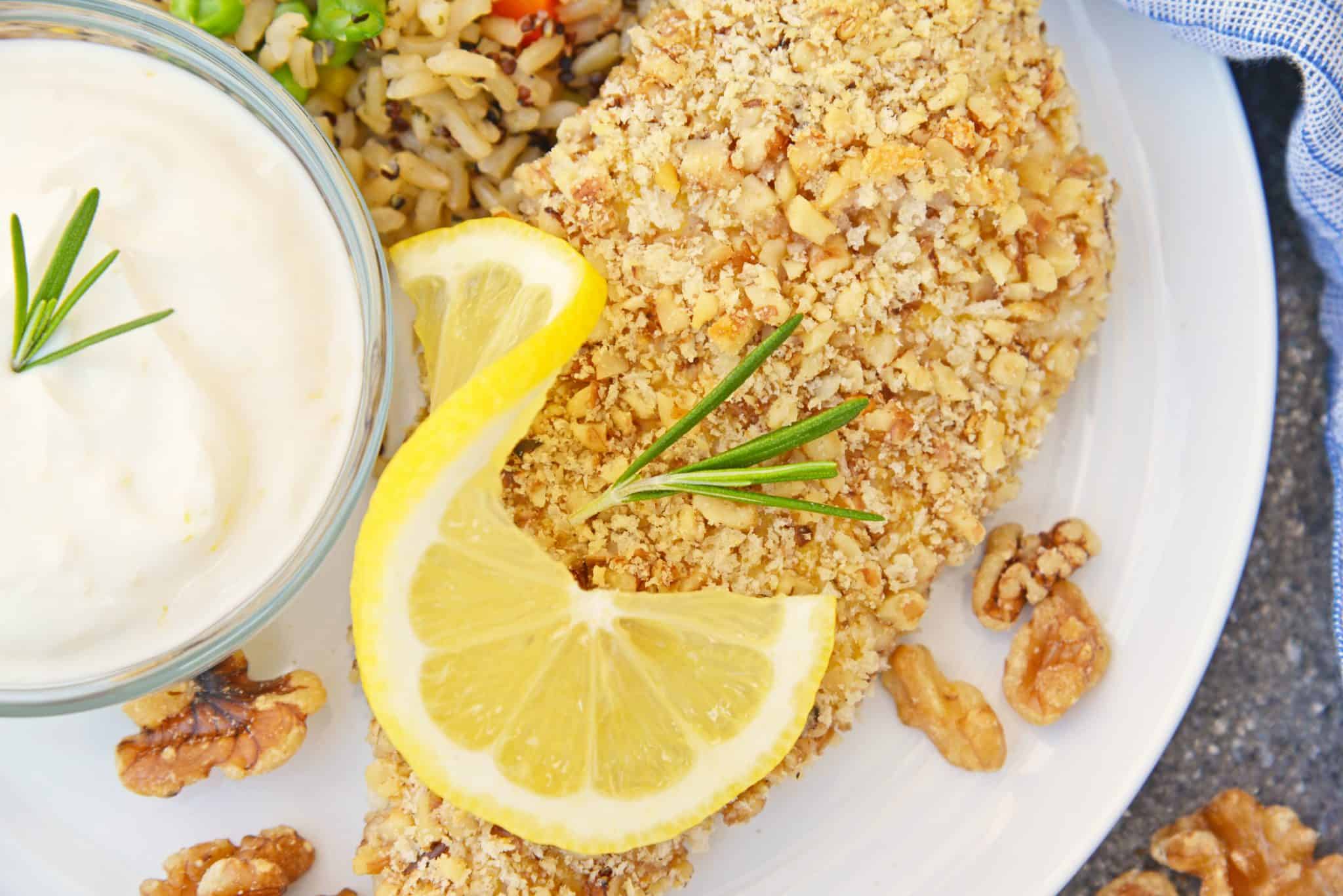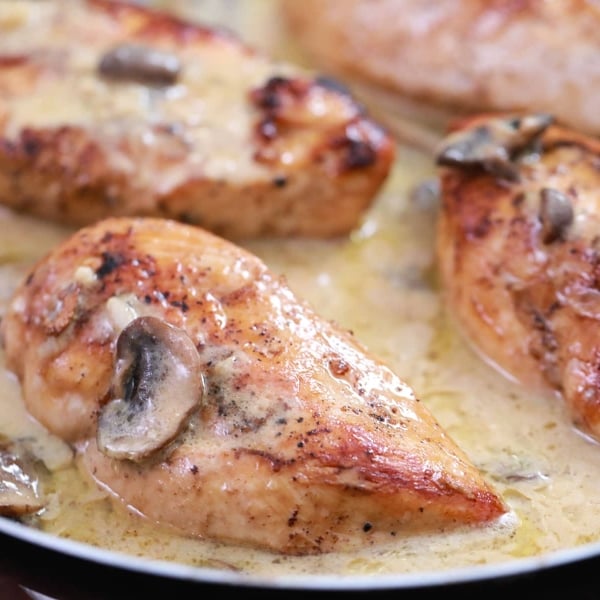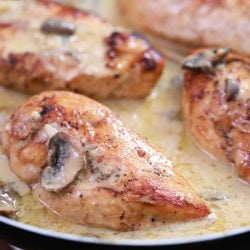 Chicken Marsala Recipe
This Chicken Marsala recipe is made in 1 pan in less than 30 minutes! Whip up this EASY dish with a rich creamy mushroom sauce on top of juicy chicken.
See The Recipe!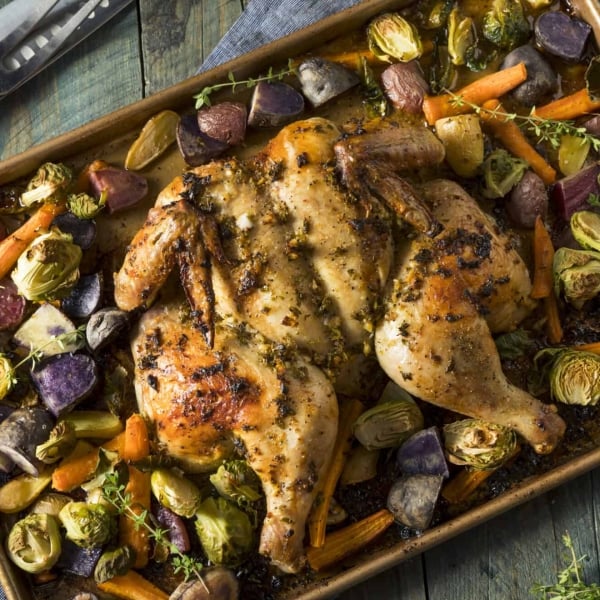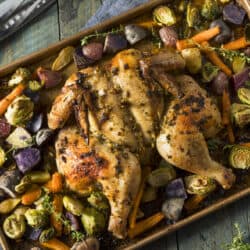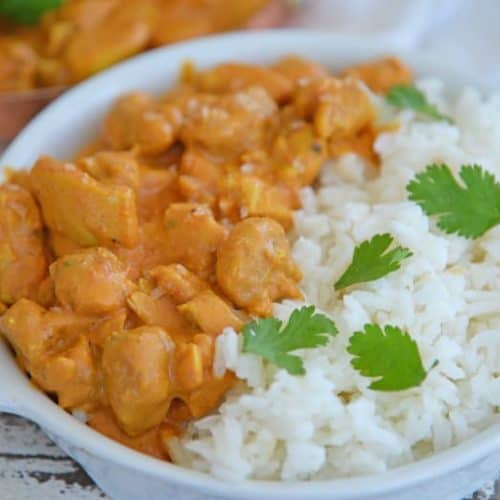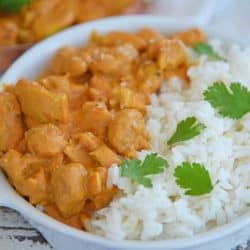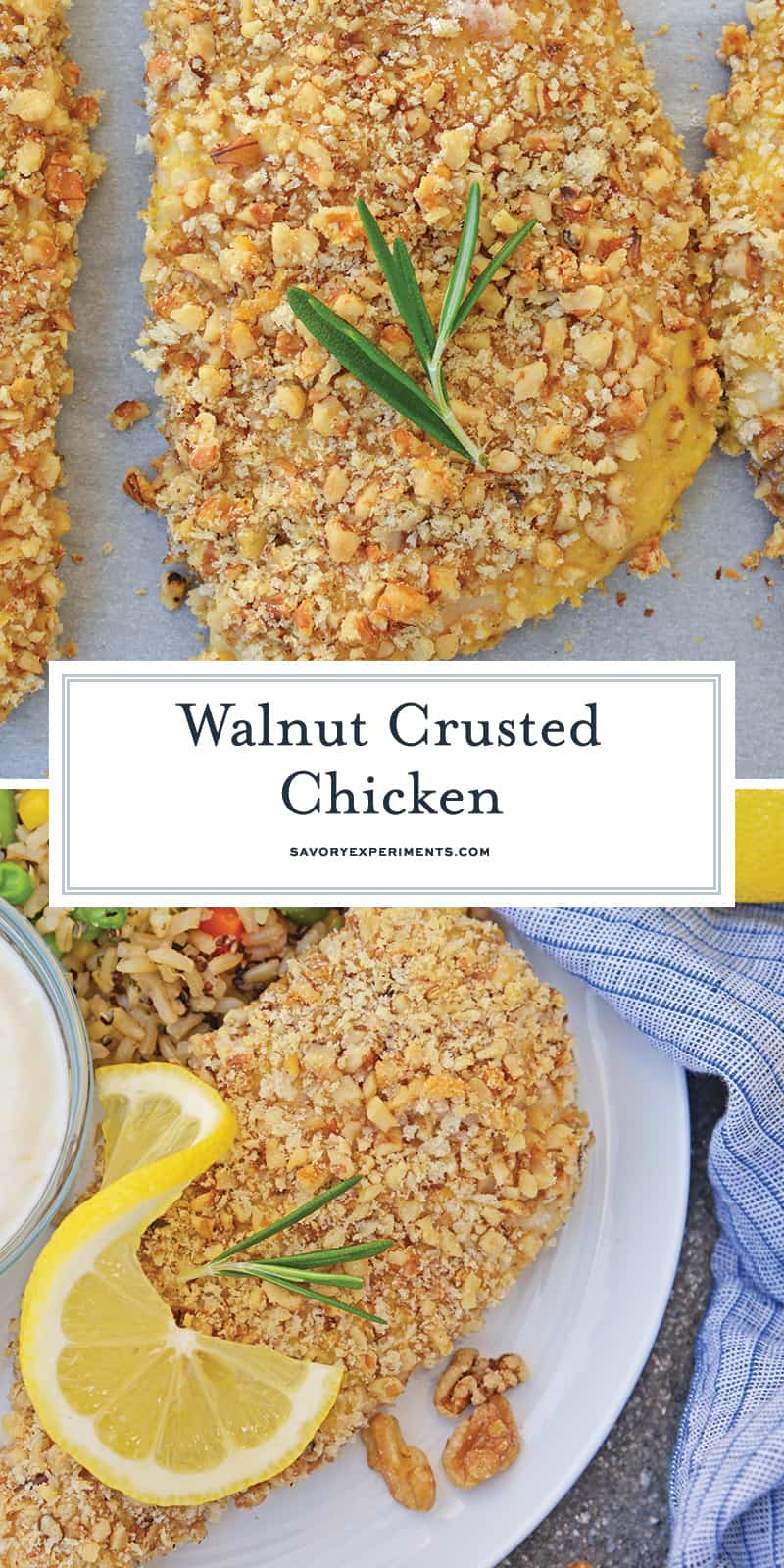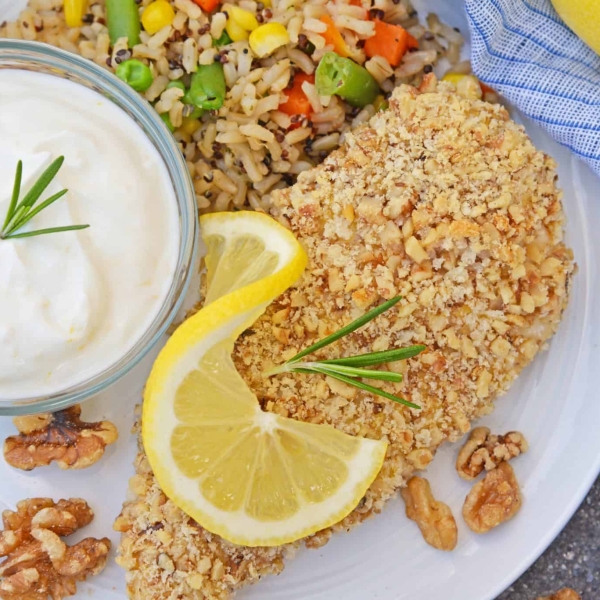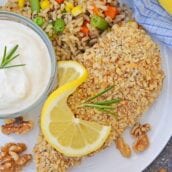 Walnut Crusted Chicken Recipe
Walnut Crusted Chicken is a crunchy, oven-baked chicken with a zesty yogurt dipping sauce. Perfect for those craving crispy chicken cutlets, but without the fat.
Instructions
Preheat oven to 350 degrees. Line a rimmed baking sheet with parchment paper.

Cut each breast in half, then place on a cutting board and cover with plastic wrap or wax paper. Beat with a meat mallet until 1/2 inch uniform thickness.

Arrange three shallow bowls on the counter. In the first bowl, combine walnuts, rosemary and panko. In the second, lightly beaten eggs and the third, flour mixed with fine sea salt and pepper.

Lightly dredge each breast halve in flour, then egg and finally walnut mixture. Pat in walnuts to make sure you get a good, even coat. Place in a single layer in prepared baking dishes. Repeat with all chicken.

Bake chicken for approximately 20 minutes. For the last 2 minutes, change to a low broil to get a nice brown on top.

While chicken is cooking, whisk together all ingredients for Lemon Yogurt Sauce in a bowl and refrigerate until ready to serve.

Remove chicken from oven and serve immediately. Sauce can be served on the side or directly on top of the chicken.

If you've tried this recipe, come back and let us know how it was!
Notes
You can omit the panko or reduce amount.
Nutrition
Calories:
815
kcal
,
Carbohydrates:
39
g
,
Protein:
70
g
,
Fat:
42
g
,
Saturated Fat:
5
g
,
Cholesterol:
230
mg
,
Sodium:
1249
mg
,
Potassium:
1261
mg
,
Fiber:
4
g
,
Sugar:
4
g
,
Vitamin A:
250
IU
,
Vitamin C:
3.9
mg
,
Calcium:
182
mg
,
Iron:
4.7
mg
What is your favorite way to eat walnuts? Tell me in the comments!