A Homemade Coleslaw Mix is a staple for many family tables during the summer barbecue months. Perfect for any dish or as coleslaw for pulled pork or even on hot dogs. Tangy vinegar paired with crunchy veggies, can you go wrong?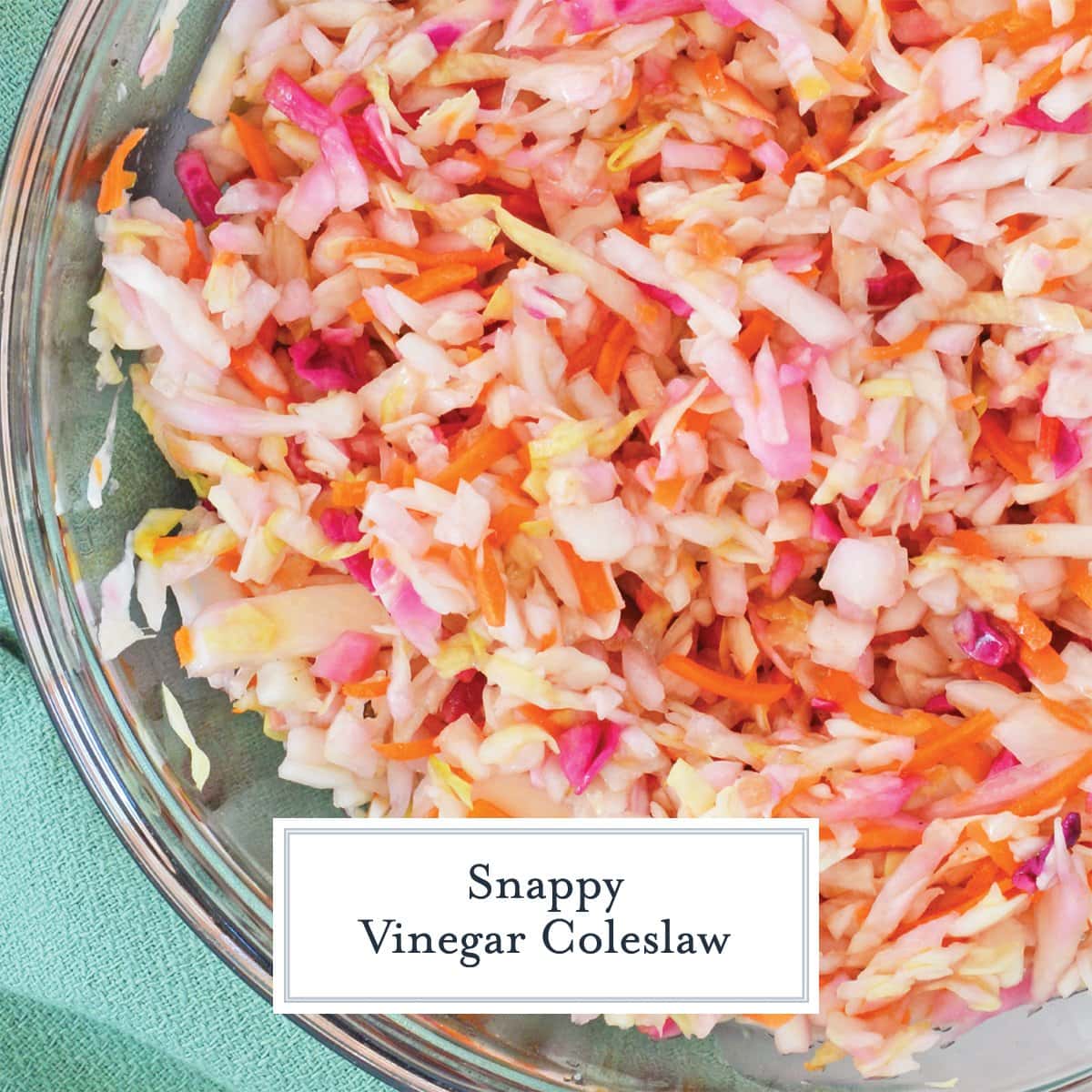 Vinegar Coleslaw
I don't really care for super saucy, creamy coleslaw recipes. I want to be able to taste the fresh crunch of cabbage, still get a snap and also taste whatever else I am eating, typically BBQ.
Heavily mayo-ed up coleslaw mixtures overpowers those flavors. As does other elements typically added like heavy mustard, celery seeds, poppy seeds and crushed red peppers.I want a light, but easy recipe.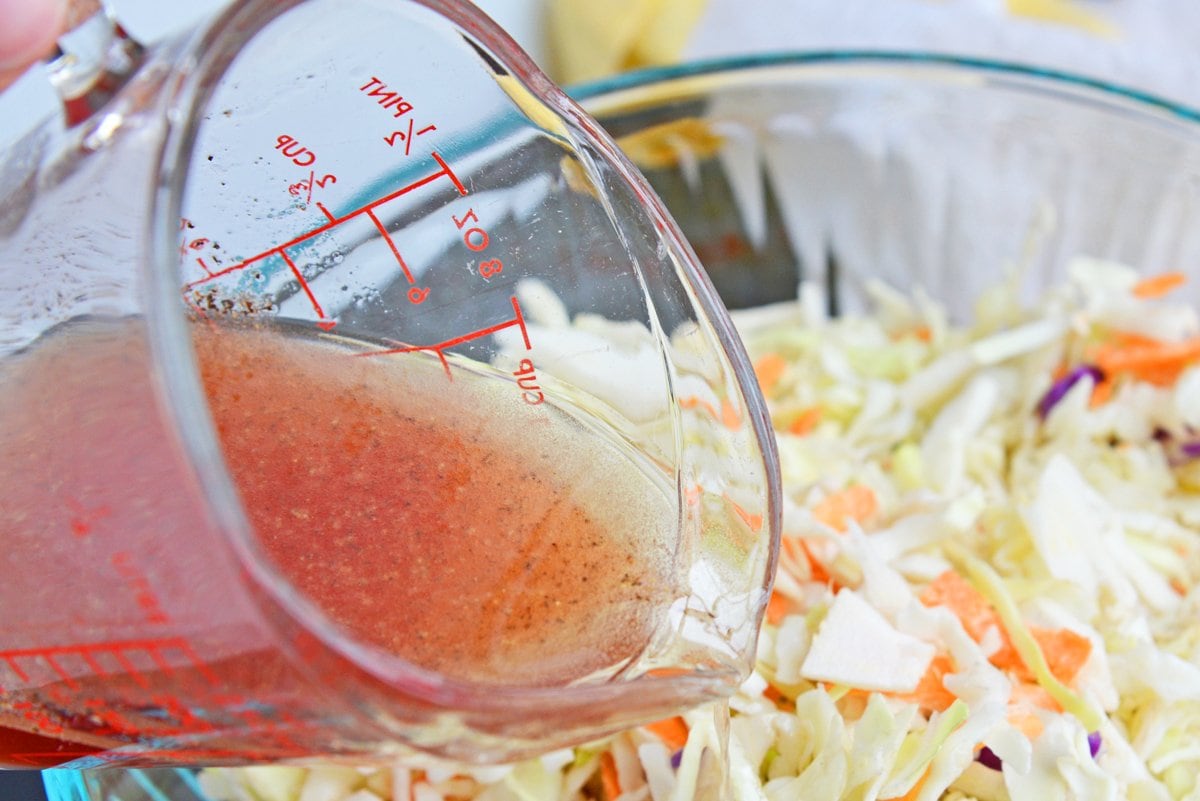 Healthy Coleslaw
Is Coleslaw Bad For You? I hate answering these questions, but my best answer is that traditional creamy coleslaw isn't the healthiest because, well, it is super creamy with mayo and mayo has a lot of calories and fat.
My three best coleslaw recipes (this one Yogurt Pineapple Coleslaw and Red Slaw) not only taste better, but are are also better for you. Don't get me wrong, I'm not counting the calories and I haven't gone all keto on you, but if the recipe you like is also healthier for you, embrace it!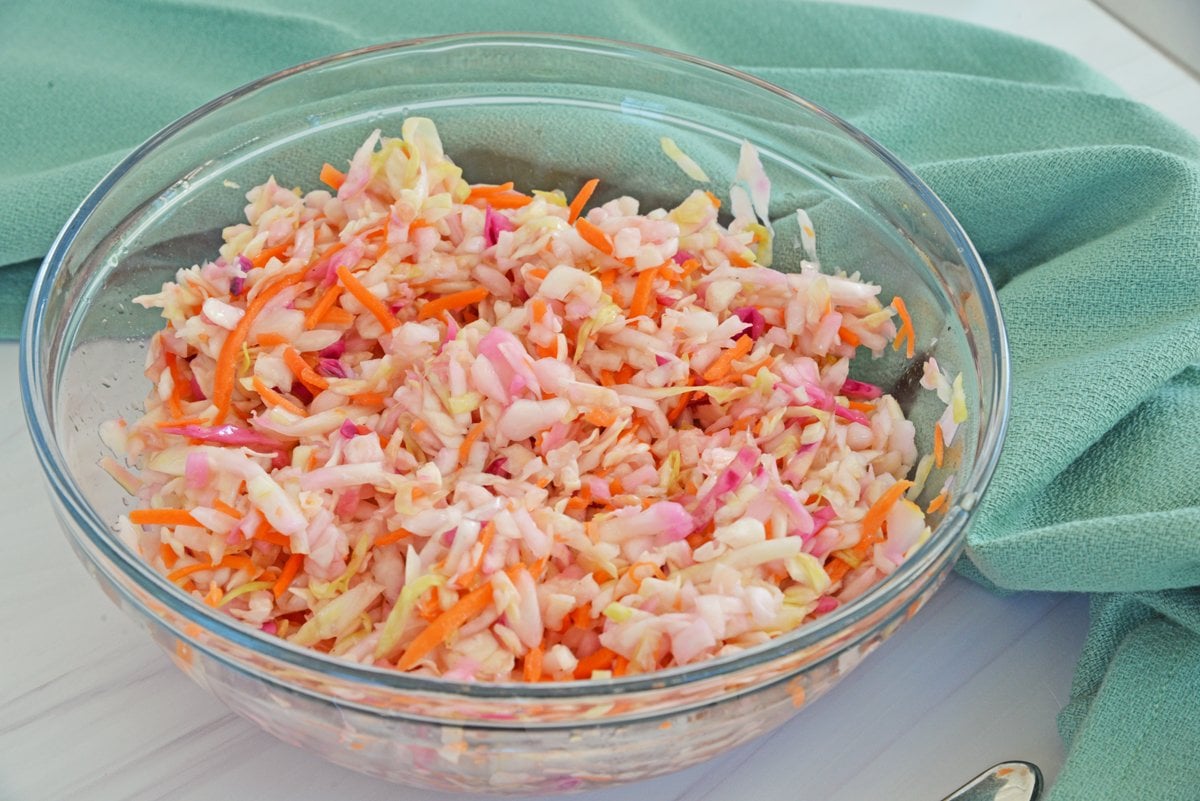 Shredded Vegetables
You can shred your own veggies using a mandolin slicer, but buying a store bought pre shredded cabbage salad is a shortcut I am willing to take. Many food processors also have an attachment to shred veggies easily and quickly.
Use whatever blend you like and either shredded or chopped, this coleslaw dressing works well for either variety. You can even buy a bag mix and then add a few of your own elements. Simple ingredients are key here.
These are my favorite fresh vegetables:
Red Cabbage
Green Cabbage
Cabbage mixture (both red and green)
Kale
Broccoli
Jicama
Brussels Sprouts
Carrots
Celery
Fennel Bulb
Zucchini
White Onion, Sweet Onion or Red Onions
Radish
Green onions
I am a fan of colorful food and since you aren't using a super creamy mayonnaise coleslaw dressing, you won't be covering up those vibrant colors!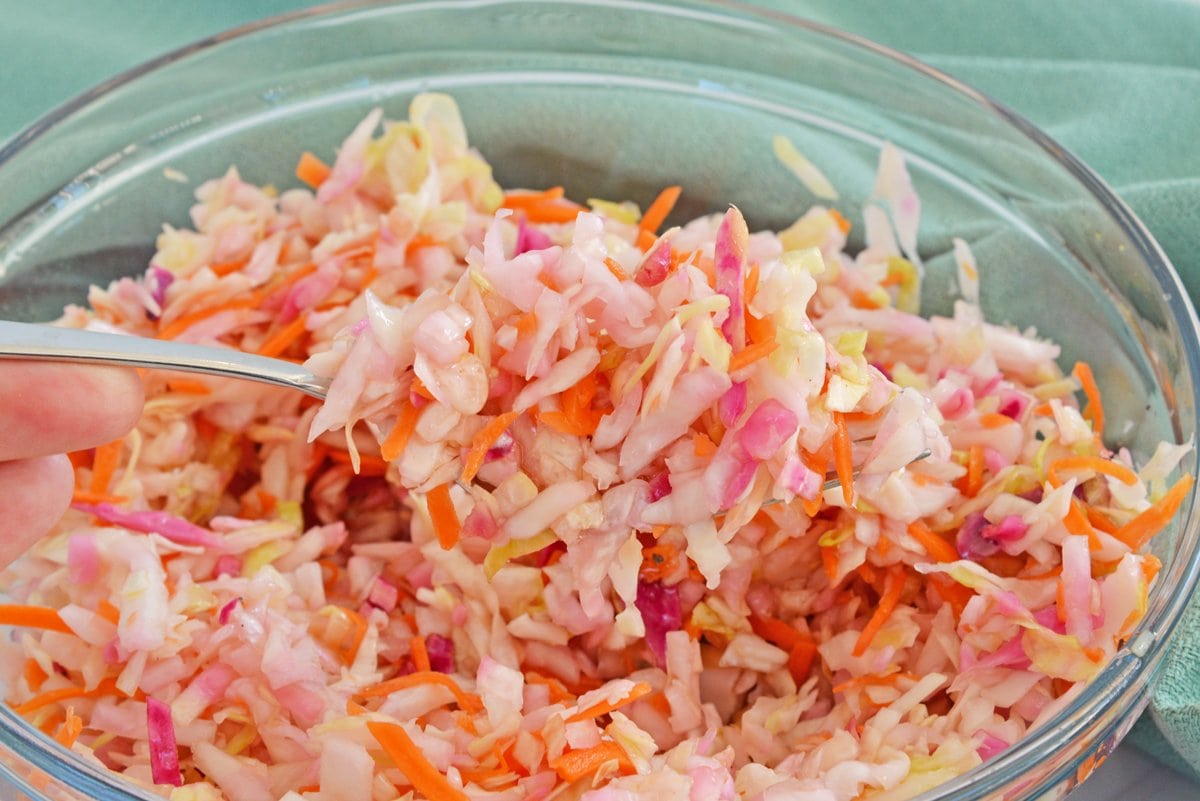 Variations
You can even punch up your vinegar based coleslaw with a few other ingredients, if you'd like. I find vinegar is enough for most dishes and events where a lot of people will be eating, but sometimes you want a different element.
Some favorites include:
Teaspoon of Dijon mustard or dry mustard
1/2 teaspoon celery seed
Minced bell pepper
Red pepper flakes (for spicy vinegar based coleslaw recipe)
Teaspoon of poppy seeds
Substitute maple syrup, honey or agave nectar for the sugar, cut back to 1 tablespoon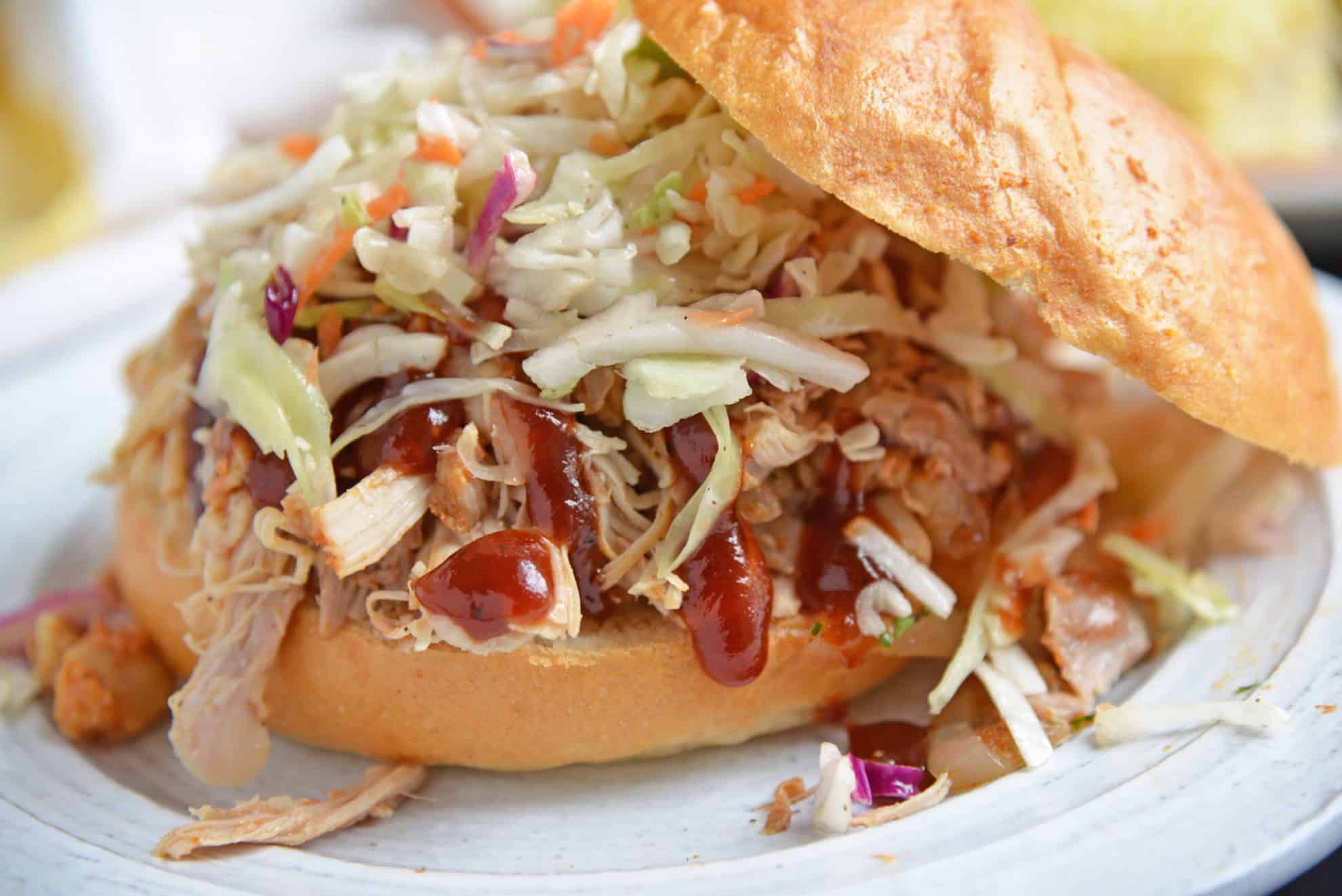 Make Ahead
While a 14 ounce bag of cabbage mix might seem like a lot, it isn't. Start with large bowl because it will have some loft to it before shrinking a little while pickling.
After marinating in the vinegar coleslaw dressing, the water will start to leach out of the vegetables and then will deflate, leaving you with a much smaller bowl of coleslaw next day. You do want to allow for a minimum of an hour of marination time. The sugar needs to dissolve and the flavors marry before this makes a really good vinegar slaw.
You can marinate it for up to 24 hours before it starts to get mushy. You can drain off some of the excess liquid or serve with a slotted spoon. After that you are now pickling the slaw, which isn't a bad thing, but you'll lose the snappy texture. Store in an airtight container in the fridge.
I don't recommend freezing coleslaw- the ingredients have too much water and it will just turn to much after thawing.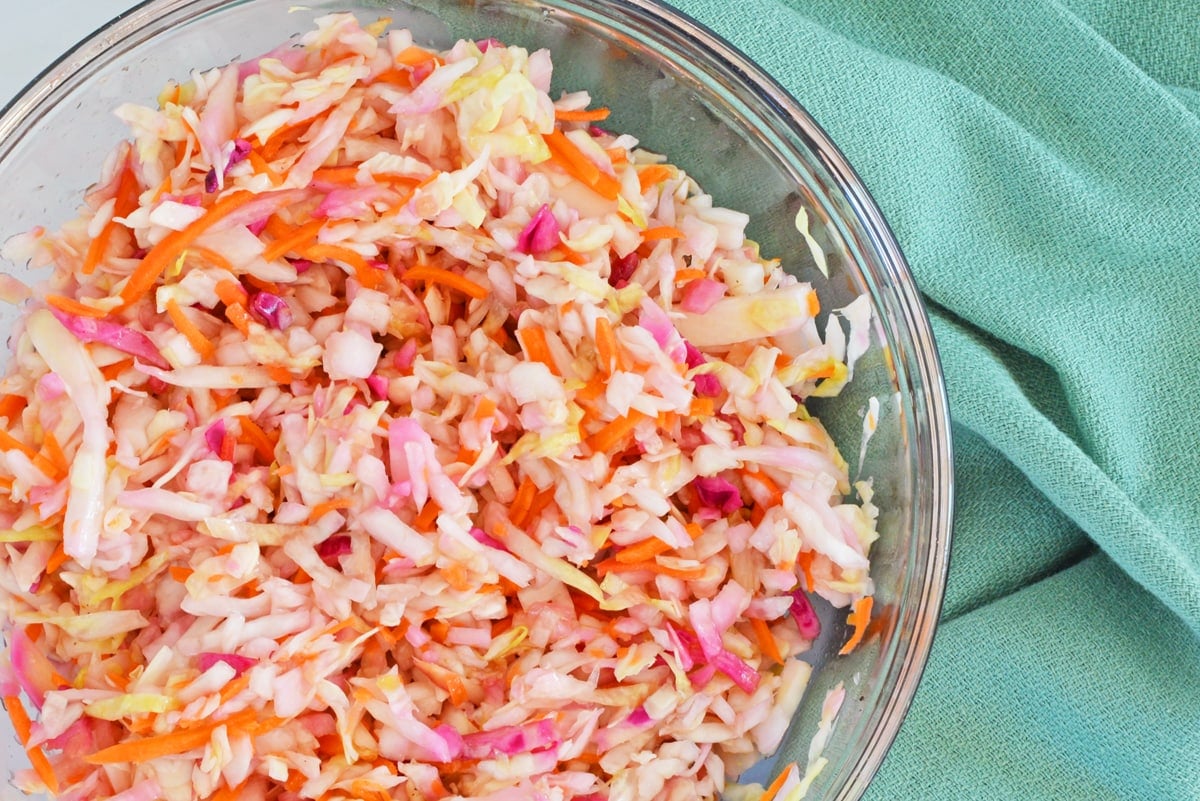 Why does my coleslaw get watery?
Typical coleslaw ingredients like red cabbage, green cabbage, carrots and radish, these all contain a lot of water. Adding salt draws out the water and lands in a pool at the bottom of your bowl.
You can either take it for what it is and drain it before serving. After sitting for several hours, the ingredients are pretty pickled and have taken on the correct flavors anyhow.
Or go a step further and generously salt your shredded cabbage before combining all the ingredients. All it to sit for several hours, if not overnight, in the fridge and then drain. Make the recipe as written after this point.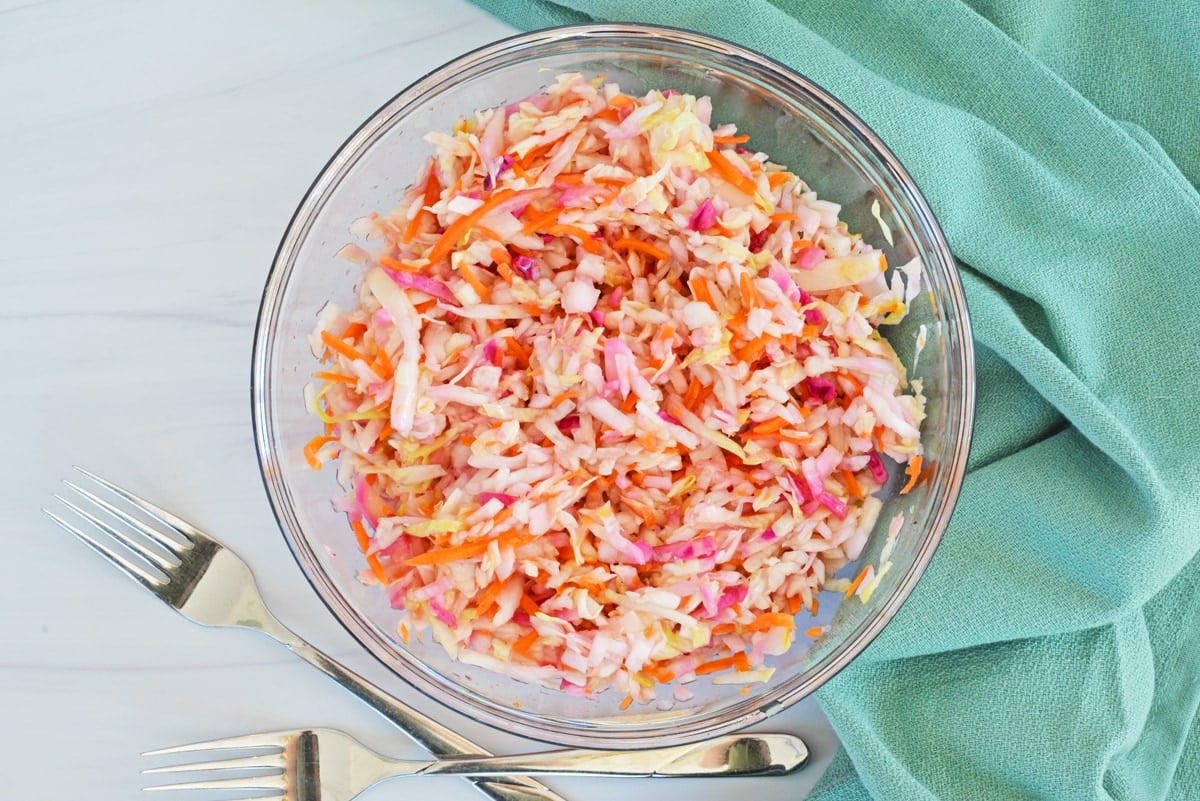 Picking a Vinegar
The beauty of coleslaw ingredients is that you can easily change them and it is really difficult to totally mess it up. Red wine vinegar is my go-to, however…
Try using:
White Wine Vinegar
Champagne Vinegar
Rice Wine Vinegar
Apple Cider Vinegar
Pomegranate Vinegar
White vinegar- although this is my least favorite
For a less vinegary taste, mix the dressing with the veggies right before serving and avoid marinating.
You can even change the type of oil. Vegetable oil works fine, but a light olive oil can also taste fabulous, as can flavor infused olive oils- any neutral oil, really.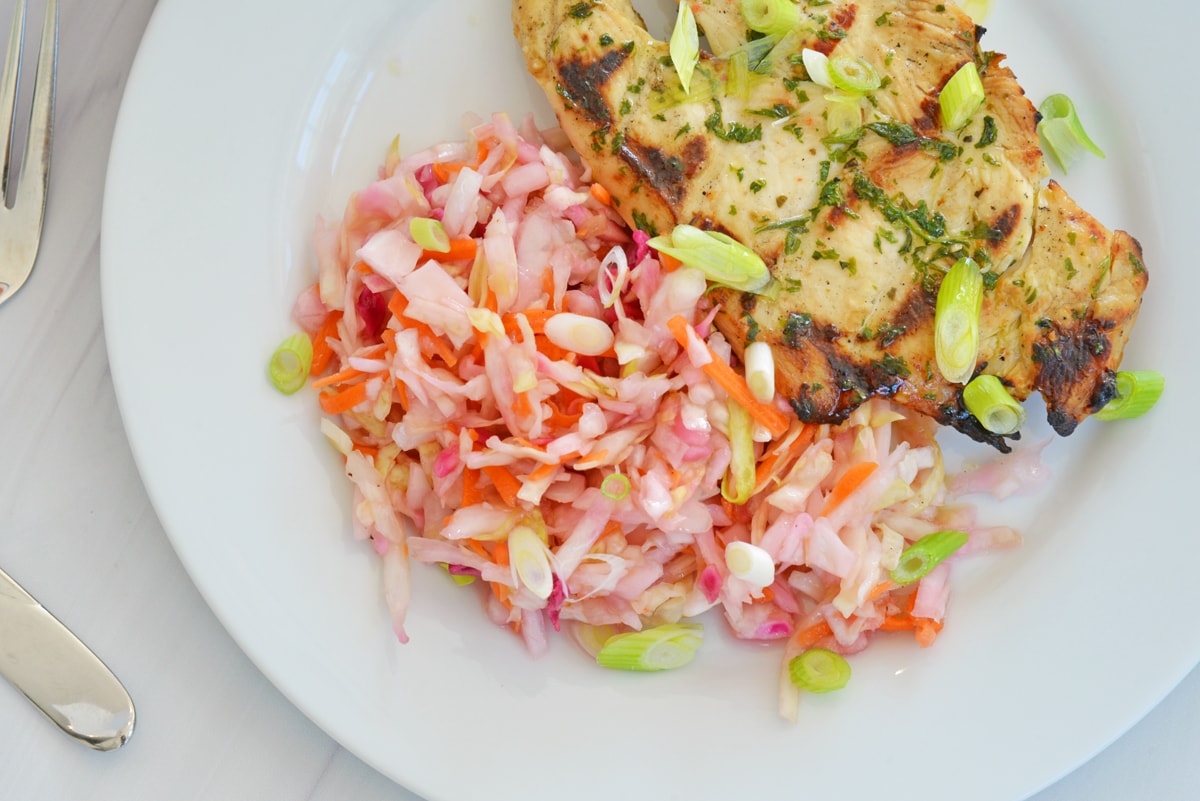 Coleslaw or Cole Slaw- Does it Really Matter?
First of all, is it coleslaw or cole slaw? The first rings true- one word, coleslaw. Although you'll commonly see it referred to as just slaw.
Secondly, why is is called coleslaw? There doesn't seem to be a logical or apparent reason for the name. Instead of paraphrasing, I am going to let seetheglobe.com give you the quote.
The term, "cole slaw", arose in the 18th century as a partial translation from the Dutch term "koolsla", a shortening of "koolsalade", which means "cabbage salad". It was commonly called cold slaw in England until the 1860s when "cole" (meaning cabbage) was revived. … In addition to calling it "coleslaw".
In some parts of the world coleslaw is cooked or partially cooked and even includes meat, like thin slices of boiled ham. In the states, some slaw recipes do include bacon crumbles.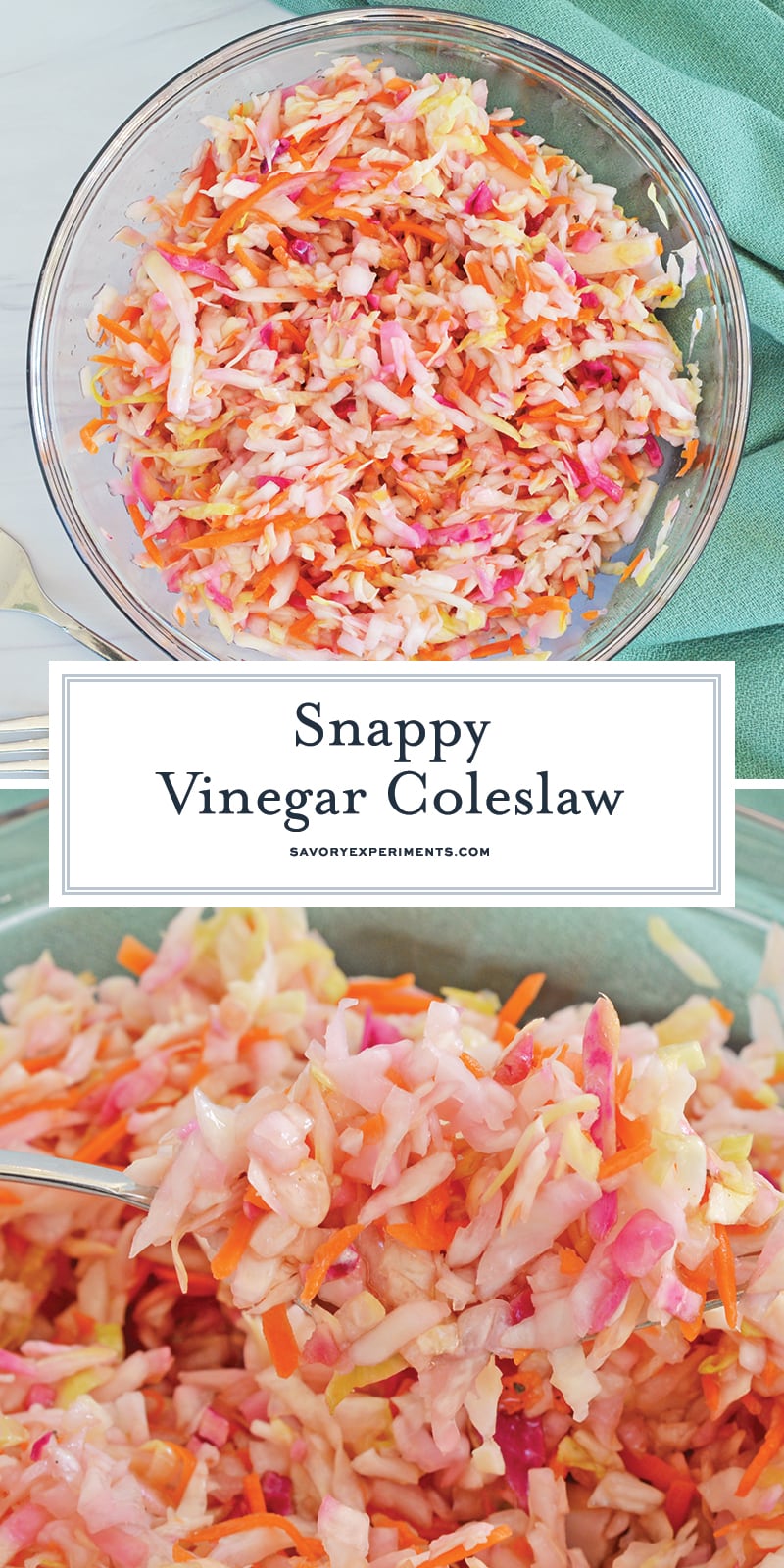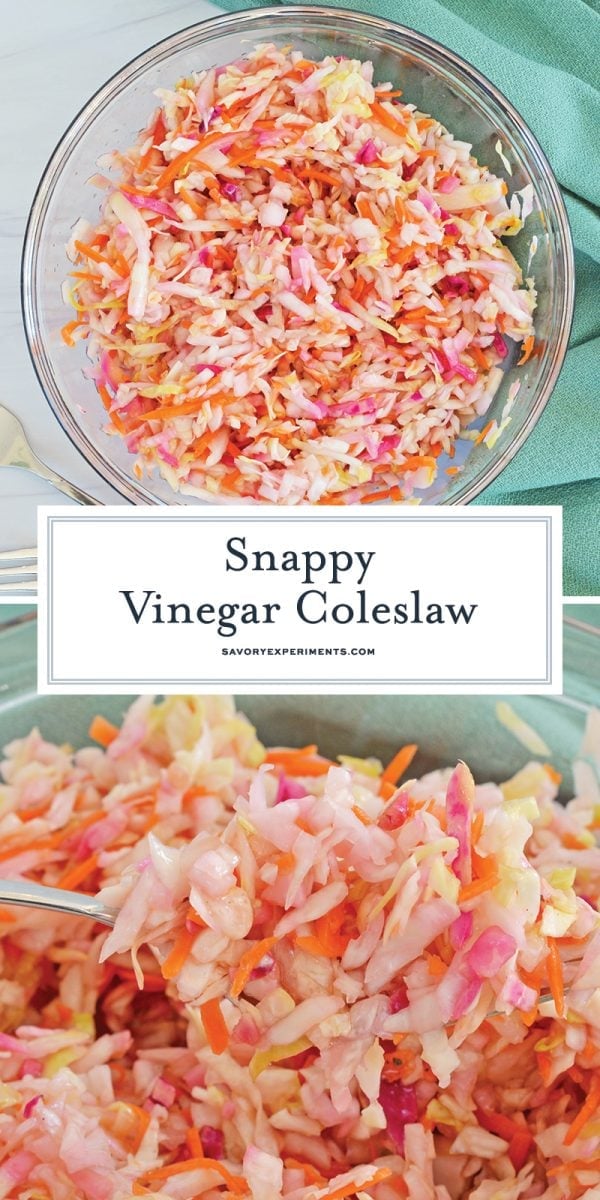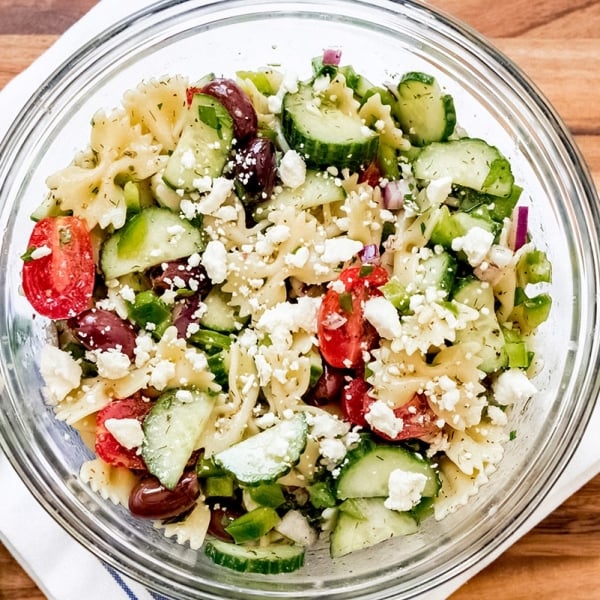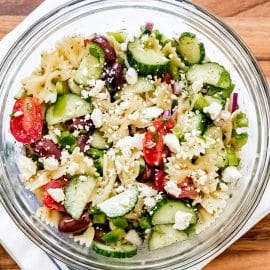 Greek Pasta Salad Recipe
This simple Greek Pasta Salad is just the thing for potlucks and summer cookouts! The textures of crunchy veggies, al dente pasta, and flavors of a savory Greek dressing and feta cheese make this one of the best summer salads around!
See The Recipe!
Gouda and Corn Salad
Easy salad recipes don't get much better than this simple Gouda and Corn Salad! It's perfect for a quick lunch, or even to bring to a potluck! #goudaandcornsalad #cornsalad #easysaladrecipes www.savoryexperiments.com
See The Recipe!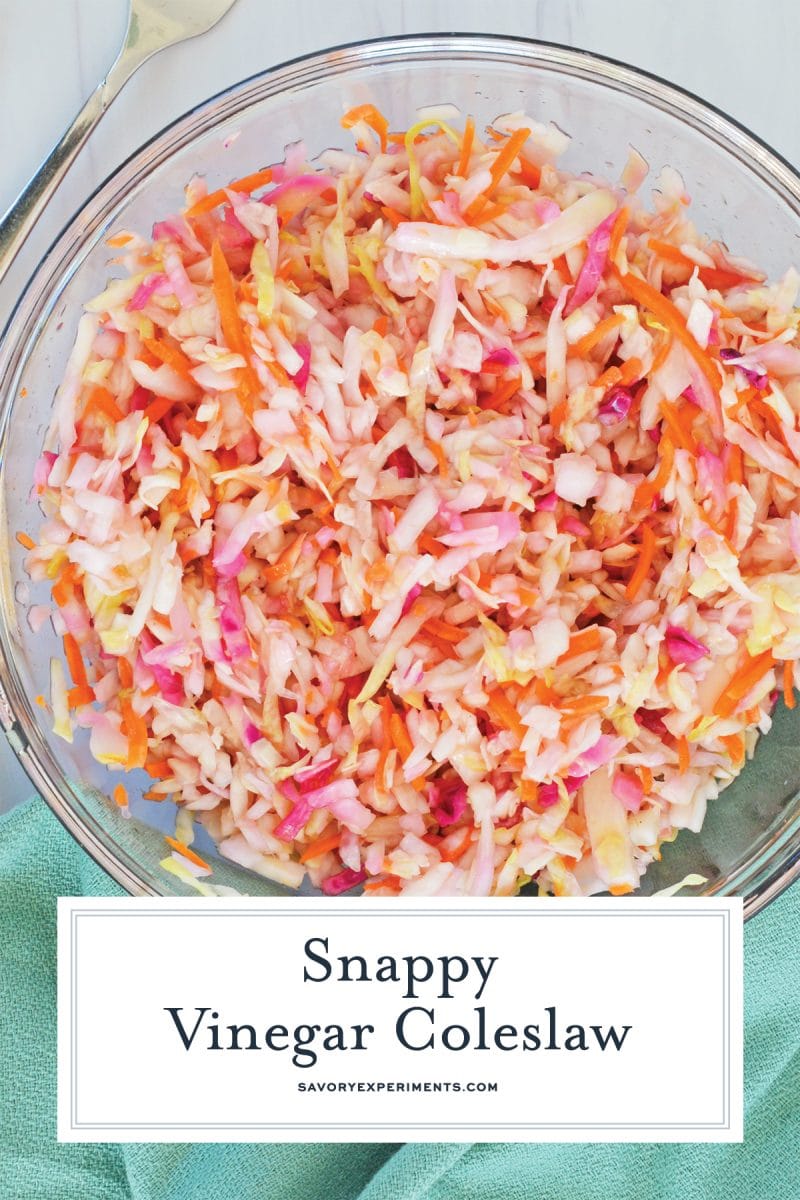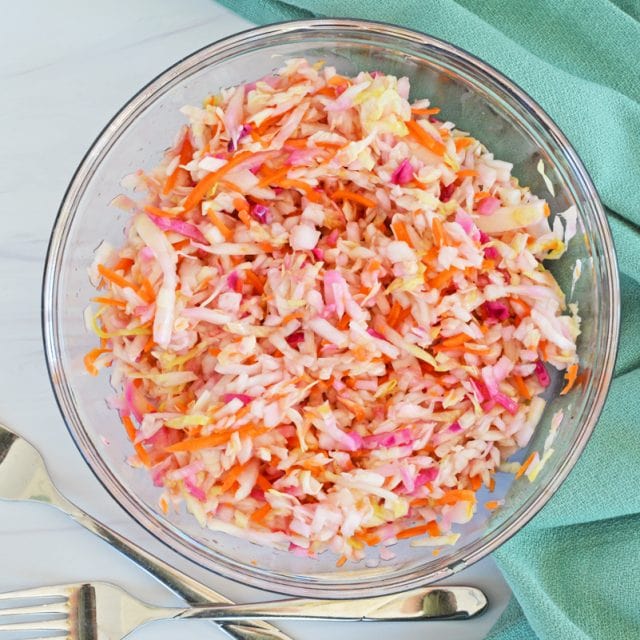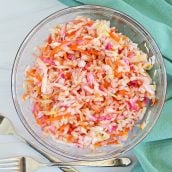 Vinegar Coleslaw
Vinegar Coleslaw is a healthy coleslaw recipe using a no mayo coleslaw dressing including vinegar, oil and salt and pepper.
Instructions
In a small mixing bowl or measuring cup, whisk together red wine vinegar, vegetable oil, kosher salt, black pepper and sugar until sugar and salt dissolves. This step is important so that you don't get grainy bits of undissolved sugar or salt in your coleslaw.

Pour over coleslaw mix. Toss well. I find that using forks works best for coleslaw.

Cover and refrigerate for 1-24 hours. If you remember to toss it every few hours, great, if not, it will be fine.

Drain excess liquid before serving. The cabbage will lose its water, so you will have more liquid than you started with. This is normal.

If you've tried this recipe, come back and let us know how it was in the comments or ratings!
Nutrition
Calories:
71
kcal
,
Carbohydrates:
5
g
,
Fat:
5
g
,
Saturated Fat:
4
g
,
Sodium:
300
mg
,
Potassium:
84
mg
,
Fiber:
1
g
,
Sugar:
4
g
,
Vitamin A:
50
IU
,
Vitamin C:
18.2
mg
,
Calcium:
20
mg
,
Iron:
0.3
mg