Looking for a quick and easy dessert idea? Look no further- this Angel Food Strawberry Parfait is for you!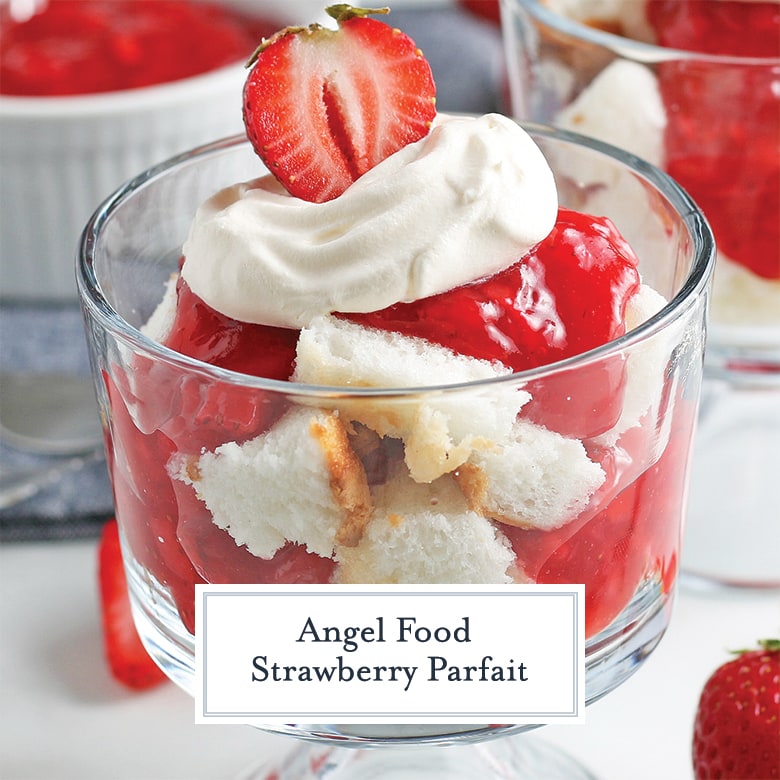 Dinner Party Desserts
Back in the day… you know, when we used to socialize and host dinner parties, I loved to entertain. I'd spend oodles of time focusing on appetizers, drinks and the entree but often forget about dessert.
And if we are being totally honest, by the time dessert rolled around, I was already 2 glasses of wine deep, totally exhausted and just wanted to spend time with my guests.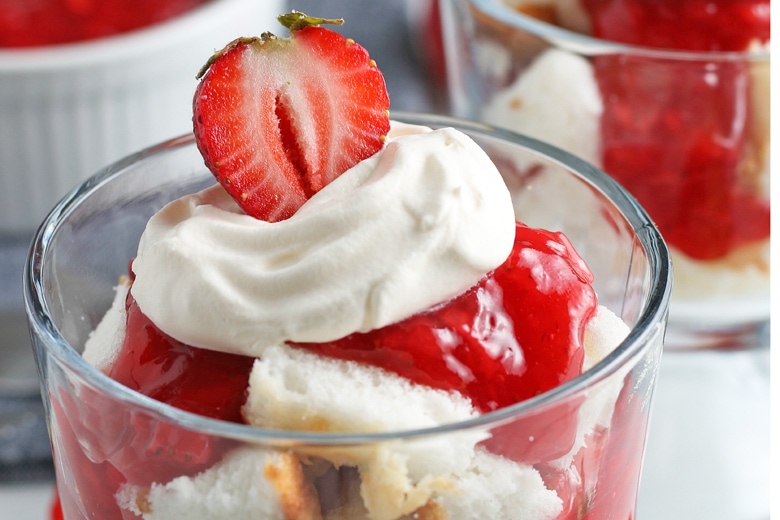 Make ahead desserts and individual desserts like these Angel Food Strawberry Parfaits were the name of the game. And this one is a favorite!
Dessert Parfaits
Parfaits are often thought of for breakfast and snacks. Yogurt, granola and fruit layered into a cup or jar. But they can also be dessert. Like little individual trifles.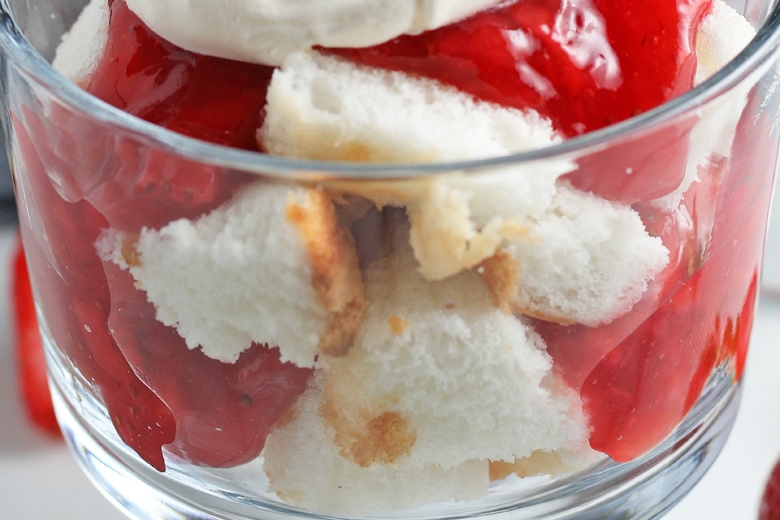 These Angel Food Strawberry Parfaits can be made ahead and are super easy to serve because, hey, all you need to do is pass them out!
Some of my other favorites are Banana Pudding Cups and Tiramisu Cups, but even they require a little more effort than sometimes desired.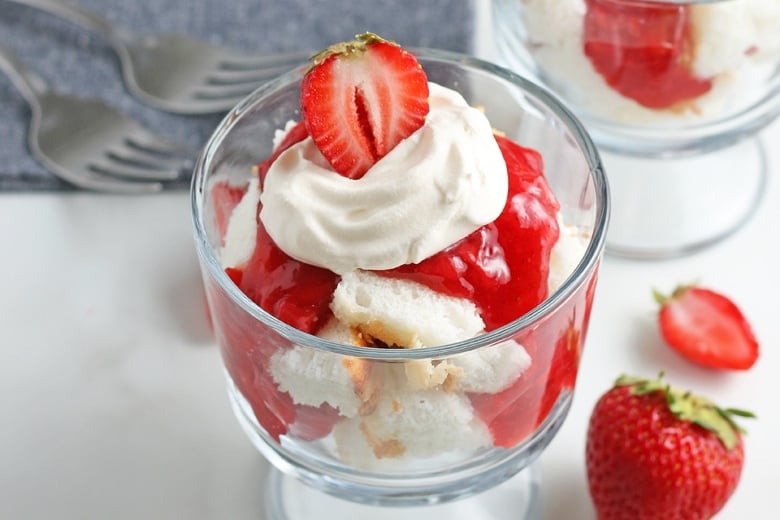 Angel Food Strawberry Parfait
This dessert parfait only requires a few ingredients.
Angel food cake– bake your own or grab one from the bakery like I do! There are some great box mixes out there too. Remember that Angel food is a little temperamental and bakes best on non-humid days.
Fresh strawberry sauce– homemade strawberry sauce does need to be made from scratch, but is super easy and can be made ahead of time. Of course, you can grab jarred, but homemade is so much better.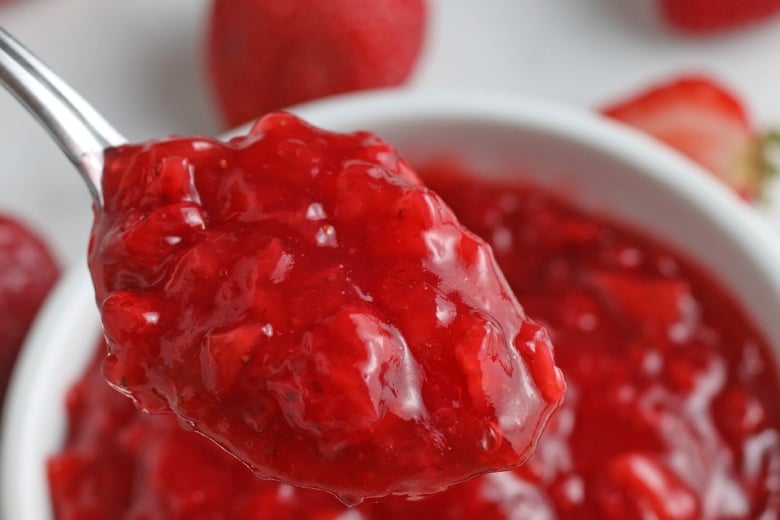 Fresh strawberries– for garnish. You can add more layers of fresh juicy strawberries with the sauce too.
Whipped cream– because all desserts taste better with whipped cream.
Parfait Cups
If you have actual parfait or ice cream sundae cups, feel free to use them for your Angel Food Strawberry Parfaits.
Otherwise, large wine glasses, martini glasses and even mason jars work well too. You can even buy disposable plastic cups for easy cleanup.
Optional Angel Food Strawberry Parfait Add-Ins
While I find that the cake and strawberry layers are just perfect, you can also add more flavors. Here are some favorites.
Chocolate shavings
Fresh mint
Blueberries- for a red, white and blue dessert
Drizzle of creme de menthe or chocolate liqueur
Chopped hazelnuts, walnuts or pecans
You can always swap out the strawberries for another fruit, but keep in mind that you will be changing the whole dessert completely. While they would no longer be Angel Food Strawberry Parfaits, a good alternative would be blueberries or raspberries.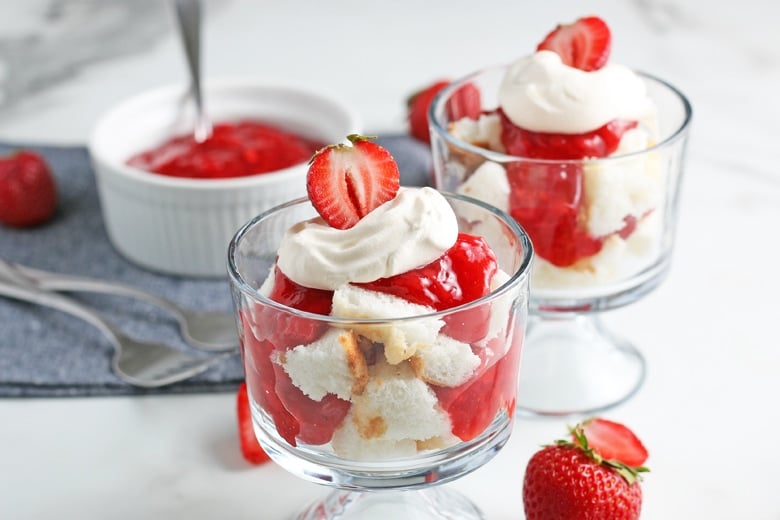 How to Make Angel Food Strawberry Parfaits
This dessert could not be more simple! In fact, the whole thing is finished in only three easy steps:
Start by dicing your angel food cake into small cubes. Then put a layer of those cake cubes into the bottom of each cup, making sure to cover it completely.
Next add a layer of strawberry sauce. Alternate these layers (cake, strawberry sauce, cake, strawberry sauce) until your cup is full.
Then top each cup with a dollop of whipped cream and a fresh strawberry slice and you're done! If you are prepping these ahead of time, make sure to hold off on the whipped cream until you are ready to serve.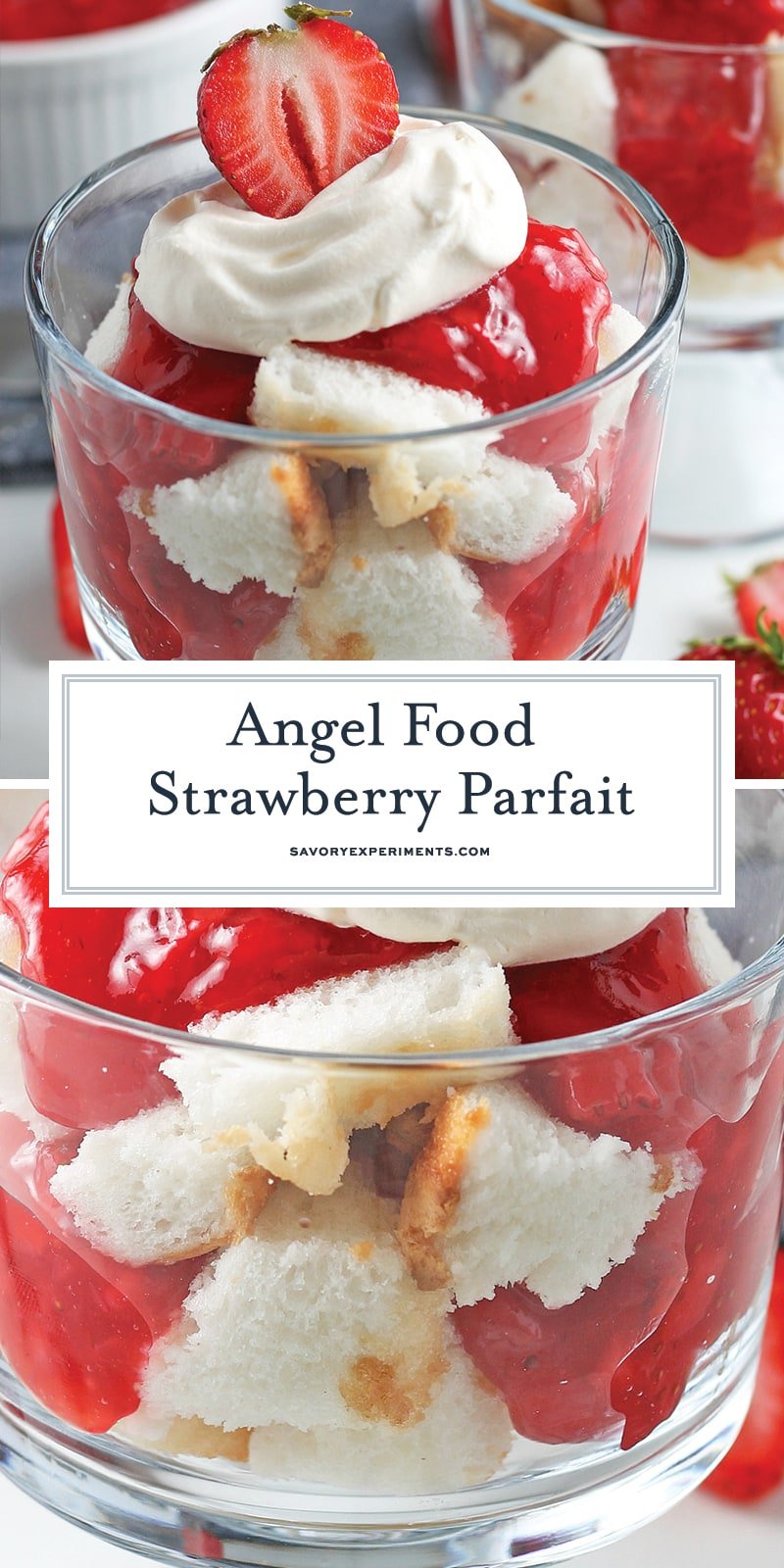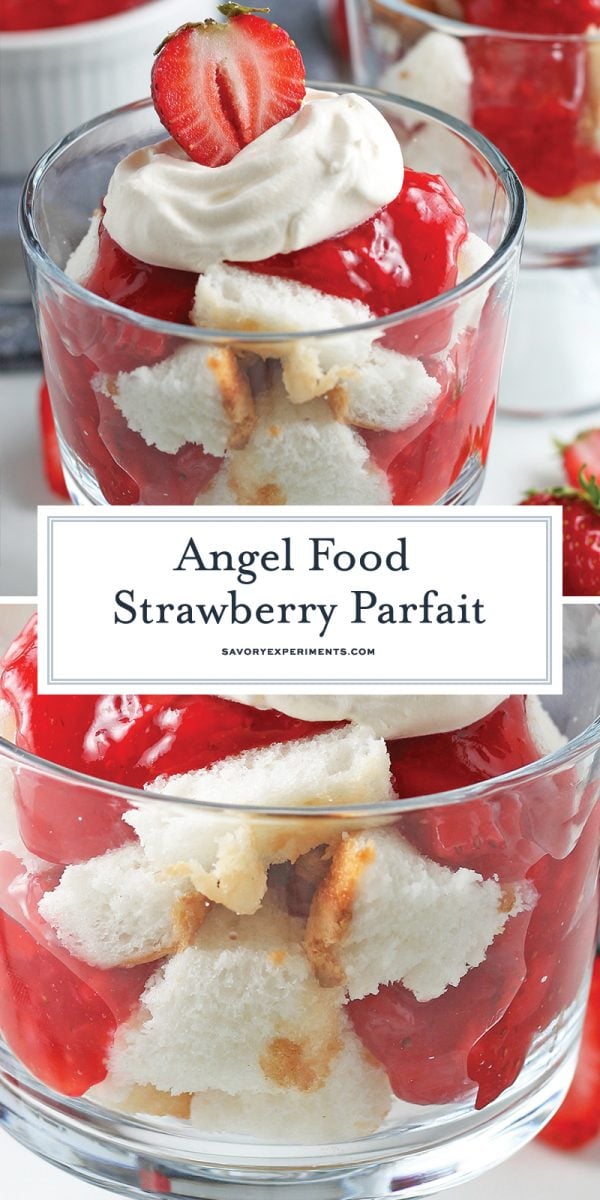 More easy dessert ideas: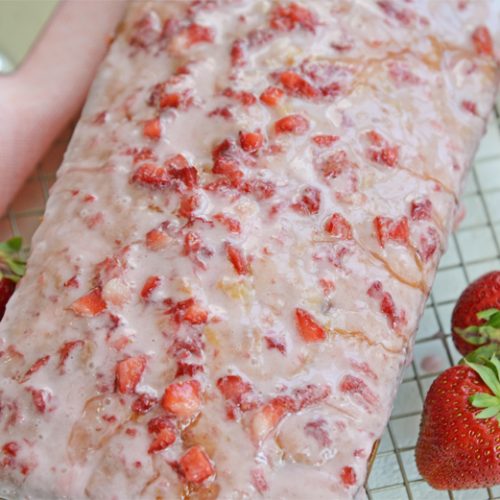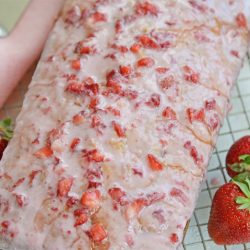 Strawberry Pound Cake Recipe
Deliciously moist and buttery, this is my award winning vanilla pound cake laced with fresh strawberries and topped with a fresh strawberry glaze. Makes 2 loaves!
View this recipe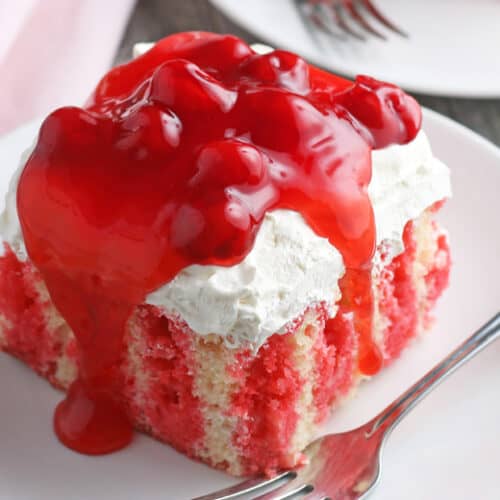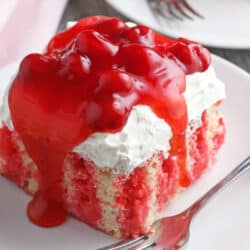 Cherry Poke Cake
Poke cakes are so fun, and this Cherry Poke Cake is no exception. Easier to make than just a white cake with cherry filling, and more delicious too!
View this recipe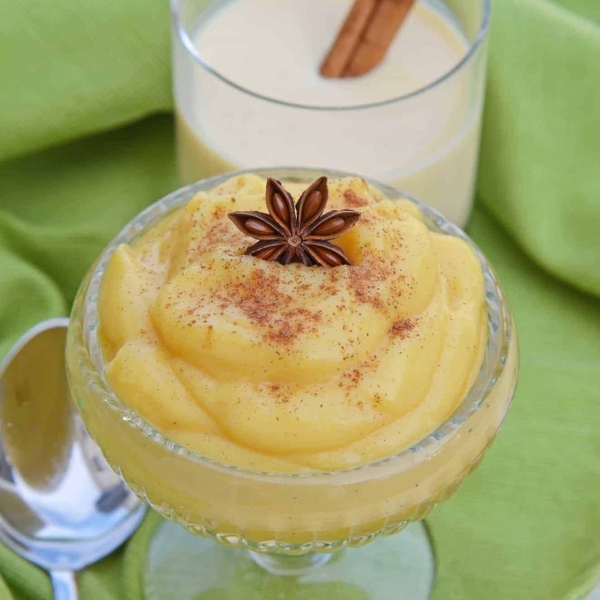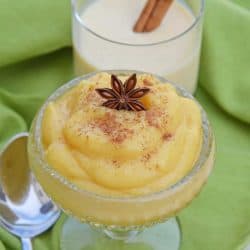 5-Minute Eggnog Pudding
This 5-Minute Eggnog Pudding is one of the tastiest homemade pudding recipes you'll ever make, with instant pudding and a few festive ingredients!
View this recipe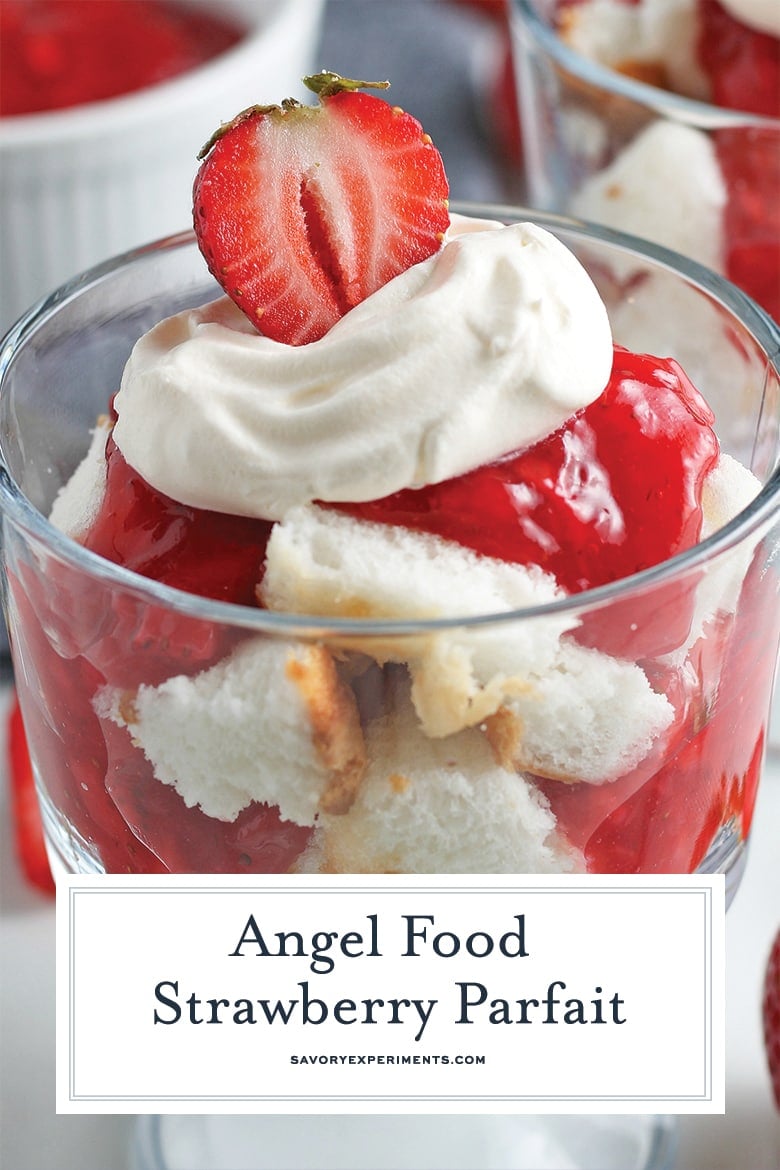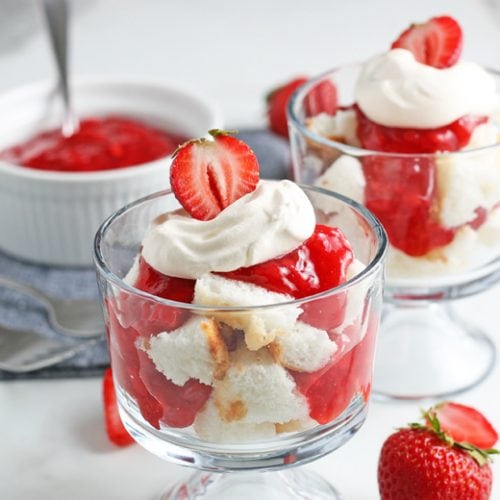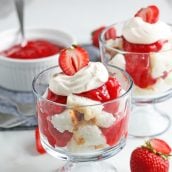 Angel Food Strawberry Parfaits
Easy to make ahead for parties, these EASY Angel Food Strawberry Parfaits are great for entertaining! So many layers and super DELICIOUS!
Instructions
Cover the bottom of each cup with angel food cake, top with a dollop of strawberry sauce and repeat until full.

Top each cup with whipped cream and a fresh strawberry slice. If you are making ahead, don't add the whipped cream until ready to serve.

If you've tried this recipe, come back and let us know how it was!
Notes
You'll need about 1/2 standard size Angel Food Cake.
Nutrition
Calories:
254
kcal
,
Carbohydrates:
58
g
,
Protein:
1
g
,
Fat:
3
g
,
Saturated Fat:
2
g
,
Cholesterol:
11
mg
,
Sodium:
19
mg
,
Potassium:
65
mg
,
Fiber:
1
g
,
Sugar:
24
g
,
Vitamin A:
118
IU
,
Vitamin C:
12
mg
,
Calcium:
20
mg
,
Iron:
1
mg