This post originally appeared on Real Housemoms, where I am a contributor.
Chimichurri Egg Muffins are an easy breakfast recipe perfect for feeding a crowd. They can also be frozen for breakfast on the go!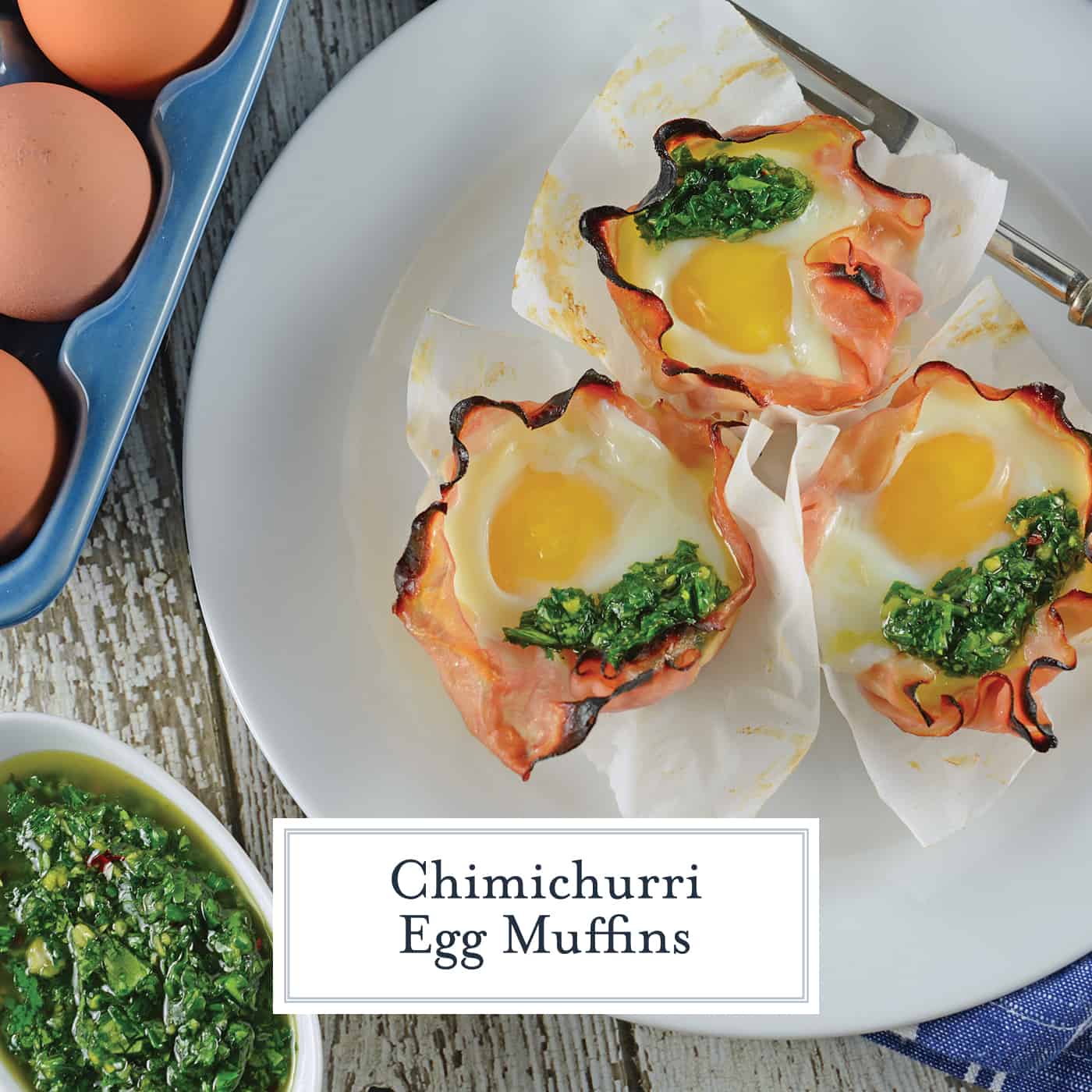 Chimichurri Egg Muffins are eggs baked in ham with a zesty chimichurri sauce made with fresh herbs and garlic. The perfect make ahead breakfast idea!
Chimichurri Egg Muffins came about when I was trying to figure out a way to make green eggs and ham without using food coloring. I still wanted the dish to be pretty and also taste great, but not do the traditional green food coloring in scrambled eggs with a slab of bacon.
Boring! Even Dr. Seuss and the cat in the hat would agree.
Instead I used a technique that I use often when entertaining: baked egg muffins. A thin slice of ham serves as the edible cup in a muffin tin.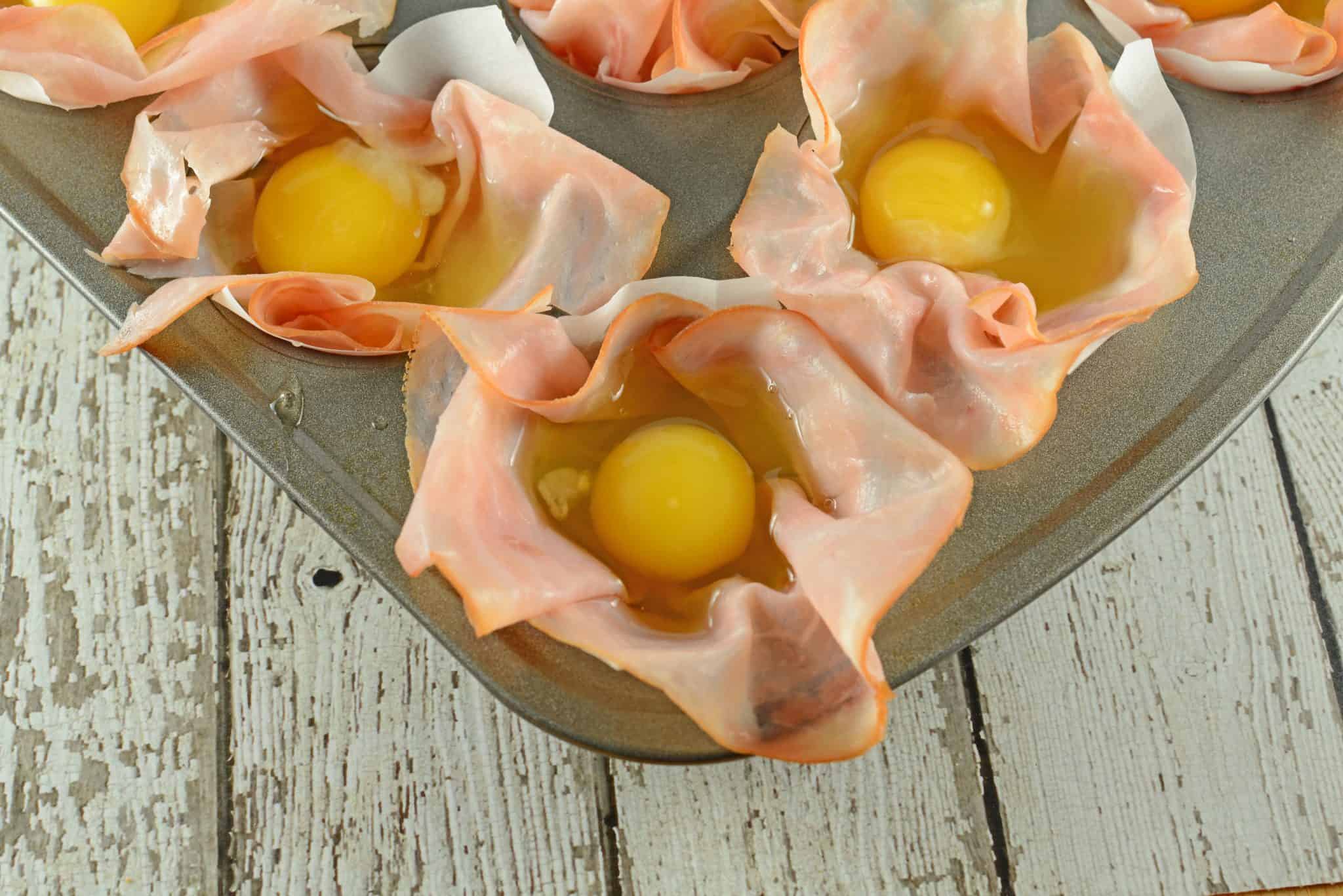 Since chimichurri sauce has so much flavor on its own, made with garlic, cilantro, parsley, crushed red pepper and more, I like mine with just eggs and sauce, but you can add more.
Mince up all the veggies and mix-ins you want along with some shredded cheese, crack and egg and you are done!
A standard muffin tin with 12 wells will result in enough food for 6 people, think about making 2 per person, and you can even let them customize their order. Or serve your egg muffins as a side dish and think about 1 per person.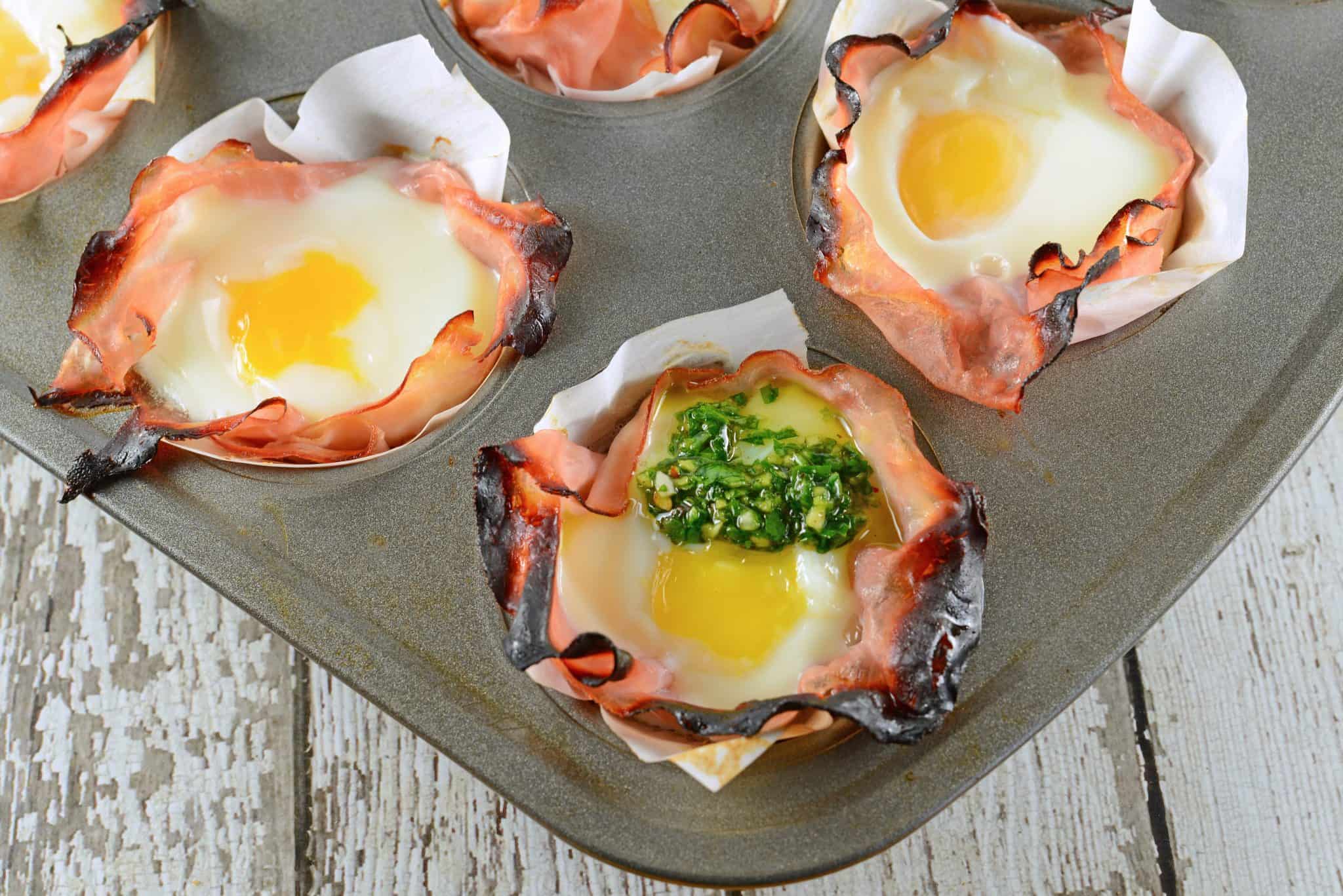 I also make egg muffins to freeze in individual plastic bags, then a quick zap in the microwave and I have myself a wholesome breakfast in a jiffy!
What is chimichurri sauce?
Chimichurri Sauce is Argentinian in background and made of parsley, cilantro, garlic (lots of garlic!), crushed red pepper, black pepper and olive oil. Think of it as an Argentinian pesto sauce, almost.
It is a rich, deep emerald green that adds loads of flavor and beauty to any dish. Feel free to play around with the amounts of any of the ingredients to please your palate or just because that is how much you have in the fridge or garden.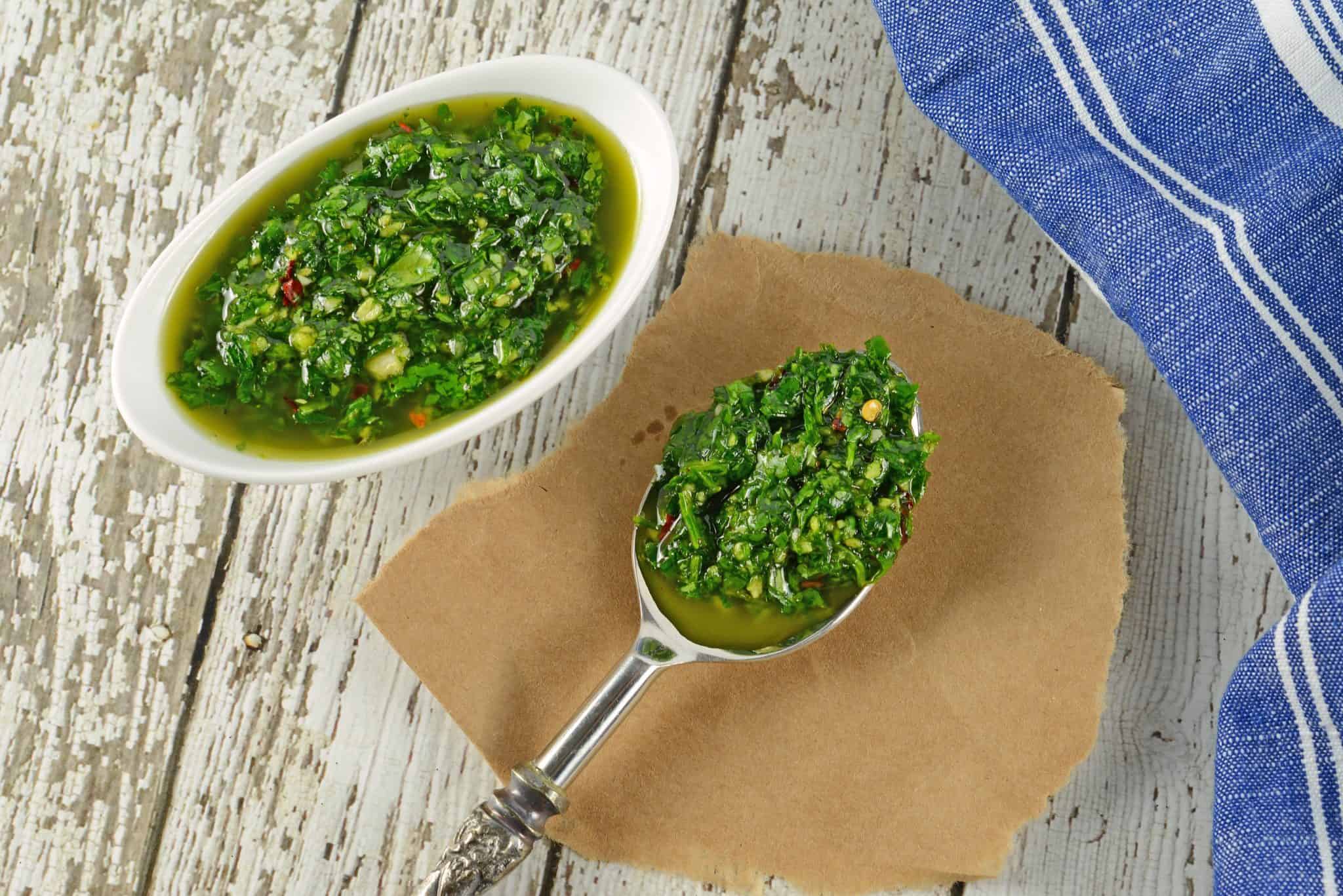 The only ingredient that is essential is cilantro, I know there are some folks out there who loathe cilantro, so this recipe might not be for them. Parsley not only adds flavor, but helps the deep green color stay green.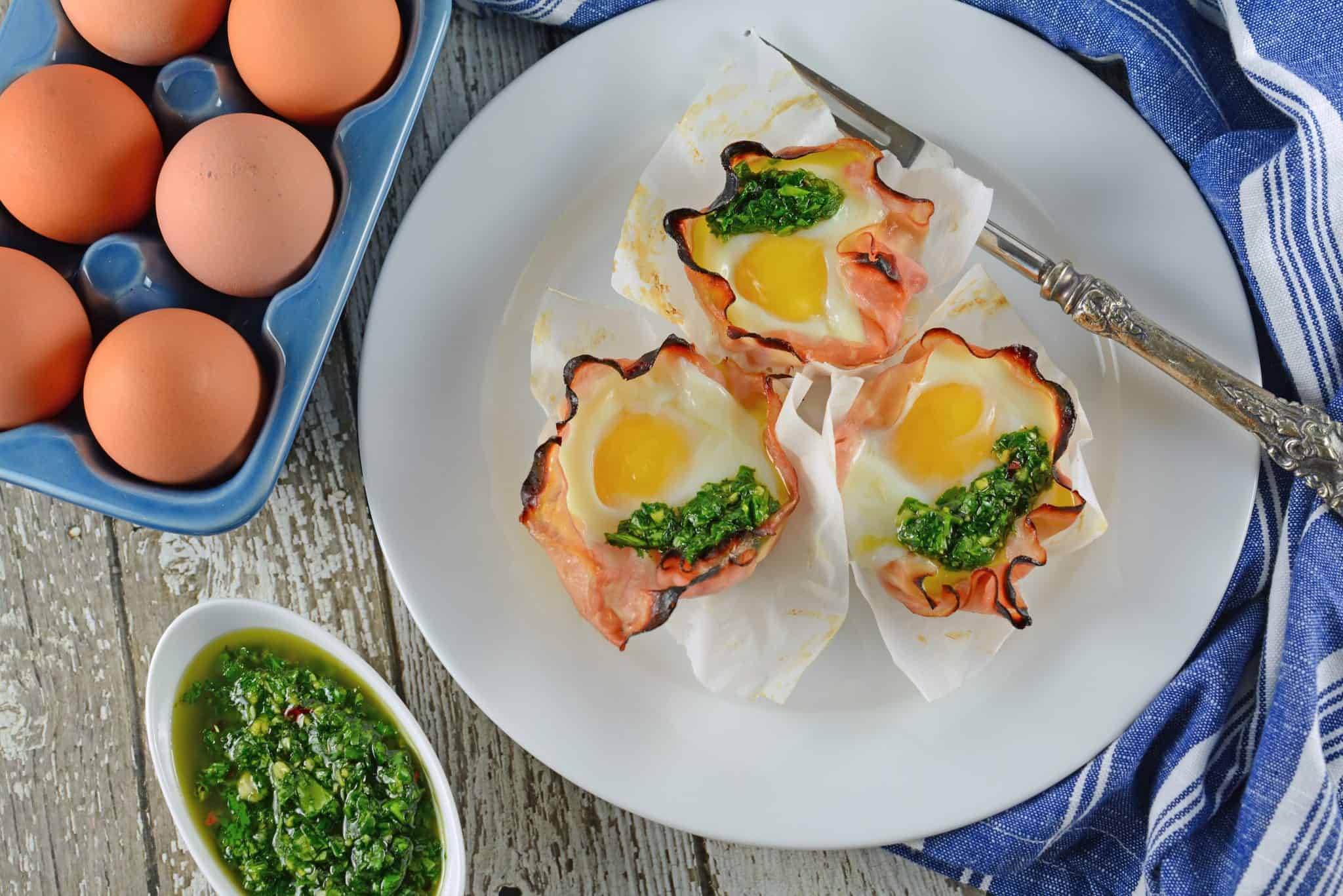 Olive oil prevents oxidation, so you can make your chimichurri sauce ahead of time and use it when you are ready. It only takes 10 minutes to prepare in a mini food processor.
If you like my Chimichurri Egg Muffins, you'll also like my Western Egg Cups. You can even make a batch of half and half for those cilantro haters! You can even make them in the same muffin tin.
Tools for making Chimichurri Egg Muffins:
Muffin Tin– I really suggest having two muffin tins. It makes life a lot easier than baking in two batches and double the cook time.
Wood cutting board – wood won't dull your knives like plastic and if treated properly, has natural antimicrobial properties.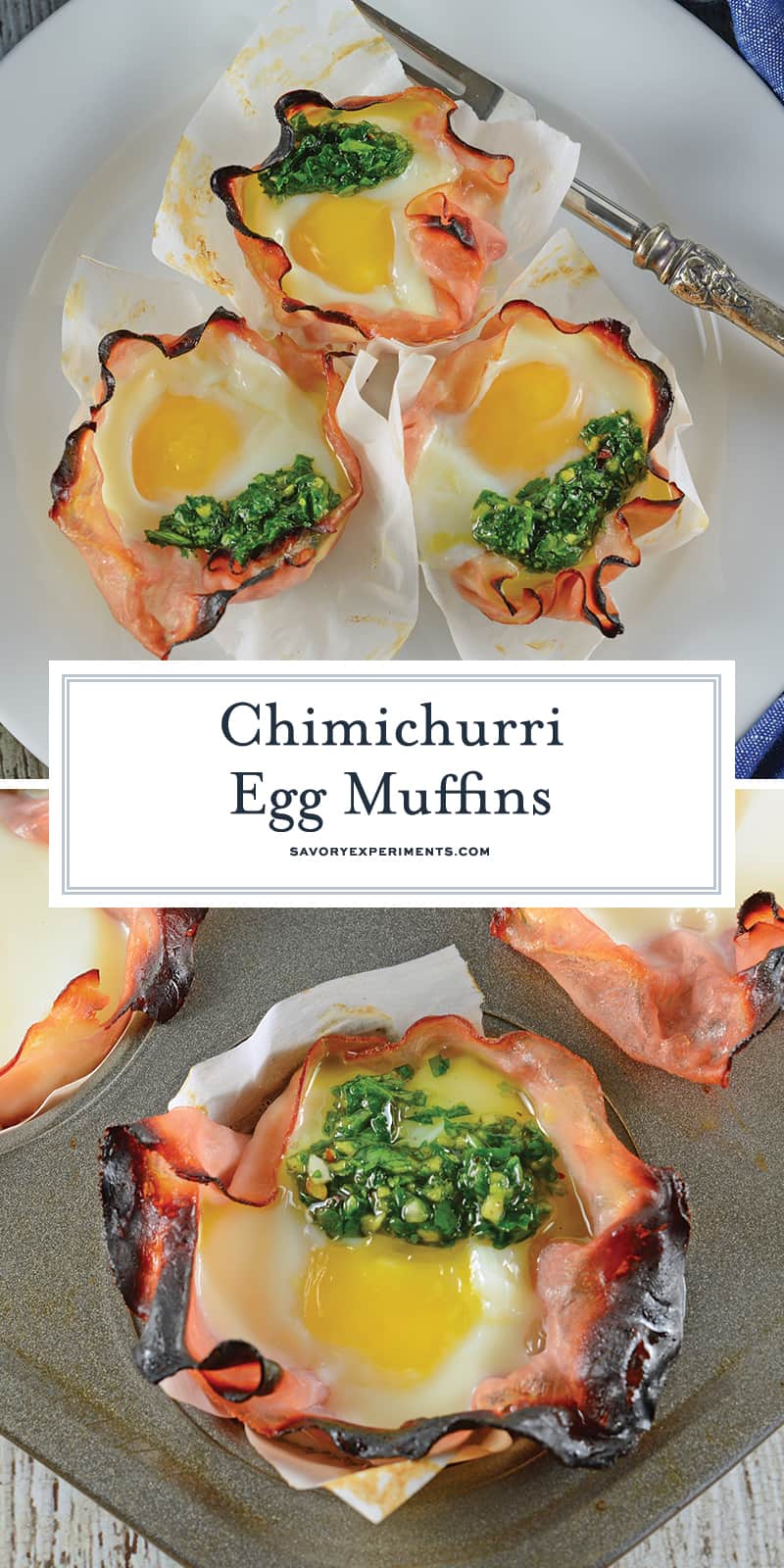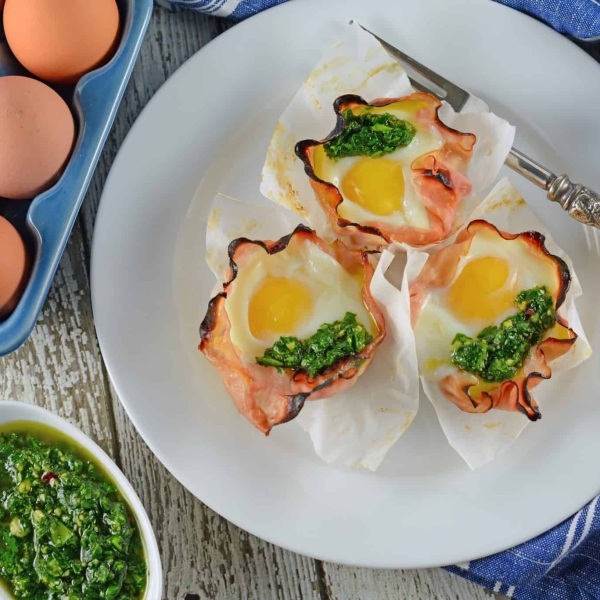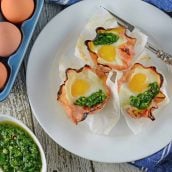 Chimichurri Egg Muffins
Chimichurri Egg Muffins are eggs baked in ham with a zesty chimichurri sauce made with fresh herbs and garlic. The perfect make ahead breakfast idea!
Instructions
Preheat oven to 350 degrees.

Lightly spray each well of a muffin tin with cooking spray.

Folding each piece of ham, place into the well like a muffin liner would be.

Crack one egg in each well and season with fine sea salt and freshly ground pepper.

Bake for approximately 10-12 minutes or until eggs are done to your liking.

Meanwhile, prepare fresh chimichurri sauce.

Remove eggs when cooked to your liking and spoon fresh chimichurri sauce over the top. Enjoy!

If you've tried this recipe and liked it, leave us a comment and let us know!
Nutrition
Calories:
130
kcal
,
Protein:
11
g
,
Fat:
8
g
,
Saturated Fat:
3
g
,
Cholesterol:
181
mg
,
Sodium:
394
mg
,
Potassium:
140
mg
,
Vitamin A:
240
IU
,
Calcium:
27
mg
,
Iron:
1
mg