Soy Lime Shrimp is an easy shrimp marinade perfect for eating on their own, in a salad or as a side.
Shrimp are great for a quick meal. They marinate quickly, soaking up delicious flavor. And they cook fast. WIN-WIN.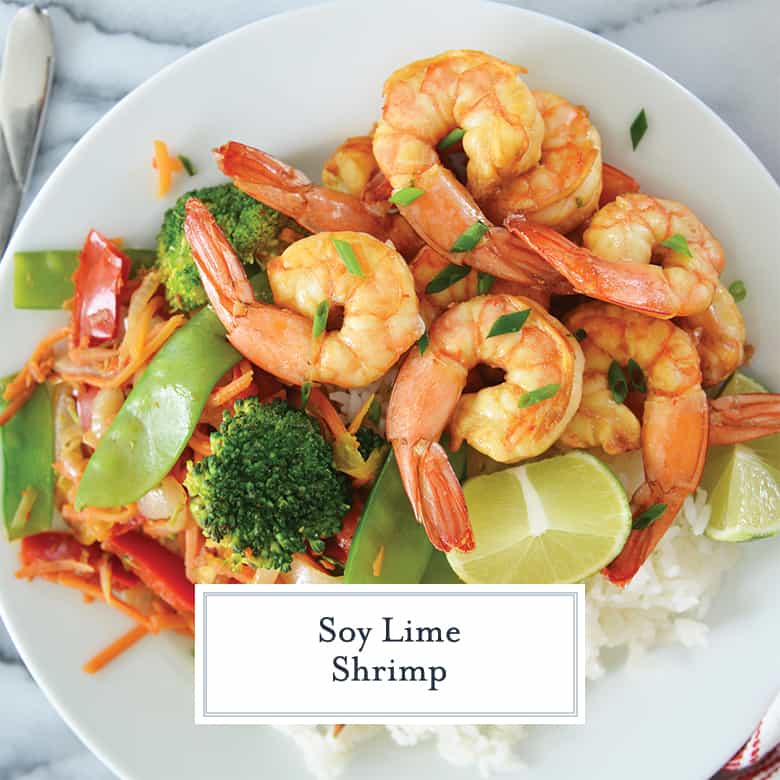 Lime Shrimp
I am always on the lookout for healthy recipes that have loads of flavor. Soy Lime Shrimp is one of those.
One of the ways it gets to much flavor is citrus, but everyone thinks lemon. What about lime?
Lime has been my new obsession for everything from tacos to bubbly water and even just as a spritz for my salad.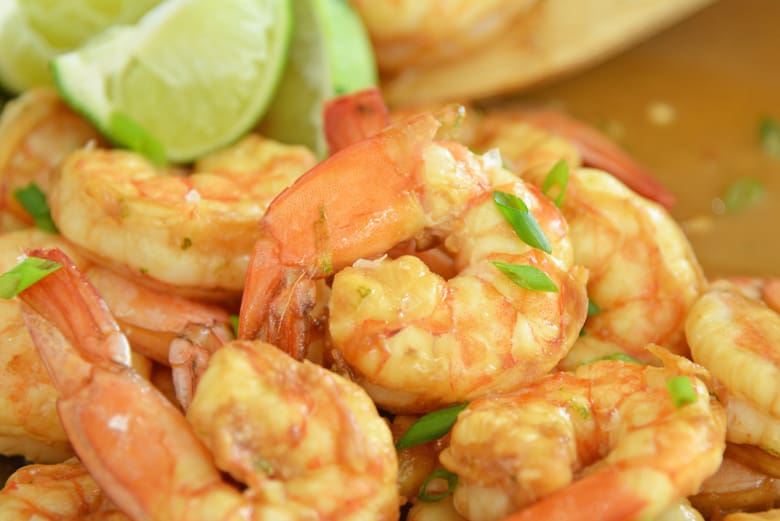 I do suggest using fresh lime juice instead of bottled. Bottled lime juice doesn't have nearly as much flavor as fresh. In fact, citrus juices start to lose their potency the moment they are harvested which is why so many recipes specify "fresh".
Two tablespoons of fresh lime juice is generally about 2 medium limes. Roll them on the counter to loosen the juice or even heat in the microwave for 10-15 seconds.
Soy Sauce
The first thing to know is that soy sauces are not created equal. For dipping sushi or as a flavorful condiment, a dark soy sauce is best. I even like mushroom flavored.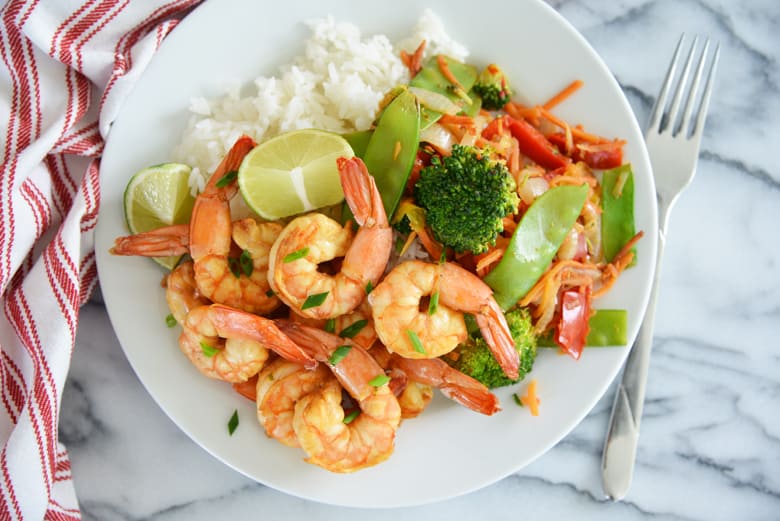 But for marinades like this, I prefer a low sodium soy sauce. Still lots of robust overtones, but not so overpowering that you can taste the other flavors like lime, ginger and garlic.
How to Make Soy Lime Shrimp
The process is easy and doesn't require much marination time. In fact, shrimp can get a little rubbery when marinated too long. A quick 15 minute bath is all they need to soak up the flavors.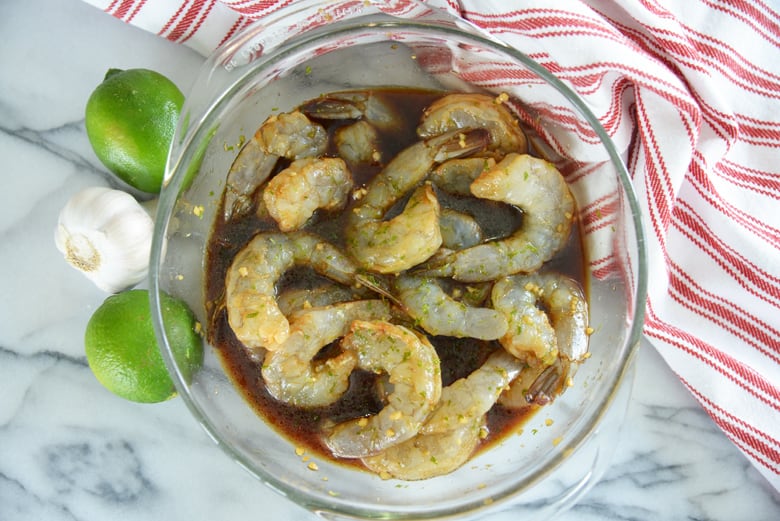 The shrimp will quickly turn brownish from soy sauce. That is fine. Don't let them marinate too long to they will pick up too much flavor and get rubbery.
Shrimp marinade ingredients:
soy sauce- see my notes above about soy sauce
ginger- grated is best for maximum flavor, but minced is fine too
garlic- try to use fresh garlic opposed to the bottled kind
lime juice- fresh is best!
sugar- to balance out all the acidic flavors
Whisk these ingredients together and marinate your shrimp. After marinating, drain from marinade.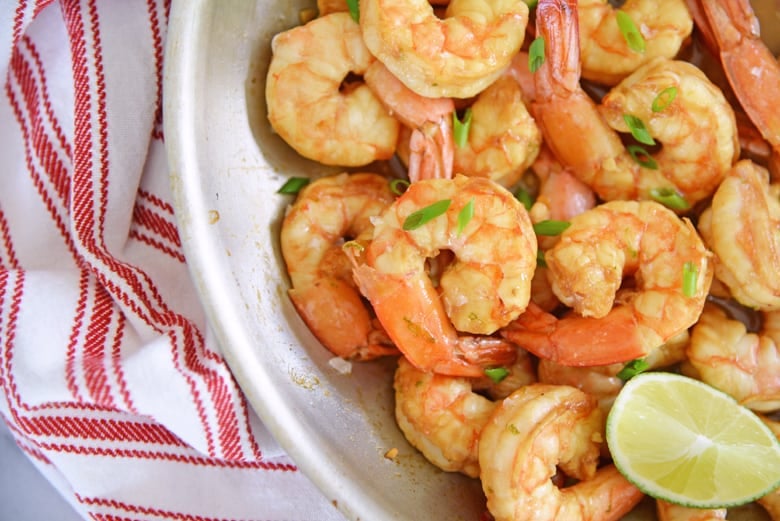 From there I like to cook them up in a skillet, but you can also skewer and grill them.
How Do You Know When Shrimp Are Done Cooking?
Shrimp are done when they turn pinkish, are opaque and curl. They should have a little white, but too much white can potentially mean that they are overcooked.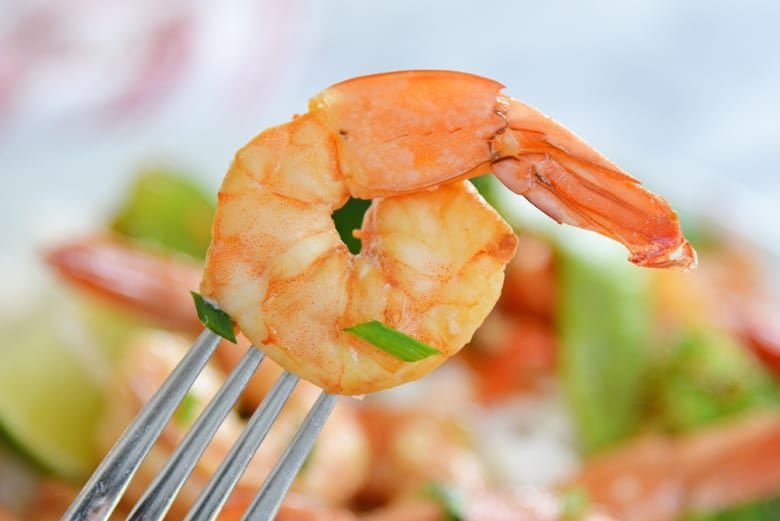 It should only take about 3-4 minutes per side for a medium-large shrimp.
Serving
These marinated shrimp can be served so many different ways. You can serve them plain as an appetizer with dipping sauce like wasabi aioli or even yum yum sauce.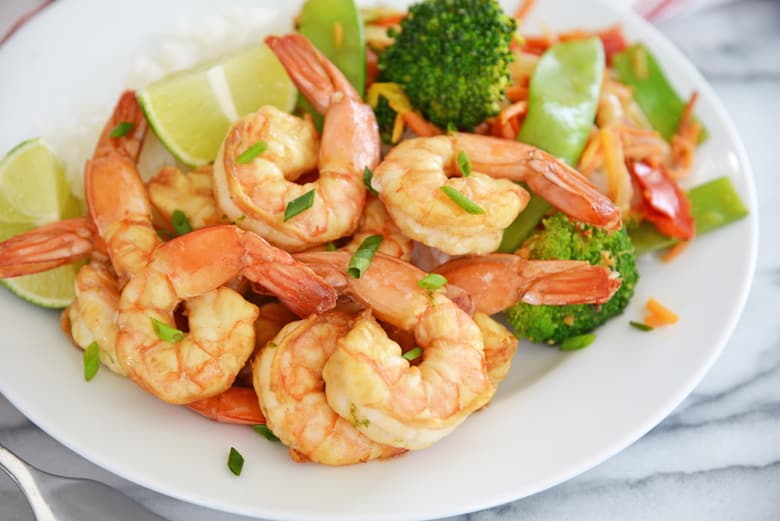 You can serve them on a salad with ginger sesame dressing or even cilantro lime. Consider using a bag of shredded slaw mix instead of leafy greens. Soy Lime shrimp are also great for wraps, adding to lo mein or stir fry.
Or they can be your entree. Serve over a bed of white sticky rice with steamed vegetables for a stir fry. I've also served mine alongside BBQ Asian Flank Steak for a soy flavored surf and turf.
What You'll Need
Pie Plates– I think every kitchen should have at least three shallow dishes or pie plates for the process of breading and frying. You can also bake pies in them! Hehe.
Citrus Juicer– I like this juicer because is sturdy, strains the pulp and also has different inserts for different sizes of fruit. It can be used for lemons or limes.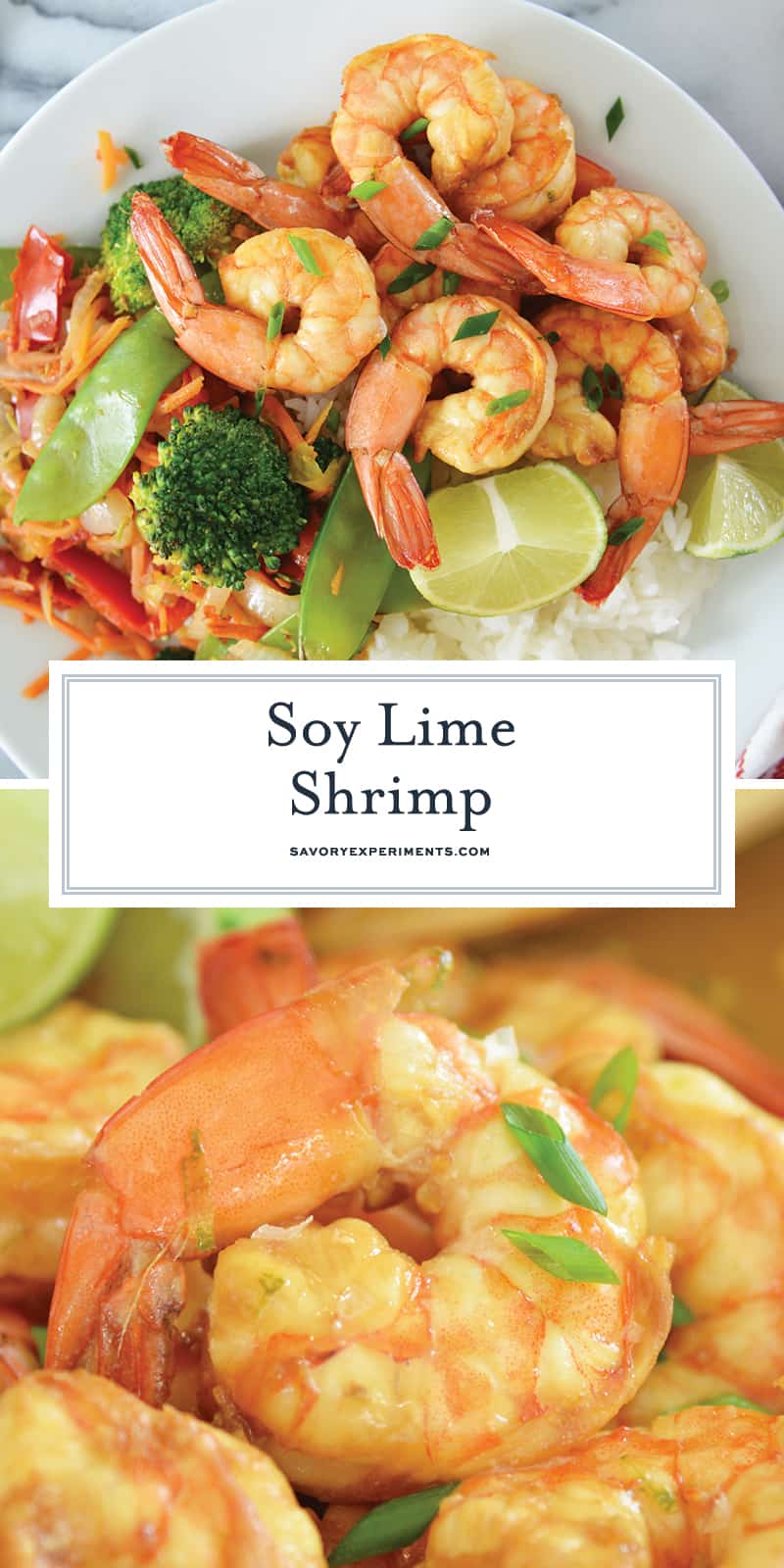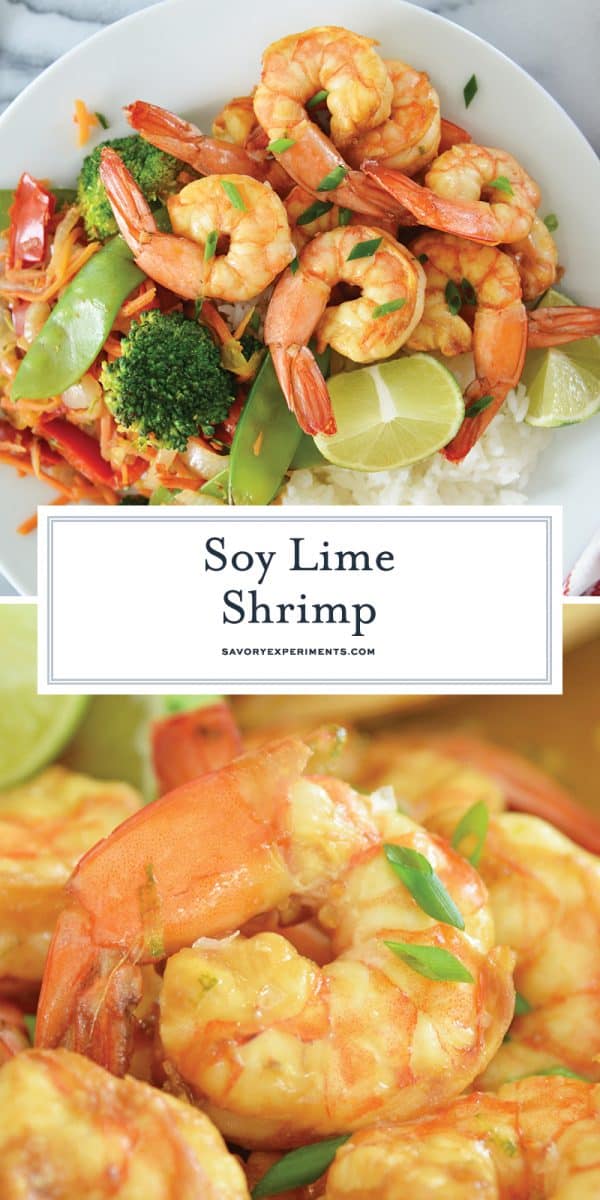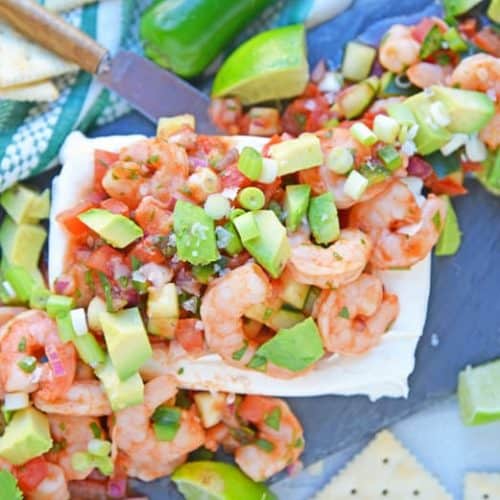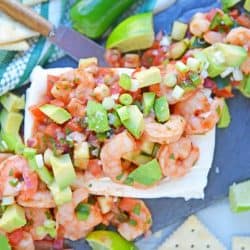 Mexican Cream Cheese Shrimp Dip
Take your usual cocktail sauce shrimp dip up a notch with this Mexican Cream Cheese Shrimp Dip recipe. It's perfect for any get together or party!
View this recipe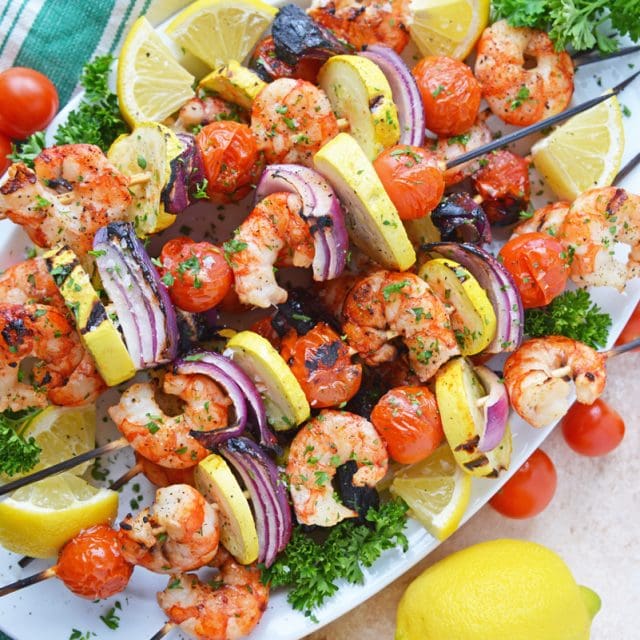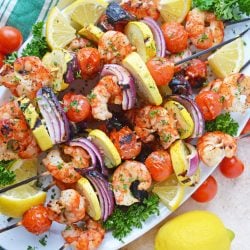 Garlic Shrimp Kabobs
Looking for the perfect summer BBQ Recipe? Garlic Shrimp Kabobs with white cooking wine, garlic and fresh veggies are the perfect choice!
View this recipe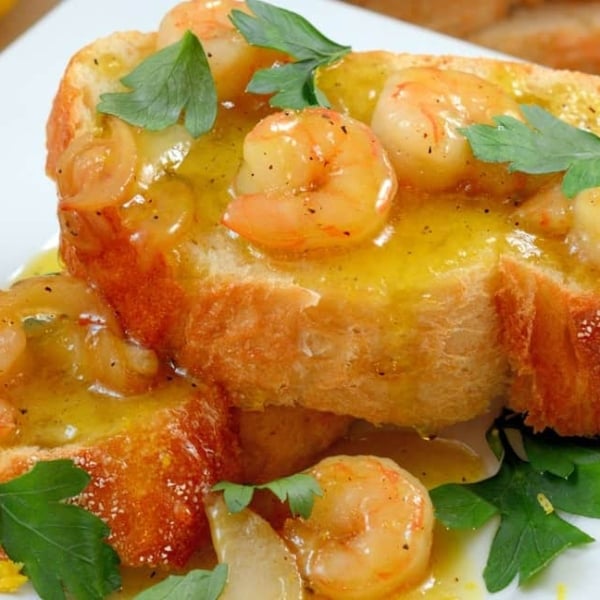 Limoncello Shrimp Crostini
Limoncello Shrimp Crostini is an agrodolce sauce with shrimp, garlic and parsley spooned over crusty French bread.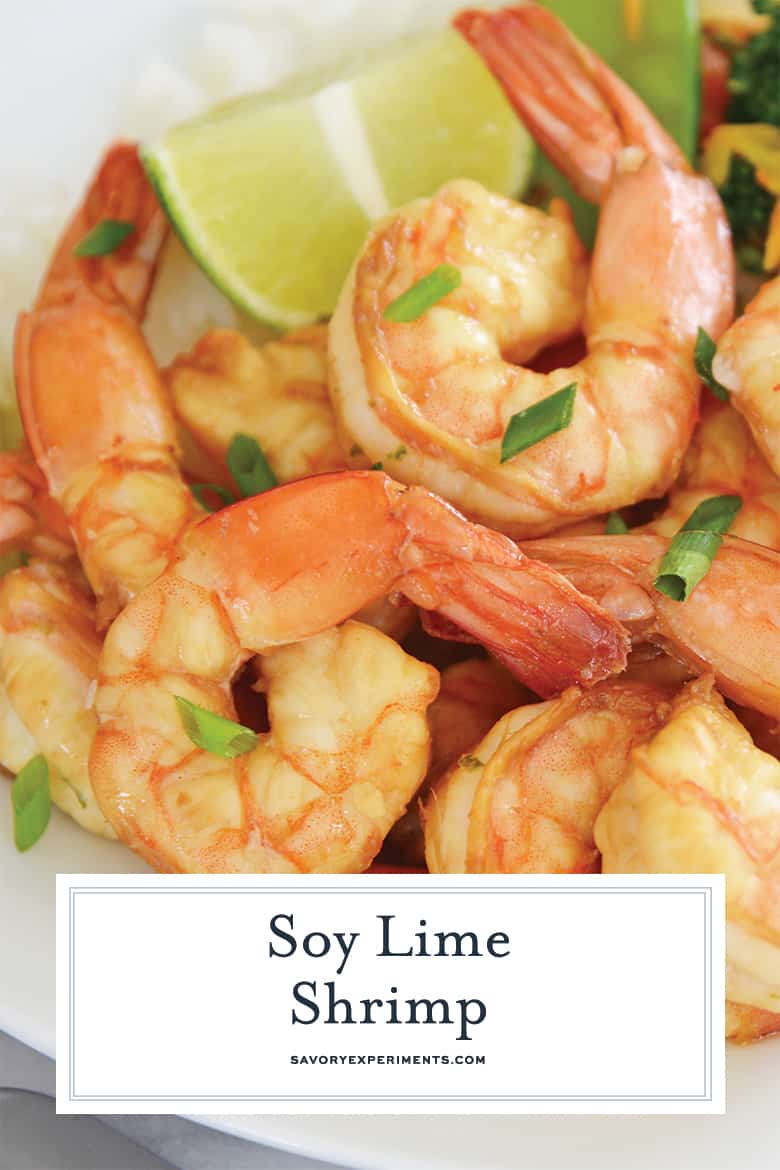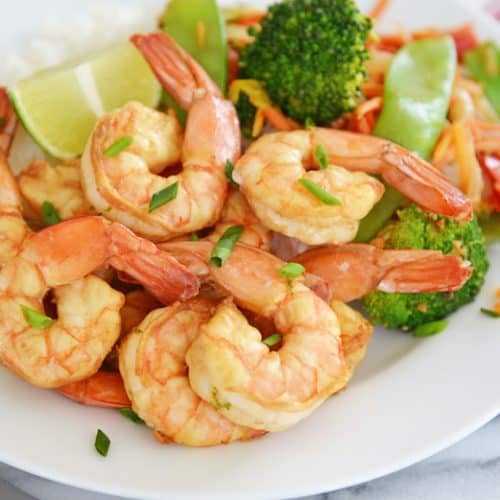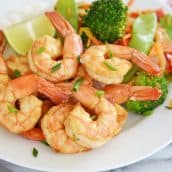 Soy Lime Shrimp
Soy Lime Shrimp is an easy shrimp recipe with loads of a flavor and only 5 ingredients. Grill or saute your shrimp and serve on a salad, as a side or eat on their own!
Instructions
Mix shrimp, soy sauce, vegetable oil, ginger, garlic, lime juice and brown sugar in a medium bowl. Allow to sit for 10-15 minutes, stirring at least once to fully coat shrimp.

Heat medium skillet over medium-high heat and lightly coat with cooking spray. Add shrimp, discarding marinade. Cook on each side for 2-3 minutes, or until pink and curled. Exact cooking time will depend on the size of your shrimp.

Remove shrimp and top them on a salad, serve them as a side dish or eat them as-is!

If you've tried this recipe, come back and let us know how it was!
Nutrition
Calories:
147
kcal
,
Carbohydrates:
5
g
,
Protein:
26
g
,
Fat:
1
g
,
Cholesterol:
285
mg
,
Sodium:
2501
mg
,
Potassium:
152
mg
,
Sugar:
3
g
,
Vitamin C:
7.3
mg
,
Calcium:
173
mg
,
Iron:
3.1
mg