Dark, white, milk, or full of bits and pieces, whatever your favorite chocolate is, it will taste even better as a sweet coating to perfectly cooked salty bacon. Making Chocolate Covered Bacon is easier than you imagine, and completely addictive.
Even in a normal year, getting decadent and indulgent fair food usually only happens once a year when the state fairs open and salty, fried foods and gooey sweets are for sale every few feet.
I have a secret, it can definitely happen at home too!
Chocolate Covered Bacon Recipe
All you need is chocolate and bacon and you can make a fair food inspired treat yourself. Chocolate covered bacon may have started at the state fairs but at home with the right chocolate, it becomes something downright gourmet and incredibly addictive.
To make chocolate dipped bacon you just need bacon and chocolate but here are two of my best tips for choosing them…
Thick sliced bacon is the way to go. If you're ever going to spring for the thick, expensive bacon now is the time. It holds up against the weight of the chocolate best.
Choose a chocolate you like. You can pick whatever chocolate you like to eat! Milk, white and dark all work great. Top it with nuts or coarse salt, or use a candy bar that already has bits and pieces in it!
Pro Tip: Most chocolate bars work great – unless they're filled. Nougat, mousse, caramel fillings, or cookie centers just don't melt right! Instead, use a pure chocolate bar for coating and chop up your favorite candy bar to sprinkle on top as the chocolate sets.
We have fun making this kind of thing in my house, I usually choose a chocolate or two and so does my husband. Then we make a few of each and have a sampling of chocolate covered bacon with a glass of red wine as a fun dessert or snack on date night.
Chocolate & Toppings
The best part is that it's easy for me to make during the day and pop in the fridge for later. A few of our favorite chocolates are:
Lindt Milk chocolate
Any 60 to 70% dark chocolate
Hershey's Cookies and Cream
Sea Salt Almond Dark Chocolate
Pretzel or Toffee Crunch dark chocolate
A few of our favorite chocolate covered bacon toppings are:
Crushed or chopped cookies
Chopped M&M's
Chopped roasted salted nuts
Mini Chocolate Chips
Chopped pretzels
Chopped toffee or brittle
Coarse flaky salt (Make sure your chocolate has cooled or it may melt!)
Now I may have heard this referred to as 'man candy' in the past (something about meat and chocolate I'm guessing), but let me tell you that a perfectly cooked slice of bacon coated with creamy chocolate and salted almonds is far more than just a man's candy. Women, children, grandma's, grandpa's…this is an everybody candy!
When it comes to the actual process of making your chocolate bacon, it's very easy. I have a few essential tips for how to make it perfectly every time.
Tips for Making Chocolate Covered Bacon
Roast your bacon on an oven safe cooling rack set over a foil or parchment lined baking sheet for easy clean up and even cooking.
The time your bacon takes to cook depends on the thickness of your bacon, thinner takes from 12 to 20 minutes, the thick slices I used took 25 in a 400°F oven. Flip slices once about halfway through baking.
Dab off any excess grease once bacon is cooling to allow the chocolate to coat and set as nicely as possible.
Use about ½ ounce of chocolate per slice of bacon you're coating.
Lightly chop or break up the chocolate and melt the chocolate in the microwave for fastest results.
Different chocolate melts differently. White melts fastest while dark the slowest. Start with 10 second intervals in the microwave, stirring in between to avoid burning your chocolate.
Use a spoon and drizzle the chocolate over the bacon for easiest coating without bending the bacon (no broken strips!)
Lay flat on wax paper to chill in the fridge for the quickest set up and to avoid the chocolate bacon from sticking to the cooling surface.
Keep it stored in the fridge for up to four days. It keeps best laid flat in a plastic, lidded bowl. Keep chocolate separated between wax paper layers if needed.
And as one final tip, as if this wasn't decadent enough, if you really want to amp it up and make this a foodie's dream snack, I highly recommend using homemade candied bacon to make this chocolate treat.
Make Ahead & Storage
Can you make this chocolate covered bacon ahead of time? Yes! It's obviously at its best within an hour or two of being made, but we have enjoyed it well into the days after with no issues.
However, bacon is not food safe at room temperature for longer than 2 hours. So if you don't scarf the whole batch down in one day (no judgments here!) be sure to refrigerate when you're not consuming it.
Cooking Bacon on the Stovetop
I like the baking bacon in the oven. The bacon cooks flat without becoming too crisp, which can lead to shattered bacon when coating. You can also make it in the Air Fryer.
You can cook your bacon in whichever method you prefer. Simply be careful when coating to avoid breaking your strips and make sure your bacon isn't too greasy.
More dessert recipes: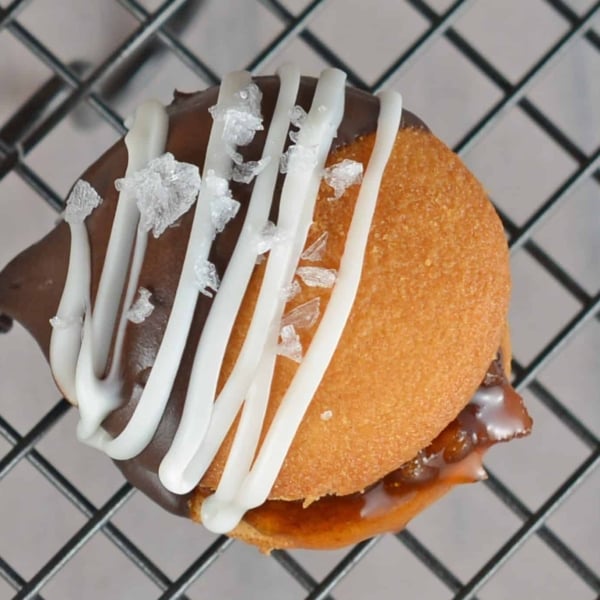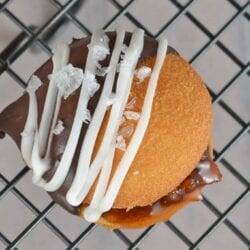 Dark Chocolate Bacon Cookies
Chocolate Bacon Jam Cookies are an unexpected cookie sandwich filled with a sweet bacon jam and then dipped in dark chocolate and sprinkled with sea salt.
View this recipe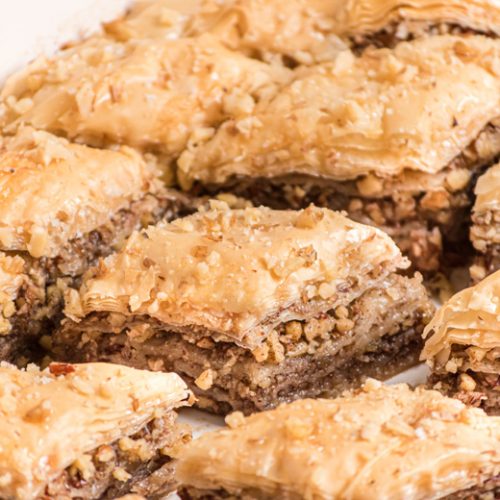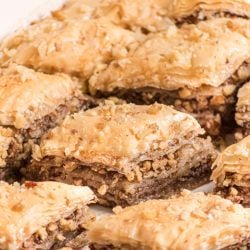 Honey Nut Baklava
With delicate layers of pastry, a slightly crunchy nutty filling and a sweet honey sauce, this is the BEST traditional Baklava recipe!
View this recipe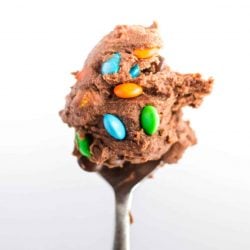 Eggless Edible Chocolate Cookie Dough
When it comes to edible cookie dough, this Edible Eggless Chocolate Cookie Dough recipe is the best! Just mix the ingredients and you're done!
View this recipe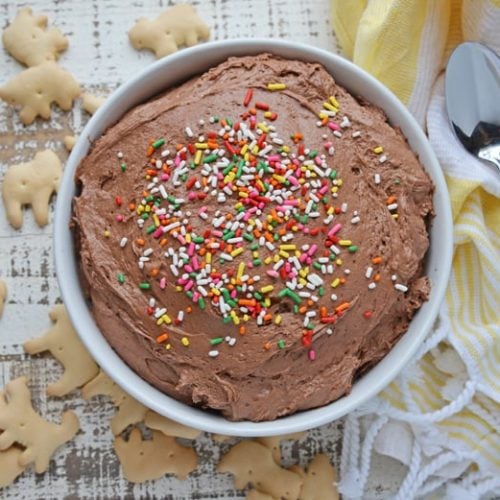 Chocolate Dunkaroo Dip
Do you remember Dunkaroo dip? This easy, homemade Chocolate Dunkaroo Dip only uses 3 ingredients and it's just as tasty as what you remember from childhood!
View this recipe
Chocolate Covered Bacon
Chocolate Covered Bacon is a salty sweet dessert that is made with only 2 ingredients. Mix up your chocolate and add fun toppings for a truly gourmet treat!
Ingredients
12

slices

bacon

, about 1 pound, thick sliced

6

ounces

chocolate of choice

4

tablespoons

chopped nuts or candy (optional)
Instructions
Preheat your oven to 400°F. Line a baking sheet with foil or parchment paper and place an oven safe cooling rack on top.

Line bacon on the cooling rack and bake for 12 to 25 minutes, depending on the thickness of your bacon. Flip once about halfway through and cook until deep golden brown and crisp.

While bacon is cooling, break up chocolate into a bowl and microwave on 10 second intervals until the chocolate is beginning to melt. Stir to melt the chocolate completely.

Dab off any leftover grease from the bacon with a paper towel then dip one end into the chocolate. Use a spoon to coat the bacon slice a little more than halfway up on both sides.

Place coated bacon on wax paper or parchment paper. Continue until all the bacon is coated.

Sprinkle each slice with about 1 teaspoon of chopped toppings if using and transfer the wax paper to the fridge, keeping it flat to let the chocolate set. About 1 hour.

Enjoy and keep bacon stored in an airtight container in the fridge for up to 4 days.

If you've tried this recipe, come back and let us know how it was in the comments or ratings!
Nutrition
Calories:
391
kcal
,
Carbohydrates:
16
g
,
Protein:
8
g
,
Fat:
33
g
,
Saturated Fat:
13
g
,
Cholesterol:
31
mg
,
Sodium:
294
mg
,
Potassium:
277
mg
,
Fiber:
3
g
,
Sugar:
11
g
,
Vitamin A:
30
IU
,
Calcium:
26
mg
,
Iron:
2
mg