The trend of everything jalapeno popper continues with these delectable Jalapeno Popper Potato Skins. Delicious potatoes are filled with cheese, two types of jalapenos, and topped with cool sour cream.
What's not to love?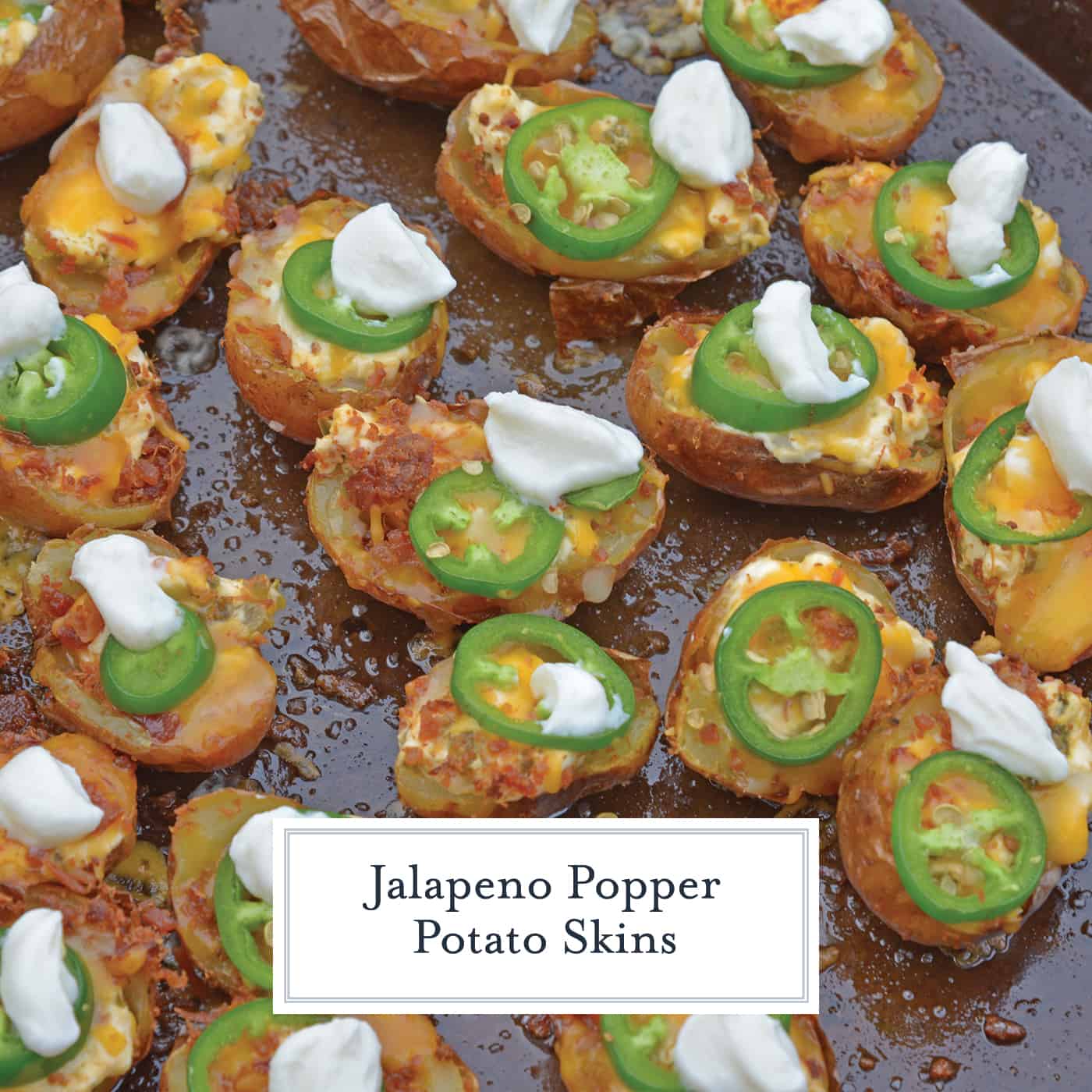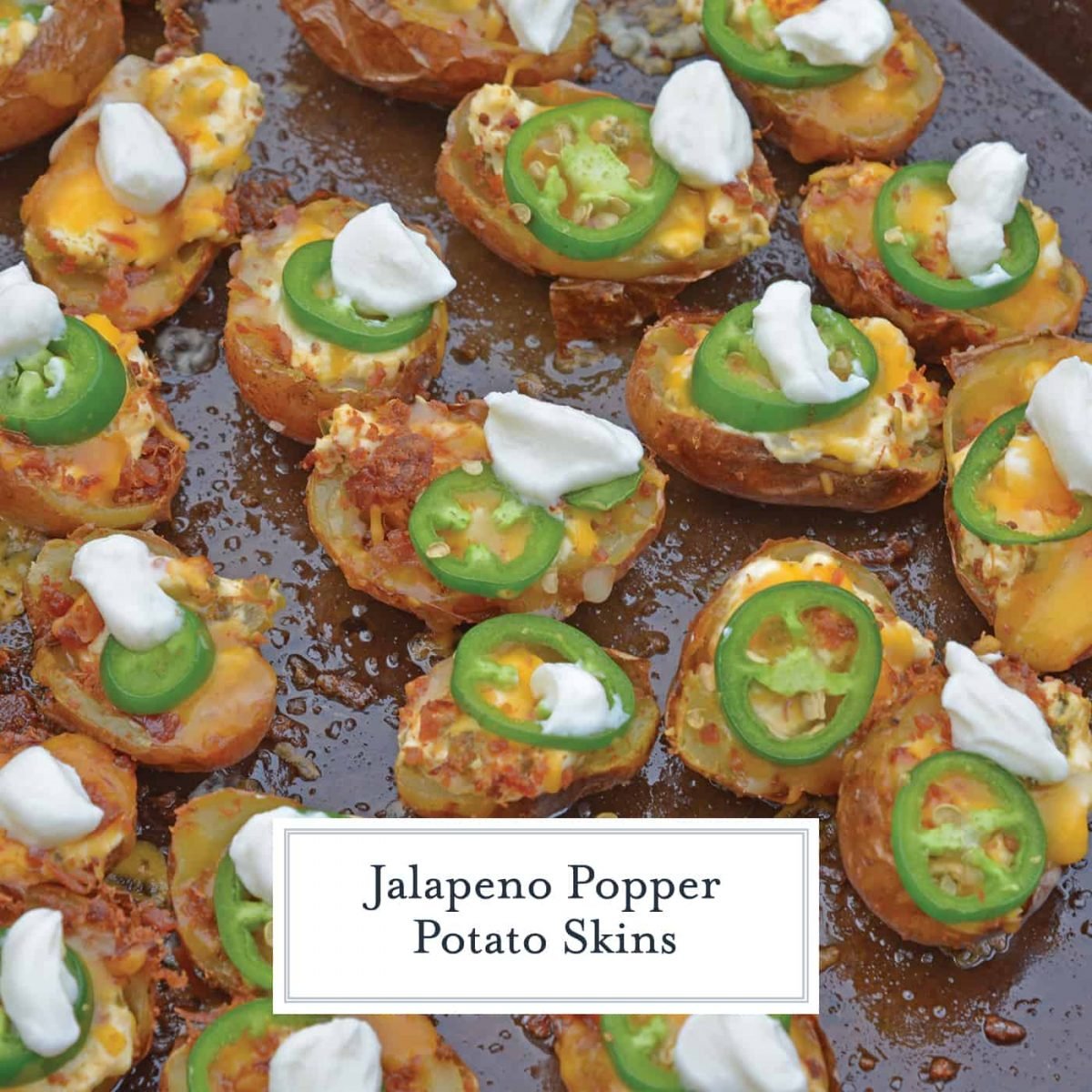 Jalapeno Popper Potato Skins are bite-sized potatoes filled with 3 types of cheese, 2 types of jalapeno, bacon, and a cool dollop of sour cream. Perfect for a snack or party appetizer!
I love anything spicy; in fact, if it doesn't force me to break a sweat, it isn't hot enough. It's a problem, I know. My next creation was a mashup of two favorite snacks: jalapeno poppers and the equally beloved potato skins.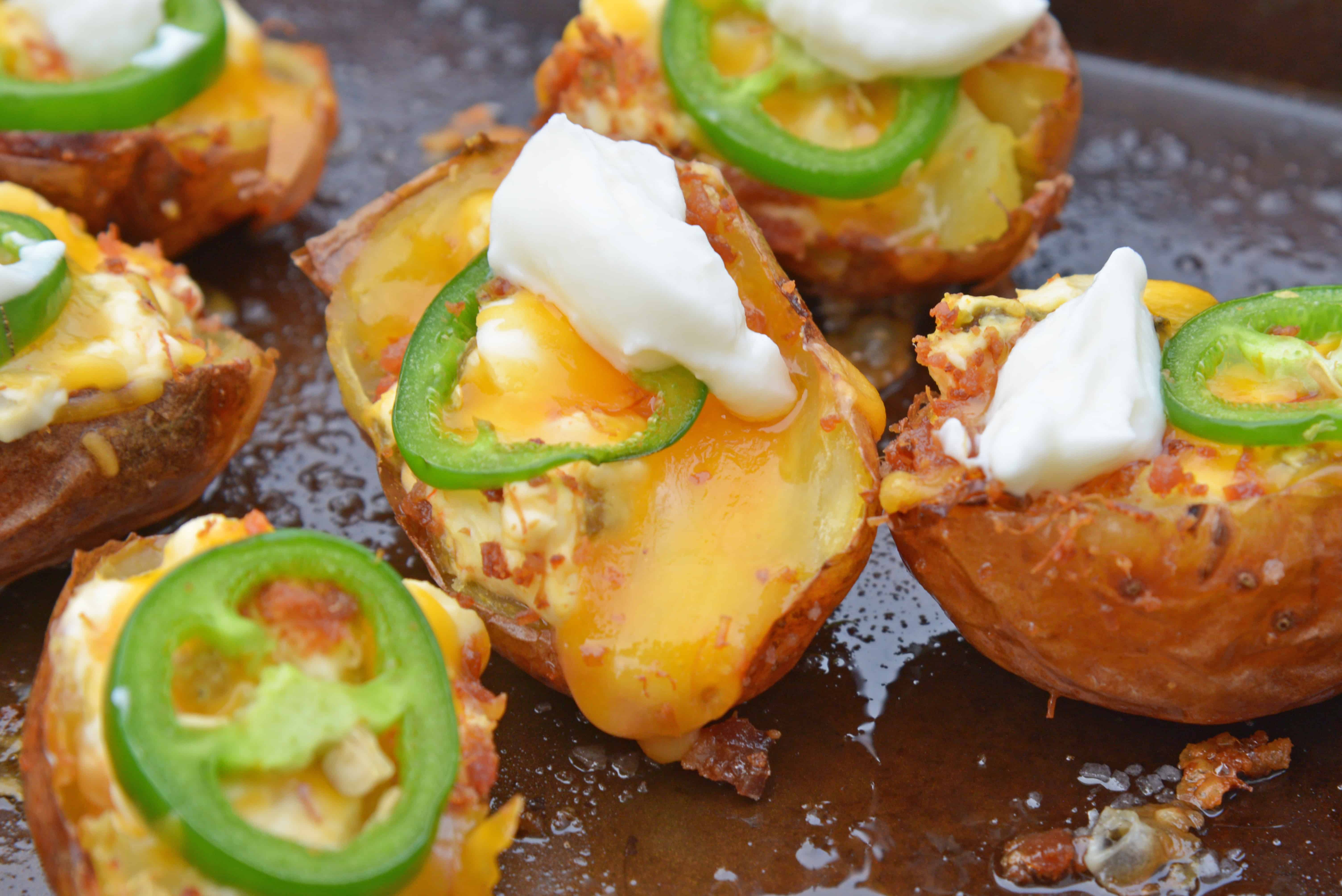 I took the rich cream cheese and fresh jalapenos from the poppers. The gooey cheddar and pepper jack, as well as the starchy potatoes, came from the skins. A few flairs here and there, plus a good helping of bacon and you have the ultimate snack or appetizer.
Seriously, it is amazing-ness on a plate. To really send it over the edge, I added pickled jalapenos and some cool sour cream. My taste buds are revving up just thinking about it.
Did you know that potato skins have a highly contested origin story? Three different restaurants lay claim to creating this heavenly wonder back in the 70s. What a groovy time and my goodness am I thankful for the revelation now.
The jalapeno popper's creation is a little harder to pin down. Theories suggest it started in the great state of Texas and may have been inspired by one of my favorite dishes, chile rellenos. Whoever dreamed them up, is a winner in my book.
If you really want to kick up the heat, you can change the chile slices you put on top of the potatoes. A serrano or a fresno chile would give great color and that vegetal spiciness you are looking for.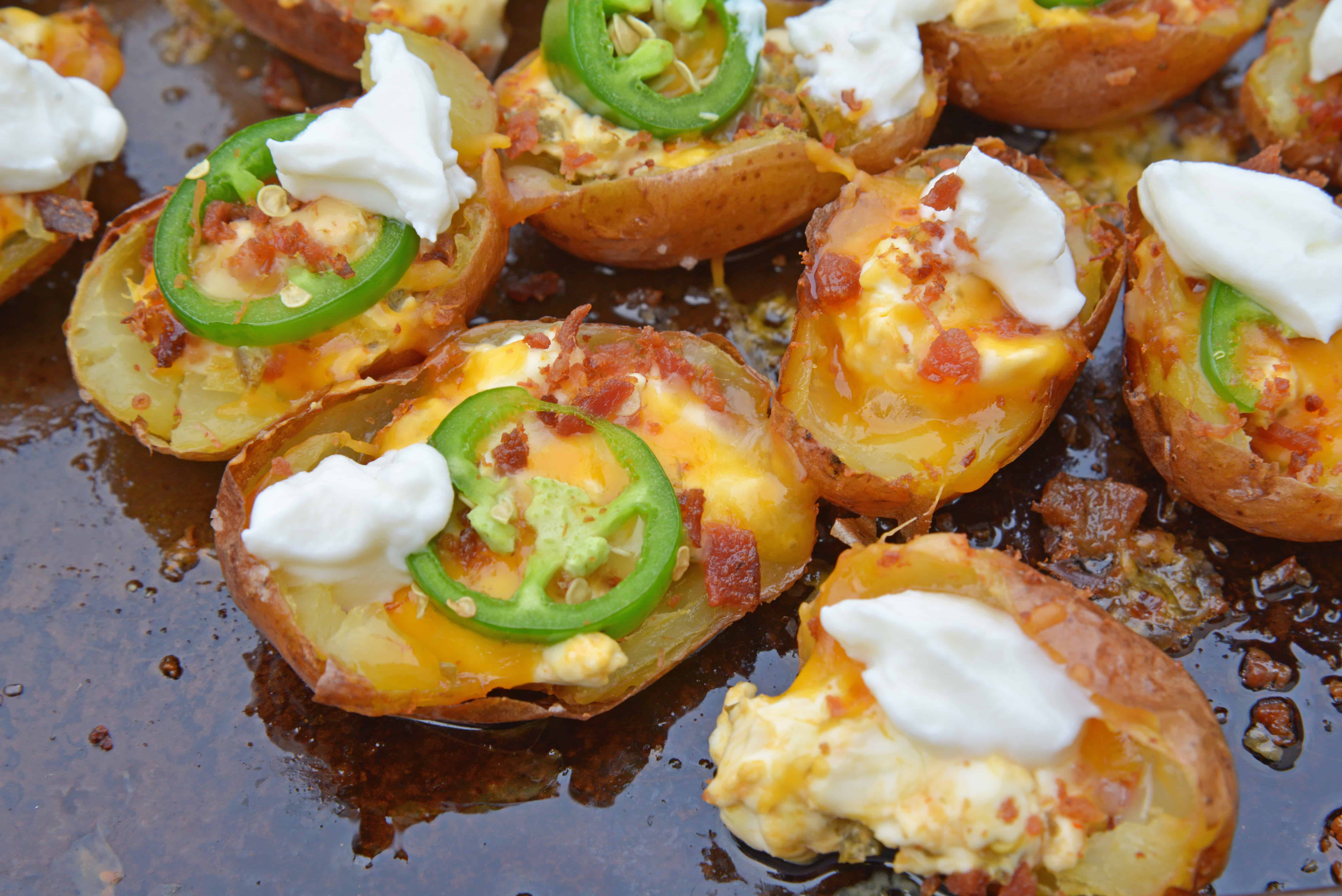 You can make these Jalapeno Popper Potato Skins on average size potatoes or baby red potatoes. For parties, I prefer baby reds because the size is perfect. They make it into a one-bite appetizer that doesn't require any utensils or a plate.
For those of you with vegetarian friends or family members, forgo the bacon. If you don't have time to crisp the bacon off, the trusty variety in the bottle would work fine. That said, I prefer to do this myself. It gives me control over the crispiness.
Word to the wise, be ready with napkins and the second batch of these in the oven. They go quickly and people will be chomping at the bit for another round.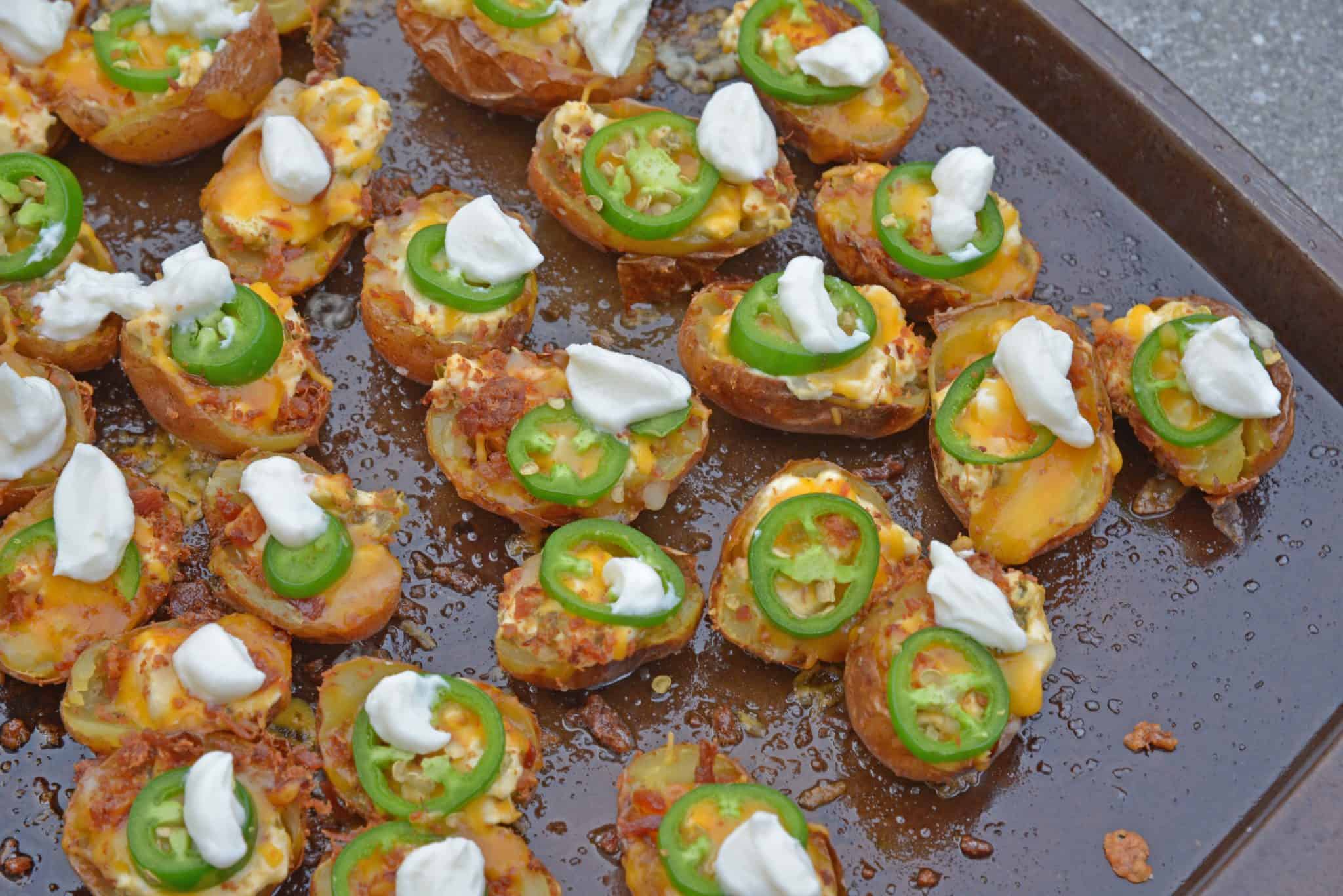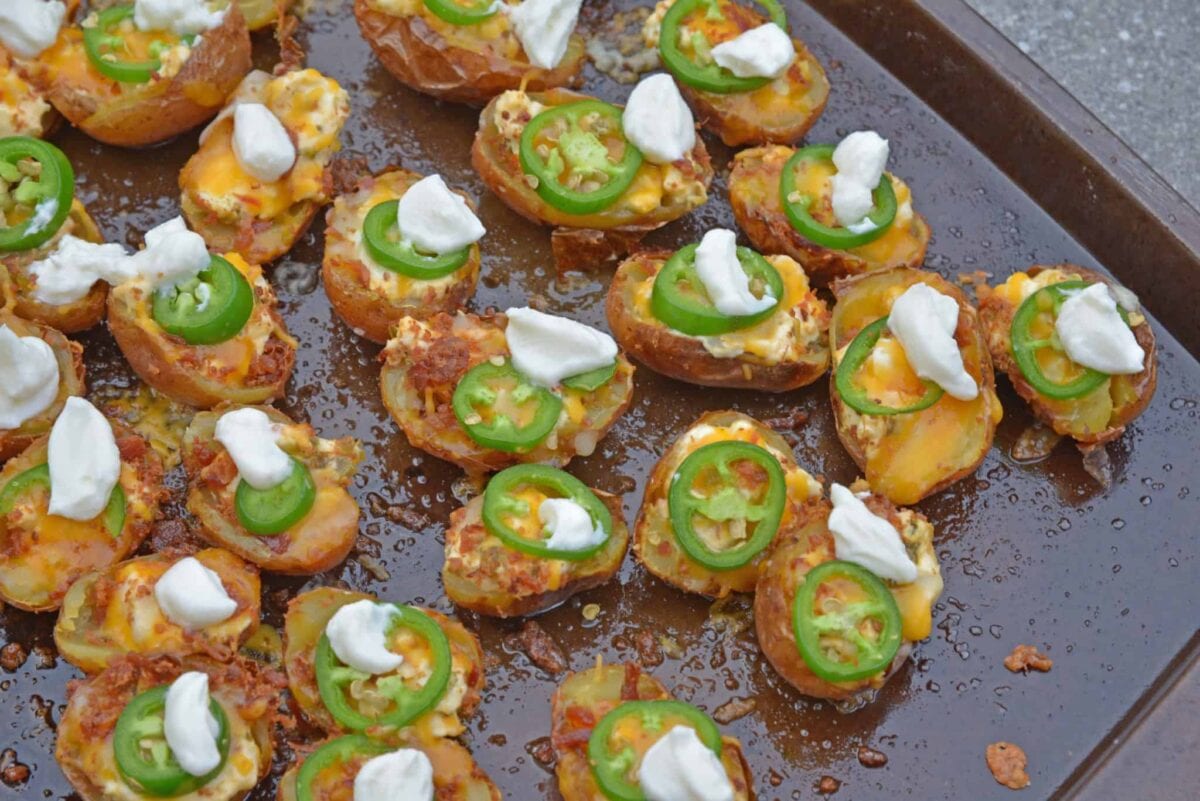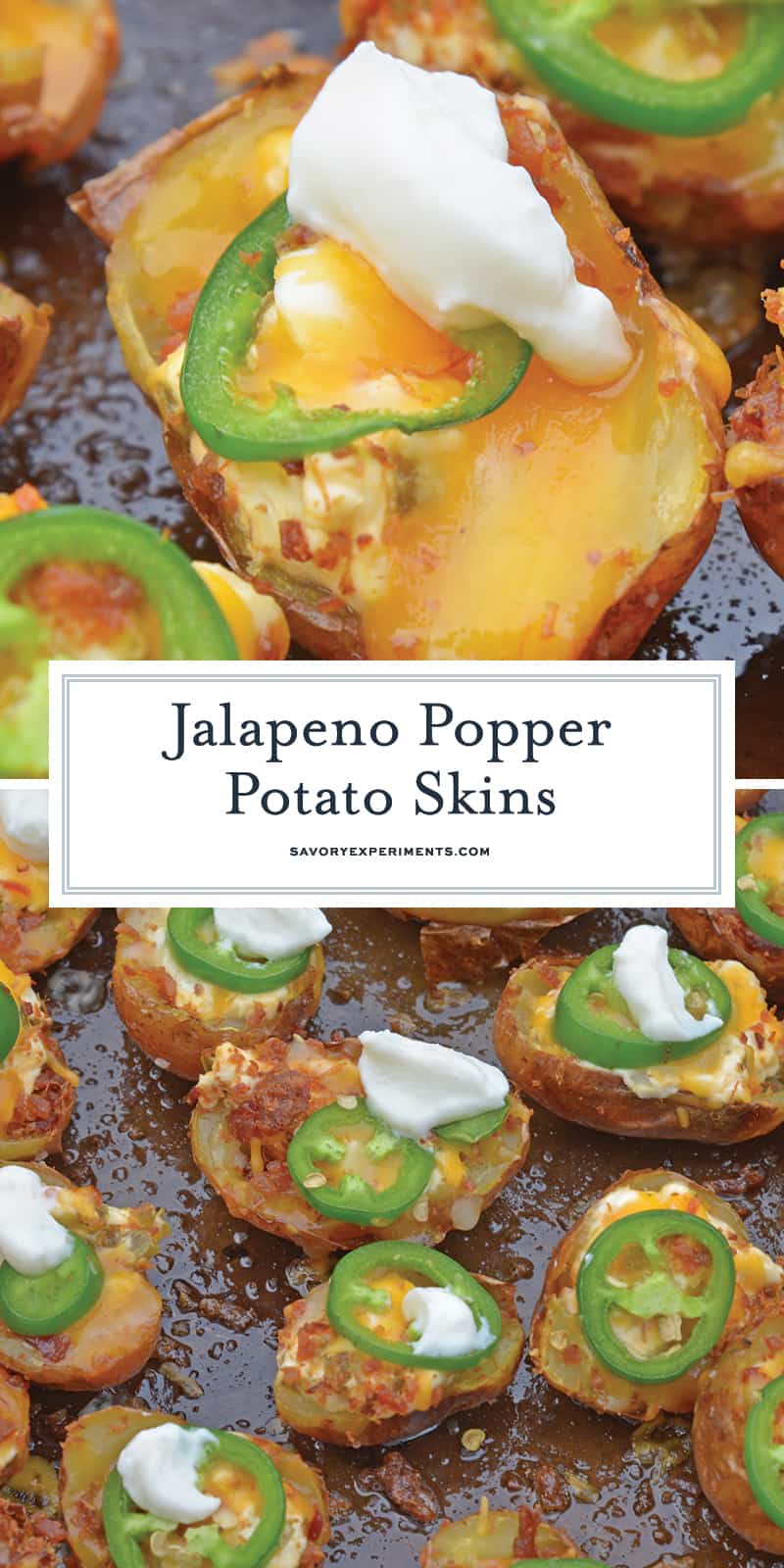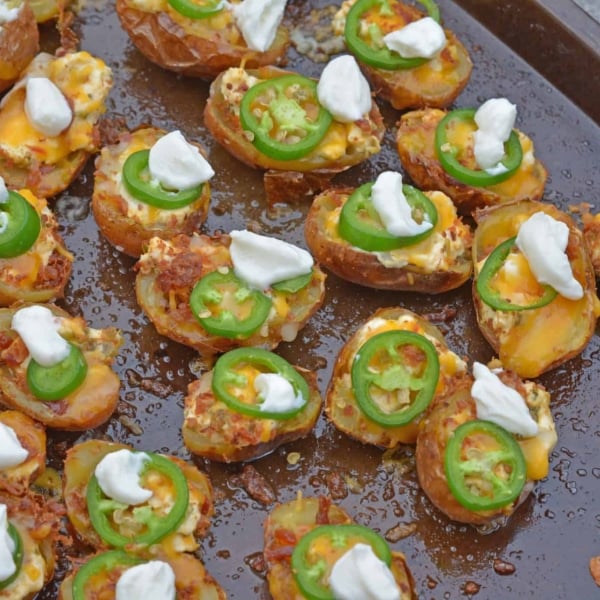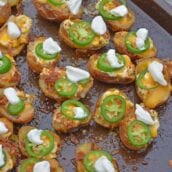 Jalapeno Popper Potato Skins
Jalapeno Popper Potato Skins are bite-sized potatoes filled with 3 types of cheese, fresh jalapenos, bacon and cooled off with sour cream. Perfect for a snack or party appetizer!
Instructions
Heat oven to 400 degrees. Scrub and dry potatoes.

Bake for 15-20 minutes, or until soft when pricked with a fork. Allow to cool so they are easier to handle.

Cut in half and spoon our the center, leaving a few millimeters around the edges to still have some potato.

In a mixing bowl, blend softened cream cheese and hot sauce until smooth. Add 2 tablespoons shredded cheddar cheese, 2 tablespoons pepper jack cheese, minced pickled jalapenos and kosher salt. Mix well.

Spoon cheese mixture into each potato skin. Divide remaining shredded cheddar and pepper jack cheese on the tops of each potato.

Reduce temperture to 350 degrees. bake for 8-10 minutes or until cheese has melted.

Top with sour cream, a slice of jalapeno and crumbled bacon. Serve hot.

If you've tried this recipe, come back and let us know how it was!
Nutrition
Calories:
55
kcal
,
Carbohydrates:
5
g
,
Protein:
1
g
,
Fat:
3
g
,
Saturated Fat:
1
g
,
Cholesterol:
8
mg
,
Sodium:
57
mg
,
Potassium:
142
mg
,
Vitamin A:
100
IU
,
Vitamin C:
7.2
mg
,
Calcium:
25
mg
,
Iron:
0.3
mg