Love Panda Express, but don't have access to one right now? This easy Honey Walnut Shrimp recipe is a great alternative, absolutely delicious, and ready in only 30 minutes. Perfect for a quick family dinner, under 10 ingredients required and so much better that carry out.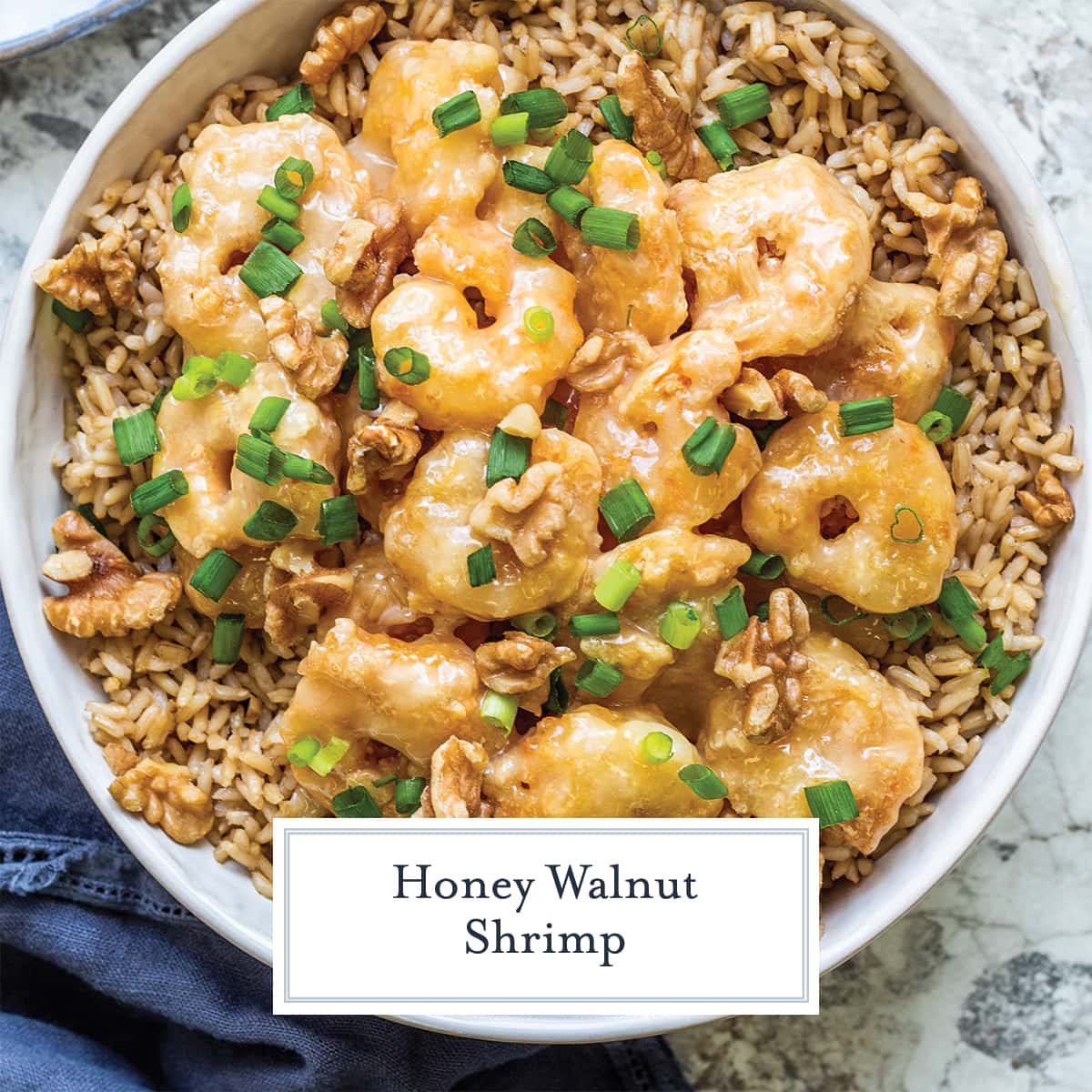 Shrimp is a favorite amongst my son and husband, so this Honey Walnut Shrimp is always a favorite. The sauce is sweet and great for both kids and adults. Plus, added with some crispy shrimp and sugar coated walnuts what's not to love?!
How to Make Honey Walnut Shrimp
Begin by preparing your shrimp. You will need to remove the tails, shells and devein them. To save time you can buy them without the shells, tails and deveined.
Note that these are usually more expensive. Next, sprinkle with salt and pepper and set aside.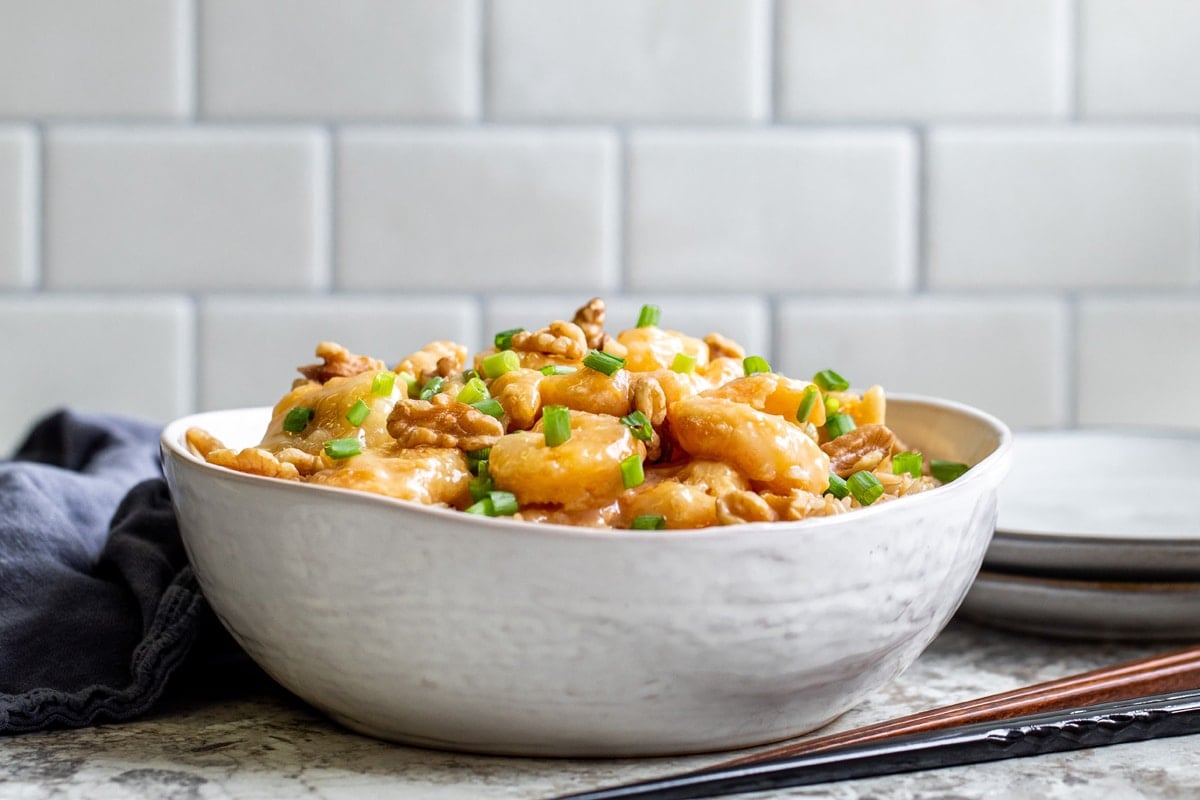 Once your shrimp is prepared add an egg to a small prep bowl and whisk to combine. In a separate prep bowl add the cornstarch.
One at a time time the shrimp in the egg and let excess drip off. Then, dip the same shrimp in the cornstarch and coat. Set the coated shrimp on a plate and repeat until all the shrimp is coated.
In a large deep skillet add in the vegetable oil. Heat on medium until oil is shimmering.
While the oil is heating up, add the sugar, walnuts and water to a small saucepan and heat over medium heat. Let cook until shrimp is finished, about 10 minutes.
Add the shrimp to the oil once hot and pan fry 2 minutes per side. The finished honey walnut shrimp should be crispy and golden. Once finished remove from oil and add to a plate. Depending on the size of your skillet you may need to fry the shrimp in several batches to make sure it is nice and crispy.

While the shrimp and walnuts are cooking, combine the sauce ingredients to a large bowl and whisk to combine. Set aside.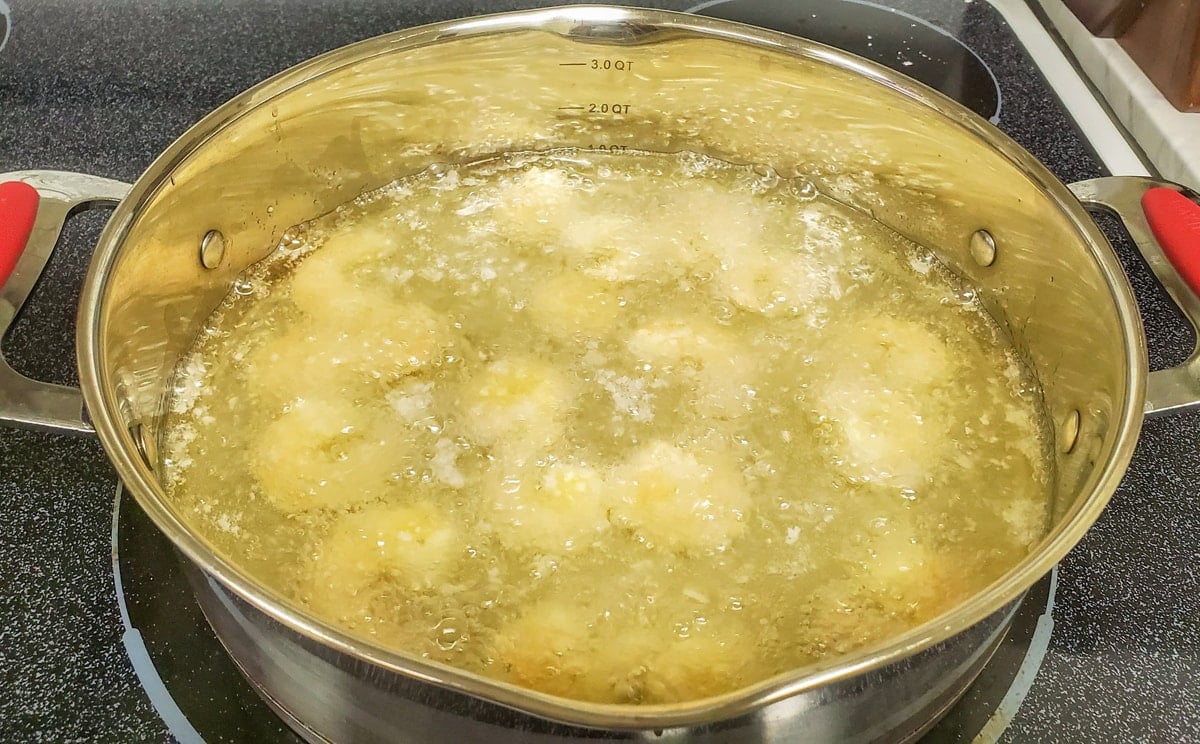 Once all the shrimp have been fried add to the sauce bowl and gently toss until all the fried shrimp is coated in the honey sauce.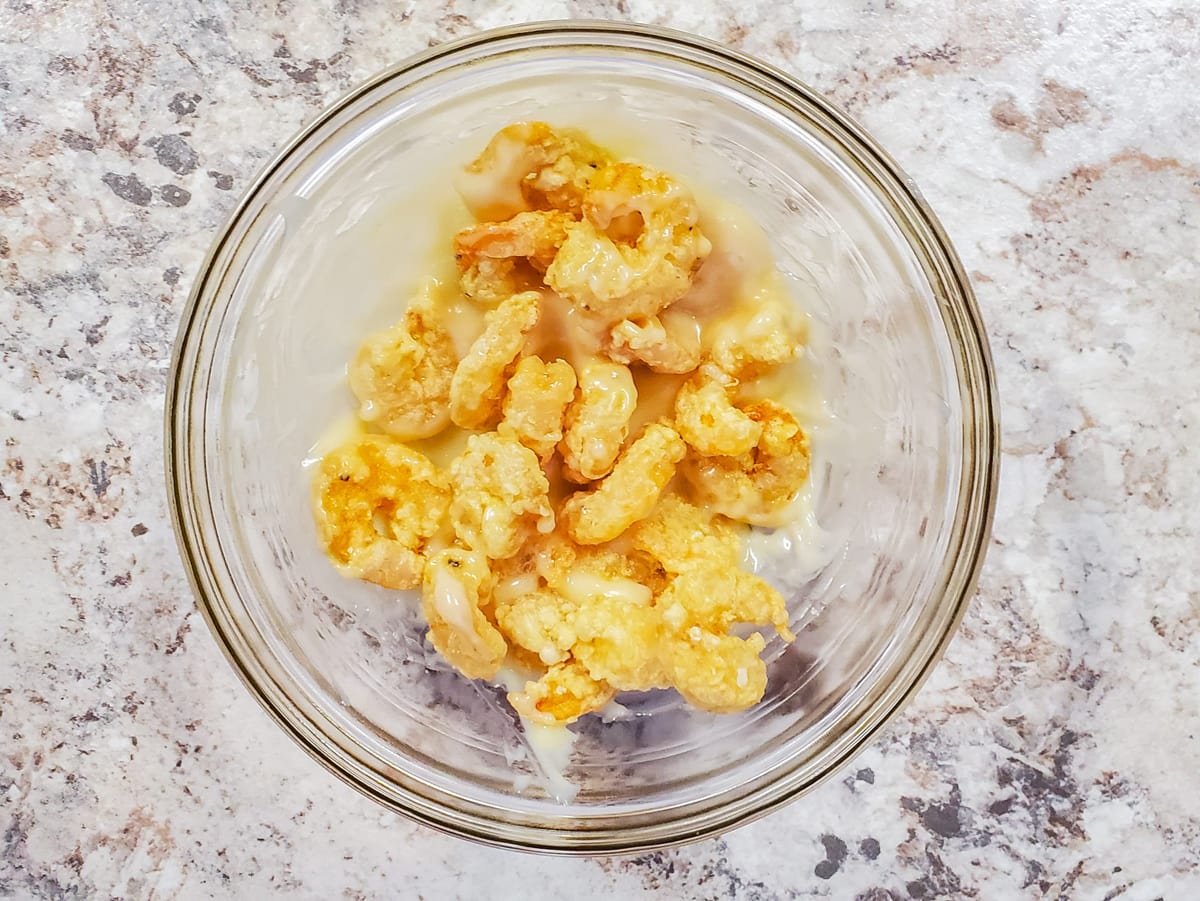 Serve over top of cooked rice topped with candied walnuts and sliced green onion, enjoy!

Pro Tip: Use the Wet Hand/ Dry Hand Method for breading the shrimp to keep your hand clean and the coating from sticking to your fingers. Use one hand to dip the shrimp in the egg, and the opposite hand to coat the shrimp.
Tips & Suggestions

Shrimp Size: I used small bite sized shrimp for my honey shrimp with walnuts. I like how fast they cook and IMO make the perfect bite paired with a candied walnut and a bit of rice.
Alternatively, you can use medium, large, or even jumbo shrimp. Just note that your fry time will vary based on the size of the shrimp used and you may need more cornstarch than the recipe calls for.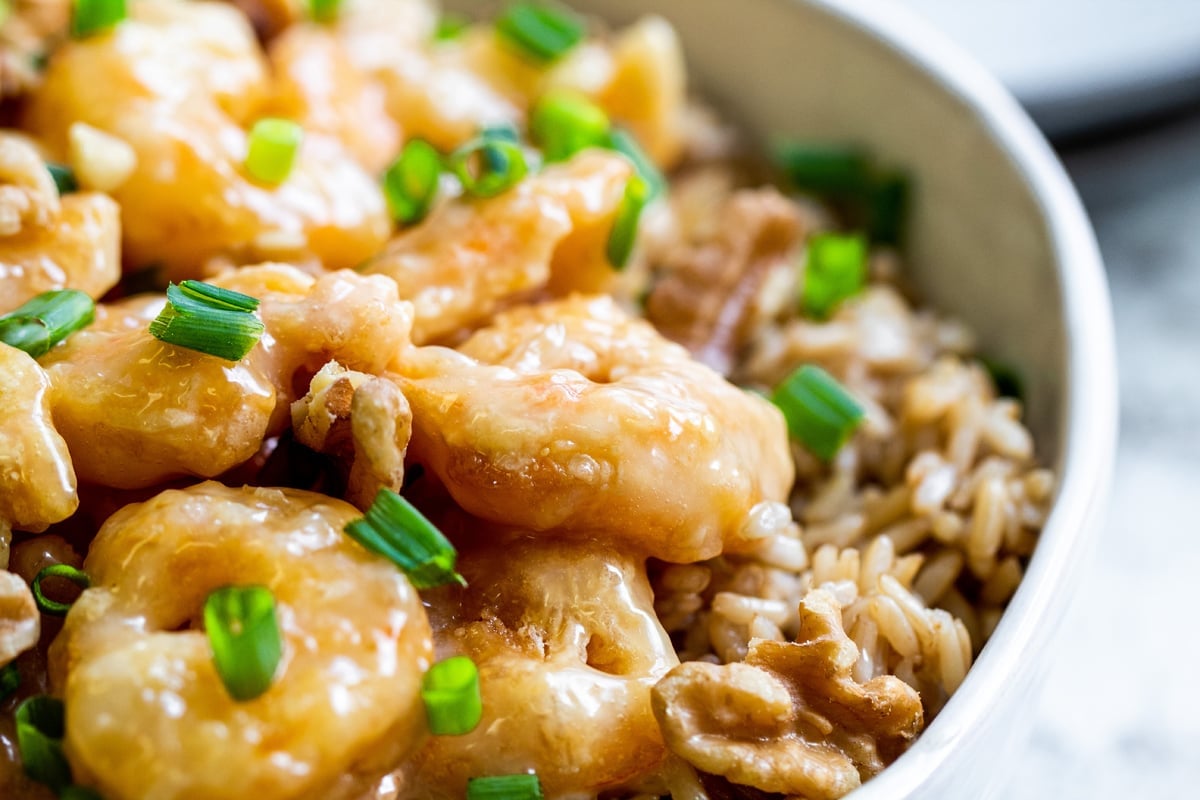 Flavor Booster: This walnut shrimp recipe is great because the flavor isn't too bold and very approachable for kids and adults. My kiddos love the crispy textures and sweet sauce.
To boost the flavor more and add a bit of spice I like to sprinkle some red pepper flakes over top of my finished shrimp. This is totally optional, but adds more depth of flavor to the dish, and gives it a kick.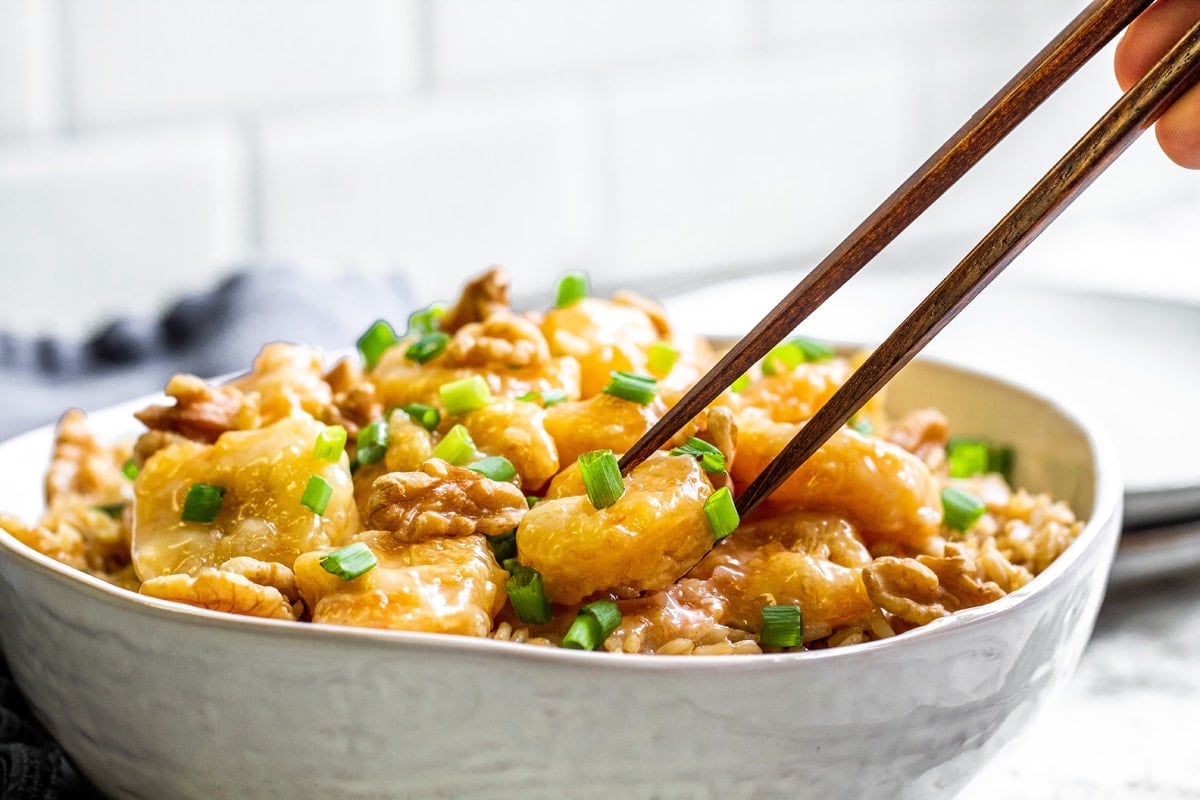 Honey Walnut Shrimp Serving Suggestions
With Rice: The classic way to enjoy this Walnut Shrimp is over top of some cooked rice. Any rice will be work and I suggest going with whatever the favorite is in your house. We love brown rice, but white rice or even fried rice will work great.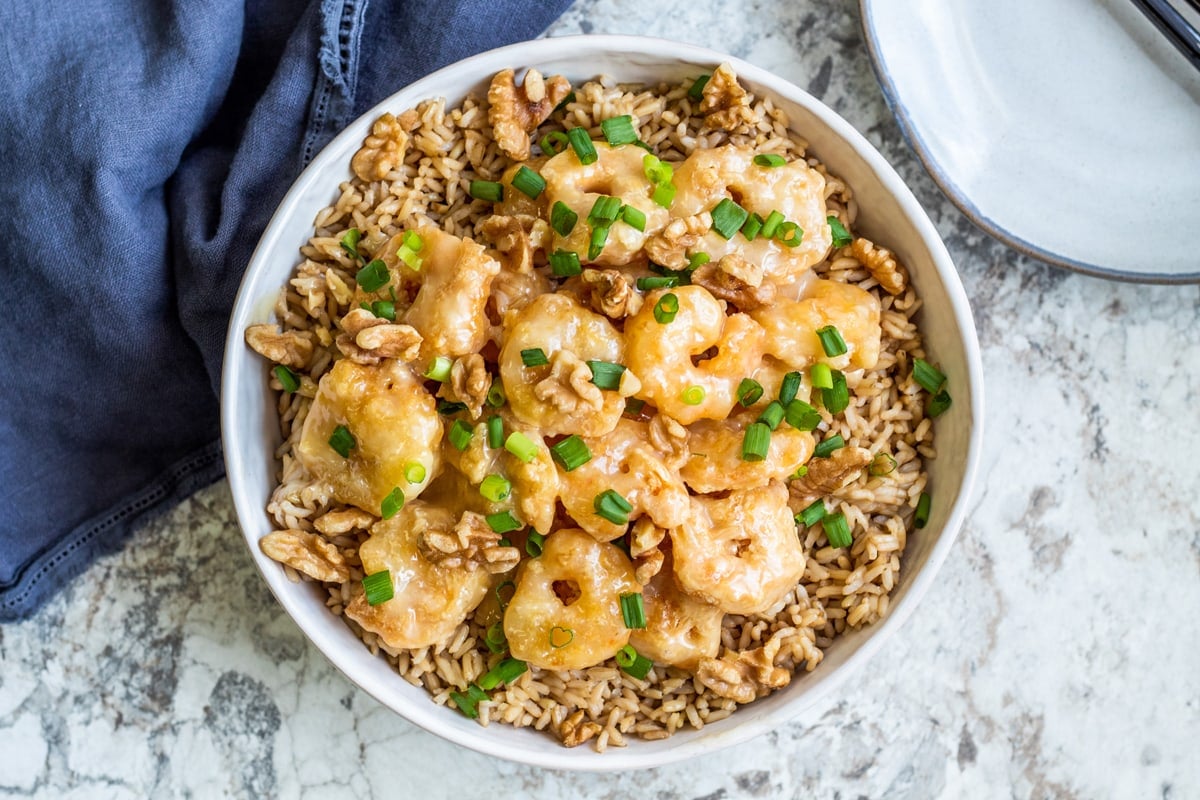 In a Salad: If you are looking for a lower carb option (or are just a fan of salads) you could add the honey walnut shrimp and walnuts over top of a bed of lettuce and create a yummy Asian salad. Pair with raw vegetables like carrots, sliced red pepper, or snow peas to complete the dish. Ginger or Sesame Salad Dressings are great additions as well.
In Tacos: A fun way to incorporate this crispy honey shrimp is to create some shrimp tacos with them. Add in some chopped cabbage, the shrimp and a sprinkle of shredded carrots for a great dinner idea.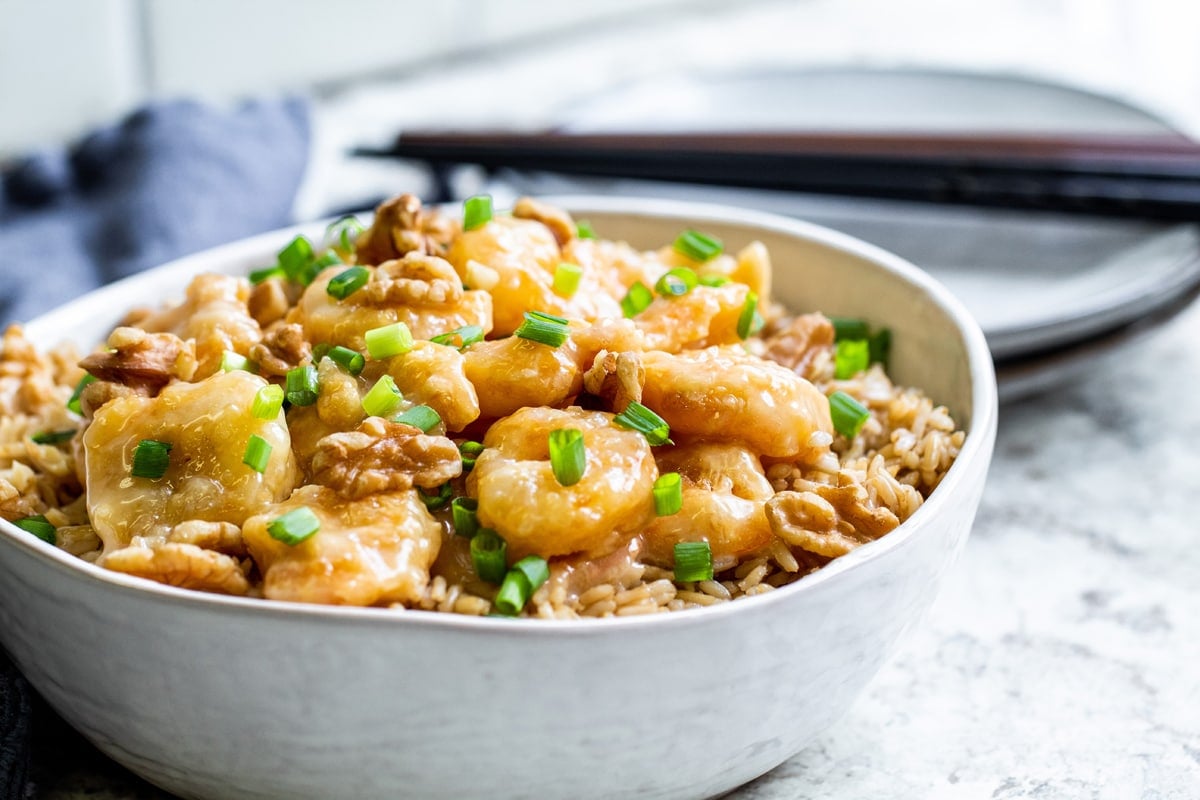 With Veggies: Another low carb option for this shrimp would be to serve over a bed of cooked vegetables. Any vegetables can work, but I recommend sticking with stir fry vegetables like carrots, broccoli, peppers, mushrooms, baby corn, and sugar snap peas.
How to Devein Shrimp
You will need to take a paring knife and make a shallow slit down the back of the shrimp. You will see a dark line )the vein) that you will then remove. Be careful not to cut too deep or you will cut the shrimp in half.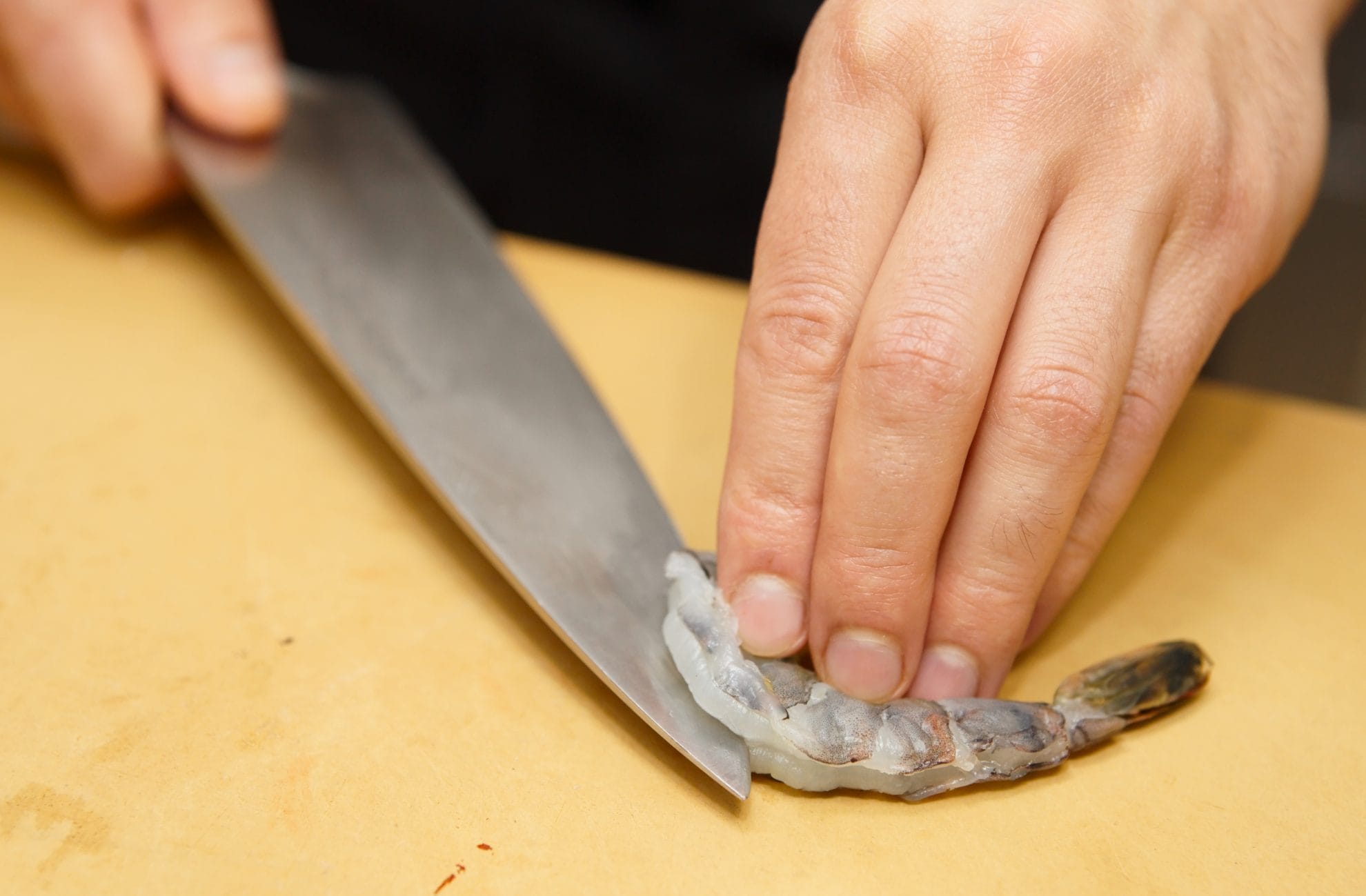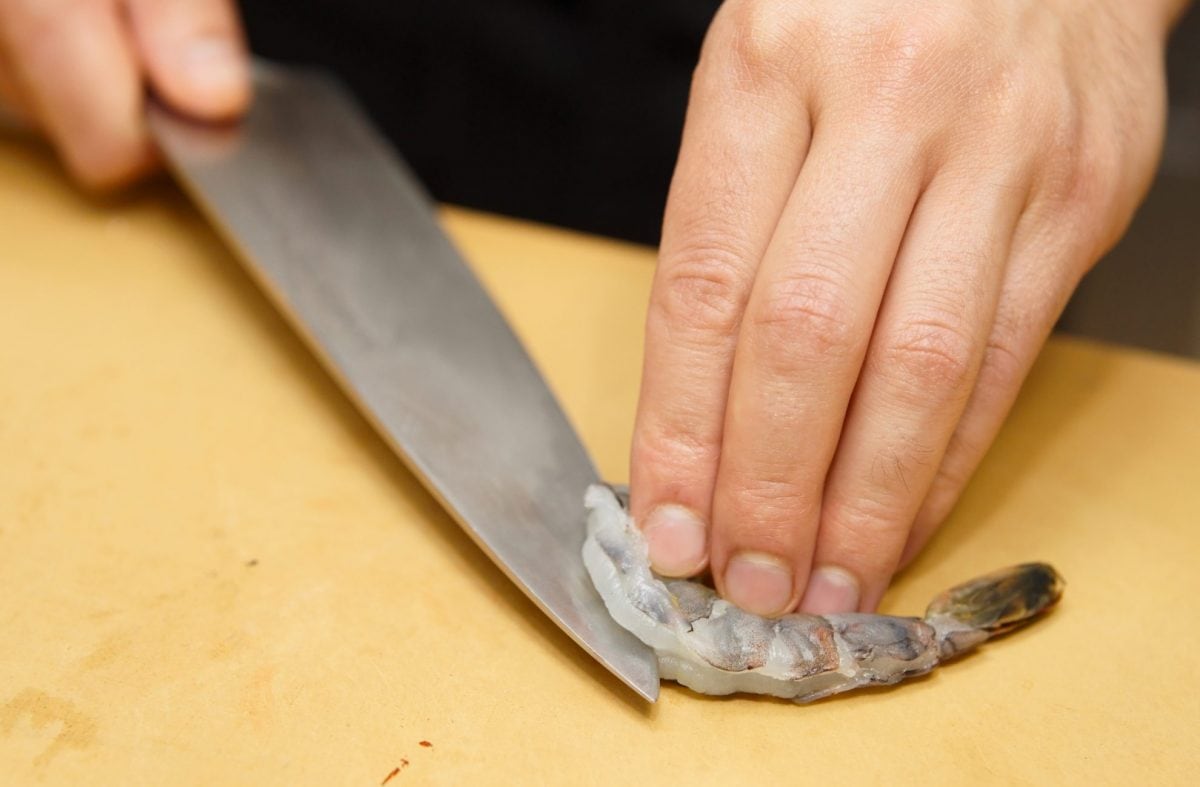 Storage and Making Ahead
Store Walnut Honey Shrimp in an airtight container in the fridge for up to 2 days. For the best leftovers I recommend reheating in the oven and not a microwave.
Place shrimp on an oven baking sheet and heat at 350 for about 10 minutes until warmed through. This will help the outside stay crisp and not be mushy.

All the components can be made up to 24 hours ahead of time and stored in the fridge. The shrimp can be prepped (deveined, removing the shells) ahead of time then stored.
The sauce can also be combined and stored in the fridge, and the walnuts can be cooked then stored in an airtight container at room temperature.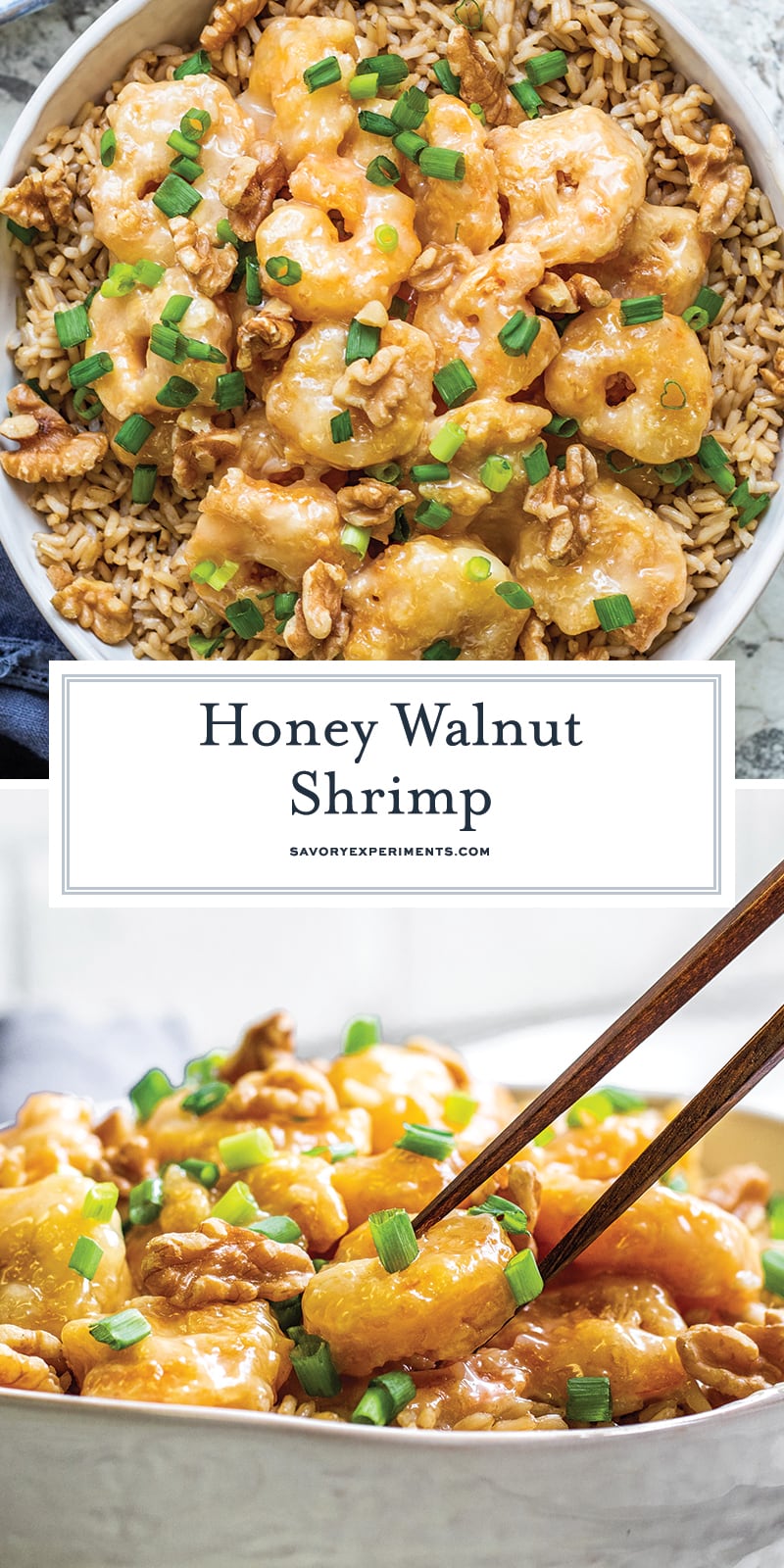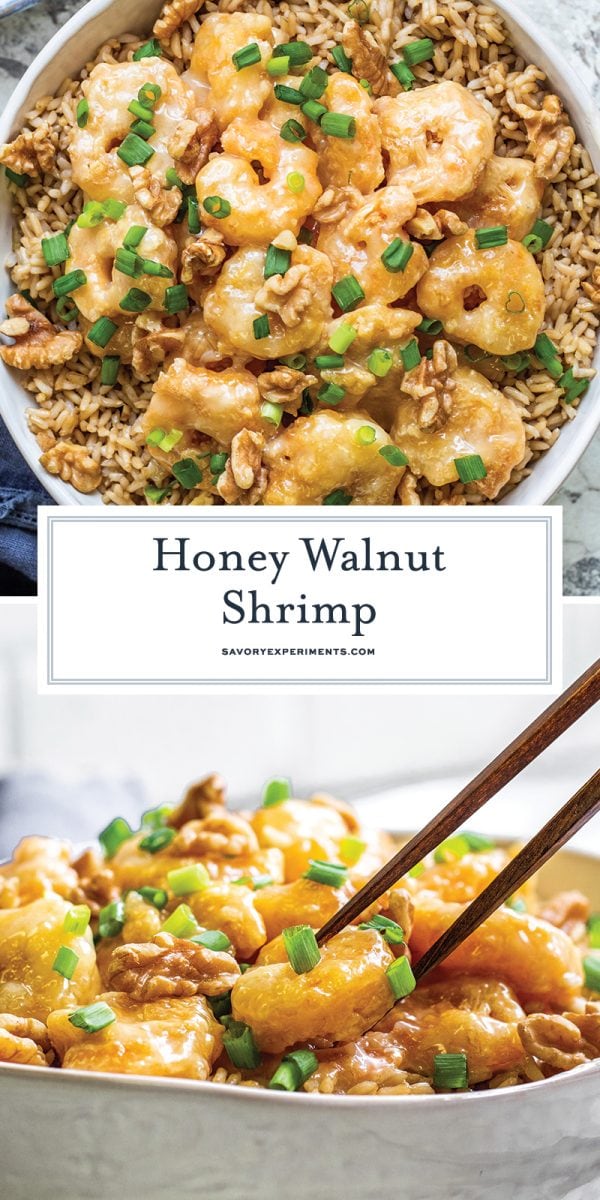 More shrimp recipes: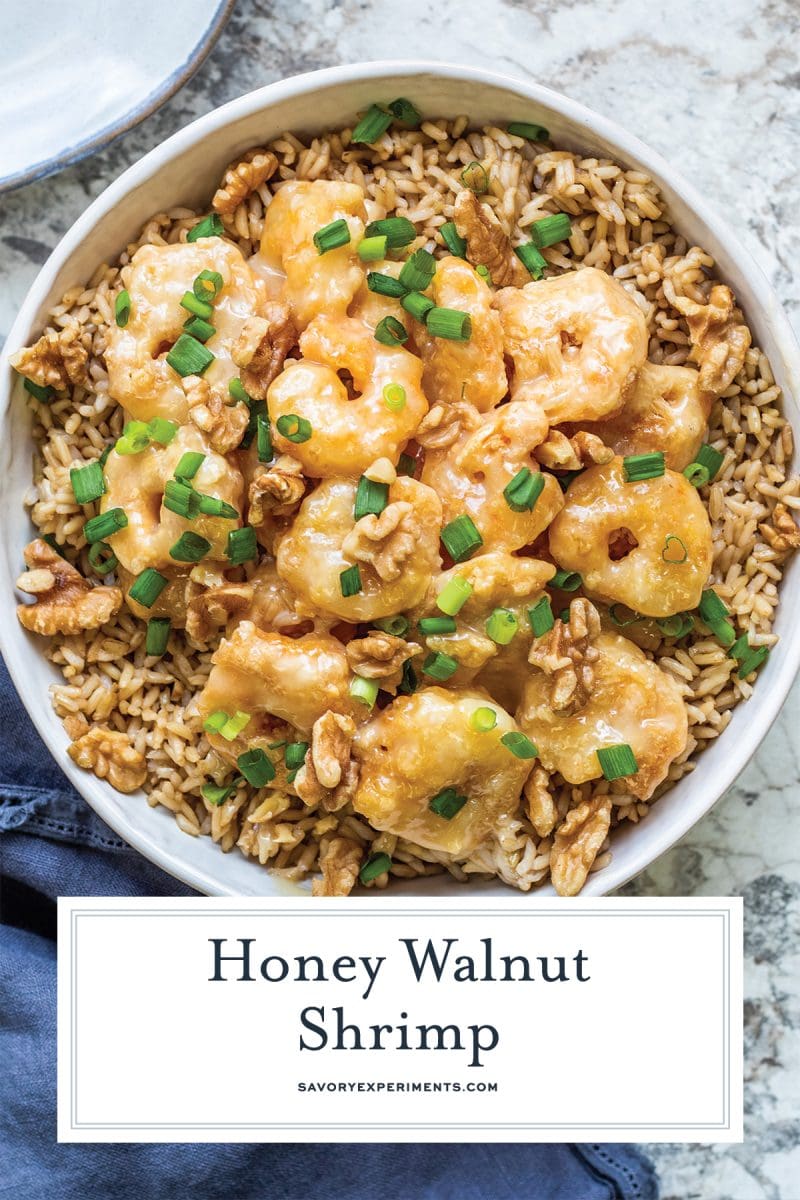 CONNECT WITH SAVORY EXPERIMENTS!

Be sure to follow me on social media, so you never miss a post!

Facebook | Twitter | Youtube
Pinterest | Instagram

Get our FREE 8 Day E-Course on How to Be a Better Home Cook. Sign up HERE!