Homemade soft and chewy molasses cookie sandwiches with a silky-smooth cream cheese filling take only minutes to make and are guaranteed to become a family favorite every holiday season!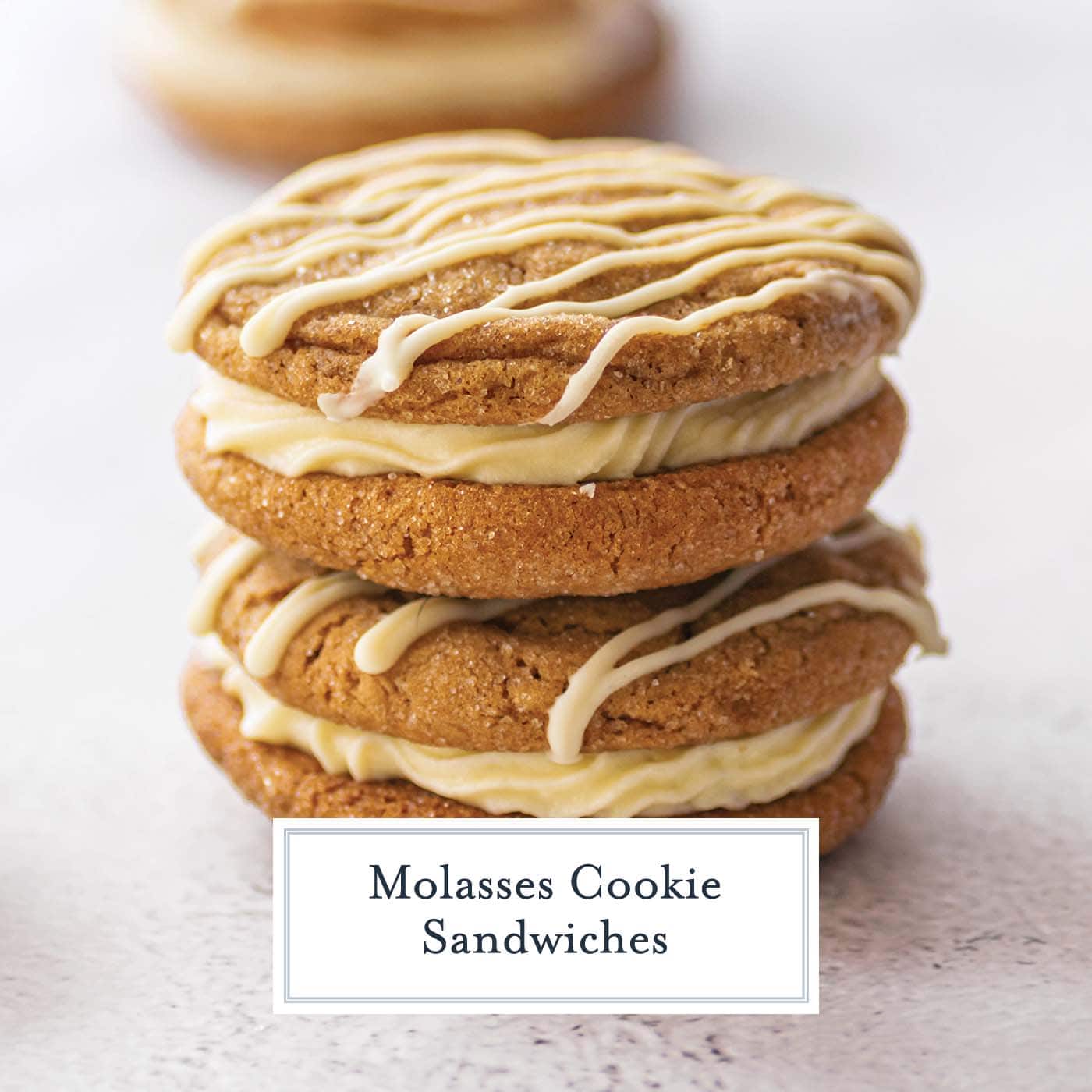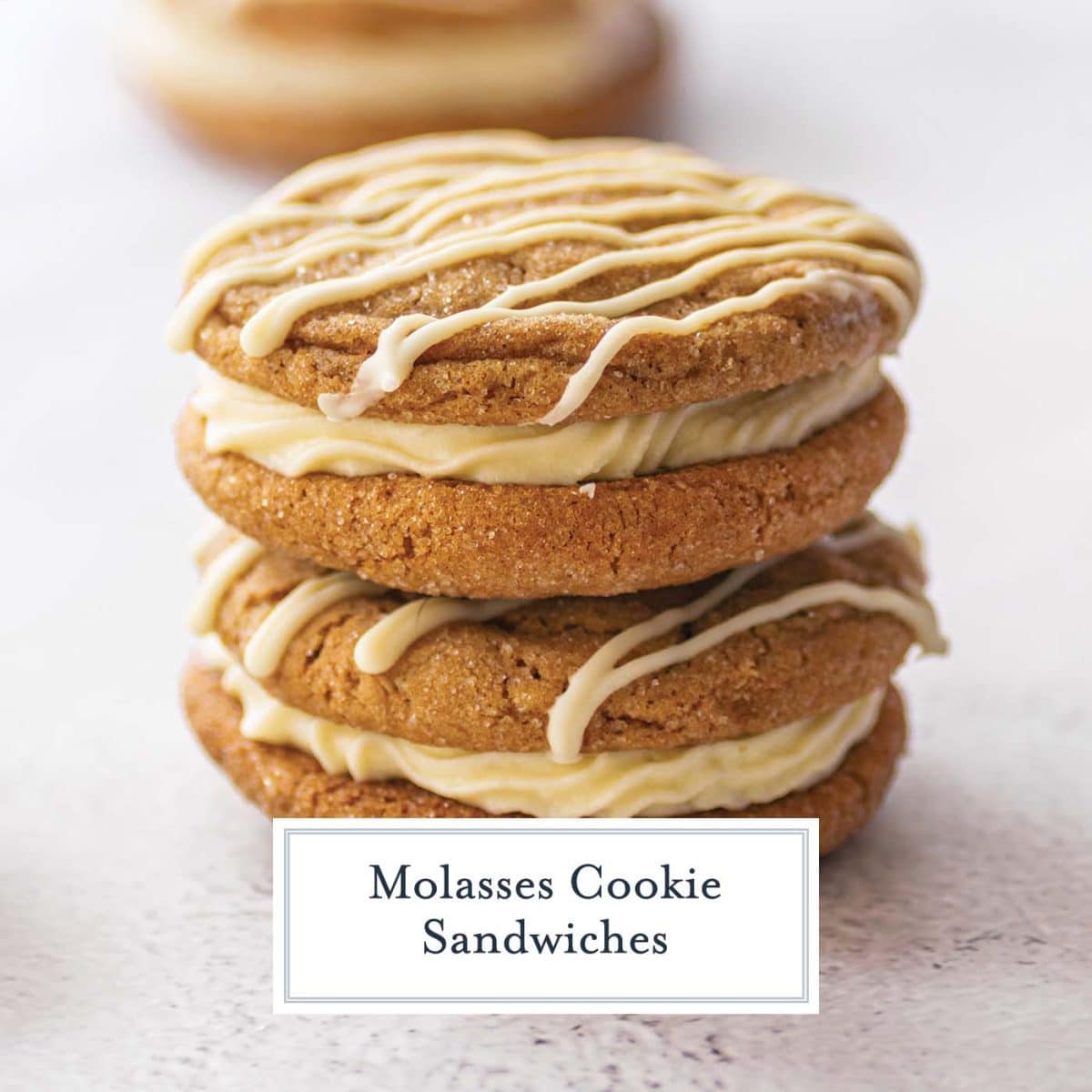 Nothing says Christmas quite like molasses cookies. For years I thought that nothing could ever beat this holiday staple… until I made these chewy molasses cookie sandwiches.
What Makes a Good Molasses Cookie?
Classic crinkle top, chewy middle, sugary crust cookies get sandwiched with a smooth cream cheese filling. I kid you not, these cookie sandwiches are seriously next level.
Not only are these molasses cookie sandwiches delicious, but they also look gorgeous. The sugary crust makes the cookies glisten in the light and add a lovely crunchy texture. If you're feeling extra festive, decorate the sandwich cookies with sprinkles or chocolate.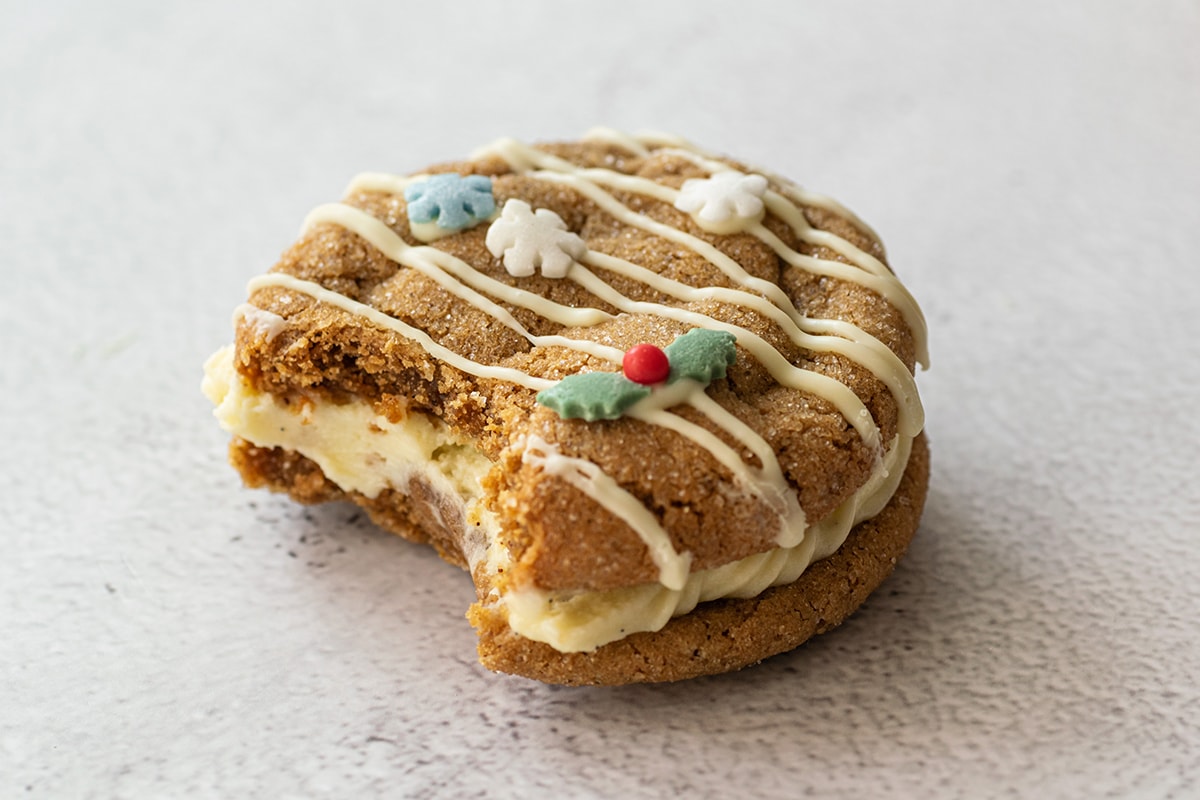 Molasses cookie sandwiches are a family favorite every Christmas because:
They're chewy and soft
A little crunchy from the sugar crust
Silky smooth from the cream cheese filling
They taste like Christmas in a bite
Smell divine
Are easy to make and only take minutes to prepare
Did I also mention that you can also make these cookies on their own? Use the recipe below to make plain molasses cookies or try my Ginger Molasses Cookies.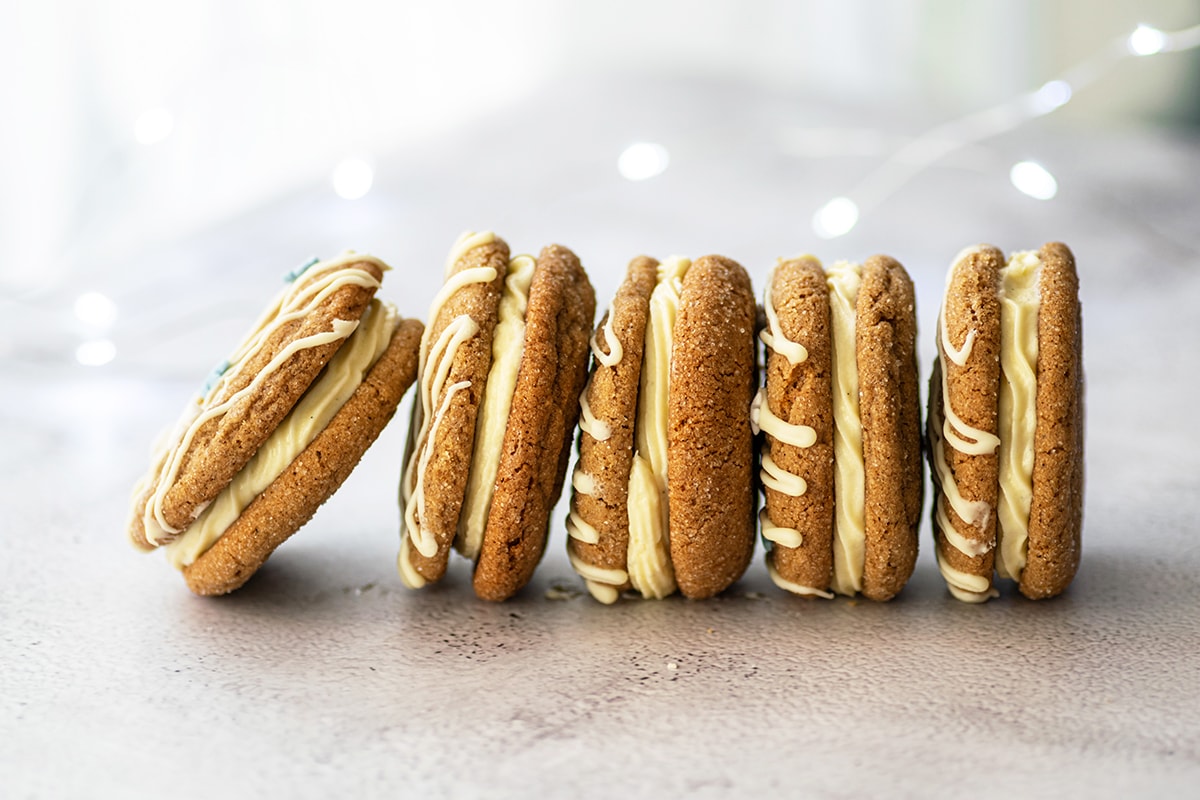 Molasses Cookie Sandwiches Ingredients
Almost all ingredients needed for these chewy molasses cookie sandwiches can be found in most pantries (minus the molasses). Here's what you will need for the molasses cookies:
Butter – unsalted and softened to room temperature. I recommend popping the butter out of the fridge at least 2 hours before baking.
Sugar – I like to use a combination of plain granulated sugar and brown sugar. Brown sugar adds a subtle caramelized flavor to the molasses cookies. However, you can use only one type of sugar if desired (plain or grown).
Egg – the 'glue' in this recipe. Ensure the egg is at room temperature prior to use.
Molasses – light, unsulphured molasses are best. See the section below for more information.
Flour – all-purpose flour works best. This cannot be substituted with self-rising flour. Make sure to measure the right way!
Baking soda – makes the cookies chewy and soft
Spices – ginger, cinnamon, allspice, and cloves for the ultimate festive flavor.
Orange zest – optional, but used to add a warm, Christmassy flavor and cut through the sweetness of the molasses.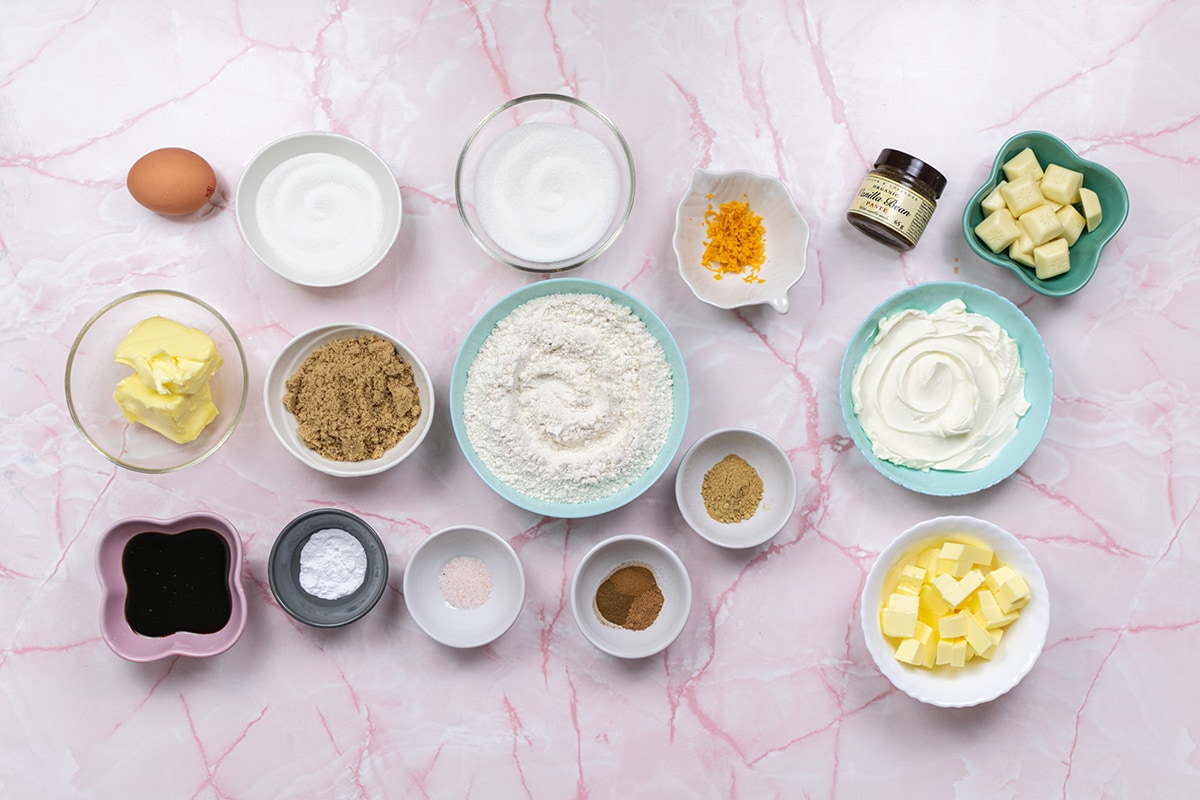 The cream cheese filling is very simple to make and only requires three (plus an optional) ingredients:
Cream cheese – I recommend using full fat cream cheese for best results.
Butter – unsalted, cold butter is need for this molasses cookie sandwiches recipe.
White chocolate – chopped into small pieces, then melted. I recommend using high quality white chocolate, the type you like to eat. Avoid using white chocolate for baking, as the taste is inferior.
Optional: vanilla bean paste or vanilla extract – Adds more flavor to the cream cheese filling.
Best Molasses for Cookies
Molasses is a sticky substance made from refining sugarcane or sugar beets into sugar. Although used for many different things, molasses is famous for being used in gingerbread cookies.
Molasses typically falls into four categories: light, dark, blackstrap molasses, or treacle. All these types of molasses are different and can be used for different purposes. Generally, the darker the molasses, the more intense the flavor is. Since we're talking about molasses cookies, you want to choose something not too overpowering.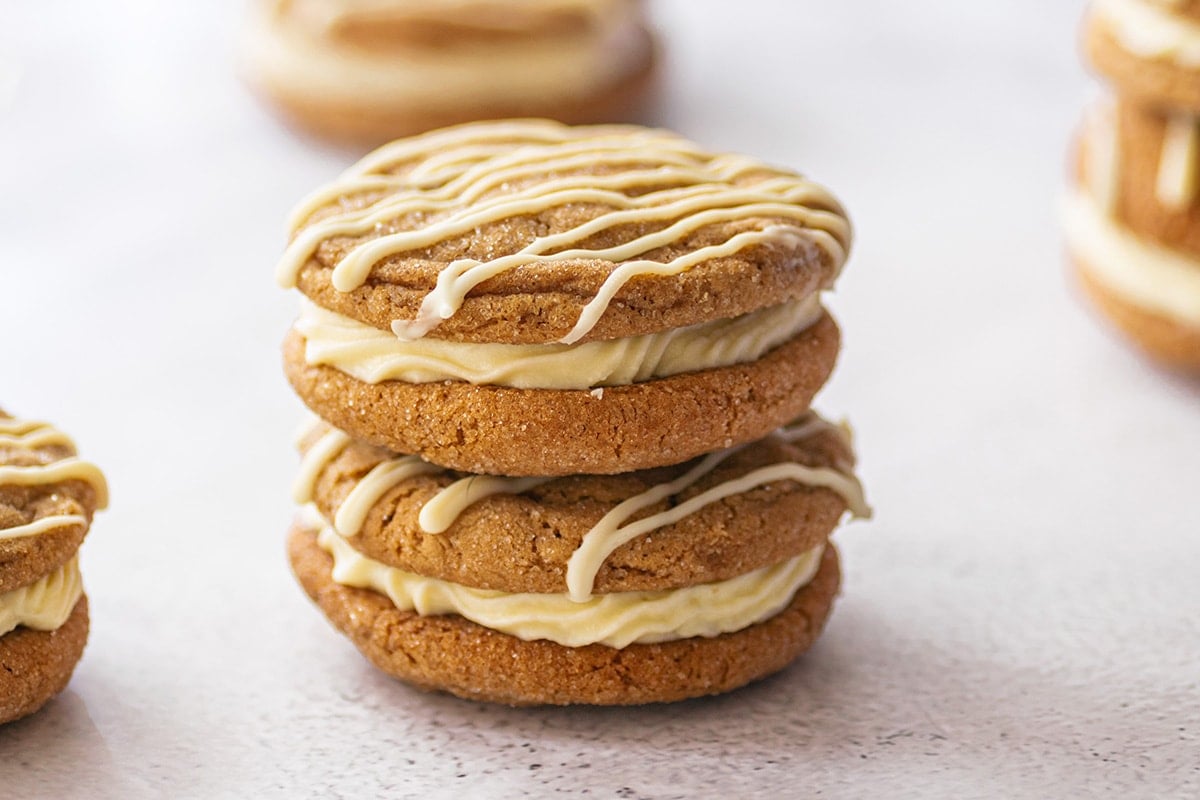 Light molasses is more like a syrup and can be used in baking or as a pancake sweetener. An example of light molasses is Grandma's Original Molasses, my go-to for all things molasses cookies.
However, if you prefer a more intense flavor, you can go for dark molasses. This type of molasses is thicker and more robust and bitter in flavor. I recommend testing out a smaller batch if you use dark molasses in this recipe.
How to Make Chewy Molasses Cookie Sandwiches
There are two components in this recipe: the molasses cookies and cream cheese filling. The molasses cookies need to chill for at least 1-2 hours before filling, so I recommend making them first.
Pro tip: Before starting the recipe, prep the ingredients by ensuring the butter and egg are at room temperature.
Start by warming the oven and lining two large baking sheets with parchment paper.
Cream the butter, salt, and sugar until fluffy. I find it easiest to use a hand mixer for this step.
Add in the egg, molasses, and orange zest, then mix well to combine everything into a paste.
Separately, combine all the dry ingredients.
Combine the dry and wet ingredients to form the molasses cookie sandwiches cookie dough.
Use a cookie scoop to make equal sized dough balls, then roll them through extra granulated sugar.
Place on the baking sheets and bake. The molasses cookies need to be ever so slightly undercooked.
Let the cookies cool on a wire rack until fully cooled.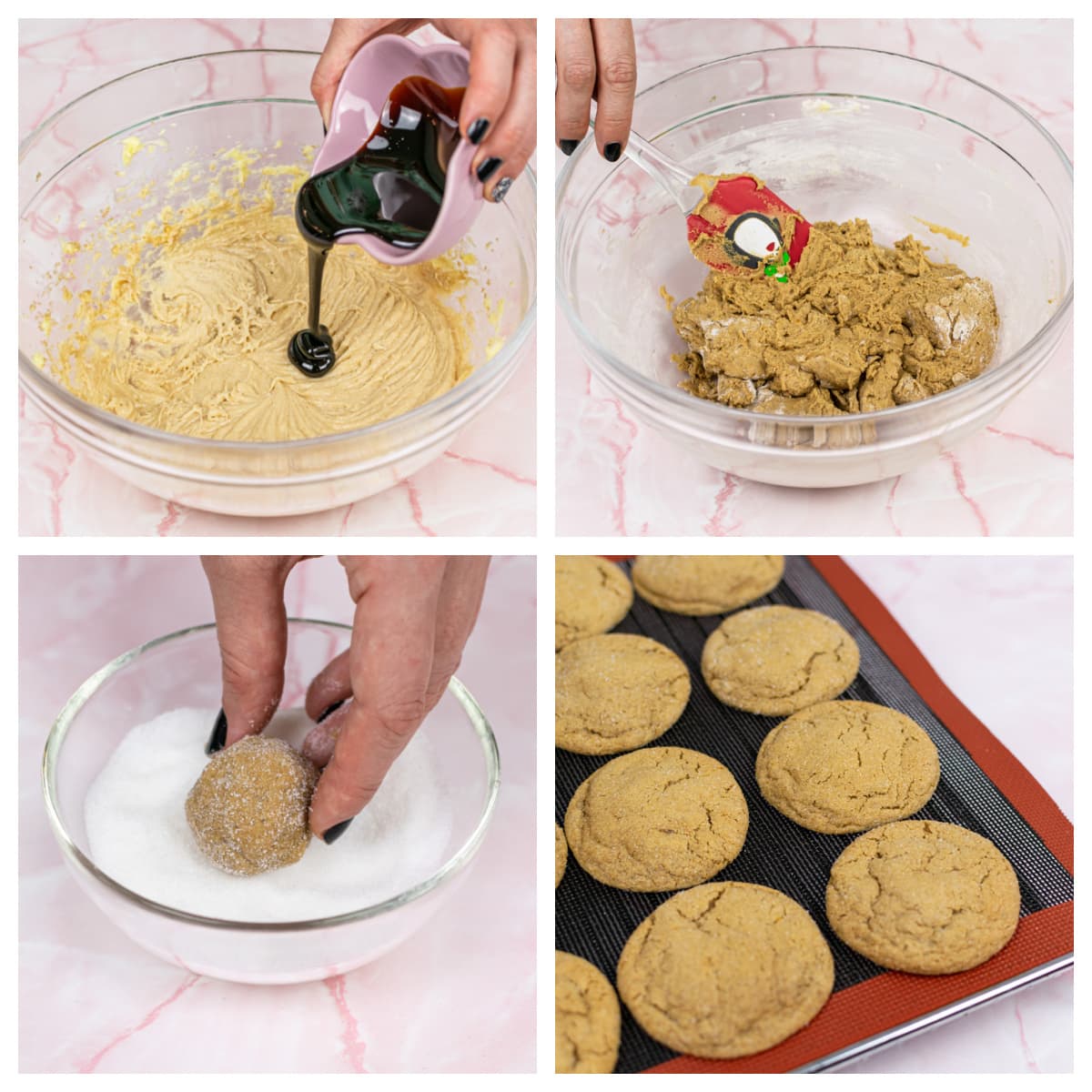 Preparing the cream cheese filling is extremely easy and only takes minutes. Before putting the filling together, melt the white chocolate in the microwave. The melted chocolate needs to be cooled down to room temperature before using in the filling.
Chop the white chocolate into small chunks, then melt. Allow to cool completely to room temperature.
Beat the butter with a hand or stand mixer until pliable and softened.
Add the cream cheese and vanilla extract into the butter, then mix to combine.
Finally, add the cooled melted chocolate and mix again until smooth.
For a more in-depth method check out this post on how to make White Chocolate Cream Cheese Frosting.
Assembling the molasses cookie sandwiches is really fun and can be a good activity to do with the kids.
Place the cream cheese filling in a piping bag fitted with a ½ inch round or star-shaped nozzle.
Pipe a dollop of filling on the underside of half of the cookies (a dozen).
Sandwich the lower cookies with a top cookie by pressing down gently.
Optional: drizzle or dip in white chocolate and add sprinkles for a more festive look.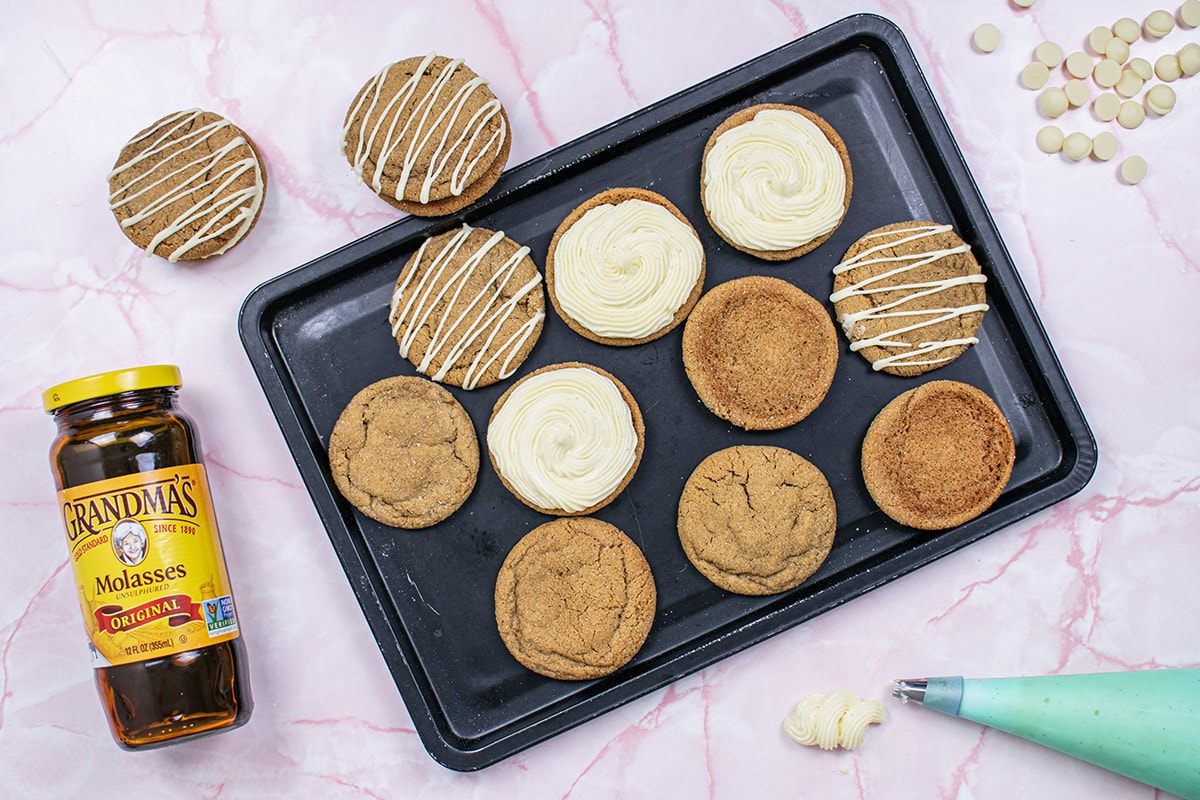 Storage
As this recipe uses cream cheese filling, the sandwich cookies will need to be stored in the fridge. Place the molasses cookie sandwiches in an airtight container in the fridge for up to 4-5 days. Nevertheless, I doubt they will last that long without being devoured!
Alternatively, store the unfilled molasses cookies in an airtight container at room temperature for up to 1 week. Fill the cookies with cream cheese filling before serving them.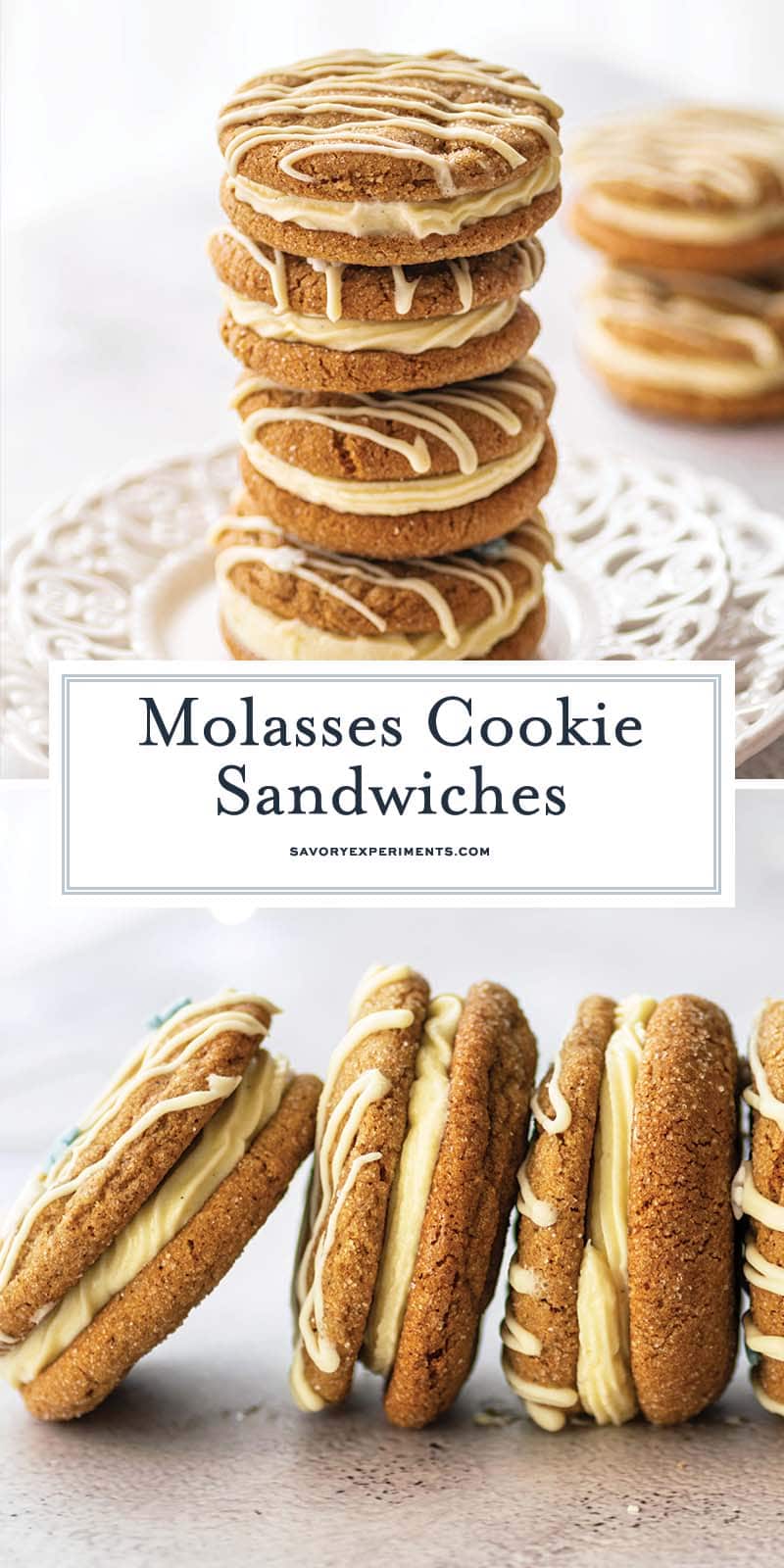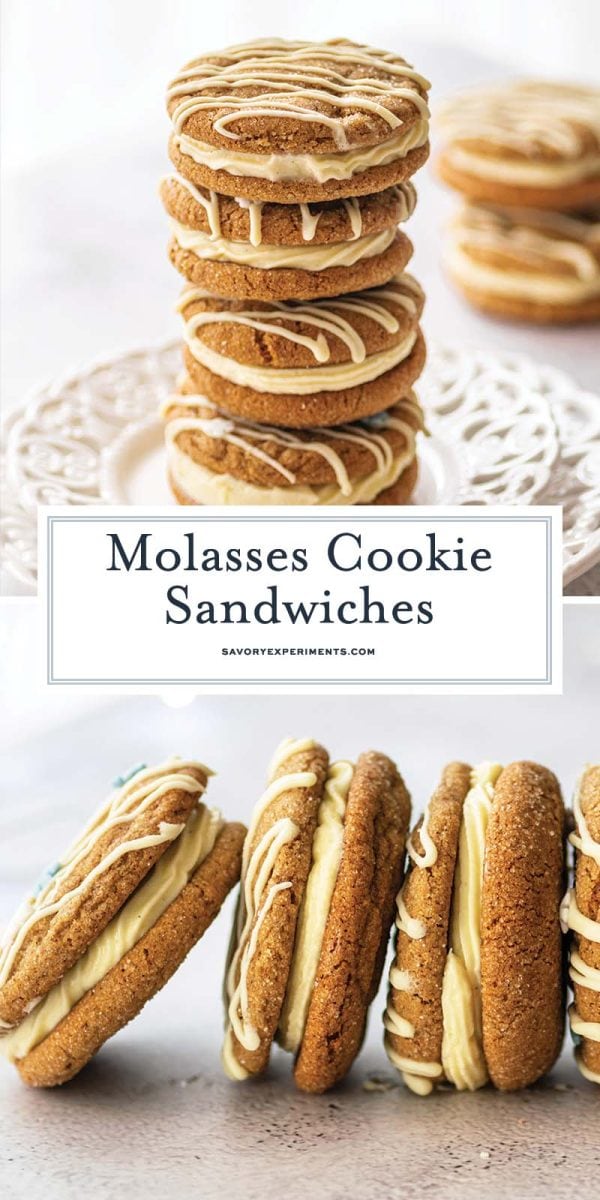 More chewy cookie recipes: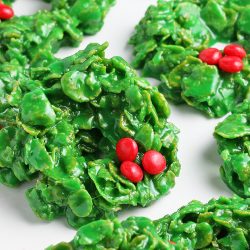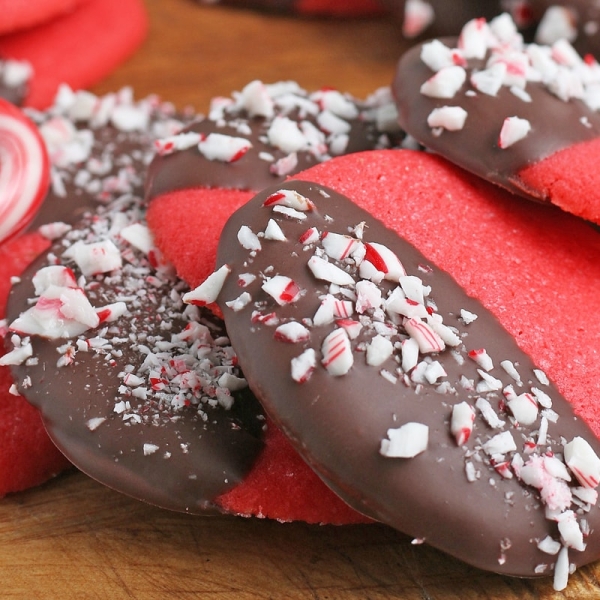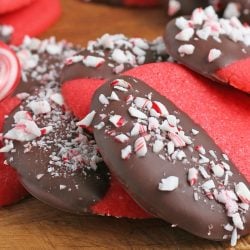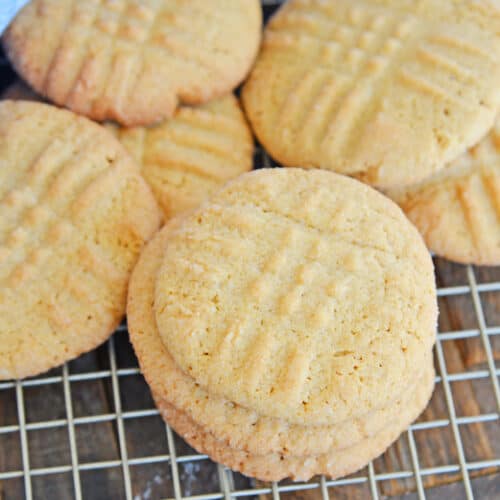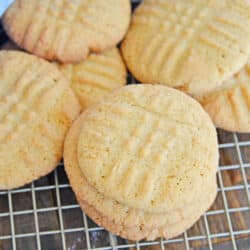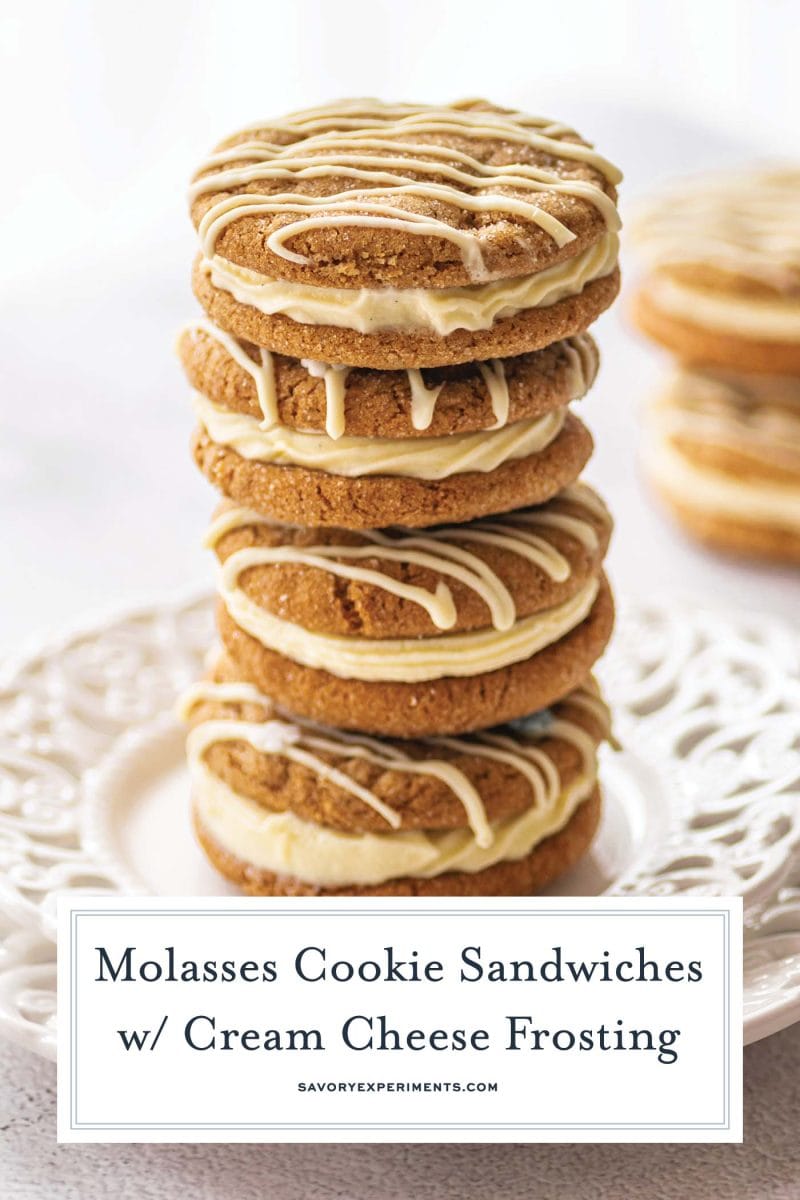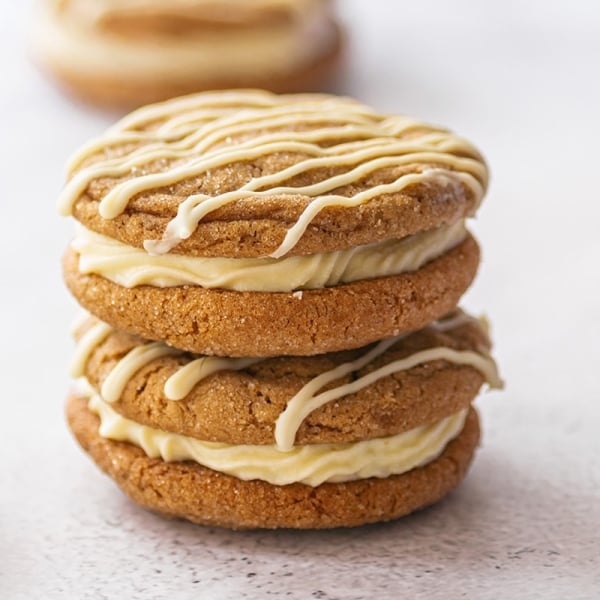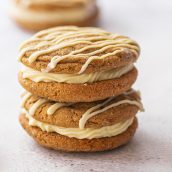 Molasses Cookie Sandwiches
Homemade soft & chewy molasses cookie sandwiches with a silky-smooth cream cheese filling take minutes to make and will become a family favorite!
Servings:
cookie sandwiches
Equipment
Heat Resistant Rubber Spatula
Instructions
Molasses Cookies
Preheat the oven to 350°F and line two large baking sheets with parchment paper.

Cream the butter, salt, and granulated sugar in a large bowl until fluffy, for about 2-3 minutes.

Add the egg, molasses, brown sugar and orange zest into the butter, mixing well to combine (2-3 minutes).

Separately combine the flour, baking soda, ground ginger, cinnamon, allspice, and cloves. Give everything a good whisk to mix.

Add the flour into the butter mixture, then combine everything with a spatula until a dough forms. Try not to overmix the cookie dough.

Using an ice cream scoop or tablespoon, form equal sized dough balls. Each dough ball should be maximum 1 inch in size.

Roll each dough ball through the extra sugar, then place on the baking sheet. Leave generous spacing between each cookie, as they will spread in the oven.

Bake for 7 minutes. Do not overbake as this will make the cookies tough.

Once baked, let the cookies cool in the tray for maximum 5 minutes before transferring to a cooling wire rack.
Cream Cheese Filling
Melt the white chocolate in the microwave, in short 30 second intervals. Mix well to ensure the chocolate is fully melted. Let it cool down to room temperature before using (around 30 minutes).

Cut the butter into smaller pieces, then beat it until it becomes pliable and fluffy.

Incorporate the cream cheese into the butter, then add the vanilla paste and mix.

Add the cooled melted chocolate and mix everything for 2-3 minutes until smooth and airy.
Assembling the Cookies
Place the cream cheese filling into a piping bag fitted with a ½ inch piping nozzle (round or star shaped).

Pipe a dollop of cream cheese filling on the bottom cookie, then sandwich it with another cookie.

Optional: pipe melted white chocolate on top and decorate with sprinkles.

If you've tried this recipe, come back and let us know in the comments or ratings!
Nutrition
Calories:
375
kcal
,
Carbohydrates:
39
g
,
Protein:
5
g
,
Fat:
23
g
,
Saturated Fat:
14
g
,
Polyunsaturated Fat:
1
g
,
Monounsaturated Fat:
6
g
,
Trans Fat:
1
g
,
Cholesterol:
70
mg
,
Sodium:
247
mg
,
Potassium:
189
mg
,
Fiber:
1
g
,
Sugar:
19
g
,
Vitamin A:
667
IU
,
Vitamin C:
1
mg
,
Calcium:
58
mg
,
Iron:
2
mg