Classic Seafood Paella is a delicious meal to serve on special occasions to family and friends. This Spanish dish is loaded with seafood flavors everyone will enjoy!
If you're a seafood lover, you'll adore this paella recipe. My Classic Seafood Paella gives you an easy, step-by-step paella for the paella novice.
Paella is a Spanish dish often made with rice, seafood, chicken, and saffron, which are cooked in a large, shallow pan. I've had amazing family-style paellas out and about and wanted to try it at home.
Seafood Paella isn't actually classic. Paella was first cooked over wood fires in the fields of Spain and made with rabbit, chicken and snails. In the states, these flavors probably wouldn't go over too well.
In the states, the most commonly used proteins are clams and mussels, as well as chicken thighs. Seafood stock or chicken broth is used for the rice regardless of the other proteins being added.
PRO TIP: Rinse you rice well to remove any sediment and prevent it from being clumpy and overly starchy.
Small amounts of saffron were used for fragrance and color, but not necessarily for flavor. Afterall, saffron was expensive and the hue of your rice could symbolize your stature in society. The more you used, the wealthier your family!
But first: research! Here is a bit of what I learned about how to cook paella.
ONE. Most paella pans are flat, shallow, and made of carbon steel. Carbon steel is an excellent conductor of heat which makes for excellent, even cooking. If you do not have one, choose something similar in terms of shape.
TWO. Paella is best cooked over an open flame, but an electric stovetop can work. If your burners aren't large enough, rotate the pan on the burner to make sure each section is getting direct heat.
THREE. The rice is important! Bomba is the type of rice traditionally used. However, it is a bit pricey and sometimes hard to find.
FOUR. You can substitute arborio rice, a short-grain, Italian rice used in risotto, for the bomba as it absorbs a lot of liquid as well. Other types of rice will get too mushy.
FIVE. Bomba rice takes approximately 3 cups of liquid for every cup of dry rice and arborio takes 2 cups for every cup of dry rice. Be sure to modify the recipe if you choose to use arborio.
SIX. Saffron is one ingredient that makes paella, well, paella. It is fairly expensive but it is a "must" for authentic flavor and color.
SEVEN. Another is the sofrito. Sofrito is a densely flavored sauce that is made by sauteing grated vegetables and spices together. The sofrito makes this Classic Seafood Paella bold and full of flavor.
EIGHT. You can choose a variety of seafood, however, I used calamari, shrimp, and scallops. Clams and mussels are commonly used, but due to allergies, I went a different route.
NINE. The best paella is not known for being spicy. This is a common misconception. Actually, paella shouldn't be spicy at all. If you like spice, feel free to add a teaspoon of crushed red pepper flakes.
TEN. The key to cooking amazing seafood paella is cooking things separately and adding everything together at the end. This gives you a complex and impressive dish.
ELEVEN. The showstopper of this Classic Seafood Paella is the socarrat, a layer of crunchy, caramelized rice on the bottom of the pan, created by applying high heat at the end of the cooking process. Rice will also cook faster since it is in a thin layer as opposed to being cooked in a saucepan.
If making paella the classic way isn't for you, try my super easy Instant Pot Chicken Paella!
Southern Salmon Croquettes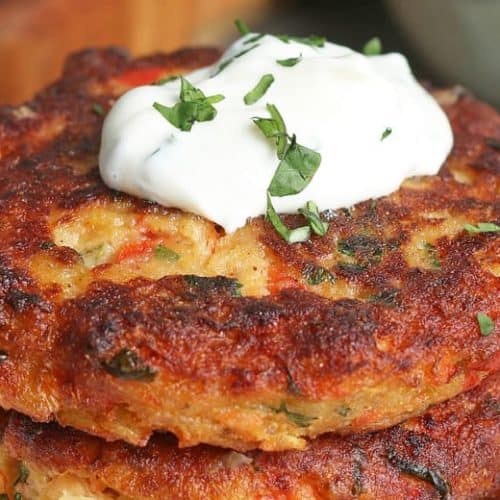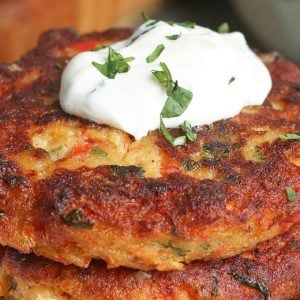 Salmon Croquettes are a southern classic! Full of salmon, peppers, onions and seasoning, this versatile dish is sure to be loved by all!
Asiago Mushroom Salmon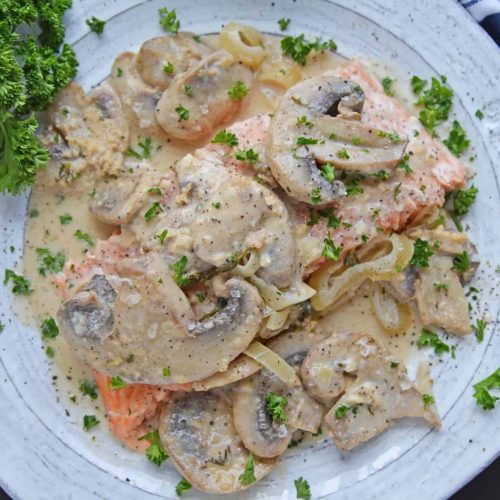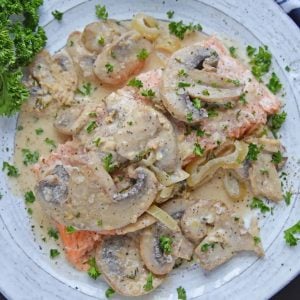 This Asiago Mushroom Salmon is one of my favorite pan fried salmon recipes! You only need 10 minutes to make this easy weeknight meal!
If you're a seafood lover, you'll adore this paella. My Classic Seafood Paella recipe gives you an easy, step-by-step paella for the paella novice.
CONNECT WITH SAVORY EXPERIMENTS!

Be sure to follow me on social media, so you never miss a post!

Facebook | Twitter | Youtube
Pinterest | Instagram
Get our FREE 8 Day E-Course on How to Be a Better Home Cook. Sign up HERE!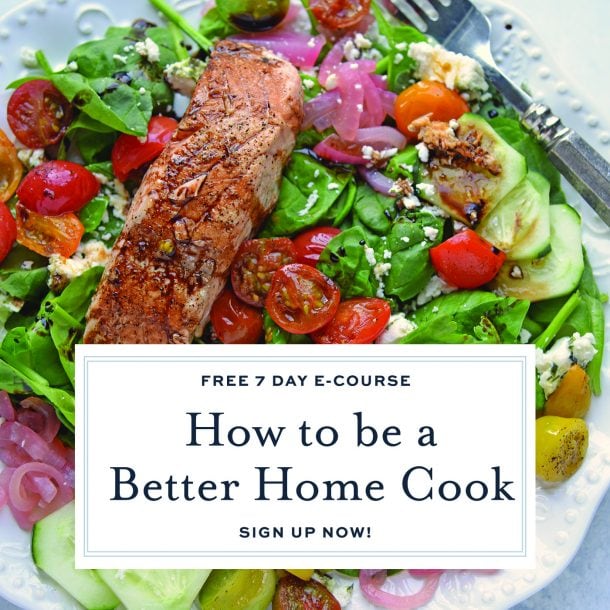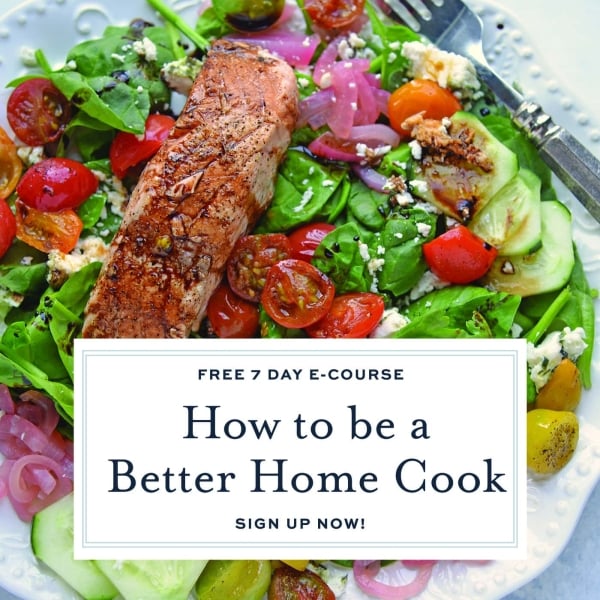 Classic Seafood Paella
If you're a seafood lover, you'll adore this paella. My Classic Seafood Paella recipe gives you an easy, step-by-step paella for the paella novice.
Ingredients
1

pound

large shrimp

raw and shell on

1/2

pound

large scallops (try to get "dry" scallops

they have less moisture and will stay large and plump)

4

inch

calamari tubes

cleaned and cut into 1/2rings

5 1/2

cups

water

2

teaspoons

saffron threads

1

teaspoon

salt

1/4

teaspoons

cup

plus 3extra virgin olive oil, divided

6

garlic cloves

grated on a microplane

1/2

yellow onion

grated

1

large beefsteak tomato

grated and skin discarded

1

inch

red bell pepper

seeds discard and cut into 1/2strips

1/2

teaspoon

smoked paprika

1 1/2

cups

bomba rice

2

lemons

cut into wedges
Instructions
Start by peeling shrimp and reserving shells in a medium saucepan. Add 5 cups water and bring to a boil for 10 minutes. While water is boiling, toast saffron threads in a small saucepan for 2 minutes, careful not to burn. Toasting will bring out the robust, aromatic flavor. Set aside. Strain broth mixture, reserve broth and discard shells. Crumble saffron threads between your fingers straight into the broth. Add salt, stir and keep warm. It will develop a deep, red-orange color.

Heat 1/4 cup olive oil in paella pan to medium heat. Add raw shrimp, saute for 2-3 minutes or until pink. Remove and set aside. Repeat with scallops, searing on both sides for 2 minutes. Lastly, saute calamari until opaque and slightly shriveled. Set aside.

Add two teaspoons olive oil to hot paella pan. Add red bell pepper, sauteing until tender, but not soft and mushy. Remove and set aside.

Next, make sofrito. Add last teaspoon olive oil, grated garlic, onion, and tomato. Saute until the liquid has evaporated and the mixture is thick approximately 15 minutes. Add smoked paprika and stir. If mixture starts to stick, add a small amount of water.

Add raw rice to sofrito and stir for 2-3 minutes, until rice is warm and brown. Next, add 4 1/2 cups broth, stir once to form rice into a thin, single layer. Increase heat to medium-high, moving the paella pan around the burner to distribute heat evenly, rotating over 5-7 minutes. When the liquid has reduced to the same level as the rice, taste a grain. It should be al dente, if not, add a small amount of broth and continue to cook.

Arrange seafood and red pepper slices on top of the rice. Now, create the socarrat. Increase heat to high, rotating every 1 minute for 4 minutes. If you start to smell something burning, remove immediately. Rice should caramelize and absorb any leftover broth. You might have leftover broth in your saucepan if so, discard.

Remove from heat and cover loosely with aluminum foil. Allow to rest and have flavors marry for 5 minutes.

Serve with lemon slices (which I forgot in the photo, oops.) Enjoy your Classic Seafood Paella!

If you've tried this recipe, come back and let us know how it was!
Nutrition
Calories:
302
kcal
|
Carbohydrates:
45
g
|
Protein:
24
g
|
Fat:
1
g
|
Cholesterol:
203
mg
|
Sodium:
1142
mg
|
Potassium:
400
mg
|
Fiber:
2
g
|
Sugar:
2
g
|
Vitamin A:
565
IU
|
Vitamin C:
32.1
mg
|
Calcium:
154
mg
|
Iron:
2.6
mg