Picture this, it's a hot summer day and you're craving something sweet but cool and refreshing. If that describes you, then this Cheesecake Milkshake recipe is perfect for you! Even better, you can create each drink to everyone's liking!
A Cheesecake Milkshake is a frozen mixed drink made with real cheesecake and vanilla vodka. You can use different flavored cheesecakes for even more fun flavor combinations!
What happens when the ingredients for strawberry daiquiris run out and there is an assorted cheesecake platter sitting near by? A new blended beverage is born: the Cheesecake Milkshake.
This frozen blended drink was created out of curiosity, but became a favorite, even being requested at parties along with my Strawberry BBC. Essentially cheesecake blends smooth with pieces of graham cracker tiny enough to slip through your swirly straw. Even I was surprised with how well the cheesecake blends up nice and small for this drink.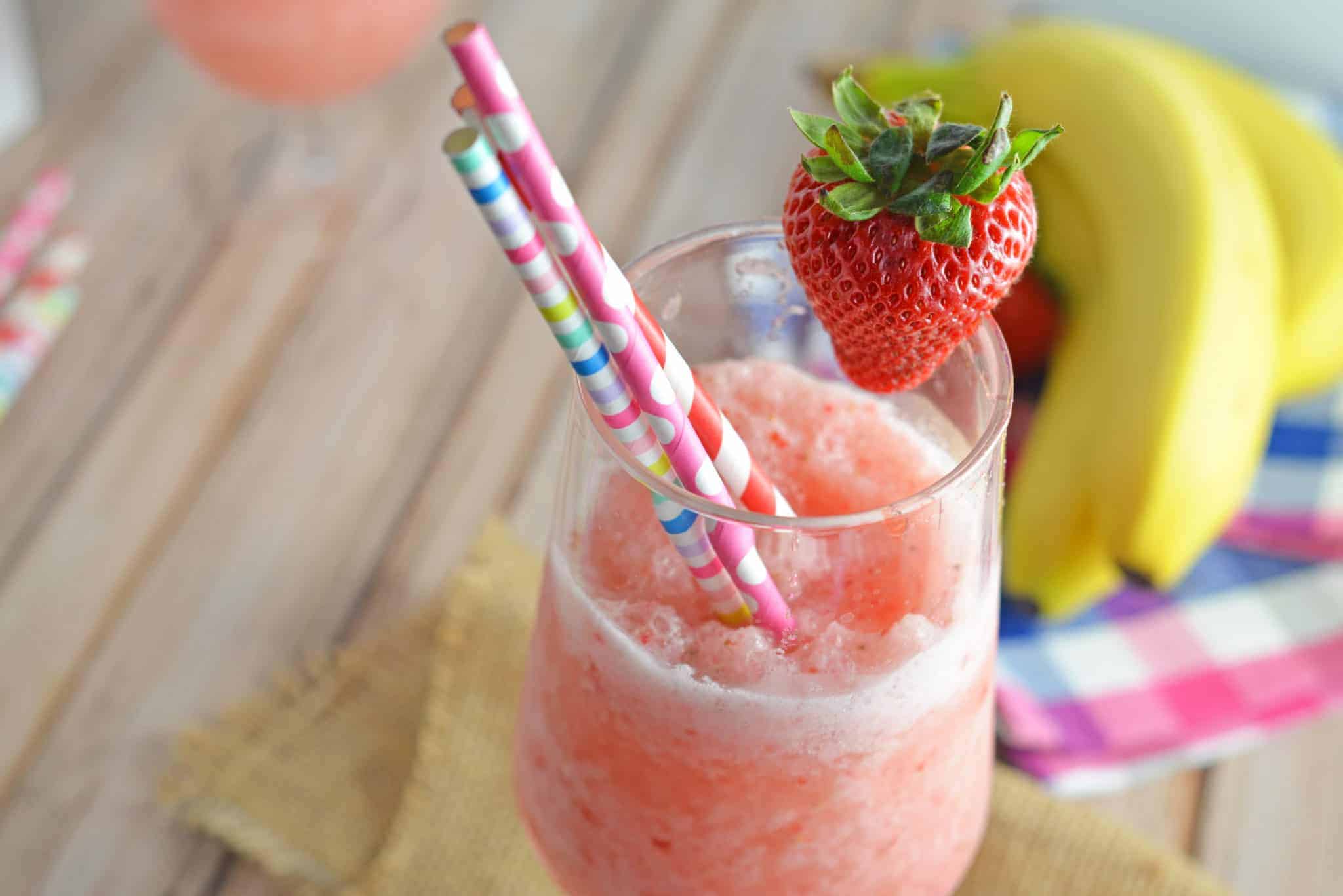 At first we called the Cheesecake Milkshake a daiquiri, because even though traditionally daiquiris contain rum, some are vodka based. After adding milk and ice cream to thin out the cheesecake and achieve the right texture, milkshake seemed more appropriate.
An adult milkshake, that is. You can omit the alcohol to also prepare Cheesecake Milkshakes for the kiddos or those who did imbibe.
If you've never made a milkshake before, and you're wondering how to make a milkshake, then I will tell you how. A milkshake is just a blended beverage using ice cream, milk, and ice, combined with literally whatever flavor combination you can dream up.
So you can pick any ice cream flavor, with any fruit, chocolate, candy, cake, dessert (the list goes on and on) and blend it with some milk and ice. Voila! You've made yourself a milkshake.

While my preference is to use plain old vanilla or chocolate cheesecake in my homemade milkshake, you can also use fruit swirled. I pick up the sampler platter with 3-4 slices of each at the grocery store and then blend each flavor for my guests.
Vanilla vodka works best because it complements all the fruity flavors, but you could do strawberry and pair it only with strawberry vodka and so on and so on.
The possibilities are endless for flavor combinations with this drink. That's what I love about it! Perfect for a party, bbq, or just a small get together, this Cheesecake Milkshake will definitely be a hit!
If you liked my milkshake recipe, be sure to check out these other easy drink recipes:
Print Recipe
Cheesecake Milkshake
Cheesecake Milkshake is a frozen mixed drink made with real cheesecake and vanilla vodka. Use flavored cheesecakes for even more fun flavor combinations!
Ingredients
2

slices

cheesecake with graham cracker crust

, plain or with fruit/chocolate swirl

1 1/2

cups

vanilla frozen yogurt or ice cream

4

ounces

vanilla vodka

1/4

cup

milk

Ice
Instructions
In blender, combine cheesecake, ice cream, vodka and 1/2 cup milk. Blend for 30 seconds.

Add ice to fill the blender. Pulse until a smooth, frothy mixture. If the mixture is too thick, add additional milk. If too thin, add additional ice.

Pour into glasses and garnish with cherries or umbrellas if desired.

If you've tried this recipe, come back and let us know how you liked it!
Nutrition
Calories:
321
kcal
|
Carbohydrates:
31
g
|
Protein:
6
g
|
Fat:
12
g
|
Saturated Fat:
6
g
|
Cholesterol:
37
mg
|
Sodium:
179
mg
|
Potassium:
134
mg
|
Sugar:
26
g
|
Vitamin A:
350
IU
|
Vitamin C:
0.4
mg
|
Calcium:
137
mg
|
Iron:
0.5
mg