This candy corn cheesecake is the perfect Halloween dessert! These mini cheesecakes have layers of bright yellow and orange with a white layer on top — they look just like the iconic candy corn candy.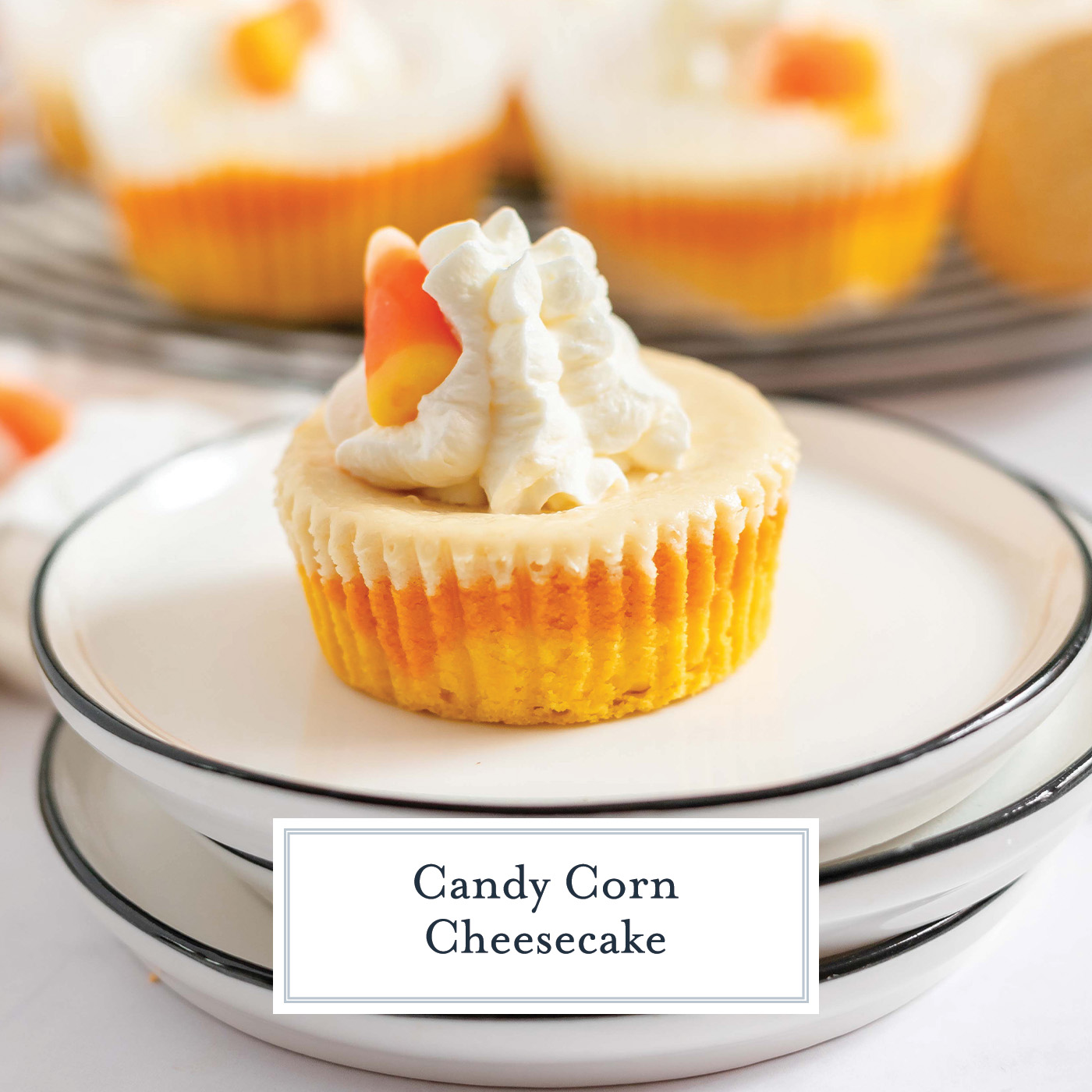 While their festive look is reason enough to make them, these miniature candy corn cheesecakes are also so easy to make. It takes just a few minutes to prepare them, and it doesn't take long to bake them either.
The next time you're looking for fun Halloween treats, give this candy corn cheesecake recipe a try!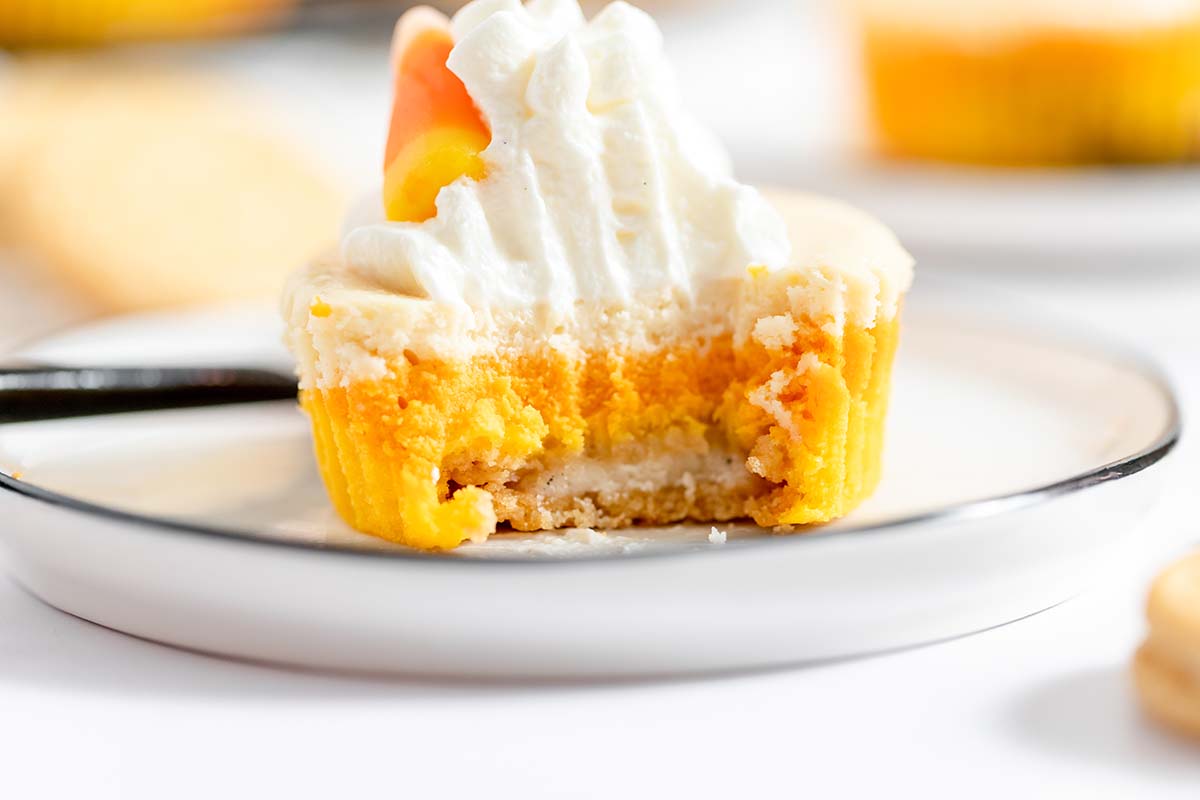 Why You'll Love Candy Corn Cheesecake
Once you make these easy individual cheesecakes, they might become a yearly Halloween tradition.
Pretty – With layers of different colors that replicate the look of candy corn, these cheesecakes are the perfect addition to any fall gathering or Halloween party dessert table.
Easy – Using the Oreos as a base cuts down on the time it would take to make a crust, and the filling comes together quickly.
Customizable – You can adjust this recipe to make it gluten-free, and you can add your own creative spin on it. You can also change up the colors for other holidays.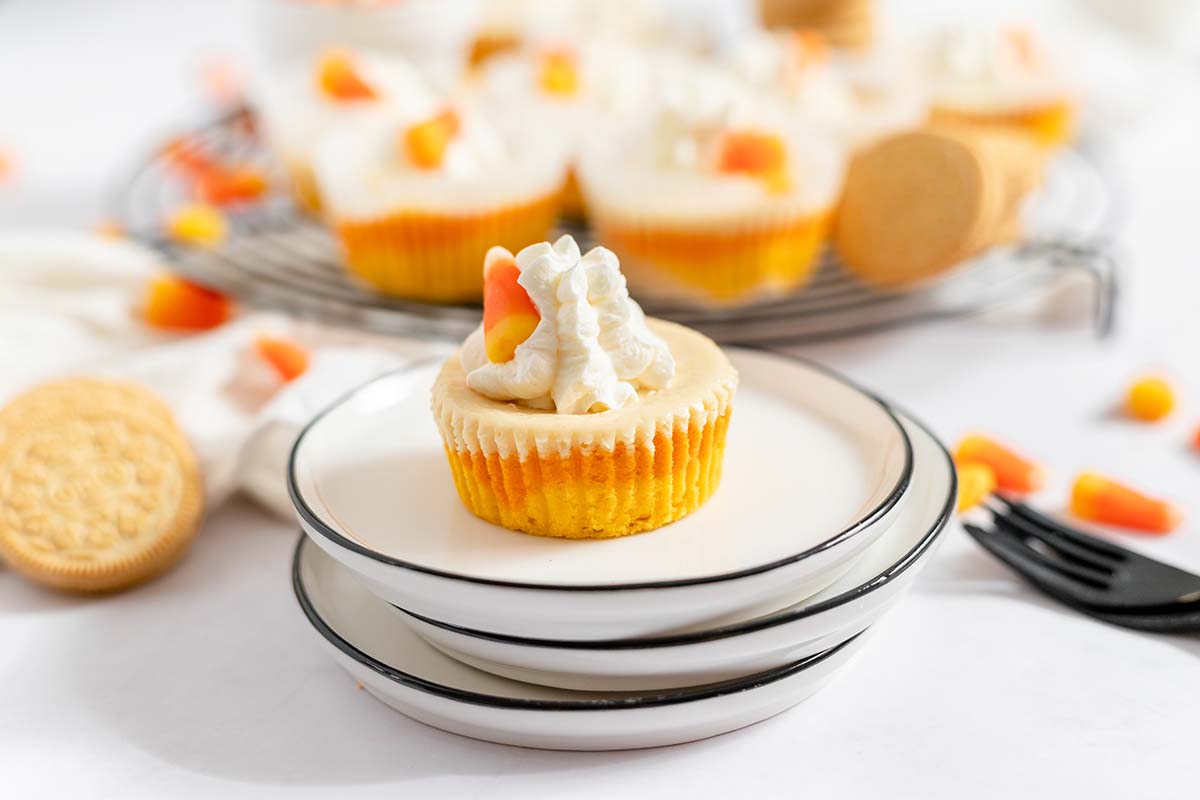 Ingredients
All you need are the cookies and some basic baking ingredients to make this festive treat.
Golden Oreo Cookies – This style of the classic Oreo has a vanilla cookie instead of chocolate.
Cream Cheese – This cheese is what helps to make the sweet and slightly tangy filling.
Sugar – Granulated sugar sweetens the cheese for that classic cheesecake flavor.
Flour – All-purpose flour helps to thicken the cheesecake filling.
Vanilla Extract – Vanilla rounds out all of the flavors and adds a warm aroma.
Egg – Egg helps the ingredients to bind together.
Sour cream – Sour cream gives the filling its creamy, smooth consistency.
Orange and Yellow Food Coloring – You can use gel coloring or liquid food coloring — both work well. gell will provide a more robust color using less.
Heavy Whipping Cream – Whipping cream is beaten to create an airy whipped topping.
Powdered Sugar – Confectioner's sugar sweetens the whipped cream and helps to make it silky smooth.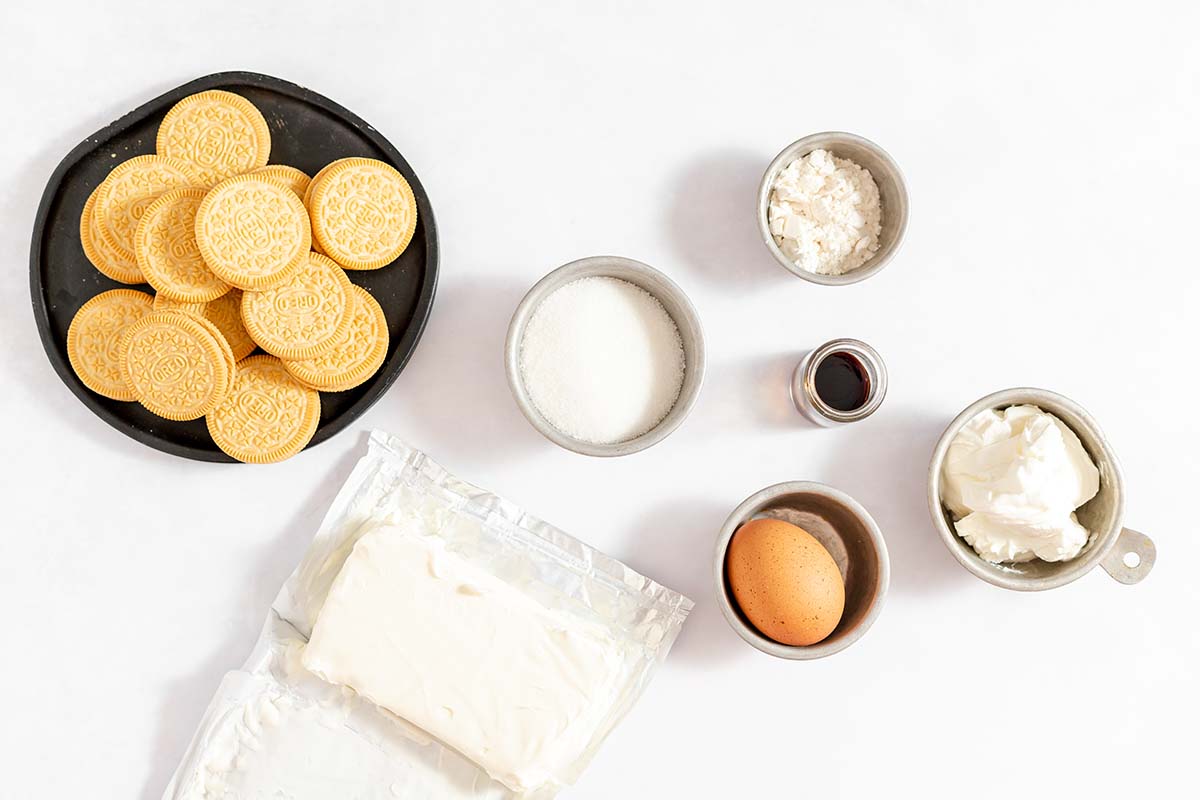 How to Make Candy Corn Cheesecake
The individual layered cheesecakes are surprisingly easy to make.
Prepare pan. Place paper cupcake liners into the cups of a muffin tin and then put one golden Oreo in each.
Beat cream cheese, sugar and flour. Add the softened cream cheese, sugar, and flour to a large bowl of a stand mixer. Beat the ingredients until silky smooth. Be sure to scrape the sides of the bowl with a rubber spatula.
Add vanilla, egg and sour cream. Pour the vanilla, egg, and sour cream into the cream cheese mixture and mix again until combined.
Color the batter. Split the batter evenly between three bowls. Using food coloring, color one of the bowls of batter yellow and one of them orange.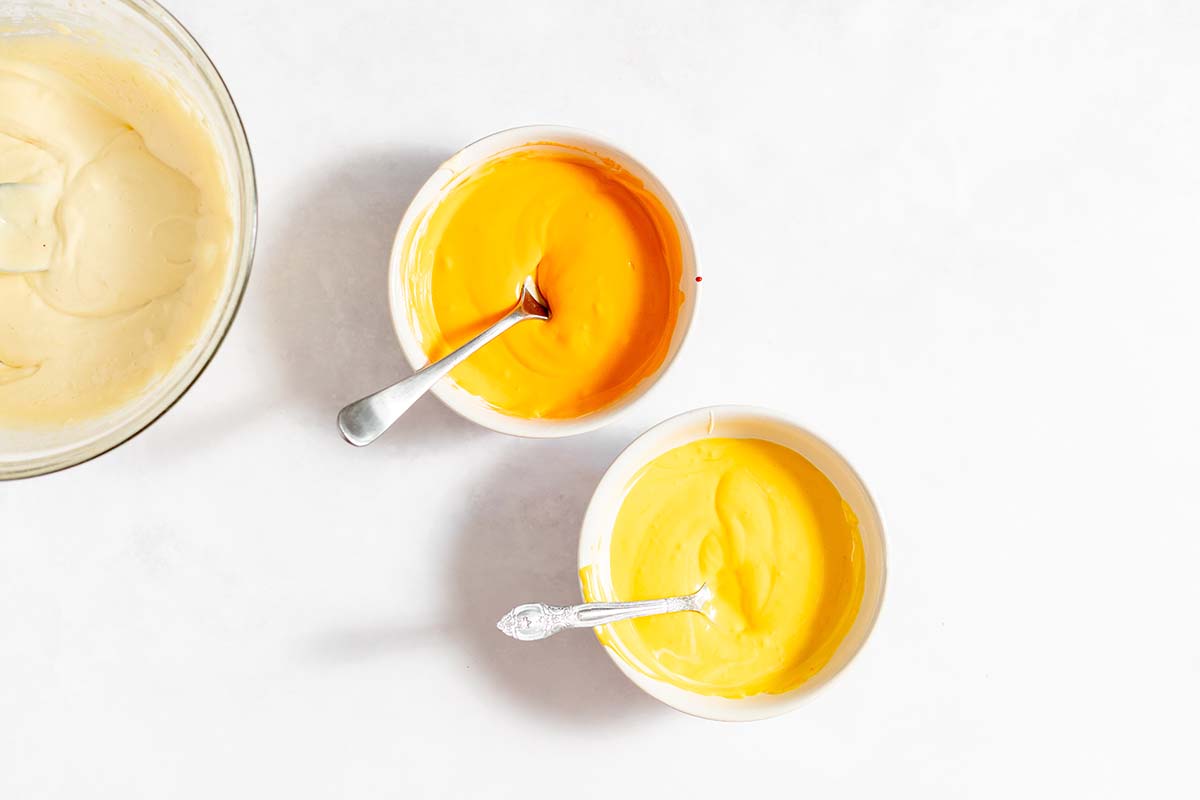 Layer batter. First, spoon the yellow batter into the muffin cups on top of the Oreos. Then, spoon the orange layer, then the white layer.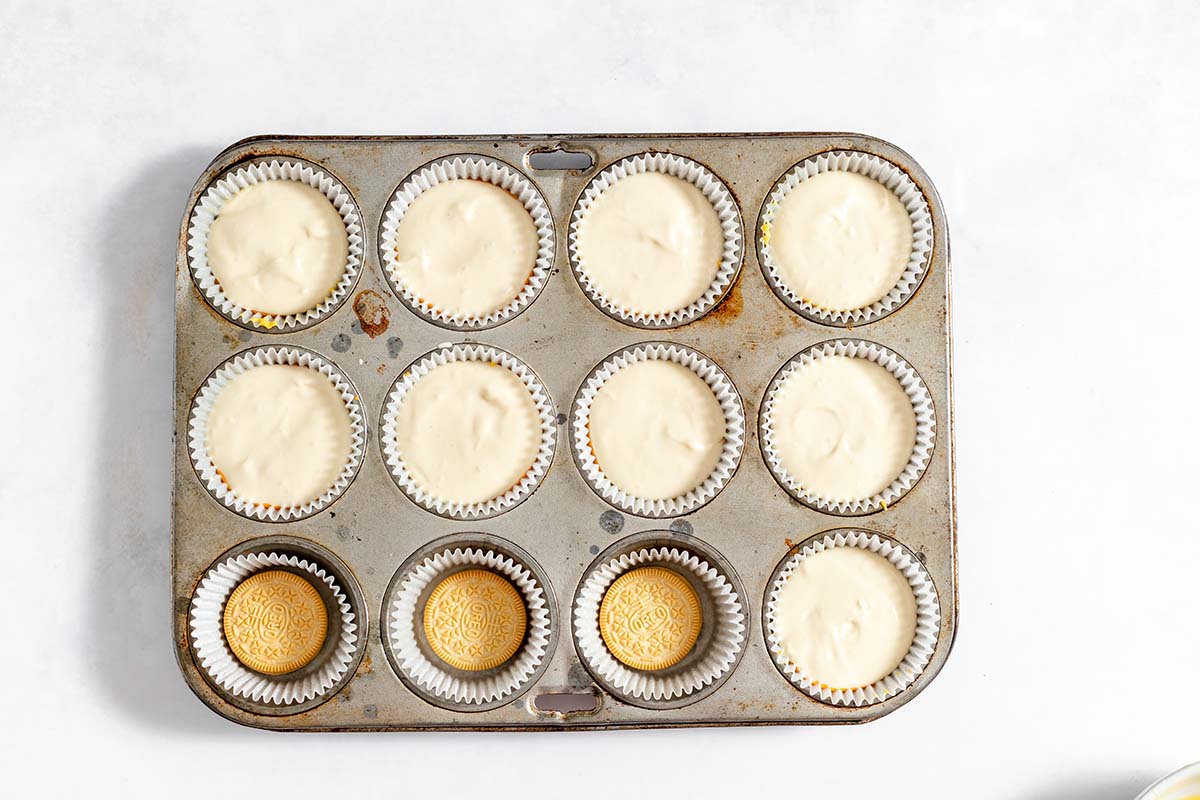 Bake. Place the muffin pan in the preheated oven and bake briefly.
Make topping. Once the cheesecakes have cooled, prepare the topping by beating together whipping cream and powdered sugar.
Top with whipped cream. Top the cheesecakes with the fresh whipped cream. You can use a spoon or a piping bag.
Garnish and serve. Garnish with festive sprinkles or candy corn.
What to Serve with Mini Candy Corn Cheesecakes
Cheesecake always pairs well with a hot cup of coffee or tea, or you can whip up a dalgona coffee or white hot chocolate. It's also delicious when drizzled with chocolate sauce or salted caramel sauce.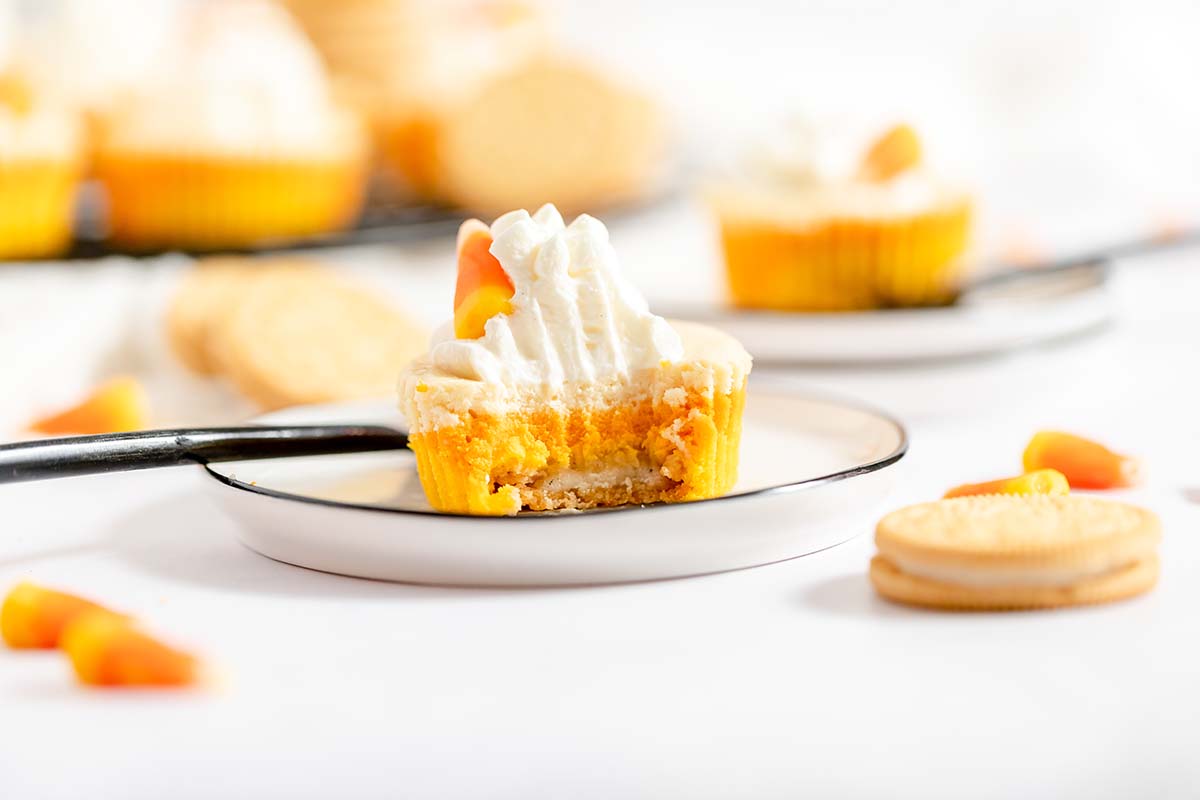 Variations
There are plenty of ways you can make this candy corn cheesecake your own! Here are a few ideas:
Oreos – Use other flavors of Oreos.
Gluten-Free – Use gluten-free Oreos, and replace the flour with cornstarch.
Lower Sugar – Replace the sugar with your favorite sugar alternative like coconut sugar or monk fruit.
Storage and Freezing
Since cheesecake has dairy, be sure to store these candy corn cheesecakes in the refrigerator.
Make ahead: Make the cheesecakes ahead of time and store them in the fridge in an airtight container. Top with the whipped cream on top when you're ready to serve
Refrigerator: Store these cheesecakes in the refrigerator for 4-5 days in an airtight container.
Freezer: Wrap individually in plastic wrap and freeze for up to 3 months. It is best to freeze these without the whipped topping.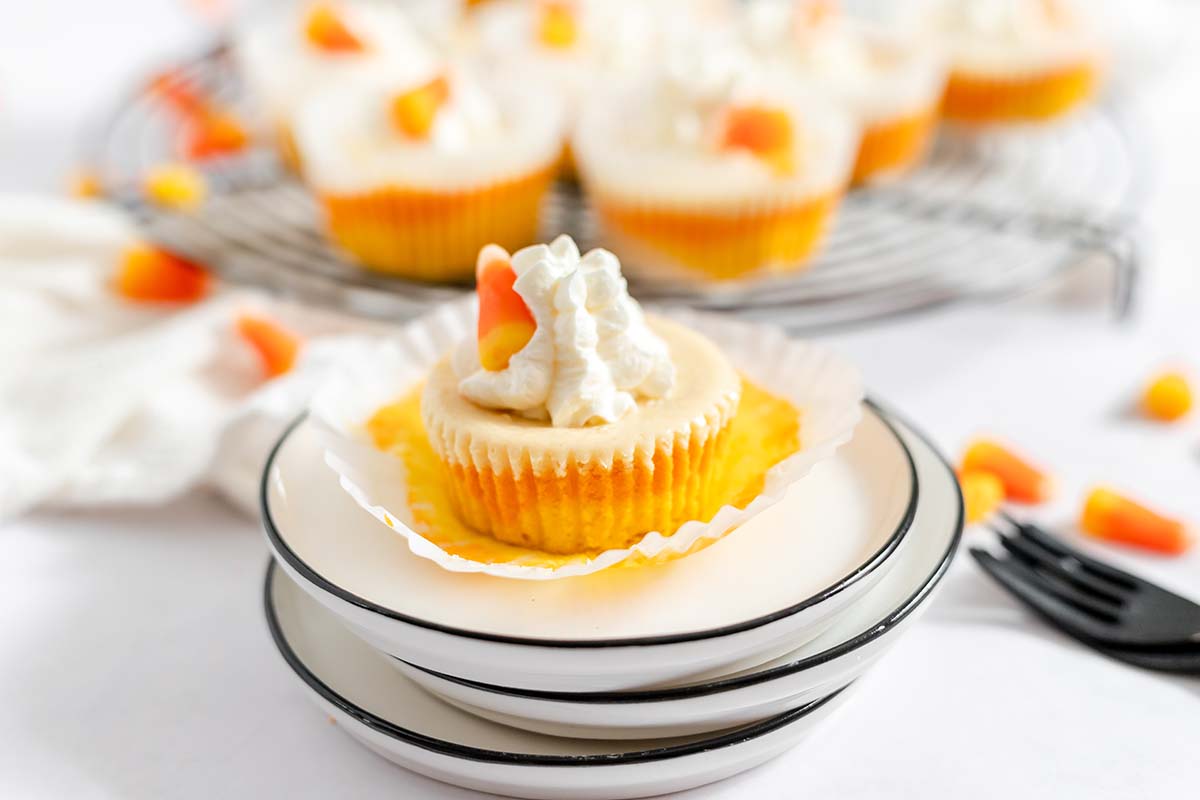 Common Questions About Candy Corn Cheesecake
What are the three types of cheesecake?
There are a variety of different types of cheesecake, but the three most common types of cheesecake are no-bake, New York-style, and classic cheesecake.
What makes New York cheesecake different from regular cheesecake?
New York-style cheesecake tends to be more dense thanks to the incorporation of ingredients like sour cream or heavy cream. So, New York-style cheesecakes tend to be more smooth and creamy.
Which cheese is best for cheesecake?
Cream cheese is definitely the best to use to make cheesecake. Make sure to let it soften ahead of preparing the cheesecake so that it is easier to mix.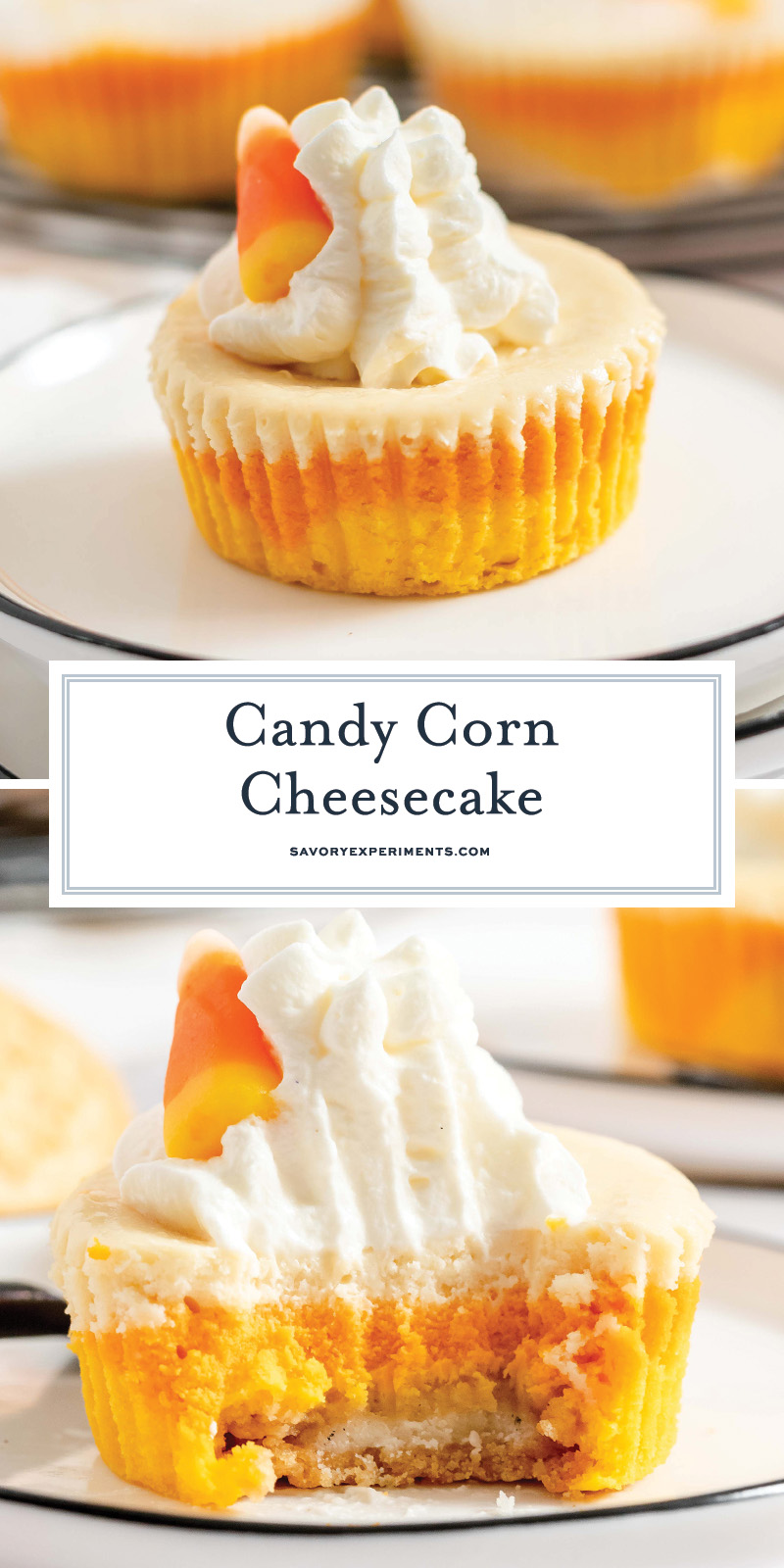 More Halloween Favorites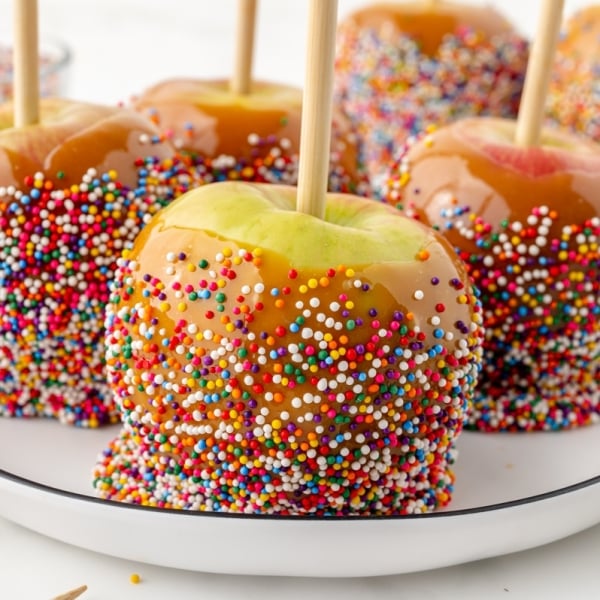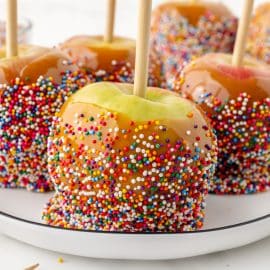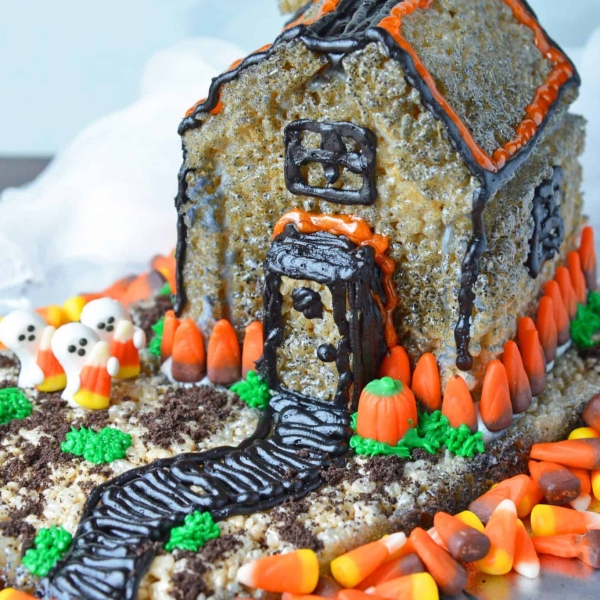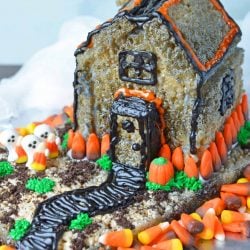 Rice Krispie Treat Haunted House
With this Rice Krispie Treat house template, you can make an adorable haunted house to display and then eat. Similar to a gingerbread house, this is part Halloween craft and party Halloween dessert. Fun and easy!
See The Recipe!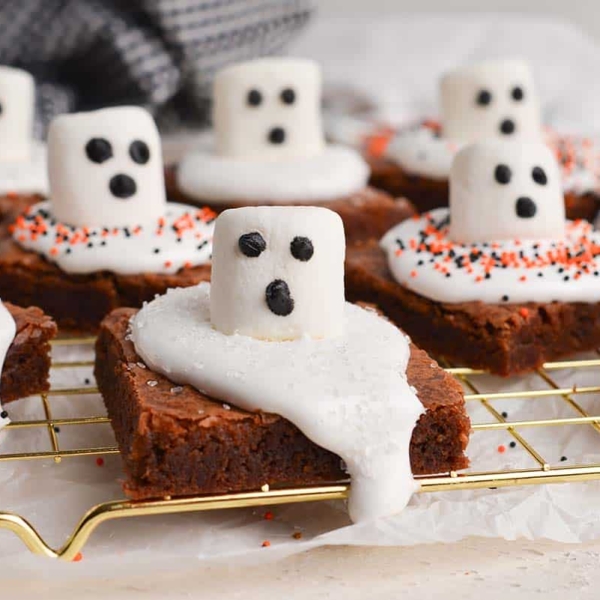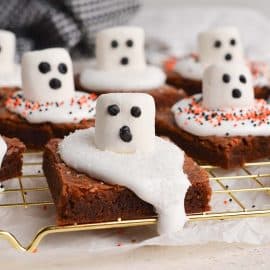 Ghost Brownies
These EASY Ghost Brownies are made with a base of store-bought or homemade brownies and use marshmallows and fluff to make a ghost topping!
See The Recipe!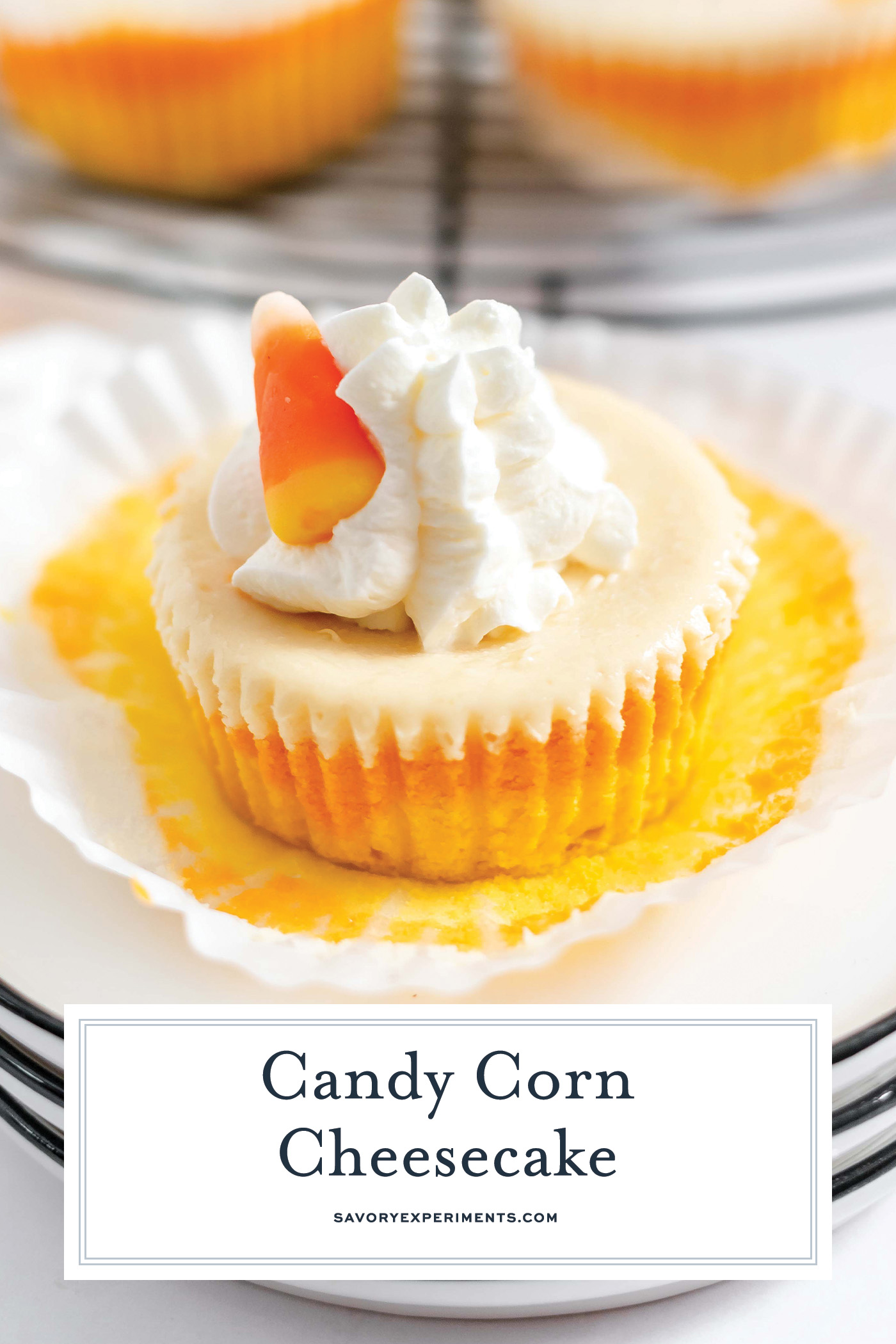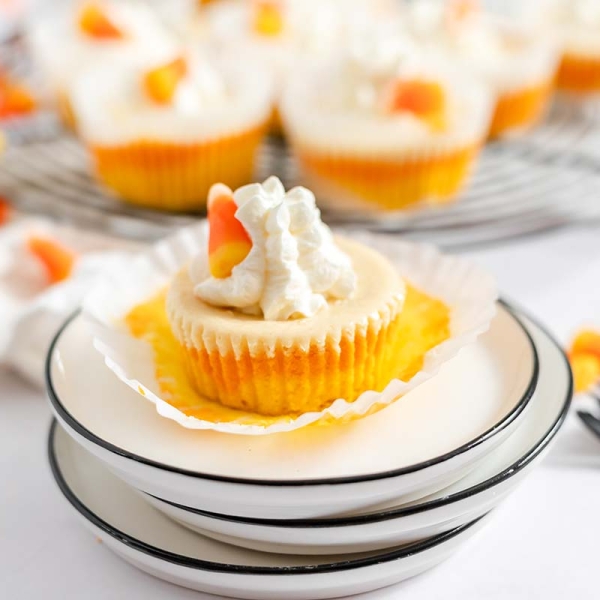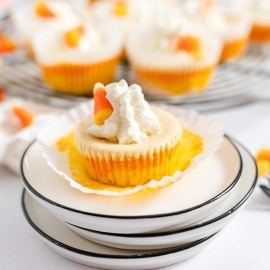 Candy Corn Cheesecake Recipe
This EASY Candy Corn Cheesecake has layers of bright yellow and orange with a white layer on top making it look just like the iconic candy!
Instructions
Preheat the oven to 325ºF. Line 9 muffin cups with paper liners.

Place a golden Oreo in the bottom of each cup.

In a large mixing bowl fitted with the paddle attachment or a large mixing bowl with an electric hand mixer, beat the cream cheese and sugar until light and fluffy. Add the vanilla, egg, and sour cream.

Pour in the flour and beat until smooth.

Divide the batter into three equal parts in separate bowl.

Add 2 drops of the yellow food coloring to one bowl, and two drops of the orange food coloring to another and keep the last one white.

Stir the yellow and orange bowls until no streaks remain. Depending on the brand and type of food coloring you use, add more to achieve the correct colors.

Layer a spoon full of yellow cheesecake batter over the golden oreo base, then orange and finally white.

Bake the cheesecakes in center of oven for 10 minutes.

Turn off oven, and let the cheesecakes rest in oven for another 10 minutes

Remove from the oven and let cool completely.

When the cheesecakes are cool, beat the whipping cream and powdered sugar together until stiff peaks form.

Pipe a dollop of the whipped cream onto each cheesecake. Top with candy corn or sprinkles, if desired.

If you've tried this recipe, come back and let us know in the comments or star ratings.
Nutrition
Calories:
269
kcal
,
Carbohydrates:
24
g
,
Protein:
3
g
,
Fat:
18
g
,
Saturated Fat:
10
g
,
Polyunsaturated Fat:
2
g
,
Monounsaturated Fat:
5
g
,
Trans Fat:
0.002
g
,
Cholesterol:
64
mg
,
Sodium:
139
mg
,
Potassium:
76
mg
,
Fiber:
0.2
g
,
Sugar:
19
g
,
Vitamin A:
612
IU
,
Vitamin C:
0.2
mg
,
Calcium:
48
mg
,
Iron:
0.4
mg
HAPPY HALLOWEEN!!!
Welcome to 2023's #HalloweenTreatsWeek event!
If you're new here, Welcome! If you're a returning haunt, welcome back!
#HalloweenTreatsWeek is a yearly Halloween blogging event that is hosted by Angie from Big Bear's Wife . You'll find that this fun and spooky event is an online, week-long event that is filled with some frightfully fun Halloween treats and recipes from some fantastic Halloween loving bloggers!
For this years 6th annual #HalloweenTreatsWeek event we have 18 hauntingly talented bloggers that are sharing their favorite Halloween recipes throughout the week! You can following the hashtag #HalloweenTreatsWeek on social media to collect all of these frightful recipes to use at your own Halloween parties and events!
Make Sure to check out all of the fun Halloween recipes that we're sharing this week!
Today's Halloween Offerings: