The highly anticipated Cadbury Egg Cupcake recipe is here!!! YAY!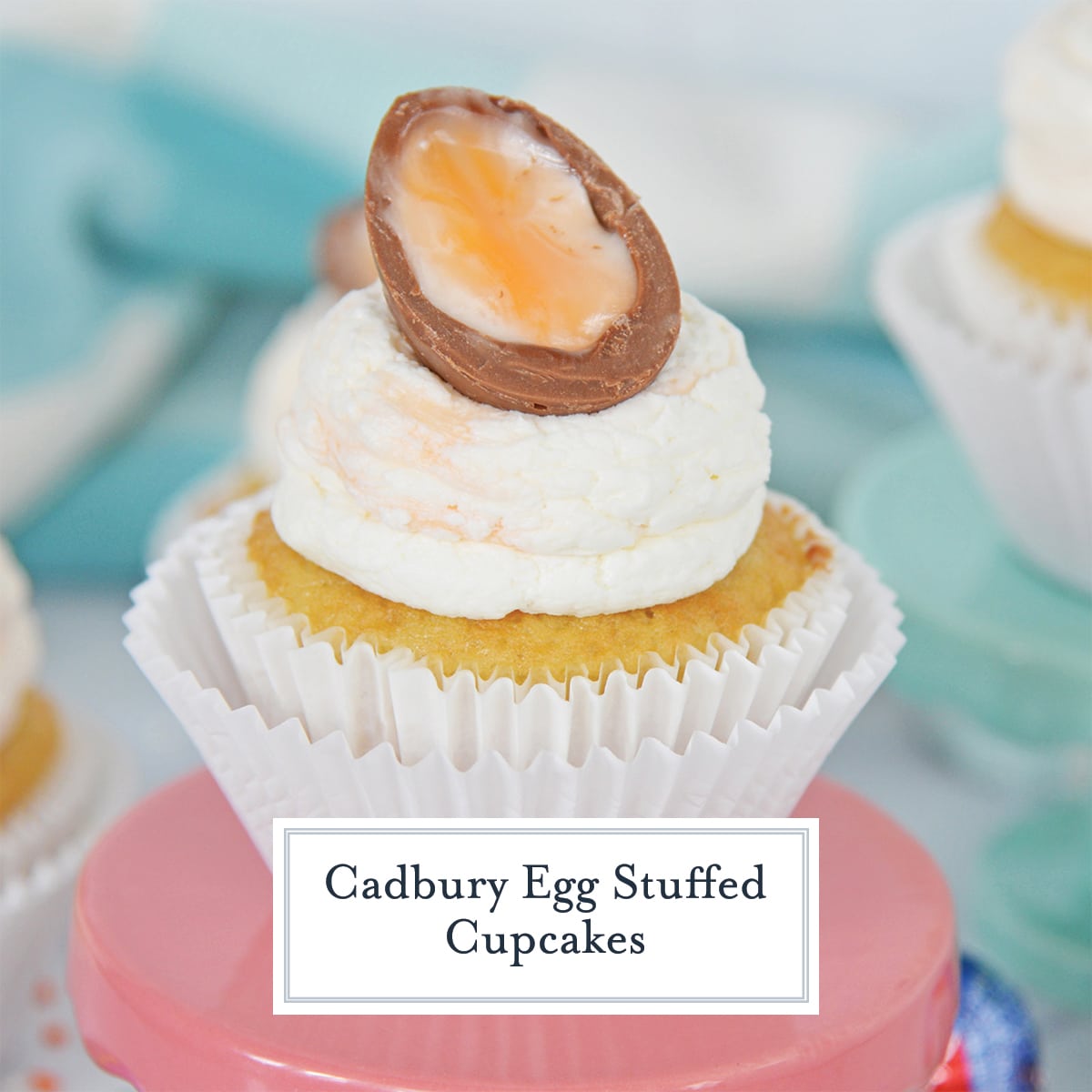 Cadbury Egg Cupcakes are giant vanilla cupcakes stuffed with delicious Cadbury creme eggs and topped with a creme egg laced buttercream frosting.
Who Loves Creme Eggs?
I was amazed at how much traffic I received from this little sneak peek about a week ago. I was also surprised at how many individuals share my love for sugary, creme filled chocolate eggs.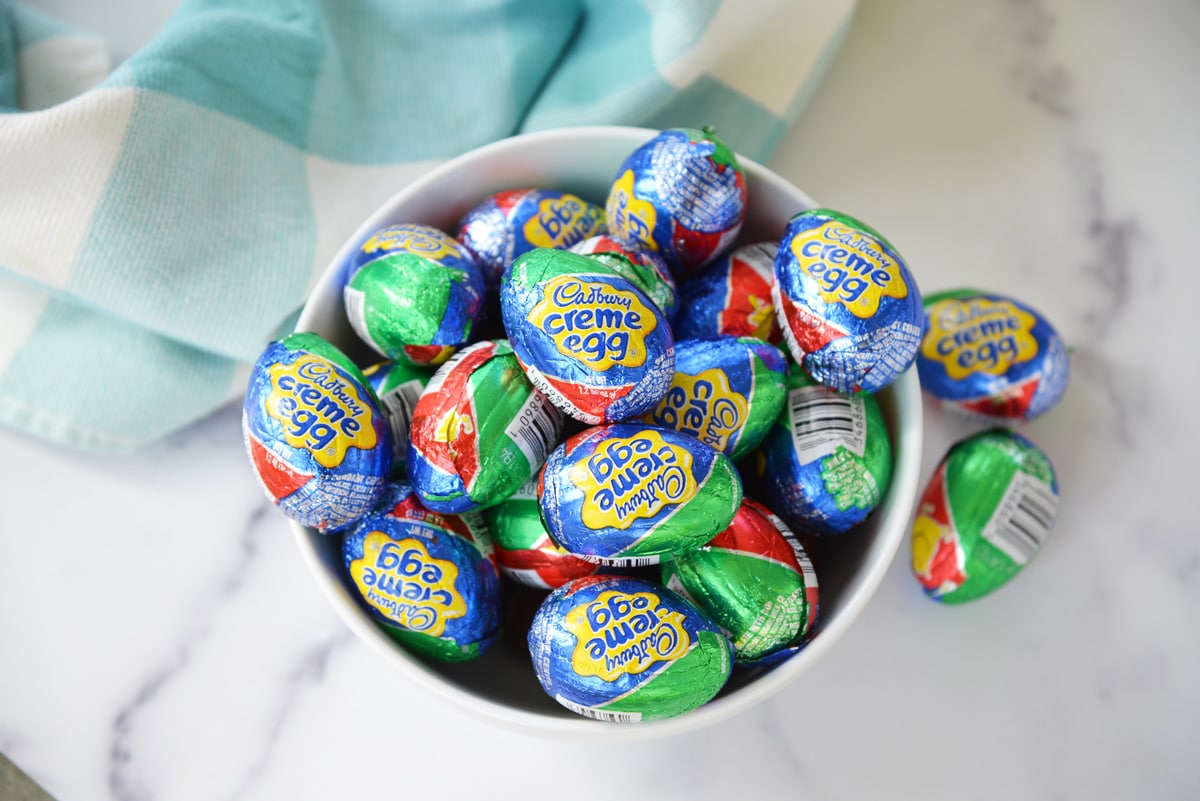 I can not take credit for this idea nor consider myself a culinary genius. Okay, maybe not a culinary genius, but a Cadbury Creme Egg fanatic.
I pinned a photograph to my Pinterest wall a few months back, however when I went to retrieve it there was no recipe attached. I was waiting for creme eggs to be available and now… they were!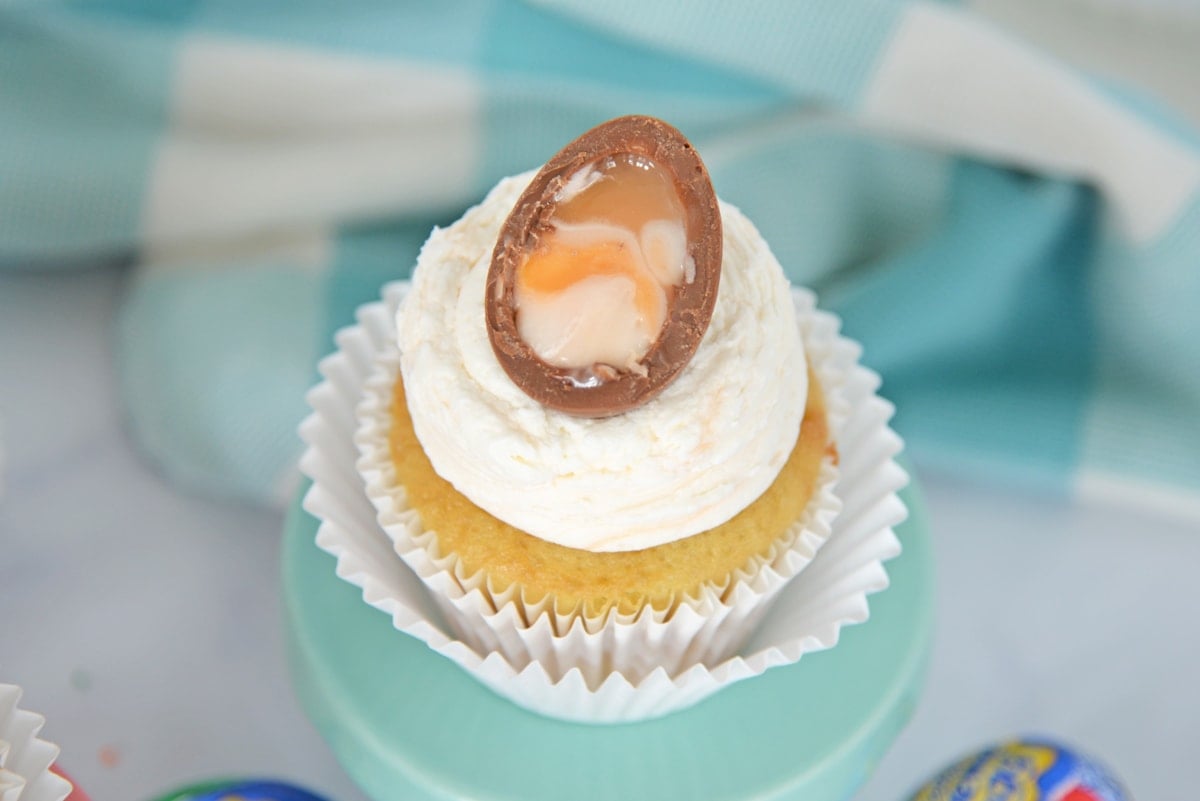 Boxed Cake Short Cuts
The problem solver that I am said "gotta make up a recipe yourself!" The day in question was a busy day and I took the shortcut of using a box cake mix.
First try: cake mix + Cadbury Egg = perfection. It is a rare occasion that a new creation turns out perfect the first time. It is also rare that it is so gosh darn simple.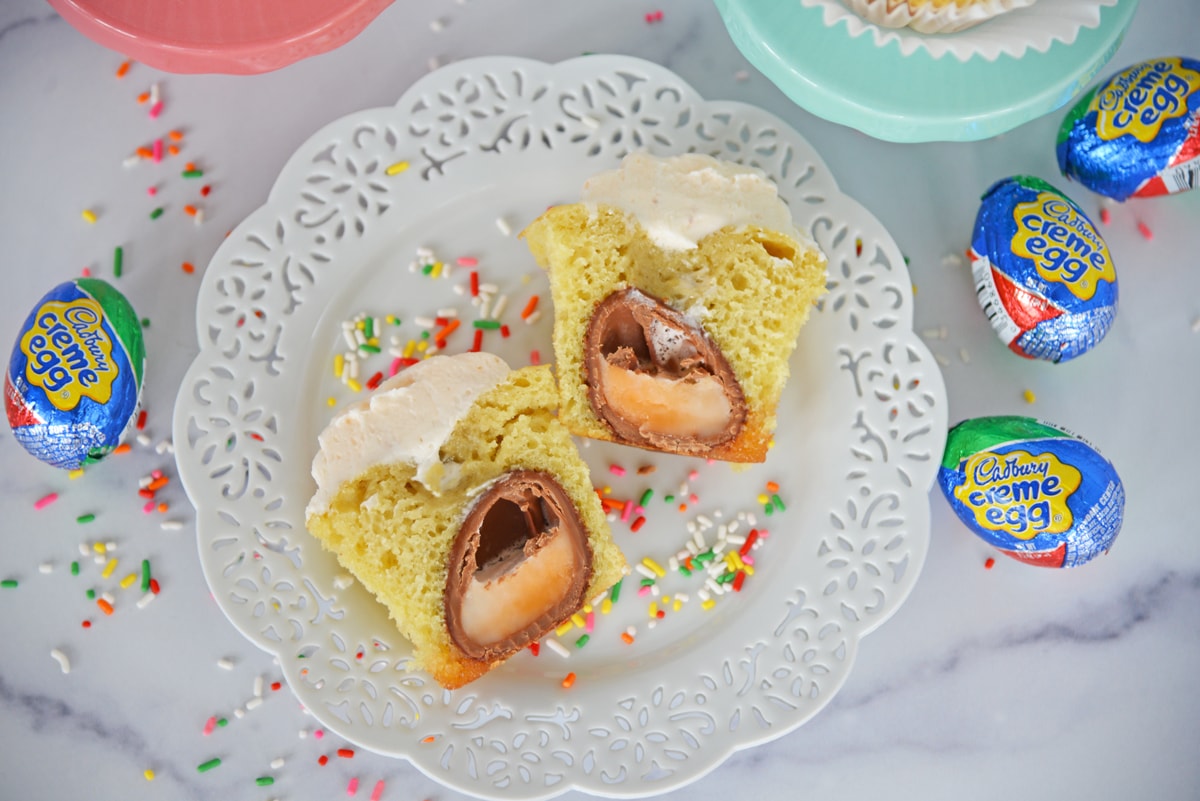 This was cause for celebration therefore these monstrous creme filled cakes were consumed with a bottle of rose bubbly.
Cadbury Creme Buttercream Icing
I mean, these are stuffed with a whole Cadbury Egg, but then we went and topped them with a delicious buttercream frosting gently folded with the creme.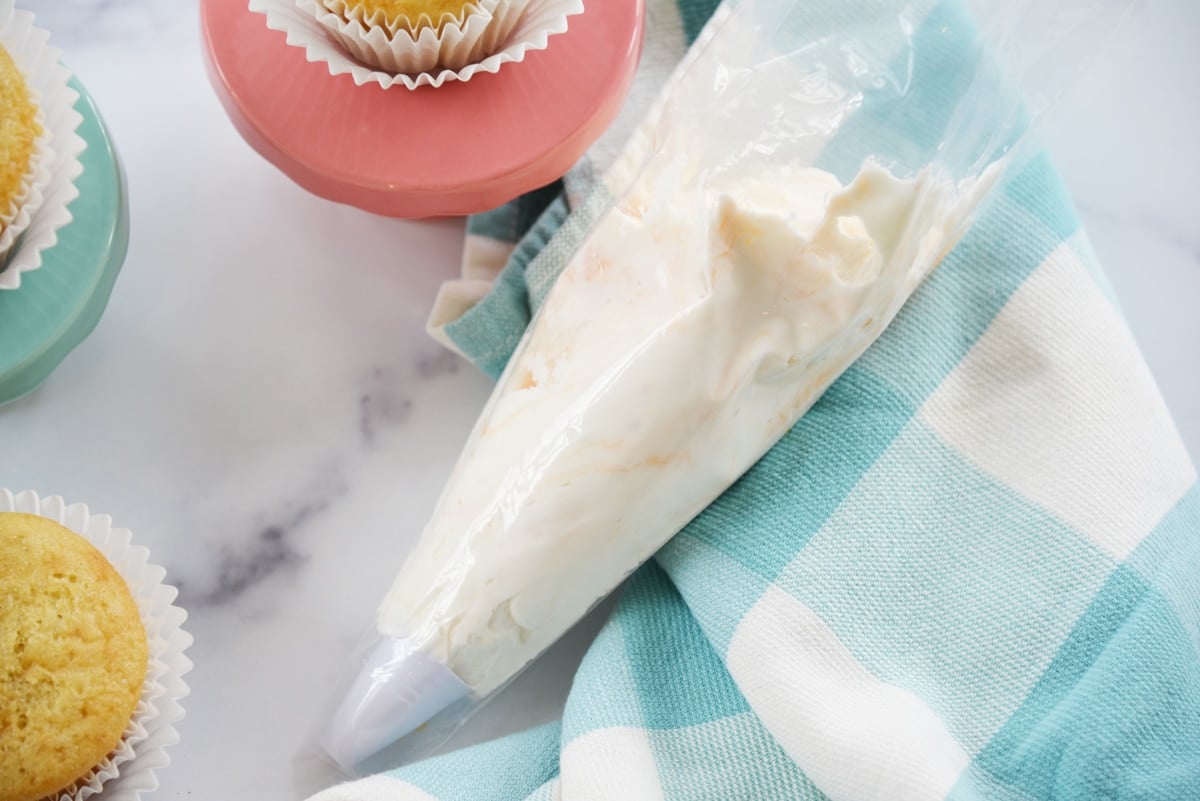 The frosting in a true bakery style buttercream, meaning that it is made from both shortening and butter. Add powdered sugar, vanilla and a touch of milk for texture and you get the smooth, frothy frosting you only get at bakeries.
The first time I tried this, I tossed in roughly chopped up eggs, but the result was a weird gray and the bits of chocolate wouldn't fit through some of the piping tips. I also didn't get any of the creme colors to pull through.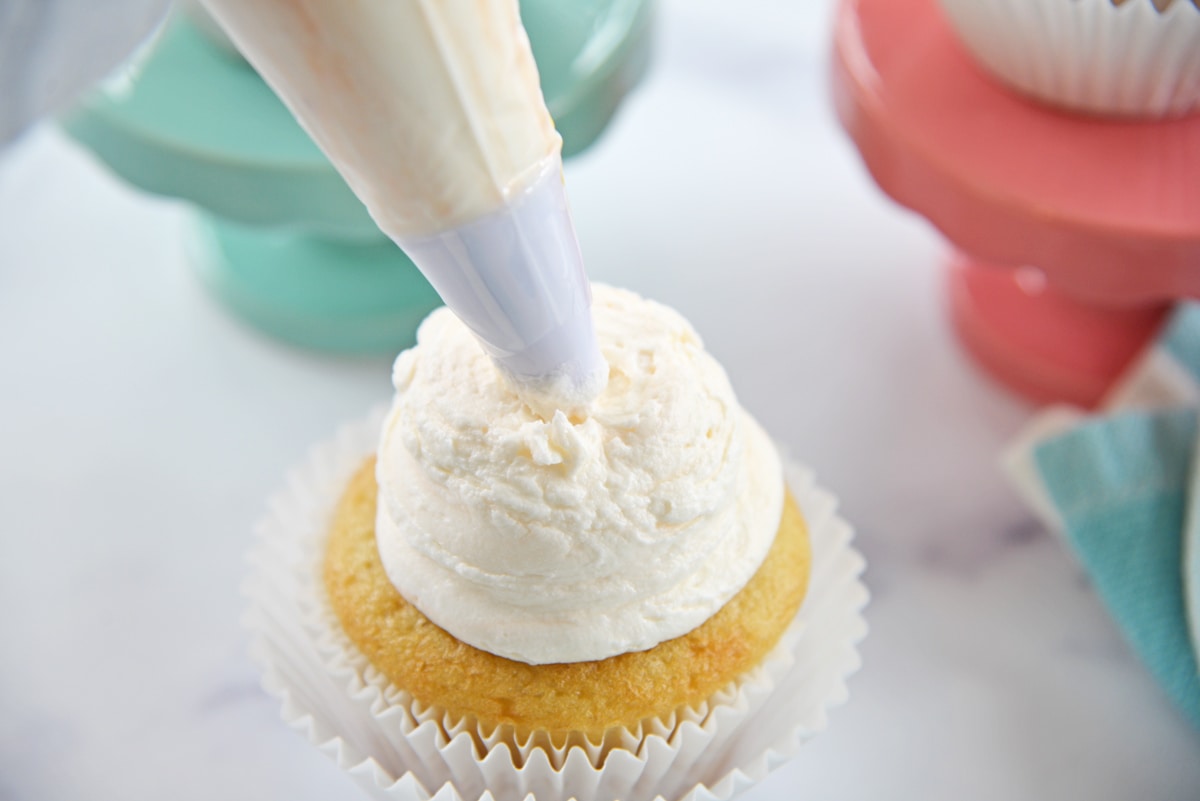 So the second attempt I made the frosting completely and then folded in just the creme by hand with a few wrist swirls, but not not so many that I lost the streams of yellow.
How to Make Cadbury Egg Cupcakes
The process is quite simple but requires one important step that can not be skipped and takes a little foresight. Freezing the eggs.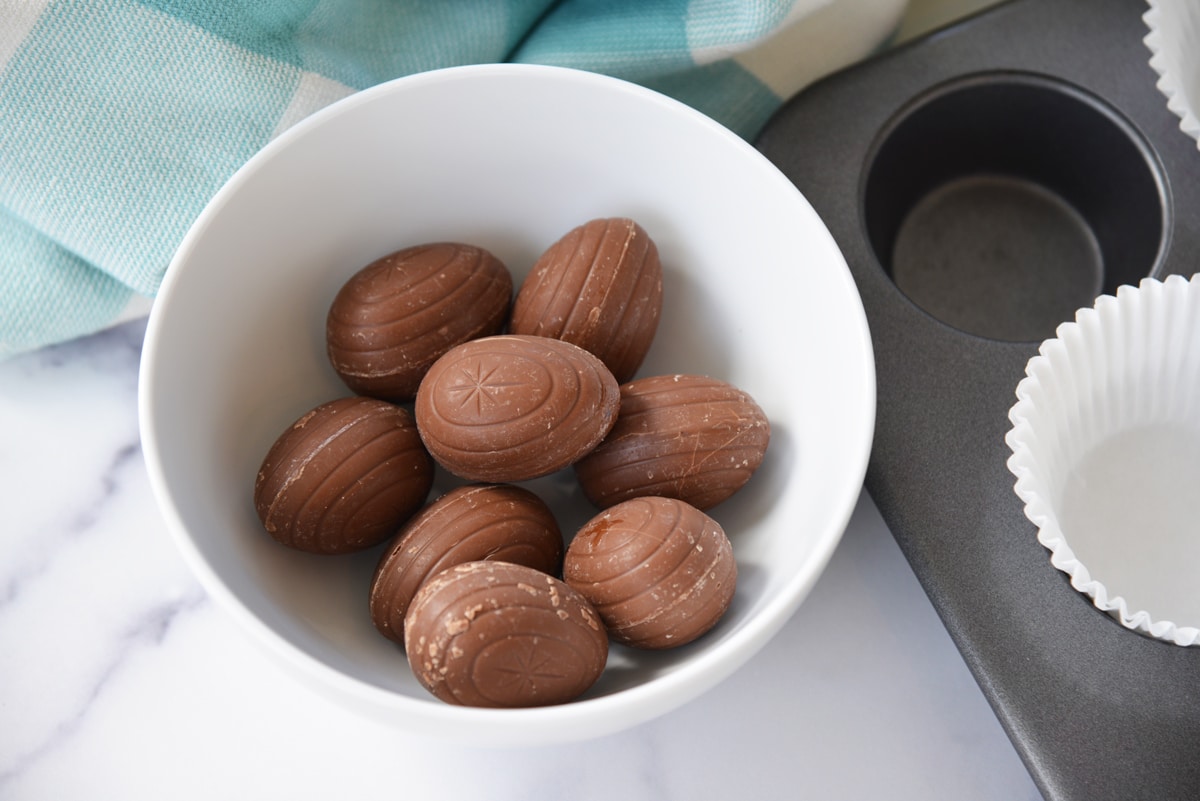 Since it is for jumbo cupcakes, you'll only need 12 eggs. But you'll need another 12 for the frosting and decorating. I found the most economical way to make these to be ordering a full box of 48 off Amazon.
So freeze 12, set aside 6 for the frosting and another 6 for topping. And then add the rest to Easter baskets or donate them. Or if you are like me, you hid them in your desk drawer and indulged in them in secret. Moving on…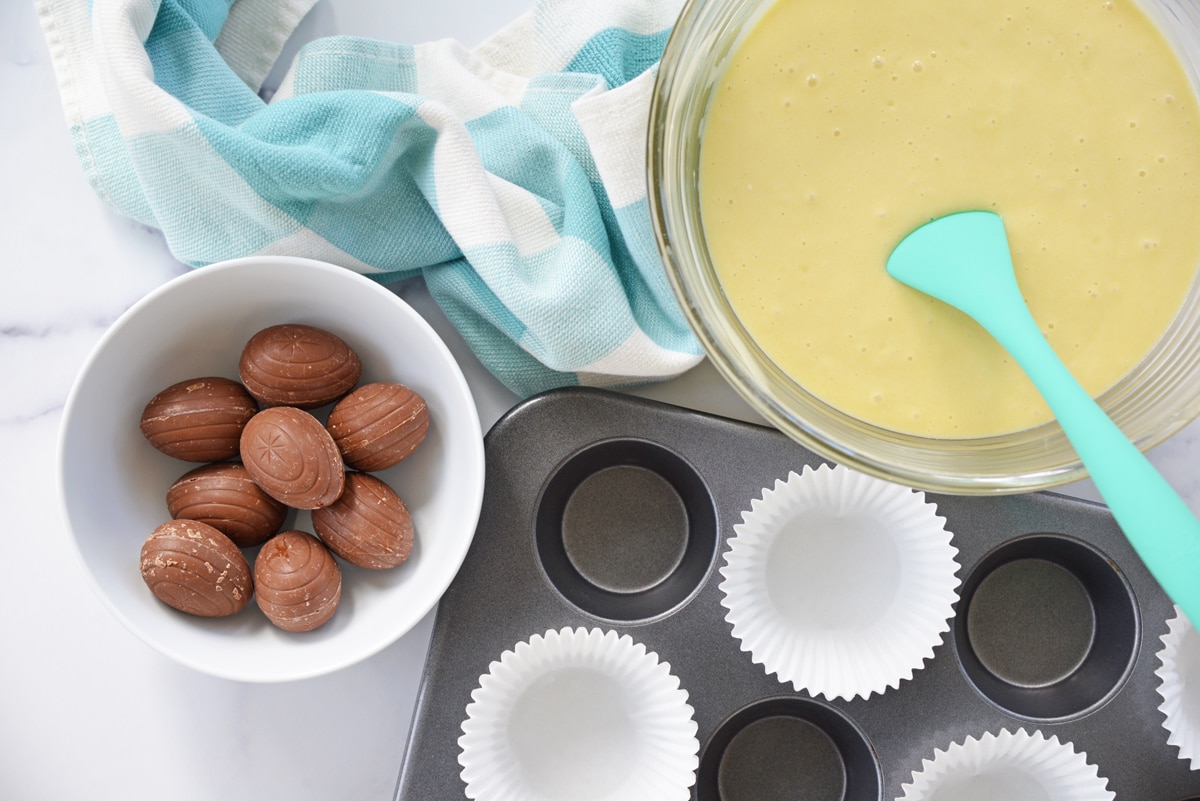 Line standard muffin tins with jumbo cupcake liners, no need for a special pan. Fill the liners with about 1/4 cup cake batter, about 1/2 way full.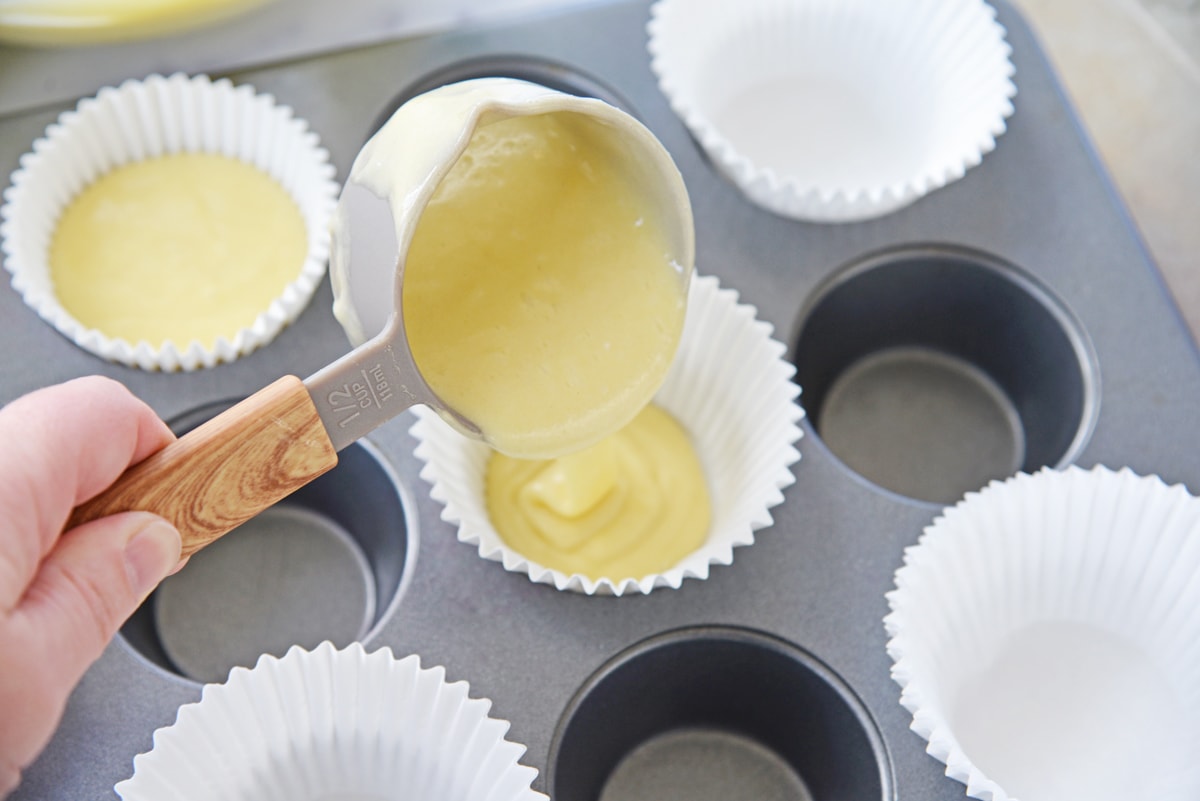 Then set a frozen egg in the center of each.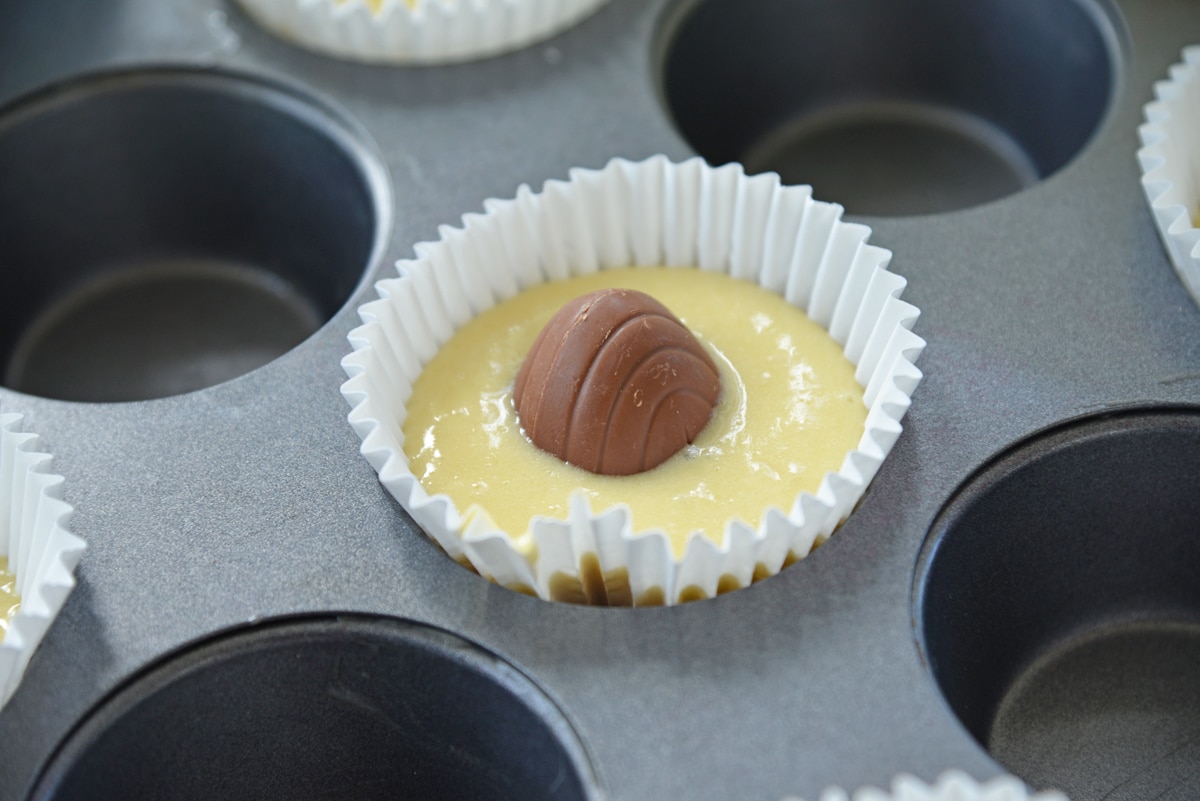 Top the egg with a small amount of batter, just enough to cover it. If you don't, the top will pop out and start to melt while baking. Even if this happens, it isn't the end of the world because it will be covered by frosting.
Bake until puffy and cake lightly springs back. Allow them to cool fully.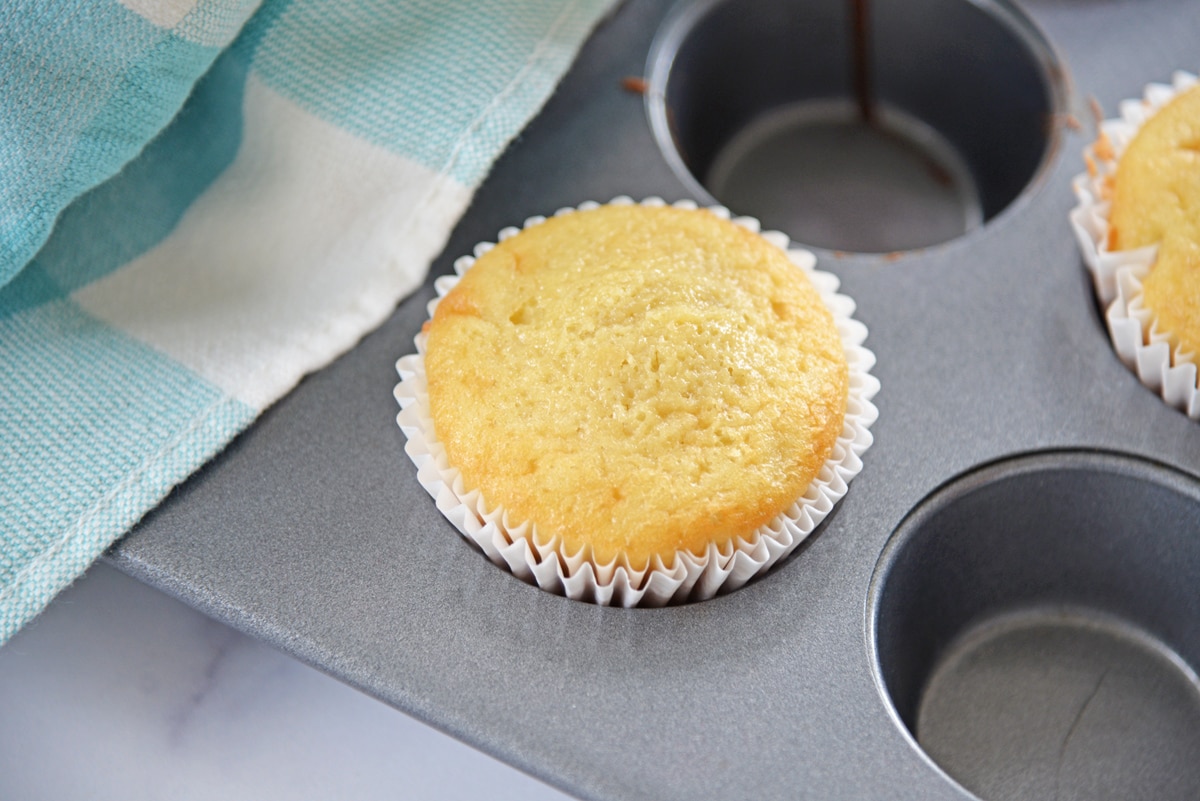 Make the buttercream frosting, then gently fold in just Cadbury creme. I used a clear vanilla so it didn't muddy the frothy white color. Using regular will only tint it slightly and totally acceptable.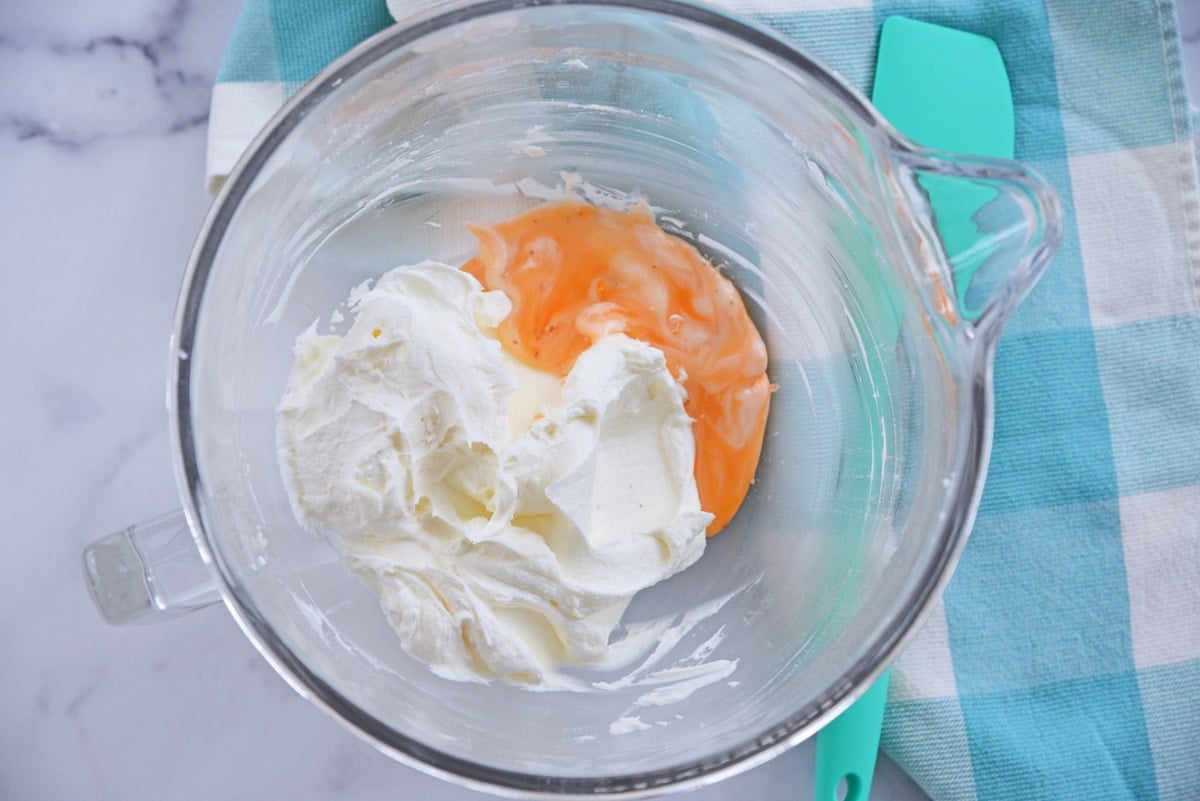 Give them generous puffs of frosting using a Wilton 1A round tip.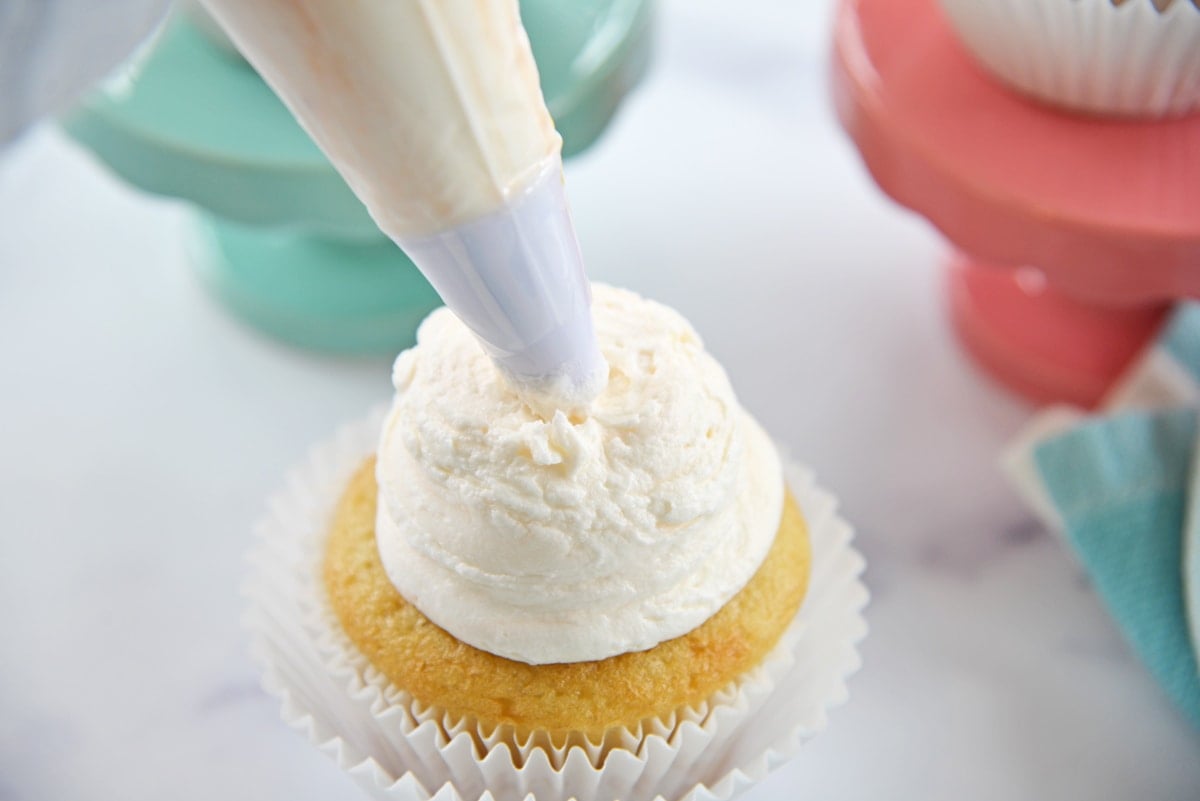 And if this wasn't enough, then carefully pry open another 6 eggs with a sharp knife, pulling in half. Top each cupcake with a halve.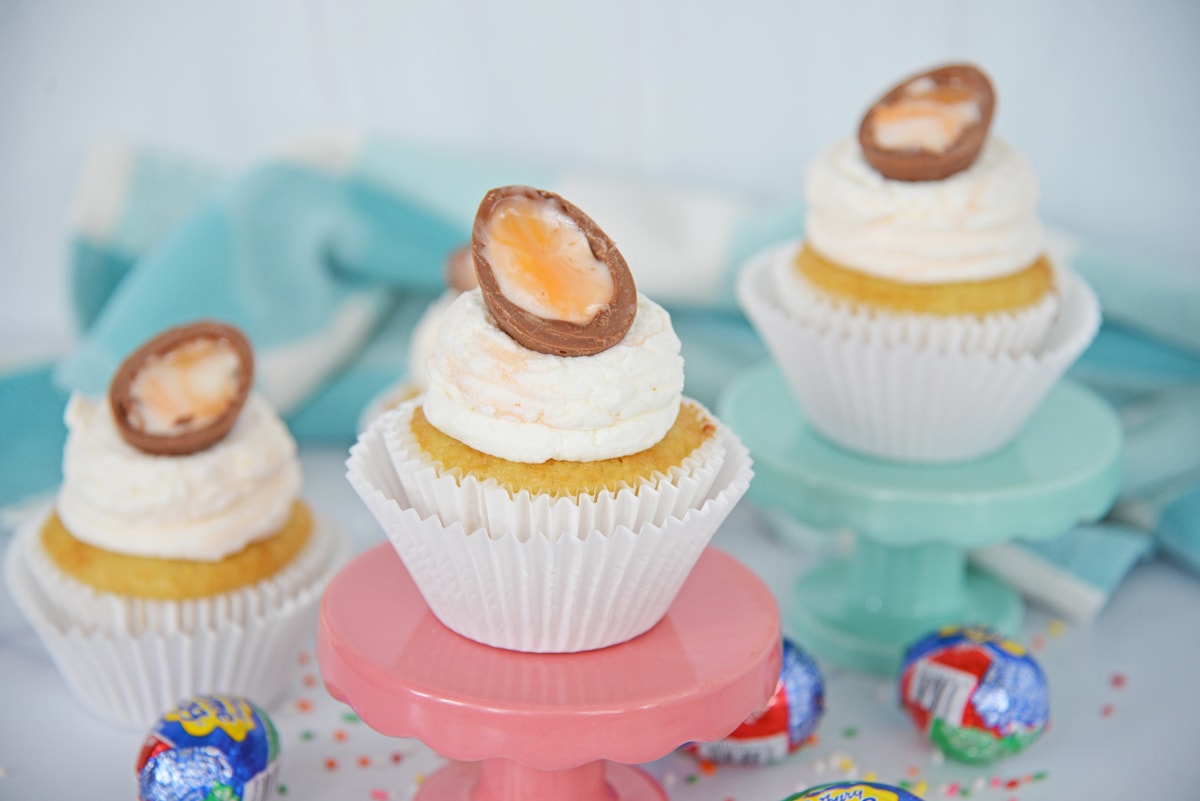 Storage
As with any cake, it is best enjoyed within 2 days of baking, but they will last up to 5.
Store covered at room temperature util ready to eat. Buttercream frosting will set a bit, but it perfectly fine to eat.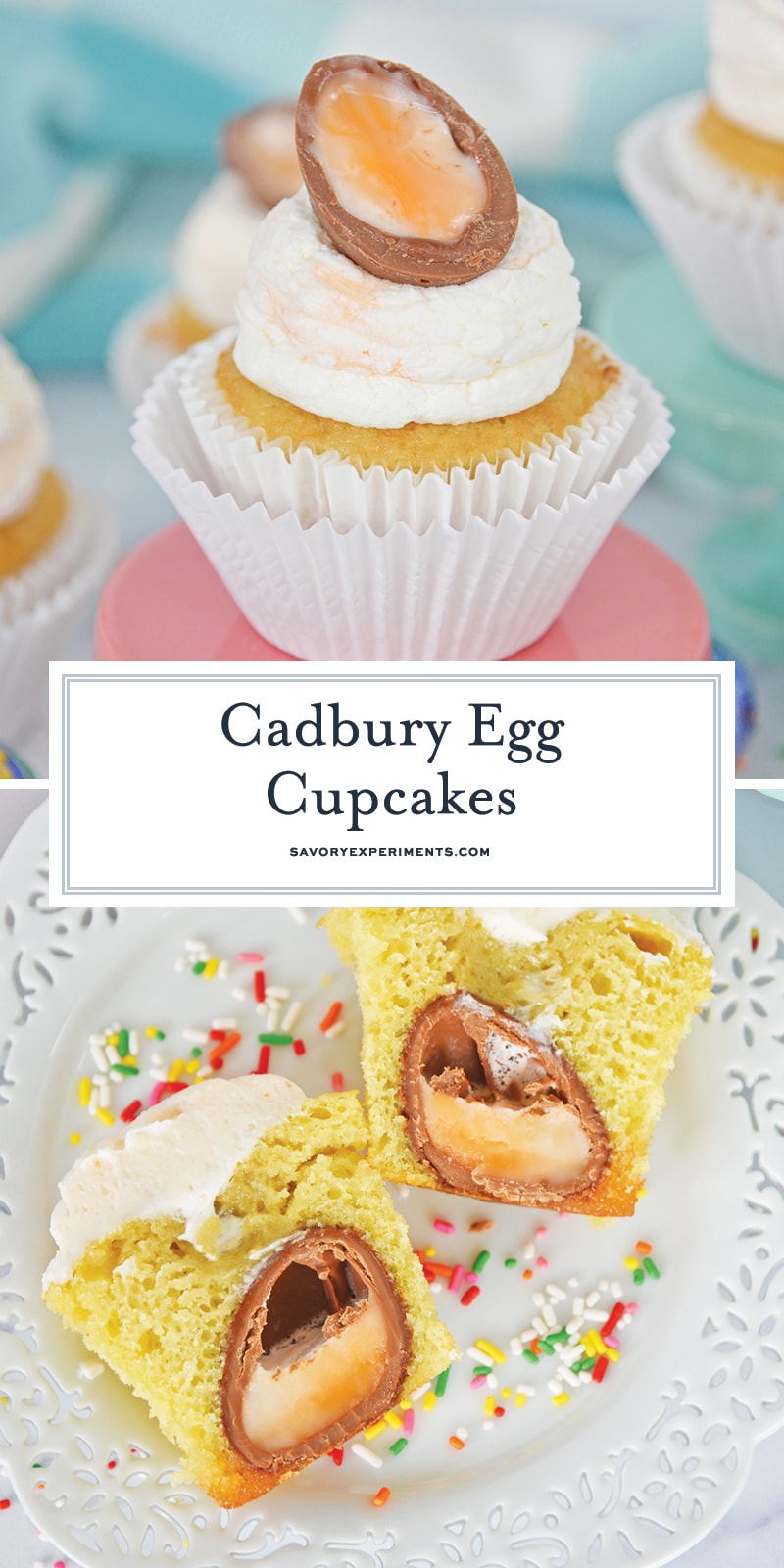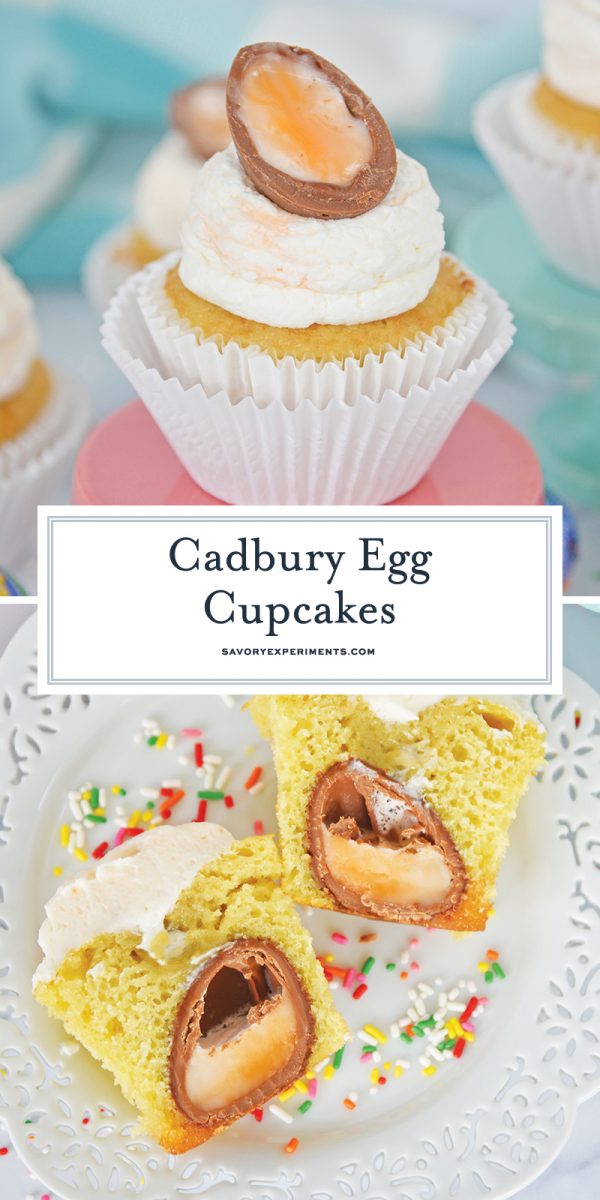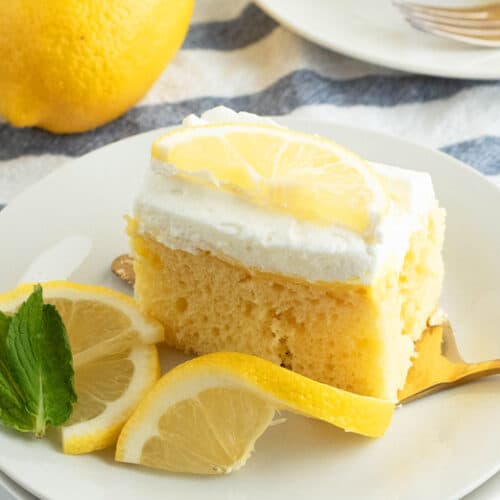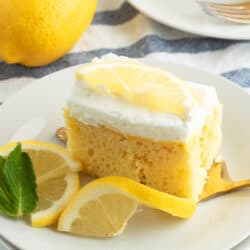 Lemon Poke Cake
This deliciously moist BEST Lemon Poke Cake recipe is perfect for any occasion! It's made easy thanks to a boxed cake mix and instant pudding!
View this recipe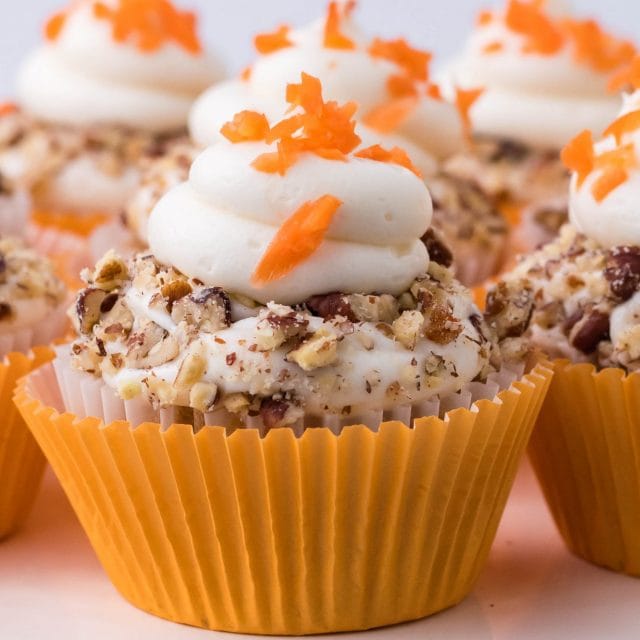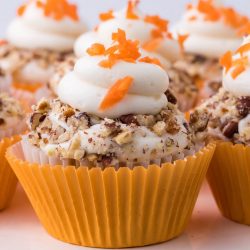 Carrot Cake Cupcakes
Carrot Cake Cupcakes are moist, flavorful and packed with freshly grated carrot and spices. With a cream cheese frosting, they are the BEST!
View this recipe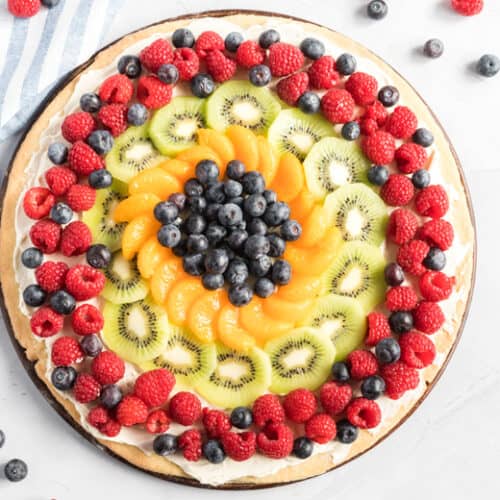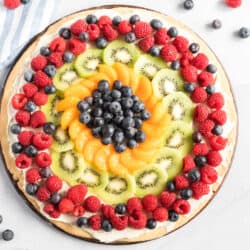 EASY Fruit Pizza
This Dessert Pizza with fresh fruit, cream cheese frosting and a crispy cookie base is a fun and tasty treat the whole family will go crazy for!
View this recipe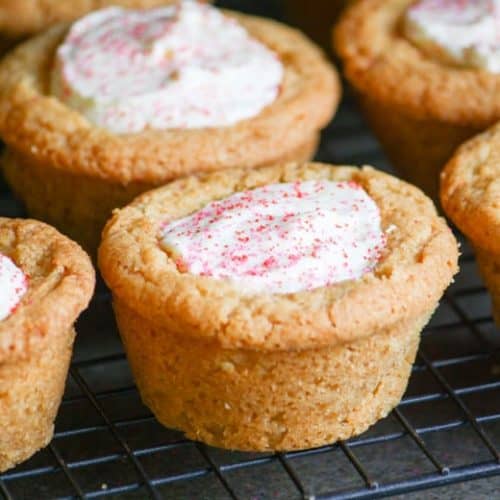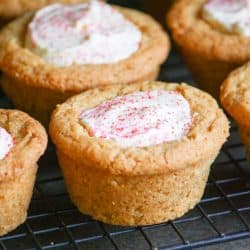 Raspberry Cheesecake Cookie Cups
A delicious chewy sugar cookie filled with a dollop of raspberry jam. Topped with a silky no-bake orange flavored cheesecake.
View this recipe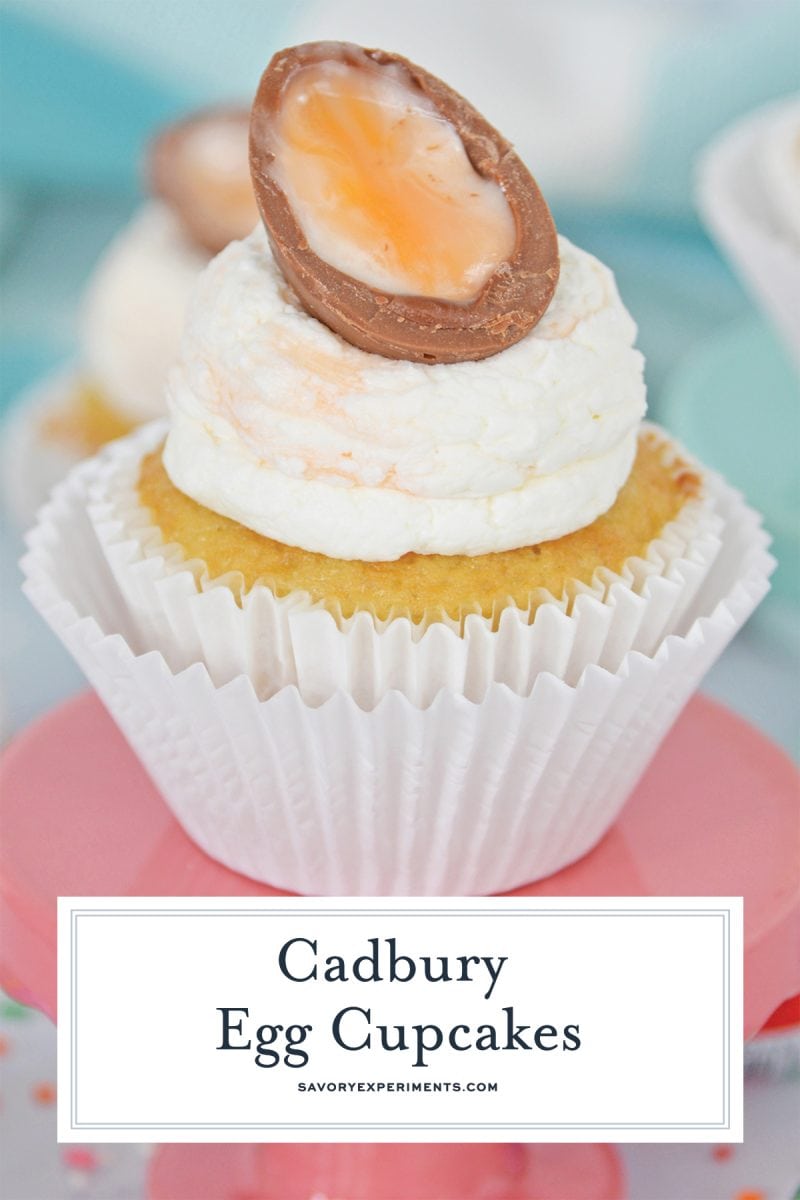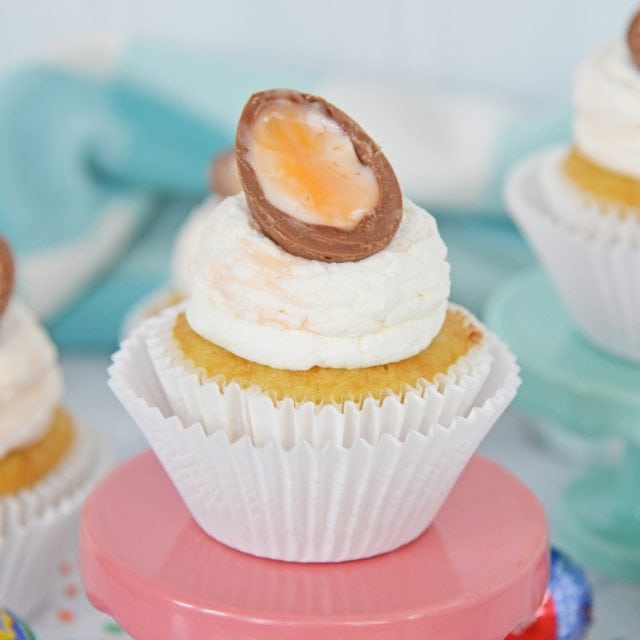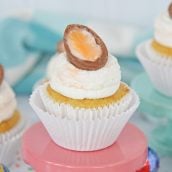 Cadbury Egg Cupcakes with Whipped Cadbury Creme Buttercream
Cadbury Egg Cupcakes are giant vanilla cupcakes stuffed with delicious Cadbury creme eggs and topped with a creme egg laced frosting. The perfect Easter cupcake idea!
Ingredients
Cadbury Egg Cupcakes:
1

box vanilla cake mix

,and ingredients to make the cake

12

large Cadbury Eggs

, divided and frozen
Cadbury Creme Buttercream Frosting:
Instructions
Make Cupcakes:
Prepare boxed cake mix according to package directions or make your own homemade cake mix. Preheat oven according to package directions.

Line cupcake pan with extra large muffin liners. Fill each half way with cake batter and then a frozen egg.

Bake according to package directions. Due to the centers being hollow with Cadbury Eggs you won't need to bake for longer even though the overall cupcake is larger. Remove when tops are lightly browned and spring back when touched. Due to the center being filled, a toothpick test will not be an accurate indicator.

Allow cupcakes to cool completely.
Buttercream Frosting:
Beat together the butter and shortening until well combined and frothy.

Scoop Cadbury creme filling from 6 of the eggs, gently and by hand, fold in creme filling. It should only take 2-3 strokes to get thick streaks.

Frost generously with an offset spatula or filling a frosting bag with frosting and using a large 1A round tip, frost cupcakes.

Using a sharp knife, split the remaining 6 eggs in half. Top each cupcake a Cadbury Egg halve.

If you've tried this recipe come back to let us know how it was in the comments or ratings.
Notes
You can use regular vanilla extract, but clear will keep the frosting a fluffy white.
If you use salted butter, omit additional salt.
Nutrition
Calories:
525
kcal
,
Carbohydrates:
40
g
,
Protein:
1
g
,
Fat:
18
g
,
Saturated Fat:
4
g
,
Trans Fat:
1
g
,
Cholesterol:
15
mg
,
Sodium:
51
mg
,
Potassium:
4
mg
,
Sugar:
39
g
,
Vitamin A:
177
IU
,
Calcium:
4
mg
,
Iron:
1
mg