This Bacon, Pear and, Fig Grilled Cheese recipe is a mouthwatering combination of savory and sweet. Ready in just 10 minutes, it is perfect for a quick dinner or weekend lunch.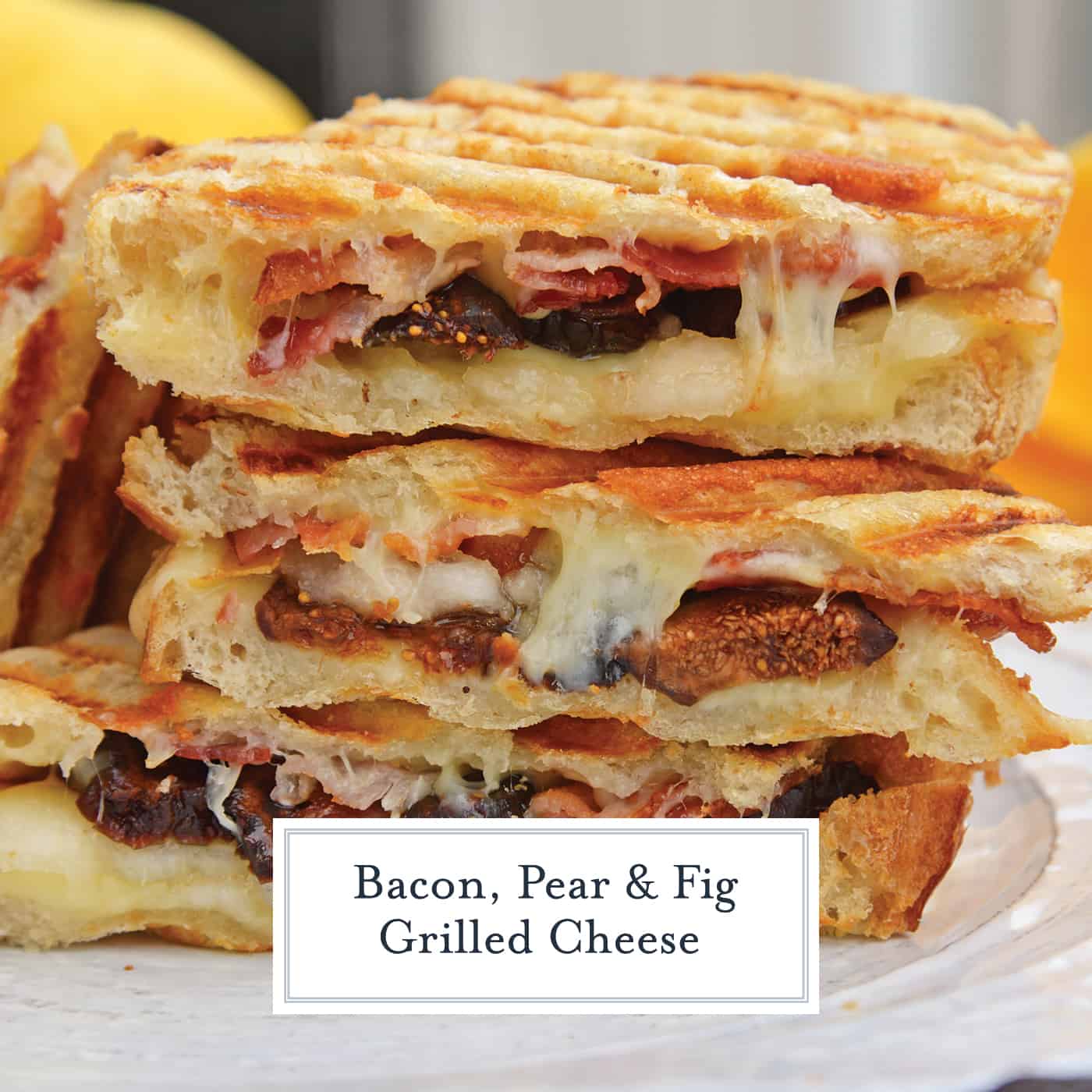 This Bacon, Pear and Fig Grilled Cheese combines sweet, savory, and gooey. The ultimate grilled cheese!
Check out my newest creation and my latest obsession. I've literally had a Bacon, Pear and Fig Grilled Cheese sandwich three times this week. They are that good!
Every Christmas we receive bountiful and absolutely beautiful baskets and tins of goodies from friends and family.
Some boast cookies, others an assortment of fresh fruits, there are some with smoked fish, and of course, there are those packed with cheeses. It all depends.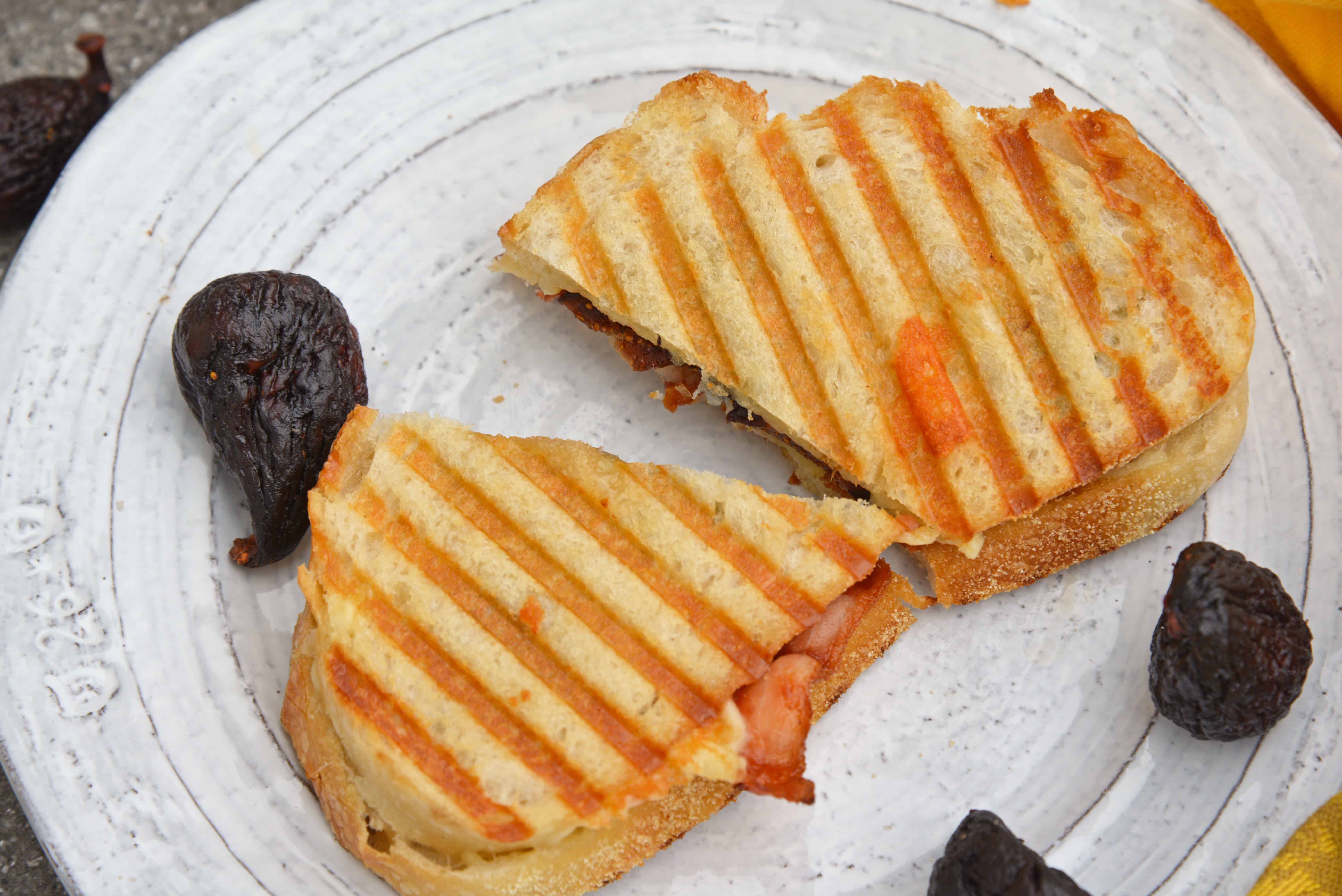 The main problem I run into is that these towering displays of deliciousness contain many perishable items and we are typically traveling during the holidays. Limited time at home means limited time to enjoy these seasonal items.
Even if we are home, there is the problem of how much we can eat in a specific amount of time. We simply can't eat that many items before they turn.
There are only so many fresh pears you can enjoy in the week before they go bad.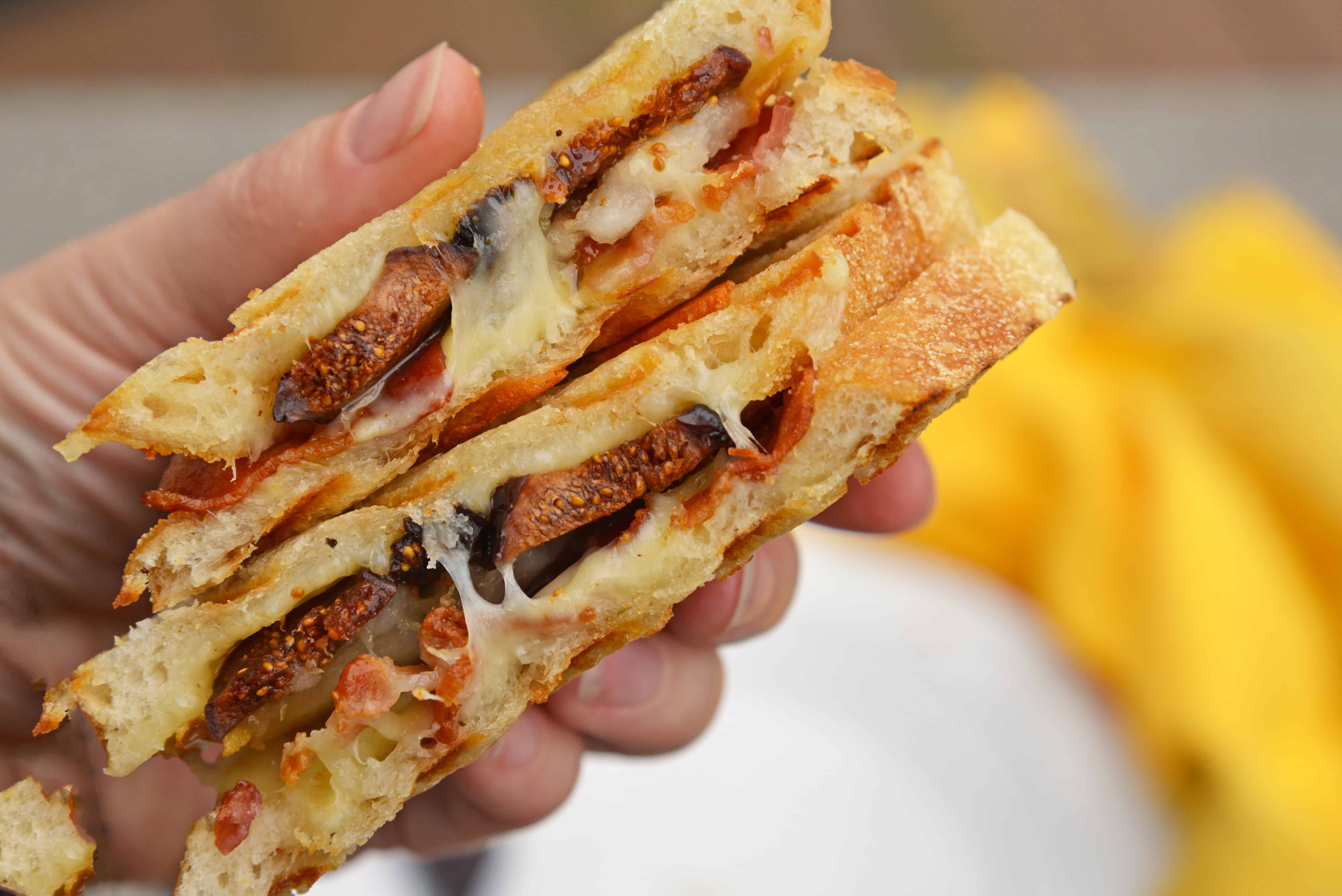 With that in mind and in an effort to minimize waste, I challenge myself to use the surprises found in each festive box (some familiar and some less so) to create new and interesting culinary creations.
These Bacon, Pear, and Fig Grilled Cheese sandwiches were something I made for lunch. Let's just say they took both myself and my husband by surprise with how delectable and downright addictive they were.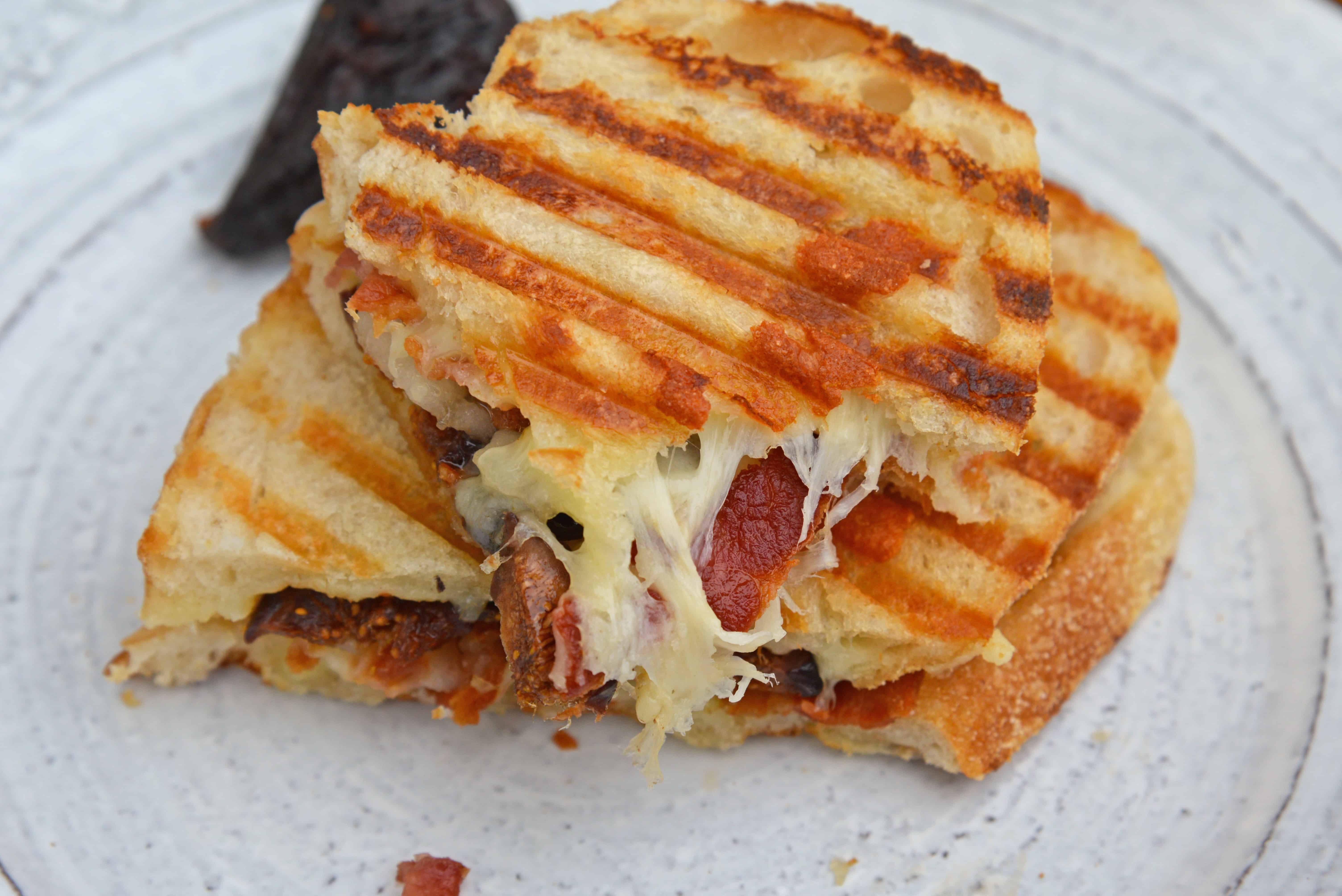 I know you might be thinking that it is a bit of an odd combination, but when you break the sandwich down into its components, it makes perfect sense.
What would you normally serve on a cheese board? Crackers or crusty bread – check. Cheese – a given. Dried fruit – a must. A meat of some sort – not always in play, but hey, why not!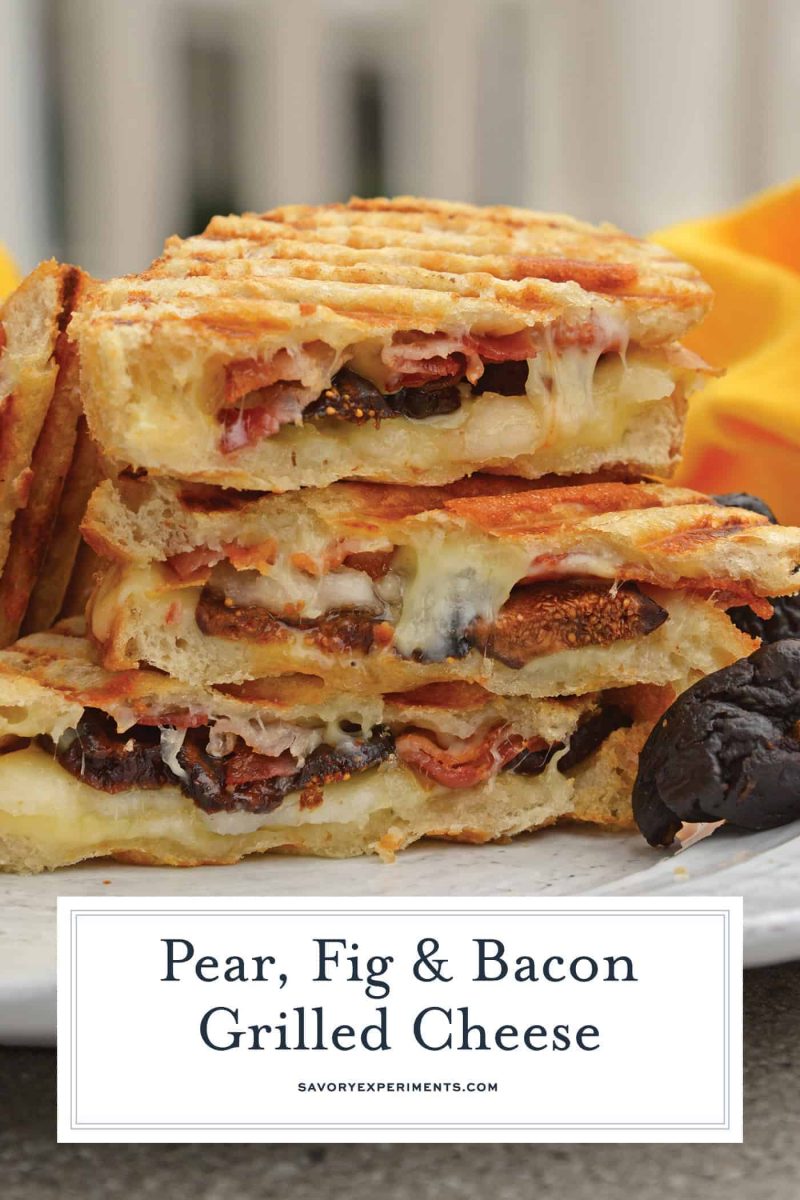 Mash these things together in a nice warm sandwich and you have heaven on a plate. These are great for lunch, an easy dinner, or if you have an adventurous crowd, you could try them as an afternoon or after school snack.
While I make this grilled cheese on a panini press (because why the heck not?) you can also use a well-seasoned griddle or your trusty old frying pan.
The main goal here is texture. You want that bread nice and crusty and that cheese ooey and gooey. If you have those things, the whole thing will be fabulous.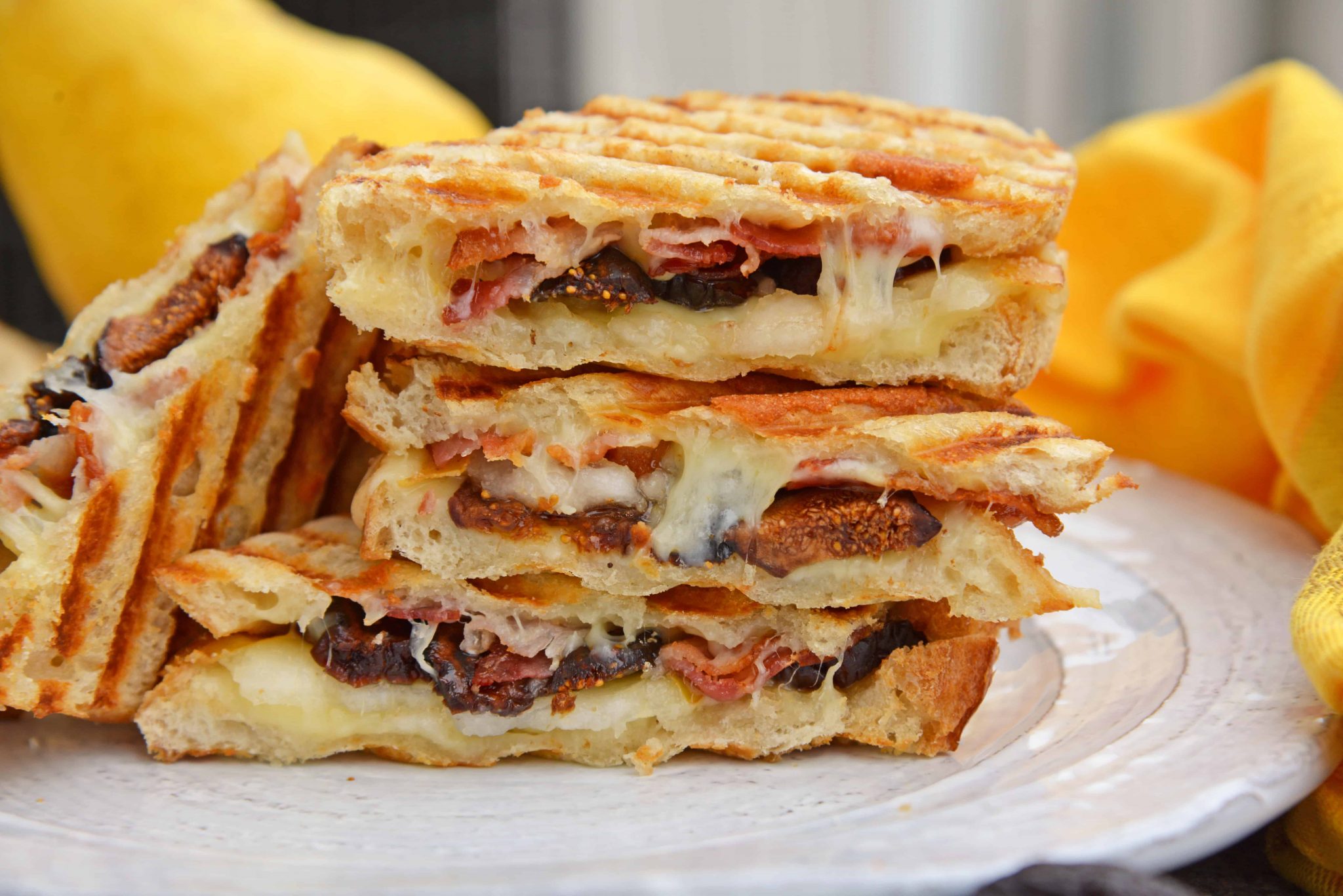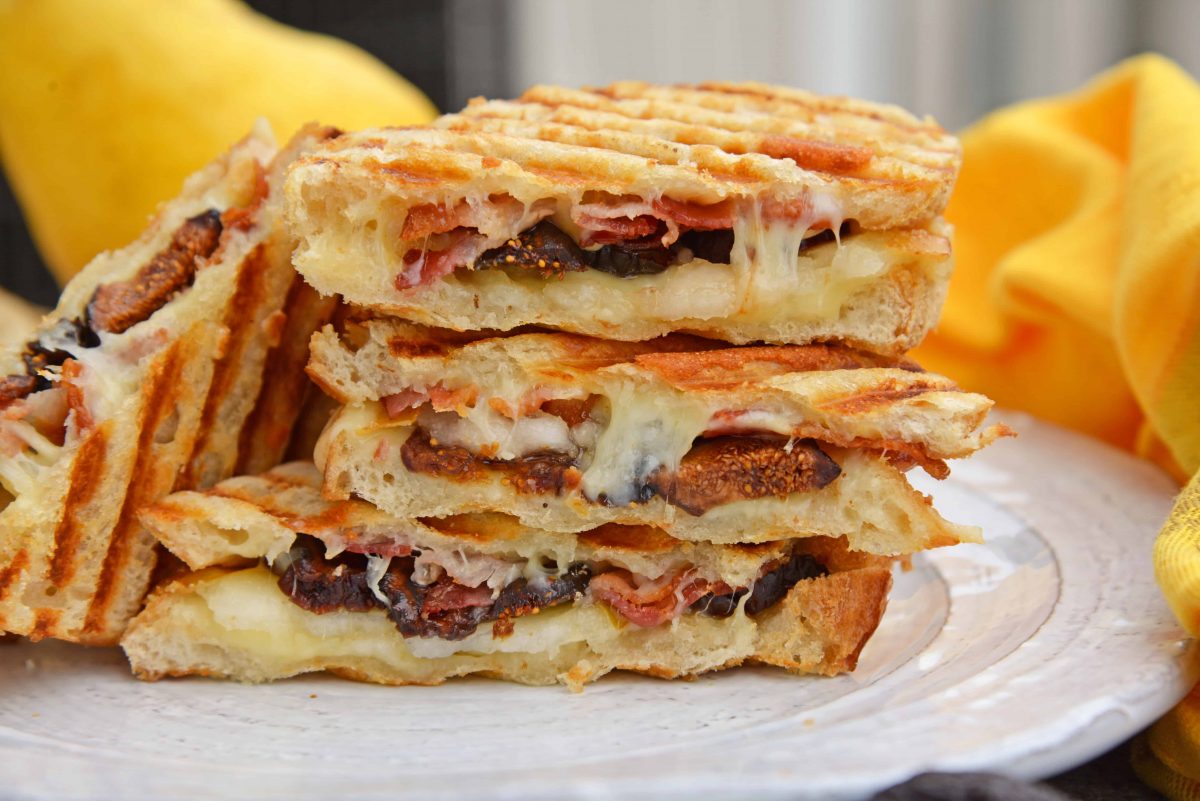 If you enjoyed this grilled cheese sandwich recipe, check out these easy panini recipes: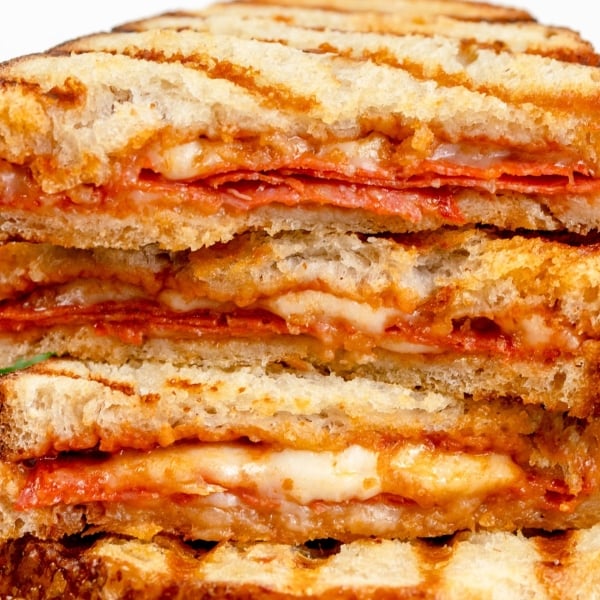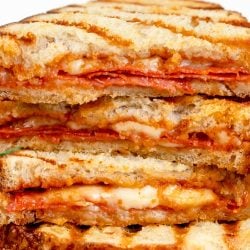 Cheesy Pizza Sandwiches
Cheesy Pizza Sandwiches are mini, slider-size grilled cheese sandwiches with mozzarella cheese, tomato jam and pepperoni. Kid friendly and great for parties!
View this recipe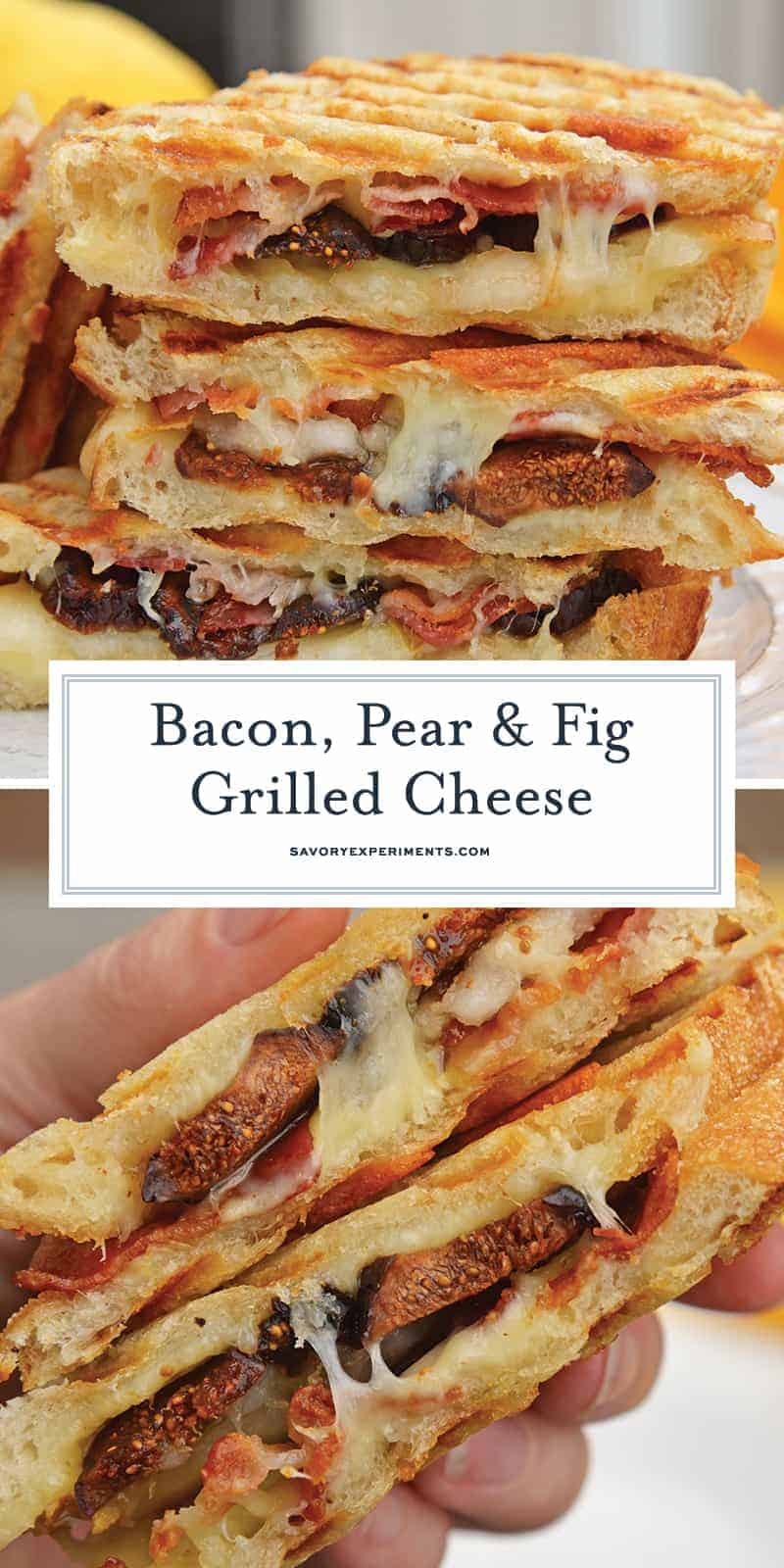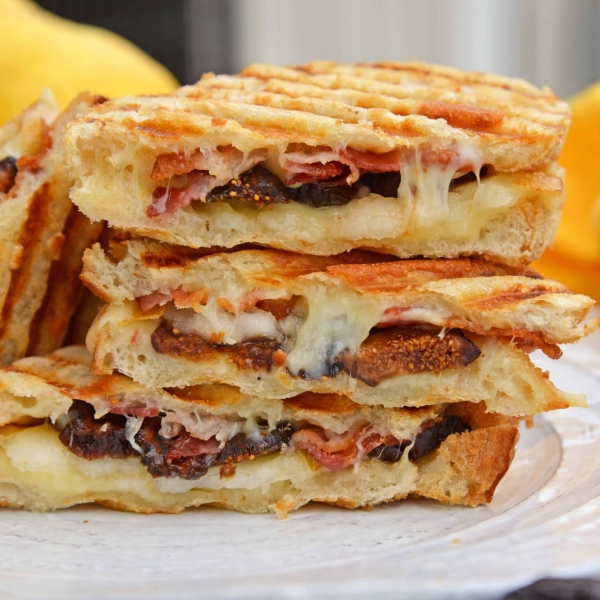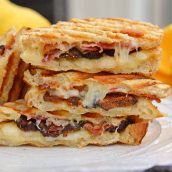 Bacon, Pear and Fig Grilled Cheese
This Bacon, Pear and Fig Grilled Cheese combines sweet, savory and gooey. The ultimate grilled cheese!
Ingredients
4

strips

bacon

cooked and cook into quarters

2

pears

thinly sliced

8

ounces

white cheddar cheese

thinly sliced

1

large round sourdough bread

cut into 8 uniform thickness pieces

4

dried figs

thinly sliced
Instructions
Assemble your sandwiches by evenly distributing bacon, pears, white cheddar cheese and figs onto one slice of sourdough bread. Top with a corresponding piece of sourdough bread.

Heat your panini press or frying pan. Coat with cooking spray or butter.

Mash grilled cheese until light brown. Cut and serve!

If you've tried this recipe, come back and let us know how it was!
Nutrition
Calories:
718
kcal
,
Carbohydrates:
83
g
,
Protein:
30
g
,
Fat:
29
g
,
Saturated Fat:
15
g
,
Cholesterol:
74
mg
,
Sodium:
1080
mg
,
Potassium:
401
mg
,
Fiber:
6
g
,
Sugar:
15
g
,
Vitamin A:
590
IU
,
Vitamin C:
4
mg
,
Calcium:
480
mg
,
Iron:
4.9
mg