Here is a killer grilled cheese recipe, your mouth will be watering just at the thought of it! This is a grilled cheese recipe recipe that will help you step up your grilled cheese game!


Pesto Grilled Cheese is a gooey grilled cheese recipe featuring Jarlsberg cheese, roasted red peppers, pesto, and pine nuts and sourdough bread!
I've been asked about Jarlsberg cheese a lot… so let me answer this question right off the bat. Jarlsberg cheese hails from Vestfold County in Norway and was developed by Swiss cheese makers, but is not Swiss Cheese.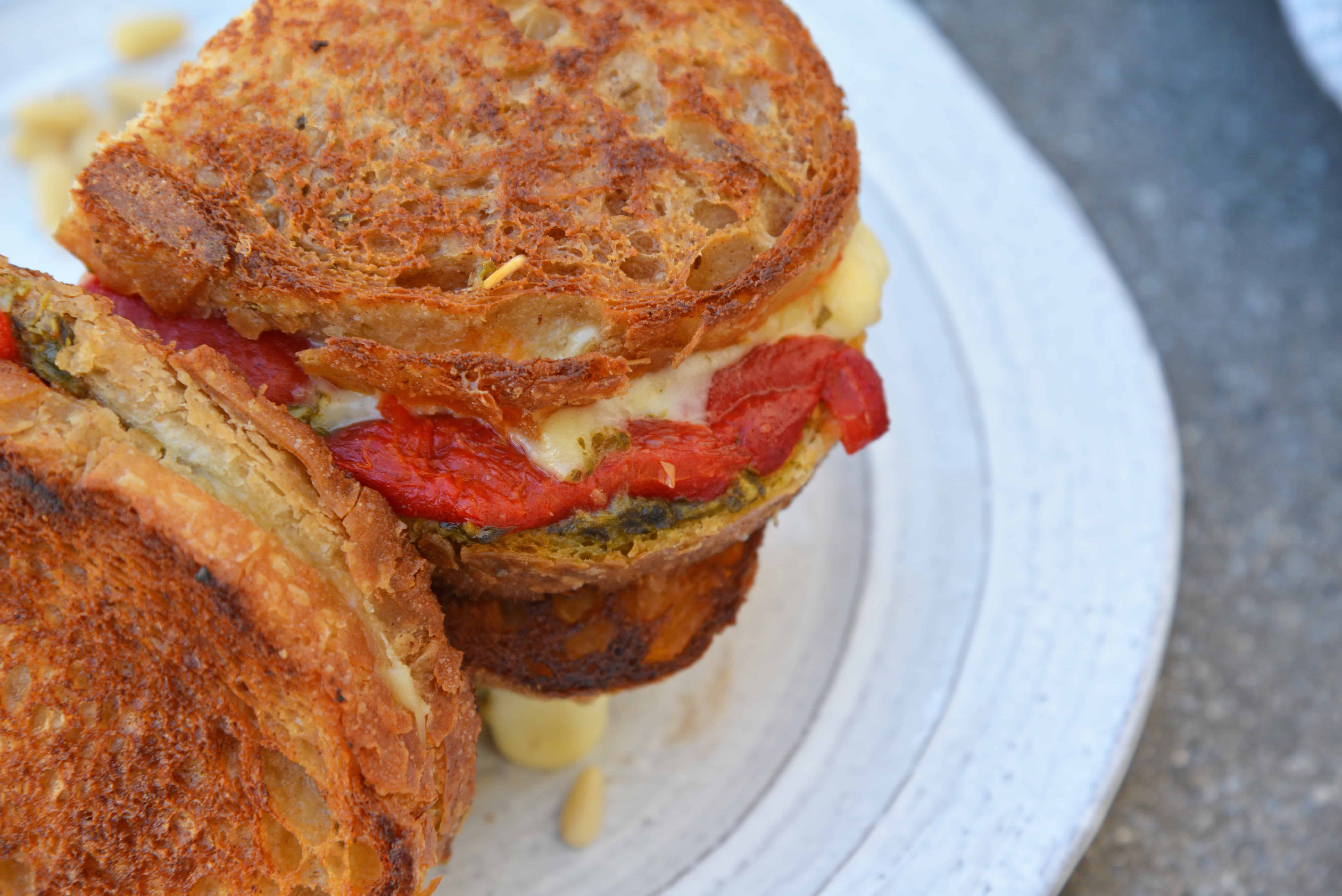 It is a part-skim cow's milk cheese with a sweet, nutty and buttery flavor and large "eyes" or holes. It melts beautifully, but also tastes magnificent cold on a cheese tray.
Although the flavors are different from Swiss, Swiss can certianly be used as a substitution for Jarlsberg.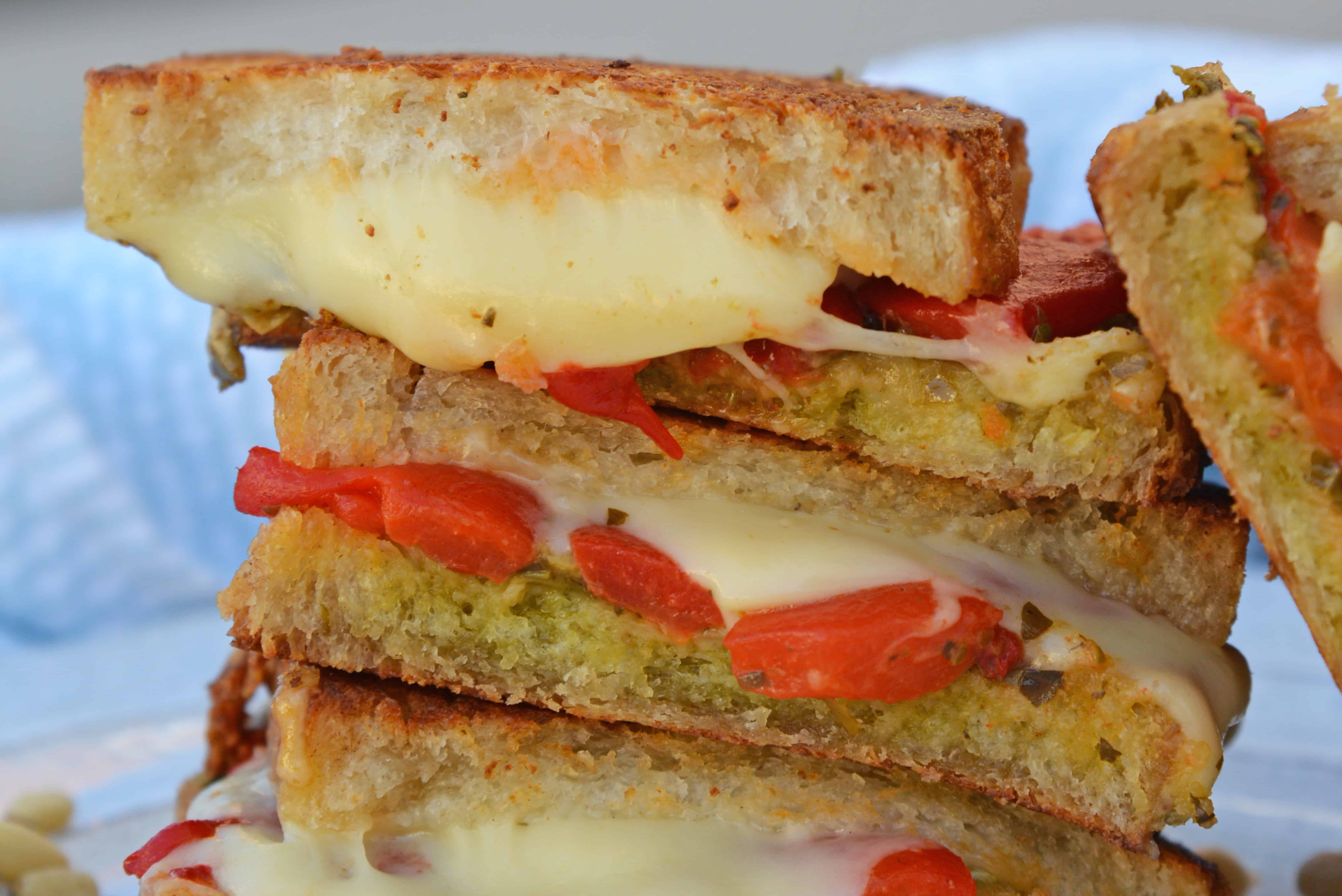 So is it a pesto panini or a pesto grilled cheese? Honestly, I'm not sure. There are even some grilled cheese purists that might argue that a real grilled cheese is just grilled cheese and pan fried.
Whether you call is a lovely vegetarian panini or a gourmet grilled cheese, it is a fabulous sandwich!
For this recipe you can make your own roasted red peppers or pesto, but store bought will also do. I used thick cut sourdough bread, but Italian is a great substitution. Serve with a bowl of piping hot tomato soup on a cold day or gazpacho if it is hot. Cut into strips for appetizer portions of this classic sandwich.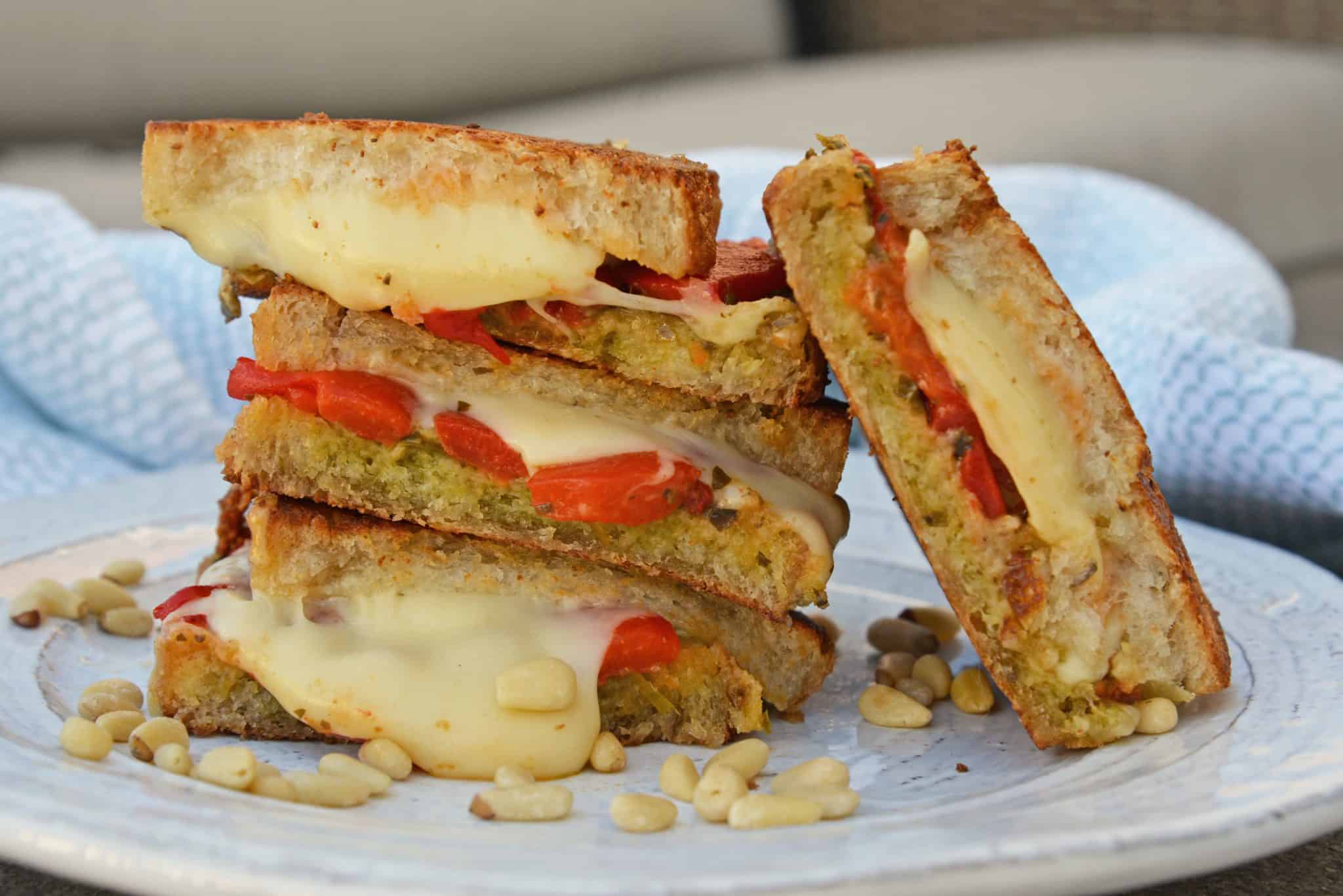 What is pesto? It is a sauce originating in Genoa made up of crushed garlic, pine nuts, salt, basil leaves, parmesan cheese and pecorino sardo blended with olive oil. Of course, many folks are allergic to tree nuts, so many pestos are made without nuts too.
If you loved this
vegetarian panini, make sure you check out these other easy panini recipes: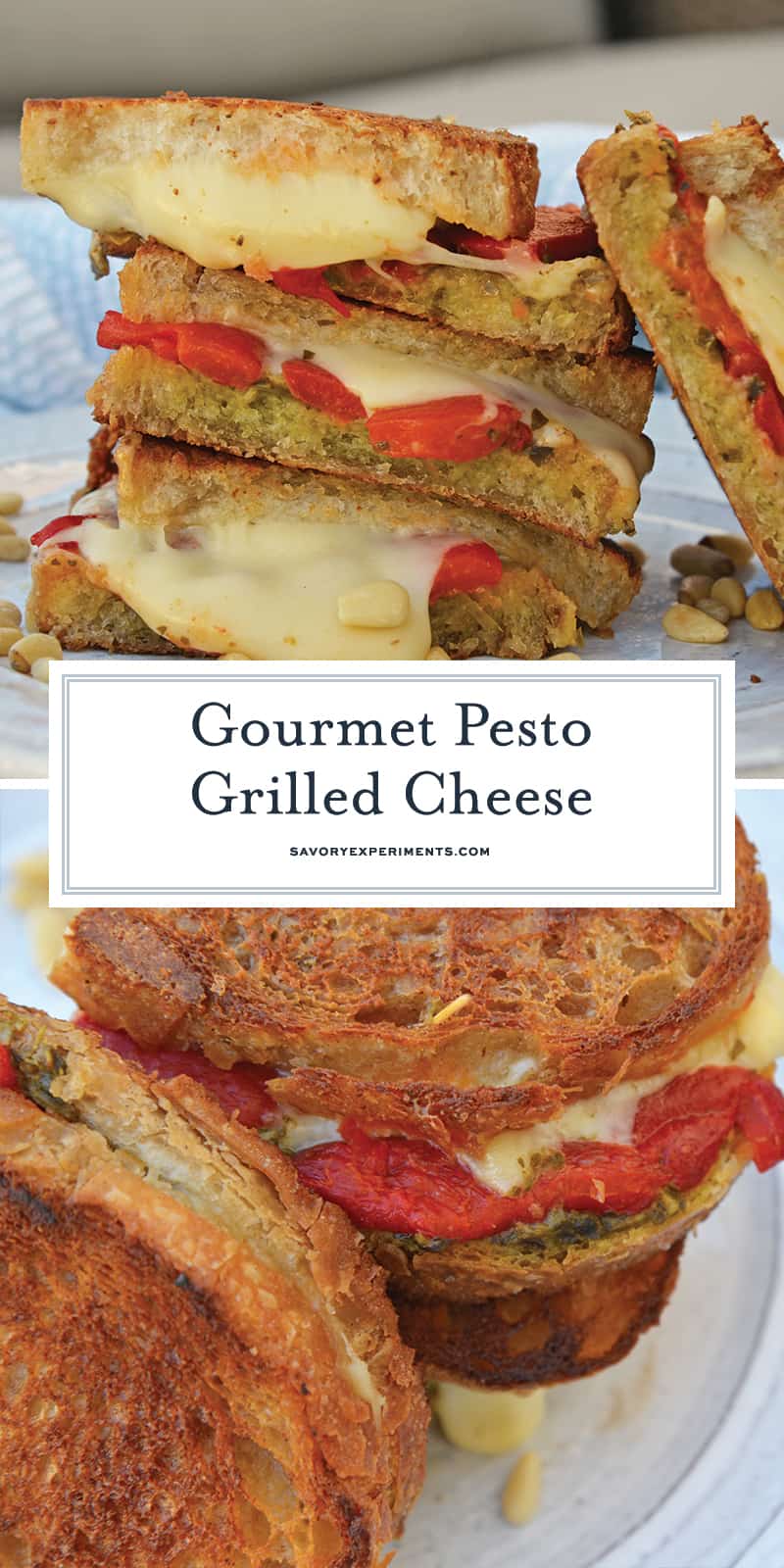 If you liked this Easy Dinner Recipe, snag a copy of my Easy Dinner Recipes Mini-Cookbook. Available here for only $0.99, here is a small collection of time-saving, hearty and satisfying dinners guaranteed to get you in and out in 30 minutes or less!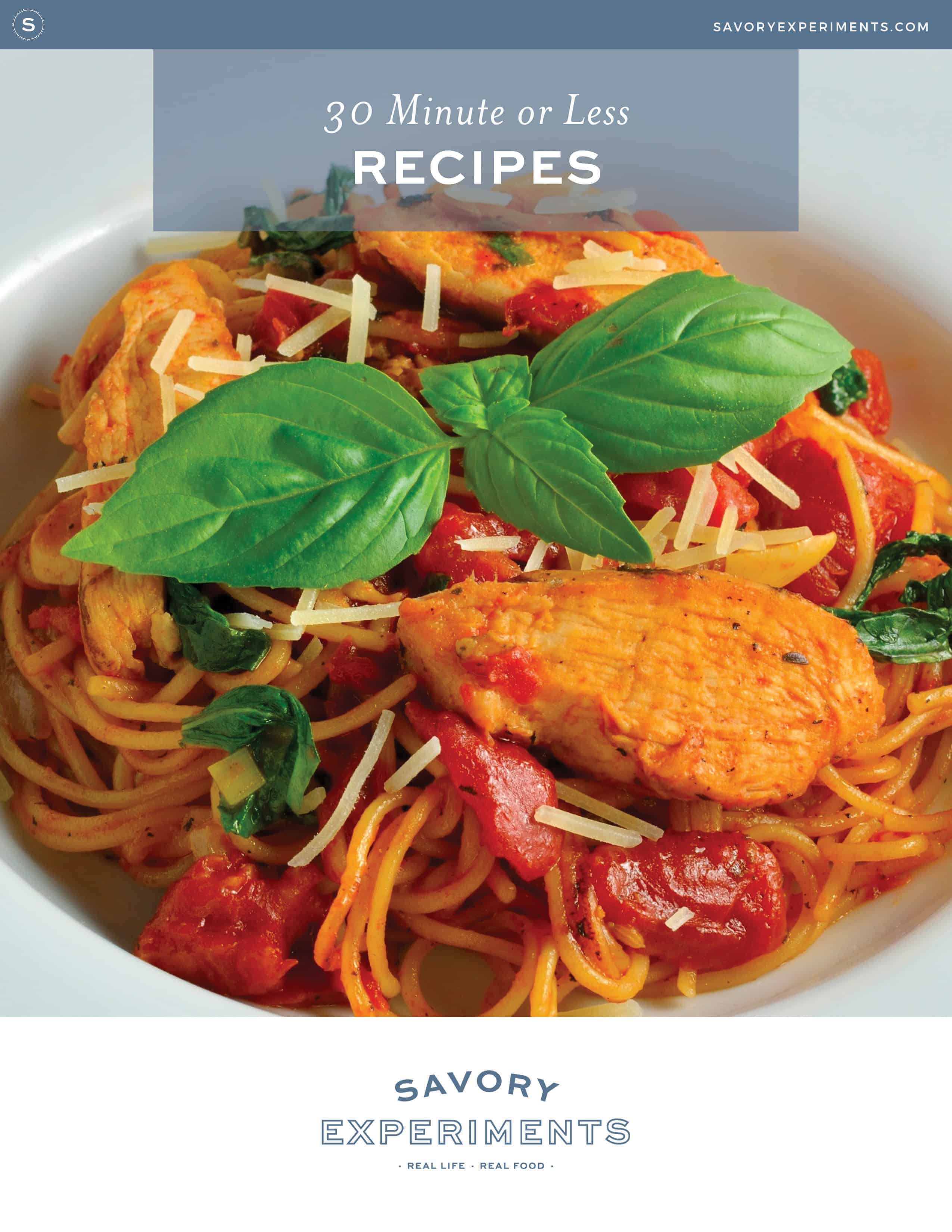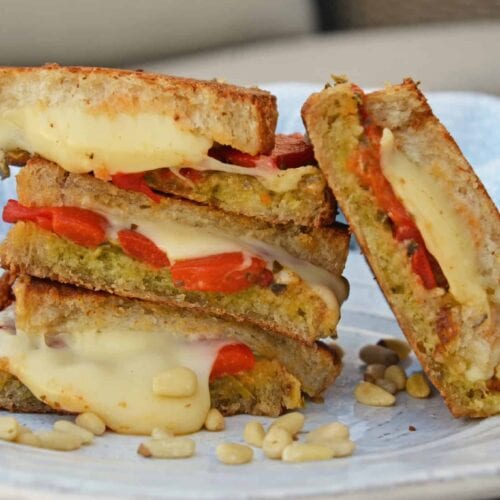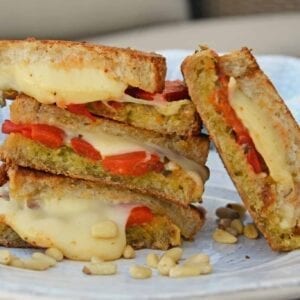 Pesto Grilled Cheese
Pesto Grilled Cheese is a gooey grilled cheese recipe featuring Jarlsberg cheese, roasted red peppers, pesto, and pine nuts and sourdough bread!
Instructions
Heat panini press or large skillet. Coat with cooking spray

Butter one side of each piece of bread. Spread 1 tablespoon pesto on the opposite side of 4 pieces of bread. Build sandwich with roasted red peppers, pine nuts and Jarlsberg® cheese. Top with a buttered slice of bread, buttered sides face out.

Place sandwich in panini press, applying pressure for a nice buttery crust. If preparing in a skillet, press down with a spatula.

Remove, cut in half and serve with tomato soup or gazpacho.

If you've tried this recipe, come back and let us know how it was!
Nutrition Facts
Pesto Grilled Cheese
Amount Per Serving
Calories 595
Calories from Fat 279
% Daily Value*
Fat 31g48%
Cholesterol 56mg19%
Sodium 682mg30%
Potassium 42mg1%
Carbohydrates 3g1%
Protein 15g30%
Vitamin A 930IU19%
Vitamin C 4mg5%
Calcium 433mg43%
Iron 0.4mg2%
* Percent Daily Values are based on a 2000 calorie diet.