This Pear and Apricot Crostini recipe is one of the best appetizer recipes out there. Be ready to be the star of the party when you serve these at your next get together!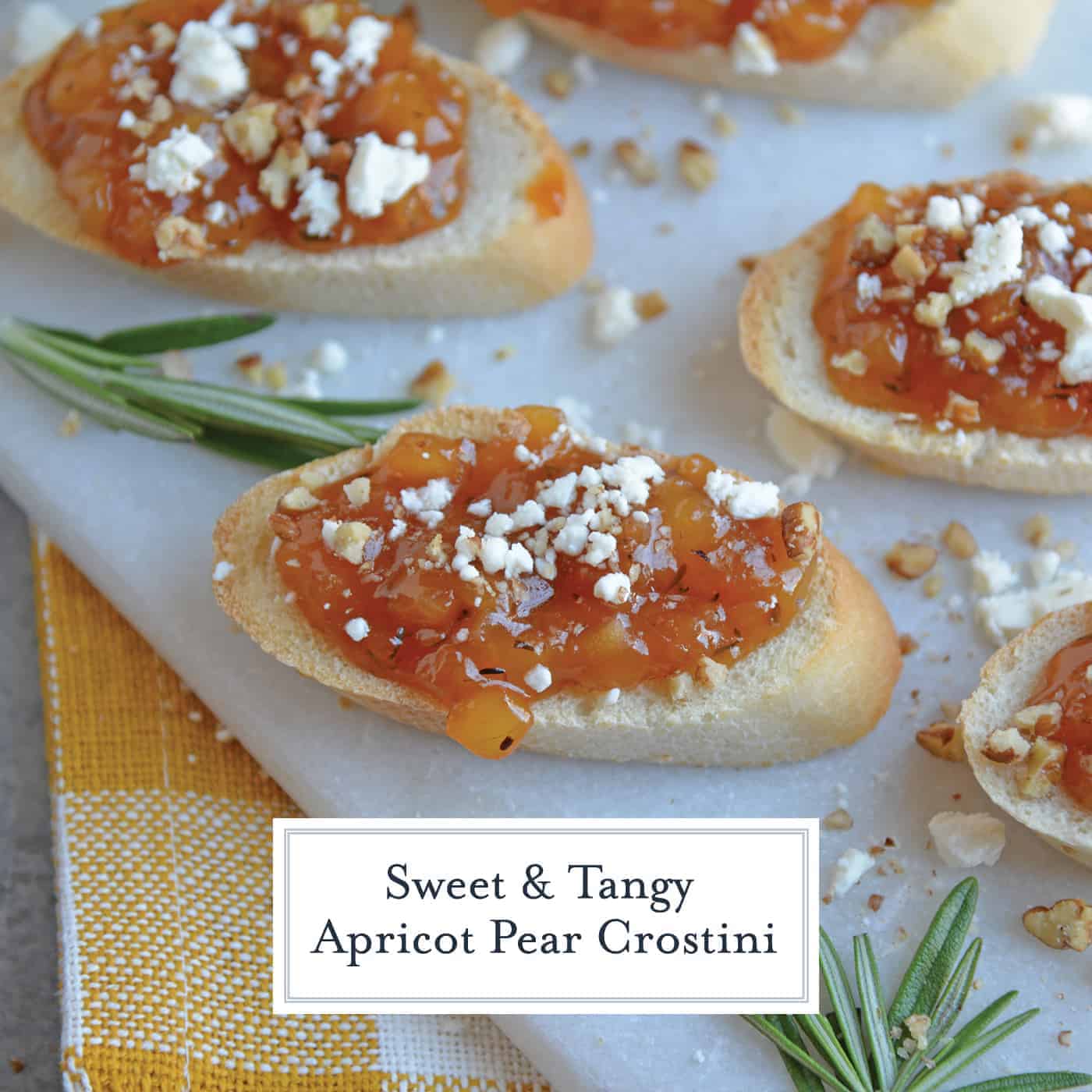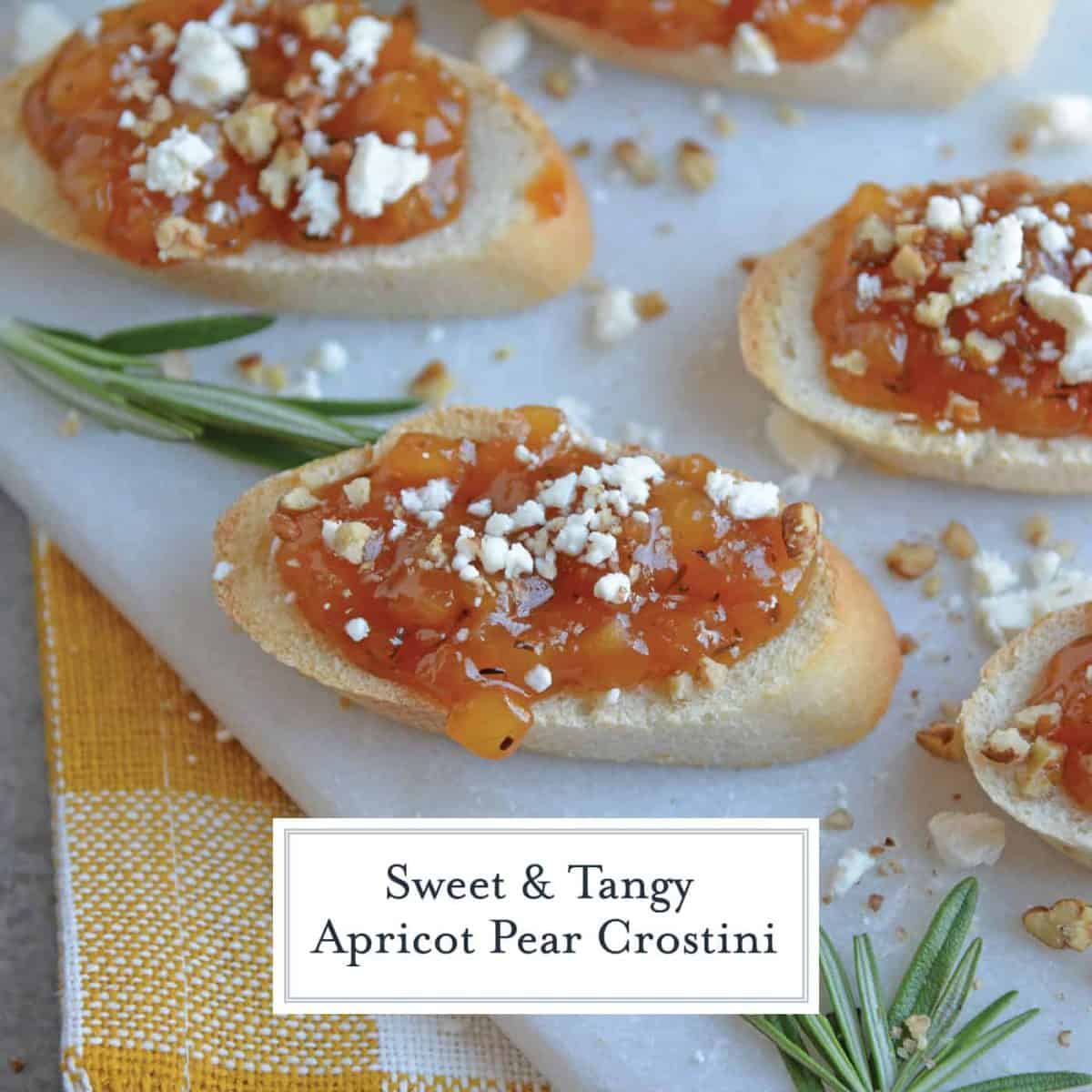 This Pear and Apricot Crostini is an appetizer made from homemade pear and apricot syrup over freshly toasted baguette and topped with blue cheese and pecans!
This isn't your average tomato crostini topper, oh no! This is pear and apricot simmered into a spiced syrup topping whole wheat baguette slices.
Blue cheese and pecans add an unexpected savory twist to sweet fruit. Making this into one delicious crostini recipe!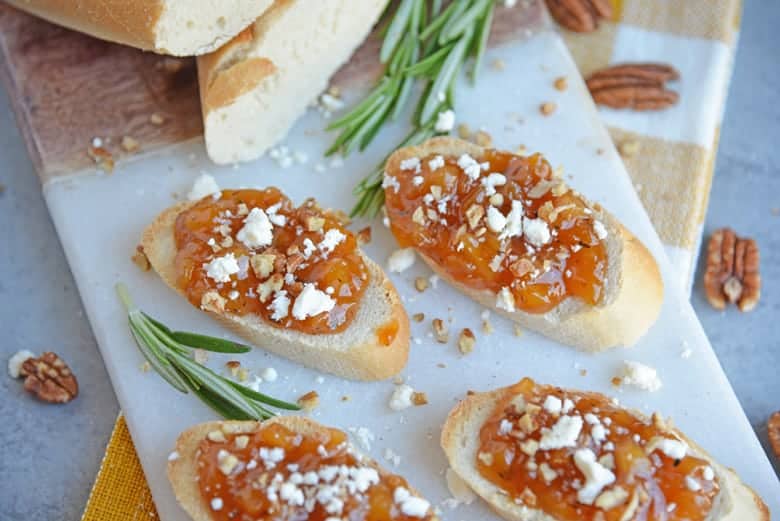 The word "crostini" means small pieces of toast and sometimes can get confused for bruschetta. While the two are similar, they have their differences and can easily be confused.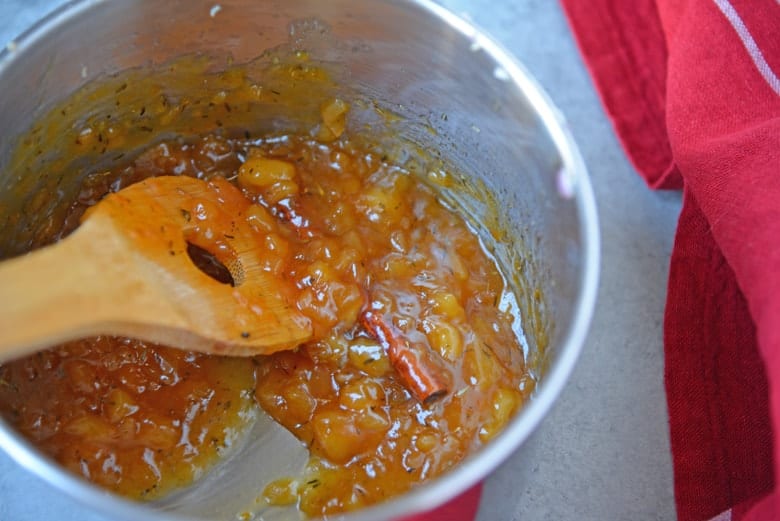 A crostini is typically made from smaller pieces of bread, usually a baguette, whereas bruschetta is usually made from a wider piece of bread, usually from a loaf.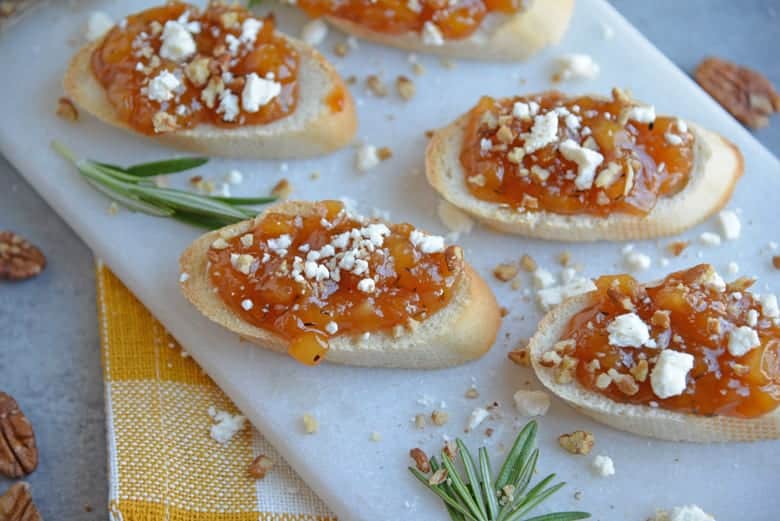 A crostini can be served hot or cold and bruschetta is usually always served hot. Also with a crostini the toppings are usually made with lots of rich flavors, and with bruschetta the main focus is on the oil and bread.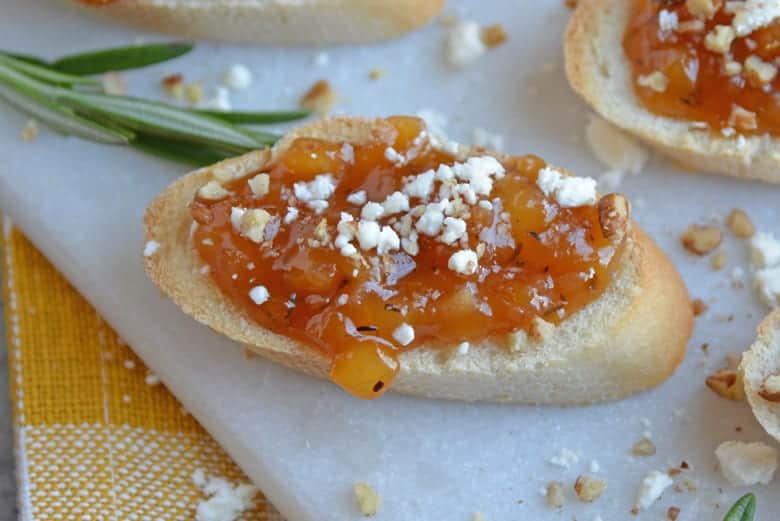 The good thing is they are both great to use as an easy appetizer recipe or even just as a snack if you feel like it!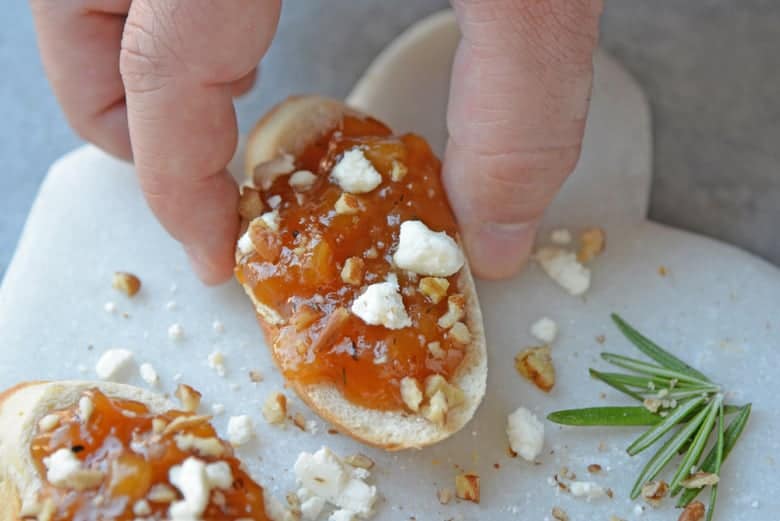 I don't know about you, but I love recipes that use apricots, especially because of the sweet and tangy flavor that they give.
Combined with a smooth and sweet taste from the pear and flavors from a couple other ingredients, this crostini recipe is sure to tantalize your taste buds!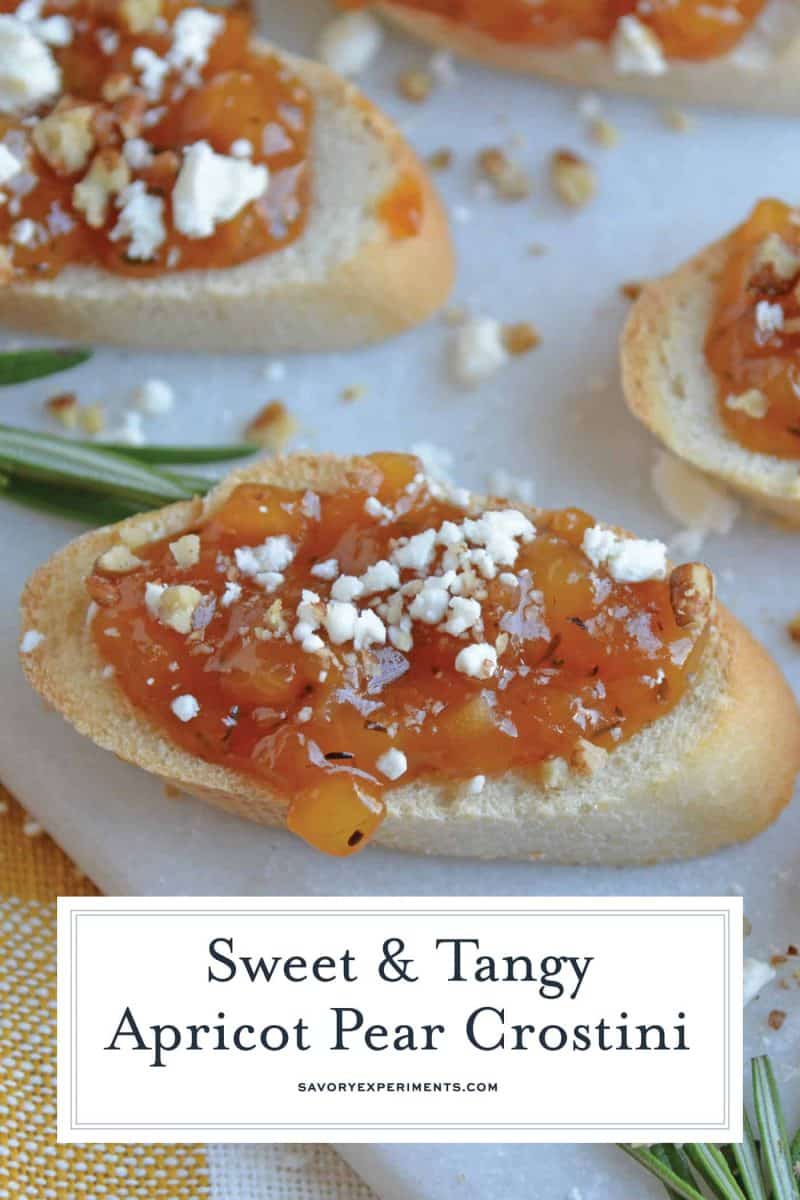 If you loved this recipe that use apricots, check out these other easy crostini recipes: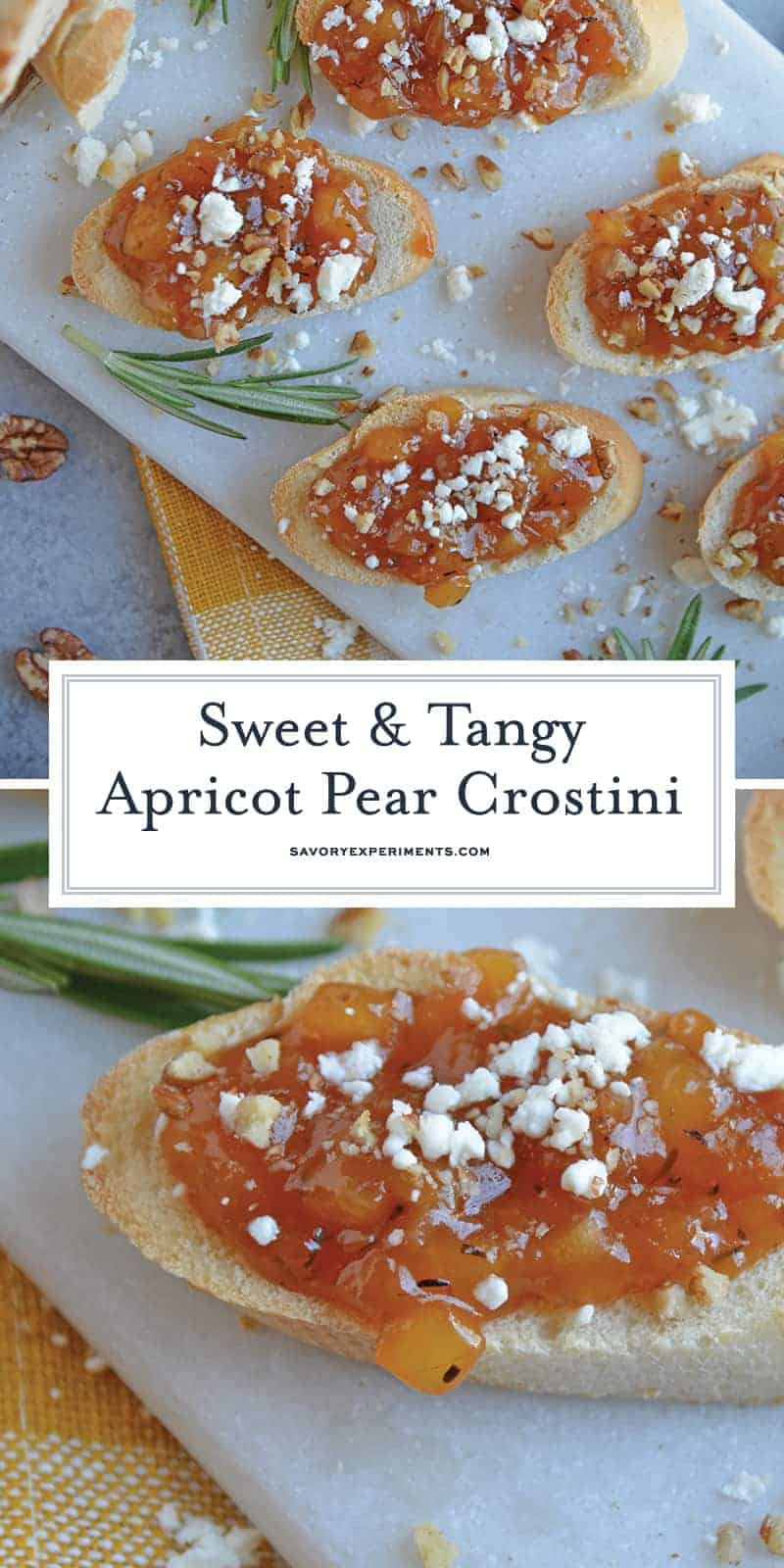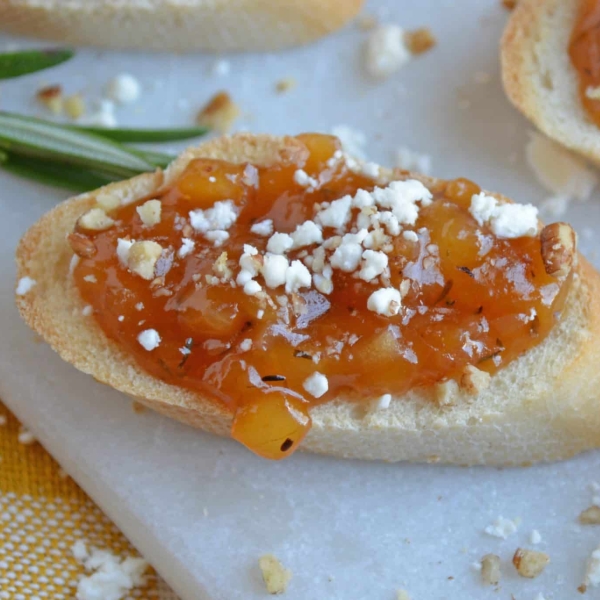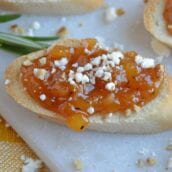 Pear and Apricot Crostini Recipe
Pears and sweet apricots make a sweet and savory mixture over crunchy crostini.
Instructions
Preheat oven to 300 degrees. Lay bread slices on baking sheet in a single layer. Bake for 10 minutes on each side and remove to cool.

In a heavy saucepan, heat olive oil over medium-high heat. Add shallots and saute until soft and opaque, approximately 3 minutes, stirring continuously.

Add pears, apricot preserves, agave nectar, water, cider vinegar, fine sea salt and cinnamon stick.

Lower temperature to medium-low and allow to simmer for 15 minutes. Moisture should evaporate and mixture will be sticky like jam.

Remove from heat and stir in thyme.

Spoon onto baguette slices. Top each with chopped pecans and crumbled blue cheese.
Notes
*If you don't care for blue cheese you can also use another soft cheese or crumbled feta.
Nutrition
Calories:
109
kcal
,
Carbohydrates:
13
g
,
Protein:
1
g
,
Fat:
5
g
,
Saturated Fat:
1
g
,
Cholesterol:
2
mg
,
Sodium:
100
mg
,
Potassium:
89
mg
,
Fiber:
2
g
,
Sugar:
8
g
,
Vitamin A:
40
IU
,
Vitamin C:
1.9
mg
,
Calcium:
34
mg
,
Iron:
0.4
mg