Pub Cheese Dip is a fun and flavorful dip to serve as an appetizer or starter at a party! Sharp cheddar cheese, cream cheese, spices, horseradish, bacon, scallions, and beer make up this mouth watering pub cheese recipe!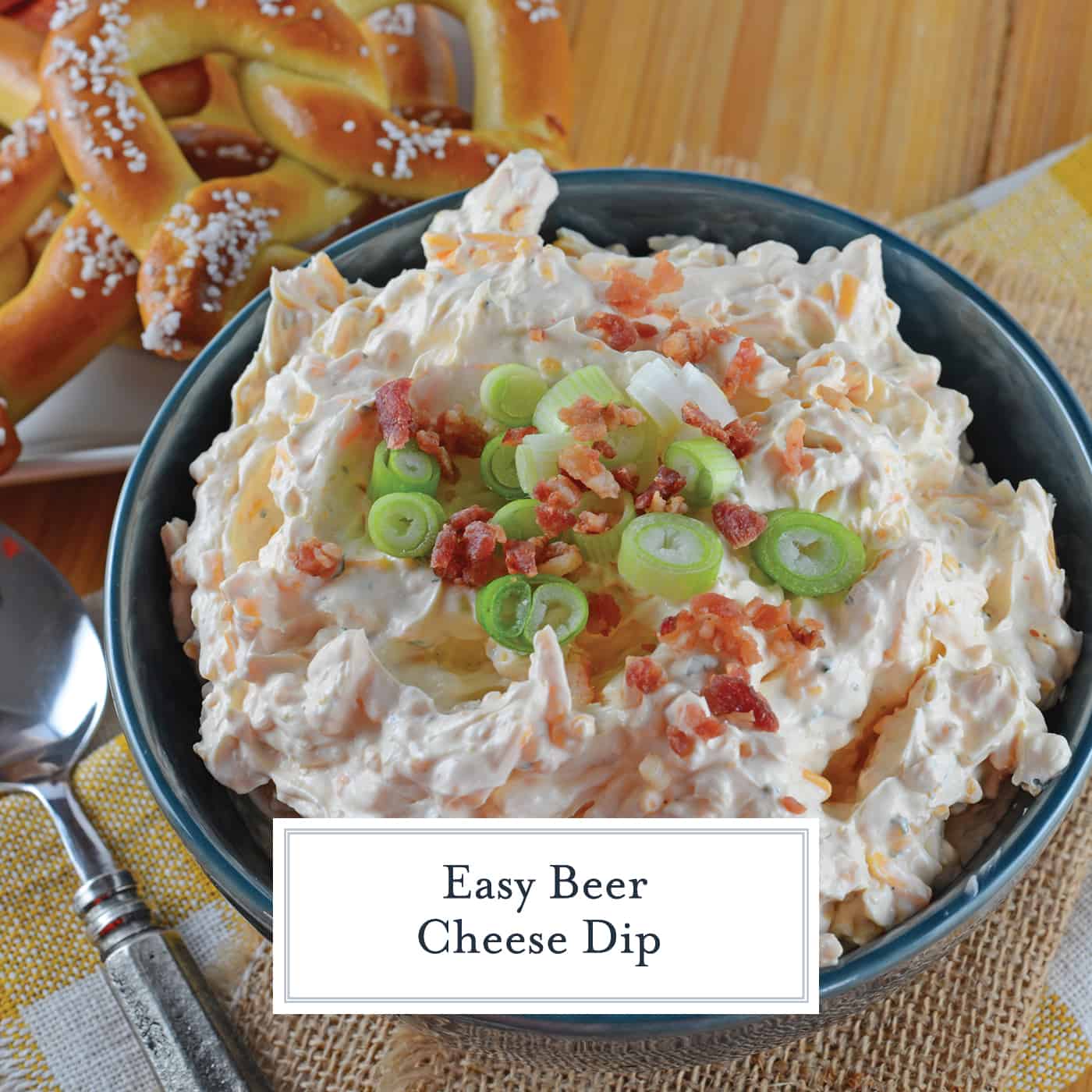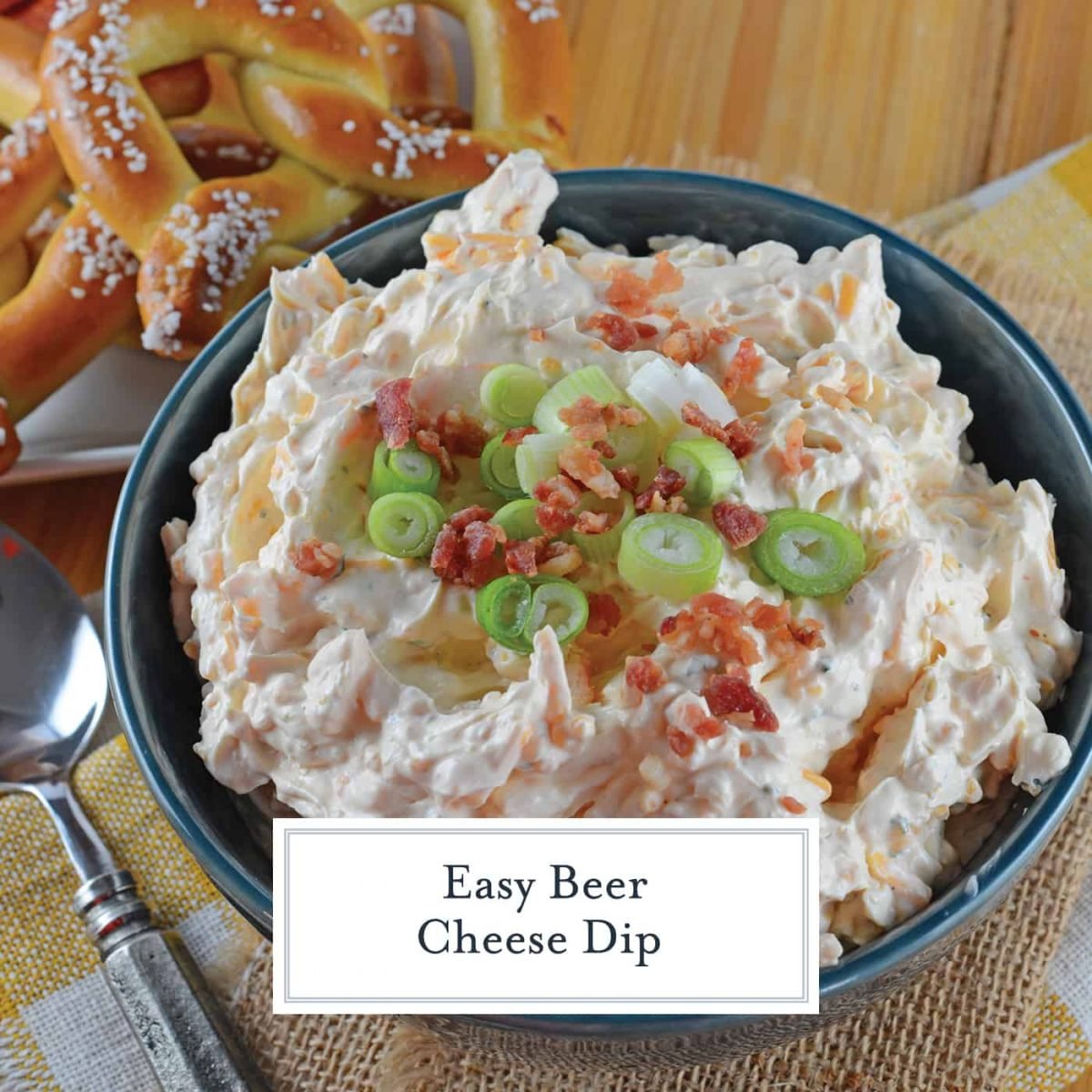 Serve with pretzels or other dippers for a fabulous game day spread!
Beer Cheese Dip is an easy, spreadable, zesty pub cheese great for serving with soft pretzels, crackers, carrots, celery sticks or chips!
Beer Cheese Dip! One of my favorite things about going to a pub or brewery is the pub cheese. I like the dip itself, but I also LOVE the soft pretzels. Soft pretzels are my weakness.
If you've been to the gourmet cheese section at your grocery store, I'm sure you've seen tubs of overpriced pub cheese.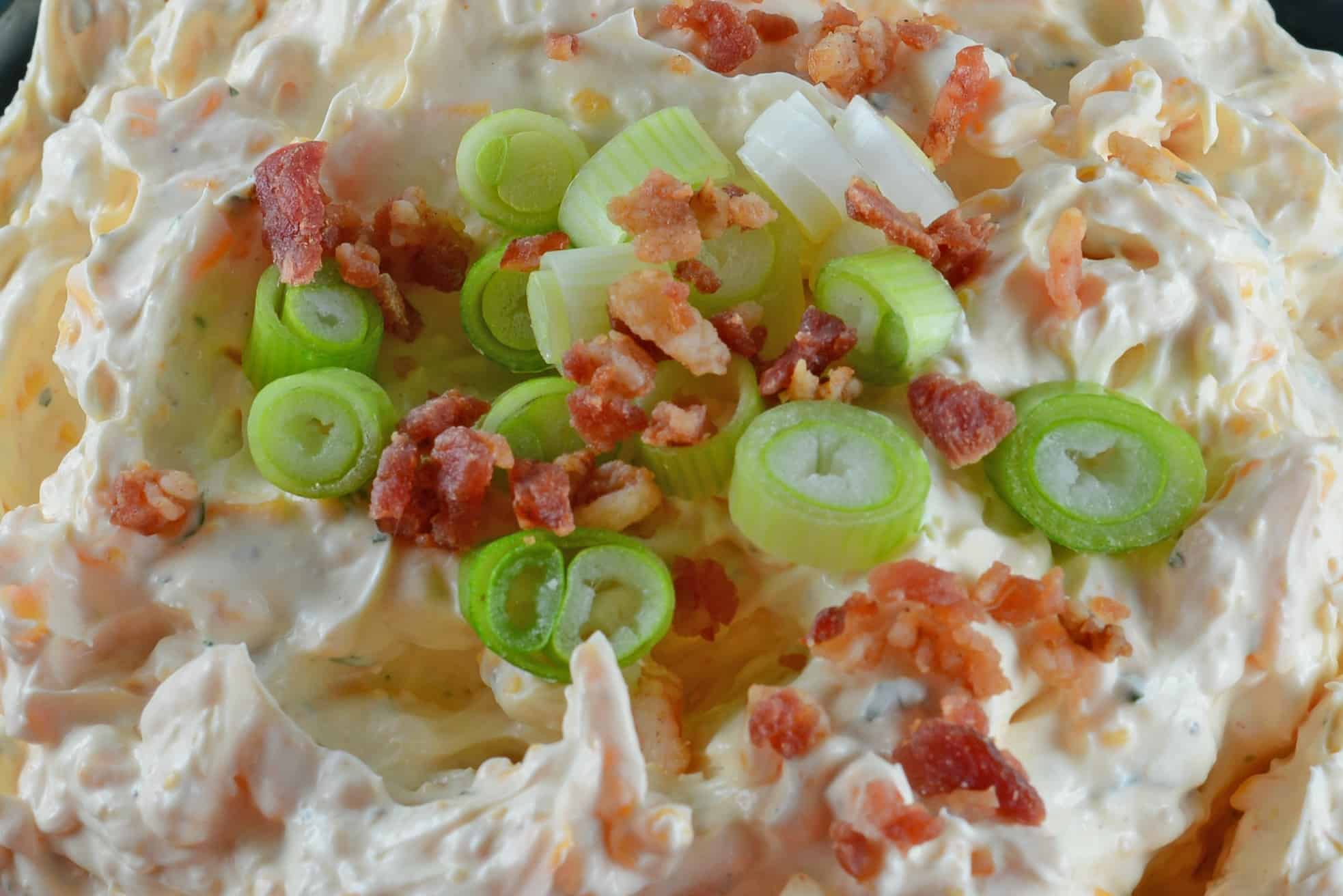 Usually flavored with beer or wine, the whole concept of cheese spread was developed in England by pubs that didn't serve whole meals, but wanted something extra with their pretzels and chips that was cheap and easy.
Fact: Some say it was discovered in Irish pubs… but who knows…
What is pub cheese?
The origins of pub cheese make it laughable that it is now considered gourmet and so darn expensive. Pub cheese gets most of its flavor from the alcohol and cheese selections, so choose wisely.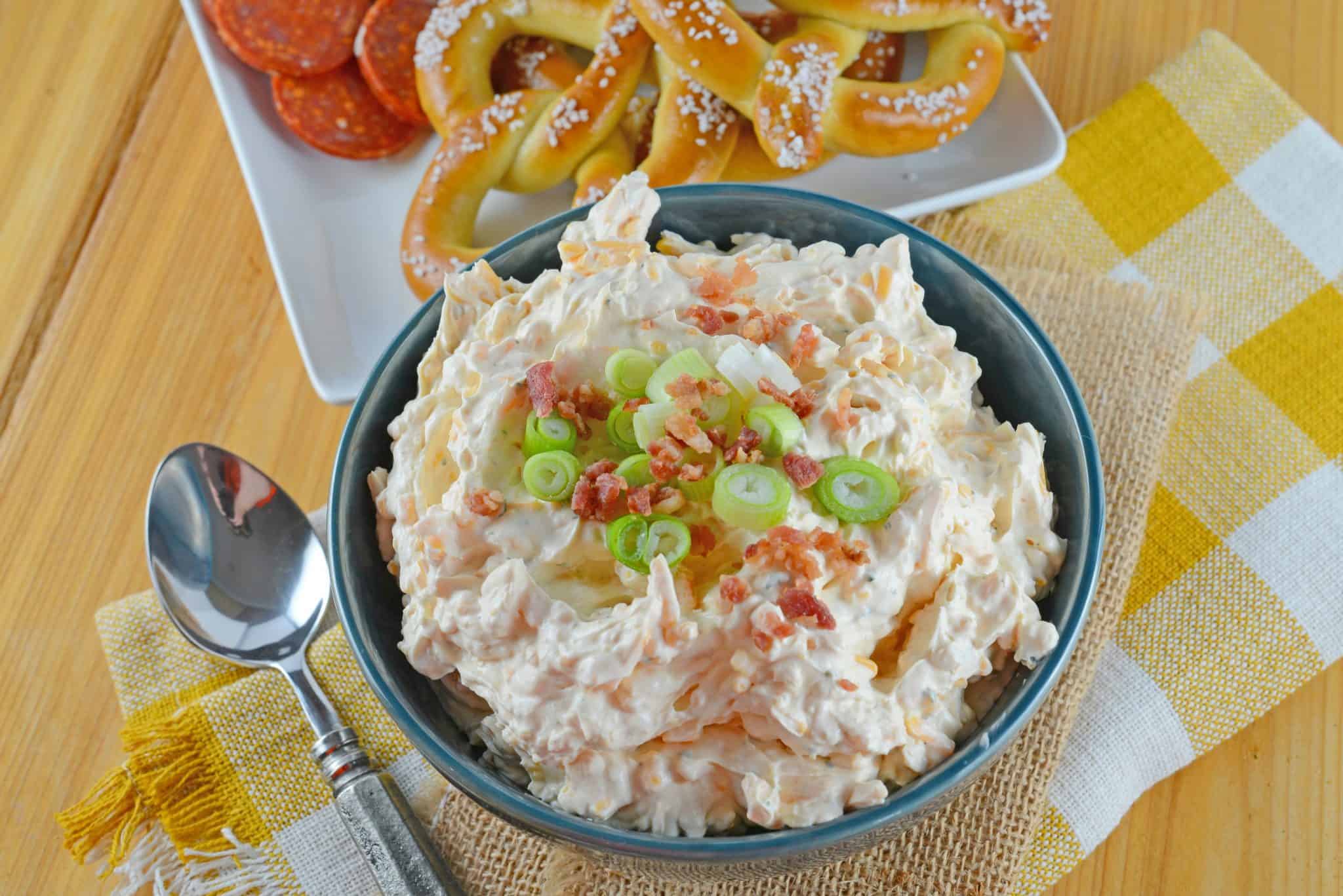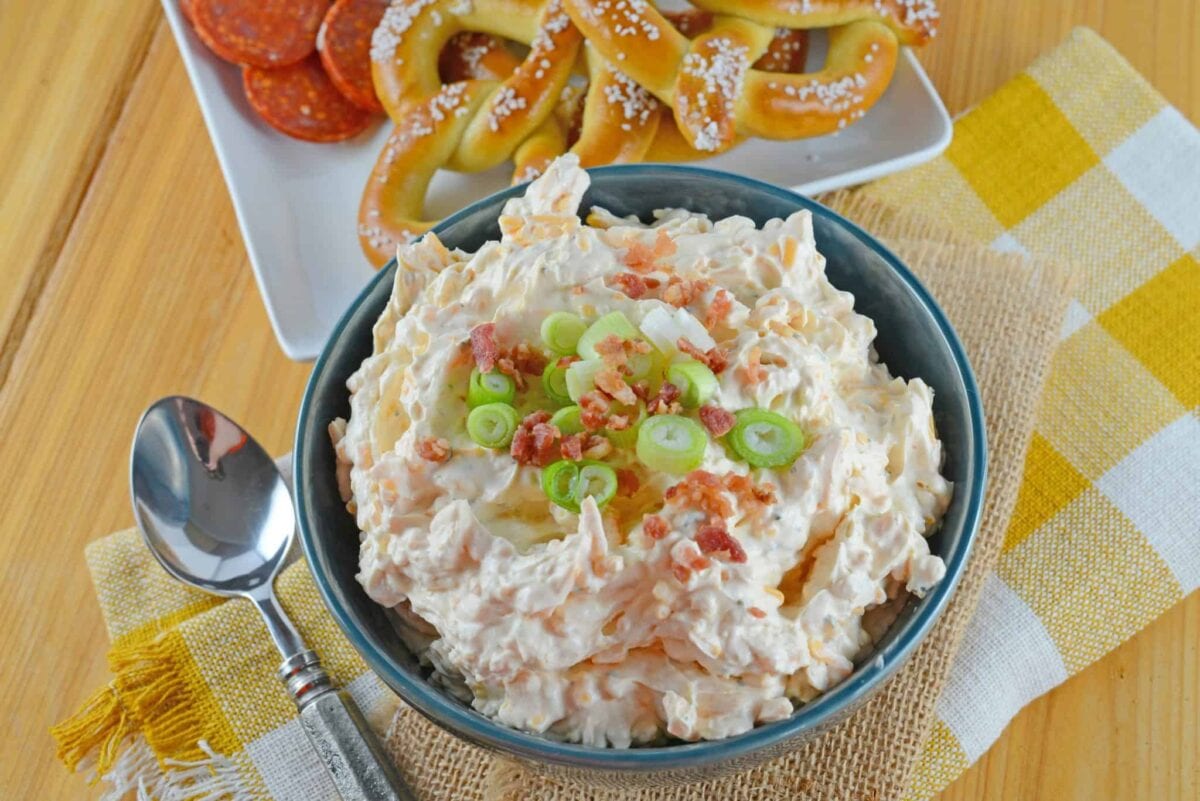 Beer cheese dip became even more popular after Brittany and Jax of Vanderpump Rules decided they wanted to start their own beer cheese company. I saw a huge spike in Google searches after those episodes aired!
Little fact about me…. I am a total Andy Cohen, Bravo super fan. Since I work from home, I keep it on in the background and refer to the characters as my "friends". They basically replace any workplace colleagues and water cooler talk I miss from being in an office and around adults.
Although I usually prefer to sip on a light beer, I use something with more body and flavor for cooking.
PRO TIP: If you are serving to children or pregnant woman, you can simmer the beer prior to adding to burn off alcohol or just substitute with water. Allow to cool before combining into mixture.
If you prefer to not use alcohol at all, you can substitute water, but be mindful this will directly impact the flavor, so you may want to add more horseradish or other spices.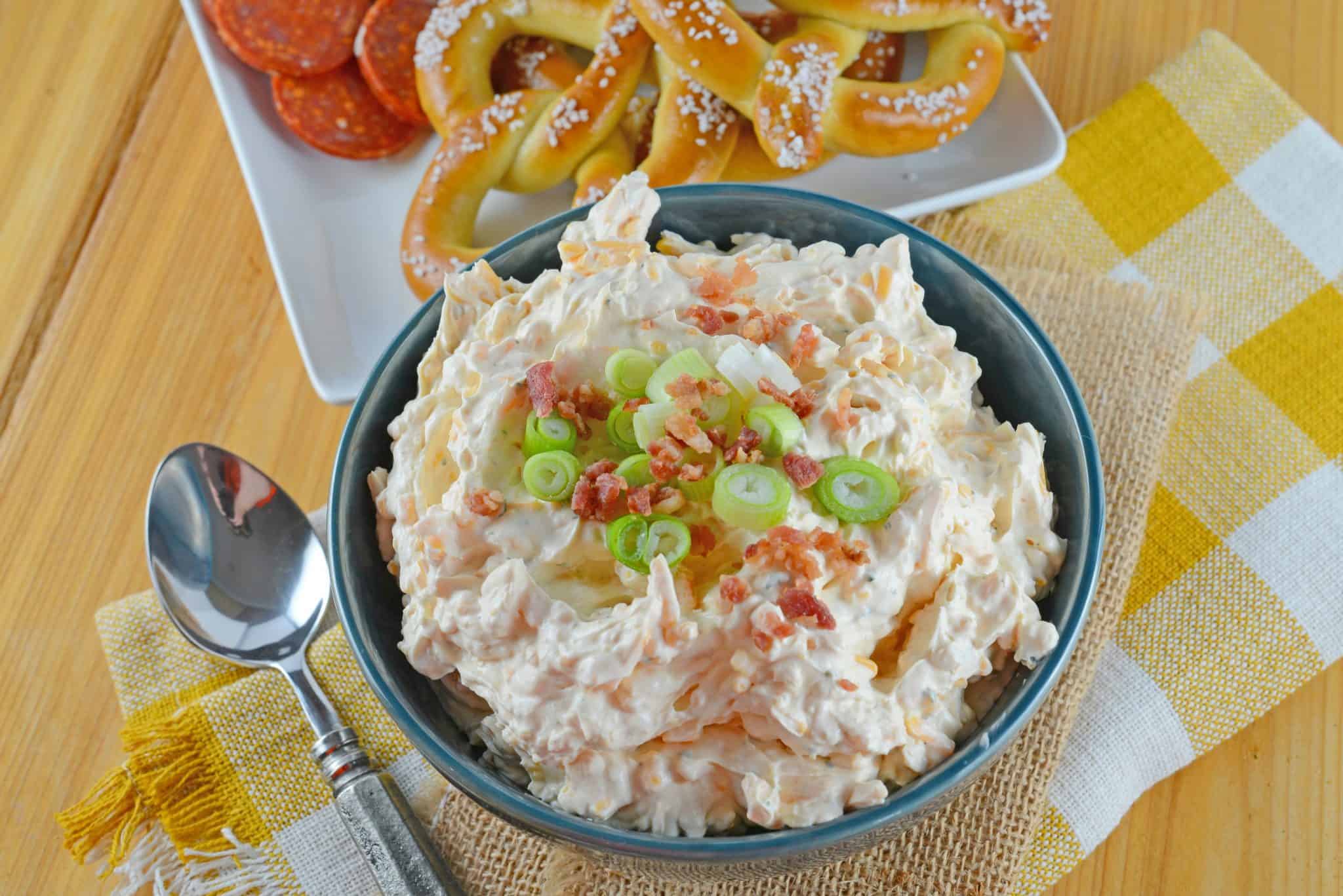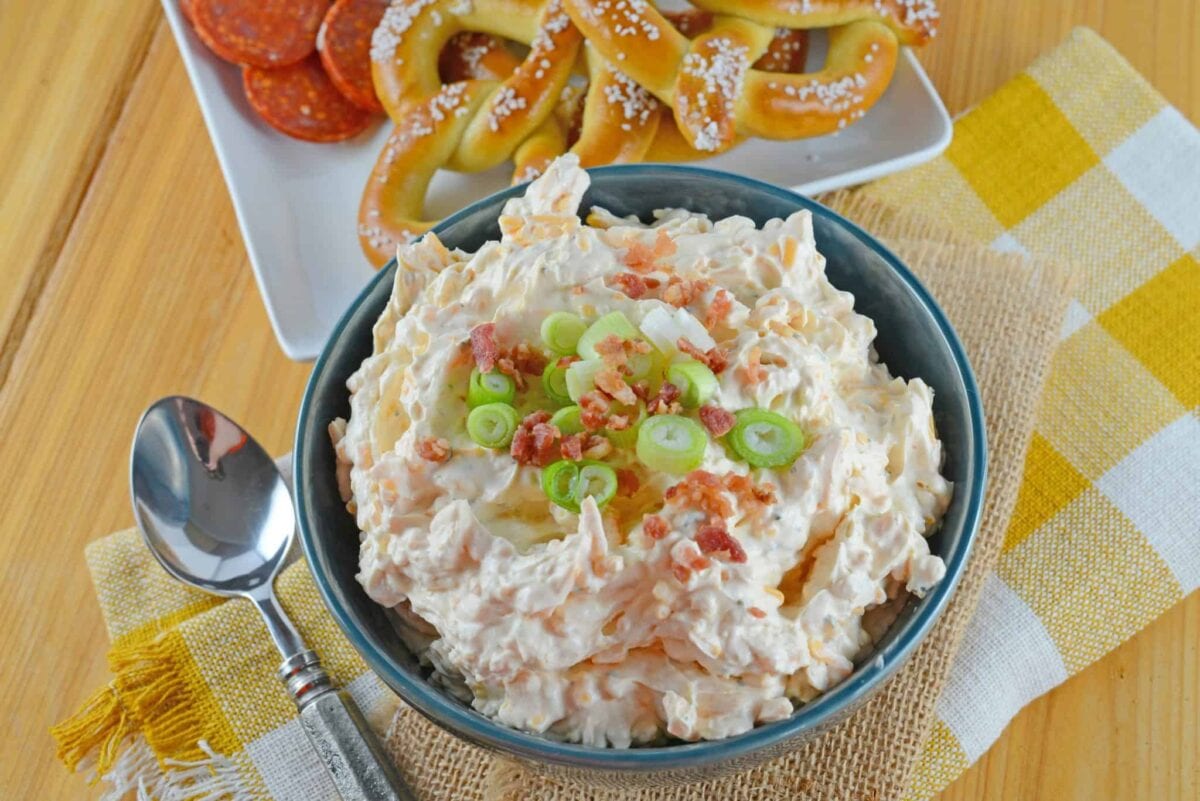 Although cheddar is the standard for pub style beer cheese dip, you can also change the flavor by using a different type of cheese, even flavored cheese like a horseradish cheddar or another artisan blend.
Serve your Pub Cheese Dip with hard pretzels, soft pretzel bites, chips, crackers, celery or carrot sticks or with a fresh baguette. You can even make things a little fancier by serving in ramekins for individual appetizers.
If you liked this beer cheese pretzel dip, check out these other easy party dip recipes: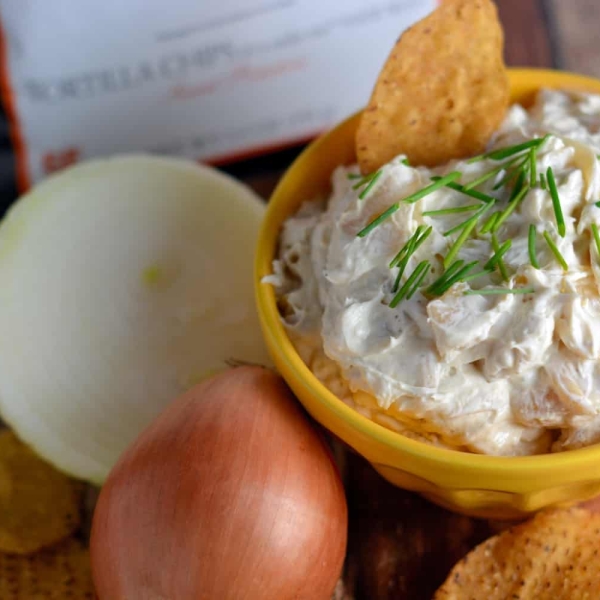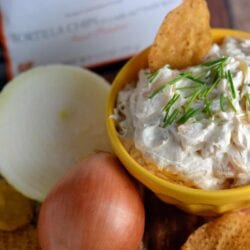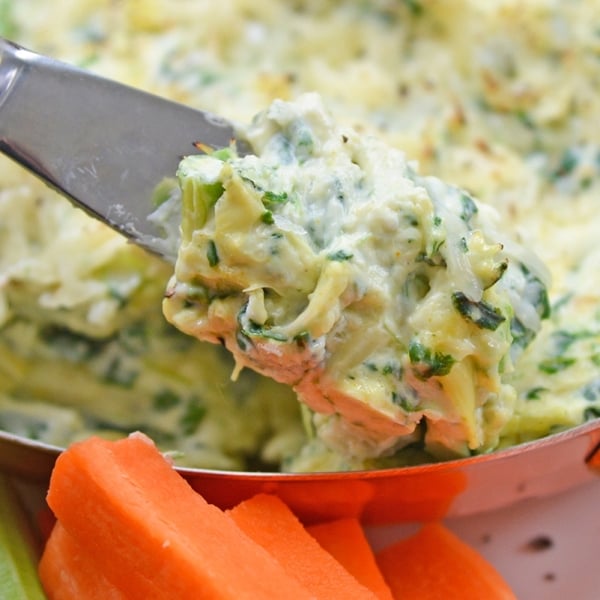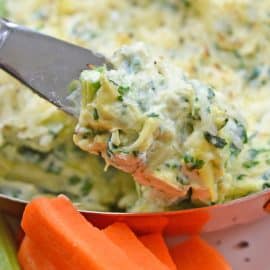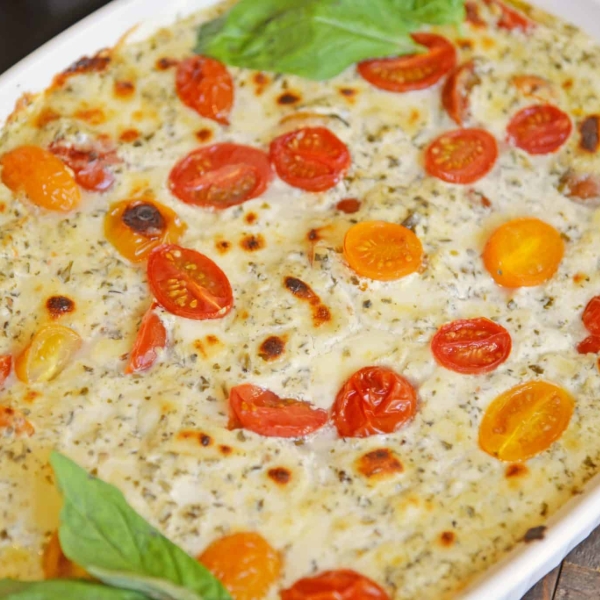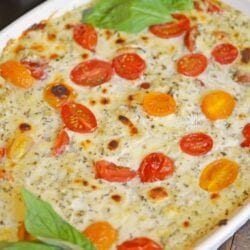 Hot Caprese Dip
Hot Caprese Dip is a party appetizer favorite using mozzarella, pesto and sweet tomatoes. An easy appetizer your guests will love!
See The Recipe!
Tools for making Pub Cheese Dip:
Ramekins– I like giving folks their own individual sauce cups. Then you don't have to worry about double dipping!
Ramekins are also great for ingredient preparation and baking mini soufflés.
Mini Food Processor– I use this thing daily! It is by far my most used kitchen appliance, it is small and I throw all the parts into the dishwasher, well except the base and cord, of course!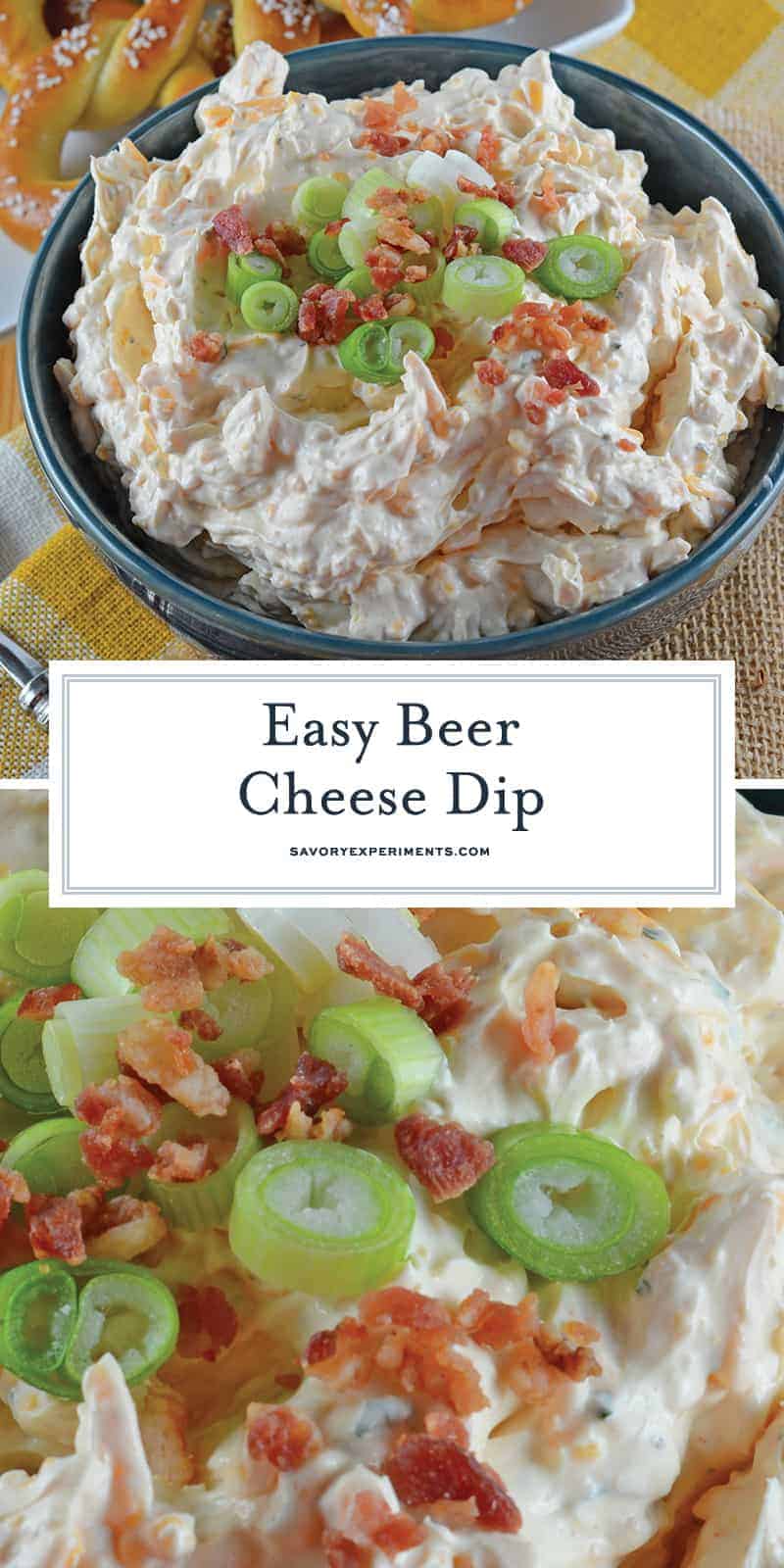 Questions you might about about how to make homemade pub cheese:
My dip came out watery, not thick, why?
I get this question A LOT, but I also get plenty of folks who have successfully made the dip as pictured. My recommendations are:
Pulse the mixture, don't pulverize it
Make sure you aren't adding too much beer (use a measuring cup!)
Drain your horseradish so it isn't soupy
Use a full fat cream cheese with some body and thickness.
Can I freeze beer cheese?
I suppose you can, but I don't typically like cream cheese bases when they thaw. They tend to get a little watery and the flavors muted.
Can I make pub cheese ahead of time?
Sure! Make it up to a day in advance, just make sure to stir before serving.
How long does pub cheese last?
Since this beer cheese recipe doesn't have any additives or preservatives, it won't last as long as the store bought versions. If kept refrigerated, it will keep for about 5 days. But I doubt it will last that long because it is so good!
Pub Cheese tastes great with everything from pretzels to potato chips. Also use leftovers to spread on a sandwich or make a killer grilled cheese!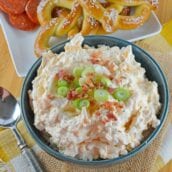 Beer Cheese Dip Recipe
Beer Cheese Dip is an easy, spreadable, zesty pub cheese great for serving with soft pretzels, crackers, carrots, celery sticks or chips!
Instructions
Place sharp cheddar, cream cheese, beer, dry mustard, cayenne, horseradish, parsley and sea salt into a food processor and pulse until blended. Mixture may have some small lumps.

Refrigerate for 20-30 minutes before serving.

Garnish with crumbled bacon and scallions.

If you've tried this recipe, come and let us know how it was!
Notes
Use prepared horseradish or a horseradish sauce, it depends on the flavor you desire.
Nutrition
Calories:
249
kcal
,
Carbohydrates:
2
g
,
Protein:
9
g
,
Fat:
22
g
,
Saturated Fat:
13
g
,
Cholesterol:
71
mg
,
Sodium:
686
mg
,
Potassium:
79
mg
,
Sugar:
1
g
,
Vitamin A:
915
IU
,
Vitamin C:
0.9
mg
,
Calcium:
241
mg
,
Iron:
0.4
mg