We all loved Dunkaroo snacks as a kid, so why not make it at home with and/or for you and your kids or friends and family now?!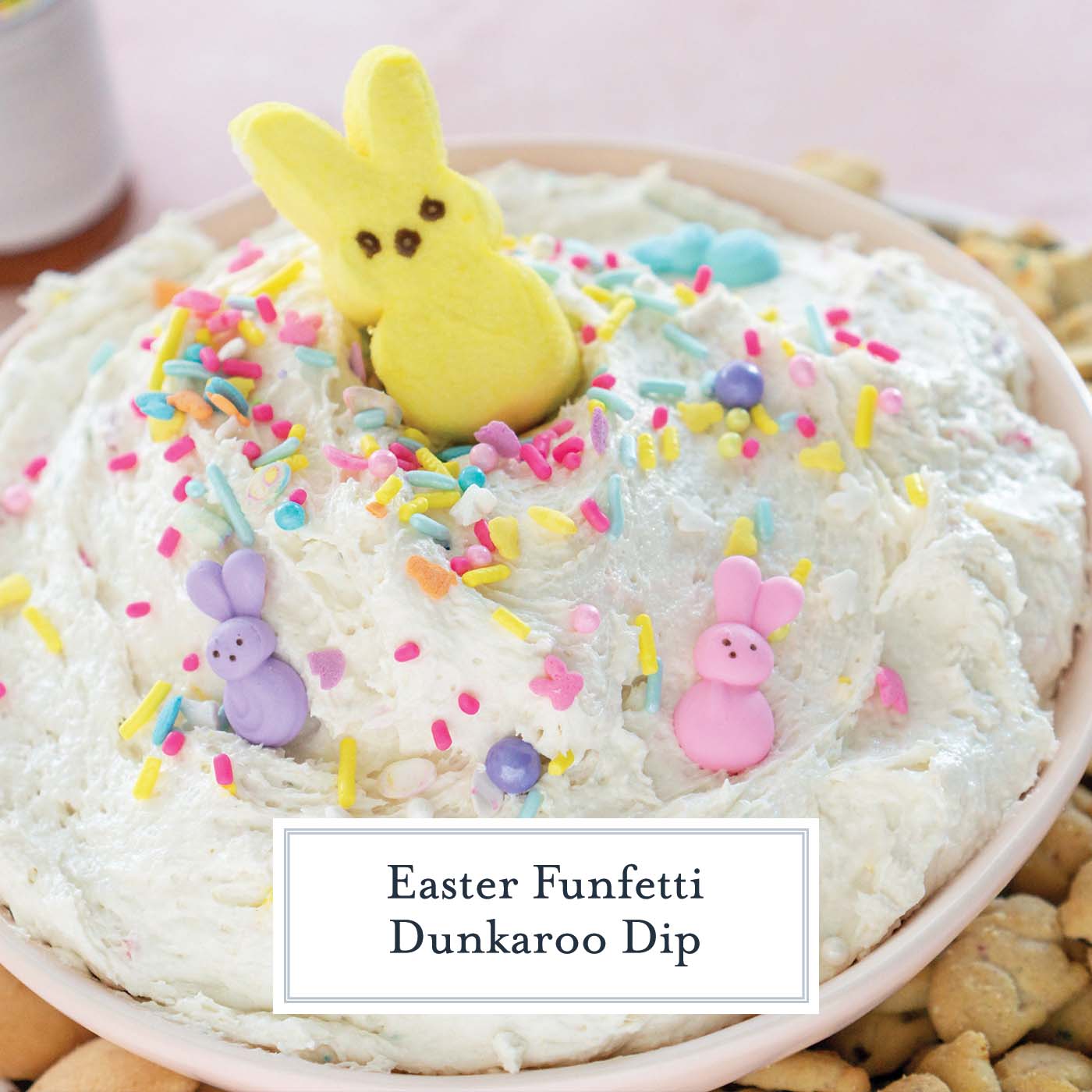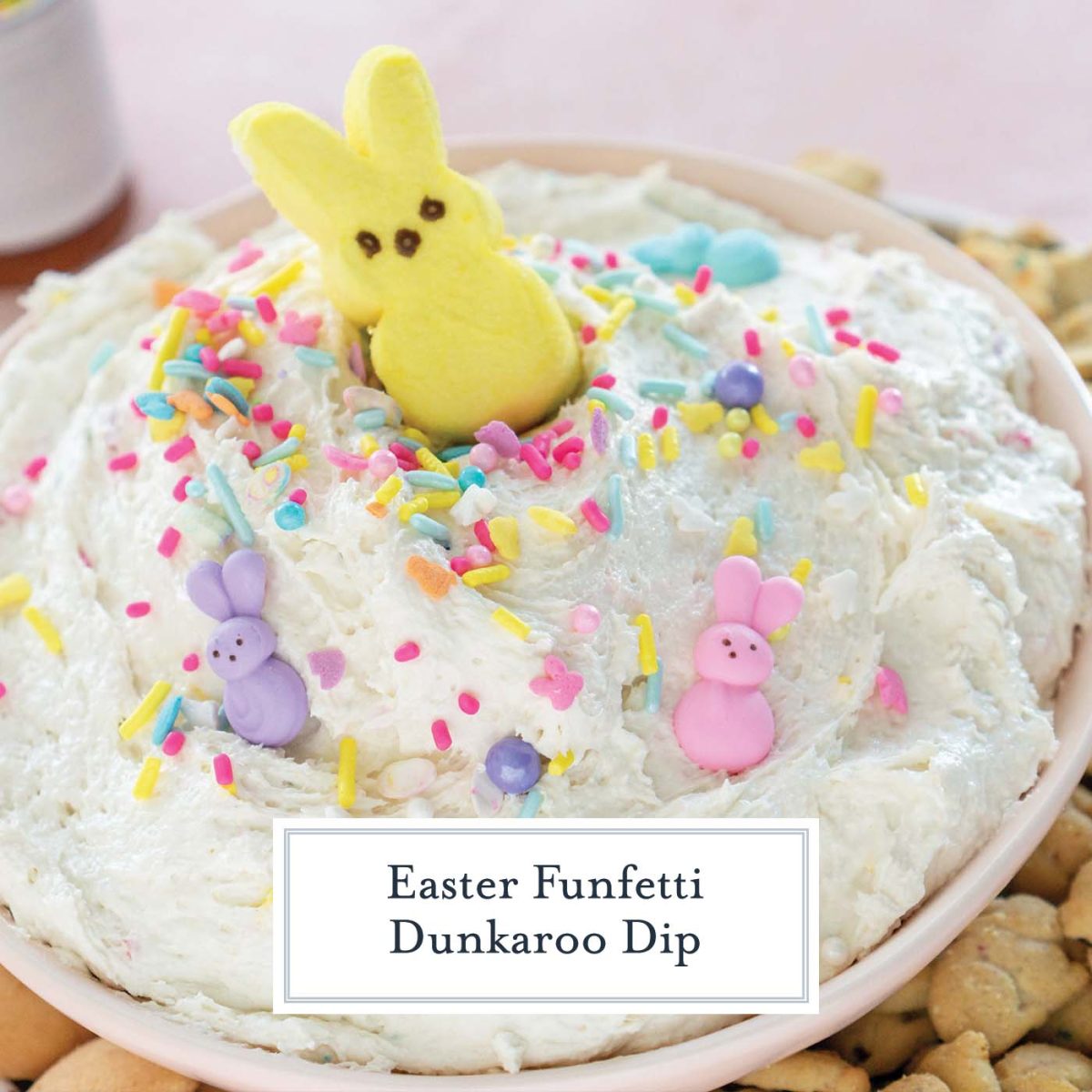 Make this classic childhood dessert in just minutes! Easter Dunkaroo Dip is easy to make, the perfect Easter dessert, and tastes just like you remember.
Made with Funfetti cake mix, whipped topping, yogurt, and festive sprinkles, this easy dessert dip is perfect to serve at a party, holiday dinner, or just because!
Copycat Dunkaroo Dip
Is it Thursday? … because we are getting ready to throwback and take a walk down memory lane!
This is one of my favorite childhood snacks. Not only is it deliciously addicting, but there was also nothing more exciting than finding one of these favorite dippers in my lunchbox as a kid.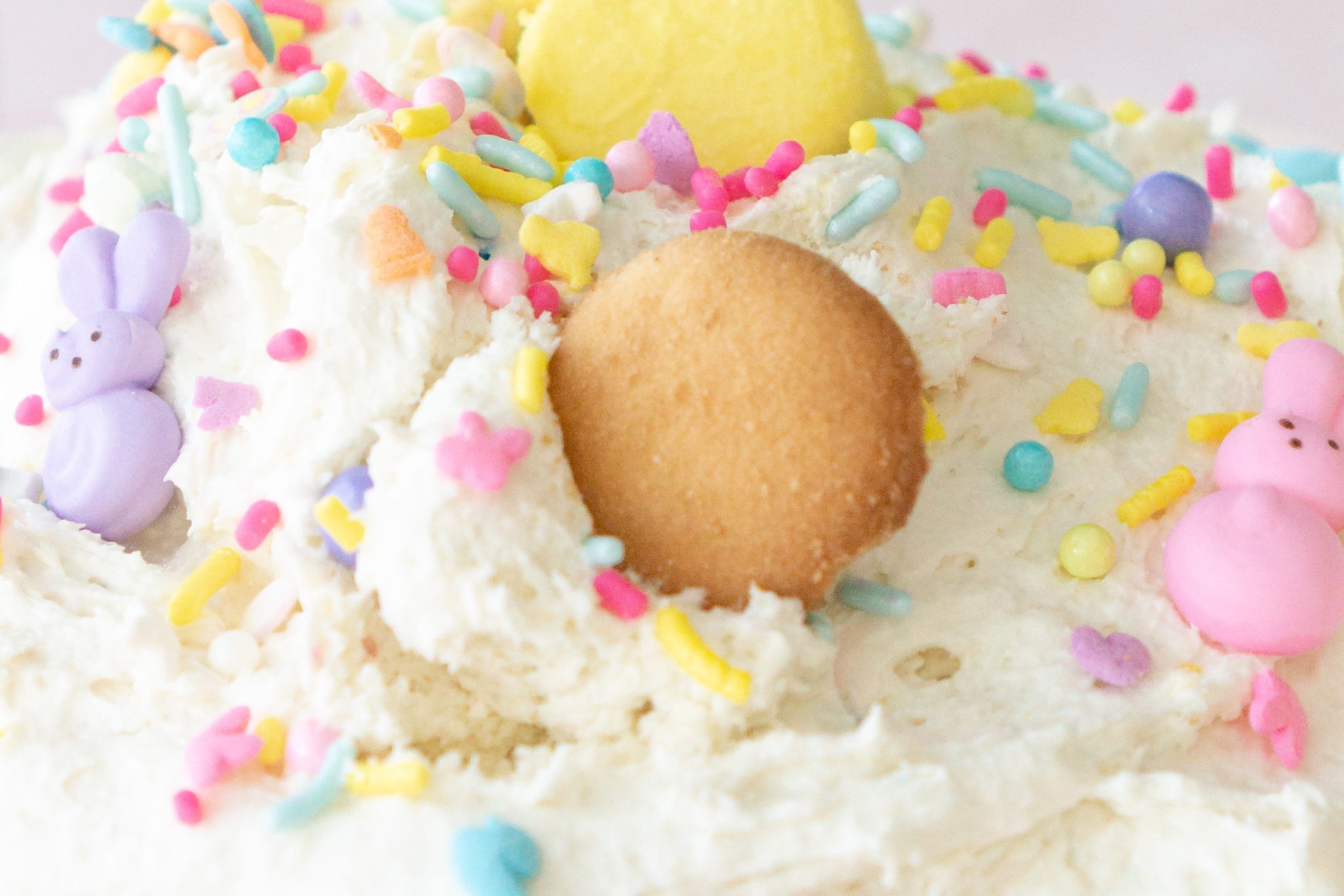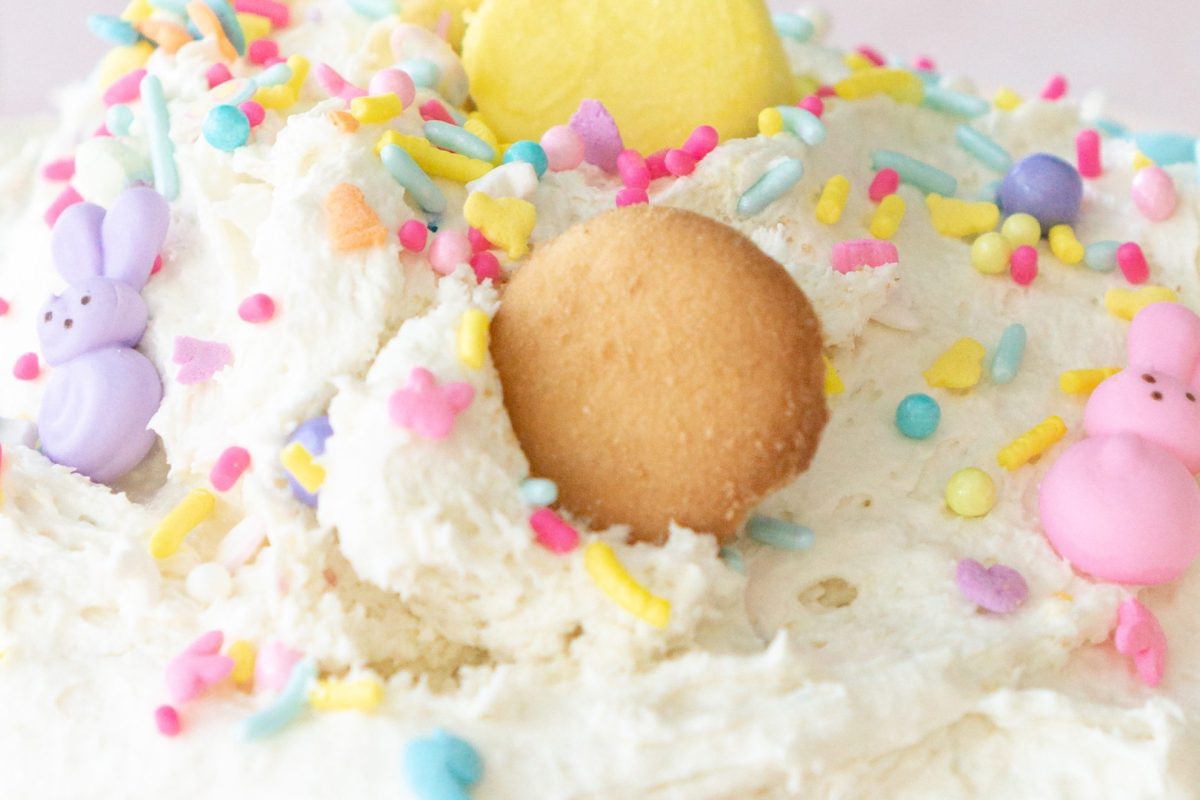 I'll be honest…they were never in my lunchbox. Mom only packed *healthy* snacks for me, but I always convinced friends to share with me.
Whether you are looking to share in the joy of a timeless and classic Dunkaroo cake batter dip with your kids, looking to make it for a holiday get-together, birthday parties, and more this dip will be a hit for all ages!
Grab a box of Nilla wafer cookies or animal crackers and get ready to whip up the perfect dessert.
What is Easter Dunkaroo Dip?
If you are unfamiliar with Dunkaroo Dip, you are in for quite a treat … literally!
This is a fan favorite snack that debuted in 1990 by Betty Crocker. The popular snack came in the perfectly sized snack package, great for lunch boxes or after school snack time, containing cookies and that famous frosting dip.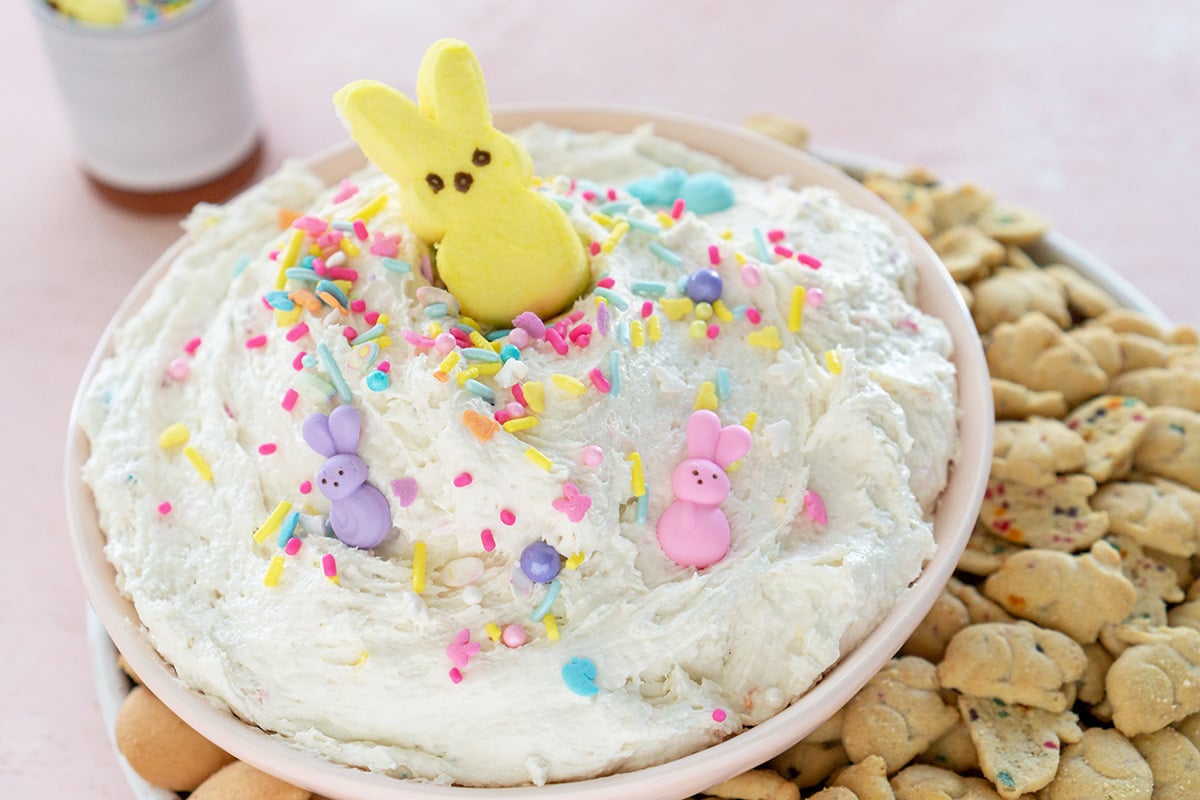 As you have probably figured out from the name, the cookies are meant to be dipped or "dunked" into the frosting and eaten.
Ingredients
Cake mix: the base of homemade Dunkaroo Dip is cake mix or cake batter. For this, and to achieve the right flavor, you will need to use Funfetti cake mix.
Dairy: whipped topping, like cool whip, and vanilla Greek yogurt (or plain vanilla yogurt) help create that delicious frosting, provide great flavor, and act as the binder that holds it all together.
Toppings: dress up your frosting dip for the season with Easter themed sprinkles. Swap out the sprinkle for nearly any holiday.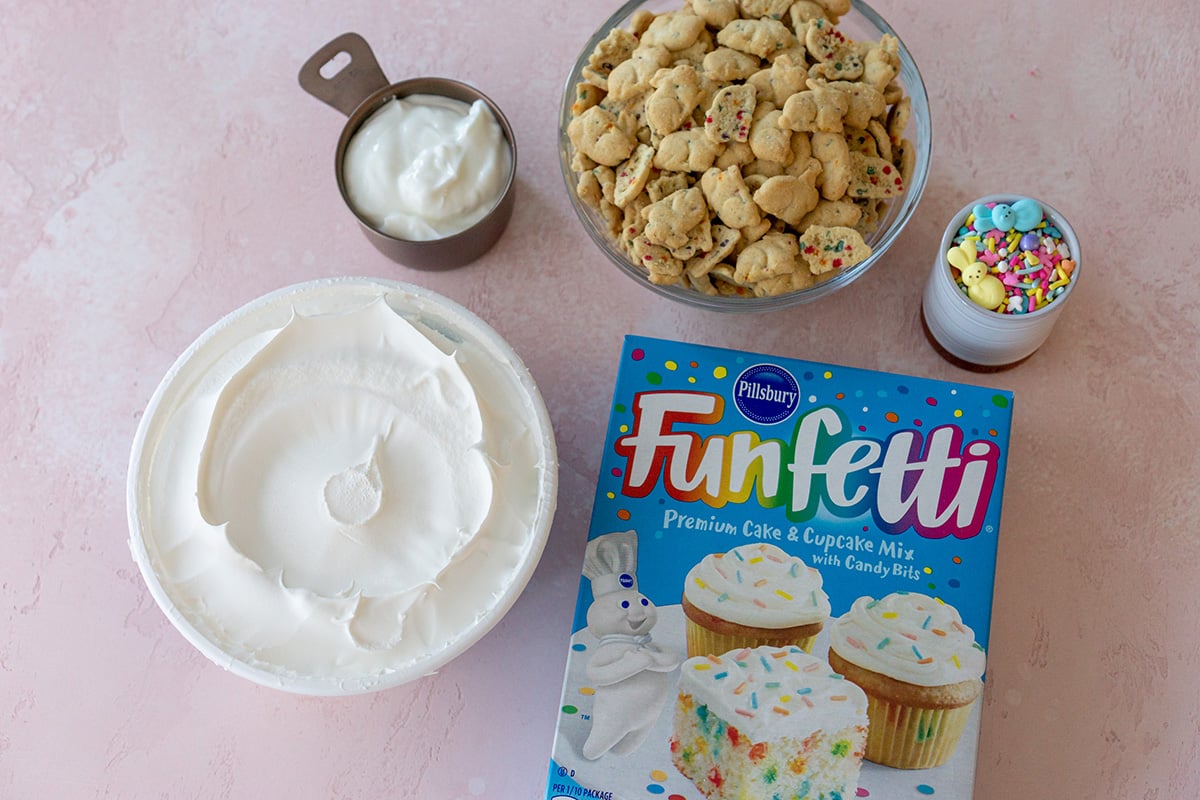 How to Make Homemade Dunkaroo Dip
In just three easy steps and about five minutes of your time, you will be minutes away from enjoying sweet, creamy, and positively delicious copycat Easter Dunkaroo dip.
1. Combine ingredients. In a large mixing bowl, combine white cake mix, whipped topping, and vanilla Greek yogurt. Mix until combined.
2. Add sprinkles. Spoon mixture into a serving bowl and top with festive sprinkles.
3. Serve. Serve with animal cookies or nilla wafer cookies.

How to Serve
The epic frosting is just one side of the dynamic duo! Now that we have the frosting down, let's talk about the cookies.
The most popular flavor is vanilla or vanilla cookies. So, if you are looking to make a true copycat Dunkaroo Dip recipe, I recommend using Vanilla wafers.
For Easter, these bunny grahams are SO cute. However, the one thing I love about cake batter dip … you can pair it with so many other delicious options like:
Oreo cookies
Honey graham crackers
Chocolate graham crackers
Teddy grahams
Animal crackers
Pretzels
or get fancy and dunk fruit, like strawberries, in your Easter Dunkaroo Dip.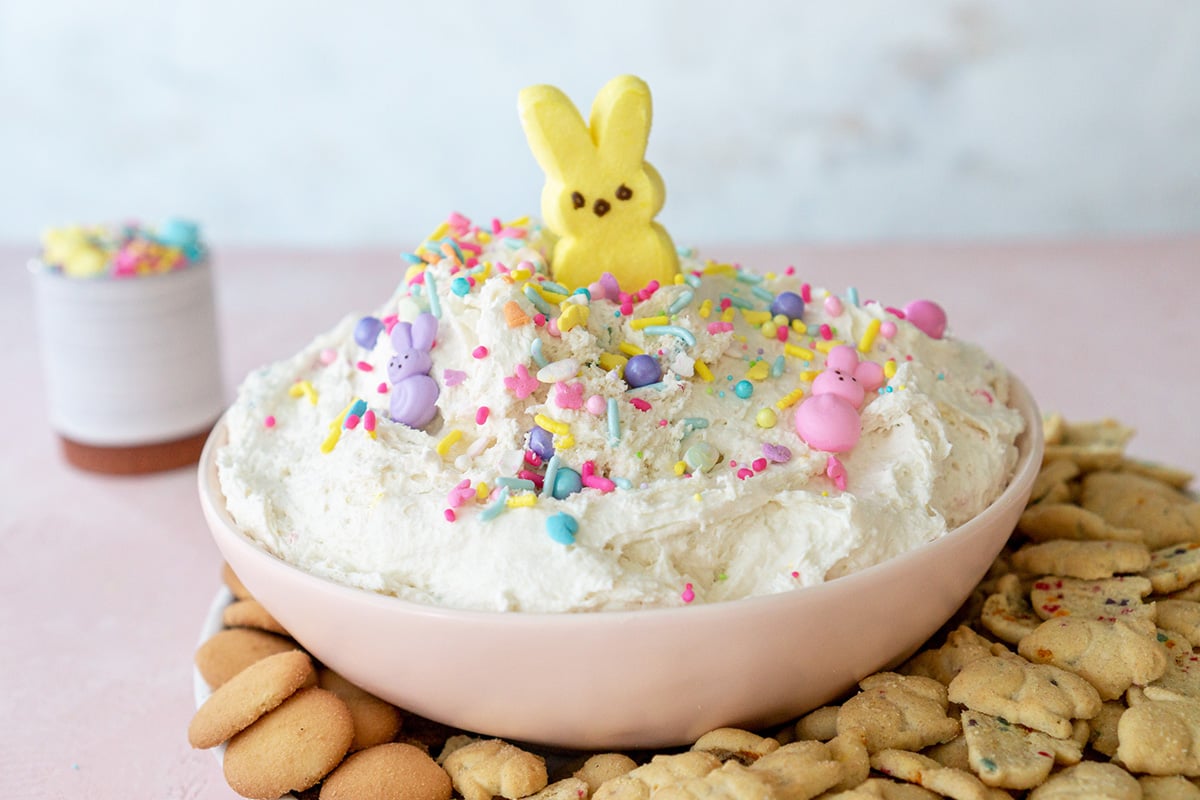 Variations
Get creative with your dip and add in fun ingredients to make it more fun and change it up. Consider mixing in chocolate chips, crushed chocolate Easter eggs, pastel colored M&M's, or crushed up vanilla wafers to add texture to the frosting dip. Change the flavor! Looking to really shake things up?
Consider changing the cake batter mix to lemon or chocolate and make your own new frosting flavor. Add food coloring and make it any color you want!
You can also fold in other fun flavors, like Easter Puppy Chow.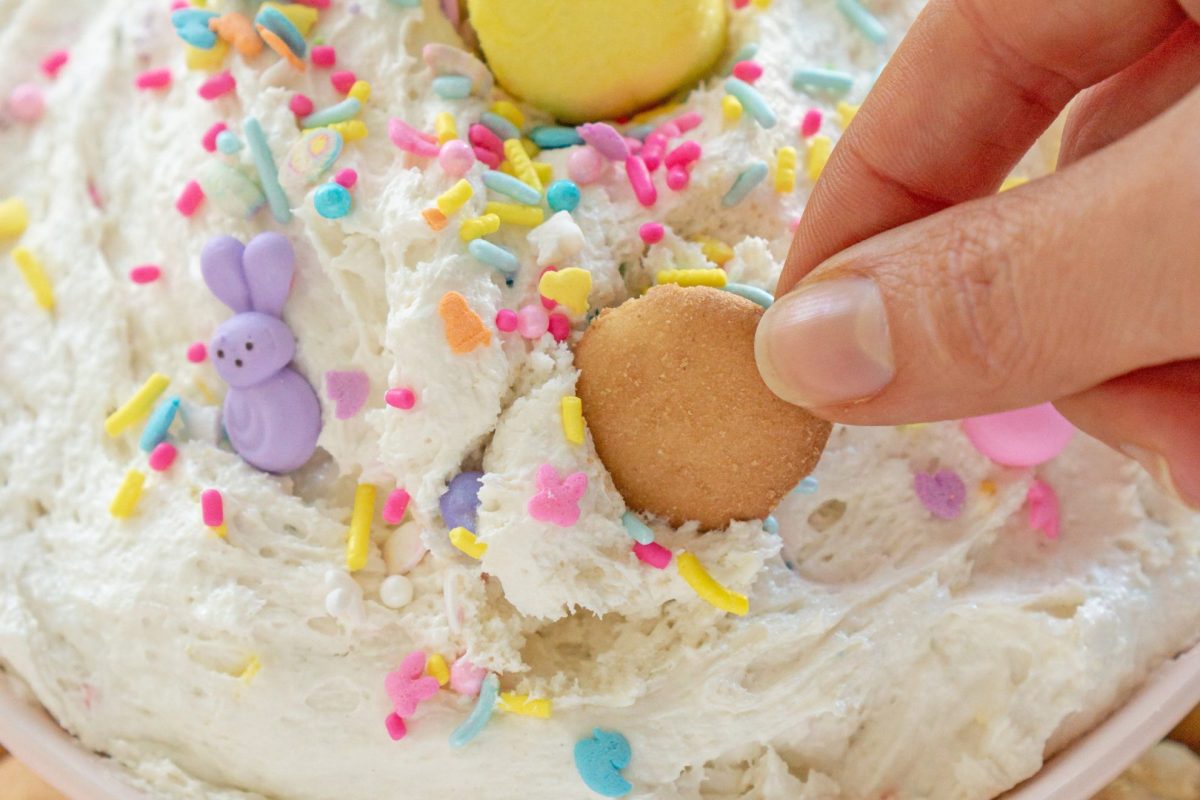 Eating Raw Cake Mix
You probably grew up hearing someone in your life say, "don't lick the spoon" or "don't eat the raw batter. "In fact, it's been advised not to eat raw cake batter of any kind because it can make you sick. This is because cake batter can contain harmful bacteria that is "killed off" only after the batter is cooked or baked.
Now, you may see on Pillsbury Funfetti Cake Mix boxes that the ingredients are safe to eat raw. However, use your best judgment and always practice safety in the kitchen when cooking and baking. If you want to be 100% safe, spread the cake mix on a baking sheet and pop it in the oven at 350 F for 5 minutes. Let it cool completely before using.
Storage and Freezing
Have leftovers? Store it in the fridge or freezer to enjoy it again later!
Tightly wrap your leftover dip with plastic wrap, cling wrap, or saran wrap OR put it in an airtight container and place it in the fridge. Refrigerated Dunkaroo dip will stay good for about a week before it's time to toss it and make a new batch!
You can keep your Easter Dunkaroo dip in the freezer for about 3 months if it is properly sealed. I recommend using a container like this if you plan on freezing it.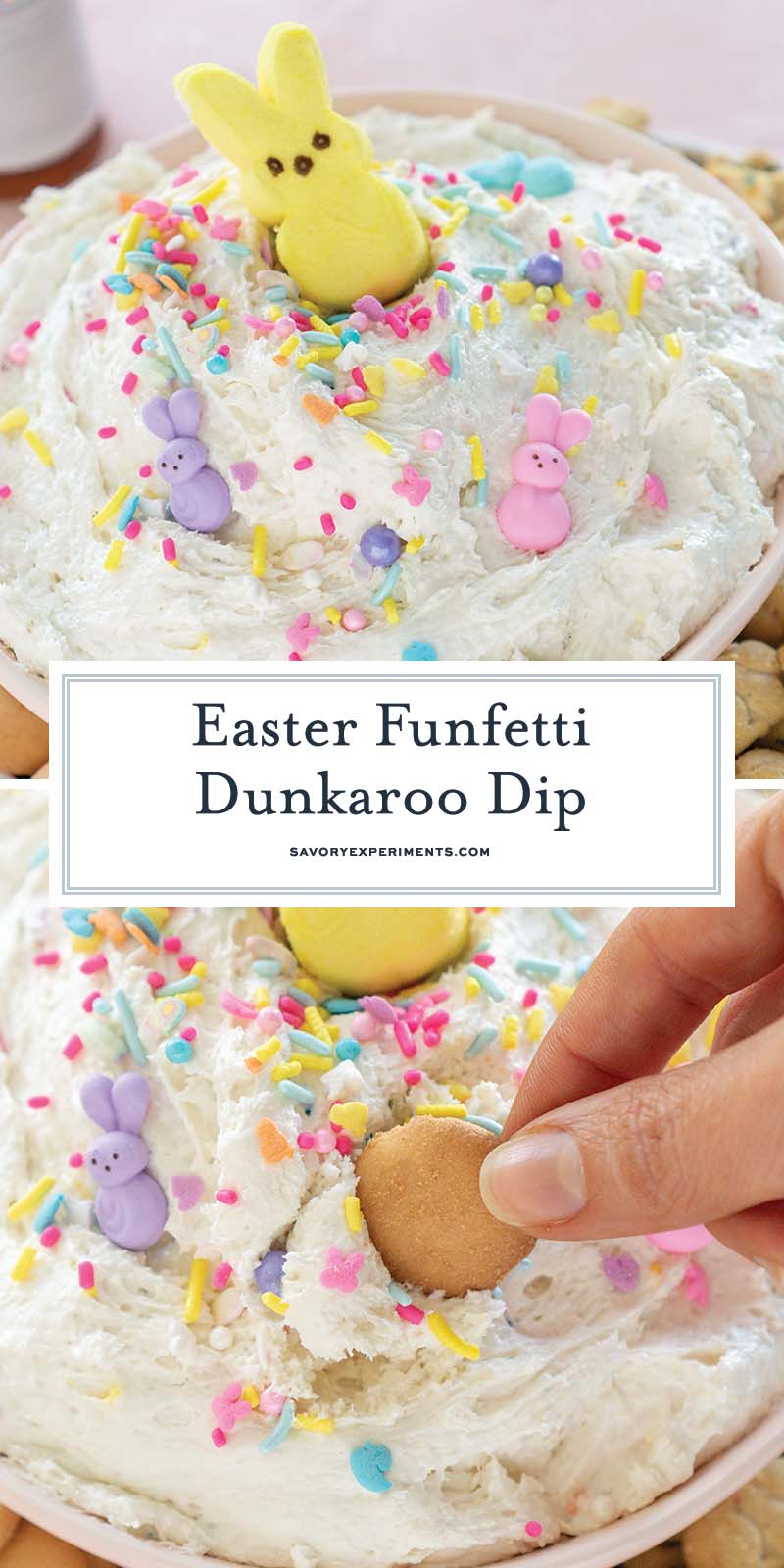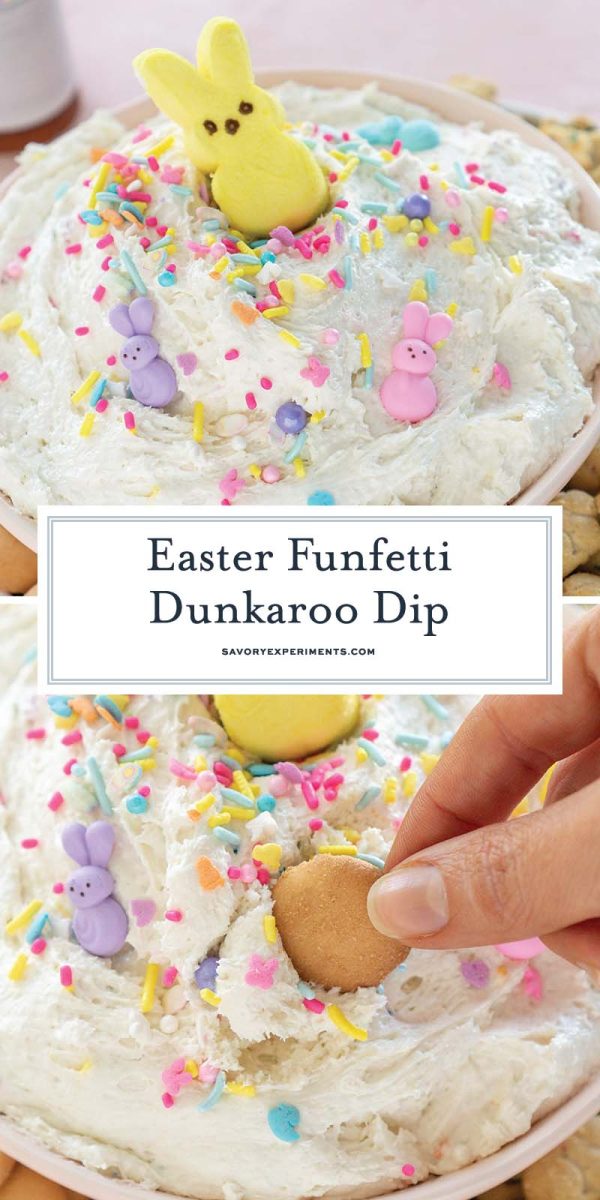 More Easter Desserts: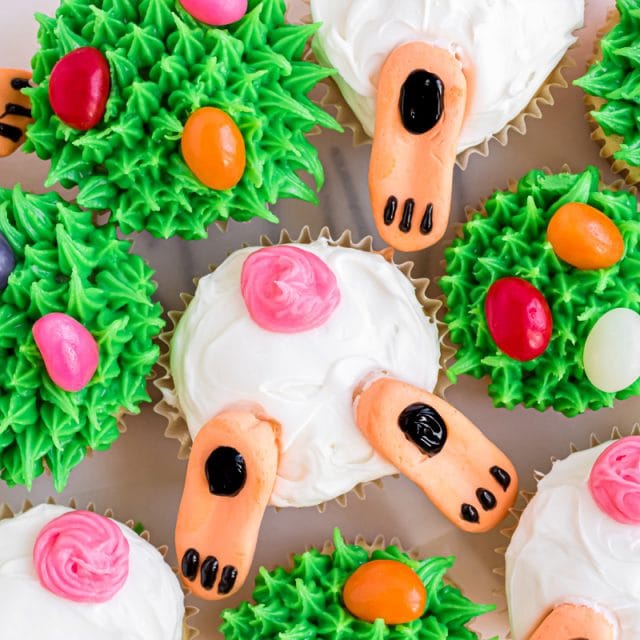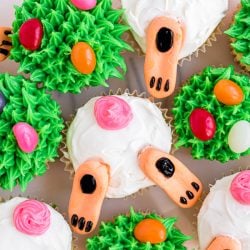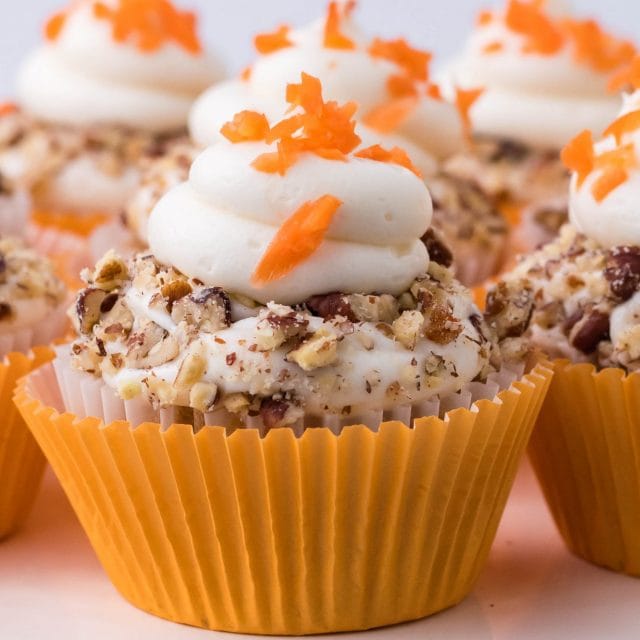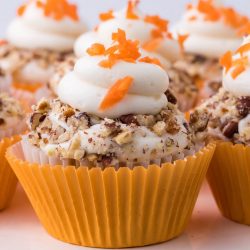 Carrot Cake Cupcakes
Carrot Cake Cupcakes are moist, flavorful and packed with freshly grated carrot and spices. With a cream cheese frosting, they are the BEST!
See The Recipe!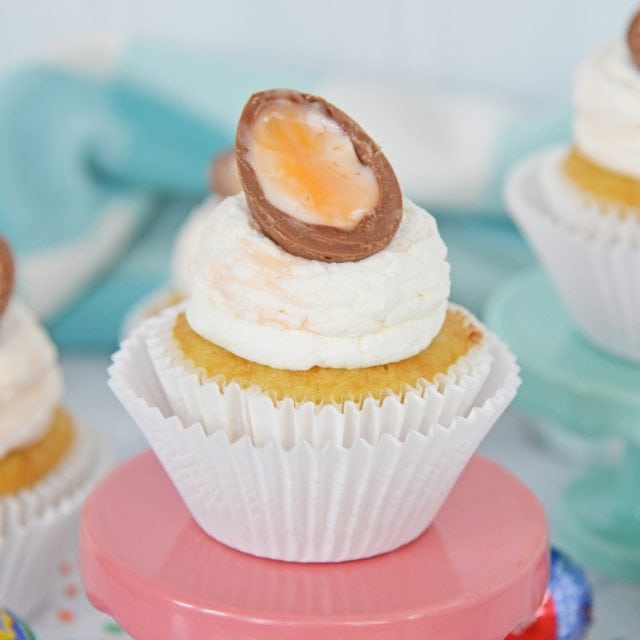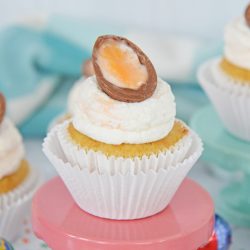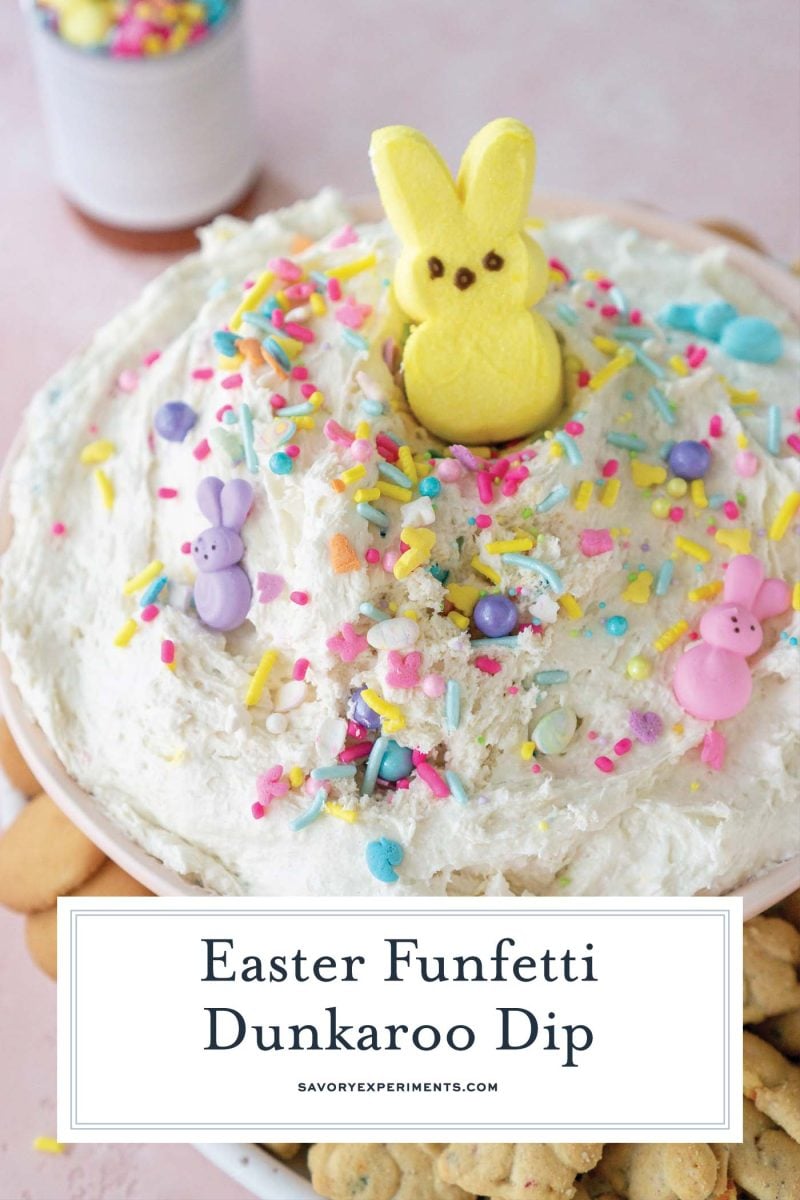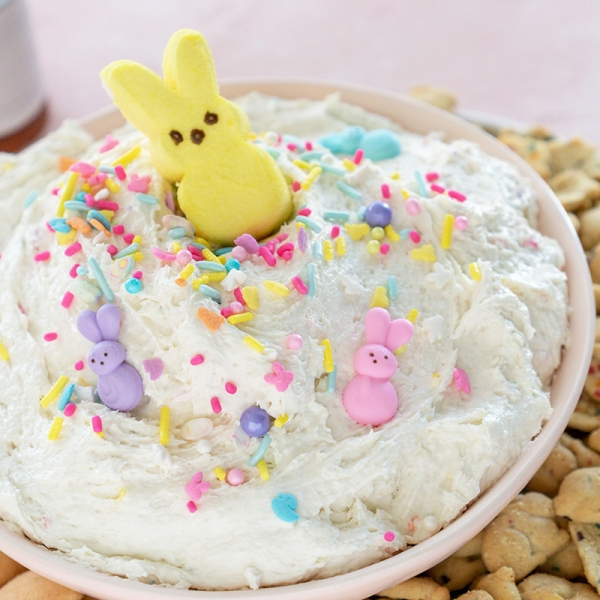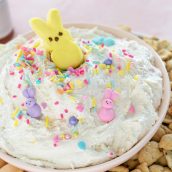 Easter Dunkaroo Dip
DIY this classic childhood dessert! This Easter Dunkaroo Dip is easy to make, the perfect Easter dessert, and tastes just like you remember!
Instructions
In a large mixing bowl, combine white cake mix, whipped topping and vanilla Greek yogurt. Mix until combined.

Top with festive Easter sprinkles.

Serve with Nilla wafers or dippers of your choosing.

If you've tried this recipe, make sure to come back and let us know how you liked it in the comments or star ratings.
Nutrition
Calories:
191
kcal
,
Carbohydrates:
36
g
,
Protein:
4
g
,
Fat:
4
g
,
Saturated Fat:
3
g
,
Polyunsaturated Fat:
1
g
,
Monounsaturated Fat:
1
g
,
Trans Fat:
1
g
,
Cholesterol:
1
mg
,
Sodium:
269
mg
,
Potassium:
58
mg
,
Fiber:
1
g
,
Sugar:
22
g
,
Vitamin A:
14
IU
,
Calcium:
93
mg
,
Iron:
1
mg