This baked brie recipe is perfect if you are low on time and need a quick appetizer. In just 10 minutes you can have this scrumptious appetizer ready to serve your guests!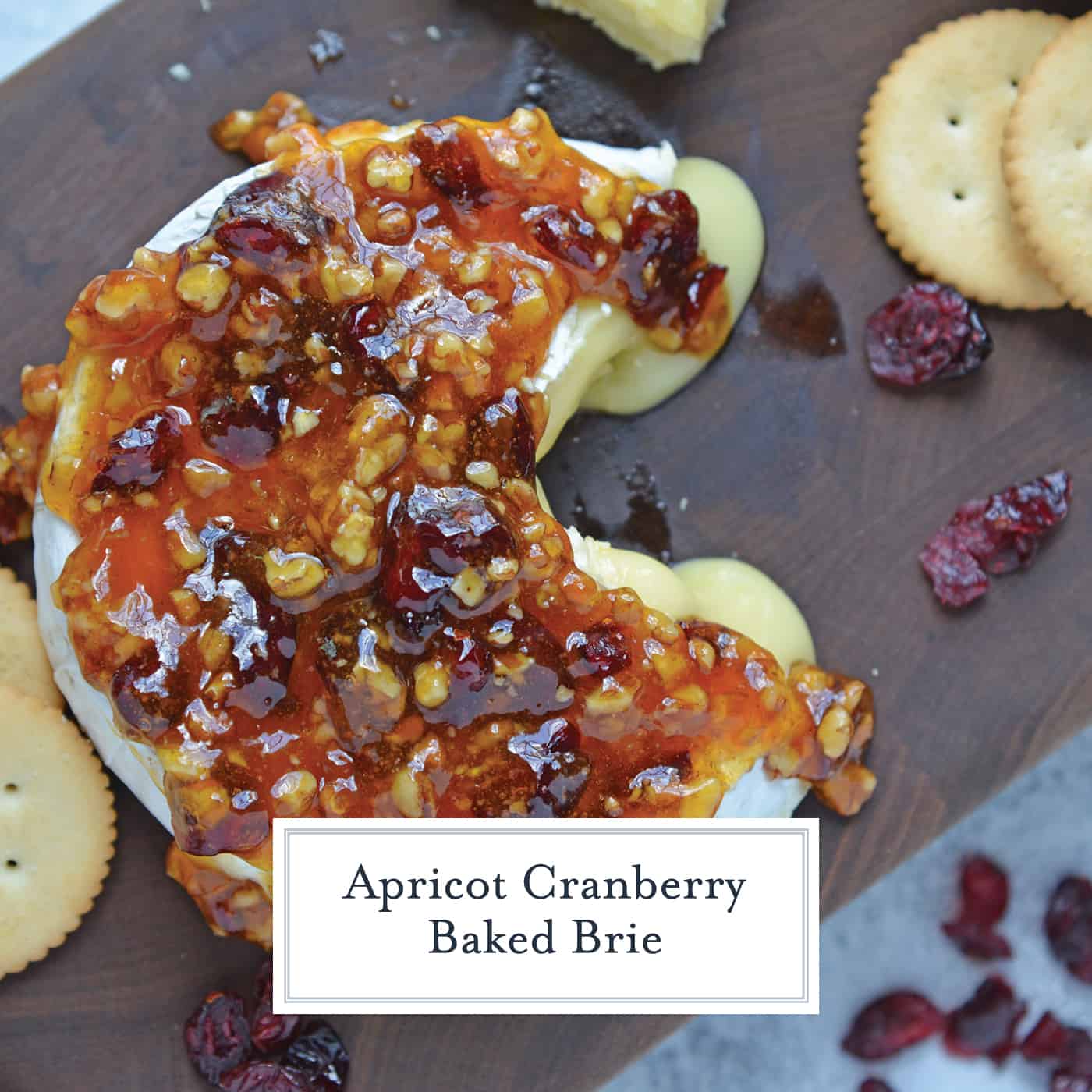 Apricot Cranberry Baked Brie is the ultimate appetizer with a sweet nut topping. This baked brie appetizer will be perfect for get togethers and small parties.
Need something that takes less than 10 minutes to prepare?
I modeled Cranberry Baked Brie after an appetizer my mother-in-law made on Easter. I had a quick turn around between work and book club.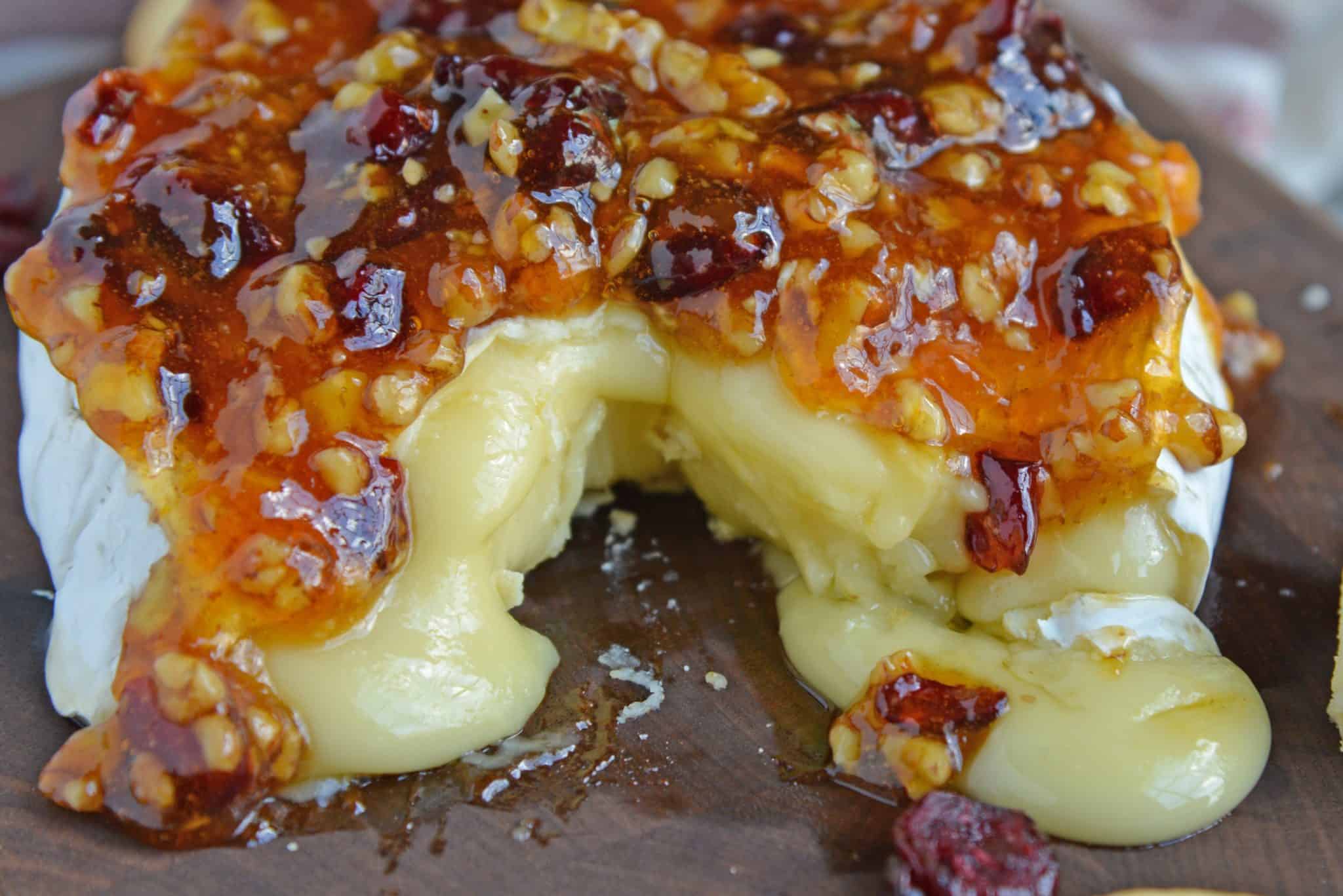 No time to prep or cook, I needed something on the run. If you are looking for something similar, this is your recipe. Who doesn't need an arsenal of fast and easy appetizer recipes? This brie can be served hot or room temperature.
PRO TIP: The rind brie is packaged in is commonly thought to be inedible. In fact, it is perfectly harmless to eat it and it has little to no flavor.
This is not a baked brie in puff pastry recipe, which is by far the most common. While I love baked brie en croute too, it is just a little more time consuming and also has a higher risk of malfunction with the puff pastry getting soggy. Bake brie with jam is the answer.
Brie appetizers can work with so many different occasions. Book club, parties, romantic night in, birthdays, potlucks and more. The list goes on and on.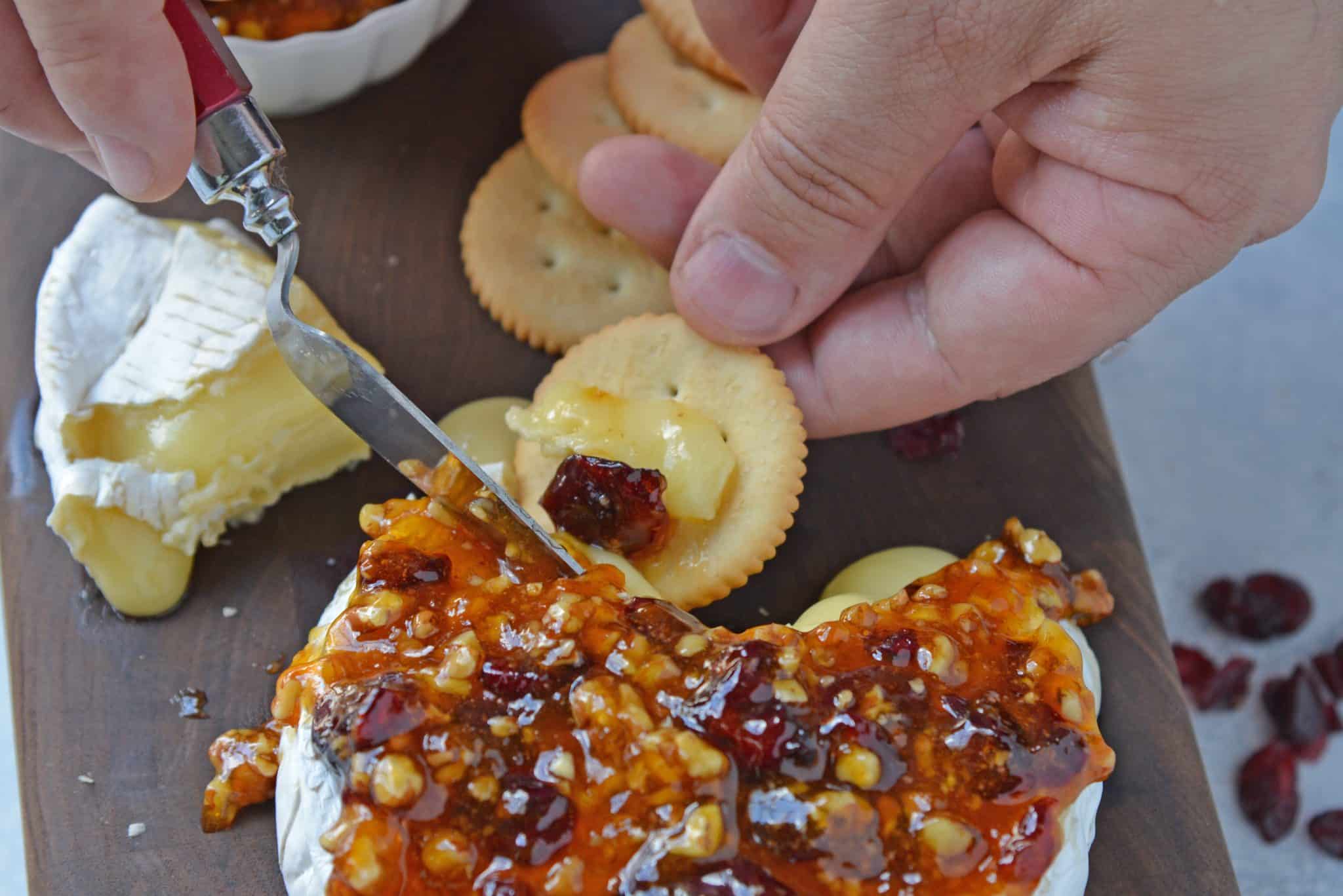 While you can just smear a jar of jam or preserves on your warm brie, you can also take 2 minutes to create your own unique flavor, like I did here. Apricot preserves serve as the base, but pecans and dried cranberries added to the mix elevate it in flavor, texture and sophistication.
What is the difference between regular, double and triple cream brie? Double and triple cream brie have extra cream added before the curd is formed. And, at least according to French law, a double-crème cheese has between 60-75% butterfat. They are slightly more creamy, but not better or worse in any way. Purely a matter of preference.
Cranberries are associated with the holidays, but this brie with cranberries recipe can be used at get togethers year round. Why are poor cranberries banned to just the holiday season?
They are also full of antioxidants and other fabulous nutritional benefits. Not to mention delicious.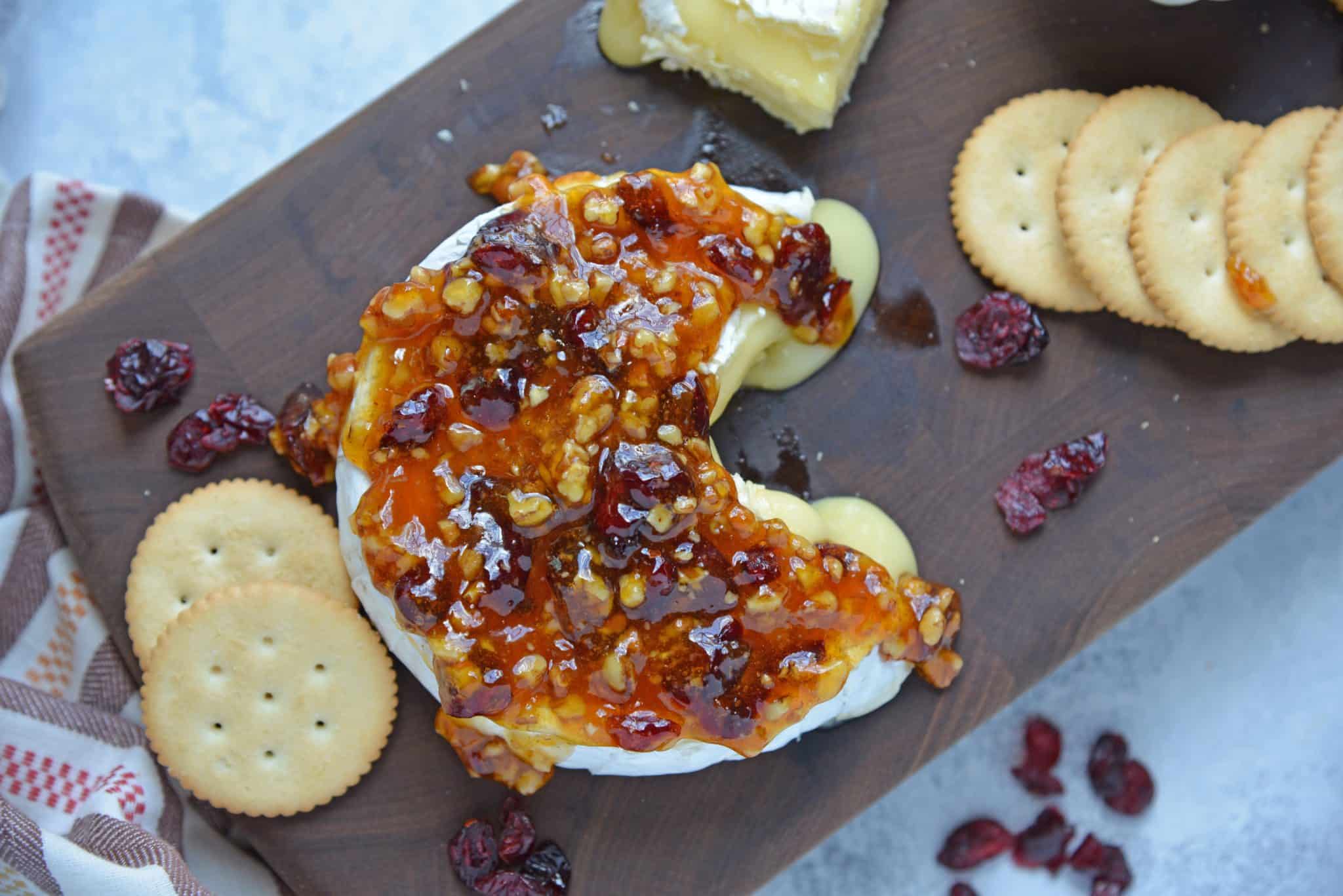 Brie has a rich and creamy flavor which goes great with a sweet nut topping, which gives it a great soft but crunchy texture. Tart cranberries and sweet apricot preserves make a well-rounded flavorful dish that everyone will love.
What is brie cheese? Brie is a soft cow's milk cheese named after the french region of Brie, from which it originated. It is pale, creamy and usually made in a circular wheel mold.
And now after writing this and editing these photos, I'm off to the grocery store to buy myself more brie to make another batch.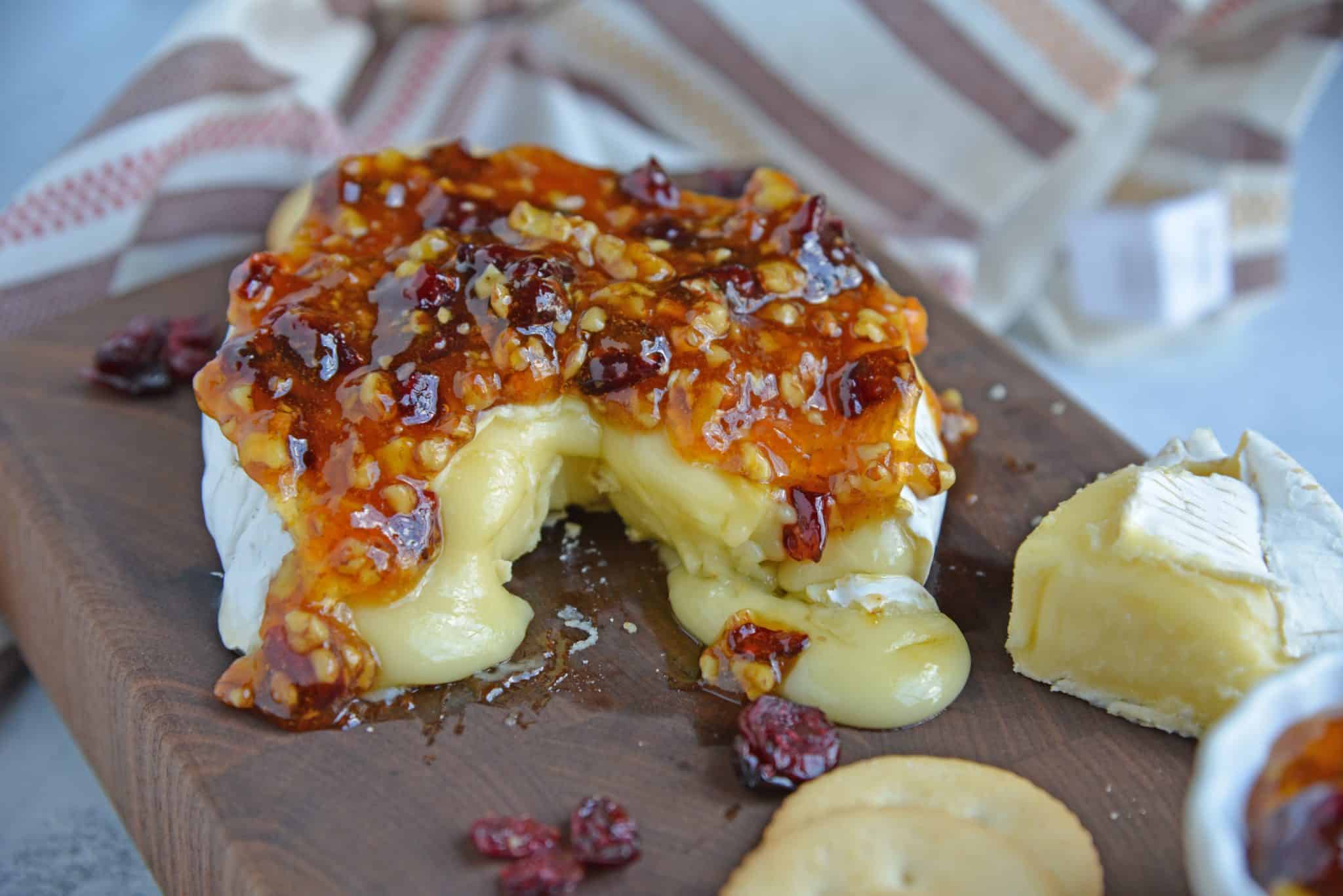 If you love this easy appetizer recipe, check out these other easy brie recipes:
Tools for making Baked Brie with Jam:
Mixing Bowls– make sure to check out my article on Using the Right Mixing Bowl, you'd be surprised how many people aren't!
Pie Plates– I think every kitchen should have at least three shallow dishes or pie plates for the process of breading and frying. You can also bake pies in them! Hehe.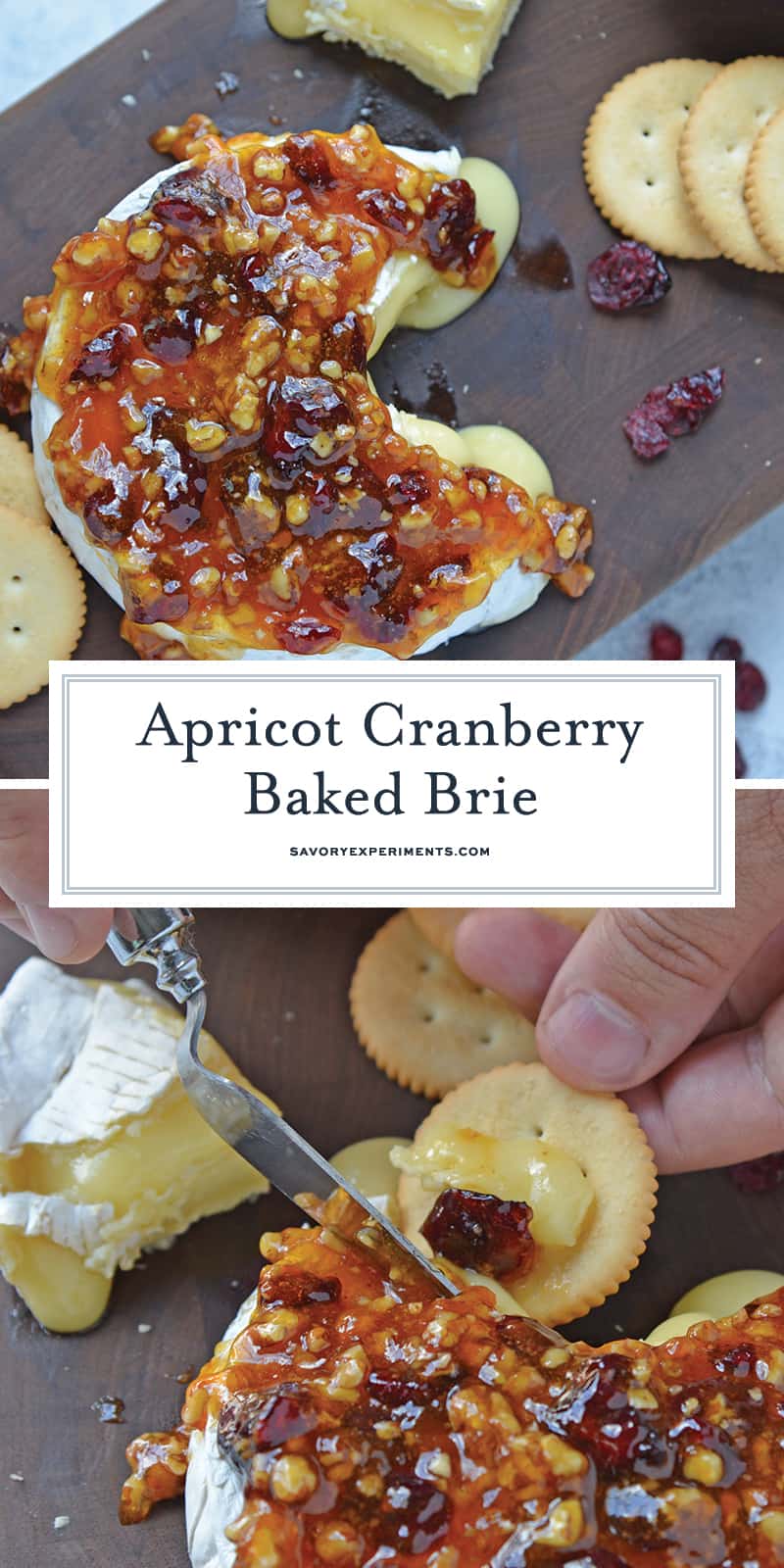 Question you might have about how to make baked brie:
Can you freeze brie cheese? Yes, you can freeze brie. Wrap it the best you can in an airtight plastic bag or freezer paper and it will stay good for up to 4 months. Do not microwave to thaw it, allow to thaw over 24 hours in the refrigerator.
Is baked brie safe during pregnancy? I am not a medical expert. I am not here to give you pregnancy advice. My understand is that you are allowed to eat pasteurized soft cheese during pregnancy. Check the label. Some brie is pasteurized.
Can baked brie be reheated? You can reheat baked brie, but like reheating any cheese, it loses a little bit of its luster and is best served fresh.
Can I substitute apricot preserves? Sure! You can use preserves, jam or marmalade in any flavor you think would pair well with pecans and cranberries.
Can I omit the pecans? If you are serving someone with a tree nut allergy, omit the pecans. If you just don't have pecans, use walnuts.
Can I make baked brie ahead of time? You can make the homemade jam ahead of time, but wait until ready to serve to heat. It only takes a few minutes.
Can this brie recipe be served at cold? Yes, it simply isn't a baked brie recipe any longer, but it can certianly be served chilled or at room temperature.
How long can brie sit out? CDC recommends that soft cheeses be left at room temperature for no longer than 2 hours. I've never known my brie dishes to last that long! LOL.
What do I serve baked brie on? I prefer it on a buttery cracker, but you can literally use anything that is a vessel to get it from the tray to your mouth. Crostini and others crackers or breadsticks work perfectly.