Super simple and so cute, red, white and blue chocolate covered strawberries are a summery treat that just can't be beat! Perfect for Memorial Day cookouts or fourth of July celebrations!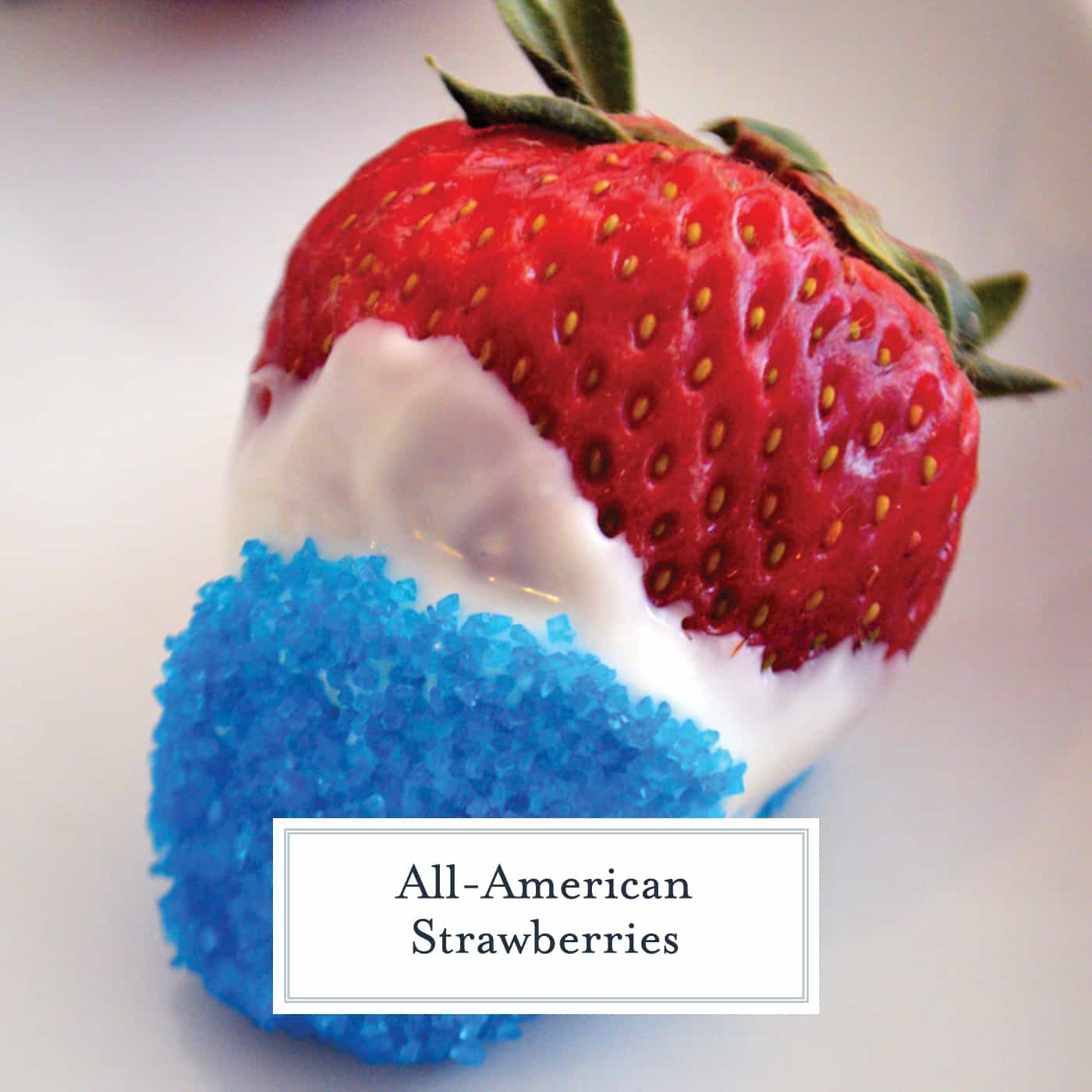 These Chocolate Covered Strawberries are a fun, festive, mouth-watering take on the traditional chocolate covered strawberry and only take 15 minutes to prepare!
This chocolate dipped strawberry recipe brings a little fun to any event by sporting an all-American festive color scheme. Nothing screams "U.S.A" more than the good 'ol red, white, and blue (and green… from the stems)!
These All-American Strawberries are very patriotic and only need three ingredients to make. Strawberries for the red, candy melts for the white, and sprinkles for the blue.
I used to call them 4th of July strawberries, but then I felt like it limited their potential.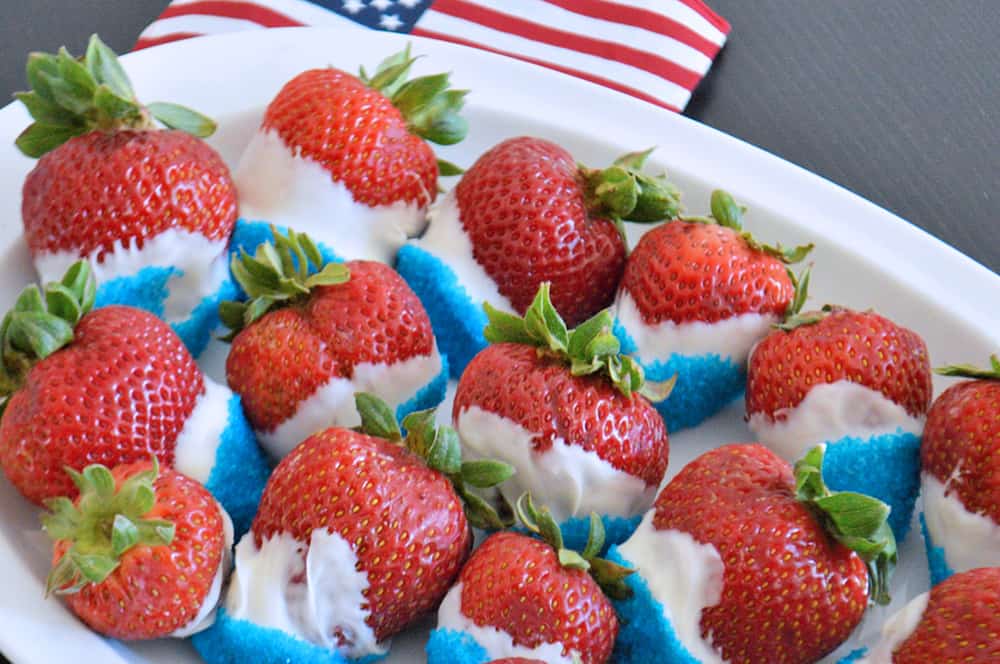 Taking a mere 15 minutes to prepare – these patriotic strawberries are the perfect treat to bring to BBQs or serve after dinner by the campfire. Everyone will love this fun and festive dessert!
There are tons of chocolate brands out there and you can really use any kind of chocolate and these will turn out great. It is chocolate covered strawberries after all. You can't go wrong!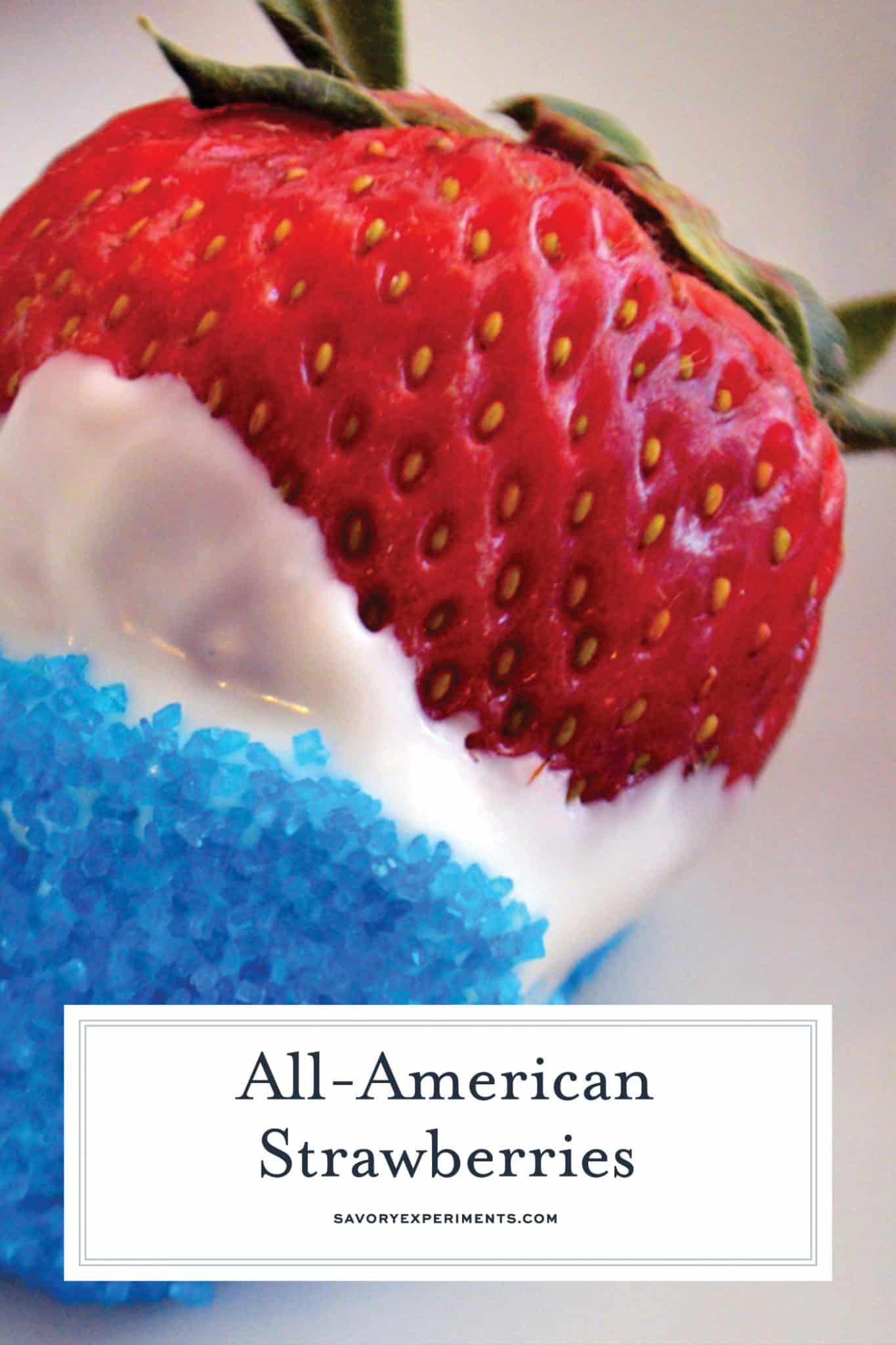 PRO TIP: You can also use white chocolate chips or almond bark. In a double boiler, mix every 8 ounces with 2 teaspoons unsalted butter or shortening.
That said, if you are going with the patriotic theme, it is best to use white chocolate. I find the white candy melts are the easiest to work with for these All-American Strawberries.
And remember, white chocolate isn't really chocolate at all.
PRO TIP: Candy Melts can be found at the grocery store or a craft store. You can also order it off Amazon.
White chocolate is made from cocoa butter, sugar and milk solids. It is typically an ivory color. But if you use Candy Melts, it will be a bright, vibrant white.
Here are a few more tips for making chocolate covered strawberries:
ONE. Pick pretty berries. They don't have to be the best shape, but at least not bruised or discolored.
TWO. Refrigerate your berries, but when you go to dip them, let them come up to room temperature.
THREE. The most common mistake is having wet berries. Chocolate can't stick to the berries if they are wet. Dry them with a paper towel before dipping.
FOUR. Leave the leaves, these are your "handle".
FIVE. Use a double boiler to prevent chocolate from overheating and getting all yucky. You can make your own by fitting a large stainless steel or glass mixing bowl over a small saucepan. Be careful to not burn yourself.
SIX. Dip your berry in the chocolate, then give it a swirl and tap off excess chocolate on the side.
SEVEN. Place on a piece of parchment or wax paper, NOT a cooling rack. The chocolate will drop around the grates and then you'll have to peel them off, risking the chocolate breaking.
EIGHT. Chill in the fridge to set for 10 minutes.
NINE. Store berries at room temperature in a cool, dry place. If you keep them in the fridge, they will start to sweat or the chocolate will start to look chalky.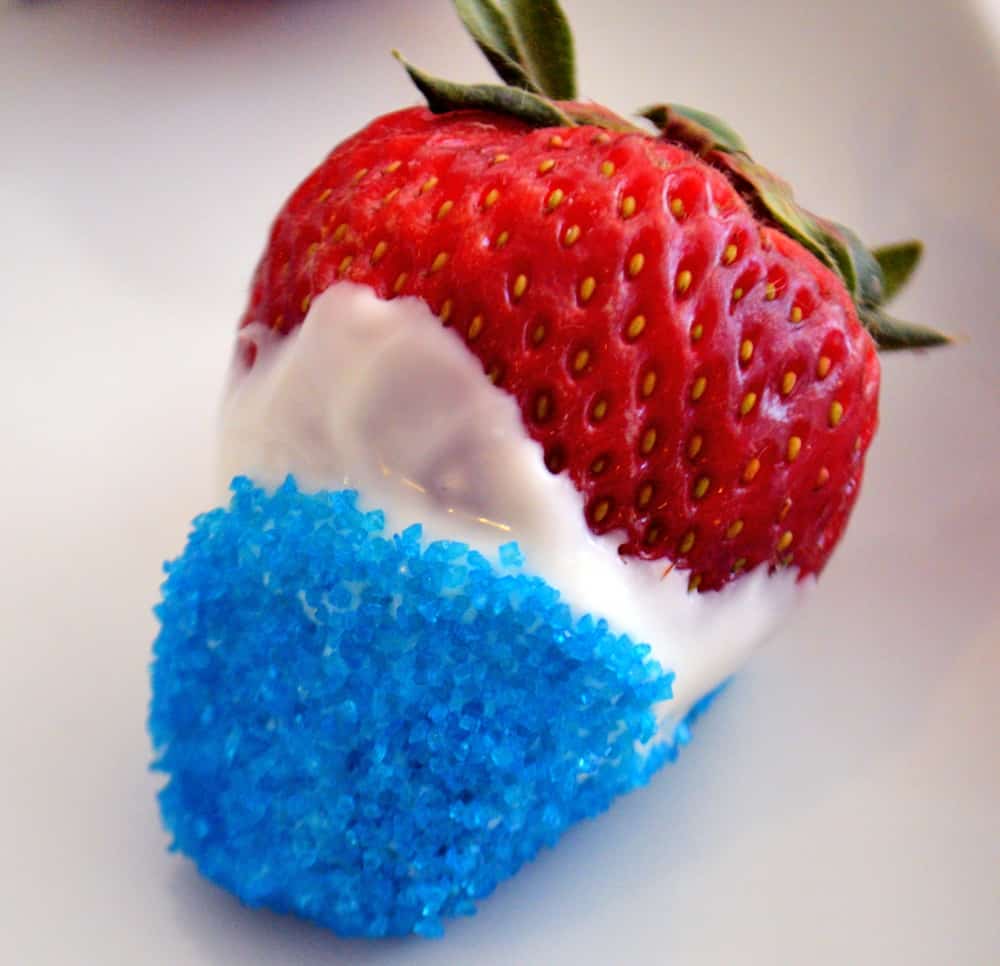 Going on vacation? No problem! Buy a small, tub of dipping chocolate in the fruit or baking section. Melt in the microwave or in a bowl over simmering water and you are all set.
You can have All-American Strawberries whenever you want, but they make for great additions to any summer party or holiday.
If you loved these All-American Strawberries, check out these other easy strawberry recipes:
Tools for making chocolate covered strawberries:
Double Boiler– A kitchen essential, use a double boiler to make velvety melted chocolate, superb sauces and more!
Strawberry Dipper- If you don't want to get up close and personal with your fingers, use this specialty fork!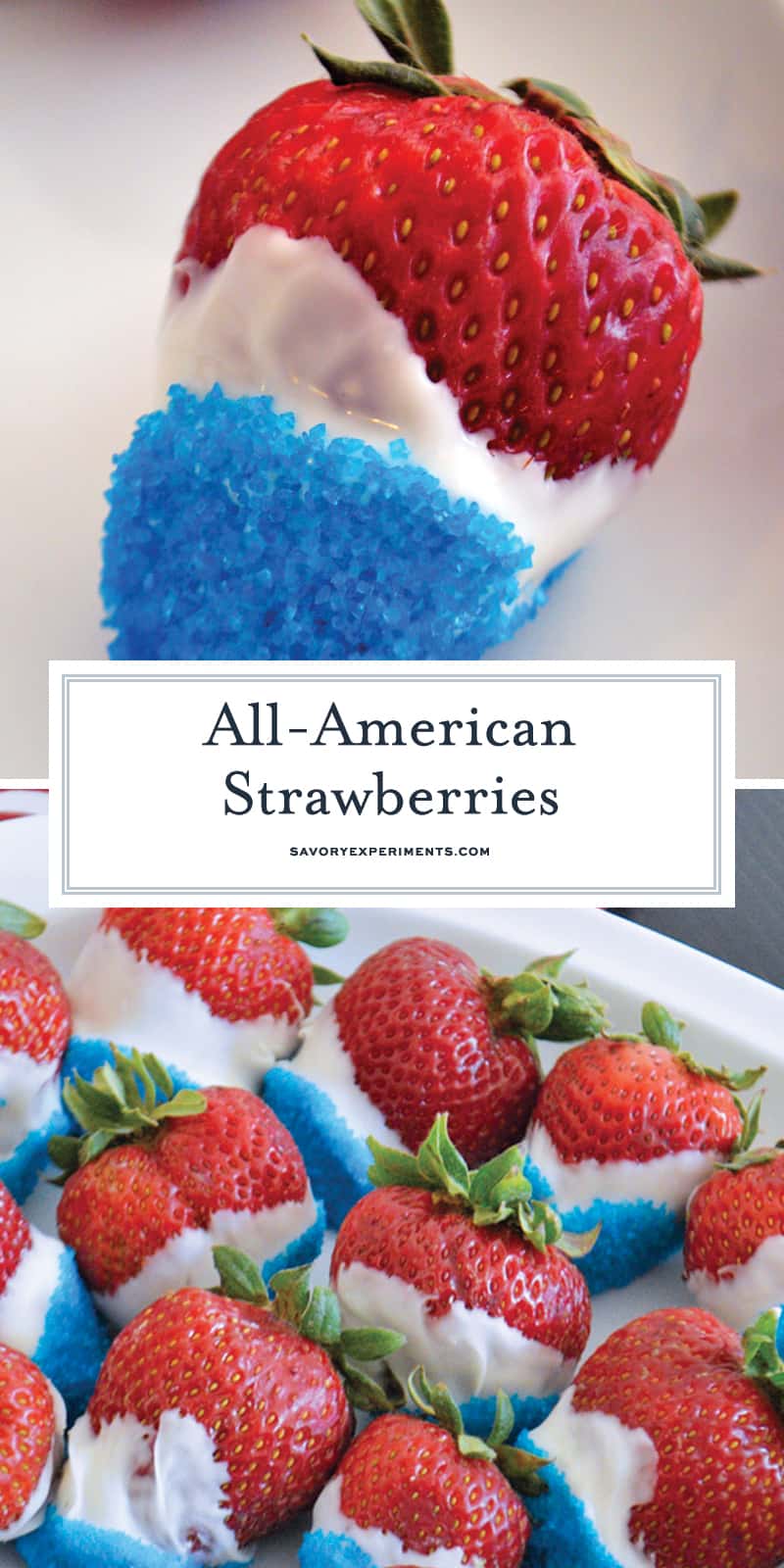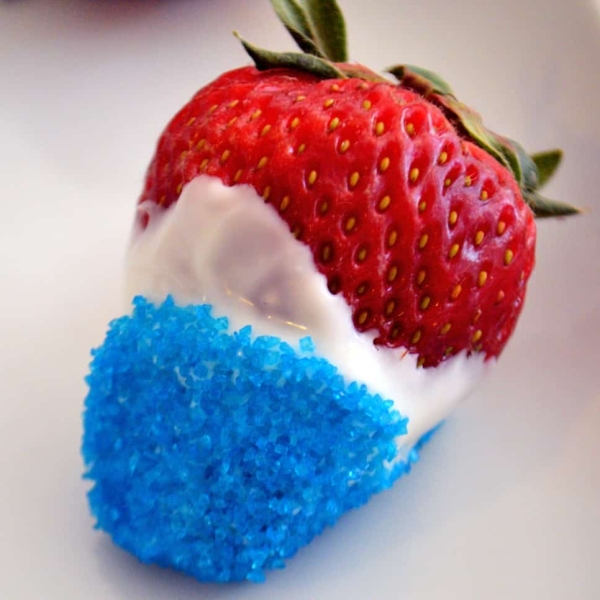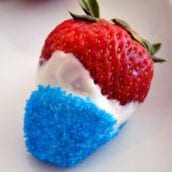 All-American Strawberries
Chocolate dipped strawberries sporting an all-American theme!
Instructions
Heat Candy Melts in double boiler or microwave. The key to any chocolate covered strawberry is making sure it is dry. I recommend washing your strawberries and allowing them to air dry in the fridge for at least 2 hours prior to coating. You can also dab them off with a dry paper towel.

Dip each strawberry into white chocolate and then dip just the tip in a bowl of blue sprinkles.

Lay on a piece of parchment or wax paper on a cookie sheet. Refrigerate for 10 minutes, or until ready to serve, or up to 12 hours. Any longer and they will begin to sweat and the sprinkles will dissolve.

Enjoy your All-American Strawberries!

If you've tried this recipe, come back and let us know how it was!
Nutrition
Calories:
519
kcal
,
Carbohydrates:
80
g
,
Protein:
3
g
,
Fat:
21
g
,
Saturated Fat:
18
g
,
Sodium:
81
mg
,
Potassium:
693
mg
,
Fiber:
9
g
,
Sugar:
68
g
,
Vitamin A:
55
IU
,
Vitamin C:
266.7
mg
,
Calcium:
73
mg
,
Iron:
1.9
mg