Invited to a 4th of July party this year? Bring these easy and taste mini 4th of July cupcakes! Festive and delicious.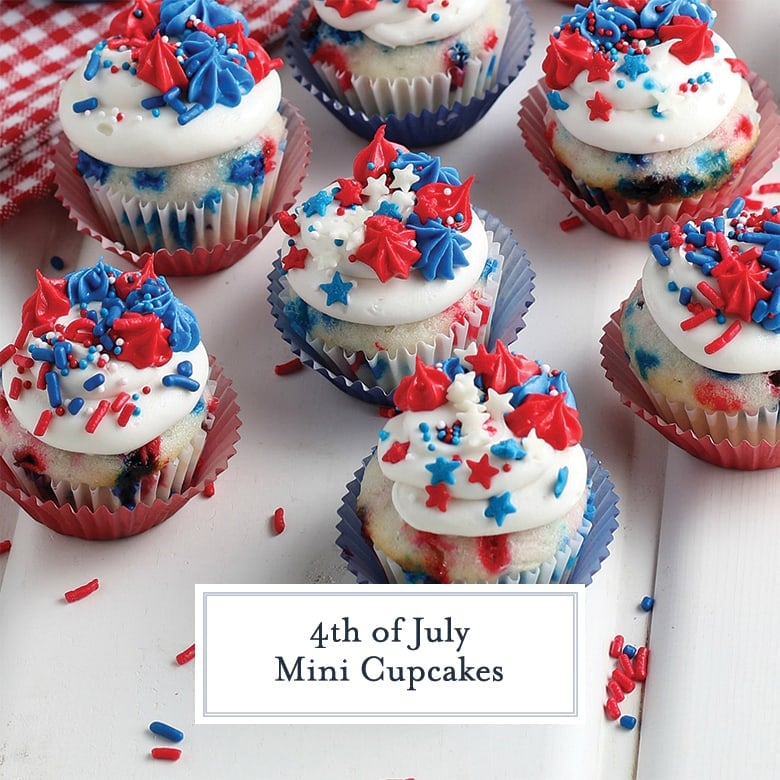 Mini Cupcakes
In my humble opinion, mini cupcakes are perhaps the best dessert for potlucks, cookouts and parties. Perfect little 2-bite desserts that don't require utensils or a plate.
Stable in varying temperatures, they don't require specials dishes that need to be cleaned or returned.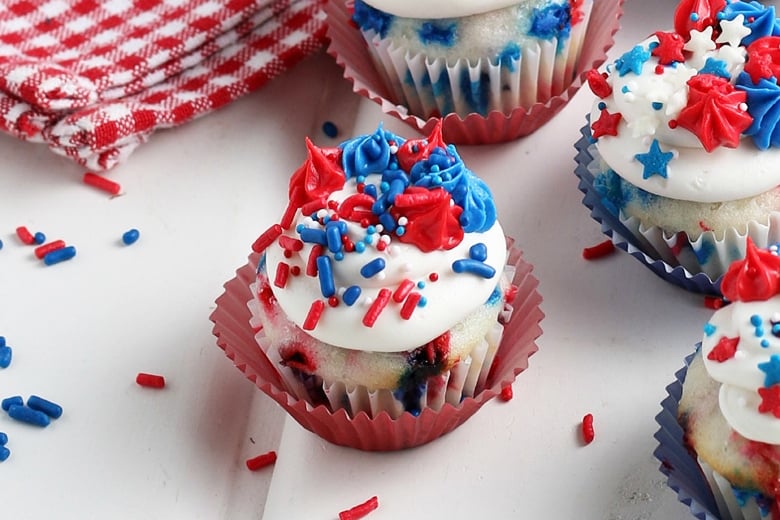 And they are super verstile. Basic boxed cake mix hacks are used to make this white cake mix into a pop of 4th of July fireworks, complete with buttercream frosting.
Ingredients
The ingredients are pretty basic for cupcakes, but you might see one that usually isn't included in boxed cake mix recipes…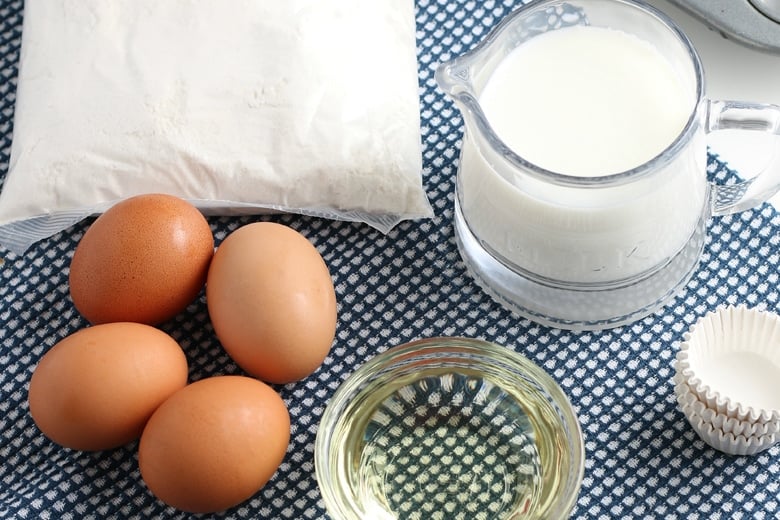 White cake mix– make sure the mix is white and not yellow. Yellow cake mix will be yellow and the sprinkles will make green.
Egg whites– See below on how to use up those yolks!
Buttermilk– you heard right, folks. We are ditching the water and replacing it with tangy buttermilk for the moistess boxed cupcakes you ever did eat.
Clear vanilla– this isn't a pure vanilla extract, it is man-made, but you need clear to be able to maintain the snowy white color. Use regular vanilla, but know there will be a little brown tinge.
Vegetable or canola oil– oil helps keeps these puppies moist.
Red and blue sprinkles- I like to use jimmies, the long sprinkles, but any type will do as long as they are patriotic and festive.
White frosting– Do yourself a favor and just grab a tub at the store. If you want to elevate it, put it in a piping bag and use a star tip to apply.
Decorations– Pick anything red, white and blue!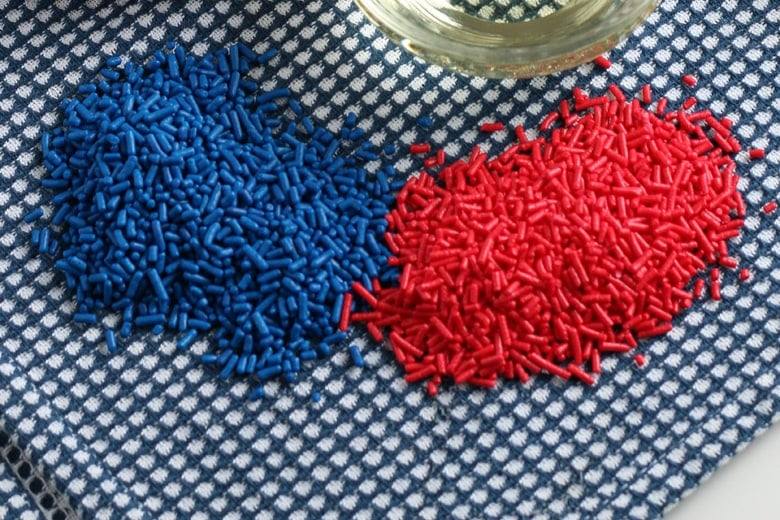 Egg Yolks
Now you have 4 egg yolks… what can you do with them? They can of course be scrambled eggs or an omelette, yolk only. Or you can make…
How to Make 4th of July Cupcakes
The process is easy! First, I strongly recommend sifting the dry cake mix before adding to wet ingredients. This reduces clumps and will also reduce the tendency to overmix, which leads to dry and crumbly cupcakes.
Next, mix with wet ingredients, but until until combined. Don't just turn on the stand mixer and walk away.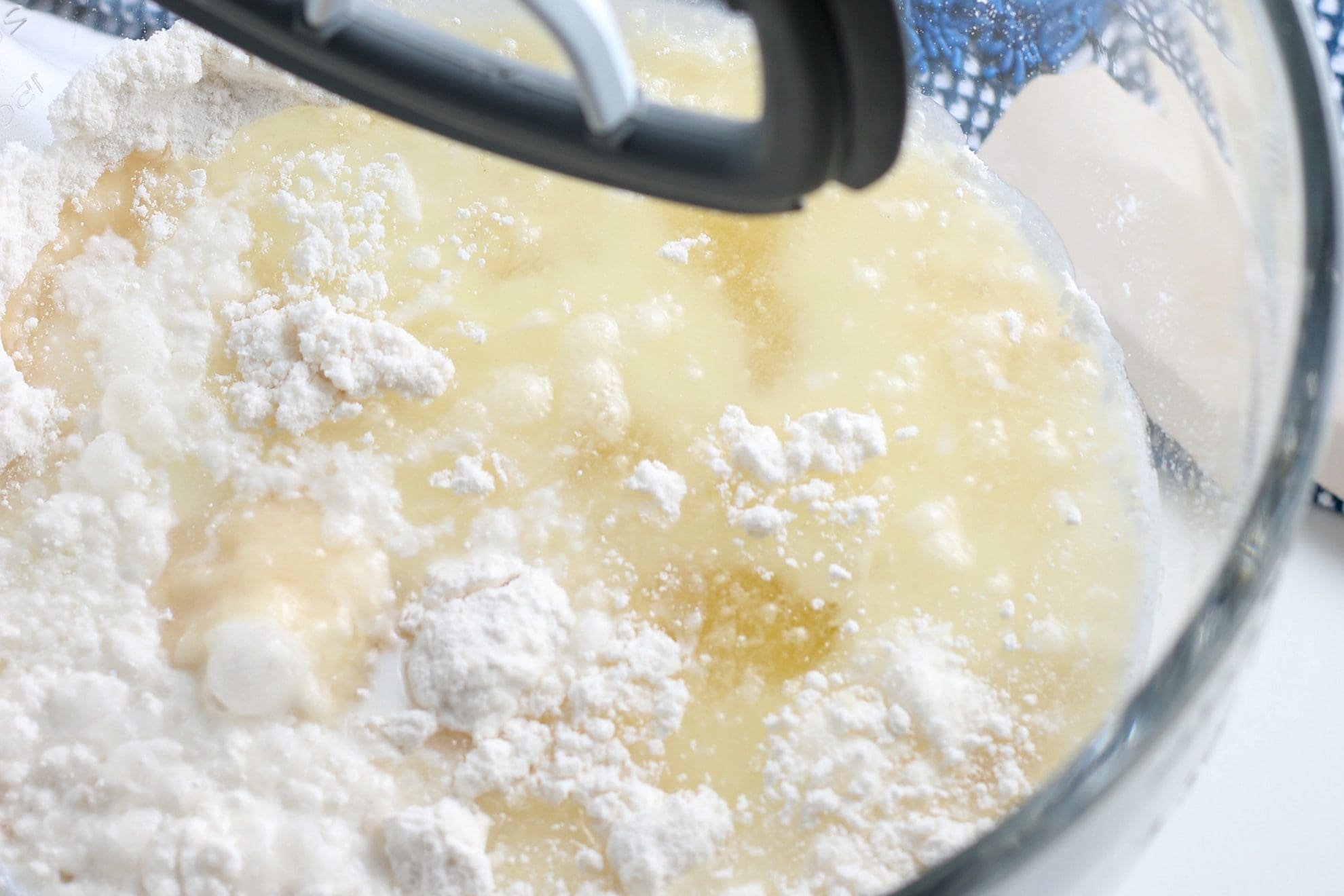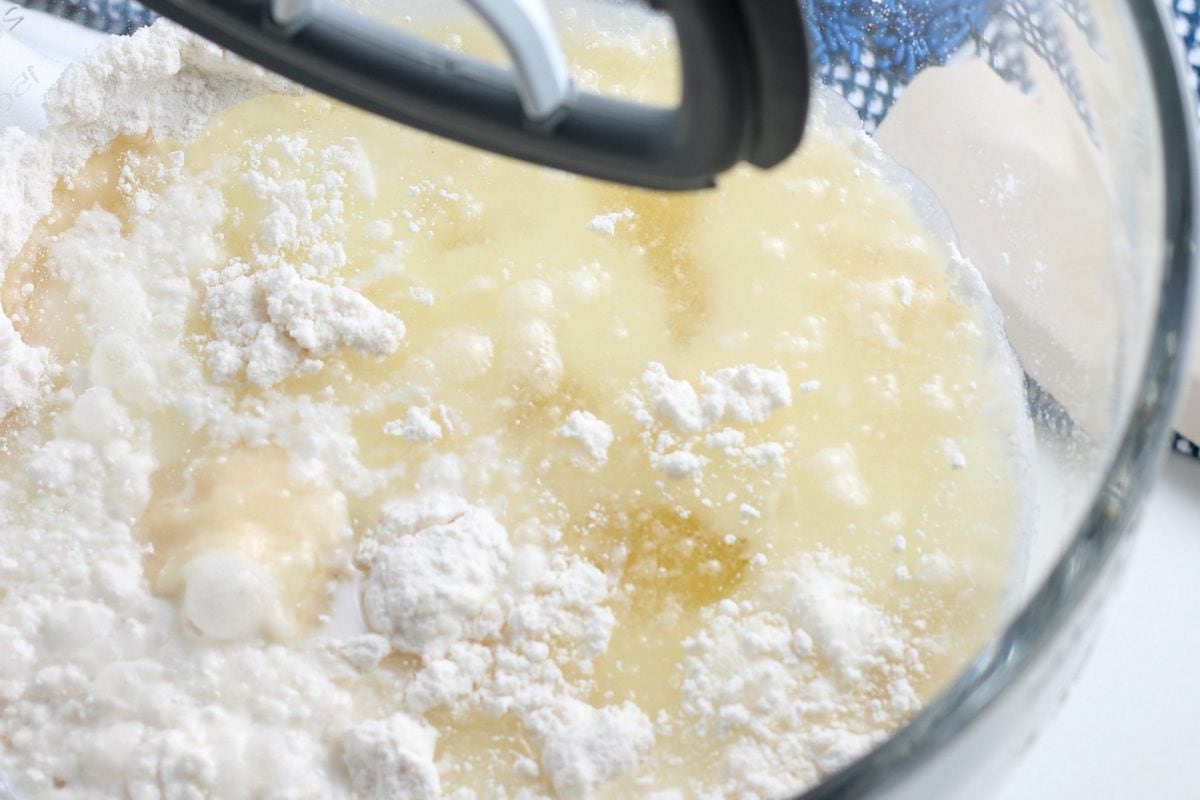 By hand, fold in the sprinkles. Do not over mix or the colors will run. You can use the stand mixer, but literally only let it do 2-3 full turns.
Divide in the muffin tins, but only about 2/3 of the way.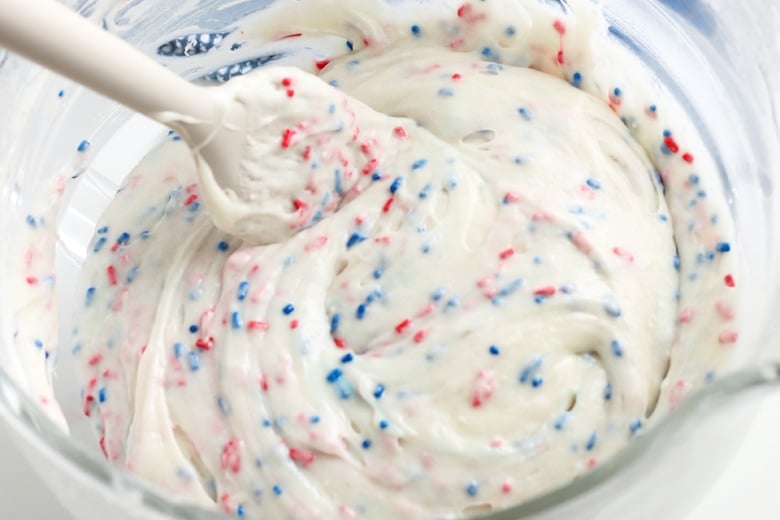 Bake, keeping a watchful eye to not overbake.
Remove and allow to cool fully before frosting. Use a star tip for festive firework like frosting or a large circle for fluffy, billowing clouds.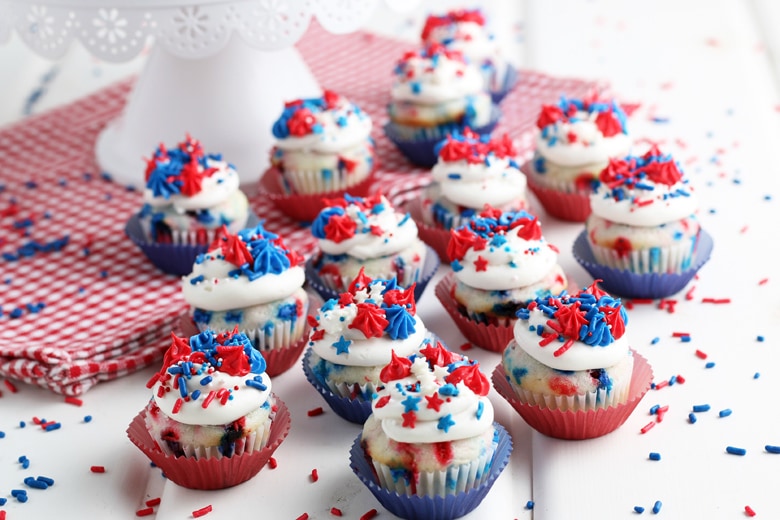 Best Cupcake Tips:
ONE. Do not overmix the batter. The most commonly made mistake in making cupcakes is overworking the batter. This is actually made easier when you are using a stand mixer because we overestimate how long the batter has been beaten. Pay attention!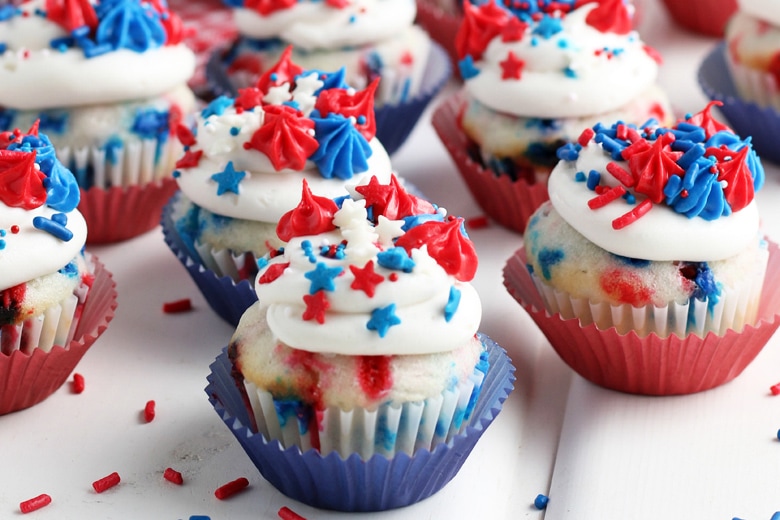 TWO. Don't over bake your cupcakes! This might seem like it is super apparent, but many folks wait too long before taking the cake out of the oven and presto, dry cake. Whomp, whomp. They shouldn't jiggle in the middle, but spring back when lightly touched.
THREE. Don't overfill the cupcake tins. Only fill them half to two thirds full. You want the mounds to peak over the top, but not bubble on over or being hiding below.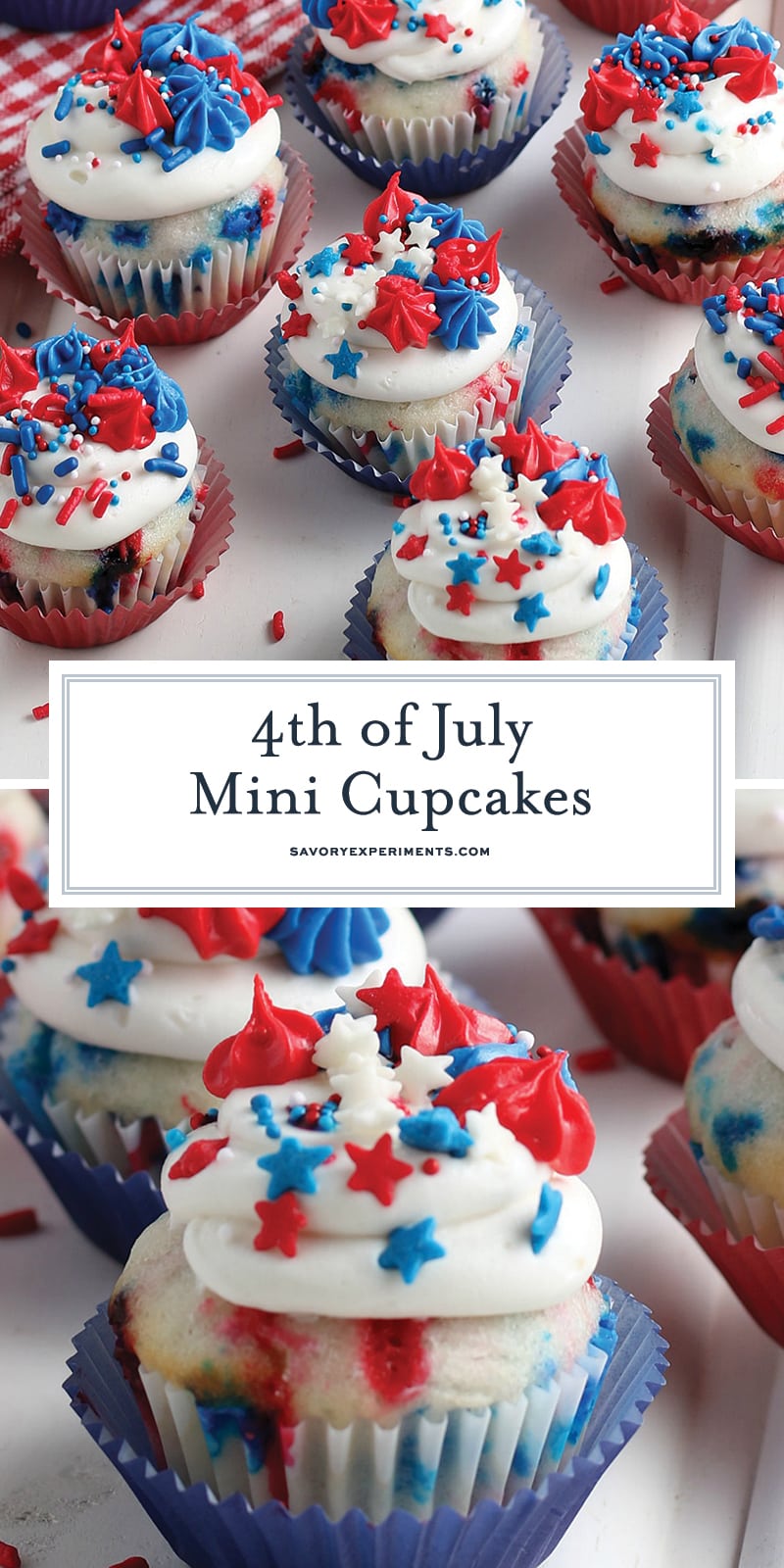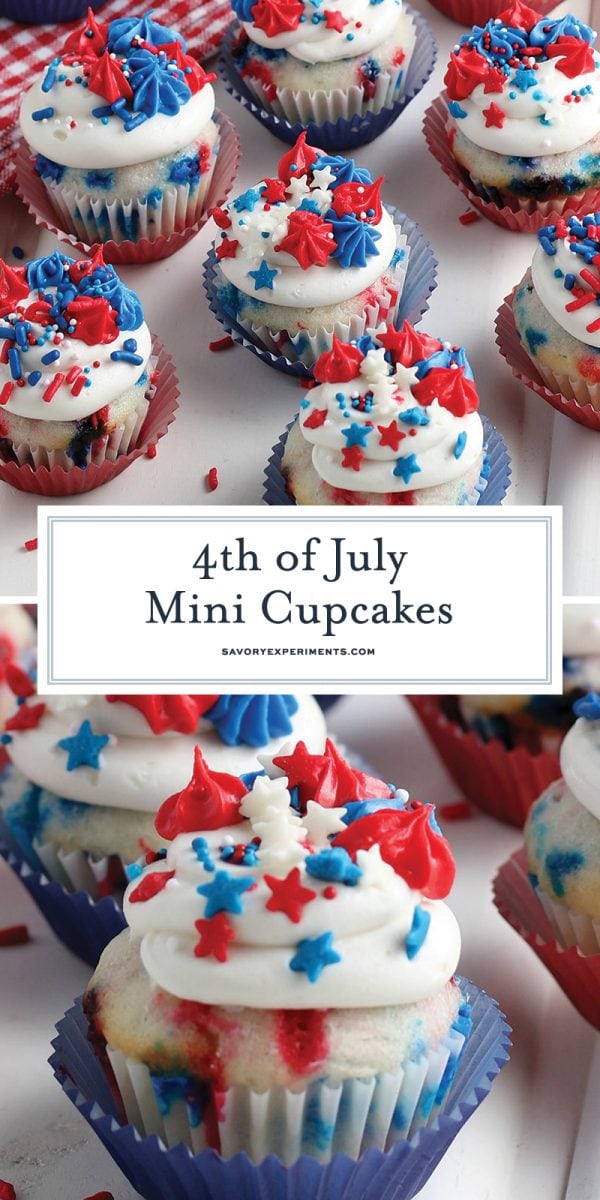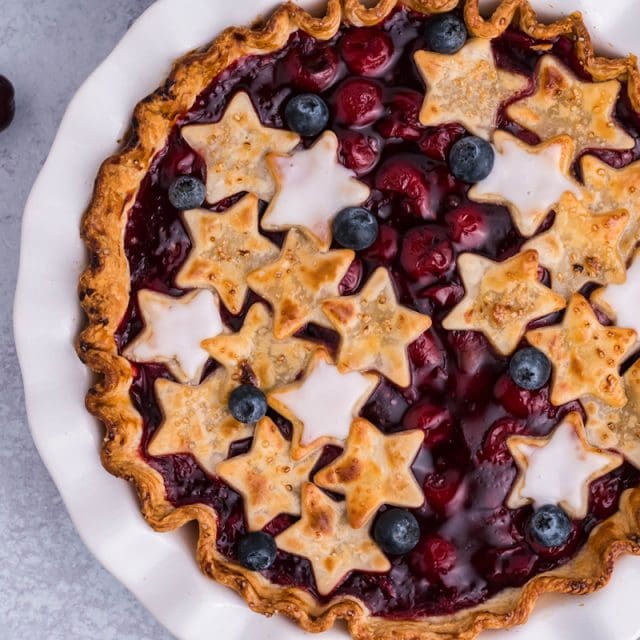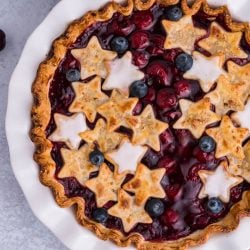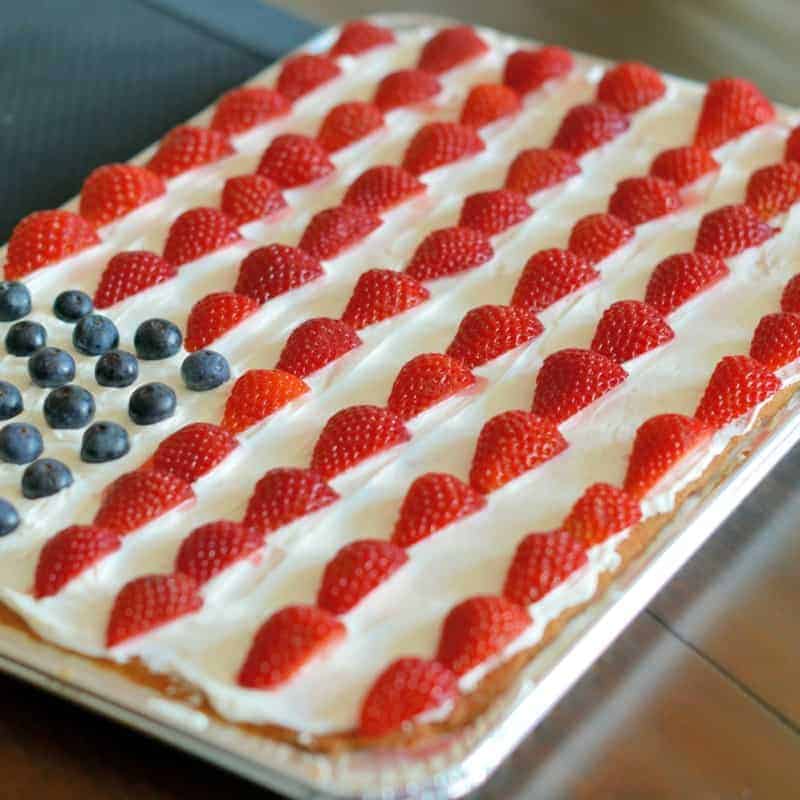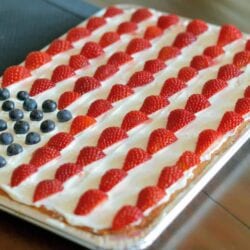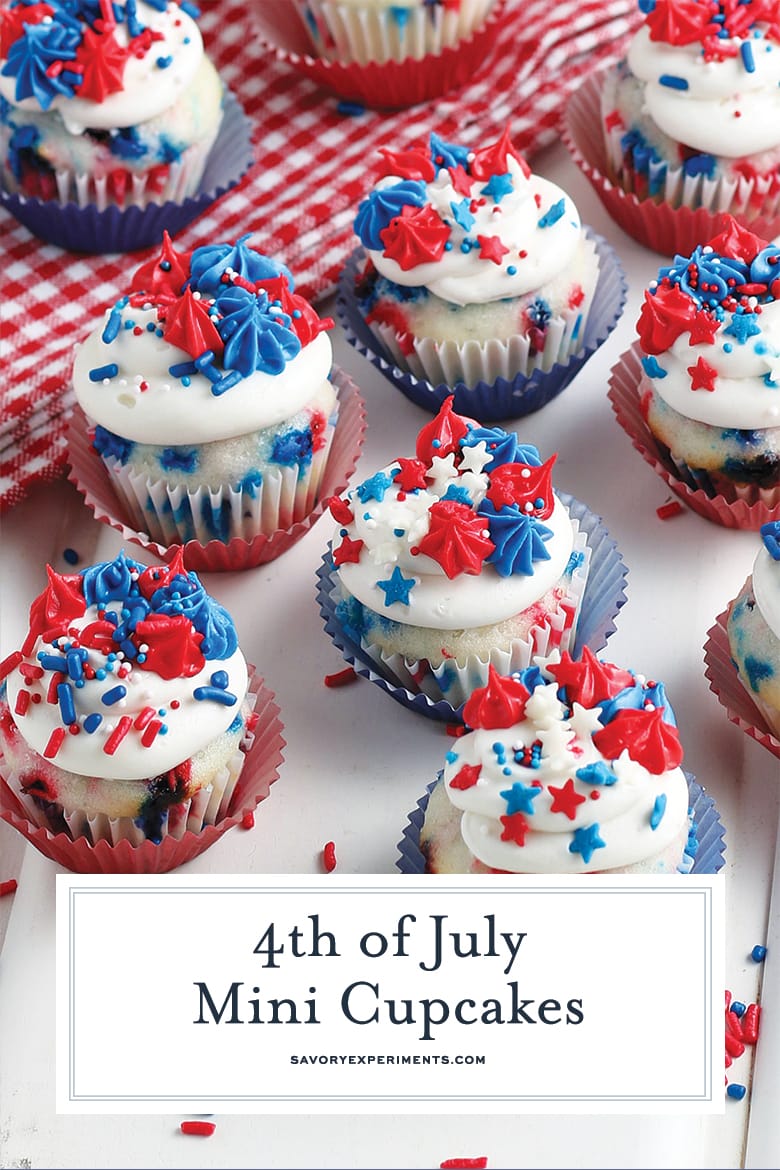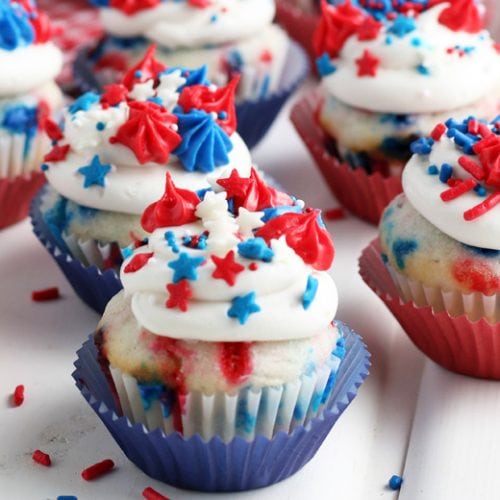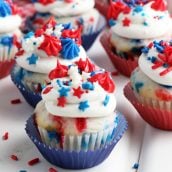 Mini 4th of July Cupcakes
These mini cupcakes are dotted with red and blue fireworks and made with one secret ingredient to amp up any boxed cake mix.
Instructions
Preheat oven to 350 degrees and add cupcake liners to a mini cupcake pan.

In the bowl of a stand mixer fitted with the paddle attachment or a large mixing bowl, beat together the cake mix, egg whites, buttermilk, vanilla and oil.

Mix until smooth, but do not overmix.

Evenly divide among lined cupcake wells.

Bake at 350 degrees for 12-14 minutes or until a toothpick inserted in the center comes out clean

Cool completely on a wire rack.

If you've tried this recipe, come back and let us know how it was in the comments or ratings!
Notes
*Sift cake mix before adding to reduce clumps, cutting back on stirring and ensuring you have the most moist cupcakes ever!
**Eggs: You can also use whole eggs, the batter will be a little more yellow.
***You can use regular vanilla extract, but it will tint the batter brown. You can also omit the vanilla.
Nutrition
Calories:
105
kcal
,
Carbohydrates:
9
g
,
Protein:
1
g
,
Fat:
5
g
,
Saturated Fat:
2
g
,
Cholesterol:
1
mg
,
Sodium:
84
mg
,
Potassium:
18
mg
,
Fiber:
1
g
,
Sugar:
9
g
,
Vitamin A:
8
IU
,
Calcium:
29
mg
,
Iron:
1
mg