Homemade Butter is so simple, you'll wonder why you never made your own butter at home before. With only 4 ingredients, you'll be "churning" every day!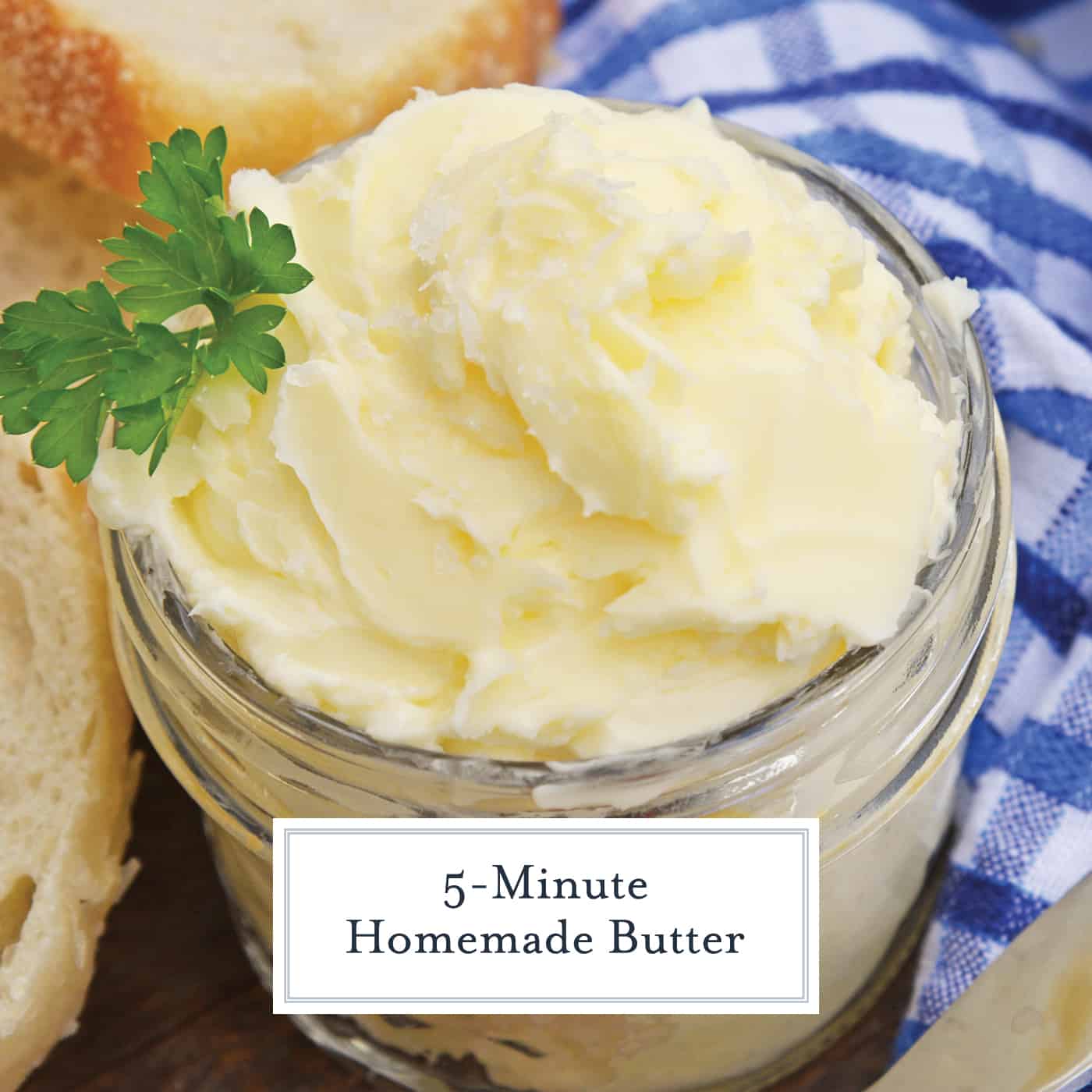 Homemade Butter is SO GOOD!
Churn away, foodie friends!
Seriously. Homemade butter is the bomb! And who can say they make their own butter? YOU! Now everyone, bust out their wooden butter churner. (I am 100% kidding.)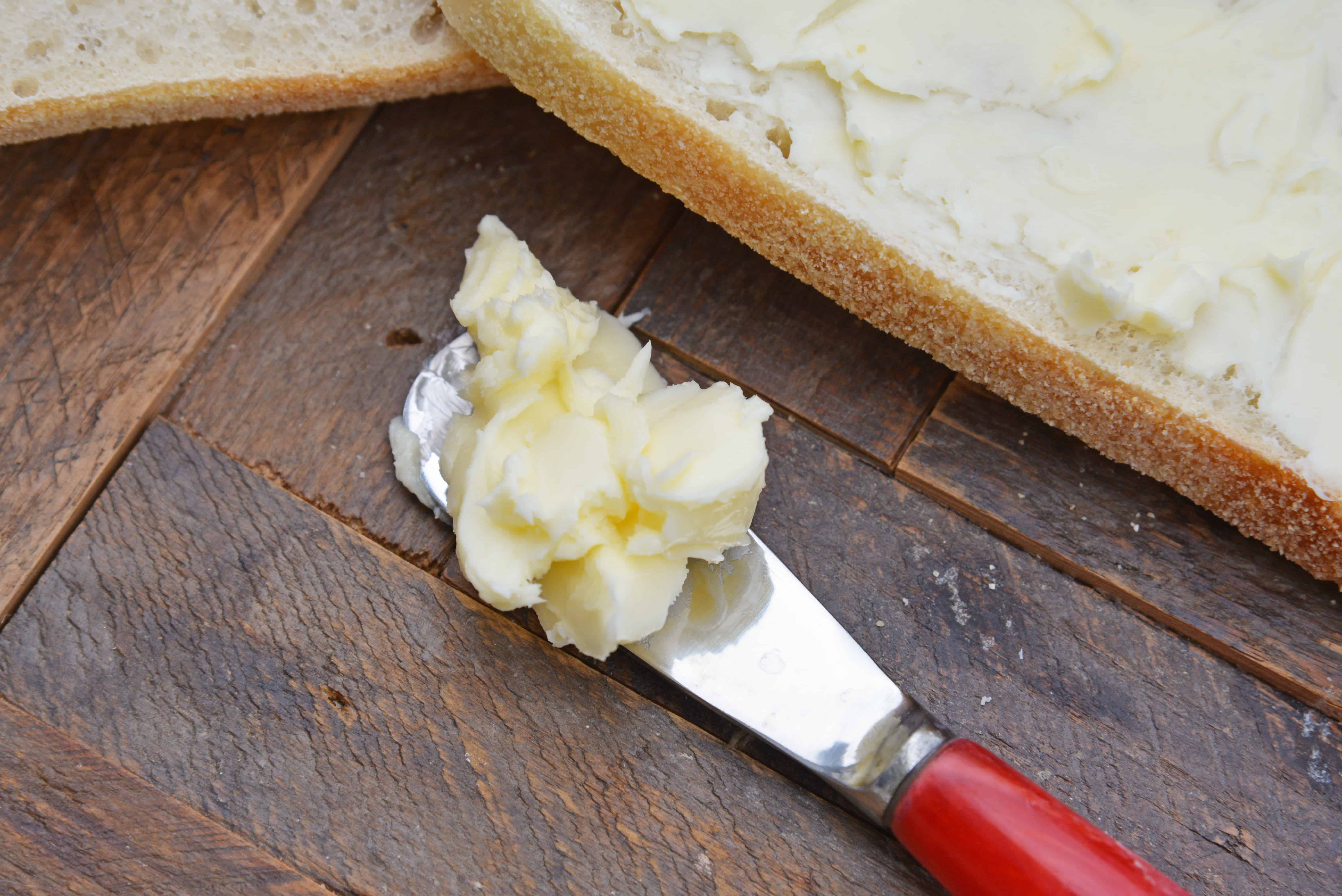 Butter is one of those things I just can't get enough of. I've been known to hoard the butter dish at restaurants. Hubby knows to ask for two right when we sit down. If not, he isn't getting any.
It truly is the most simple thing on the planet. It is simply milk or in this case, heavy cream, that is churned.
Making it at home means no additives and no preservatives. You have total control over everything including whether or not you are adding salt and how much. What is not to love?
Most of us are eating cow's milk butter but you could make butter out of different kinds of milk if you wanted to try a different flavor. Think of it like eat a goat cheese or a sheep's milk cheese instead of a traditional cow's milk cheese.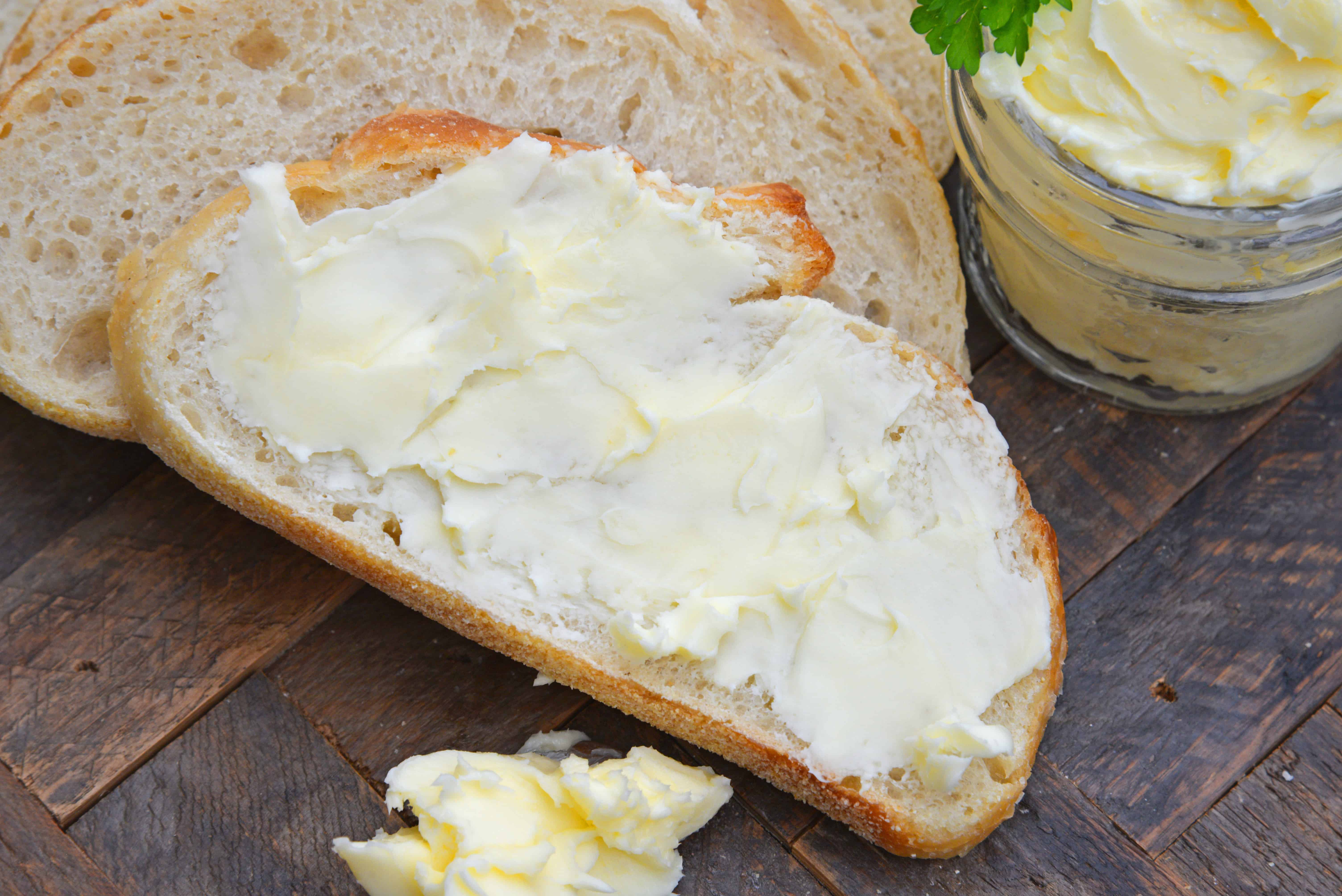 Homemade Butter: What is the history of butter?
It is believed that the first batch of butter was purely accidental. Someone was riding on a horse with milk and the agitation from riding "churned" the mixture making butter. Salt, a naturally occuring substance, was one of the few seasonings used and so salt was added for flavor, but also to help preserve the mixture.
Since then, it has been used for medicinal purposes, in religious ceremonies and of course, for cooking.
Butter can vary greatly depending on geographic location because they cows making the cream (highest fat content milk skimmed from the top after milking) are eating vastly different diets. You'll see the most notable differences between American and European butters.
European butters are usually darker yellow, churned longer and have a higher butter fat between 82-86%. American style is a little paler and closer to 80% fat. You'll also see differences in smoke point, texture and consistency. American butters are usually labeled AA, A and B butters. This also has to do with quality- AA is the best with a higher fat content, least amount of water and longest churn.
Cultured butter just means that the is is made with cream that has sat and cultured (like yogurt) and now has a tangy flavor.
What you'll need for Homemade Butter
Heavy Cream- Cream will separate into butter and buttermilk as it is agitated and cooled. There is not substitute.
Salt- Coarse Kosher salt works, but so does cheese salt. Cheese salt is a small and easily dissolvable salt that is not iodized. It is great for flavor and preserving.
Ice Water- Not mandatory, but helps the mixture separated and solidify.
Desired add-ins- Like fresh herbs, pepper, spices, dried fruits and other seasonings.
Make Your Own Butter: variations
Compound Butters (Flavored Butter)
It also means you can make your own compound butter. Compound butter is a butter with anything else added to it other than salt.
They are great for spreading on bread, topping your favorite steak, making garlic bread…the list goes on and on.
Add anything from fresh herbs or garlic to lemon or lime zest and/or spices. You can even throw in some dried fruit or nuts to your homemade butter and complement whatever you serve it with.
Can you make butter from milk?
No, you can not make butter from milk, only heavy cream. Cream has more fat solids, which are needed to make solid butter. Milk is too watery.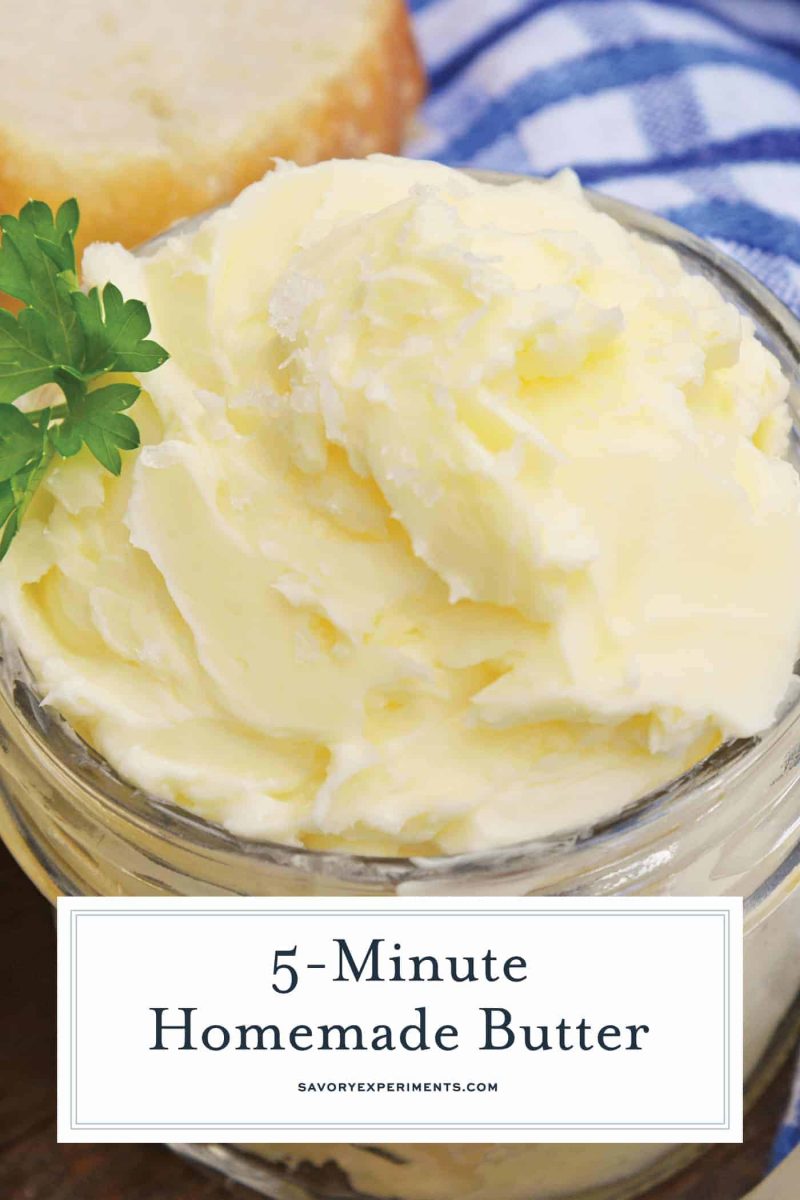 How to Make Butter
So how does it all work, butter without the churn? Let your food processor or your blender do the work.
Okay, ready for some knowledge? When the cream is agitated (spun around in the machine,) it breaks the membranes around the fat granules.
These separate and then join together to form clumps. Those clumps are butter!
Are you having your "aha" moment yet? Homemade Butter is then seasoned with salt and ready to go. Simple as that.
How long does it take to churn butter?
Churning butter in the blender will take 2-5 minutes.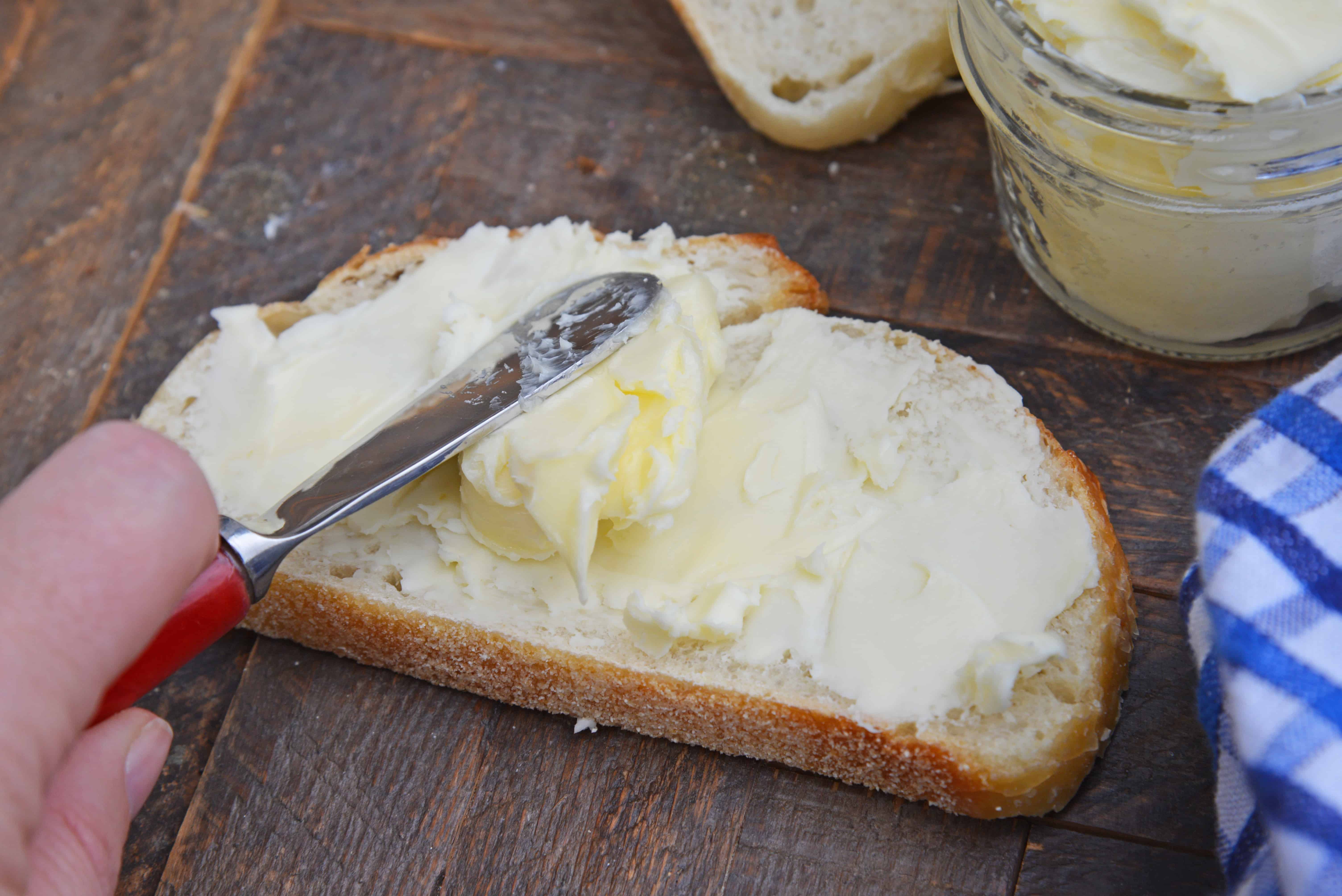 I like to use cheese salt, but if you don't have that on hand, use Kosher salt or fine sea salt. Or you can be like the fancy restaurants and just served unsalted butter with your choice of coarse salt on the side.
If you go the unsalted route, you can also use your homemade butter for all your baking needs as well.
The leftover liquid is homemade buttermilk.
Homemade Butter Recipe storage
Although salt is a natural preservative, we don't recommend storing homemade butter for long than 2 weeks. Keep in an airtight container in the refrigerator. Homemade butter can also be frozen.
Use the leftover buttermilk to make: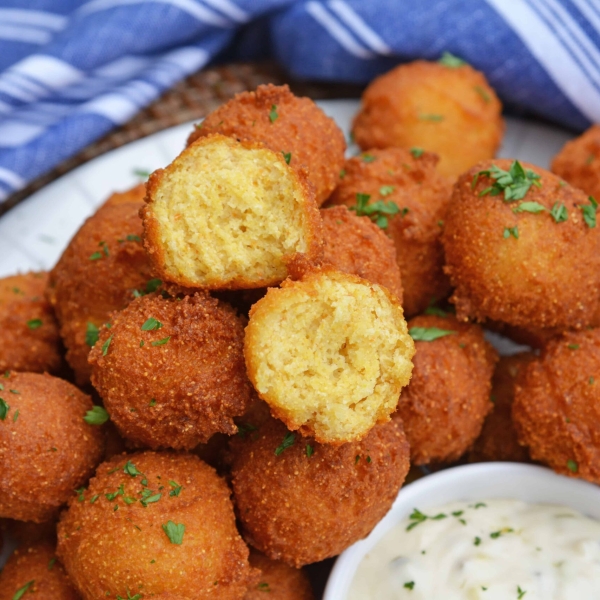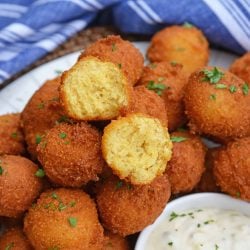 Best Hush Puppy Recipe
Hush Puppies are gently fried cornbread with a crunchy outside and soft, doughy inside. Serve with fish fry, fried shrimp or any BBQ!
View this recipe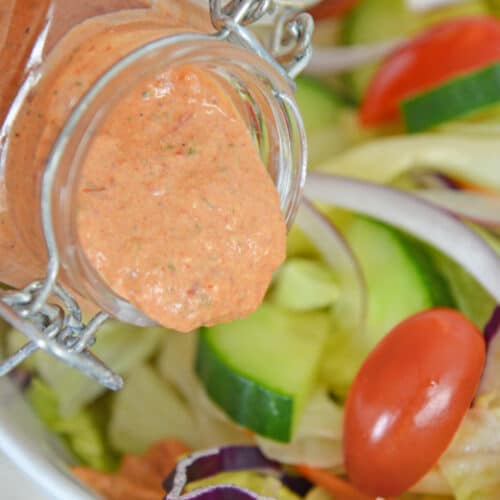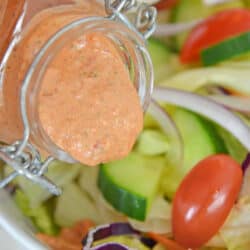 Chipotle Ranch Dressing
Add some zing to your homemade ranch with this Chipotle Ranch Dressing recipe! Made with only 4 simple ingredients.
View this recipe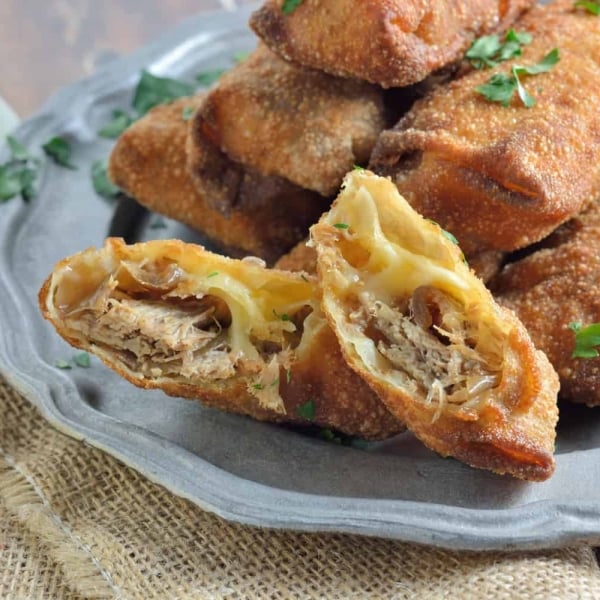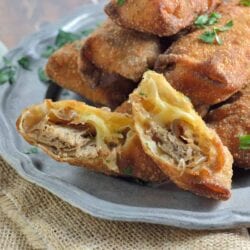 Pulled Pork and Smoked Gouda Egg Rolls
Succulent, sweet and zesty pulled pork wrapped in a crispy egg roll with silky smoked gouda cheese and served alongside Avocado Green Goddess Dressing.
View this recipe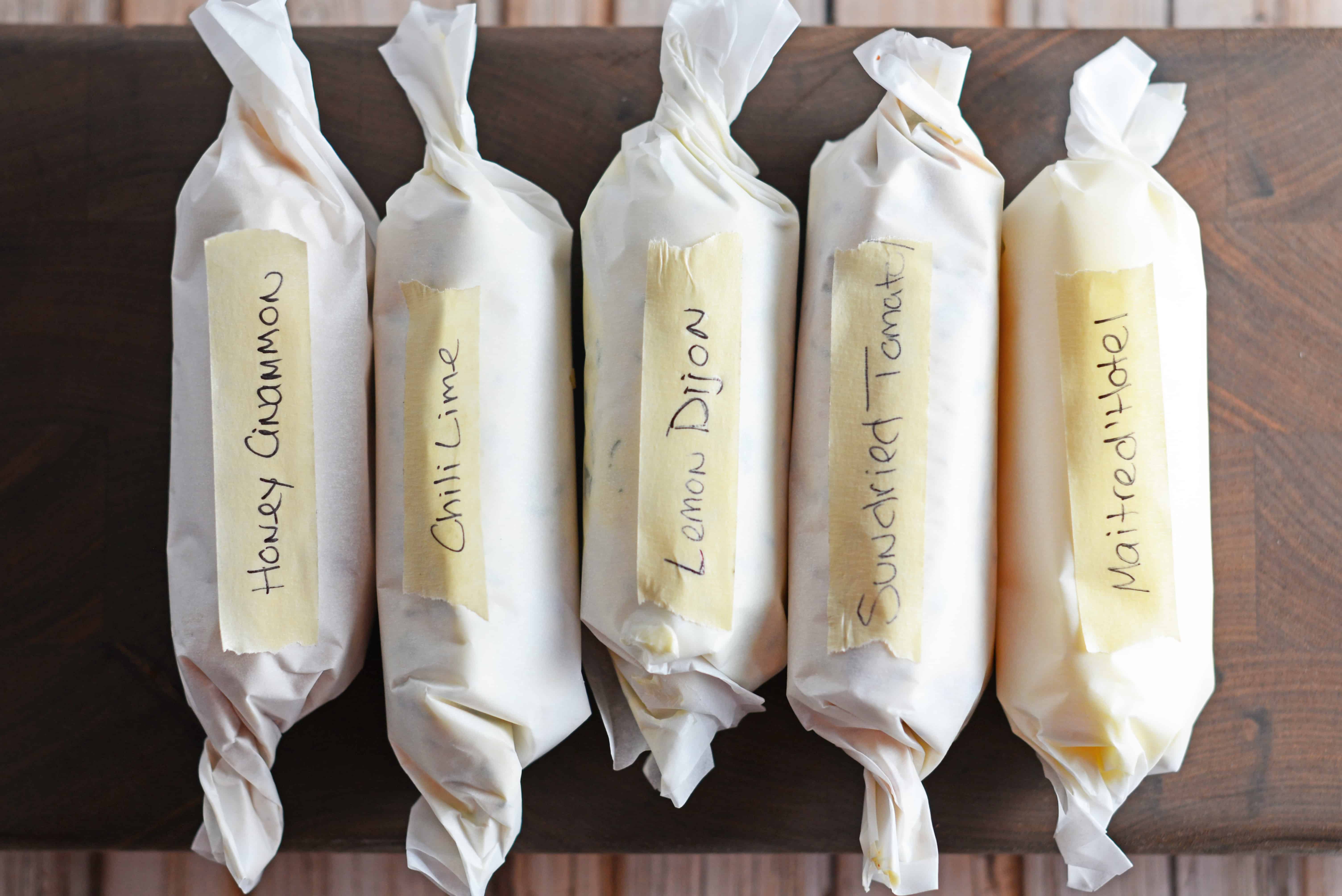 I'd give you a list of recipes that use butter as recommendations… but that would be most of my recipes.
I love butter. Real butter. Not margarine.
But do check out my extensive list of compound butters, like this Orange Sage Homemade Compound Butter.
So get on the butter train and start "churning"!
Homemade Butter Recipe storage
Can I freeze butter?
Yes! Wrap tightly in aluminum foil or plastic freezer wrap, or place inside a heavy-duty freezer bag.
Frozen salted butter will keep at best quality for up to 12 months, unsalted butter will stay at best quality for about 6 months.
Also, the fresher the butter, the better is freezes.
How long does homemade butter last?
The short answer is 2-3 weeks.
However, the shelf life depends on how well you extract the buttermilk. If a substantial amount of buttermilk remains, it will sour within a week, because it is, well, buttermilk.
Can homemade butter go bad?
Yes, unfortunately. Adding salt helps to preserve it some, but it is fresh cream so it can go rancid.
Can I leave homemade butter out?
Just like store bought butter, the FDA doesn't recommend leaving it out for longer than 2 hours.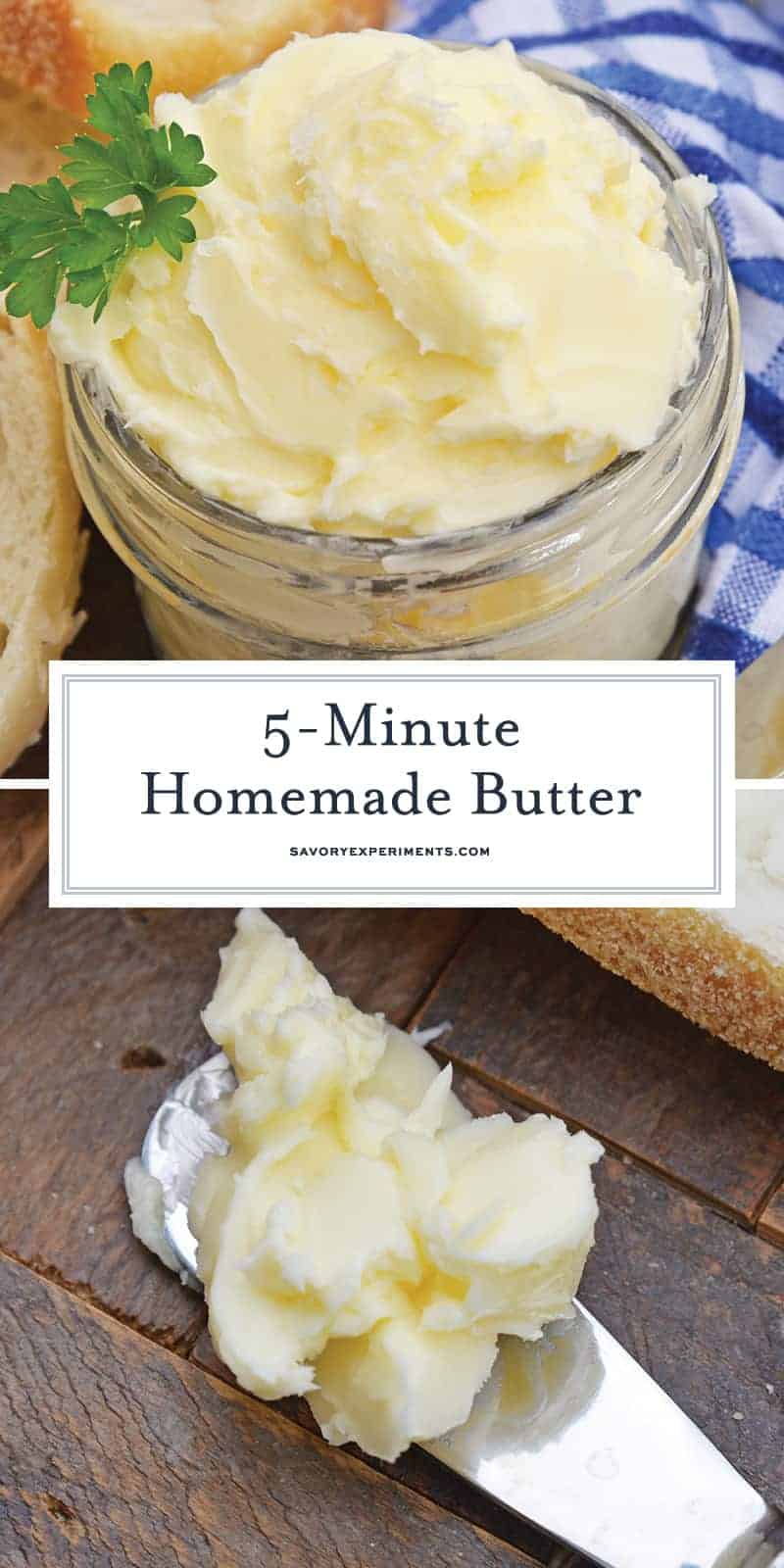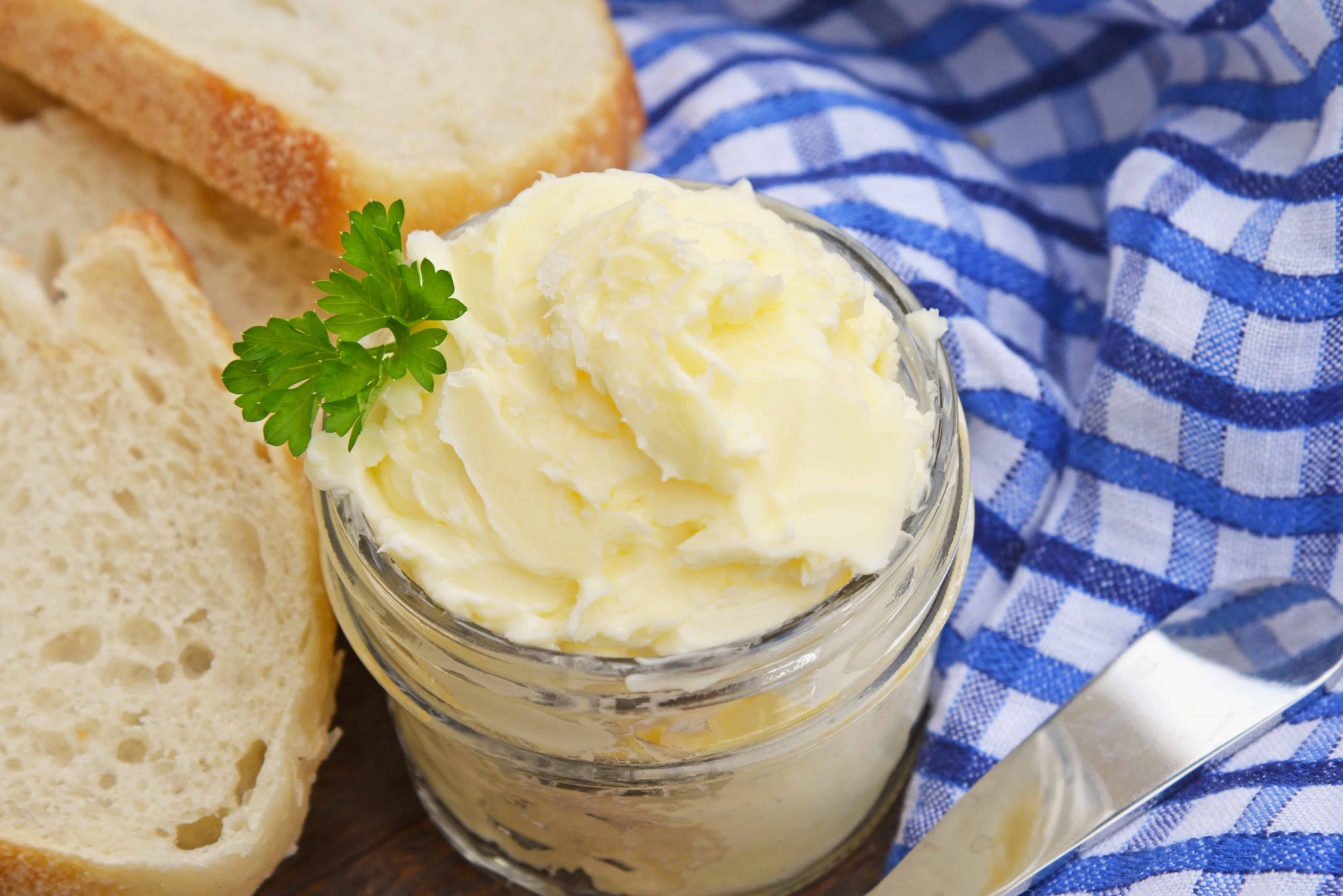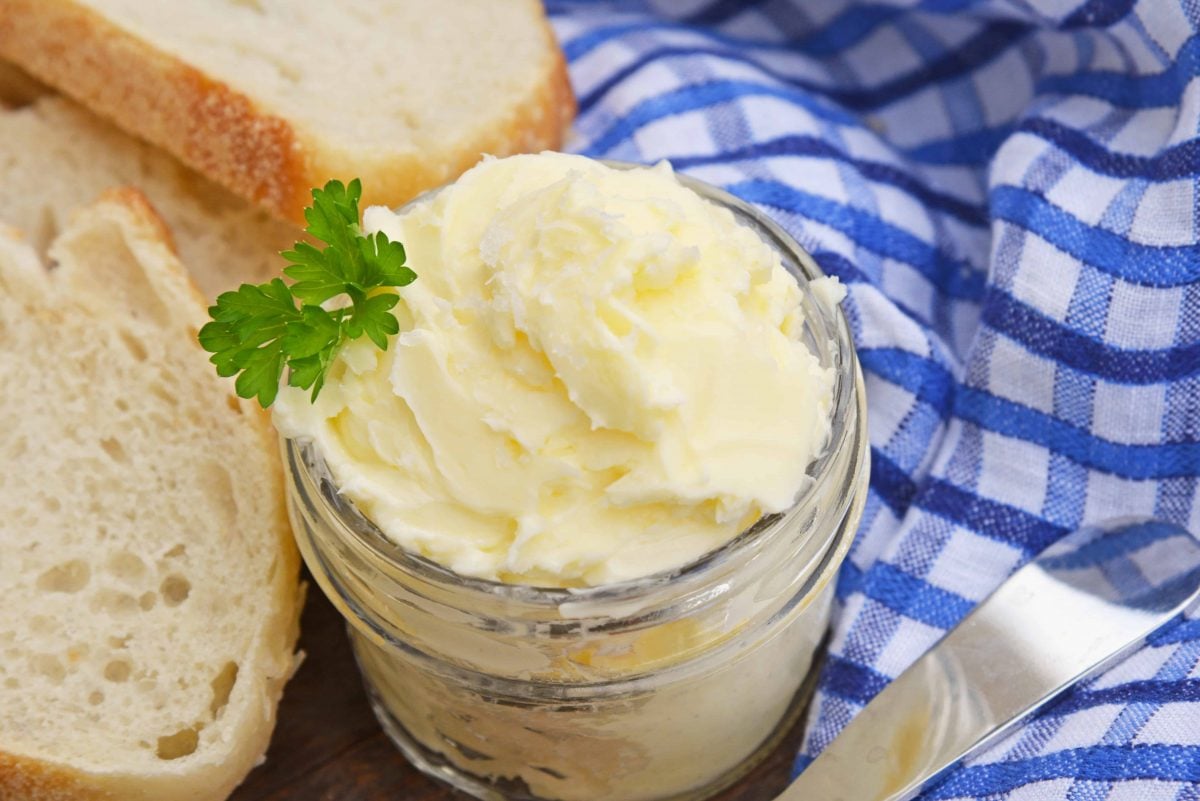 Make Your Own Butter FAQs
Is it cheaper to make your own butter? The honest answer is probably not. Large butter companies get cream at a cheaper price than you will at the store.
But it is so satisfying to make your own and it tastes great!
Is homemade butter better? This really depends on the quality of the ingredients you use. Pay attention to the quality of cream you are using as well as the type of salt.
Can you use homemade butter in baking? Yes! Why couldn't you? Some even believe that since it isn't perfectly smooth (down on the molecular level) that is produces even better pastries.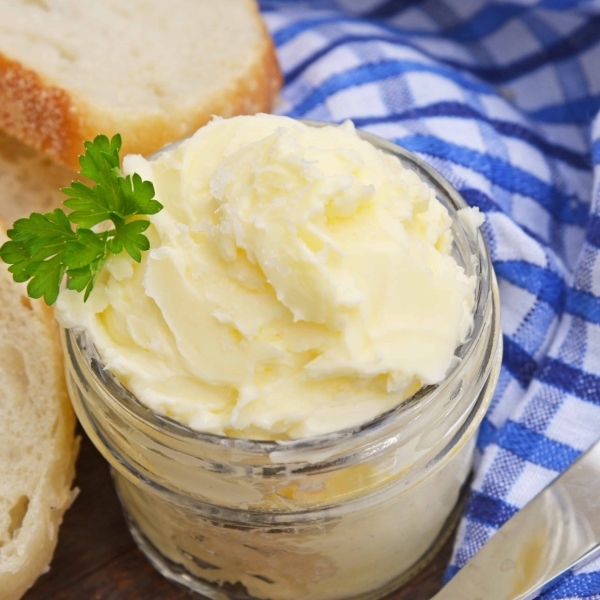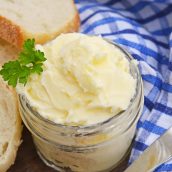 How to Make Butter from Heavy Cream
This Homemade Butter Recipe is ready in just 5 minutes using your blender, heavy cream, ice water and salt. You'll wonder why you never made butter at home before!
Instructions
Place the heavy cream in a food processor or blender. Hit blend and watch your appliance do the work. You will see the mixture changes in both consistency and color over about 2-3 minutes.

Continue to mix until cream separates into butter and butterfat. Drain off the butterfat and discard or save (it's buttermilk).

Add 1/2 cup of ice water and continue to blend for 30 seconds. Drain off water. Add additional 1/2 cup of ice water and repeat. Drain. Mix in the salt and just pulse a few times.

Add any other flavors as well- fresh herbs, citrus zest, dried fruit bits or other spices.

Refrigerate until ready to use in any recipe that requires butter.

If you've tried this recipe, please come back and let us know how it was in the comments or star ratings.
Nutrition
Calories:
1109
kcal
,
Carbohydrates:
13
g
,
Protein:
13
g
,
Fat:
171
g
,
Saturated Fat:
109
g
,
Polyunsaturated Fat:
7
g
,
Monounsaturated Fat:
43
g
,
Cholesterol:
535
mg
,
Sodium:
2453
mg
,
Potassium:
450
mg
,
Sugar:
14
g
,
Vitamin A:
6956
IU
,
Vitamin C:
3
mg
,
Calcium:
314
mg
,
Iron:
0.5
mg