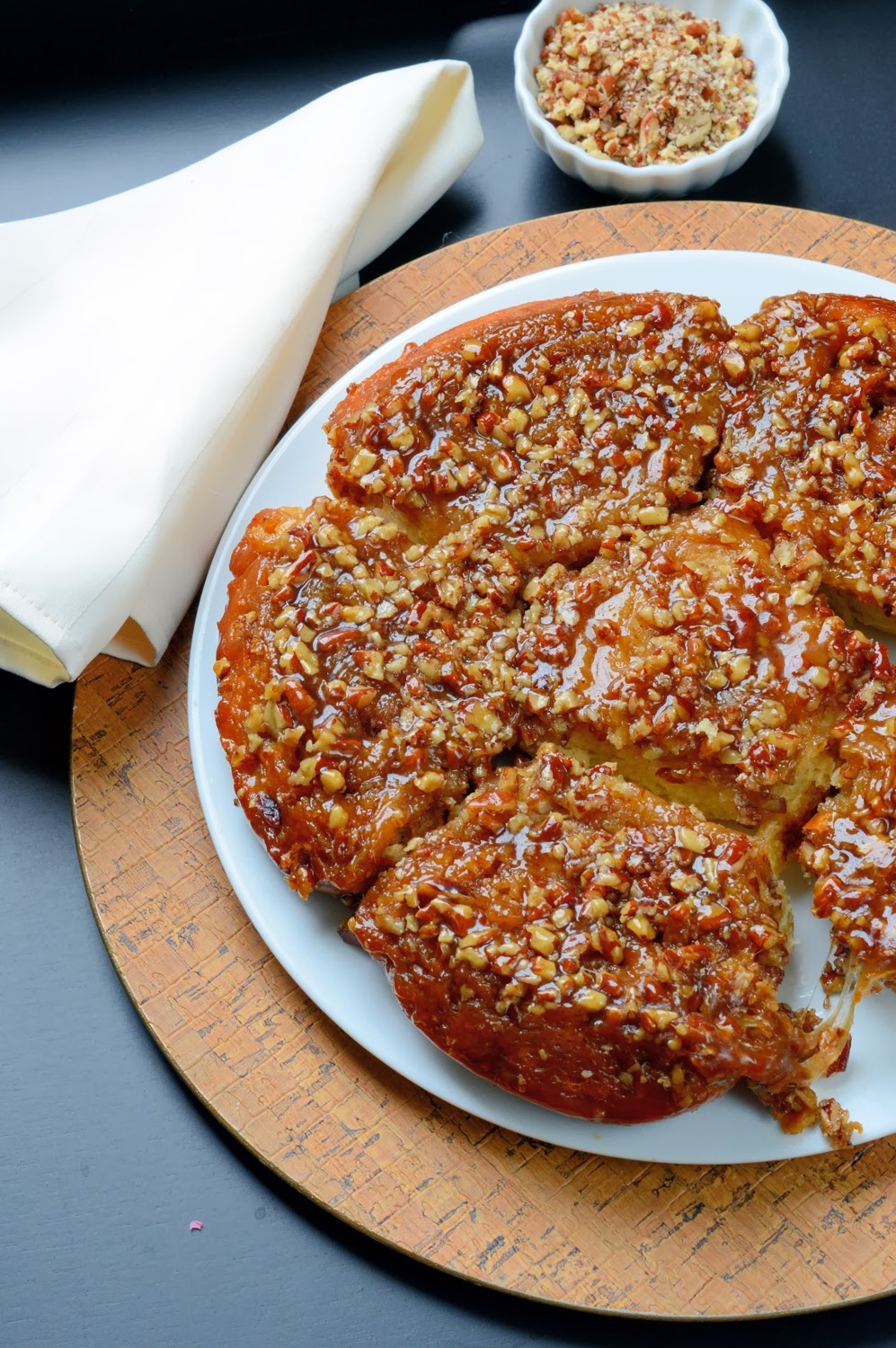 Heirloom recipes are held near and dear to everyone's heart.  Butterscotch Pecan Rolls hail from my great Aunt Beverly.  My mother and aunt have fond memories of eating "Sticky Buns" fresh from the oven nearly every weekend.  If you mention Great Aunt Beverly to either, their first association is these glorious, pecan crusted sweet rolls and the response always contains a hint of nostalgia.
About a month ago I was asked to submit a recipe to Brilliant Baking Magazine with the theme of "traditional home baking", encouraging writers to use family recipes.  I mentioned this to my mother, who suggested tracking down the recipe for Butterscotch Pecan Rolls.  She didn't have the recipe, so I called my aunt out in Arizona, who dug through some boxes before producing the original, written in long hand, no ingredient list, in Great Aunt Beverly's handwriting.  Now bleeding through the paper, this document was preserved as if waiting to be discovered and revived.  Although my mother and aunt remember this recipe simply as "Sticky Buns", the actual document names them Butterscotch Pecan Rolls.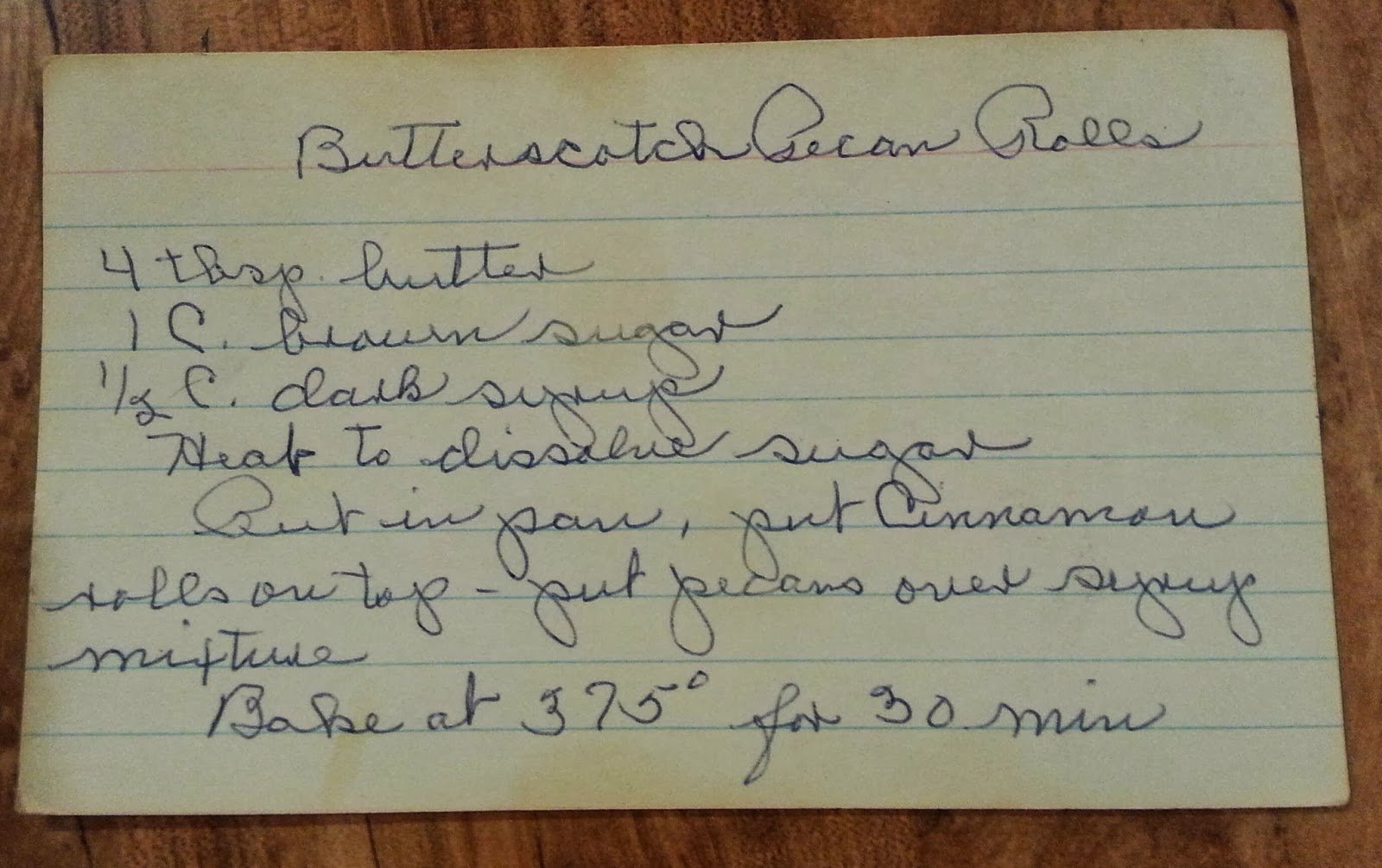 I, however, had never had Great Aunt Beverly's historical Butterscotch Pecan Rolls.  Anxious to try them and memorialize it on my blog, I went to work.  Although it is specifically noted that this recipe tastes better when the bread is mixed and kneaded by hand, I just don't have the biceps for that type of manual labor, so I modified using my Kitchen Aid.  Other parts simply said "cinnamon and sugar mix", begging for measurements to be attached.  Finally it was finished and I enjoyed my first taste of my mother and aunts childhood: Sticky Buns!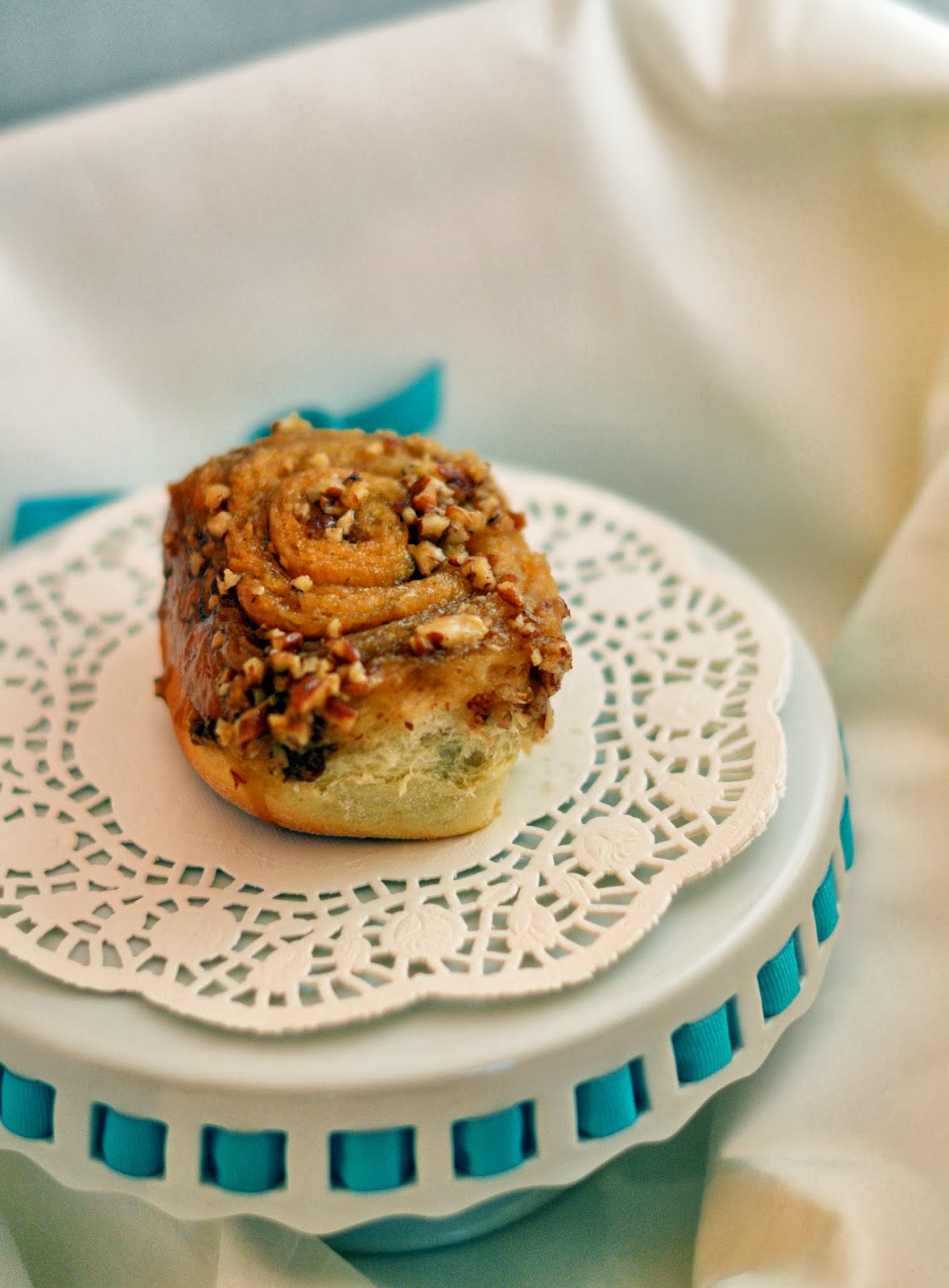 I wonder what Great Aunt Beverly will say when she sees her heirloom recipe now posted on the Internet…
Time: 2 hours
Yields: 12 sticky buns


Ingredients for Old Fashioned Butterscotch Pecan Rolls (Sticky Buns)
Bread Dough:
3 teaspoons (or 1 packet) active yeast
1 cup whole milk
1/4 cup sugar
1 teaspoon salt
2 eggs, well beaten
3 1/2 cups flour
1/4 cup melted shortening (not oil)
Cooking spray
Butterscotch Topping: 
1 cup brown sugar
1/2 cup light corn syrup
1 cup chopped pecans, chopped
Filling: 
1/2 cup brown sugar
2 teaspoons cinnamon
1. Heat whole milk in the microwave for 1 minute.  In the bowl of a stand mixer fitted with a bread hook, or a large mixing bowl, place yeast, sugar and salt, stir.  Add hot milk and allow to sit for approximately 10 minutes, or until yeast has activated, bloomed and smells fragrant.
2. Stir in well beaten eggs and then half of the the flour.  Mix with the bread hook until mixture is fully incorporated and dough drapes off of the hook.  You can also use a large wooden mixing spoon. Stir in melted shortening and then remaining flour. Continue to knead with the bread hook or hands until dough is smooth and elastic, approximately 3-5 minutes.
3. Roll dough into a ball and place into a large, well buttered mixing bowl.  Turn once to cover all exterior with butter. Cover with a damp kitchen towel and set aside to rise for 30 minutes.  Dough will double in size.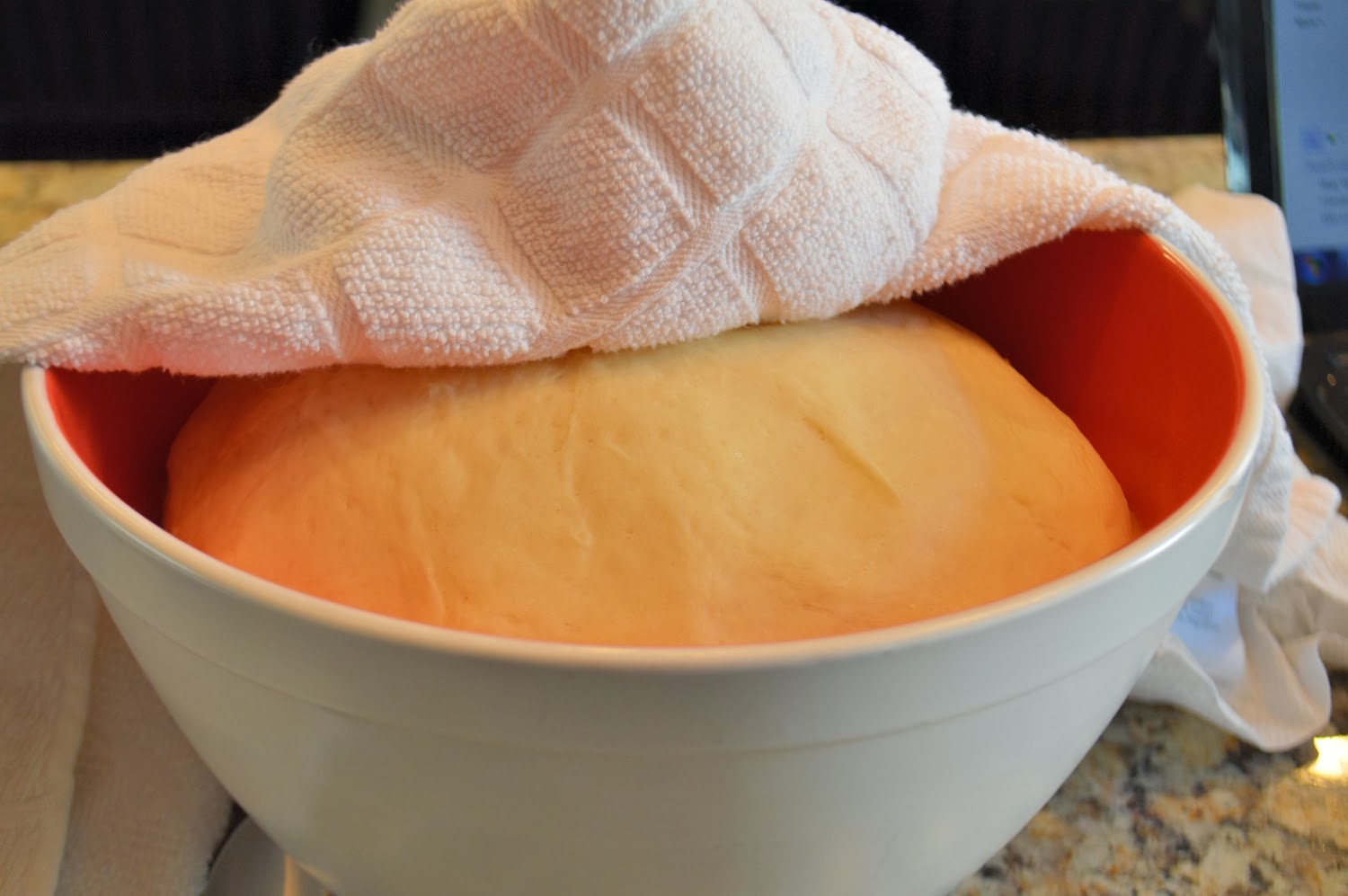 4. While dough rises, make the butterscotch topping.  Place butter, brown sugar and corn syrup in a small sauce pan.  Melt over low heat, sitting occasionally.  It is very important that the mixture does not reach a boil, or even a simmer.  Stir until brown sugar is dissolved and fully incorporated.  Spray a 9×13 rectangular baking dish or two 9-inch circular pie plates with cooking spray. Pour mixture evenly into the bottom of the dish(es).  Sprinkle with pecans.  Allow butterscotch topping to cool while you roll the dough.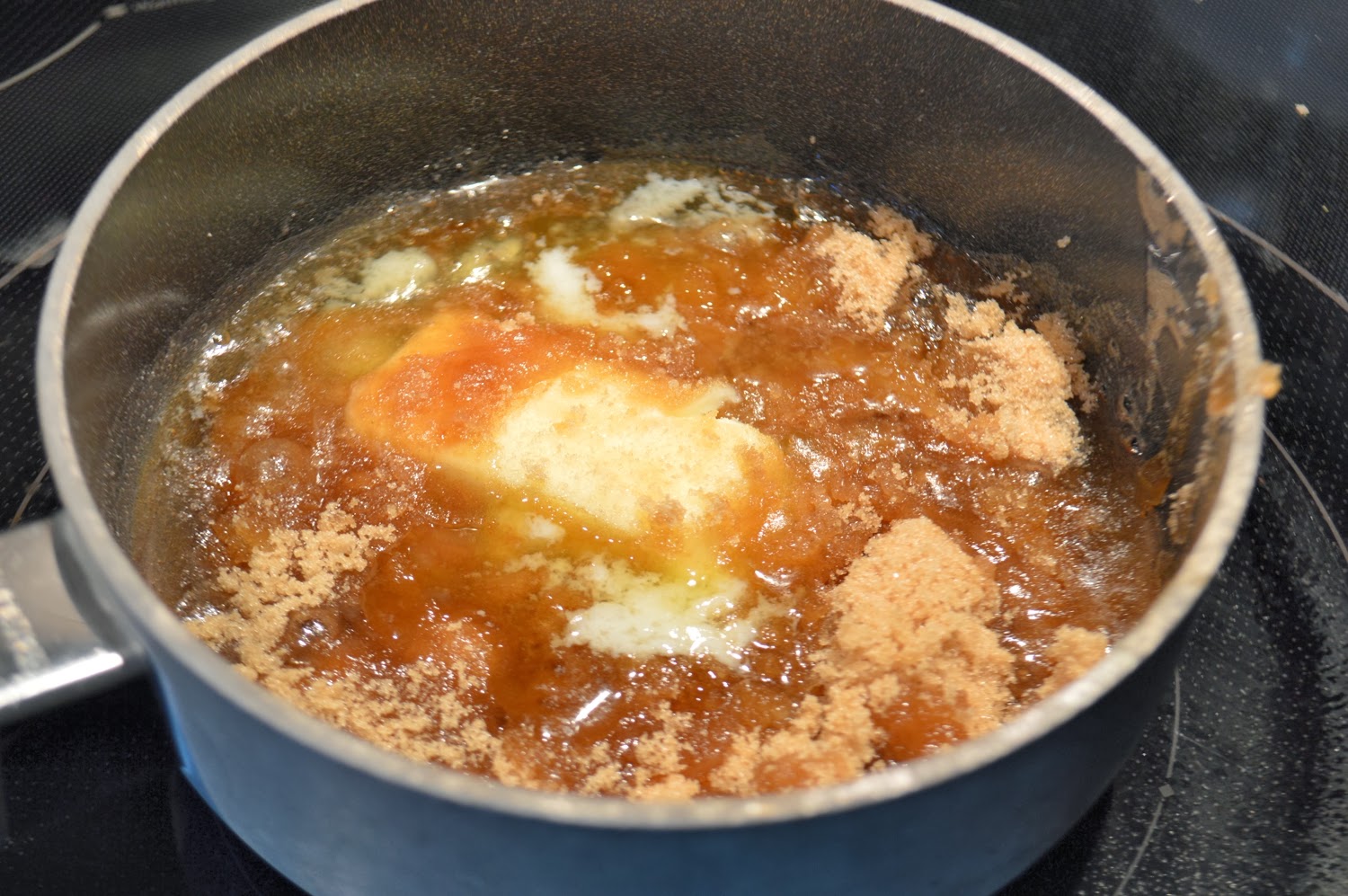 4.  Turn dough out onto a lightly floured surface.  Roll into a rectangle, approximately 14×22 inches. Mix brown sugar and cinnamon in a small mixing bowl.  Brush melted butter over dough and sprinkle evenly with cinnamon-sugar mixture.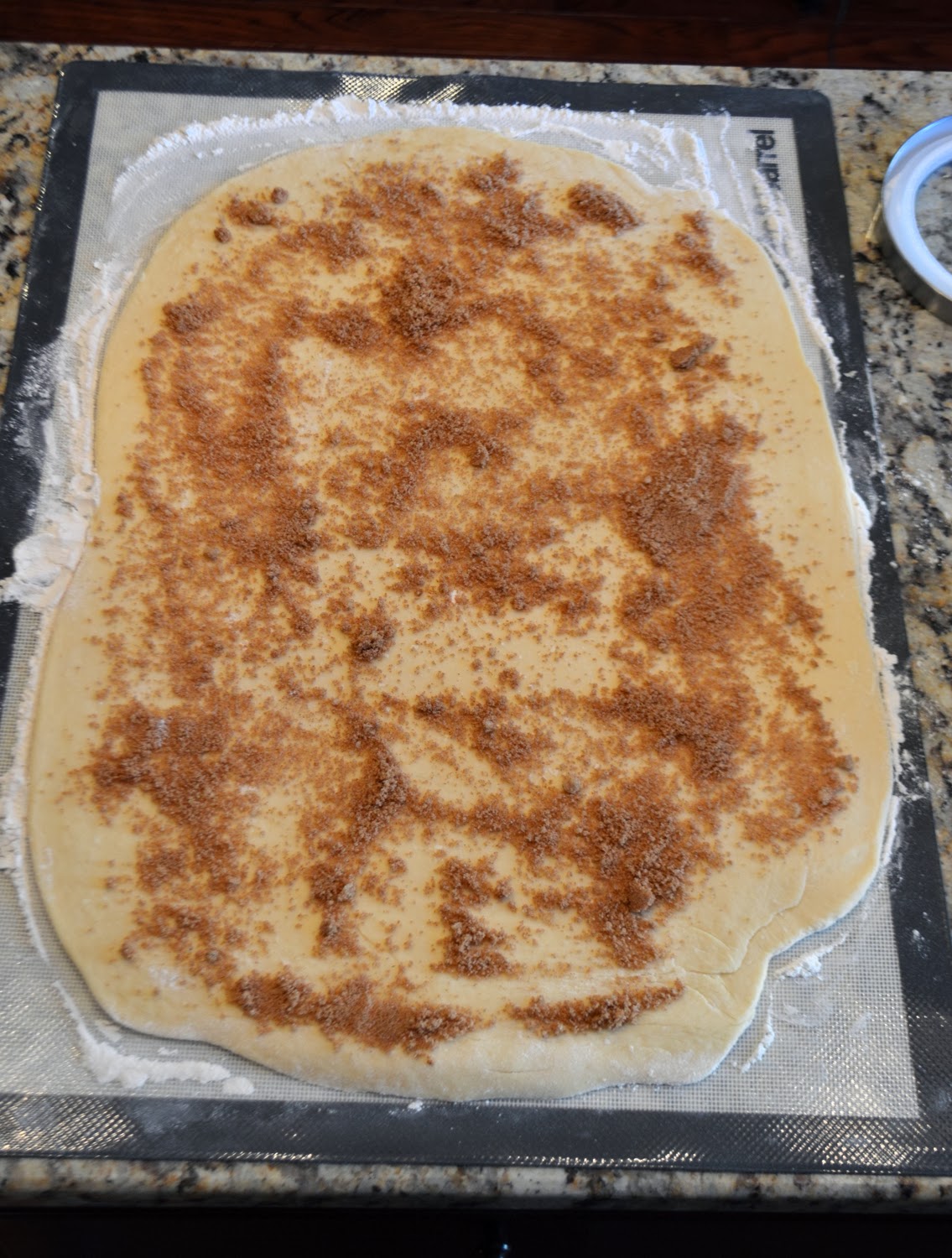 5. Roll dough tightly from the short end.  Using a sharp knife, cut into 12 equal slices. Place slices directly on top of butterscotch topping (either all 12 in the 9×13 or 6 and 6 in pie plates).  Cover with a damp kitchen towel and allow to rise for an additional 30 minutes.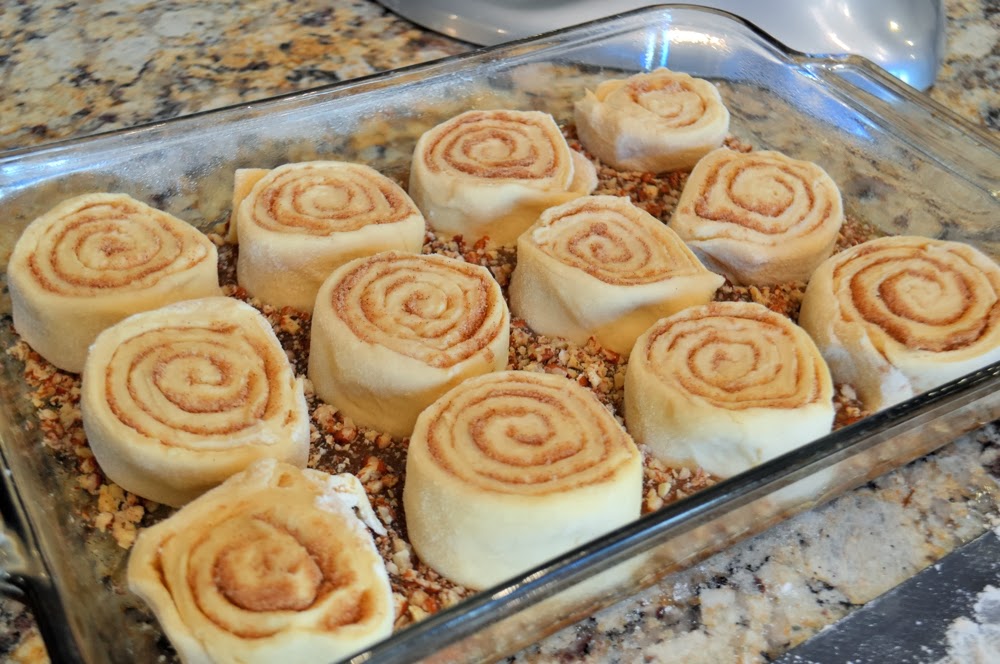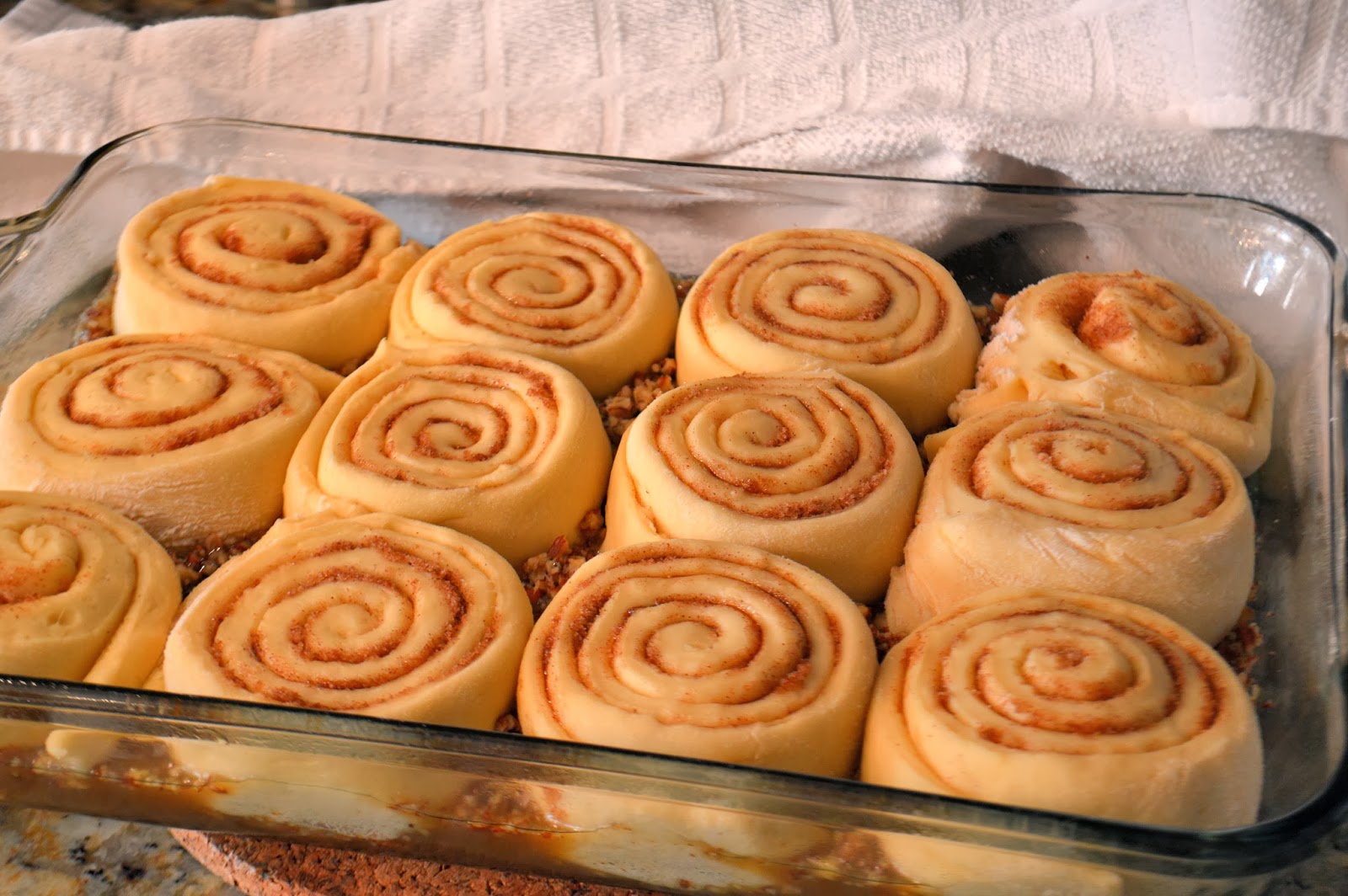 6. Preheat oven to 375 degrees.  Bake uncovered for 30 minutes.  If the tops start to brown, loosely lay a piece of aluminum foil over top.
7. Remove and allow to cool for 5 minutes.  Now is the tricky part, you have to flip this bad boy onto a large platter.  Choose a serving dish that is larger than your cookware.  Be careful not to burn yourself. Serve immediately and enjoy your Old Fashioned Butterscotch Pecan Rolls (Sticky Buns).
Note: If you get the butterscotch topping on your counter tops, floor, etc, allow to cool and you should be able to easily peel it off.  Not that I know from experience or anything….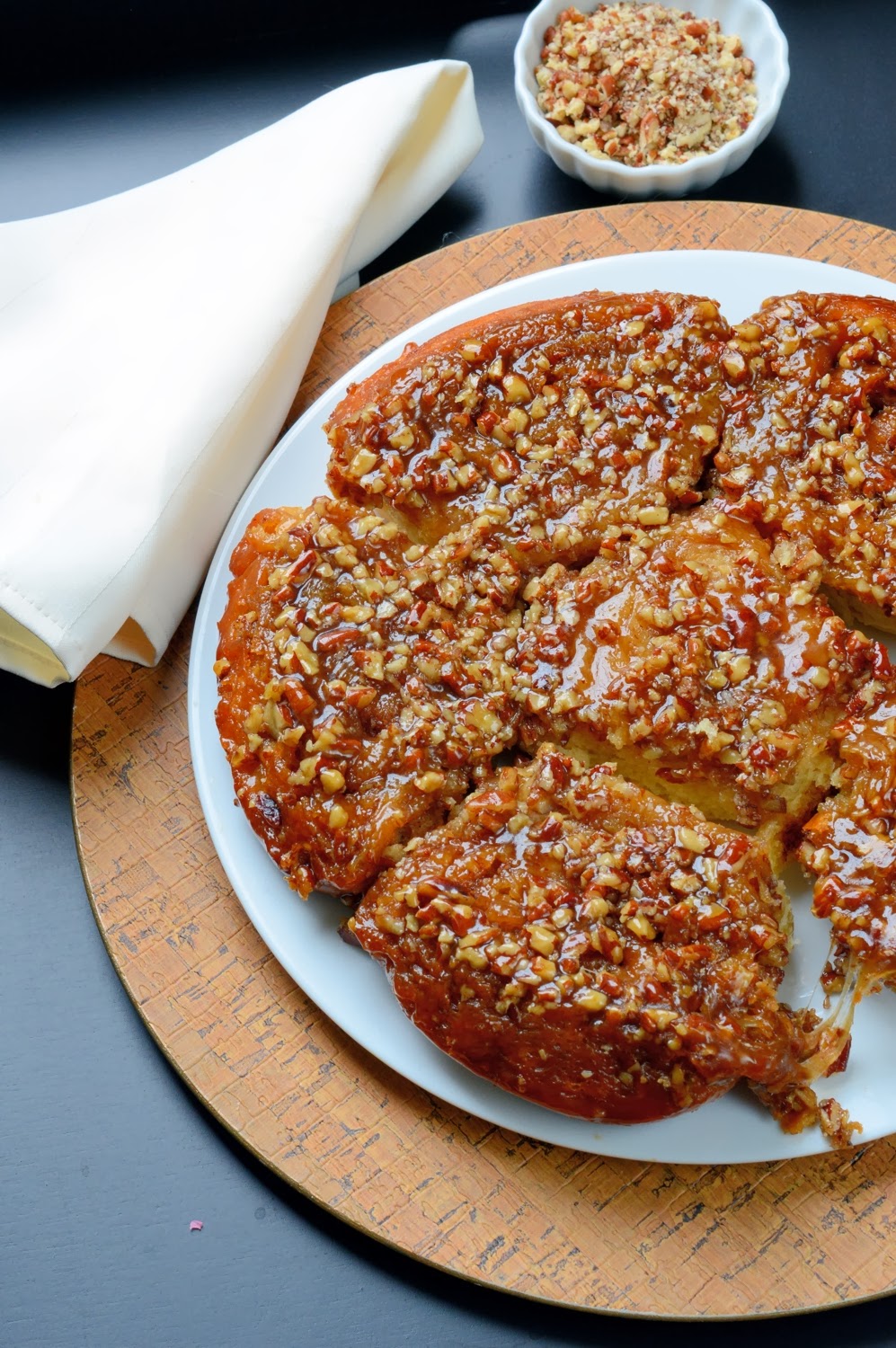 If you like this recipe, make sure to follow me on Pinterest for even more! 
Visit Savory Experiments's profile on Pinterest.